Review

Longines Heritage 1973 [live pics, price]

Refreshed version of the chronograph from the historic Conquest line has a chance to find enthusiasts not only amongst vintage-style watch lovers. Classic design, combined with modern workmanship, makes Longines Heritage 1973 an interesting offer for almost everyone.

Dusting off own archives has recently become a frequent practice used by individual watchmaking brands. Some do it better than others, but almost every company with a history accepts the challenge and tries to give a new life to often already forgotten pieces. How does Longines perform in this field? – Quite well, in my opinion. The Heritage 1973 neatly blends looks nearly identical with its predecessor with modern technology that we are used to in contemporary made timepieces.
History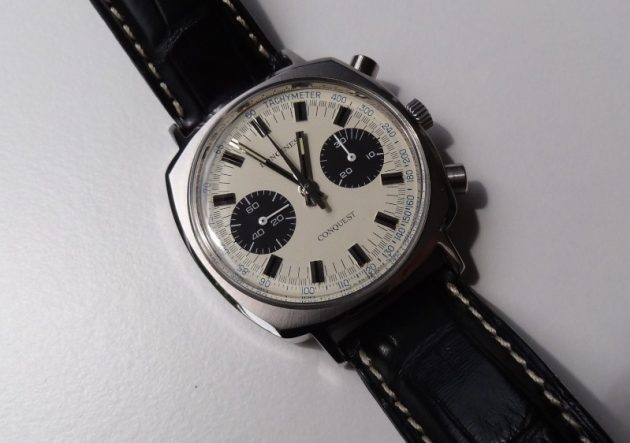 As a direct inspiration behind the Heritage 1973 – easy to guess – a model debuted in exactly that year was used. It was a chronograph from the Conquest line, with the cushion-shaped case resembling the Camaro model, manufactured by Heuer. Its dial had white surface with two black counters, a layout known commonly as the "panda". The dial was encrusted with applied indices surrounded by a blue tachymeter scale, and quite a wide chronograph seconds hand. In terms of mechanics, the Conquest was powered by an in-house column wheel movement, marked as calibre CH30.
Design (case, dial)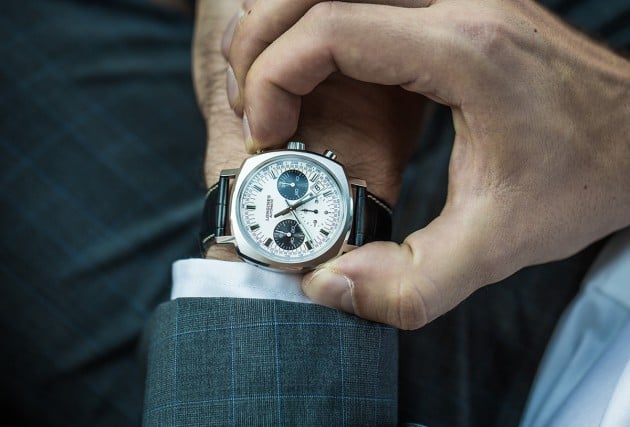 Presented at Baselworld 2013, Longines Heritage 1973 is available in two colour variations: black with silver sub-dials and the second one, resembling the historic model tested by us, white with black sub-dials.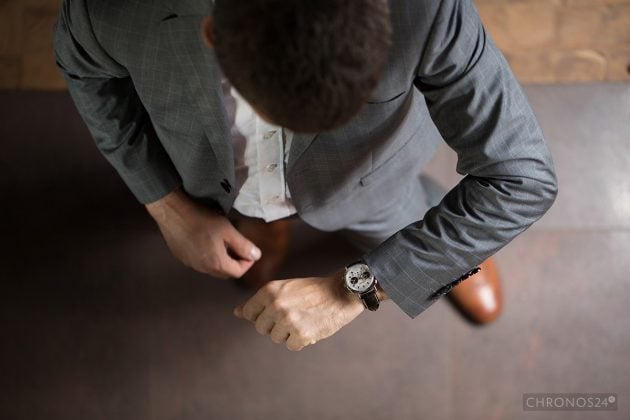 At first site you can get the impression that the chronograph from the Conquest line and the Heritage 1973 are almost identical. At a closer look, distinctive details can be easily noticed, that make those two watches significantly different from each other. I'm referring to the chronograph's third sub-dial and the date window. The third little dial – at 6 o'clock – has been added in a very discreet manner; while looking at it from a larger distance it's almost invisible, on a white background, a little hand can be noticed along with an allocated 12-hour scale. Unfortunately, we cannot say the same about the date window; it's been placed between 4 and 5 o'clock, which in my opinion overloads the dial and interferes slightly with its composition. Personally, I use this feature very often and consider it as one of the most important, but in this case, I could do without it. It should have been made smaller or placed at the bottom of the dial, but of course, it's a matter of taste.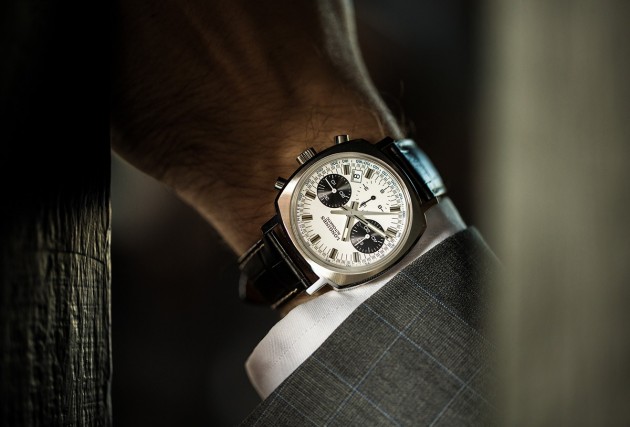 I like the dial itself a lot. We can find many elements replicated exactly as they appeared in the original piece: the font and details associated with its counters, including first 5 elongated minute indices in the 30-minute counter.
The black sub-dials are decorated with circular graining, whereas the blue tachymeter scale (the same colour as in the original) is positioned by the edge of the case, accompanied by a quite interesting minute-circle. There is a little scale fitted between minute indices, dividing each second into four. Although it would have been expected to affect aesthetics and readability, the effect is actually opposite. The whole design is complemented by beefy, applied indices, which are divided in two halves by a black stripe, and quite "massive" central hands along with the seconds hand, which is much "fatter" than in other chronograph watches, partially covering the Longines logo, once the stopwatch feature has been turned off and reset. I'm aware that this is part of the 1970s design's appeal, however the hand itself seems a little bit too conspicuous for some.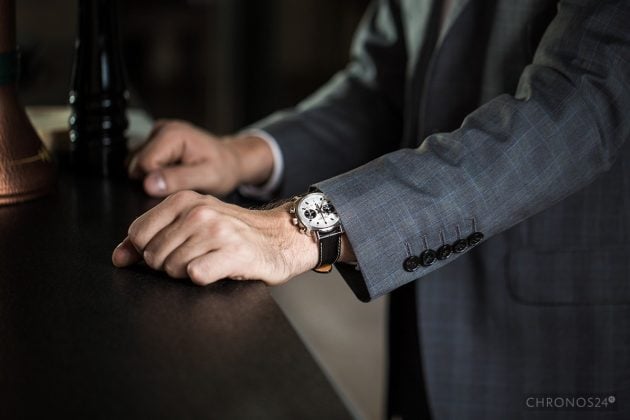 Longines Heritage 1973 adds SuperLuminova as well. Luminous substance has been applied to the central hour and minute hands in the form of little dots as an addition to hour indices. "Charged" hands stay visible in the dark for a long time, however the glow of the luminous elements placed by the indices doesn't last long.
In order to adapt the timekeeper to the current customers' expectations, the case has been made slightly larger (increase from 37 to 40mm in diameter). Its surface is brushed on the top with polished, chamfered edges alike its lateral surfaces. The workmanship is really outstanding, considering the price of this timepiece.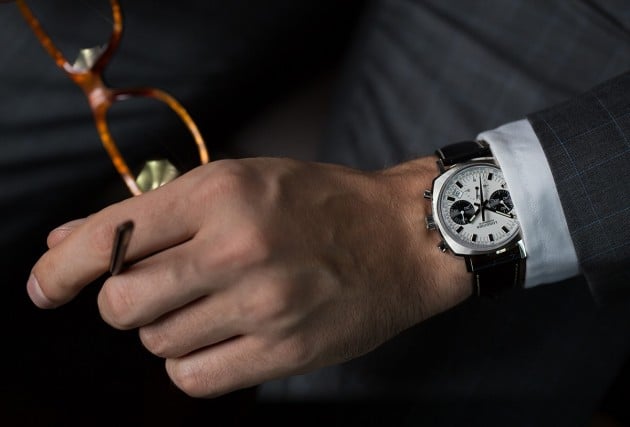 The chronograph is operated by two standard cylindrical pushers, which don't stand out too much from the case's contour (I find this a huge advantage). Adjusting the time can be done by turning the Longines logo engraved crown (push/pull). In position 1 it can be also used to wind the watch. The date window has been coupled with a little corrector, located at 10 o'clock, which is operated by a special tool (included). Of course, this can be done with a ball-pen tip, although, doing so, we are risking that the perfectly smooth case surface is going to get scratched. When it comes to watches with many functions I prefer to use correctors instead of integrating everything with a crown. Unfortunately, in this case, I cannot find a reasonable excuse for this option; just to clarify, I don't think it's worse, I'm just surprised that the date adjustment hasn't been integrated with the crown.
Finally, the strap. Longines Heritage 1973 comes on a black alligator. Although its white stitching gives the watch more sporty character, it will perfectly prove itself as an everyday wrist companion, worn with a suit. Paying great attention to details resulted in decorating the belt buckle with the winged hourglass logo.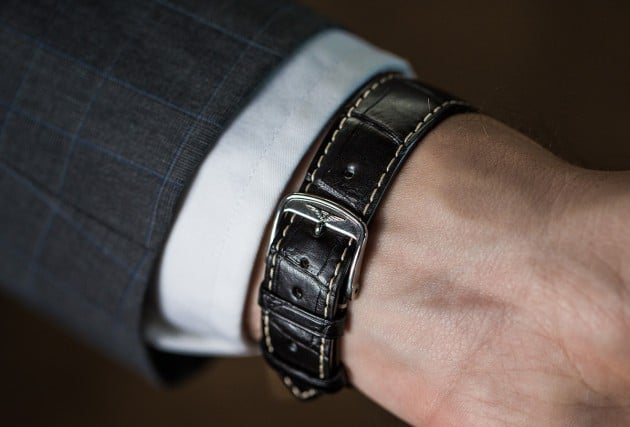 Movement
While speaking about movements, it needs to be said that Longines fully relies on resources supplied by its owner – Swatch Group (SG) in this matter. Movement manufacturer ETA (owned by SG) makes especially modified calibres exclusively for selected brands. For Certina and Tissot there is the Powermatic 80 movement, whereas Longines utilizes the L688.2 chronograph mechanism, based on the time-proven Valjoux 7753. The calibre, visible through the sapphire glass caseback, has bridges decorated with circular graining and oscillating weight with Côtes de Genève and the name, ref. no. and logo engraved on it. We can also see a blue column wheel – its movement can be observed once chronograph button is pushed. While testing the watch for two weeks, the movement, in spite of not being an in-house unit (which I regret, as probably all Longines lovers do) was performing quite well, with daily discrepancies ranging -5/+7 sec. in extreme cases.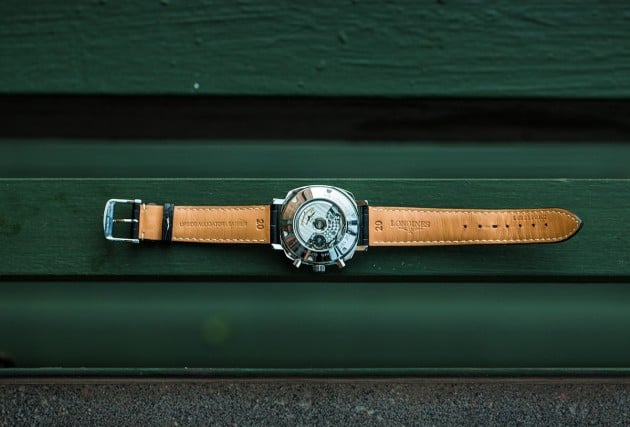 Impressions
A simple, well-proven dial layout, almost perfect image of the historic piece, polished and brushed, reasonably sized case with an outstanding finish made me appreciate it very much. Despite the fact that an automatic movement has been used here, which resulted in increased case height, and its total length with the lugs equals 47mm, the watch was easy to hide under the cuff. However, meant to have rather sporty character, in my opinion it would present itself better as a complement to a jacket or even a less formal suit.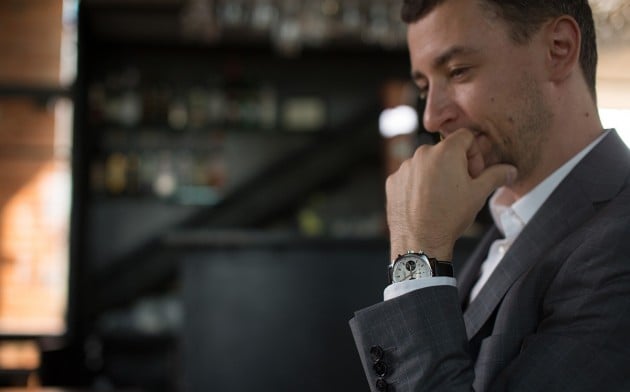 The Heritage 1973 is a first "panda" dial timepiece which I had an opportunity to test. Clearly the eye-catching design reminds the 70s straight away, but in a good way. At first, I wasn't sure what the outcome of my review would be, as is the case with Rolex Daytona "Paul Newman" – in spite of being the cult watch highly appreciated by collectors, it was never one of my favourites.
The reviewed model is an outstanding combination of history with a tang of modernity. If we add a very good finish and modern watchmaing touches, you get a watch without many rivals in its price range.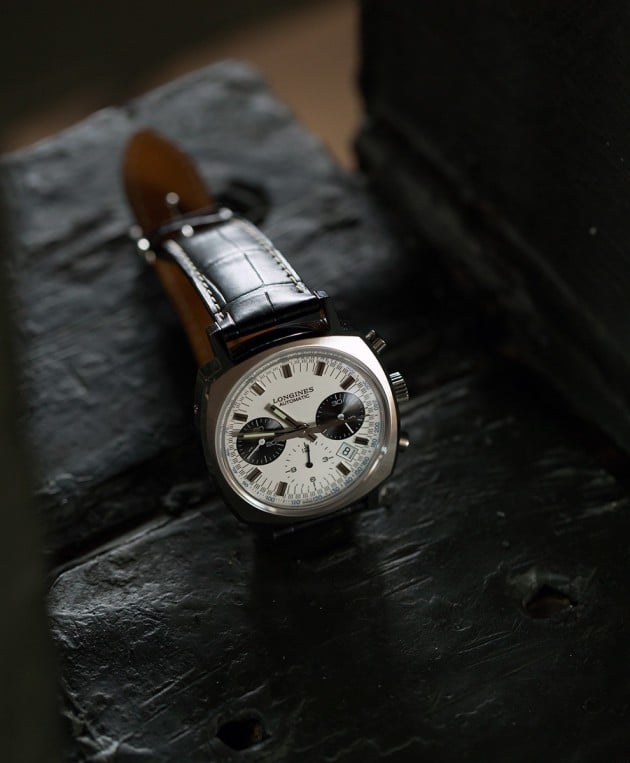 ---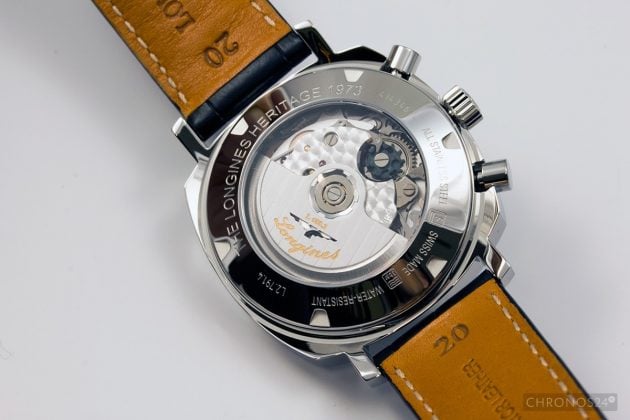 ---
In (+)
– great design + vintage look
– many details borrowed from the original 1973 model
– attention to details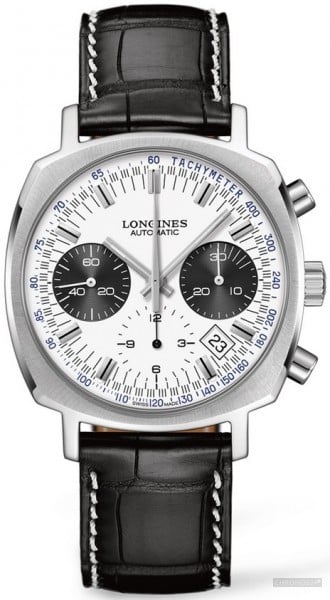 In (-)
– date window not blending with the dial composition
– date corrector located on the case, not integrated with the crown
– slightly too "clunky" chronograph seconds hand (despite corresponding with the original model)
Longines Heritage 1973
Ref: L2.791.4.72.0
Movement: L688, automatic, 54h power reserve, 4Hz, chronograph with column wheel.
Dial: white with black sub-dials (so-called "panda"), hands and indices filled with SuperLuminova
Case: 40mm, steel; sapphire crystal; see-through sapphire caseback
Water resistance: 30m
Strap: black aligator
Limitation: —
Price: ~2.350Euro
Watch provided for testing by Longines.
We also thank restaurant Szyb Maciej for help in photo session.
Zdjęcia: Adam Gawenda, Tomasz Kiełtyka