Review

Tissot PRX Powermatic 80 [live photos, price]

Floating on a still strong trend for sports, steel, integrated watches, Tissot revived its historical PRX. The automatic Powermatic edition might be the most accessible such timepiece on the entire market.

Trends in the watch world come and go, but merely a few turn out to be meaningful and long lasting. One of those permanent seems to be the "steel sports integrated" watch, which is a sporty watch made of stainless steel with an integrated construction of case and bracelet. It came about quite unexpectedly, driven by a rising demand for icons pieces of the sort from the likes of Patek Philippe and Audemars Piguet. Because watches by those two are both very expensive (especially on the second-had market) and almost impossible go get, many brands jumped on a bandwagon and created their own interpretations of the genre. Sports integrated pieces in steel bloomed like March cherry blossom in Japan, to the extant it's hard to keep track. We did highlight a few in our TOP 5 article (in Polish to be reviewed HERE), but ever since another plethora of new pieces arrived. One visible gap in the market has for some time been a sports integrated piece with an affordable price tag. Tissot decided to fill it up.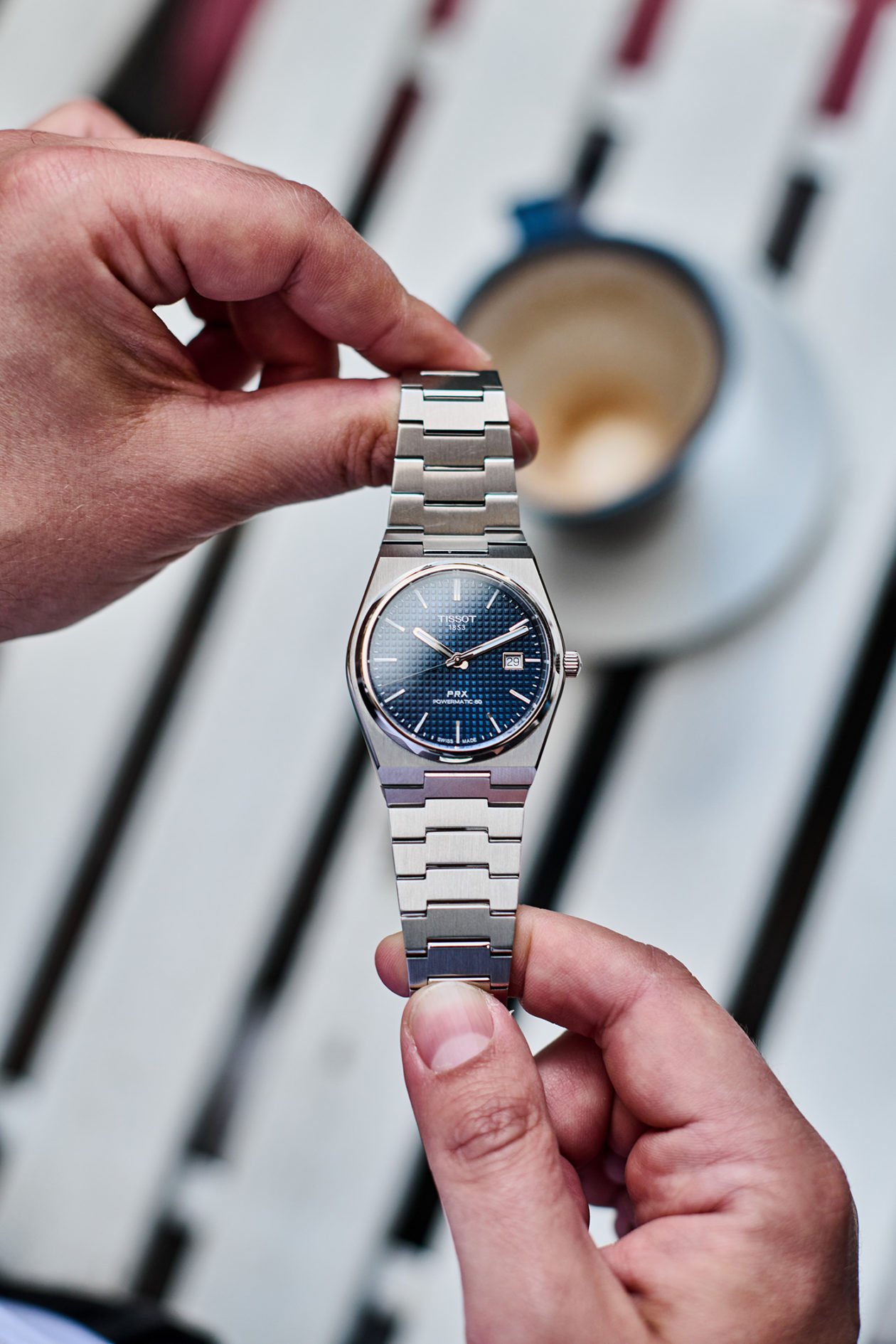 The original Tissot PRX came to life in 1978. Catchy name of the watch is an abbreviation of the words "Precise" and "Robust" along with a roman numeral "X", representing 100 m of water resistance.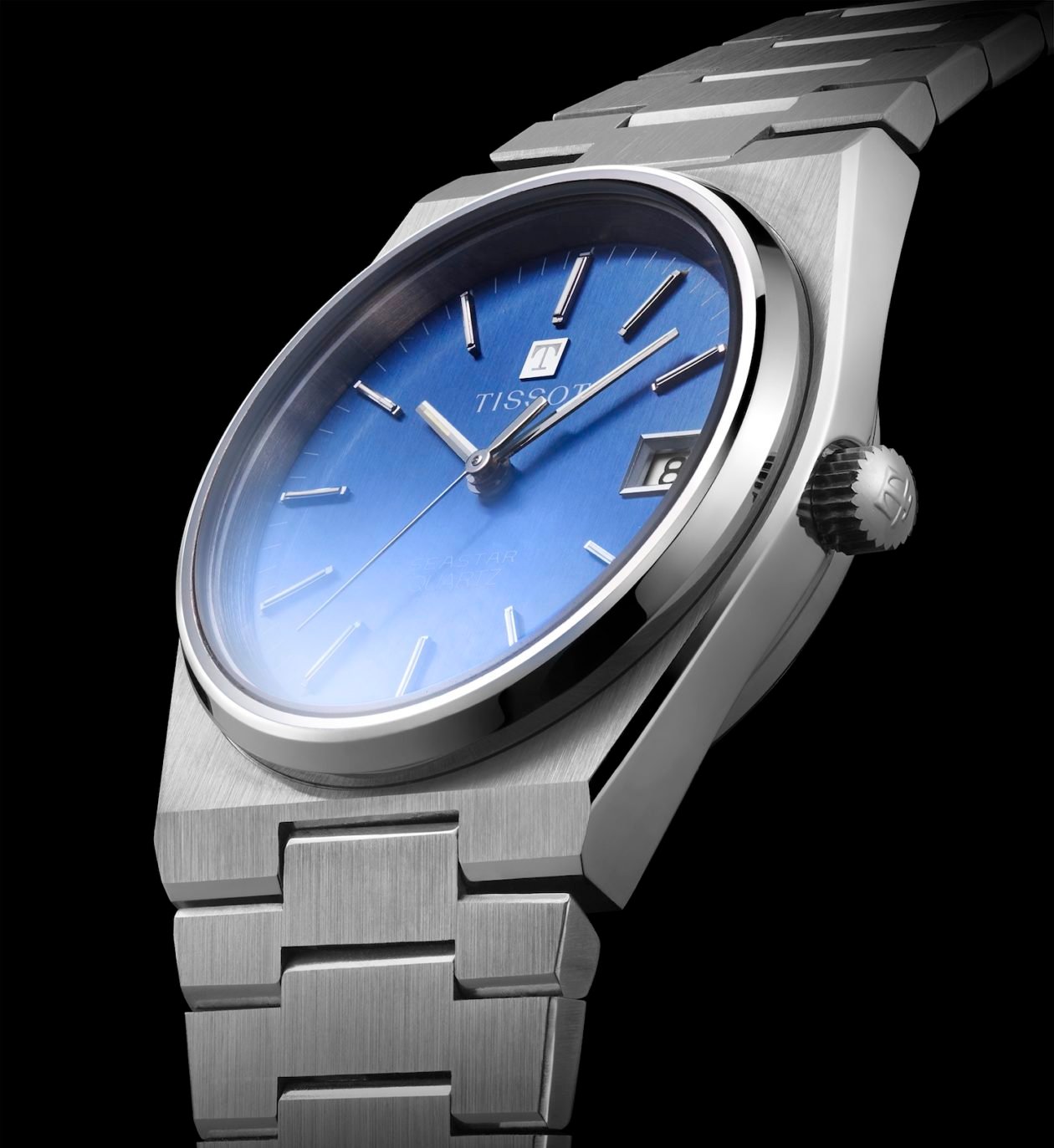 Although definitely good-looking, the PRX did not make its mark in history and would still probably be unrecognized by most, if not for the modern re-edition. In February 2021 Tissot presented a quartz version of the brand new PRX. Its steel, nicely shaped case comes at 40 mm, is equipped with an integrated bracelet and an option of three dials, adorned with a sunray pattern. Almost immediately people demanded a mechanical version. It did not take long, and after just few months Tissot came out with a fully automatic Powermatic 80 models. Is it a perfect watch for those who long for a sports integrated piece with a very affordable price tag? Let's have a closer look.
PRX in details
There's a case (almost a rule) with on-the-budget watches from low-end watch brands, that with a smaller price comes visibly lesser quality. It is of course understandable, because pampering the details, decorating the dial and mechanism along with esthetical enhancements cost money, which is then reflected in the price, that is eventually paid by the customer – you. Affordable watches usually (with few noble exceptions) mean simplicity, rawness and certain level – and from this perspective the PRX Powermatic 80 comes as a very nice little surprise.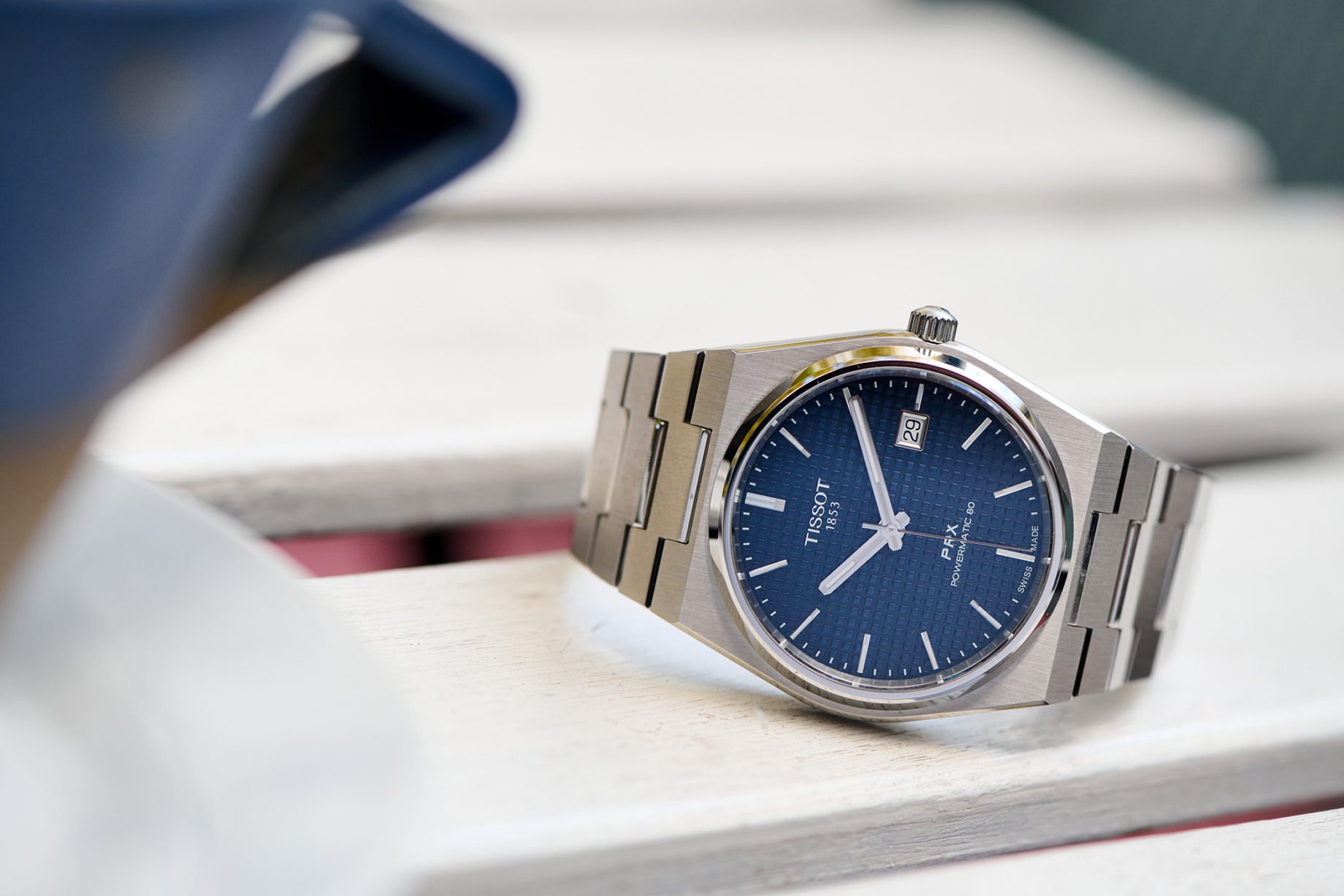 One thing that strikes you right away when handling the watch is that it is a properly substantial piece of steel. Feels very pleasantly heavy, solid and truly, truly well made. Most of the case and bracelet has been satin-brushed, but the edges for example are polished, and so is the bezel ring and the case-back ring, both with transparent crystals (sapphire and mineral). What's more (and even more impressive) you'll also find alternate finishing on the tapering bracelet links, with inner surfaces polished to give a very nice, visual play of light. The bracelet fastens on a smartly integrated clasp with two push-buttons, sadly with no micro-adjustment. There is however a quick-release system on the spring bars, which might come in handy… just not for the moment, as there are no strap options available.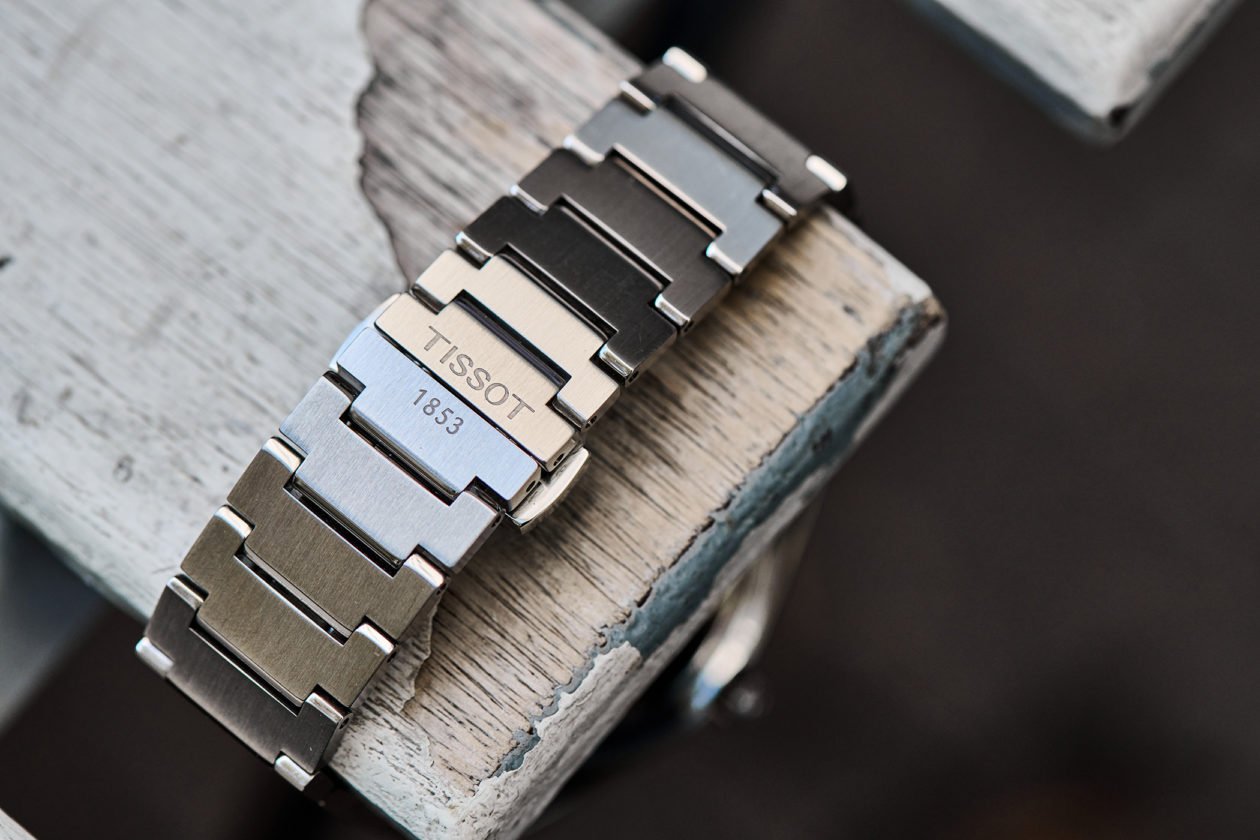 Everything fits well within the watch and about my only complain is the signed crown – a size or two too small for that case.
Classic blue
Just as the quartz version, the Powermatic 80 PRX comes with three dial variants: silver with gilt appliques, black and blue. Blue is the most classic (not to say common) dial color for the steel sports watch, emblematic to most iconic pieces in the genre.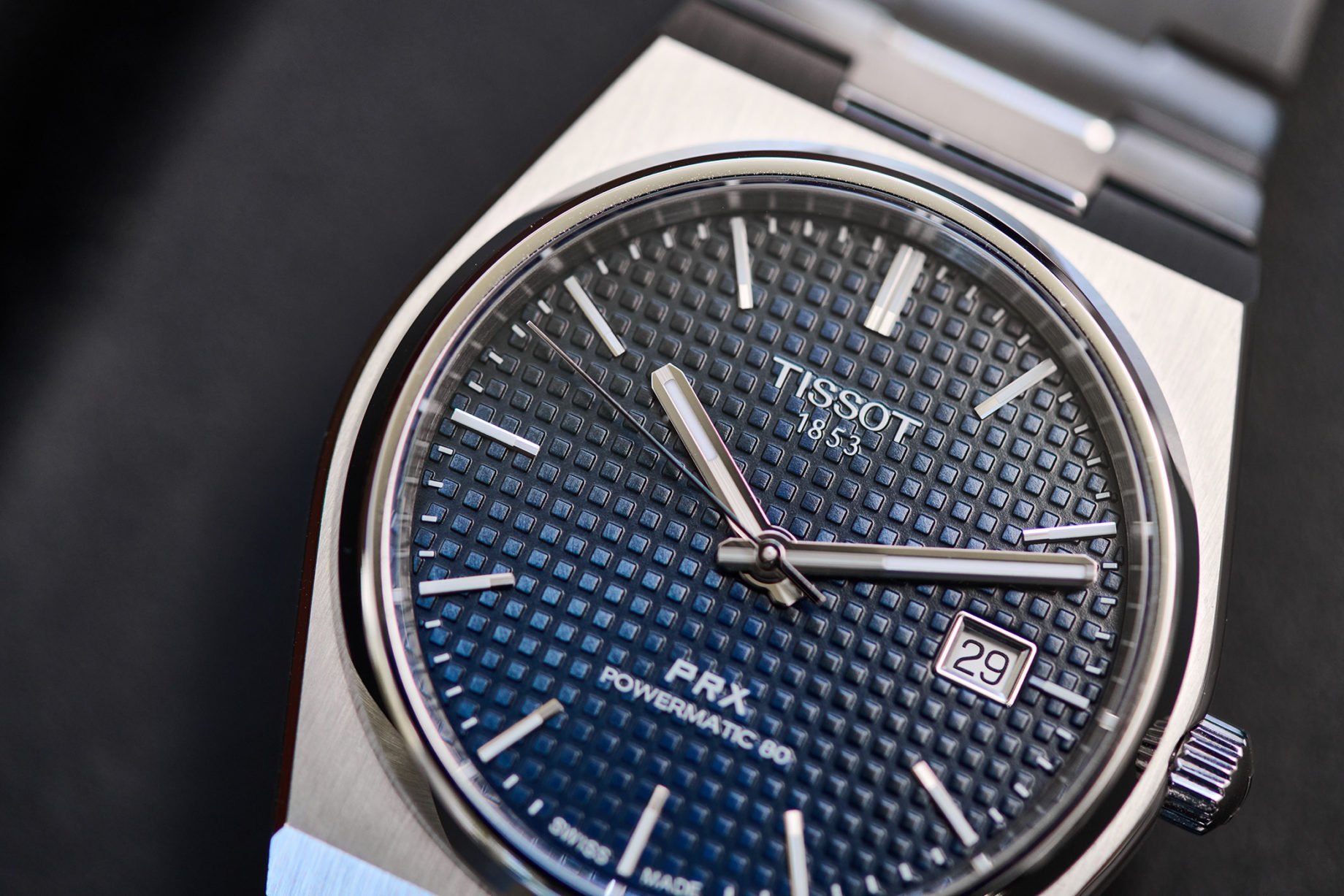 Unlike in the quartz one, in the automatic model Tissot decided to decorate the dial with machine-made guilloche, composed of small squares, sort of like the dial of the… you know which one I'm thinking about. The shade of blue is deep and metallic, so under some light the dial turns to navy blue or even black. There is a painted white minute track along with applied hour indices, painted brand's name and model's name plus framed date window at 3 o'clock. The straight hands might seem very simple at first, but they match the overall design and are quite well executed too, with a touch of luminova. Funny thing is, I can't still decide whether I prefer the guilloche option dial in the Powermatic 80 or the sunburst from the quartz editions.  
Powermatic
Mineral glass back revels probably the most questionable part of the watch (for many) – an automatic Powermatic 80 caliber. It is made by the Swath Group, that amongst many brands also includes Tissot. I can't think of any other modern watch movement, that would cause such a discussion, doubt and controversy, as this one. Fact is, Powermatic 80 comes in many iterations, in many different watches by Swatch Group owned brands.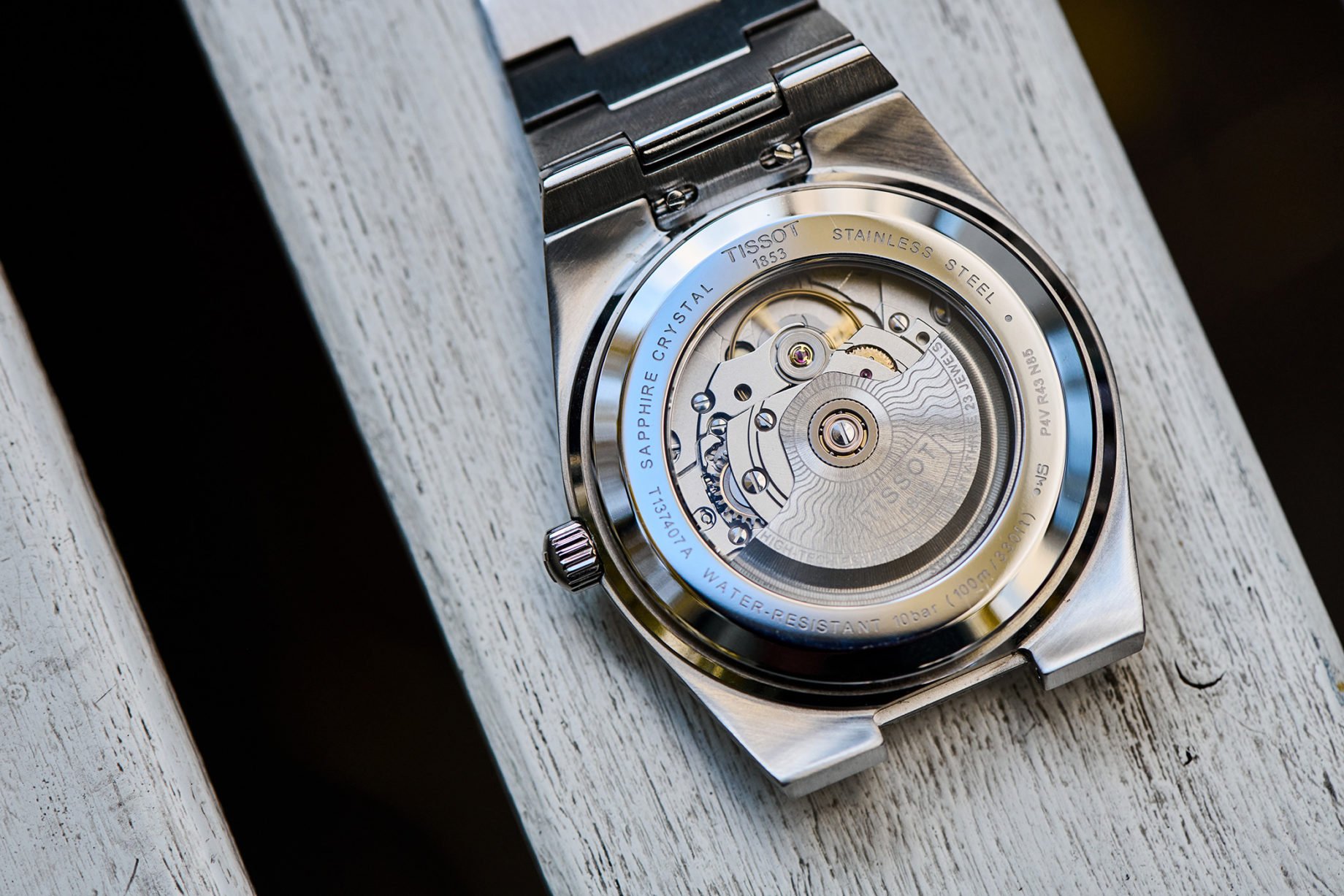 Powermatic 80 in the Tissot PRX is supplied with 80 h of power reserve and an antimagnetic Nivachron hairspring, developed by SG in partnership with Audemars Piguet. I have to admit I did not play much with any Powermatic 80 models before, but the one in the tested watch worked just fine, with good timekeeping and comfortable usability. Unfortunately it is not equally pretty to look at, but the fact Tissot decided to present it behind a glass back can be easily explained. A customer buying a watch for such money does not think nor expects high-level horology, but wants to see his watch is mechanical. For him it's an added value and I can fully understand, despite obvious lacks of Powermatic 80 esthetics.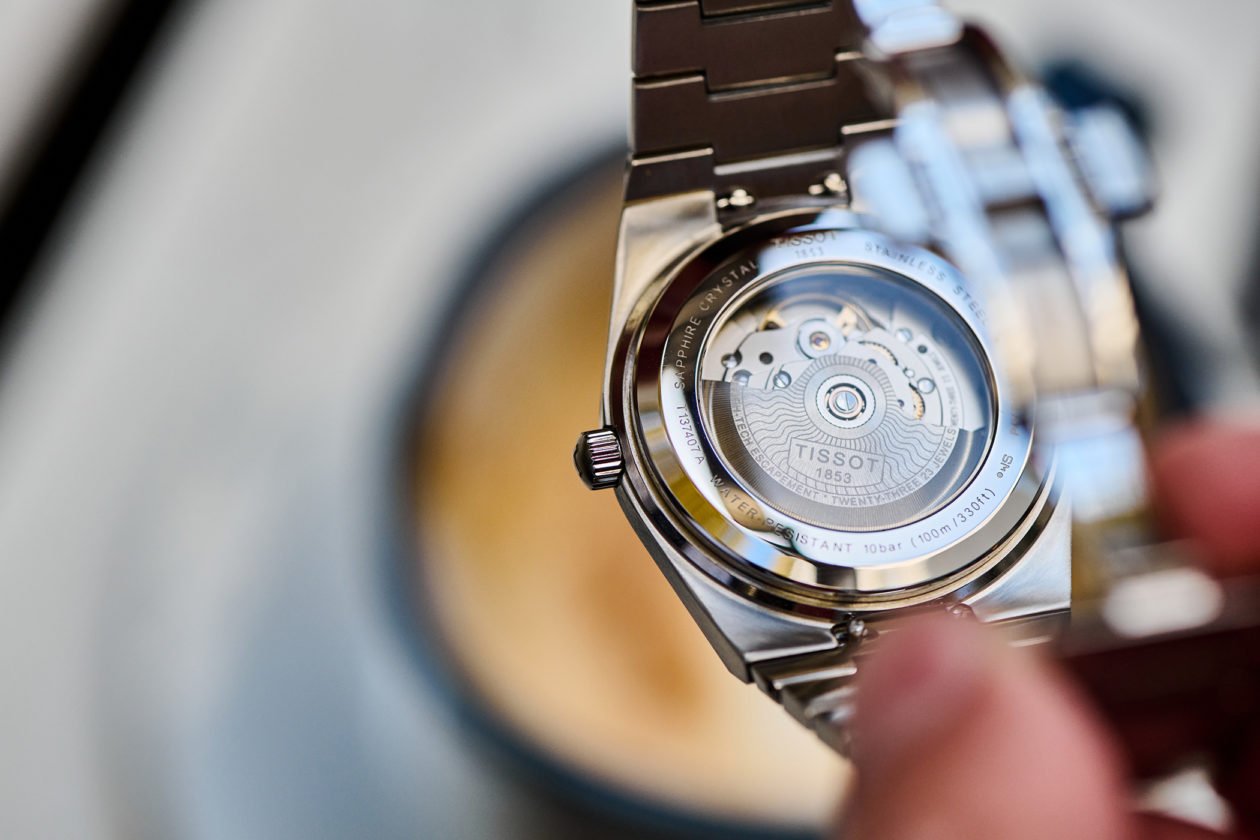 Impressions
I must admit I approached testing the PRX Powermatic 80 with more of a curiosity, rather than skepticism. It looked good on pictures and I do like the "sports steel integrated" category too. Of course duly noted it's a 660 EUR watch, so I set my expectations accordingly. Especially that this way it's easier to be positively surprised than disappointed.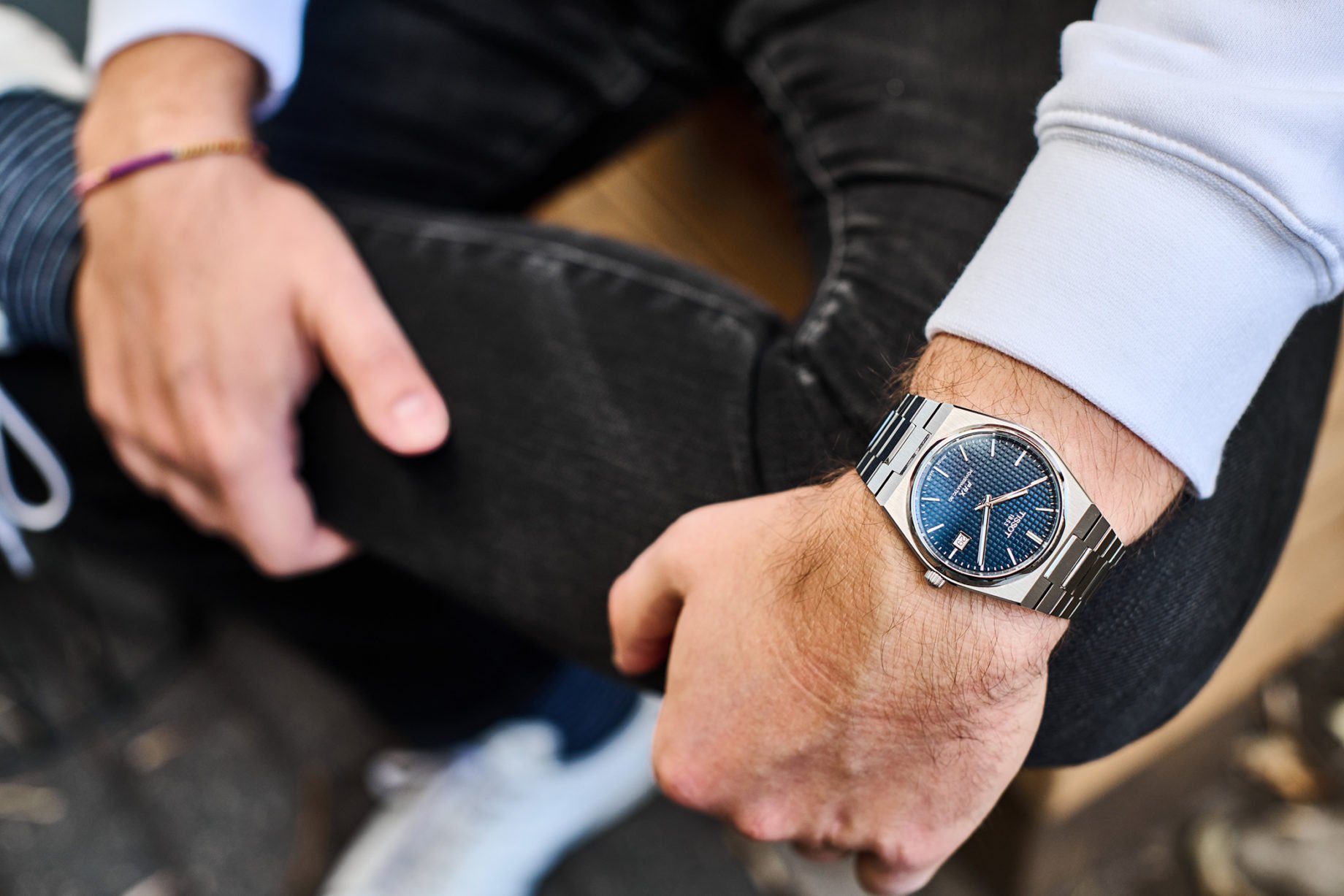 In short I'd say that PRX Powermatic 80 is the best Tissot watch since the launch of Le Locle classic piece, albite both are very different specimens. The latter is an elegant watch for a shirt and suit, while PRX is a fully sporty piece of watchmaking in a casual vibe. Surprisingly well made, with details and adequate movement, that I can't honestly complain about. I wore the watch for a few weeks and got used to it, which might just be one of the highest complements. I'd love to have some micro-adjustment on the bracelet though, since during the day your wrist "works" and changes girth. With one bracelet setting you have to compromise. That is the only minor complain I have. I had proper fun with the PRX and my friends appreciated the piece too, when tried on from my wrist.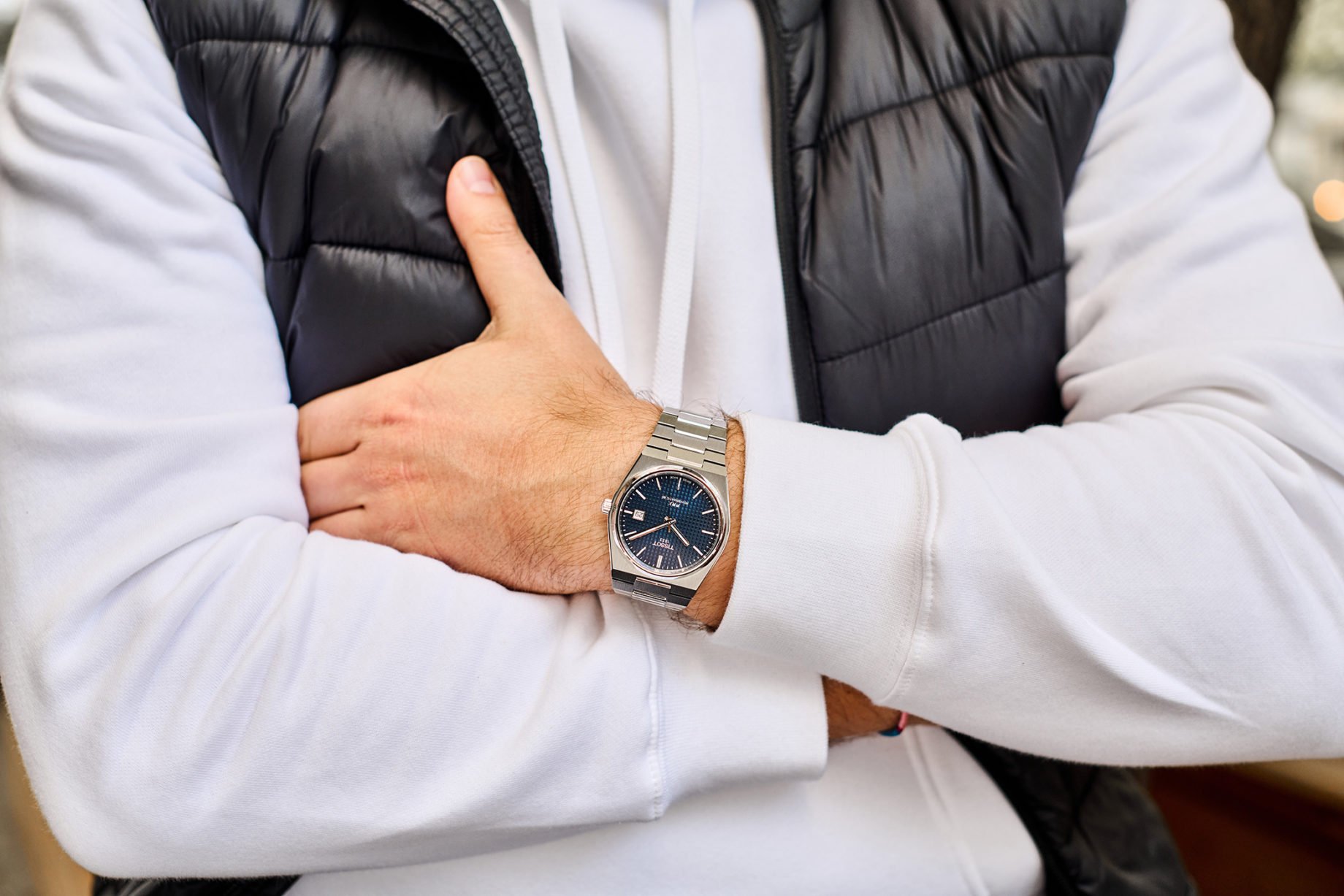 If you keep in mind, that the Tissot PRX is not a substitute for the AP, PP, VC, GP, Lange and even the Bell & Ross, but the entire different watch in similar style and feeling, you just can't be disappointed. Tissot made one hell of a watch – I say that with full confidence, mostly skeptical about their other creations. PRX Powermatic 80 is everything as it should be.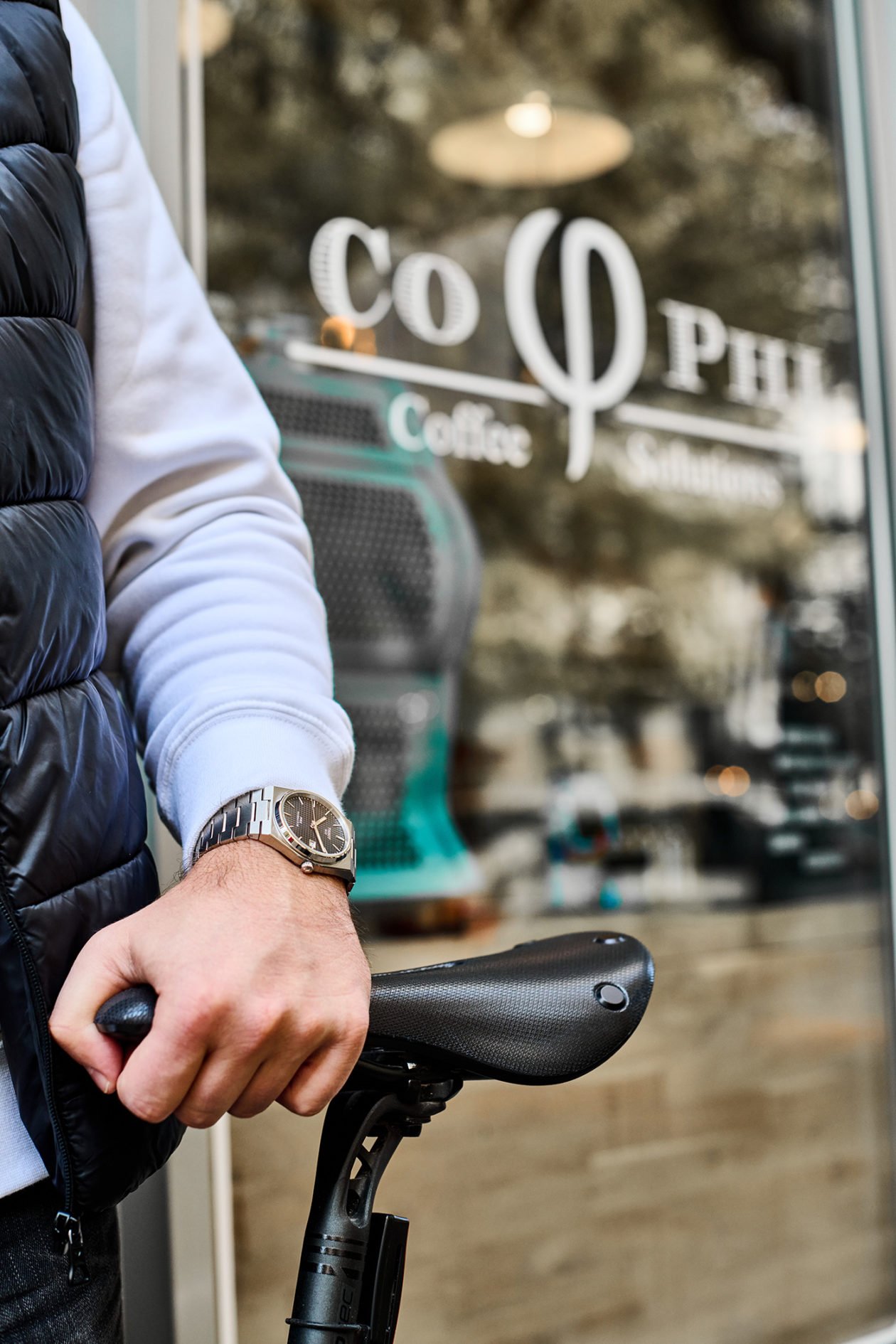 Tissot PRX Powermatic 80 has been awarded with "Public Prize" statuette of our "CH24 Watch of The Year".
We thank Cophi Warsaw for help with a photo shot.
Test watch provided by Tissot.