Review

Zenith Chronomaster Sport [live photos, price]

Designing the new Chronomaster, Zenith reached back to the roots of a classic, sporty chronograph. The iconic El Primero has been utilized, fully exploiting the high beat 5 Hz escapement.

The various new watch launches usually perpetuate two different kinds of emotions. Vast majority of them – in a good year a good few hundred (if not thousands) novelties – come and go barely noticed. New dial color, case material or some other, esthetical details, is not what makes the watch community owe, especially that it happens so often. It is all different story when a new watch is totally new, and if it is a bit controversial – that's even better. It has to be interesting of course, but when it is, it's the controversy bit that makes or breaks the success. There are some that say a product that does not create different emotions is a failed product. And the one that's priced by all is perhaps the biggest failure. In that light Zenith won a lot presenting a watch last year, that nobody expected to see. Chronomaster Sport steered the pot and the social media lit with fire, which you must have noticed yourself. But what is justified? We decided to take a closer look.
Zenith and a bit of history
Zenith's history is as rich as it is well known, and since it's been covered so many times out there, let's just move to the part that is crucial to the lead star of this review. It is of course the El Primero, an undoubtedly iconic high-frequency movement with a chronograph, presented back in 1970. It was at the time when Zenith participated in a race to construct first ever automatic caliber with a stop-watch, and decided to surprise everyone with a crucial element of precise timekeeping – frequency of the balance wheel.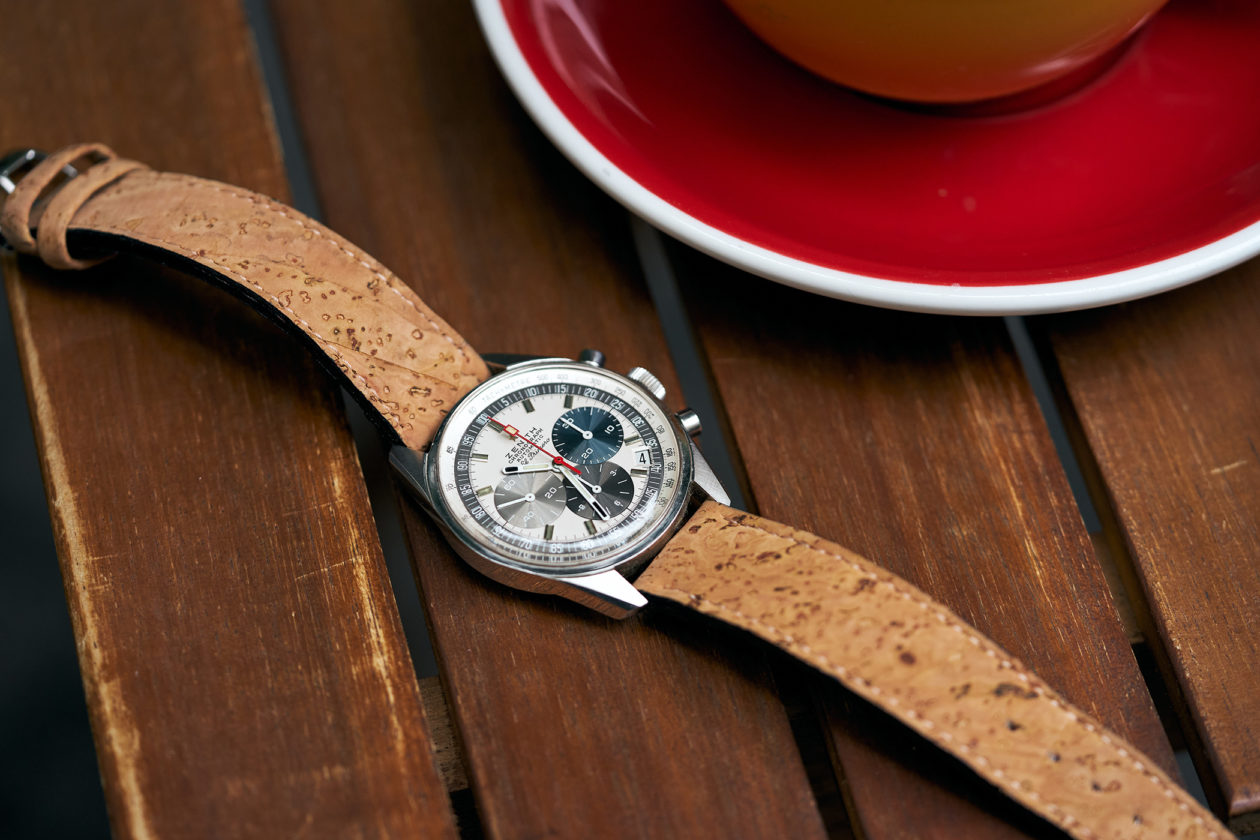 The El Primero has been equipped with a 5 Hz (36 000 Vph) escapement, which was an absolute breakthrough at the time (and still isn't a standard nowadays). Soon after the launch it became evident the movement is a true winner, strongly appreciated by competition. Best proof – Rolex, who bought the movement from Zenith, modified it a bit and placed in the no-less iconic Cosmograph Daytona. That is the exact piece of history and the watch, that was a reason of all the Chronomaster Sport debate. Before we discuss it, let's focus on the watch itself.
Chronomaster Sport
The name Chronomaster is as deeply rooted in Zenith's history as is El Primero. The first timepiece equipped with a new movement was in fact a Chronomaster, and the name found its permanent place in Zenith's portfolio ever since. The Sport model is however brand new, not based on any specific vintage reference and not re-inventing any previous reference. Moreover, it is not just a new watch but also a (relatively) new movement.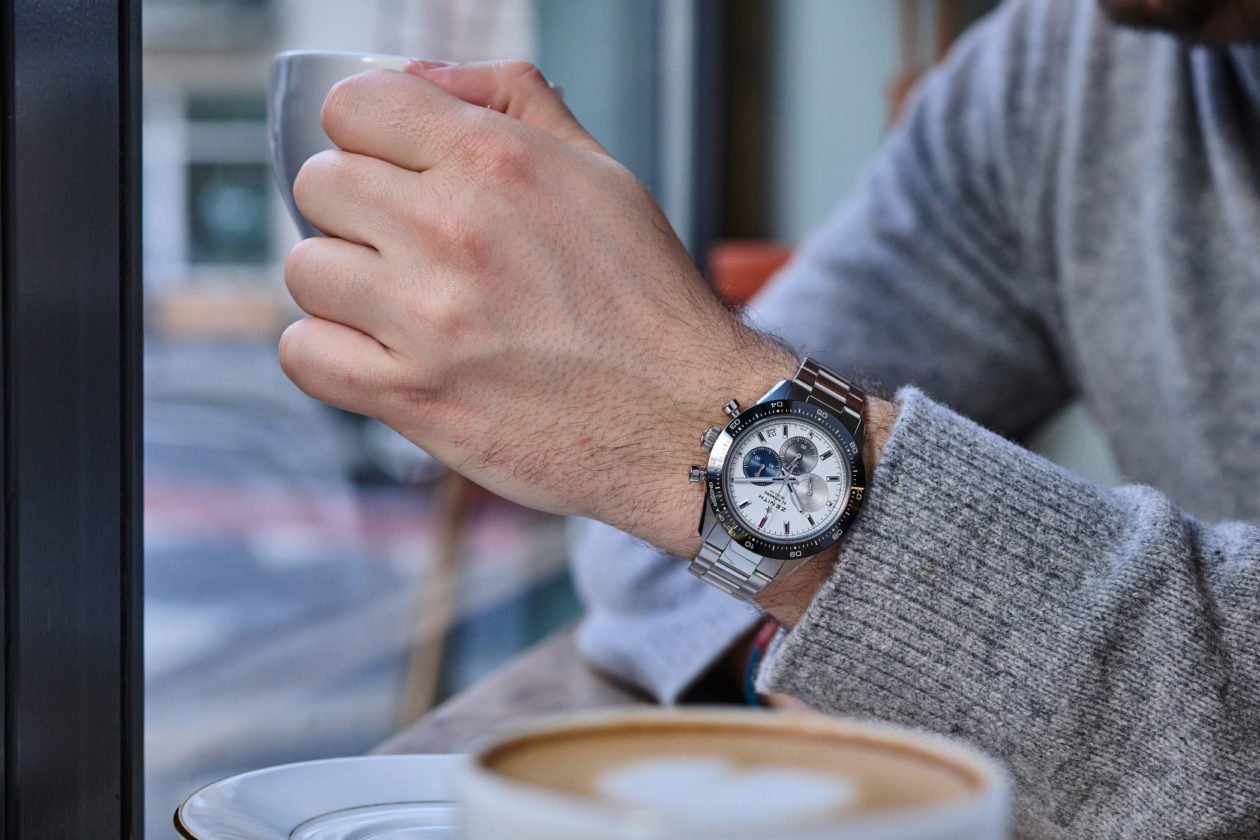 As a name very rightly indicates, the new Zenith is a truly "Sporty" watch, in a watchmaking sense of course (not that it's another G-Shock). It's made out of stainless steel, probably the most sporty of materials, robust, long-lasting and universal. The case comes at 41 mm in diameter, and together with rather long, straight and nicely edged lugs has a 46,8 mm lug-to-lug. The back is transparent, and the top has a flat sapphire crystal, which results altogether with a 13,6 mm of thickness. On paper it's rather compact but on the wrist the watch signifies it's presence, which can largely be attributed to a rather substantial, hefty construction – in a good way that is.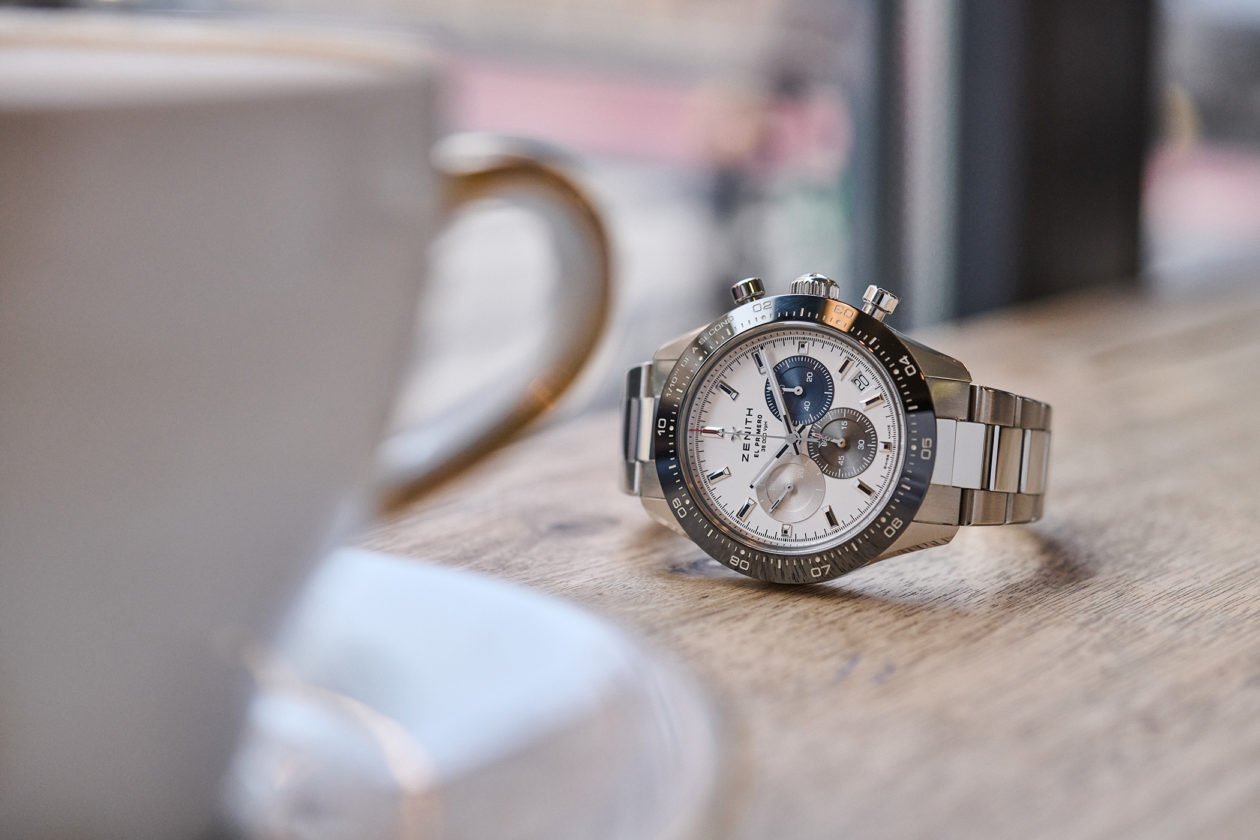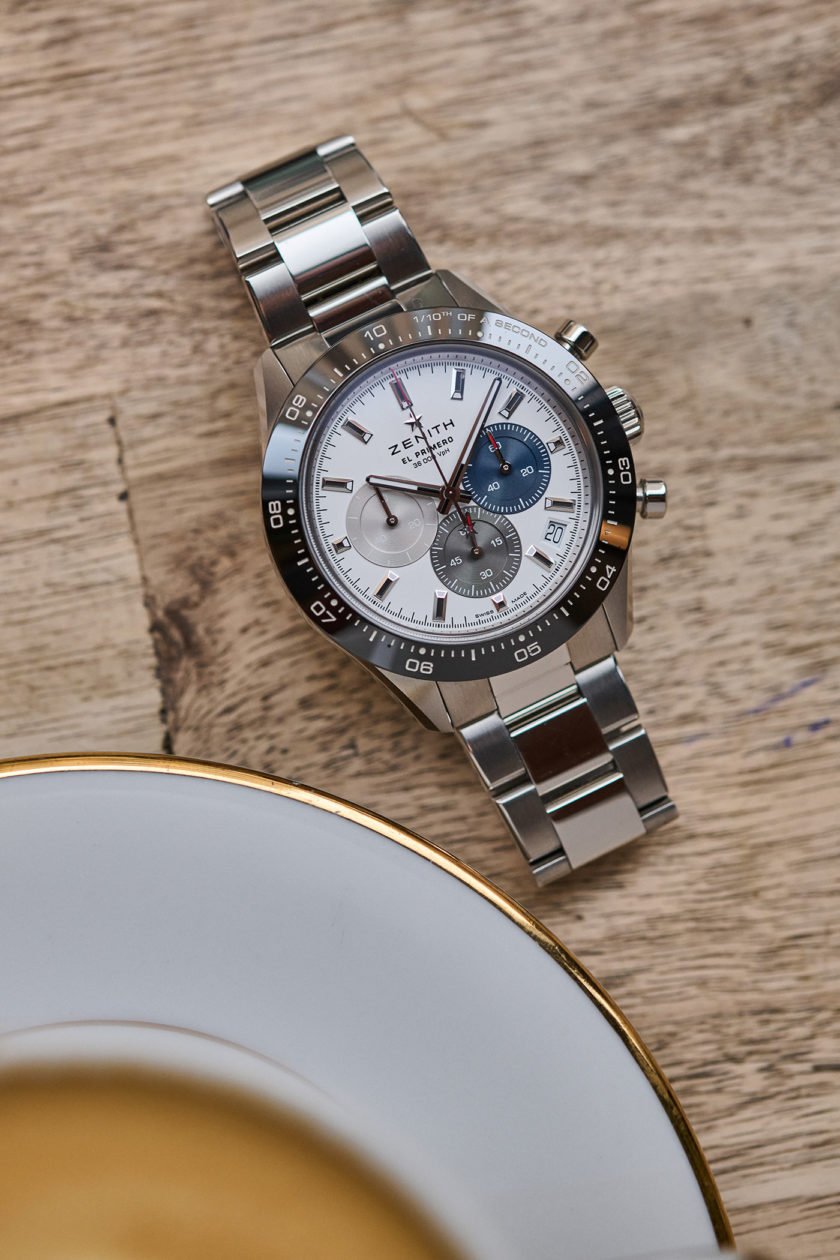 On the top of the case Zenith mounted a solid, black ceramic bezel. It is placed firm (not rotatable) and engraved with a "1/10th of a Second" scale, filed with white lacquer. There is a traditional crown at the right hand side (adorned with Zenith's star) and a pair of mushroom-shaped pushers. The watch is water resistant to an appropriate 100 m and – in the reference we tested – equipped with a solid steel bracelet. Zenith chose to go a classic way and proposed a Oyster type bracelet with rows of three-piece links, that have two outside, smaller part satin-brushed and a center-link polished for contrast. Very nightly finished bracelet (with some polished edges too) is looked with a butterfly clasp with a lock and a 5-step micro-adjustment (with a pin).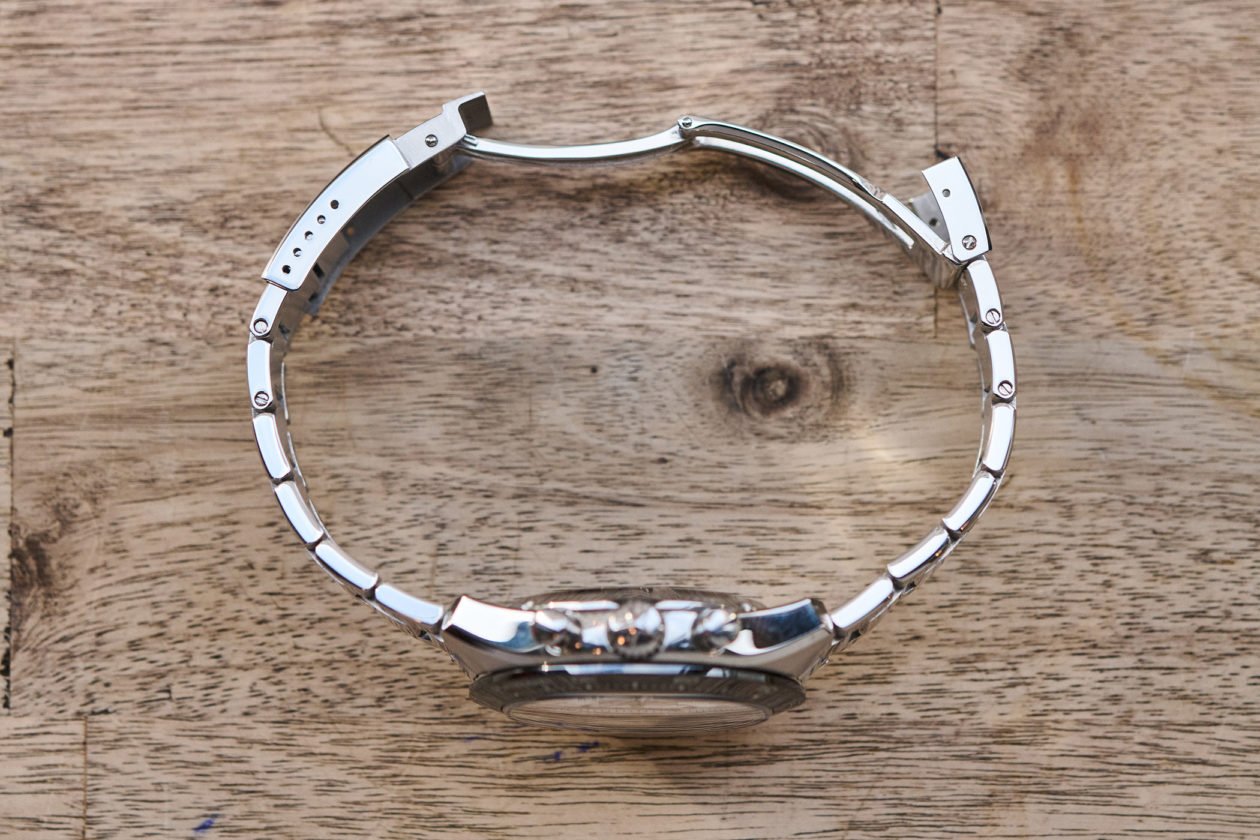 Before we venture to the dial, let's have a focused look at the movement, cause it is a clou of the Chronomaster Sport after all, with a significant impact on the dial design as well.
El Primero in its full glory
To write and state that Zenith is El Primero would be a understatement, almost a triviality. The Le Locle manufacture is strongly and inseparably associated with this half-a century old movement, which is both a blessing and a curse. Why a curse? Because it sort of made Zenith being a hostage to its own success. El Primero is present in Zenith's portfolio, almost unchanged, ever since its birth and that for many means a limitation to creativity. The change came fairy recently, especially when Zenith was placed under supervision of non-else but Jen-Claude Biver. Biver, who is widely regarded as King Midas of the watch industry marketing, turned the company course to go under the catchy motto "future of tradition". Then he placed his trusty man on the CEO position – a young guy named Julien Tornare. Tornare rolled up his sleaves and went straight to hard work, creating the future of El Primero.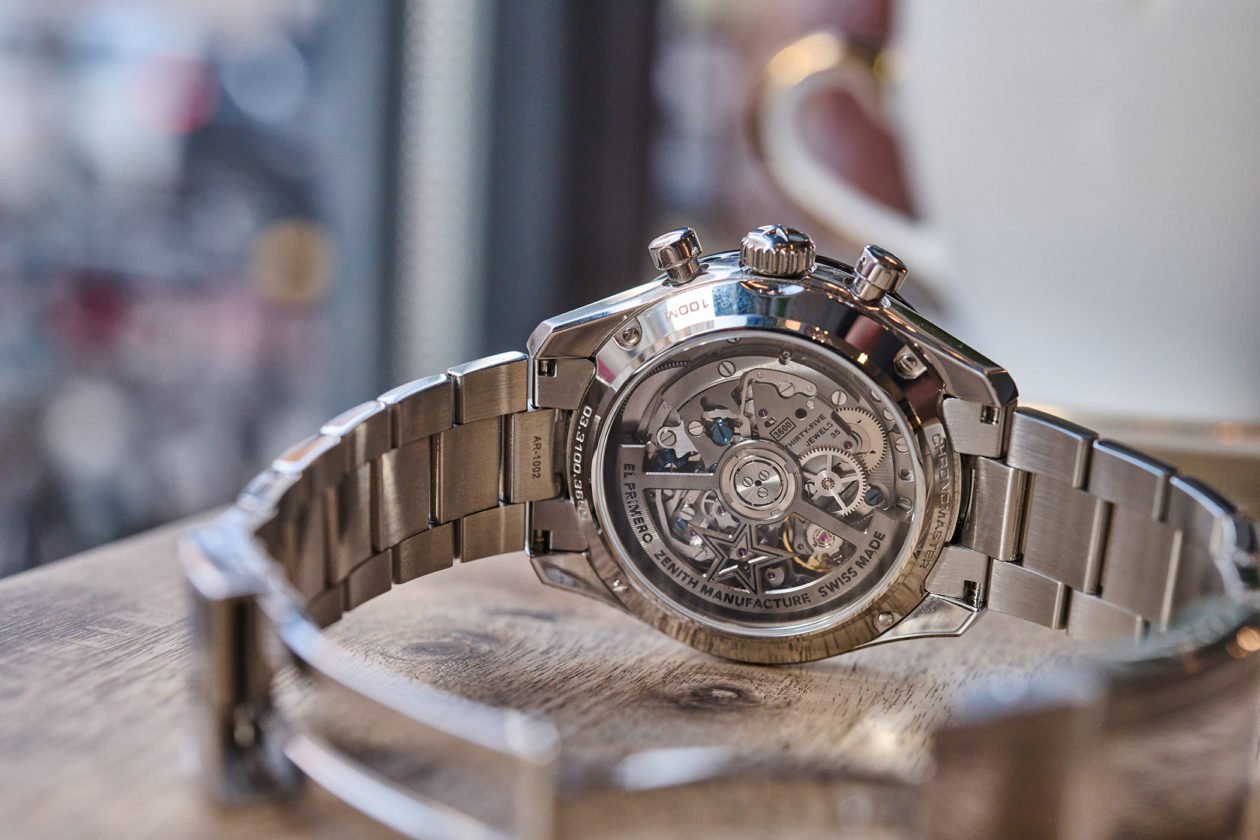 In the past Zenith has very seldom used the full potential of the El Primero, especially its high frequency. A 5 Hz (36 000 A/h) balance means, that the every passing second is divided by 10. The movement is therefore capable of measuring time with 1/10th of a second precision – and that is highlighted in the Chronomaster Sport. The El Primero 3600 does not come with a classic, central seconds hand. Instead the centrally mounted hand makes one full turn around the dial in 10 seconds. The caliber also provides a possibility to measure up to 60 minutes of time and a date. All 311 components, that are mostly visible via the transparent back, have been finished rather modestly (some satin-brushing and polishing) but adequate to the character of the watch. The eye is immediately drawn to the blue column wheel of the stop-watch and a semi-skeletonized rotor with Zenith star in the middle.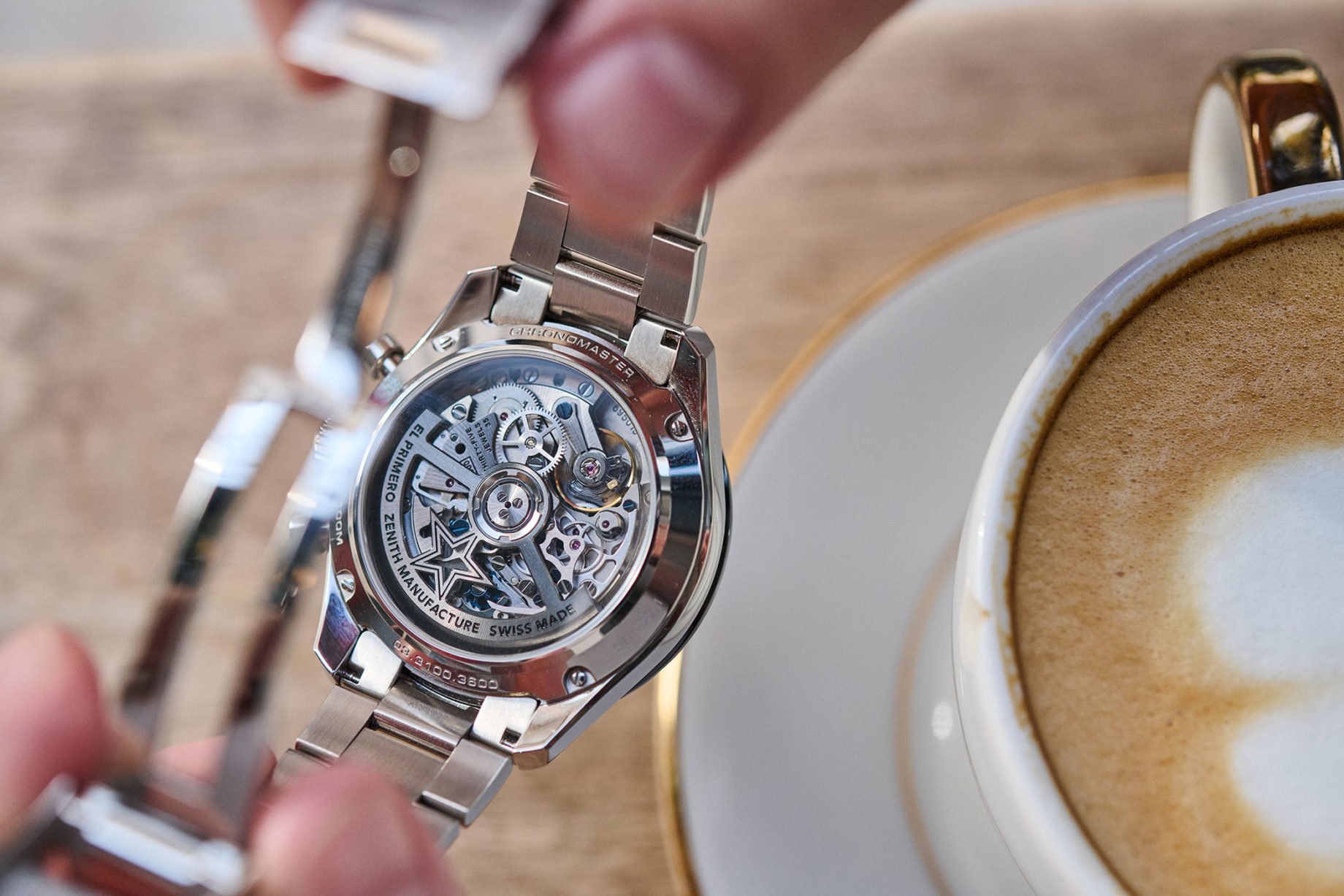 The Dial
Chronomaster Sport comes in two options – black and white. In general quite similar – roughly – but vastly different upon closer inspection. The black one is more classic, formal… and would have been my first choice, if Zenith didn't decide to surprise us with a white dial version for the review. When I consider this now, after some time spent with the watch, I tend to find the white option more appealing, original and significantly more readable.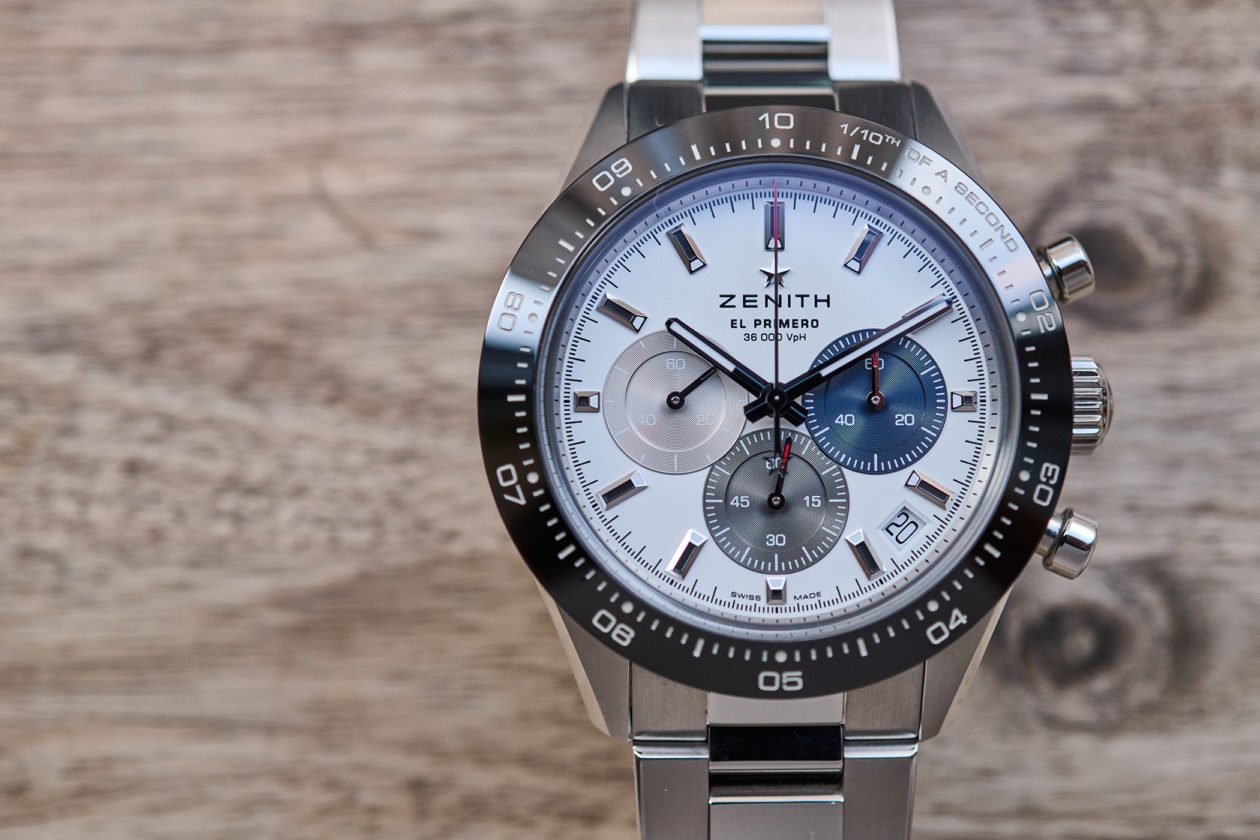 A white, matt-finished dial has been adorned with 12 applied hours indices. They've been neatly chamfered, polished and covered with some black lacquer from the top. There has also been some lume placed on the front part of each index, just as well as on the pair of slightly chamfered hands. Zenith star-logo has been placed at 12 o'clock, and at 4:30 there is an angled date window. Center stage of the dial is all taken by Zenith's emblematic set of three overlapping sub-dials: a small second, a 60 minutes counter and a 60 seconds counter. All three come with a subtle decorative pattern that adds a bit of metallic shine. They are colored navy blue, dark gray and light gray, all with white applications. Two dials associated with a chronograph also present red filled hands, that is a nice little accent, also to be found on a tip of a central seconds hand.
Rather distinctively classic but detailed dial is both stylish and readable – in very right, sporty way. There is nothing to be added or subtracted. It's just right.
One big "But…"
If you managed to read thus far, you might have come to an impression that the Chronomaster Sport is a faultless watch and I did like it very much. Well – it's true in general, however I do have some minor remarks… and the obvious one.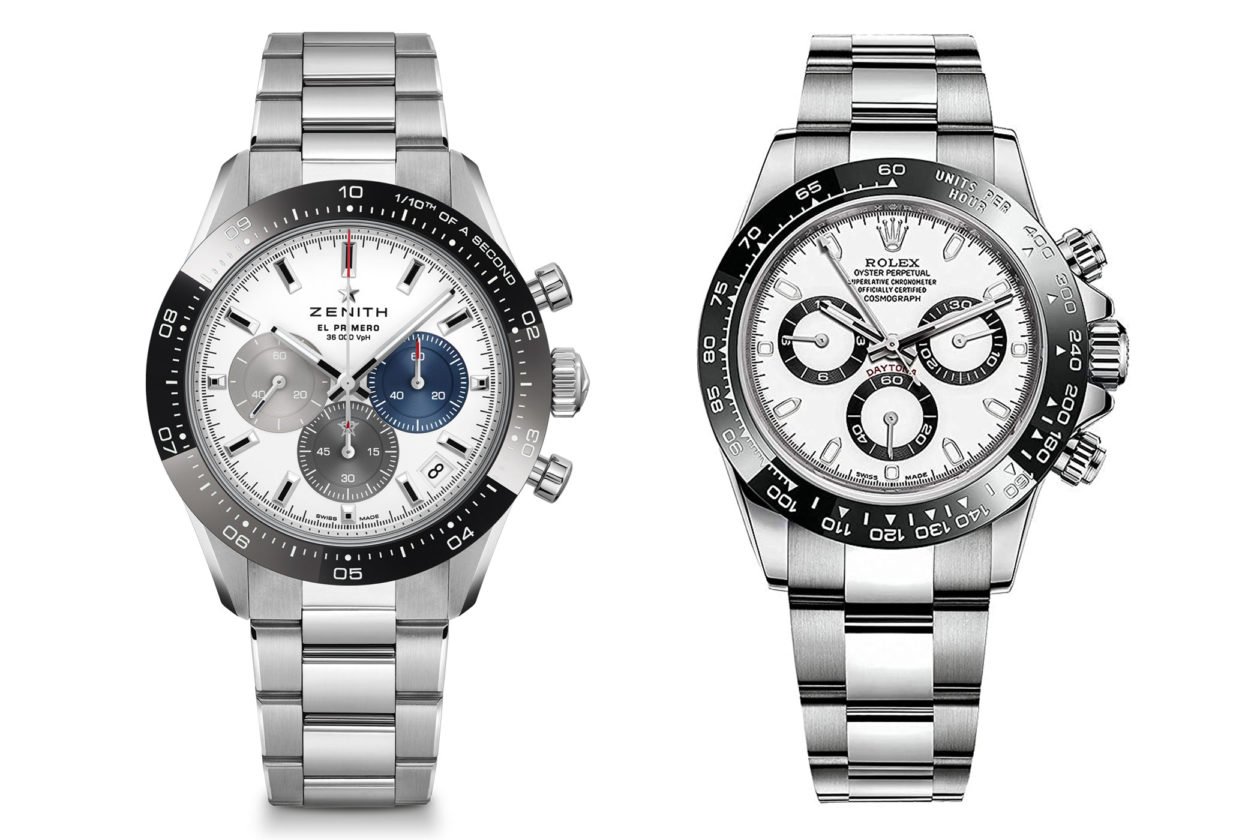 Without a doubt a single biggest controversy after the launch of the Chronomaster Sport was its resemblance of a Rolex Daytona. Let's be clear here – it would be dishonest to deny, especially when you look at the bezel, the overall feel and character of both watches. But is it a problem? – Not for me. There are tones of similar-looking watches out there, and although Zenith did use some of the very similar design codes, it is a distinctively different watch. And one has to remember, that the manufacture (Zenith) has strong historical ties with Rolex Daytona, so is kind morally entitled to the theme. This way or the other, in my humble opinion, I'm not bothered by the resemblance and I wouldn't look at the Chronomaster Sport as an alternative for the Daytona – definitely not as a substitute, as it is a better watch in few aspects. And it is also vividly less expensive, with a bracelet option set at 10 700 EUR, a good 3 350 EUR less then the Daytona. Not to mention the availability, although that Zenith reference is still in very high demand.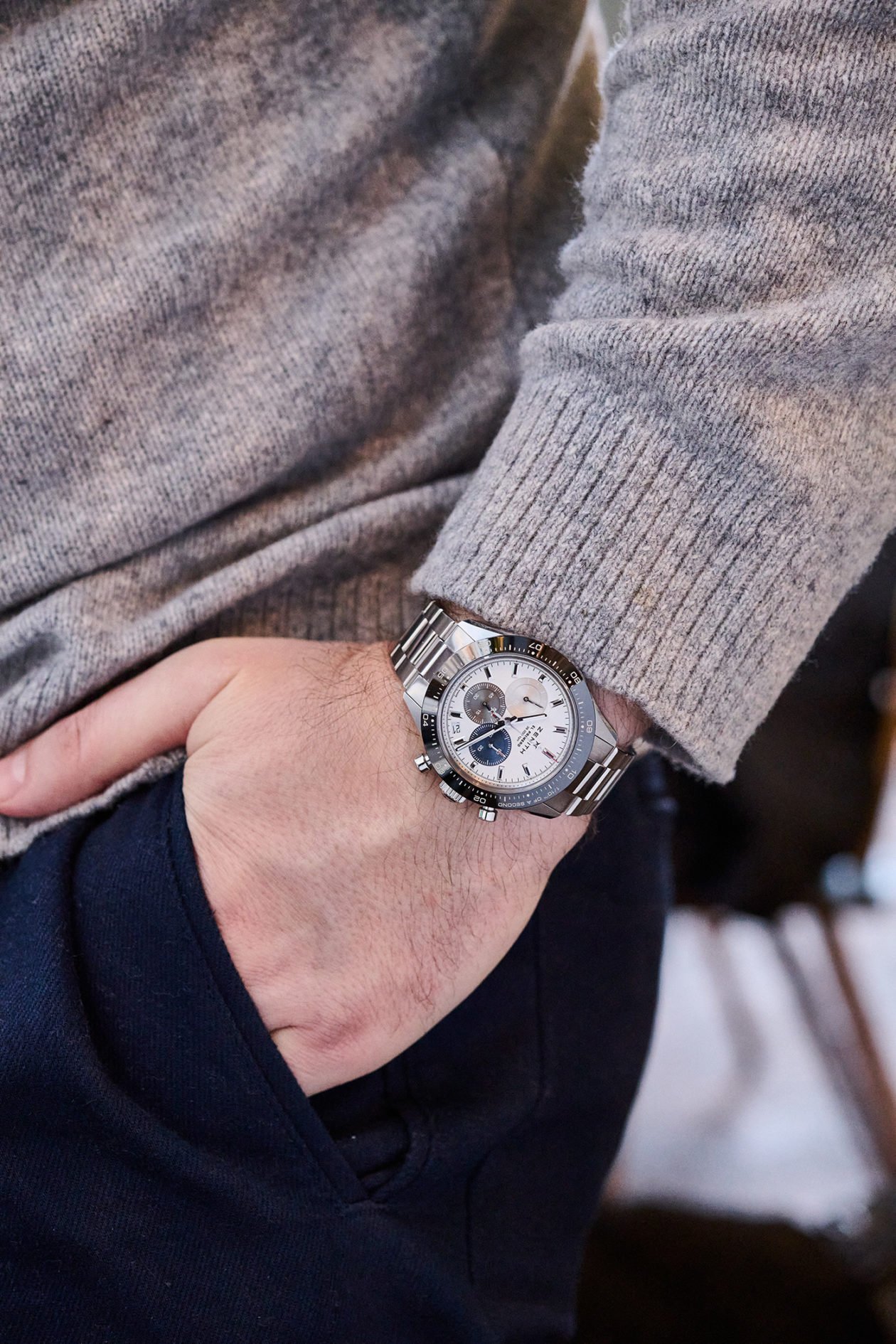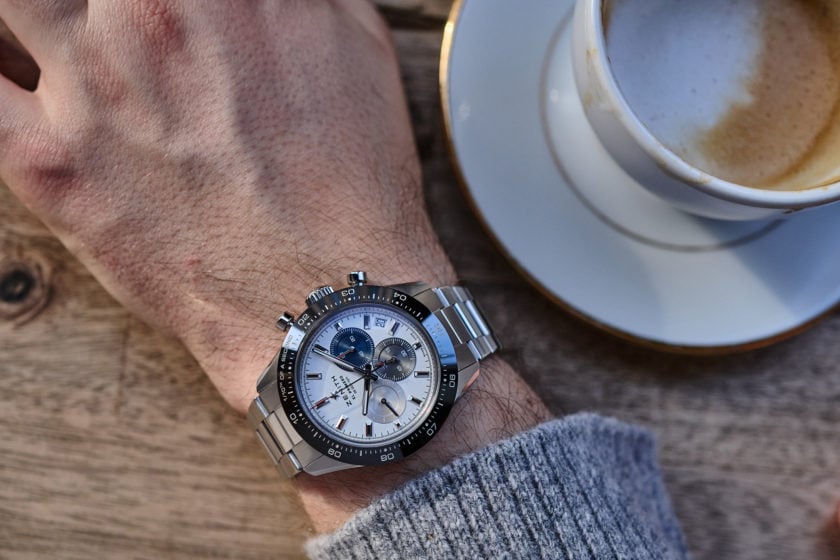 What is far more important then comparing the Chronomaster Sport with the competition is, how good of a watch is it, and what did Zenith achieve. In my mind, and according to my on-the-wrist experience, it is great, truly good. A classic sporty chronograph has its set of rules and Zenith utilized them perfectly. Compact size, proper heft, good feeling, class execution and a very nice, appealing design of a chronograph make for a coherent project. And then there is a mechanical cherry on top – the El Primero in quite a unique execution. Gazing at the fast-running central seconds hand gives a pure pleasure, despite finding it hard to think about any real-life usability for the complication. There is however a tone of joy of wearing a sporty chronograph, the way I like it. Long live El Primero!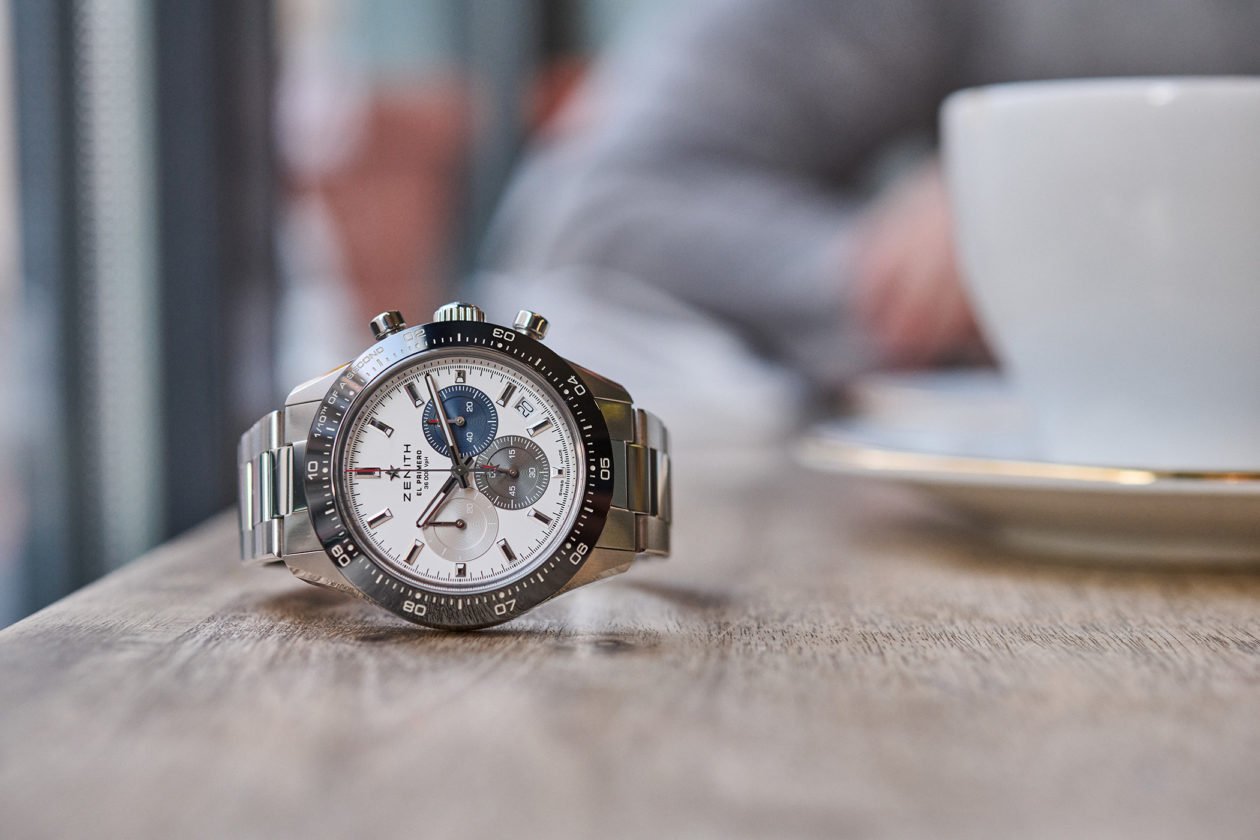 Test watch provided by Zenith.