Timebloid

Watches of famous footballers – Robert Lewandowski (RL9)

"Lewy" as his original Polish nickname goes, is currently probably the most recognizable Pole in the world, an excellent athlete and the idol of millions of aspiring footballers. Previously known for being a connoisseur of top-tier motorisation, recently he has started to show extraordinary taste in a field of watches, as you will soon see.

While 2020 is not generally perceived as a successful year for the world, it is quite different for Robert Lewandowski. In the sports field, Lewy reached almost everything that was possible to achieve. The German Cup and national championship, the title of Bundesliga's top scorer, as well as the most recent and most valuable trophy – the victory in the Champions League with Bayern Munich. Those are the achievements that none of Polish footballers could have in their track record before. In a country where football has been the number 1 sport for years, it is difficult to find someone who does not know Robert or has not seen any advertising with his participation. After all, Lewy is not just an "ordinary" footballer, it is a whole sports and marketing institution whose face had been already advertised the products of such giants as Nike, Huawei, Gilette and Coca-Cola. He is not only the most followed Pole in all social media, but also the richest Polish athlete. Together with his wife Anna, the couple took the 80th place on the annual Forbes magazine list of the 100 richest Poles, collecting together merely 500 million Polish Zlotys (approx. 130 million USD). With such money at your disposal, you can without hesitation taste the most exclusive shelf of many luxurious treats in this world, and Robert can undeniably do so. Although his first car was the Daewoo Matiz that currently used models are sold at the price of a pair of football shoes in which our hero appears on games (Nike Phantom GT Elite), it was the automotive niche that was one of Lewy's first passions after reaching a certain level of earnings. We could see him in possession of a Lamborghini Gallardo, several Ferrari models including F12 Berlinetta, 599 Fiorano, 812 Superfast, or the latest addition in his collection – the Bentley Continental GT Speed ​​Convertible. Along with gaining momentum, Robert began to present a sublime taste in the field of watches, which we will prove in a moment by presenting some of the most interesting models seen on his wrist.
---
Hublot Classic Fusion Chrono
Despite his previous great successes with Borussia Dortmund, only becoming a Bayern Munich player made Robert a truly world-class player. By this transfer, he also reached a career point where our player was no longer an anonymous striker, only known to European fans, but he became a household name to any football fan in the world. Naturally, it was followed by a significant increase in earnings, which Lewy finally began to match the best players in the world. The first watch in our list is perhaps not extremely spectacular, as its photos come from the Munich photoshoot for the Polish press, which Robert made just after signing the Bayern contract. It is a titanium Hublot Classic Fusion Chrono on his wrist, for a price that was slightly below PLN 40,000 (10,000 USD) at the time. However, it was only an announcement of his further watch choices, which represented a much higher shelf.
---
Patek Philippe Aquanaut
Another watch of Robert was already causing a great stir in the Polish press – it was the Patek Philippe, and the classic Aquanaut model in steel. When Robert first appeared with him in public at the press conference of the Polish National Team, gossip portals buzzed with the headlines "Lewandowski has a watch at the price of the apartment", etc. There is some truth in this statement, because although this timepiece is de facto an "entry level" among popular sporty Pateks, at the price of about PLN 90,000 (20,000 USD) you can actually buy a flat, preferably a studio apartment on the outskirts of a relatively small town in Poland for up to 30,000 residents. This piece started Robert's adventure with watches of the most prestigious brands from the so-called Holy Trinity, as he was never seen again with any other timepiece below this level.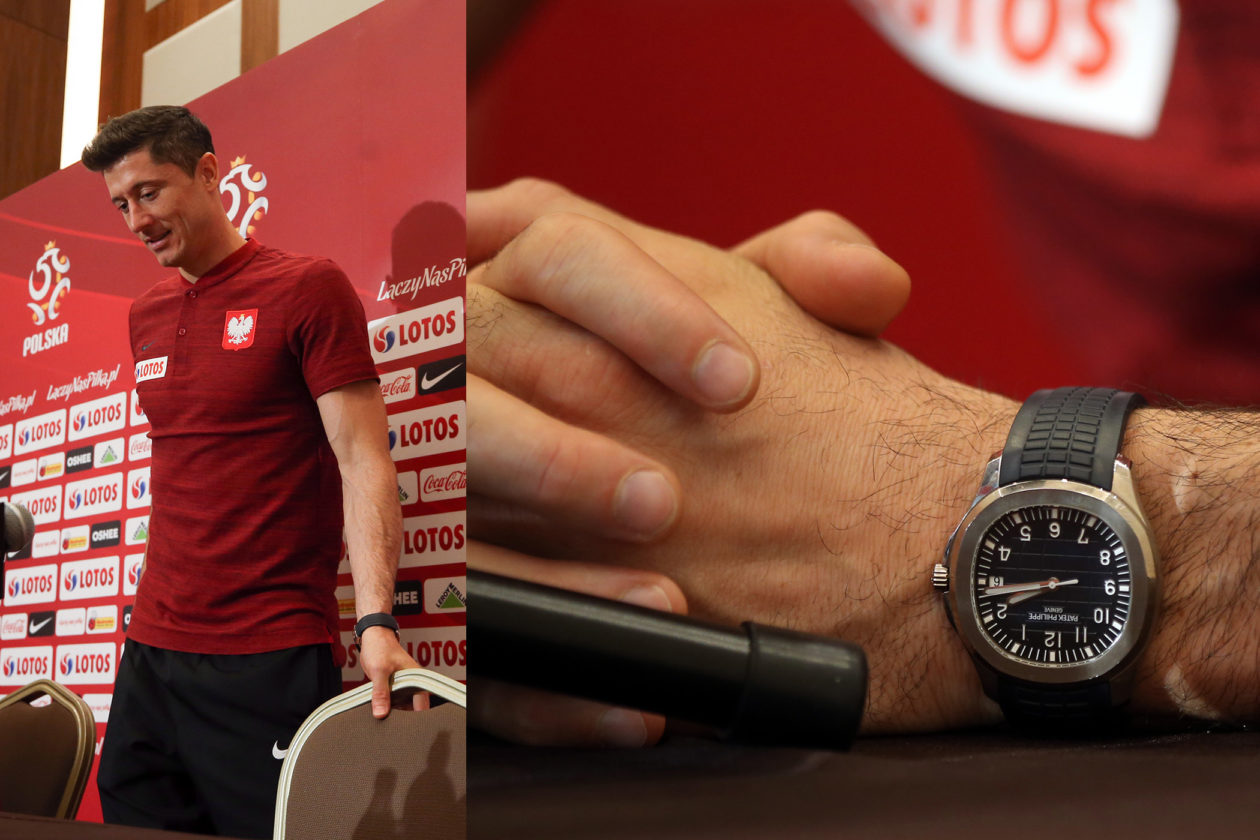 ---
Patek Philippe Nautilus 5726/1A
Nautilus 5726/1A was his next Patek, and at the same time it's the watch probably most often seen on Robert's wrist during occasions. This iconic model in steel with enhanced complications of the annual calendar and moon phases has a beautiful gradient dial typical of the Nautilus and costs just over PLN 170,000 (45,000 USD). This price point is also typical for Nautilus. The photo presents Robert with his wife Anna, a multiple medalist of the world, European and Polish championships in traditional karate. Currently, the spouse follows her husband's footsteps as a businesswoman by publishing books on sports and nutrition, running "Phlov" cosmetics company, and the food brand Foods by Ann, which adds her contribution to the home budget.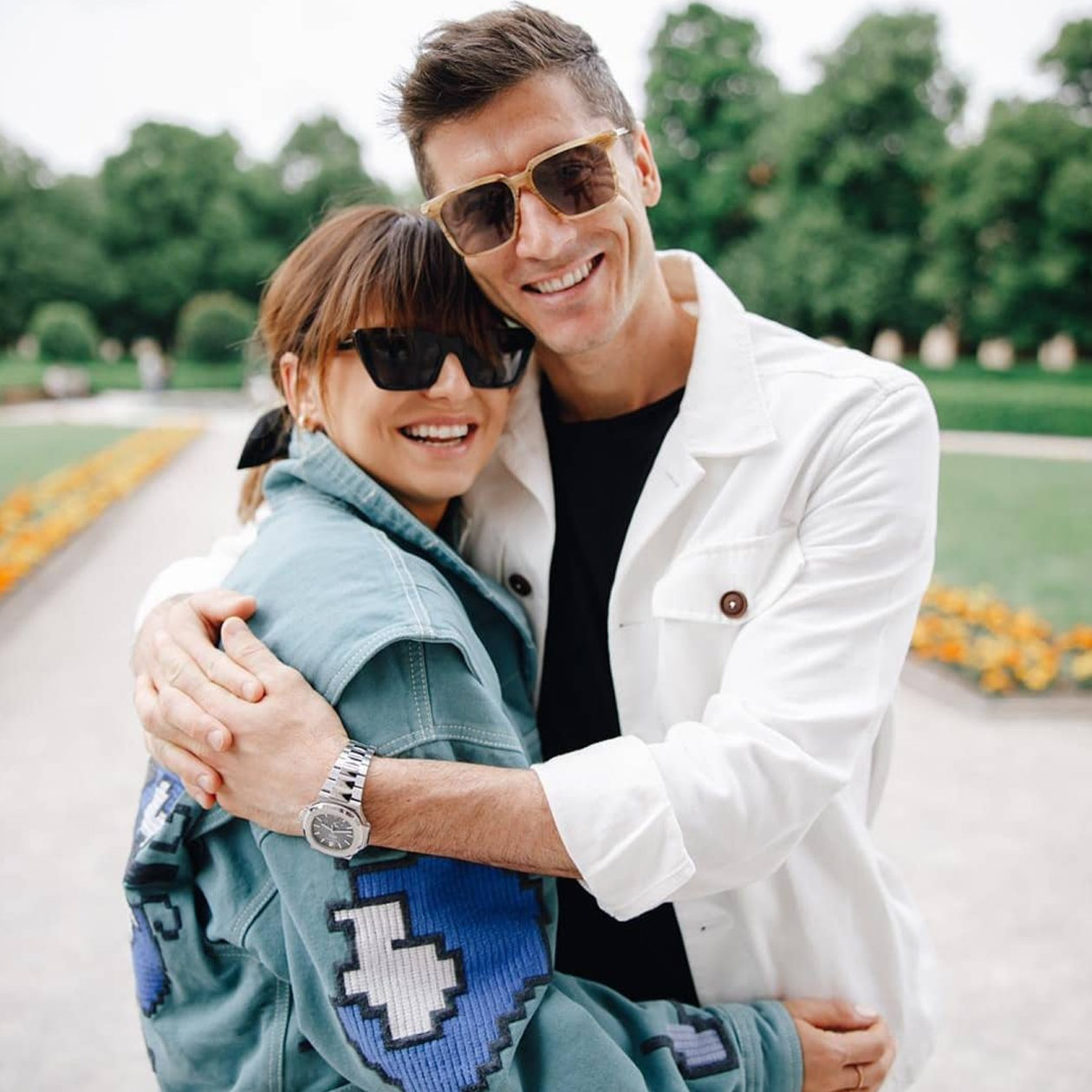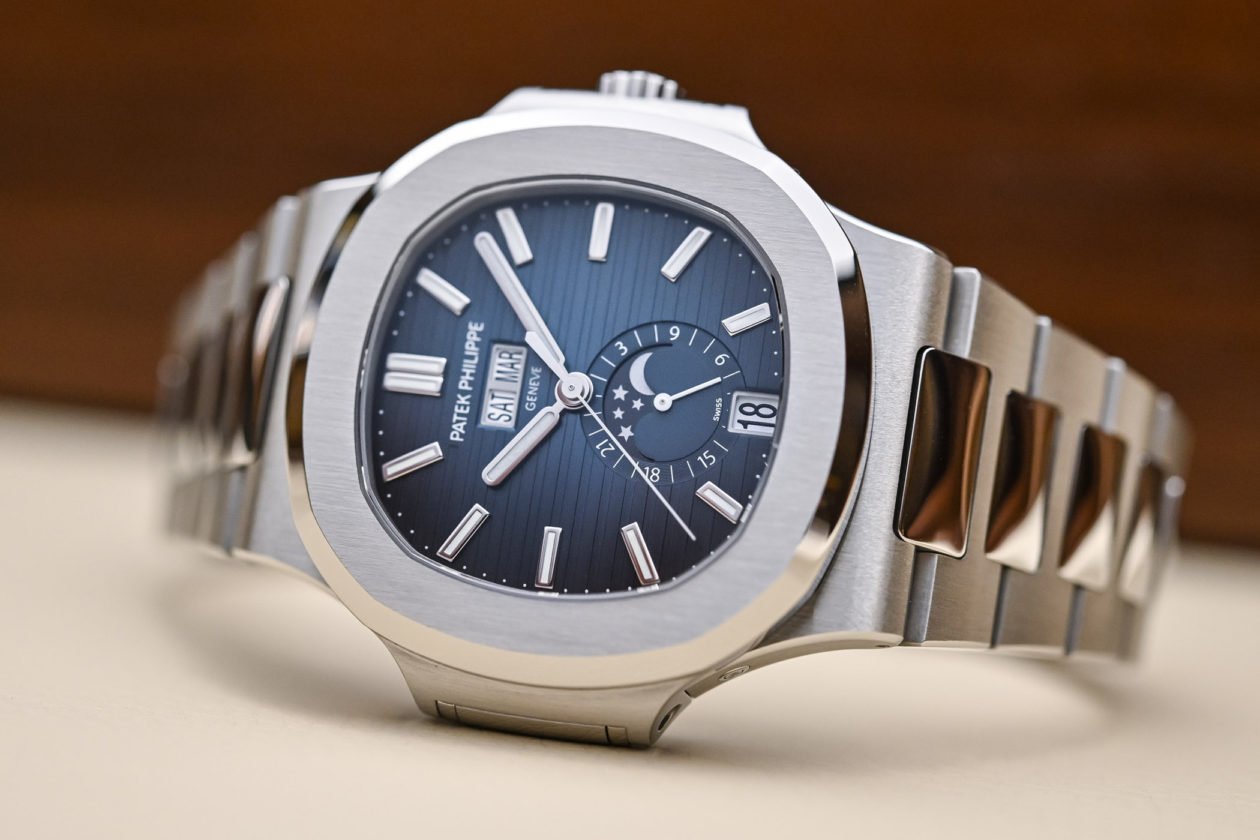 ---
Patek Philippe Nautilus 5890R
Without slowing down, it is time for the only such gala of the year, where all the glitter of football environment shines the brightest – presenting the Golden Ball award of the France Football magazine. It is the most prestigious individual award for a footballer and at the same time one of the few individual trophies that is still not in the possession of Robert, who invariably remains in the top ten of this annual ranking. This gala is also a moment to show up for the players and their other halves, where you absolutely do not save a penny on tuxedo and accessories. Having this in mind, Lewy chose a still sporty but nevertheless very elegant watch for the occasion – the Patek Philippe Nautilus 5890R in rose gold. It is also one of the more expensive models seen on his wrist, as the boutique price is around PLN 400,000 (merely around 100,000 USD).
---
Audemars Piguet Royal Oak Chronograph
It is difficult to count all the fields of business in which our hero is actively participating. Robert invests, among others in the advertising, investment, IT and development industries. He owns shares in Protos Venture Capital, supporting promising startups, e-commerce platforms and websites, and Movie Games company listed on a stock exchange, a producer and publisher of computer games. He has his own marketing communication agency that cares about the professional image of him and his wife Anna, and even his own coffee line – RL9 Coffee. In addition, there are all advertising contracts when he is the face of selected products of mega concerns such as Procter & Gamble or Huawei. The next watch in our list comes from the photoshoot of the Chinese manufacturer's smartphones. This time the choice fell on another noble brand of the Holy Trinity – Audemars Piguet and the Royal Oak Chronograph in steel with a classic 'Grande Tappisserie' motif and black "panda" chrono sub-dials. The price for this model is around PLN 110,000 (26,000 USD) but the contract with Huawei itself probably covers its cost several times.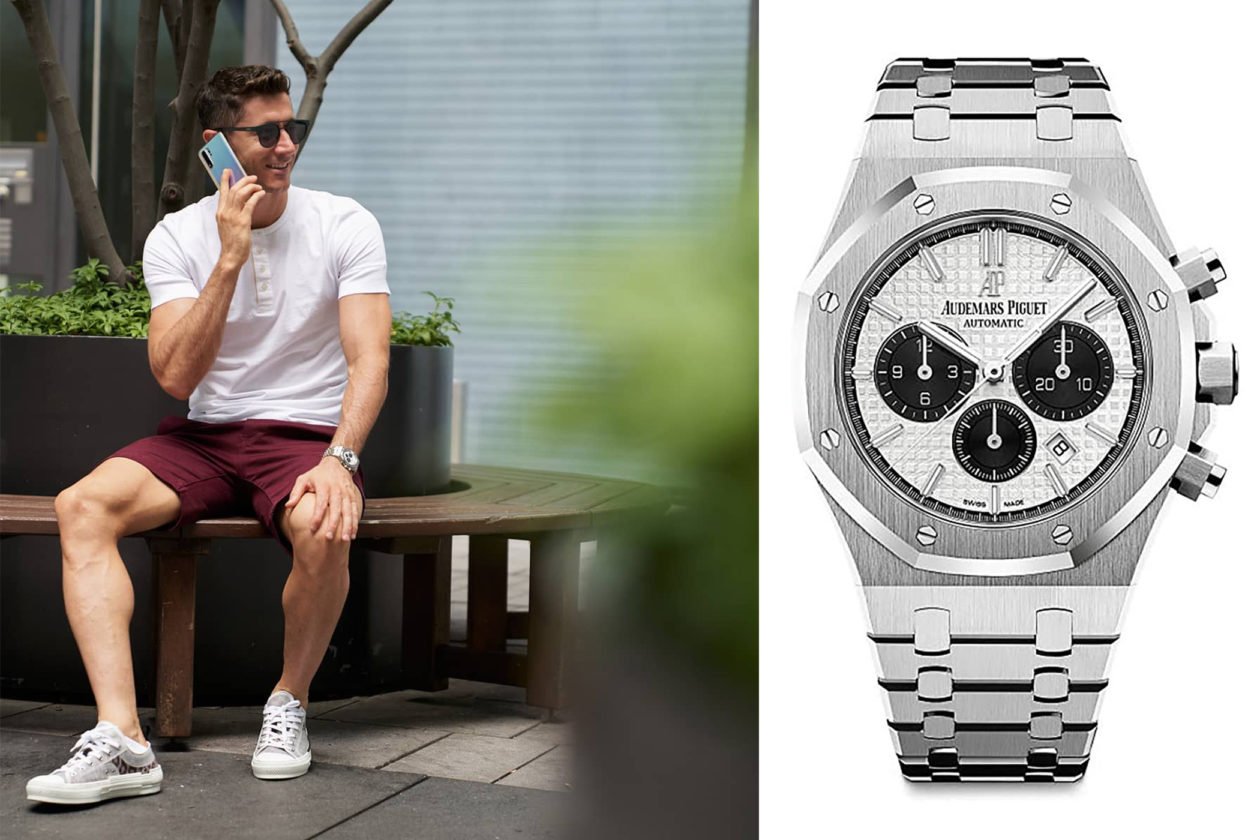 ---
Audemars Piguet Royal Oak Perpetual Calendar
In the end, we have left probably the most spectacular timepiece and also the freshest watch spotted on Lewy's wrist. Just before the next Champions League game when Bayern faced FC Barcelona, ​​Robert was seen with the ceramic Royal Oak Perpetual Calendar by Audemars Piguet. This piece already costs more than half a million Polish Zlotys (over 125,000 USD), so you can image the headlines of the Polish gossip press, when this information was released more widely. The Polish celebrity oriented press looking for cheap sensation used the abstract comparisons of spending 'an unimaginable fortune' on watches seemed to forget that for an athlete earning about 100 million Polish Zlotys (25 million USD) per year, the expenditure of this amount on a watch is not a particular example of being a brainwashed spendthrift. And as you probably know, a few days later Bayern won the entire edition of the Champions League, which is definitely associated with another huge financial bonus for our striker. Will Robert celebrate this triumph with another spectacular watch? Together with gossip portals, we will observe his wrist with unflagging curiosity.