"Best of…" SIHH 2015 – part 1
Time to sum up this year's anniversary SIHH. Here are the most interesting, most discussed and attention worthy premiers of the Geneva fair, selected by prominent industry journalists.
We could write a long and complex article about the just-finished Salon International de la Haute Horlogerie, about new trends, returns, re-editions, about rising CHF rates and all those theoretic debates on how will the brands cope with it. Instead lets leave all those economical dispute to knowledgeable experts (considering that the situation is dynamic and not predictable yet) and focus on watches. We give voice to some of the best watch-journalists out there (and we will add our view as well).
---
This year's fair was overall a very good one, and pinpointing just three favorites is going to be tough… though I can already say that my visit to the Audemars Piguet booth was likely my highlight. First of all, there was the new Acoustic Research Concept Watch. While still very much in prototype phase, it is evident that once this repeater is put into series it will dominate the market for repeaters. It is without doubt the loudest, clearest repeater I have ever heard. And when the concept case was put on the wrist, it just got louder even though that would normally muffle the sound a bit. AP also impressed me greatly with the new Millenary Woman, a smaller, thinner, scaled-down version of the oval Millenary that still manages to retain an air of mechanical complexity while being as decorative as it gets.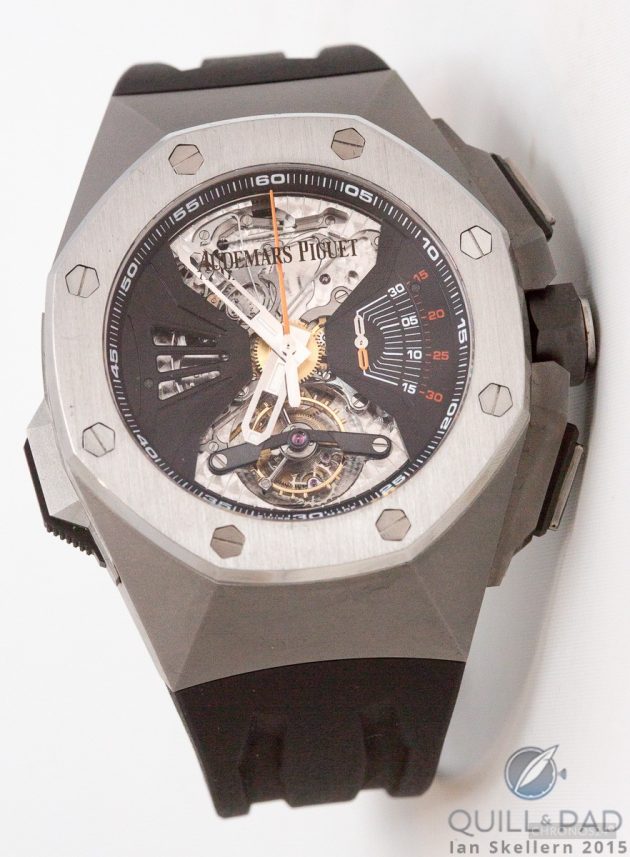 Then I was so highly impressed by Richard Mille's RM 19-02 Tourbillon Fleur. While this sort of whimsical, diamond-set tourbillon wouldn't normally be my "thing," I could not help but love the playful ingenuity of the tourbillon that reveals itself inside a magnolia that opens and closes, then mimics a real flower by extending itself up and out a bit. Be still my heart!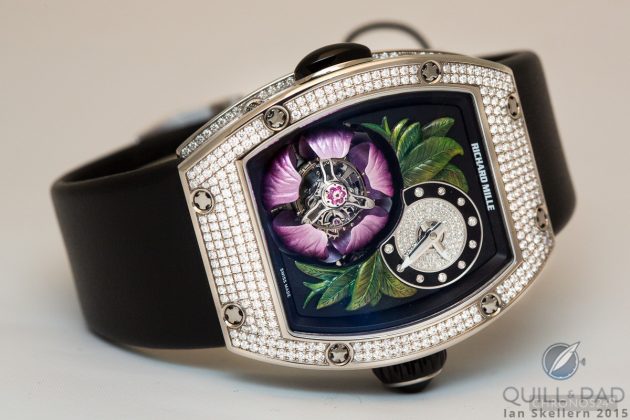 Finally, for my third choice, I am more than torn between the sheer beauty of the already-ingenious Jaeger-LeCoultre Rendez-Vouz Celestial re-released with a natural bordeaux-red aventurine stone instead of lapis lazuli and the absolute majesty of the A. Lange & Söhne Zeitwerk Minute Repeater. So I will have to leave these two at a tie and call it good.
---
Vacheron Constantin made me smile. I felt like hugging Juan-Carlos Torres and tell him "Welcome back to the wow-I-really-like-that" with the stunning Harmony 260th anniversary collection. Can't say which of the monopusher chronographs I like the best, but they really hit me hard. Kudos to Vacheron Constantin. Kudos galore!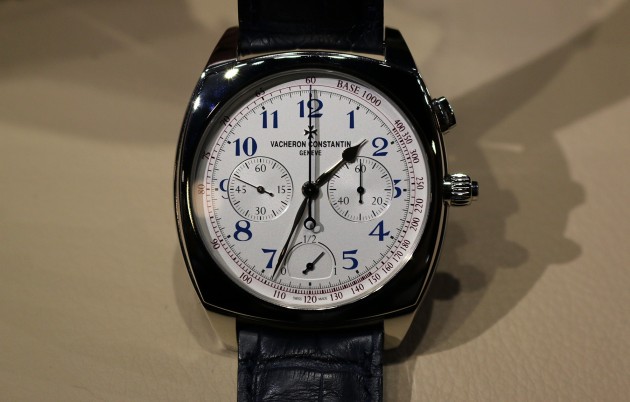 I like the hand-wound Officine Panerai Mare Nostrum PAM00603 as well. Not for the size, which is just ridiculous with it's 52 mm, but for the great look. I like the raw titanium case and the brown dial a lot. I am also a fan of small sub-dials on big watches and the Mare Nostrum certainly fits the bill.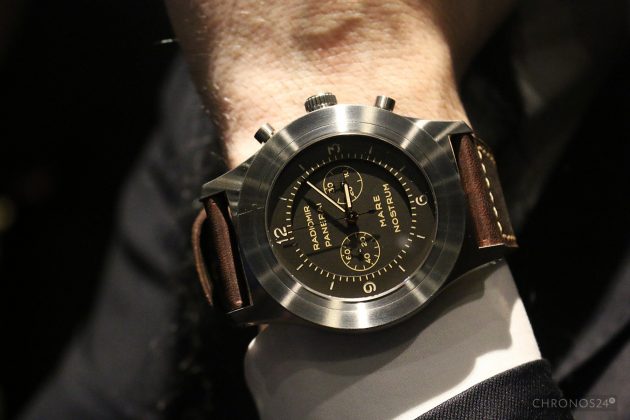 Richard Mille is a crazy man. As in I-don't-do-anything-what-is-expected and his amazing RM19-02 Tourbillon Fleur is a spectacular brain child of his wicked mind. The magnolia automata may indicate this watch is a choice of the female feinschmecker, but us men certainly can admire from a distance. Crazy watch. Crazy beautiful too.
I know I only had to pick three favs, but I am a naughty boy and will mention a fourth fav. I really like the cal. 52000 from IWC. Ceramic parts and two spring barrels to ensure better precision when the 7-day power reserve is low. And by presenting their booth in the similar design as their come-2016 manufacture facilities, I had a feeling of a serious watch company and not a playground for A-listers and Brazilian models. But if talking Portuguese models, I really like the revamped Portugieser (yes, that name change) Automatic with shortened shoulders and curved spring bars.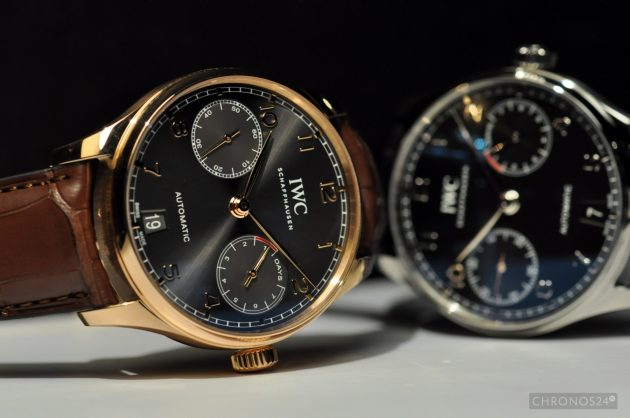 ---
Anders Modig (Vanity Fair On Time, The Hour, ourminutes.com)
Vacheron Constantin Harmony Chronograph Ultra-thin Grande Complication, slightly cushion shaped but with a round dial aperture, split second chronograph and also a 260th anniversary for the oldest brand in the world – there are many reasons why 2015 is shaping up to be a great year for Vacheron Constantin.
Harmony is the name of the collection, and the heart of the collection is Harmony Chronograph Ultra-thin Grande Complication, an 8.4 millimetre thin mono-pusher chronograph. Yes, with its 42 millimetre it might be a bit large given todays shrinking standards, but since the movement is quite large as well this case size is needed to really showcase the 459-component movement.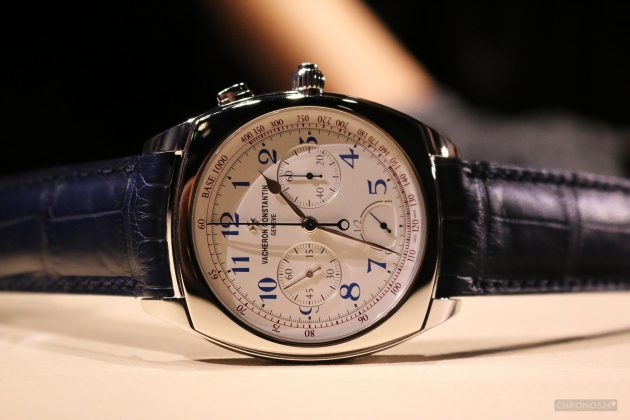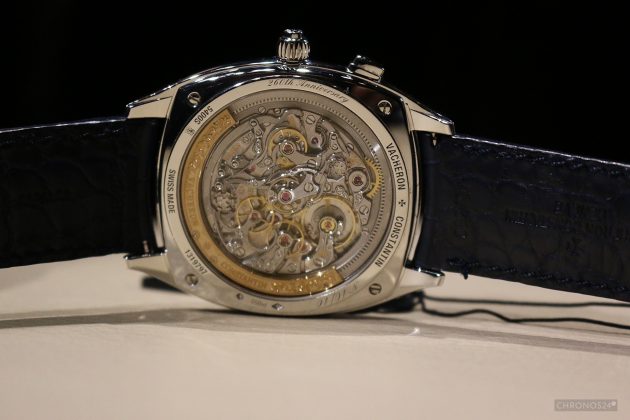 The red tachymeter scale and the dark blue alligator strap are just the perfect finishes for this, well, harmonic timepiece.
---
SIHH 2015 turned out to be a successful year for women from a creative, technical and aethetic perspective. Representing for a very short while the Eye of Jewelry of industry, three pieces were worth looking at during the fair.
The Vibrant Setting on the iconic Cartier Ballon Bleu demonstrated the prowess of the house to come up with an innovative technique that not only took 5 years to be developped but actually does work! The result is a flabbergasting visual effect.
Audemars Piguet's Diamond Punk high jewelry piece would stand second on the podium… and not because of the video they made of it with a « take me higher » music screaming in our ears. Because higher we definitely are, and higher we admire the touch of punk and glamorous of the piece inspired from the 70's. The 8148 diamonds set on geometrical diamond prisms result in a large jewelry cuff giving the time not so AP-style but definitely ours.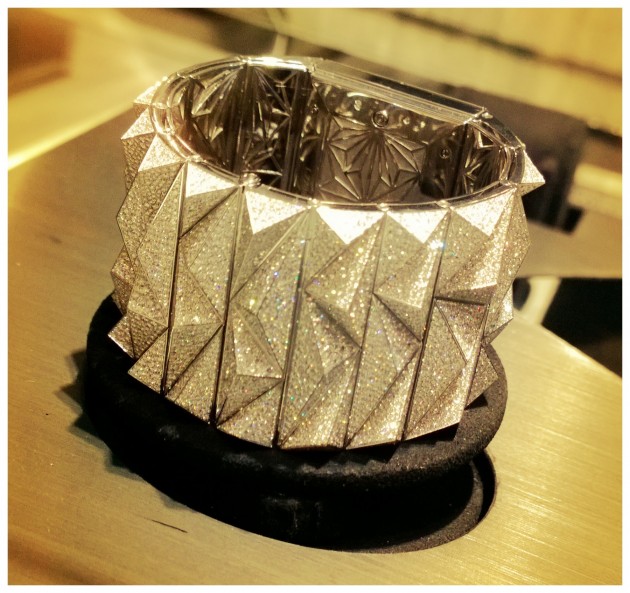 Last but not least would be Richard Mille 19-02 tourbillon fleur. Every five minutes the off-centered tourbillon cage set inside the magnolia flower opens-up within six seconds to close down again five minutes later. The pistil made of rubis is the heart of the tourbillon and rises up to one milimeter above its original position.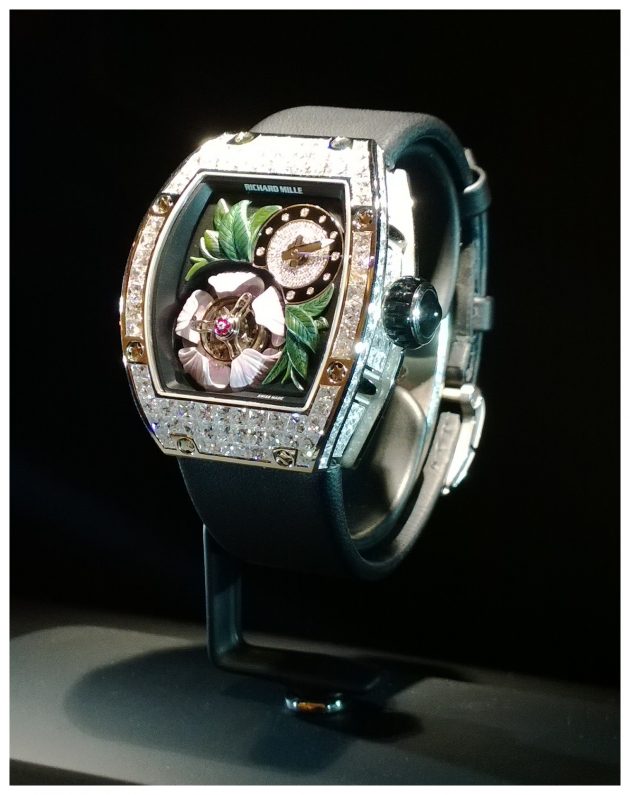 Even though I would adjust one thing on each piece… I would have no problem wearing them all !
---
Łukasz Doskocz (CH24.PL)
It was, all in all, quite in interesting and successful SIHH with number of really interesting debuts and returns. It is not the time to talk about new trends or any significant changes in the industry yet – we will have full picture after March and BaselWorld – which does not mean, that some of the Geneva novelties will not become true hits of 2015. I'd like to start my three-part selection (with piece representing different price levels) from the brand and the collection that was already mentioned by my colleagues – Harmony from Vacheron Constantin. It was a long wait to finally see something that confirms the top status of this Geneva manufacture. It is after all one of the Big 3 of Swiss watchmakers, and even though its previous creations had some class, the all missed something, missed this undefined WOW factor. Harmony causes WOW almost unwittingly with its polished, detailed design and mechanics, based on the mono-pusher chronograph. Along with the tourbillion and a rattrapante my favourite has to be the pulsation scale model. Beautiful, vintage gold case and manually wound calibre – this is the Vacheorn I've longed dreamed for.
Lange & Söhne never disappoints. Each year you can spot a true watchmaking gems among the brand's premiers, but the Zeitwerk Minute Repeater is very special. I've heard number of opinions stating that the digital Lange is the avant-garde best watch of modern times, and when equipped with an ingenious minute repeater (very complex to that) you just can't not agree.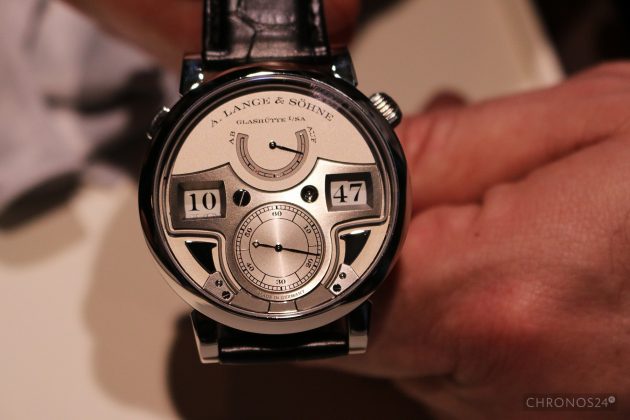 While both Lange and Vacheron are ultra-expensive (the German piece will set you back around half a million USD), SIHH introduced a watch, that will cost less than 2.000Euro in steel. For that kind of money one will receive slim, classic, steel case, minimalistic dial and manually wound, aesthetic calibre. Montblanc Heritage Chronometire Ultra Slim is a great piece (although insignificant in size) of watchmaking from somewhat unexpected source.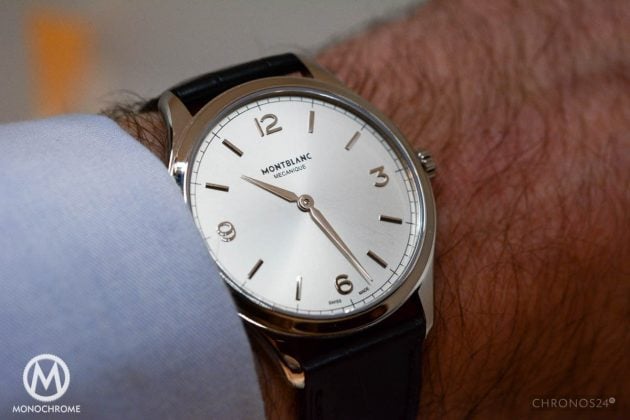 ---
Part 2 "Best of…" SIHH 2015 soon.