"Hands-On"

MB&F

"I want to be able to create what I believe in" is the creative motto of Maximilian Busser. It largely explains the total uniqueness of the timepieces signed by the MB&F logo.

I honestly admit – I did not expect to ever be able to write this text. MB&F is one of this brands that drive our watch passion and at the same time a totally cosmic manufacture, that seems to be completely irrelevant for Polish reality and market. Luckily (and for sure surprisingly) MB&F entered our beautiful country, and we had a once-in-a-lifetime opportunity to not only have a closer look at a few time-machines, but also discuss them, and the brand, with Maximilian Busser himself.

"MB&F is now in Poland because Piotr Miszczuk, the owner of Hermitage, believed enough in us to take on our creations in Baselworld this year. It was a wonderful surprise." – and if you think that MB&F will struggle on our a bit handicapped watch landscape, you are very wrong. But let's skip business side of the deal (and just say that in 2013 they will craft 250 new machines and widen a little their distribution network) and focus on the very essence of MB&F – the watches.

When talking about a potential MB&F customer Max Busser draws an image of "courageous, uncompromising person with an unconventional taste, and – what's most intriguing – a person that doesn't want to show off but rather satisfy his or hers own will to own something extraordinary. Following the brand's story is also vital." And when you meet all this requirements, this is what you get…

The mutual thing of all 4 MB&F pieces we handled (and for the entire collection) is quite a conventional approach to their watchmaking side. While the design is fully futuristic (we will come to that in a moment), movements represent traditional, conventional technology and materials like steel and brass. Busser highlights that "reliability and capacity to service our pieces in the future is one of the keys of our DNA." What it means is that you will not find any silicon or other high-tech composites inside – mechanically it's a high-end traditional execution with modern interpretation.
Legacy Machine No.1
For many watch aficionados the first Legacy Machine is the most interesting watch that the company made so far. The piece grew from the fascination of watchmaking tradition, from 18th and mid 19th century. Created together with Jean-Francois Mojon and Kari Voutilainen, the project reinterprets mechanical watchmaking with a manually wound movement, two separate time indications, three-dimensional power reserve and finally a cherry on a cake – big, floating balance wheel, held in place only by a skeletonised arm reminiscent of the Eiffel Tower.
Pictured version is an 18K red gold case with brown alligator strap and silver, sunburst dial. Two time indication dials are placed symmetrically on it (at 3 and 9 o'clock) and made of domed white stretched lacquer surrounded by polished gold rings, and with painted roman numerals plus 2 pairs of blued gold hands. Both dials can be set independently (with up to the minute precision) using two crowns on each side of the case.
And while these two small dials look charming, your eyesight is immediately drawn to something else – centrally mounted arm with the balance wheel and vertical power reserve indicator placed directly below it. Golden balance wheel measures full 14mm and thanks to the movement's rate of 18.000bph ticks majestically, making a big visual impression, only enhanced by the 3D power reserve arm that goes up (when fully wound) or down when it requires some attention. Thanks to, (or because of) those two details LM1 is one of the very few watches that you should admire not from the front but rather from the side of the round, bubble-like sapphire glass. The whole watch measures hefty 16mm in thickness and 44mm in diameter. Despite this quite large measurements it fits the wrist comfortably.
A word about the movement. Co-designed by Mr.Mojon and Mr.Voutilainen, it combines what's best in functionality, tradition and top finishing in one, fantastic calibre, fully conceived and made from the ground up specifically for this timepiece.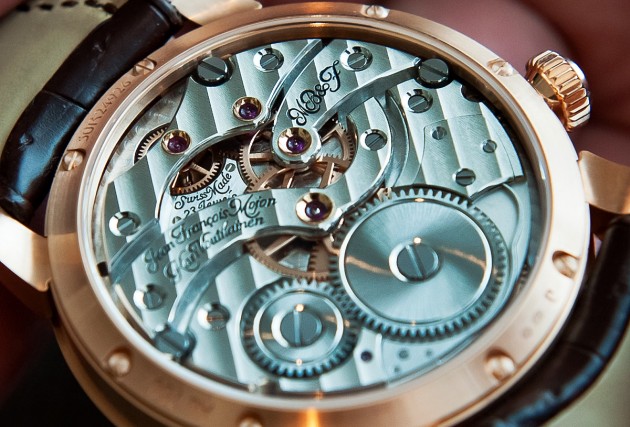 Horological Machine No.4 Thunderbolt
Carved out of red gold the HM4 Thunderbolt seems a complete opposite to Legacy Machine and a great proof of MB&F's highly versatile imagination. Inspiration behind this most futuristic of all brand's creations were a plane's jet engines. The case consists of three main parts: two made of red gold and one central, in sapphire crystal, carved from a single block of synthetic material.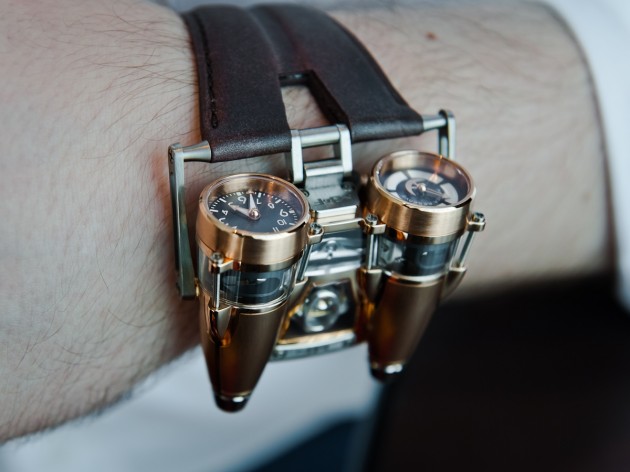 Both indications of the watch are two vertical pods with two dials placed at their ends, perpendicular to the wrist. The one on the right is time indication (hours and minutes), the one on the left shows the power reserve.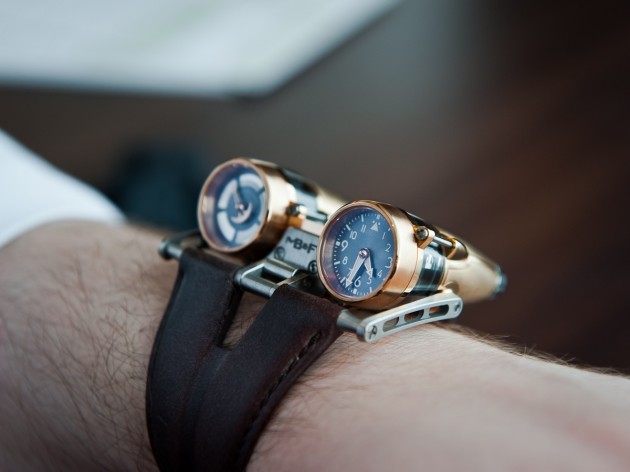 Through the sapphire bridge between the two pods one can admire an automatic engine created for HM4 by Laurent Besse of Les Artisans Horlogers. Quite an unusual case shape required the movement to be fully custom made (to fit its geometry), including two crowns – for winding and setting time – at the end of each pod.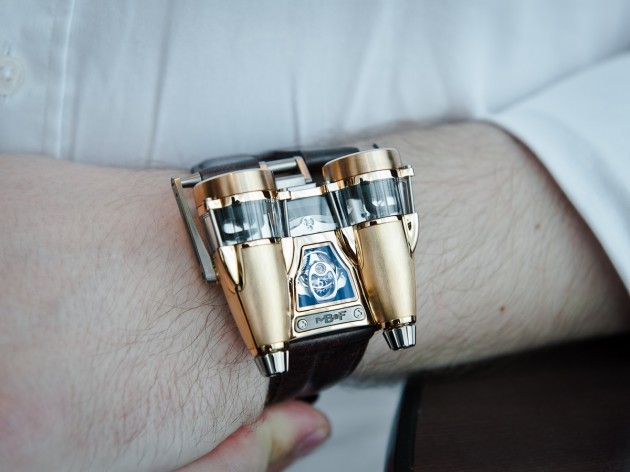 HM4 is definitely a big watch (but not as big as you might thing judging by the pictures) with significant weight due to the gold case, and it certainly won't fit under the shirt cuff. But if you think of it, this is by far not its purpose and I can't imagine someone wanting to hide this little beauty from the plain sight.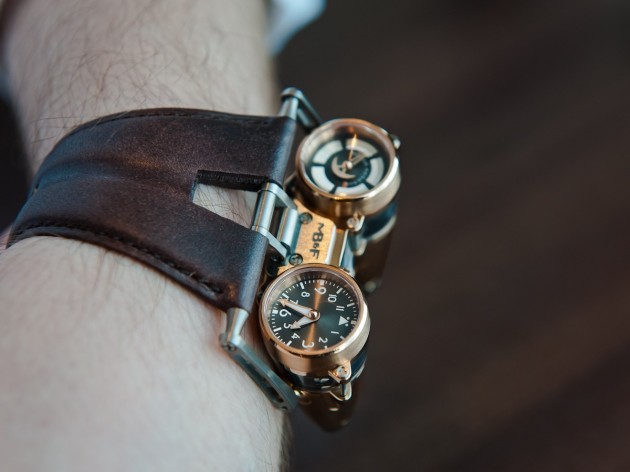 Horological Machine No.3 (MoonMachine i Megawind)
HM3 is the most successful watch collection from MB&F to date. Successful from the marketing, business and brand-awareness point of view. Number of different version of HM3 were created, and we had a chance to closely examine two of them: MoonMachine and Megawind.
The first one is a member of the Performance Art collection and created together with Finnish watchmaker Stepen Sarpaneva. His involvement is the moon phase indication added to the HM3 Frog model. Moon made by Sarpaneva is a dark blue disc (imitating the sky) as a winding rotor and a small gold moon-face that reflects Sarpaneva's own face.
The rest of the piece is a HM3 Frog version with the 18K red gold case inspired by the space ships from famous S-F movies plus two sapphire domes (just like frog's eyes – hence the name) that house two aluminium capsules of the hours and minutes indications. Powering them is a Girard-Perregaux based calibre which is entirely reworked by Jean-Marc Wiederrecht and his Agenhor team.
Megwind on the other hand is the latest, and probably the last incarnation of the HM3 project. Its clou is the bigger, enhanced, visually striking winding rotor. Shaped like a battle axe it has two blades that magically disappear under part of the case, but when in motion, create a fantastic kinetic impression.
The timepiece you see on the pictures belongs to Max Busser. Its case was made out of 18K white gold and titanium (47x50x17mm) with two gold and sapphire cones indicating hours and minutes on both sides and on top of each. Movement wise it is the same, GP based calibre that powers the MoonMachine (minus the moon phase) with two large ceramic ball bearings on the back.
Maximilian Busser and Friends
When I asked Max Busser what is his way of designing a watch, he interrupted me saying: "What we create is a piece of mechanical art". MB&F's philosophy, as much as it may seem totally disconnected from reality (unreal you might even say) stated from the very beginning, that there is no point in making watches just as they were made through last decades and centuries. MB&F is a kinetic sculpture (unfortunately name Kinetic was already taken by Seiko) that just gives time as a by-product, but giving time is not its main goal. Busser's creativity followed by all his friends (and he only selects the best and most talented individuals he actually likes in person) knows no borders. Although he makes the final decisions (saying wisely that "creativity is not a democratic process") people MB&F works with are as vital part of the process as you can imagine. There is a plan to soon launch MB&F's own manufacturing side that will work to develop new, in-house made movements for the next H- and L- Machines (there are 6 in the pipeline right now).
Another things is the M.A.D Gallery – unique concept of watch boutique slash contemporary art gallery. For now it is only located in Geneva, but you can expect two more (at least) to open soon somewhere in the Middle East and Asia.
Most of you may not follow what MB&F is all about – we find it one of the most genius watch brands of today. There are tons of classic timepieces – any size, material, look and complication you want. But at the level of quality of MB&F – well, there are just a handful. And while I most certainly will never be able to afford even the cheapest one (HM5 for around 55.000CHF) the very  possibility to meet people like Maximilian Busser is a sheer pleasure. And of course all the watchmaking quality is there too – no doubt.