Interview

François Thiébaud (CEO Tissot)

This year Tissot is celebrating 160 anniversary. We asked CEO of the brand about secret of success, Powermatic 80 movement, plans for the future and jubilee timepiece – Heritage Navigator.
160 years of Tissot in Warsaw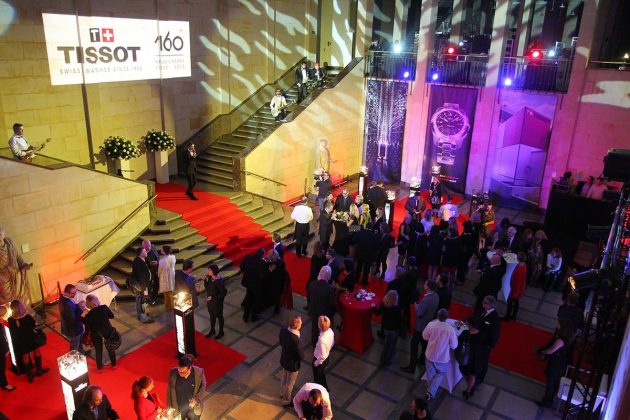 By the end of last month in National Museum in Warsaw Tissot celebrated it's 160 anniversary. The event was accompanied with exhibition, which presented contemporary and historical models of Swiss watch manufacturer. For us it was, above all, an opportunity to meet and talk with the man in charge of Tissot for several years – Francois Thebaud.
Interview – Francois Thebaud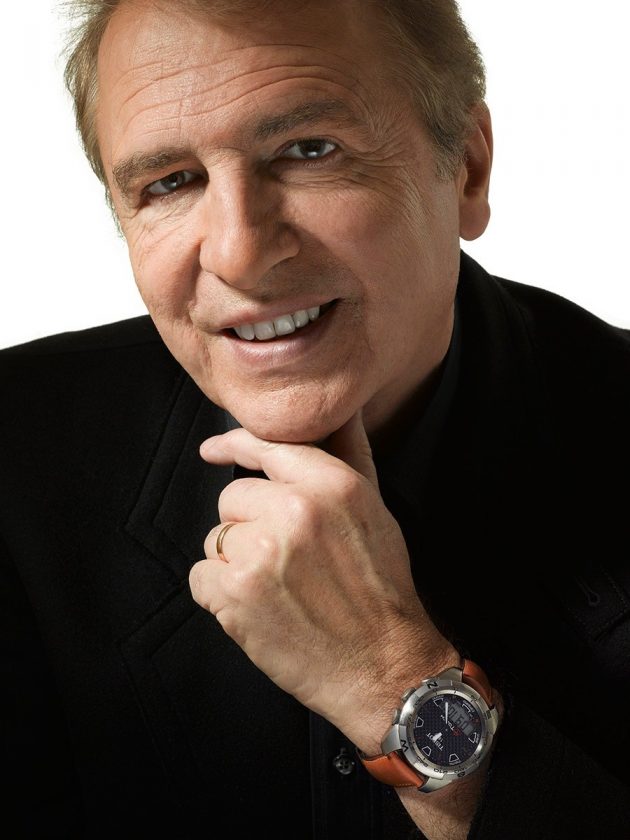 Tomasz Kiełtyka: This year Tissot brand celebrates its 160th birthday. Many happy returns of the day! Could you please disclose the secret of your success?
François Thiébaud: Thank you for your wishes. Regarding our success, a question should be posed why the man chooses watch under Tissot brand? Perhaps he has seen it displayed in the window? Or perhaps he used to have a watch under our brand and was satisfied with it, so now wants to buy another? Perhaps a decisive factor is the fact that he gets good quality product at a reasonable price (good value for money)? For us the crucial driver of purchase decision is reliability. Buying our watches the man is certain that has purchase a reliable, proven product at adequate price. If you are have no confidence in a product, then you are not going to buy it. Winning of customer's trust and confidence is a long-term process – it takes decades. The confidence has many underlying factors such as reliability and conviction that should any problems occur they could be remedied swiftly and consequently the relationship with the brand could be tightened. Tissot has been building its customer's trust and confidence in its products for decades now. Our activities have been subject to continuous improvement. This explains the secret of our success and such a large market share.
Still a couple of years ago we manufactured below one million watches per year. Now, our output is going to exceed 4 million watches. To give you more complete picture this figure has to be juxtaposed to the export volume of the overall Switzerland, which was 29.2 million units in 2012. One in every five traditional Swiss watches exported is a Tissot. The above figures speak for themselves and they testify big number of people buying our products. However, the figures are not the most important. We are keen on keeping satisfied each buyer of a new watch and on turning him into Tissot ambassador. Certainly we also hire numerous celebrity ambassadors – which include sportsmen in particular. The watches dedicated to individual sports come with functions useful for a certain sports discipline. For instance the mountain climber will appreciate altimeter, the cyclist – precise time measurement etc.
TK: And why did you decide to build such strong relationship with sports?
FT: What about you? Do you like sports?
TK: I am, by all means, some kind of couch dog , which, in practice unfortunately does not practice regularly any kind of sports.
FT: But you like some sports disciplines that you picked up yourself?
TK: Yes, I do.
FT: That what it is all about. All people like some kind of sports or practice it or dream about practicing it. Some people simply do not have adequate predispositions such as e.g. height required to play basketball. Generally speaking I classify people as sportsmen and dreamers who dream about becoming sportsmen. Sport is healthy. It gives a lot of happiness. I cannot see any reasons why you should not get involved with sports.
TK: You are very strong player in the budget market segment where there is cut throat competition. If you were to define in one sentence the recipe for so huge success then what would you say?
FT: We have combined skilfully our tradition with innovativeness, we undertake consistent measures to make the users of our watches happy and to given them certainty that they invested their money well.
Let me make one more point. Nowadays if you want to keep top position, you have to be open-minded and follow trends. You have to create watches that will be first and foremost attractive for the customers and not only for designers. If we have managed to design a model that brings a wide smile on the face of would-be watch owner while putting it on his wrist, it is a sign that we succeed.
TK: Indeed, you have a rich heritage. Does it have impact on the modern Tissot watches?
FT: When I look at you and see how you are dressed I can tell you that you are dressed in a modern fashion, but also in an elegant and classical way. Most of your dress elements, despite belonging to the latest collections, have their roots in the past, which is remote many decades from now. What I driving at is the statement that all our surroundings are inspired by the past. Materials, shapes, colours… and this is what we call tradition. We cannot escape and avoid our past. We can use it to create contemporary solutions. Not all our watches have succeeded. We also recorded some failures. But let us take a look at, for instance Tissot Heritage Navigator model. Small implemented changes gave a great watch!
TK: I have just wanted to ask you about this timepiece! I wonder if this sensational watch is just "one-time" episode related to your anniversary or do you intend to launch such crown jewels from time to time?
FT: Usually every two years we launch a watch that we call "Heritage". To create such watch we take a model from the past and then we subject it to fine tuning such as e.g. we enlarge the watch case diameter to the size considered nowadays to be standard. This is what was done with the Tissot Heritage Navigator for instance. It is based on the 1953 Tissot Navigator model, which was the first watch to display 24 time zones. Today's heritage version exists in stainless steel as well as in a limited rose gold edition of 333 pieces.
TK: In addition to your jubilee celebrations, this year you have taken aback the industry with new watch calibre called Powermatic 80. For me its launch was a brilliant move. From now on you can offer at a much lower price than competitors Swiss mechanical watches with an extraordinary over 3-day power reserve! I only wonder if the launch of such work is driven by a desire to get young people accustomed to mechanical watches or you wanted to reduce price on the eve of forthcoming smart watches?
FT: No – it was my personal request. Tissot is a member of the Swatch Group, which gives a lot of advantages. During meetings attended by the bosses of all brands, everybody brings his ideas and requests to the table. At one of such meetings I complained about situation that I hate personally. Namely – I come back home on Friday, put my watch away, I leave for the weekend and coming back home from the weekend I can see that my watch does not work. I wanted us to develop a movement that would be able to work more than three days and at the same time the watch price will be not skyrocketing.
TK: You have to be a very influential man (a burst of laughter), because no other brands from the outside of the Swatch Group in your price segment have launched such a product with 80 hours of power reserve.
FT: It is not so easy . We were working on that movement for 2 years. But I am very happy that we succeeded. Not always and not everybody is willing to take a risk. Here the risk paid off.
TK: We talked about this movement in Poland many times. Doubts were raised by the application of elements made of some kind of plastic. Don't they have impact on the service life and precision of the movement operation?
FT: Plastic is a very durable material. It is enough to shed at glance at the sea and notice PET bottles floating on the sea waters for years. Some of its variations are used for manufacturing of aircraft wings. We applied a special material, which is not plastic – but is very tough, which was proven by tests carried out. Sometimes people criticize new solutions they have not known before. People need time to get accustomed. It is a bit like with clothes – now nobody is surprised with the fabrics that after walking in the rain get dry in no time at all. For us also weight was a serious consideration. The lighter components, the less energy they consume. It is a bit like with suitcases, which used to be massive and heavy , and now they are made of ultralight materials. It has to be also remembered that metals are more sensitive to temperature changes.
TK: Do you plan to design more movements in the future?
FT: Yes, we do. We have a group of people that keeps working on new solutions. In our segment you cannot close your eyes and have a rest. You have to perfect your products continuously. There are already rumours about networking watches, interfaced with mobile phones etc. We are also working on that. We have to take the risk. The watch is on our wrist. Why should we be able to open our car, apartment, check e-mails etc. using our wristwatch? Sometimes I wonder if the pocket watches do not come back for good that could some kind of current mobile phones . Generally speaking, I am a bit crazy visionary (a burst of laughter). Even when I sleep I think about numerous innovations.
TK: What are key markets for the Tissot brand?
FT: In the first place comes Asia but Europe still remains a very important market for us.
TK: And what is your evaluation of the Polish market?
FT: Excellent. In the category of Swiss watch sales Tissot is number one in Poland.
TK: Then, can we expect in the nearest future Tissot monobrand or Swatch Group multibrand boutiques ?
FT: I think so. We have discussed that recently.
TK: Before we close the interview I would like to raise the topic of Tissot jubilee once again. What are your wishes on that occasion?
FT: I would like to extend best wishes to everybody of good health, happiness and optimism.
TK: Thank you for your interview.
FT: I thank you too.