Interview

Jean-Claude Biver (Head of Watchmaking at LVMH)

Jean-Claude Biver is a watchmaking legend that does not need an introduction. Recently appointed watches overseer at LVMG group Mr. Biver told us about his short but strict recipe for success.

Jean-Claude Biver is for us quite a special person, for number of reasons. I find him the most brilliant mind in watch marketing and PR, and a fantastic person to talk to, but perhaps the most significant and memorable one is that he was our very first interlocutor. It was back in 2010, when we sat with him at HUBLOT booth in Basel to talk about the dynamic development of the then-smallish Nyon manufacture (watch it again HERE). 4 years later both Hublot and Biver are in a very different positions. The brand is booming with crazy number of innovative timepieces, army of ambassadors, mighty PR and a new CEO – Ricardo Guadalupe. Biver, 65 this year, Hublot's chairman since the CEO's switch, was just recently appointed to his new position – Head of Watchmaking at the LVMH Group (Louis Vuitton Moet Hennessy). He will there oversee top 3 watch brands of the group – Hublot, TAG Heuer and Zenith, in order to guarantee prosperity and success he brought to the watch industry during his long and fruitful career.

We met Mr. Biver at Hublot's extravagant, 3 storey booth, but because he was literally the most busy person of the whole fair, we only managed to interview him briefly about his growing babe (Hublot) and the new, professional life.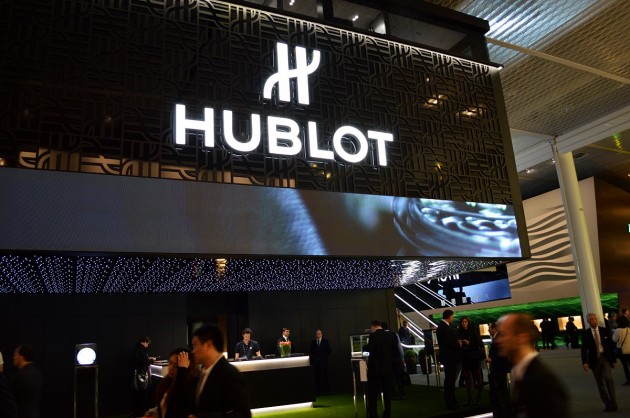 ---
1. You probably don't remember, but you were actually the first person we ever interviewed, back at Basel 2010. You where then in the process of launching the UNICO movement. Today, after just 4 years, Hublot is booming. Can you tell us, from this time perspective, how did a fairly young brand managed to achieve such an impressive success?
Hublot is certainly a young brand as it was founded in 1980, but the Hublot management has a long experience of the watch industry. Except myself who has been in this industry for 39 years now, most of my team has been working for me for 20 and more years. I believe that's the answer!
2. What do you think are the three most important things, that makes Hublot unique and attractive in the entire watch industry? What drives people to your brand?
Hublot is a brand that does not just repeat tradition. Yes, tradition we understand and respect. But more important we always try to add to tradition what the present or the future can bring us. I call this "The Art of Fusion in Watchmaking". When one connects Tradition to its Future, than he gives birth to real creativity and innovation.
And never forget "Innovation is more powerful than knowledge".
We also like to think out of the box. And in the luxury market, most brand do not think out of the box, but think like the past.
3. One of the key trends in today's watchmaking is the so called "vertical integration". With the number of your own movements and the new manufacture building being built as we speak, do you find it the key factor as well? What is Hublot's plan in that matter?
The key factor of vertical integration is not so much the independency of the supply, but even more important, it is the autonomy of creativity. How could one develop the Magic 18k Gold which does not scratch, if you don't have your own metallurgy department? That's why we should always remember why we need vertical integration of some of the important processes of our production.
4. You recently overtook the position of the LVMH group's head of watchmaking division. Two question about that. First of – what will be your new duties at the helm of making watches by not only Hublot, but also Zenith and TAG Heuer?…
My duties will be to "coach" these brands to their future and make them "first, different and unique" as I did it for Hublot. I will not be the CEO of each brand, but more important a partner and supporter of the existing CEO's. They will be able to get my inspirations, my visions, my support and my experience.
… and what are the benefits of being part of such a group? Is the cooperation between the three mentioned manufactures something more than just being the part of same big owner?
There are always synergies, some positive, some negative, some interesting and important, and some without any signification or even damaging. The art in a Group is to know how to create or detect the positive synergies. And never forget that together you are less alone and stronger. That's exactly what a Group can give you.
5. BTW: the industry was just surprised with a unexpected CEO switch between Zenith and Rolex. With Mr. Dufour now at the helm of one of the best recognized brands in the world…
I am proud for my friend Jean Frédéric Dufour who has worked for me for more than 20 years now. I believe he is the right man for Rolex and because of that, I can only applause and wish him success and hope it will be his last job till he is 70 and retires.
6. When 5 years ago I asked you what future do you see for mechanical watches, you predicted constant growth of both high and lower-end segments. Judging by the numbers Swiss watchmaking seems to be doing good, but do you still see the potential, or maybe something changed through the years?
Yes, the potential for mechanical watches is still there and is still bright. I see no change for the Art of making watches, event though we might have a new trend coming with the connected watches. But they will become obsolete one day, while a mechanical watch is like "eternity in a box".
7. You are in the industry for 40 years now. When you look back at each step of your career, are you still as excited and fascinated by watches as you were at the beginning?
Yes, passion is like Love, it is Eternal. And I am still passionate about watches.
8. A personal question – if I may. We are a bit younger than you, but we keep on wondering – where do you get all your incredible energy and passion from?
My energy comes from God, or lets' say it differently, it comes from LOVE; that's why "All you need is Love" as the Beatles told us on the 25th of June in 1967 (laughs).
Thank you and keep on rocking Mr. Biver!