Interview

Michael Meier (International Sales Director Victorinox Swiss Army)

Victorinox Swiss Army – best known from their pocket knives – enters Polish market with wide range of budget watches. We asked Michael Meier about the new collection, creating process and testing timepieces by the Swiss company.

Not that long ago we had a pleasure to test the most expensive watch in the current Victorinox line-up – Alpnach Chronograph. Recently we were invited to discuss the brand, news and plans for the future with Michael Meier, responsible for the company's global sales.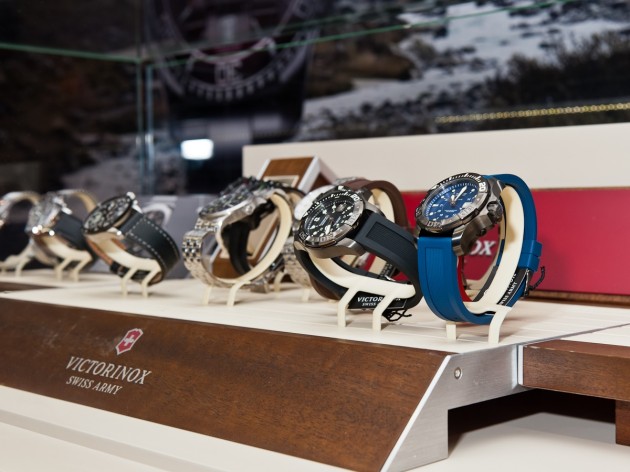 Tomasz Kiełtyka: Can you briefly discuss the 2013 collection of Victorinox timepieces? Which models are you planning to focus on?
Michael Meier: This year we concentrate our attention on Chrono Classic 1/100th second with a perpetual calendar, which uses the quartz movement ETA with an exclusive module. The watch measures time in a traditional way, but after pressing on the crown it switches into a timer with 1/100th second accuracy. Moreover, owing to the perpetual calendar it does not need any date adjustments for many years. Of course, it does not refer to the process of changing the battery, which from time to time is necessary (laughter). It is also worth pointing out that this watch will cost less than 1000 Euro. When it comes to the mechanical timepieces, we are going to focus on the AirBoss collection. We are planning to launch 300 pieces with a chronograph, a titanium case, and the Valjoux 7750 movement. Our second proposal will be 500 three-hand pieces in a titanium case as well. We will also launch the unlimited series of AirBoss in the 316L steel case.
Victorinox presents new collections 4 times a year. At the beginning of each year, we usually launch new versions of already existing models, which, for instance, are enriched with new dials, straps, etc. The second half of the year is devoted to real novelties, e.g. Chrono Classic 1/100th second. In 2013, we presented as many as 40 new references, and our whole collection has 180 pieces in total. In summer we recommend you to have a look at the Maverick collection available in a wide range of colours, to include red, blue, brown, and gold.
TK: Your brand is usually associated with pocket knives, just as Monblanc with pens. Do you intend to fight with the perception of your timepieces through the prism of knives, or perhaps use it as an advantage?
MM: Of course we want to make use of this fact. Primarily, Swiss Army Knife is an icon of Switzerland. It is widely recognizable all over the world. Secondly, it is characterised by the highest quality, which lets us ensure the lifetime warranty. If we take into consideration the above features, we feel obliged to produce timepieces of the utmost quality. We treat our advertising slogan – "Companion for Life" – very seriously. Whatever we produce in Victorinox, it is supposed to serve its role for years instead of being just a fad.
TK: What are the crucial markets for your timepieces?
MM: From the perspective of both history and sales figures, the most important region is North America. For the majority of brands, it is China. Not for us! In 1989, an American knife distributor asked Mr Carl Elsener to start the production of watches. 13 years later, our timepieces were already available on the international arena. Even nowadays it is America that generates about 40% of our total sales. As far as Europe is concerned, the most important markets are Switzerland (which is no surprise if we take into account the tourists), Germany, and Great Britain.
TK: You also produce limited editions. Have you ever thought of launching a special watch for the Polish market?
MM: Everything depends on the role such timepieces would serve. We do not produce limited editions for, let's say, tobacco companies or alcohol brands. So far, we have not dedicated them to people, either. Limited editions are usually dedicated to charitable activities, i.e. a part of our profits is given to foundations. We have achieved to equip the Air Force One crew with one of our timepieces. This is the Alpnach Chronograph, which is enriched with the Seal of the President of the United States on the background of the dial at the 9 hour. So we do produce special editions, but we normally do not advertise them.
TK: You've introduced timepieces to Poland relatively recently. What can you say about the Polish market?
MM: This is amazing. When I wander around your shopping malls I have the impression that I'm actually in Dubai. Why? Because their standards do not differ from those present in the Western Europe or, as I mentioned, the United Arab Emirates. The Polish market is relatively young. New brands keep cropping up and the quality of service is increasing. The knowledge of the employees – at least those who sell our timepieces – is as big as in Switzerland.
TK: If this is not a secret, can you tell us how many timepieces you produce annually?
MM: Several hundreds of thousand watches every year. About 80% are quartz watches, 20% – mechanical ones. About 80% is destined for men, 20% – for ladies. However, we live in times when many women wear timepieces destined for men. It's difficult to say what this division really looks like. As far as our movements are concerned, we use ETA and Ronda. The whole production process is an "in-house" process, which means that timepieces are assembled, designed, repaired, tested, etc. here in Switzerland. We have our own workshop with 65 watchmakers, which is rare in the case of timepieces sold at our prices, i.e. 300-2500CHF.
TK: And how about the components?
MM: We cooperate with deliverers. It is no surprise that in order to sell timepieces at our prices we are not able to produce the components on our own. Of course some of the components are not produced in Switzerland. We buy them in various places and for various reasons. Leather straps usually come from Switzerland, but cases, hands, and dials usually don't. There is a "Swiss Made" inscription on dials because everything is designed, assembled, repaired, and tested in Switzerland.
TK: What do such tests look like?
MM: In total, there are 72 tests. They begin in suppliers factories and concern the quality of the components. Later on, these components are checked again in Switzerland. Additionally, they are verified during the process of production. Finally, we test ready timepieces. These are visual tests (for the presence of specks, scratches, etc.), water-resistance tests, Superluminova tests, leather durability tests, buckle tests (how many times you can open and close a buckle), shock-resistance tests, etc. Moreover, our timepieces are tested in extreme conditions by journalists and bloggers, whose opinions, which we cannot influence, appear on the Internet. During the last few years we have done a lot to reinforce our position as a timepieces producer. We introduced mechanical watches, we use the sapphire crystal, we give a 3-years warranty, and we conduct careful tests. The highest model in our offer is Alpnach, whose production was connected with quite a big risk. What I mean is that when you look at our offer, it is much more expensive than other models. But if you compare it with models proposed by competing producers, it becomes accessible. Alpnach has quickly became one of the most popular Victorinox timepieces and it still asserts its position on our TOP5 list. We are really pleased that our customers accepted a timepiece which costs 2000 CHF.
TK: Do you intend to develop this segment?
MM: No. As of today, we have 16 lines and we want to reduce this number to 12. We have to make sure that our offer is clear, not overfull, because otherwise the DNA of the brand would start to fade away. We will also focus our attention on timepieces for ladies as well as those from the so-called "entry level", i.e. the most accessible ones. During the last 10 years we have increased the quality of our products, which has resulted in the rise of prices. And as far as the mechanical watches are concerned, they for sure won't constitute 50% of the whole production.
TK: As of now, how many points of sale does Victorinox have?
MM: Today it's slightly over 4600. Only in North America there are 1800 of them. These are independent points of sale. We also have 5 flagshipstores, which constitute our own distribution network (they are located in London, Dusseldorf, New York, Toronto and Geneva, each of them having over 500 square metres). We also have 60 monobrand stores with the surface of 60-100 square metres.
TK: Do you intend to open such a store in Poland?
TK: Yes, obviously, once the time is ready.
TK: Thank you for the interview.
MM: Thank you.