Interview

Peter Stas (CEO, Frederique Constant)

Frederique Constant is a young company (founded in 1988) that in relatively short period of time managed to establish its place in the watch world. We asked Peter Stas (CEO) to give us his recipe for success.

During our recent "Road Trip" to Switzerland we had an opportunity to discuss watches (and everything around them) with many interesting people. One of this conversations took place in Plan-les-Ouates, where we sat down with Frederique Constant CEO – Peter Stas.

Tomasz Kiełtyka: Could you please tell us few words about current preferences of your customers. What kind of dials / materials they prefer? Are they buying classic or sport watches?

Peter Stas: Frederique Constant is purely classical. That means mostly white/silver dials. We have 15% of our watches with darker dials. Maybe 20% if you also count chocolate ones. At the moment it is 50% steel, 50% plated. We see that yellow gold colours are coming back again.

TK: In 2011 you mentioned that you produce about 100.000 pieces. This year it was 130.000 pieces. So – what are the plans for future?

PS: Last year we did 120.000. This year our aim is to produce 130.000. So far it seems to be reachable. We have more manufacture movements in present than we have had in the past. And – as you can imagine – it is much more complicated to produce. So downstairs you've seen we have hired 20 new people for the movements assembling. We have new CNC machines. There are a lot of things that make it more complicated. We believe that it will continue to expand, because our manufacture pieces are different than at competition. They are very beautiful, more interesting to talk about. They have a lot of added value compared to our standard product. However we will also continue with basic products and quartz movements. We plan to grow up to 150.000 – 180.000 timepieces in next 3 to 5 years.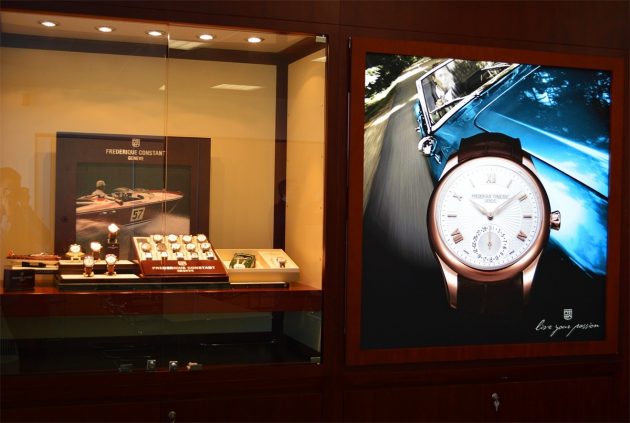 TK: You started to produce your own movement in 2001, so we can say you are young brand. But you are very successful. How would you describe that recipe for success?
PS: There is not one answer to this question – it's combination of many things. First of all I believe that when we started 25 years ago with this idea of creating accessible luxury watches, that was the right strategy, because we saw young people who could not afford very expensive Swiss mechanical watch at 10.000 – 20.000 CHF. When we came with beautifully designed watches in steel for example, at much lower price, there was immediate market for that. And that's still the same. So the strategy was right. And also the fact that we didn't change it is one of the elements. Then, the other element is – let's call it – all the little things together. Right marketing, right brochures, working on the website, making the packaging boxes nice, having nice events, nice photography, here and there – nice model. All this we built over the years – always in a consistent line. That is important. Watch industry is slow. In some other brands, when they change CEO they also change the strategy, and they pray for it to work. Often it does not (smile). It is also very important to improve yourself constantly.
TK: When I saw your results for 2010, where Alpina had three digits and Frederique Consistant 30 – 40% grow, I was wondering why everybody is talking about the crisis?
PS: We benefited from the crisis. Because in crisis the more expensive watches, especially mid segment from 5.000CHF to 25.000CHF, stopped to sell. The shops – if they don't have sale any more, they can not pay salaries. Our watches were in 1.000 – 5.000CHF segment (and most in 1.000 to 3.500CHF) and they were still selling. So they were generating cash for shops and possibility to pay the cost. That attracted new retailers and we received more orders. So the crisis in that way lifted our growth. Normally we were growing 20%. Now we have between 10 – 20%.
TK: Do you plan to expand in the segment between 5.000 and 15.000CHF, and create more complicated watches? Because right now you offer perfect watches for people who are starting their adventure with watches and who are not very rich.
PS: A little bit but not so much. We will come with a 10th anniversary version of Hartbeat Manufacture next year. And that one will be around 4.500Euro. So it will be a little more expensive and become the top of regular collection. We have tourbillon as well, but we produce 100 pieces per year. The space between 5.000 and 30.000CHF is still empty. We'd have to come there with something that is really special and compete with all the existing brands. Our strategy is segment between 1.000 and 5.000CHF and we'll stay there.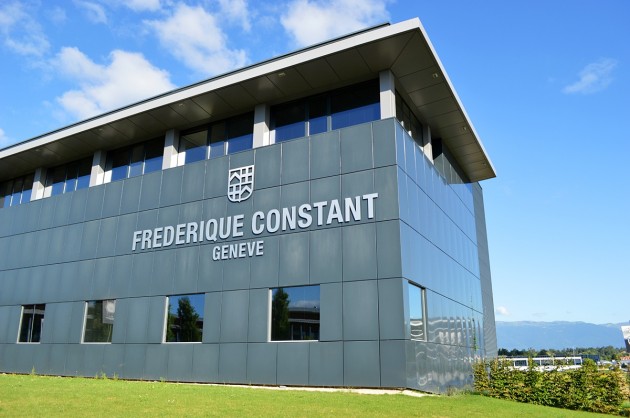 Łukasz Doskocz: How does that surrounding – Vacheron Constantin, Piaget, Harry Winston – motivate you? Or is it irrelevant?
PS: In 2004 we were looking everywhere in Geneva for a place to move. We looked at existing buildings, we had real estate company searching for us. We never had intention to come in here. Then we were offered this part of land to build our own manufacture, and finally the calculation made sense. Because renting in Geneva is extremely expensive, it was actually less expensive to build this building and be the owner of it. Normally you pay so much rent in Geneva, that in five years it's the same as building your own place. Moving here we never thought that it will influence us anyhow to be between so many other watch brands. Then, when we moved in at the end of 2005 – really 2006 was the first year – we saw that all the journalists go to all the neighbours, but they also saw our building with big Frederique Consistant logo on it. It gave additional credibility to the brand, which we did not expect would be so strong. Also potential customers see us in that environment. All that has helped. What does not help is that of course we sometimes train the watchmakers downstairs, and then they go to the competition. We have taken over some from them, but mostly they leave to the other side, where they can earn more money. This is a little disadvantage. But overall to be together in terms of image and the building itself, that has been enormous benefit.
ŁD: Why did you split your brand to three separate ones: Frederique Constant, Alpina and Ateliers deMonaco?
PS: Frederique Constant remains very classical. The main reason for that is because the brand did not have any brand identity when we started – it was all new. And we wanted it to be clear and classical. In the mind of consumer, and also in the mind of retailer, we've seen in many cases that when the brand starts to mix classical and sport – in the display window it becomes a real mess. There are of course number of bigger brands that have that combination, but they can also go to the retailer with more powerful message, get larger space and place for display with sports and classical watches. We don't want to mix two types of watches. At least this is my opinion. We had a lot of requests for sport pieces. In 2002 we had an opportunity to buy Alpina – the company plus the brand Alpina. Alpina has a long history with sports watches. That made sense, to buy that and start new activity in the category of sports watches. Getting back to your question – it's better to have two legs to stand on. Maybe in the future, if we have some trouble in classical, we would still have Alpina. It also expands the presence in the stores. It creates a lot of synergies. Our third brand is Ateliers deMonaco – place for top-talented watchmakers, who deliver really high-end complications to the market.
TK: I have noticed, that you have really young stuff here…
PS: No. We have sort of the training school here, so when they come out of school, they come here and often they want to come here because here they are allowed to work on a complete watch much quicker than they would with our neighbours. For them it's much more fun to work on a complete product, especially when it becomes a little more complicated. So they learn a lot.
TK, ŁD: Thank you.
PS: Thank you.