Interview

Stephen Urquhart (CEO Omega)

Opening of the Omega's first boutique in Poland was a great opportunity to speak to its president. We asked Stephen Urquhart about antimagnetic movements, new materials and prices.

Heading Omega for many years, Stephen Urquhart may seem like quite a strict person. As it turned out, only a brief conversation drew a whole different picture. Omega CEO is a very open and kind men, passionately crazy about watches. It was a great pleasure to see how long and in-depth he can talk about technical details of different movements, innovative materials and the final product – timepieces with a characteristic symbol Ω.

Stepehen Urquhart visited Warsaw for the first time (Omega opened lately its doors at Three Crosses Square) and we sat down with him to discuss one of the most popular brands in Poland.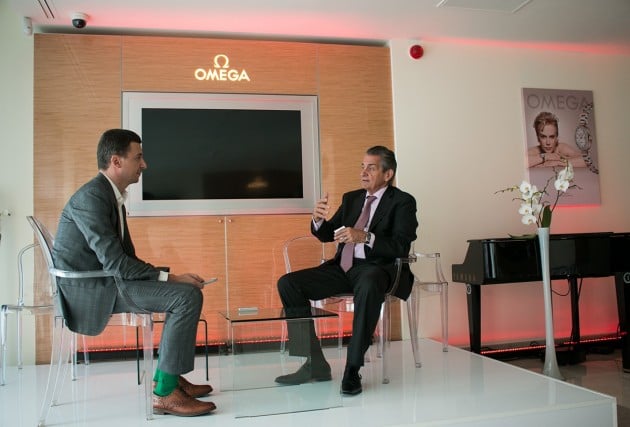 Tomasz Kiełtyka: We are witnessing an opening of the first monobrand Omega boutique in Poland. What are the reasons behind this decision? Are they prices that you want to have more under control, which is the problem faced by numerous brands these days, or perhaps the reason is Warsaw – the capital of a country with 40-million population – which is a place with good prospects for the Swatch Group?
Stephen Urquhart: Above all, we believe that Poland has great potential. In Poland Omega enjoys very high recognition and is highly valued. Moreover we believe that our watches have to be presented to our customers in the best possible manner, and we don't feel that we have given the people in Poland the chance to see our products in an ideal environment. Now we have found the best venue in town and decided to open our own "house of Omega" as we call it. Certainly all around the world, in shopping malls, which are very busy and have high number of visitors, we have been able to find some good business partners. But for the past 14 years we have been focusing our distribution network on our monobrand boutiques along with some carefully selected retail partners and the new Omega Boutique in Warsaw is consistent with this strategy.
TK: What is the difference between boutique and "ordinary" point of sale? What added value can be expected by the customer at the boutique?
SU: I know that the customers who visit our monobrand boutiques can answer this question themselves after they have seen one of our stores. A visit will be more convincing than anything I might say, especially for those who already have some knowledge of the brand or want to talk about it or to learn something new. You mentioned prices earlier, which are currently a challenge for the entire watchmaking industry. These days, very few brands are taking the decision to be represented inside a multibrand store. One of the reasons is the flexible pricing policy pursued by such retailers, which at the end of the day undermines the respect for the product. Certainly we are present in a lot of such points of sales and we will maintain that presence where it's appropriate, but it is not the same as our position in our own boutiques. And if someone can choose, he or she will go to the boutique like the one we opened in Warsaw. We are particularly close to our customers and from time to time we will organise special thematic events and make presentations there to help build the connection between the brand and potential Omega wearers.
TK: Let's talk now a bit about technicalities. Last year you presented the first watch movement resistant to magnetic field higher than 15.000 Gauss, and already in this year this calibre started to be used in models made in lot production. How did you manage to achieve that over such a short timespan?
SU: We managed to bring the technology under control (laughter). This year we have only introduced it in a few of our men's and ladies' watches, but next year they will be joined by many additional models. We are working on a chronograph, which is the most time consuming, because the movement is clearly more complicated. In 2013 – during the launch of the Co-Axial calibre 8508, I announced that within a five-year-timeframe, all Omega's Co-Axial watches would be "antimagnetic". We intend to stick to this plan and I am confident that we will manage to achieve our goal. We have some even bolder ideas, but will only disclose the details of those during Baselworld trade fairs.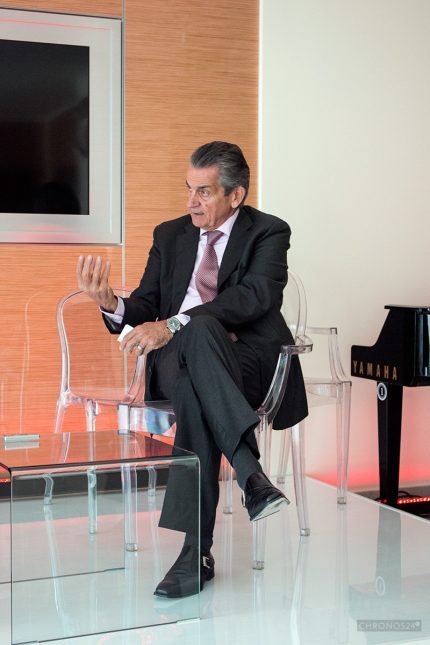 TK: For several years now you have been implementing in your watches new technologies such as Liquidmetal, Ceragold, Co-Axial. Is it your idea for doing business i.e. to combine modern solutions with proven, widely recognizable, cult design?
SU: The question of technology is one thing. For example, Co-Axial technology works very well and with it, we hit the nail on the head; and now the antimagnetic Master Co-Axial technology is following in its footsteps. We do not want, however, to reinvent the mechanical watch – this is not our goal. We can, though, improve it by introducing new technologies in the movement or using new materials. But there is also the aesthetic appeal of the watch to consider. In this respect we have introduced such materials as Liquidmetal, Ceragold and Sedna gold. Each of these has a dramatic and impressive affect on the appearance of the watch and these alloys look great when they are contrasted to ceramic materials. Just as importantly, though, they are particularly enduring materials, meaning that they will look exactly the same in several decades as at on the date of purchase. We try to combine our experience and to tap the potential of being a part of Swatch Group, whose companies are our partners in technological development and cutting-edge research. I believe this is the right path to follow, especially if we consider the success of the "Dark Side Of The Moon" model, which on one hand, is a descendent of the legendary Moonwatch but which, on the other hand, incorporates our incredible ceramic technology, making it a chronograph for a whole new generation.
TK: A few years ago in one of your interviews you mentioned that Omega customers are men and women on a fifty-fifty basis. Is this breakdown still valid?
SU: Looking at the sales by models and at other figures – indeed the split is around fifty-fifty. But as a lot of women wear men's watches, it is hard to give an unambiguous answer to this question. I know, for example, some women who wear the Speedmaster "Dark Side of the Moon"! Four years ago we created a great mechanical watch for women. We called it Ladymatic, reviving the name of another collection of great automatic watches for women that we had originally launched in 1955. The effects are already visible – women have started to perceive that in order to possess a good mechanical watch they no longer have to buy a men's watch.
TK: This year you also launched 3rd generation of X33 watch. Does it imply that in parallel you keep developing quartz watches?
SU: This watch was another challenge for us that was motivated by our long-time collaboration with NASA. We and they have discussed the characteristics that would be important in a wristwatch to be worn on a mission to Mars. This watch was one of the results of those discussions.
TK: To cut the long story short – Omega wants to conquer the entire universe (laughter)
SU: No, no. This is a not part of our plan. Similar to developing a watch for the pilots on the Solar Impulse project, we work with adventurous partners to determine exactly what's needed for some incredibly ambitious projects.
TK: Let's get back to the Earth and let's return to classics. This year during Baselworld you launched a new model called De Ville Trésor. Here a question arises – is it going to be a flagship model for watches to follow e.g. equipped with such complication as indication of Moon Phase or for the time being there are not plans to extend this product line?
SU: At the moment we are not planning to extend this product line. The Trésor is a beautiful watch that was inspired by the 1949 OMEGA Trésor and its appeal is its classic, understated styling, the thin gold case and the great manually-wound Co-Axial calibre.
TK: What about jewellery and leatherwear? You offer cufflinks, case covers for tables, wallets, bags or bracelets. What is the market share of this segment and do you intend to develop it further?
SU: The market share in this segment is relatively low. Our product range comprises jewellery, because in the past – mainly in 1950s and 1960s – it was introduced into our product offering. We also carry one fragrance, our Aqua Terra Eau de Toilette pour Homme, but this is primarily due to the fact that we want to protect our logo. You probably have no idea about the fights taking place to use our logo. The products you mentioned are also associated by the customers with added value. However, they will never be shown in our print advertising or television commercials.
TK: Briefly speaking – you have aspirations to accompany people not only on their wrists.
SU: When a brand becomes stronger, people want to associate themselves with it more and more. Recently, for instance, we arranged a golf tournament and on this occasion we prepared ordinary caps, but with an Omega logo. Everybody was dying to have one of these caps because our brand's name on them gave a feeling of prestige.
TK: Ok then. Now the last question. Along with the launch of Master Co-Axial movement you increased prices of your watches. Are the prices going to remain at this level or do you have more price hikes in the pipeline?
SU: In the short term, we do not envisage any price hikes. The first watch with an anti-magnetic mechanism, which was made last year, we priced very high because it was a sort of prototype. Now that we have mastered this technology and we know that the prices of new models equipped with this calibre do not have to be high.
TK: I understand that the opening of boutique will make you come to Warsaw more often?
SU: Yes and I'm looking forward to it.
TK: Thank you very much for the interview.
SU: My pleasure.