Making of: Hermès watch straps
The highest quality leather, laborious process of handcrafting and attention to details – it is how the making of luxury Hermès watch straps can be described in a few words.
Hermès leather products have become iconic, mainly due to the women hunting for handbags from Birkin and Kelly lines, but they are not the only ones who are under the manufacturer's snobbish charm. When I was invited to take a closer look at Hermes watches manufacturing process, I knew that the making of straps was going to be the main attraction. It might seem slightly odd, because as a horology lover I should pay more attention to movements and dials. However, considering the fact that the brand's popularity and prestige are based on their leather accessories, it would be the best way to show why it is attractive and different from the competition. Besides, probably as well as you, our dear reader, I was looking for the answer what makes Hermes leather products so special that buyers are willing to pay a small fortune for them and if their price is justified in any way.
For a start we should mention that Hermes watch production is based in Switzerland at a special company – La Montre Hermes (established in 1978). Therefore, when speaking about Hermes' timepieces, we need to consider them as "Swiss Made", unlike the rest of the business, concentrated in France.
Hermes watchstraps are made in workshops located in a small and quiet Swiss town Brügg, not far from Biel. In the company owned buildings, since 2006, a small group of artisans craft little works of art, which require not only the highest quality leather but also a process consisting of nearly 50 stages.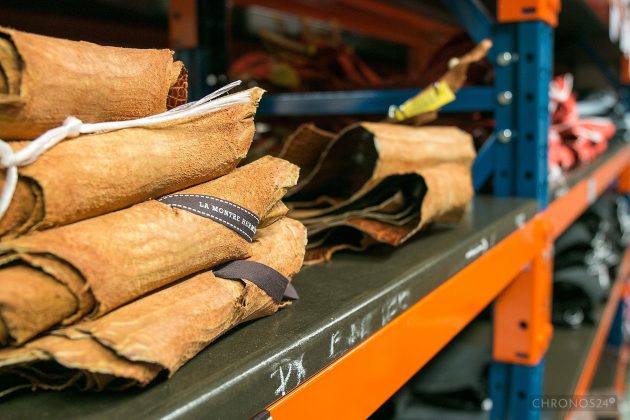 My tour began with a visit to the warehouses. Some of them maintain special temperature and humidity, with shelves containing large amounts of multi-coloured leather. Among others, Hermes uses alligator, goat, ostrich and calfskins. The alligator skins used in the production come from 2-3 year old animals especially farmed in the US. One skin supplies material for… 3 straps only! In case of thick and incredibly tough French Barenia calfskin, the age of animals ranges from 4-5 months; one skin is enough to make around 50 straps. Remains of unused leather and offcuts are given to schools, which unite artists as part of "Petit h" scheme, which use them to make various items.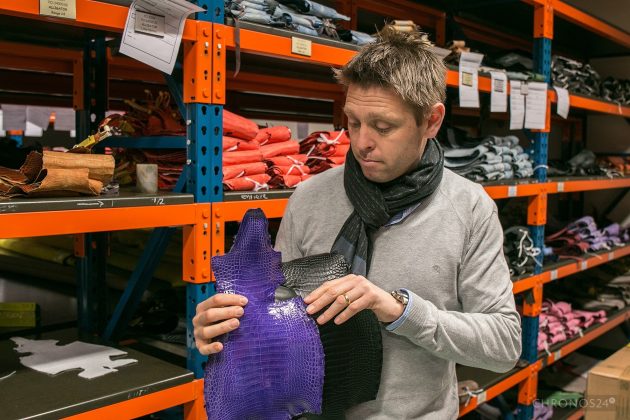 The secret of Hermes straps and their uniqueness comes not only from excellent leather quality but primarily from the number of details, to which Hermes pays great attention.
The entire production process begins with cutting straps from large pieces of leather. Machines are responsible for cutting two identical strap pieces using special moulds. The two pieces need to be matching each other not only in terms of size but also shade and texture. Scratches, discoloration or other defects in selected pieces are out of the question.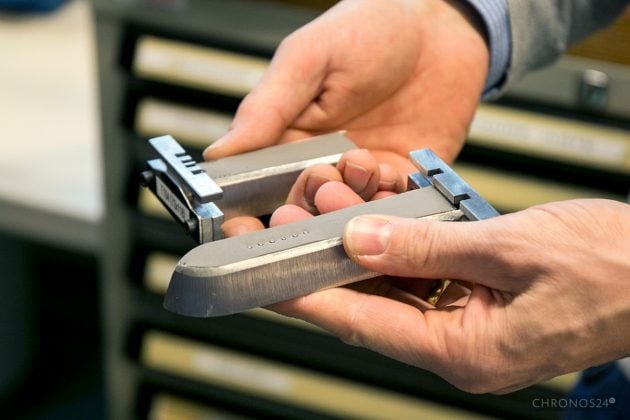 In the next stages the leather is filled with beige, anti-allergic lining called "Zermatt" until desired thickness is achieved, then the holes are punched in for the stitching. The stitch used by Hermes is quite distinctive and done with a slight angle.
Prepared strap goes to another room, where the strapmakers work. The training of each artisan takes full three months. They start with the bottom holes, which – thanks to handmade double stitching – strengthens the whole piece.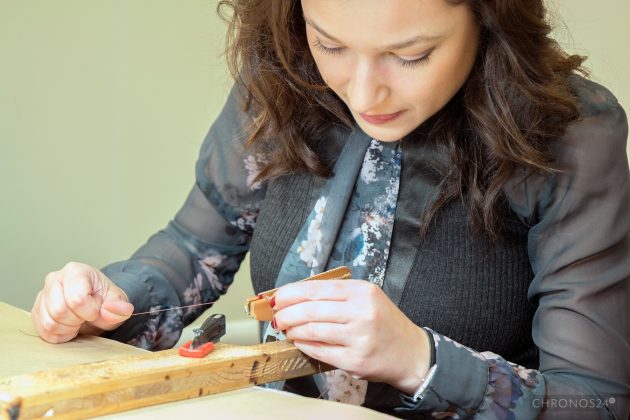 Next, a special dye is applied to both ends of the strap then it is heat pressed and polished. Some of those processes are done more than once. In further stages the stitched sides of the strap are gently hit with a hammer, which prevents them from standing out, while ends of the thread are pushed into one of the holes with a needle and sealed with a bit of glue.
Subsequently, artisans apply paraffin and wax, which protects leather from sweat and moisture. At the final stage, two loops are added – one fixed and one movable. The way the first one is positioned makes it impossible to see the holes and workers need to do it using the sense of touch only. Thanks to special stitching, the thread on the inner side of the movable loop looks as the letter H, creating sort of a signature.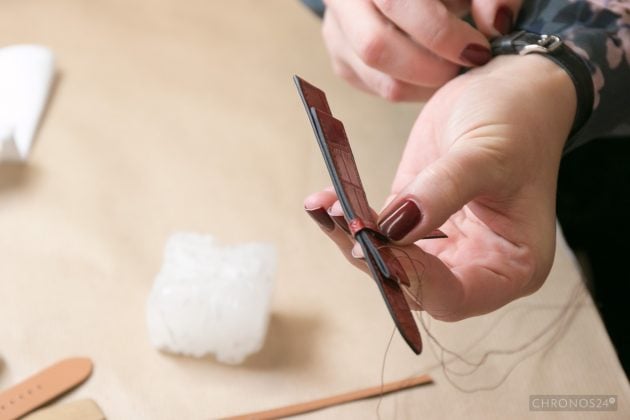 After the quality check, the straps are stamped. The inside is marked with the company's logo including a letter informing about the year of production (2015 is marked as T).
Briefly described process consists of around 50 activities devoted to a single watch strap! It takes 1.5hrs, not including pre-cutting and initial processing. More sophisticated pieces can consume even 2 days. Before I stepped over the workshop's doorstep I had asked myself a question, relevant in that sort of visits: Will I see people working inside or machines? What's behind all that fiddly and laborious production process? Human hands as manufacturer assures? The answer can be only one in this case – almost everything is handmade here. I admired the work of artisans with real pleasure and awe at the same time, which were finishing each stage quickly and with great precision. All the more that most of them were people at young age. The final effect is impressive – I would definitely like to see them on my wrist. Of course, it's possible starting from 150EUR for a basic Hermes strap. Prices can go sky-high depending on the thickness and type of leather.