MB&F Legacy Machine N°2 (Live)
Legacy Machine 1's inspiration dates back to over 100 years ago. Designing the Legacy Machine 2 took Maximilian Busser and his Friends even further back in time.
As most likely remember, Legacy Machine No.1, with its giant, levitating balance wheel rose up from the fascinations with old pocket watches and watchmaking achievements of the second half of XIX and first half of the XX century. Maximilian Busser was always fascinated by the time period, when virtually all watch complications we know today were conceived. It is no surprise than that this are the times he reached out to, to find inspiration. When working on LM2 (Legacy Machine No.2) he time-travelled even further back. The raw models for the piece were the works of three of the greatest watchmakers from the break of XVIII and XIX century: Abraham Louis Breguet (1747-1823), Ferdinand Berthoud (1727-1807) and Antide Janvier (1751-1835).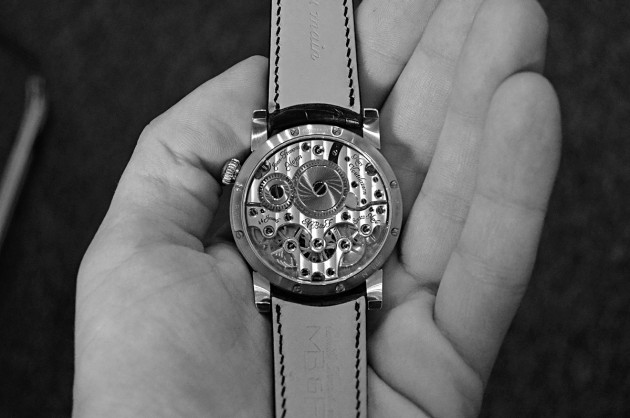 While working on LM1, Busser already had this special idea in the back of his head. Because the cooperation with Jean-Francois Mojon and Kari Voutilainen turned out to be great success, MB&F founding father craved something more – a timepiece with two balance wheels integrated into one mechanical movement. The idea itself isn't something brand new, still there were only very few watches of this type constructed in the whole history. Double balance wheel pieces were made by three mentioned watchmakers – Breguet, Berthoud and Janvier. Pocket-watch calibres with this complication were also created back in the 1930s in the watchmaking school in Vallee de Joux. Francois-Paule Journe designed and made his double-balance timepiece – the Chronometre a Resonance, but closet to what MB&F is now presenting to the world was the Duality, hand-made by one of the best living watchmakers of today – Philippe Dufour.
"I will always remember the first time I lay eyes on a Philippe Dufour Duality – it was ten years ago at a collector's dinner, and when I turned the watch and saw the movement with the double balance wheel, my jaw nearly unhinged ! Since that day I have always dreamt of reenacting that principle but where you do not need to turn the watch around. It took me ten years but it was worth the wait." – Maximilian Busser
Contrary to the Journe's resonance type movement (that uses the physical law of resonance to synchronize both balances) Dufour's and MB&F concept presents a system with two independent balance wheels joined together by means of mechanical differential. This planetary differential averages the frequency from both wheels (each has a frequency of 2.5Hz = 18.800 bph) and transmits it to the going train. The three main jobs of this mysterious device are: Transferring power to each of the regulators; Receiving the individual timing rates from each balance; Transmitting the average rate of the two regulators to the gear train, where it finally manifests itself as the displayed time.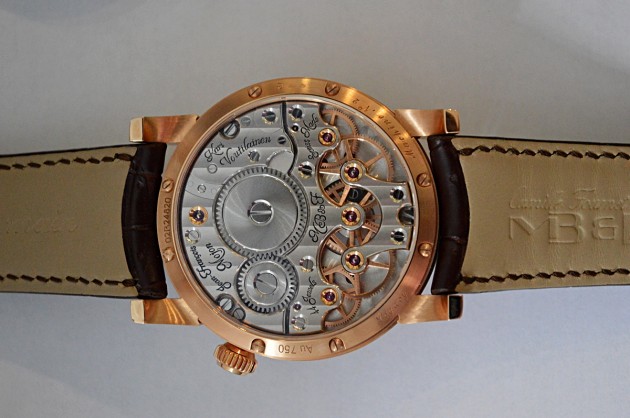 The watchmaking side of LM2 was again handed to Mr.Mojon (and his Chronode team) and Mr. Voutilainen. The result movement has two 11mm balance wheels with Breguet type springs and two sets of 4 micro-regulating screws. They are separated by the carefully calculated distance, so that no unwanted resonance could occur. The planetary differential consist of 3 gears and 5 pinions. Manually wound mainspring barrel provides 45 hours of power reserve. All in all there is 241 components in the LM2 engine, all finished to the highest esthetical standards with Geneva stripes, hand bevelled and polished edges, gold polished chatons for the ruby jewels (44 of them), sun-ray pattern on winding wheels and hand applied engravings, including names of both watchmakers.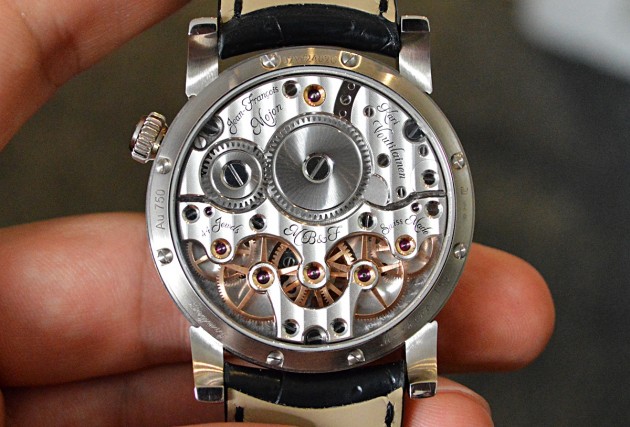 As is the story with all MB&F machines, the watchmaking contributes also to the esthetical side of the piece. LM2 is in some overall details similar to what we know from acclaimed LM1. Two wheels are hold in place by a pair of v-shaped arms on both sides of the dial (at 3 and 9 o'clock). The dial itself is actually a mainplate of the movement, decorated with subtle sun-ray motive. Down at 6 o'clock you can admire one of the differential wheels hold in place with an arched bridge. Time indication dial is white lacquered disc with a golden ring and pair of gold, blued hands – placed at 12 o'clock to balance the design. And although it seems busy, it is very nicely readable watch – but then again it is not the timetelling itself, that is clou of Legacy Machines.
The case to house all this mechanical wonders is the one you already know form LM1. 44mm in diameter and a bit thicker 20mm in height with highly domed sapphire crystal. Its surface was brushed with all angles mirror polished. The crown to operate the single dial was moved to 2 o'clock. And though it seems like a huge watch, to our surprise it wears and feels very comfortable (for a big watch) but of course you won't be able to squeeze it under the cuff of your tailored shirt.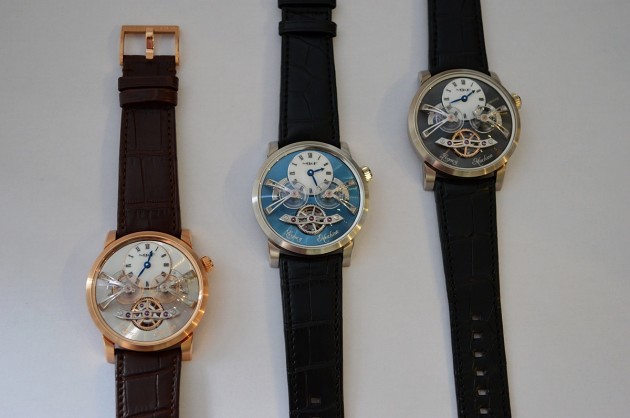 There will be 3 different versions of LM2. Two unlimited editions are made out of 18k white or rose gold with grey or silver dial respectively. The limited special is 950 platinum with gorgeous sky-blue face – 18 of those will be made. Gold version is priced at 138.000CHF (+ tax), the precious platinum requires additional 30.000CHF.
LM2 Video
When we met Max Busser and his team in their Geneva based M.A.D. Gallery (and extraordinary place we will present you very soon) we were as stunned and blown away with LM2 as it was, when we first saw the premier Legacy Machine. Busser consequently decided not to fiddle with the classic, traditional styling and design, devoting the LM series to purely watchmaking experiments. The playground for the crazy designs remains in the Horological Machines series – of which the new, 6th member should be revelled at the next BaselWorld (27 march 2014). We already can't wait, and for now remain under charm of the Legacy Machine No.2. This is the kind of watchmaking that makes our hearts beet faster – although we still only each have one.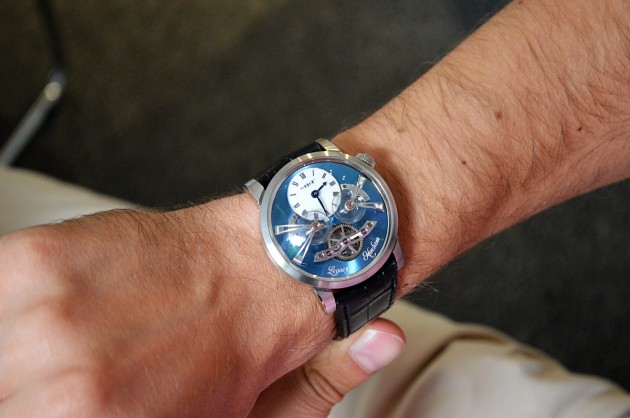 Official Gallery