Review

A. Lange & Söhne Odysseus [live photo, availability, price]

A steel sports watch might nowadays be a leading watchmaking trend, but when done by Lange, it's a whole new story. Very German, faithful to its own style and not without controversies – which in turn might be one of Odysseus great advantages.

I like to think that in 10 years writing for CH24.PL I acquired a certain good taste, possibly an objective eye and knowledge, that would in turn make me a valid editor in chief of the biggest watch online magazine in Poland. In that time probably a good few hundreds (if not more) watches passed through my hands, from all different price points and quality levels. This entitles me rate rationally and place my sympathies – to put it simple, to choose wisely what I like, and what not so much. In theory the choices are not easy, but if you follow us carefully, that I have a weak spot for A. Lange & Söhne. Sure it is a top brand which comes with a price tag that makes it unaffordable for me, probably for quite some time, if ever. That however does not change a fact that I value Lange immensely. I tell you more – I find it the best watchmaking house today, best in the world. The Germans do their precious timepieces in a small but charming town of Glashütte , that I had a pleasure to visit a few times. Although enhanced by new building recently, Lange makes roughly about 6 000 pieces a year, about 10 times less than the so-called king of watchmaking from Switzerland, Patek Philippe. All of the watches are mechanical, all made in-house with vast majority of parts conceived in Glashütte, including the balance spring which is a rarity in the industry. What is more, Lange has something I like to call consistency. Ever step in developing the brand and its watches is thought true and planned, almost as if according to some secret rule book. Germans, as much as Germans do, pay a very strict attention to every detail. And so they do with designing every new piece and making it. Doesn't matter if it's a simplest Saxonia with two hands and a manual movement or a Turbograph Perpetual "Pour le Merite" with 684 parts in the mechanism itself, each watch in pampered so much so that every single one is assembled twice – first to check if it works properly and then to clean it and decorate, by hand of course. The finishing goes even to the parts that will never be visible to the naked eye.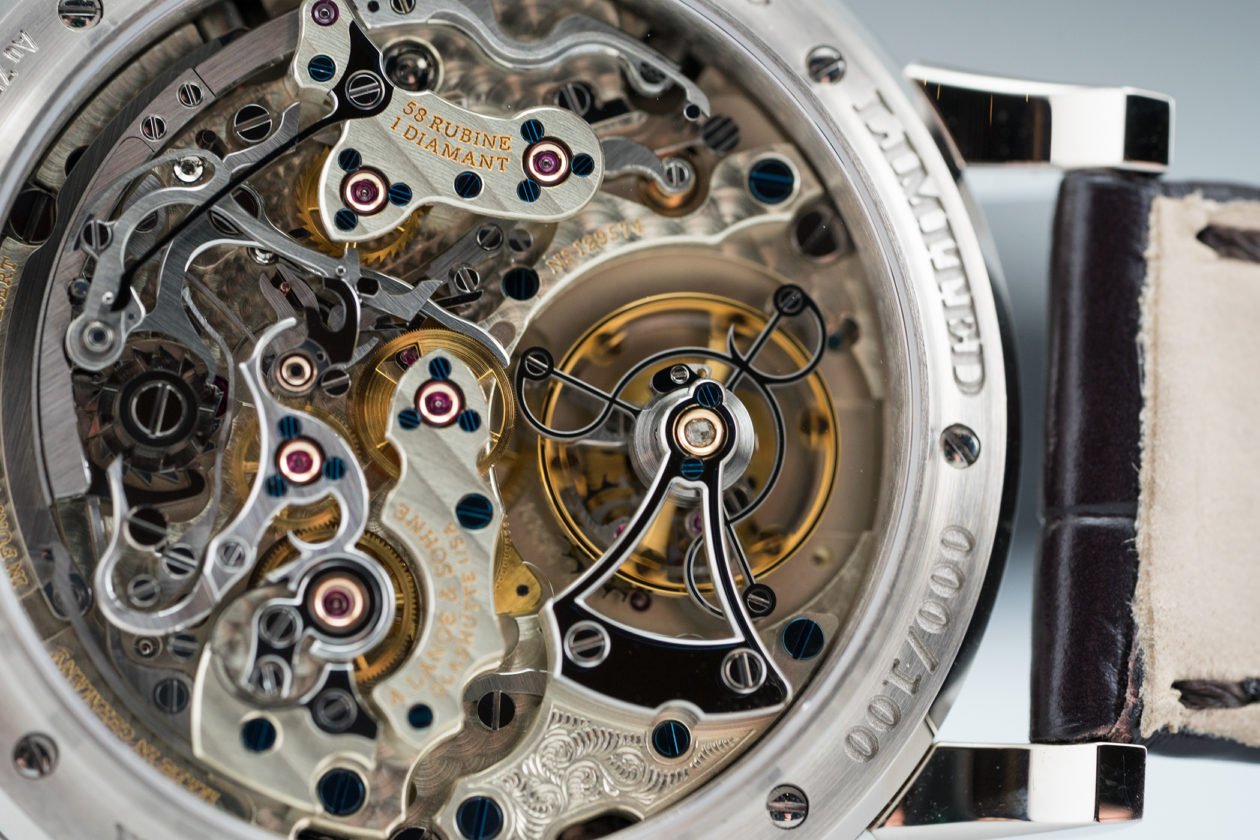 Very high dose of attention goes into the design of a Lange watch. German school of design and a fair amount of own DNA result in timepieces that are classic yet characteristic. There were only a few exceptions to the rule in the 25 years of modern Lange. The SIHH 2009 gave birth to the Zeitwerk – a watch with an aptly unusual digital display of time, housed in a large gold case. But even that watch, as crazy as it is, had a lot of Lange's fingerprints on it, highlighted by absolutely top notch, clever and high-end watchmaking. To this day, full 10+ years after it was born, I find Zeitwerk the greatest avant-garde watch made by a haute horlogerie maison. The next big wow design-wise from Glashütte took another decade, although word is it was pipeline already in the times of Gunter Blümlein.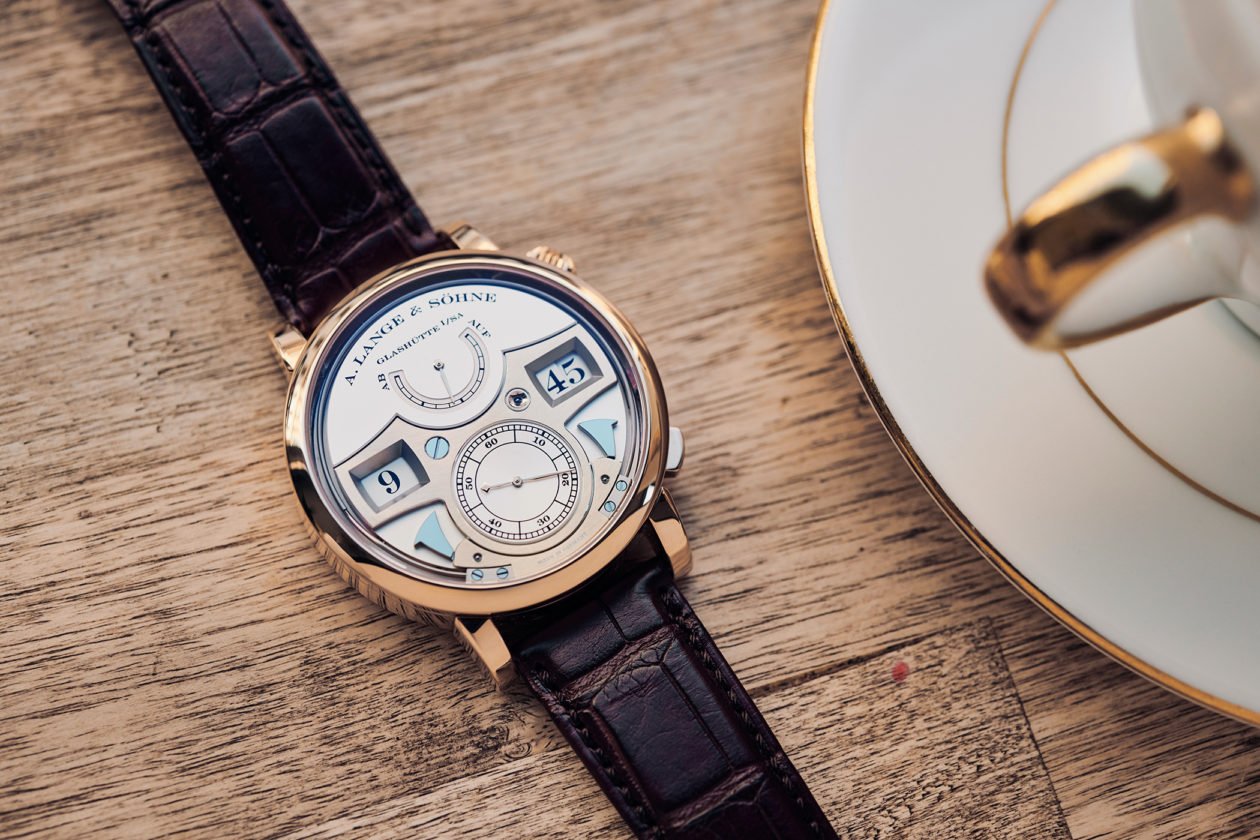 Odysseus finished his long journey into the daylight in November 2019, but some press members could see the watch sooner. I was invited to Dresden, Lange's second home after Glashutte, too, but had to cancel due to our "Watch of the Year" evet. But as they say, good things come to those who wait… although I wasn't entirely sure this time it is actually that good. First press pix we all saw made a lot of thinking. I was confused not by the fact that Lange actually made a steel sports watch, but the way they made it. It had a bizarre name (think of all those very German names of every other Lange watch) and quite an unusual take on a "sport's integrated" theme more like an interpretation then an actually compliance. One can be said straight away – it is every bit a Lange watch.
Details and DNA
One of the absolute key factors of a causal sports watch in steel is wearability, comfort and functionality. This is where Odysseus plays like a charm, uncompromised and clever. Made entirely out of steel the watch weights a 145 g – quite reasonably for a medium-sized steel case and a solid steel bracelet. Technically speaking (by the book) it's not an integrated watch, as it has a set of traditional lugs. They are prominent, cut on the outside, banded towards the wrist for a better fit.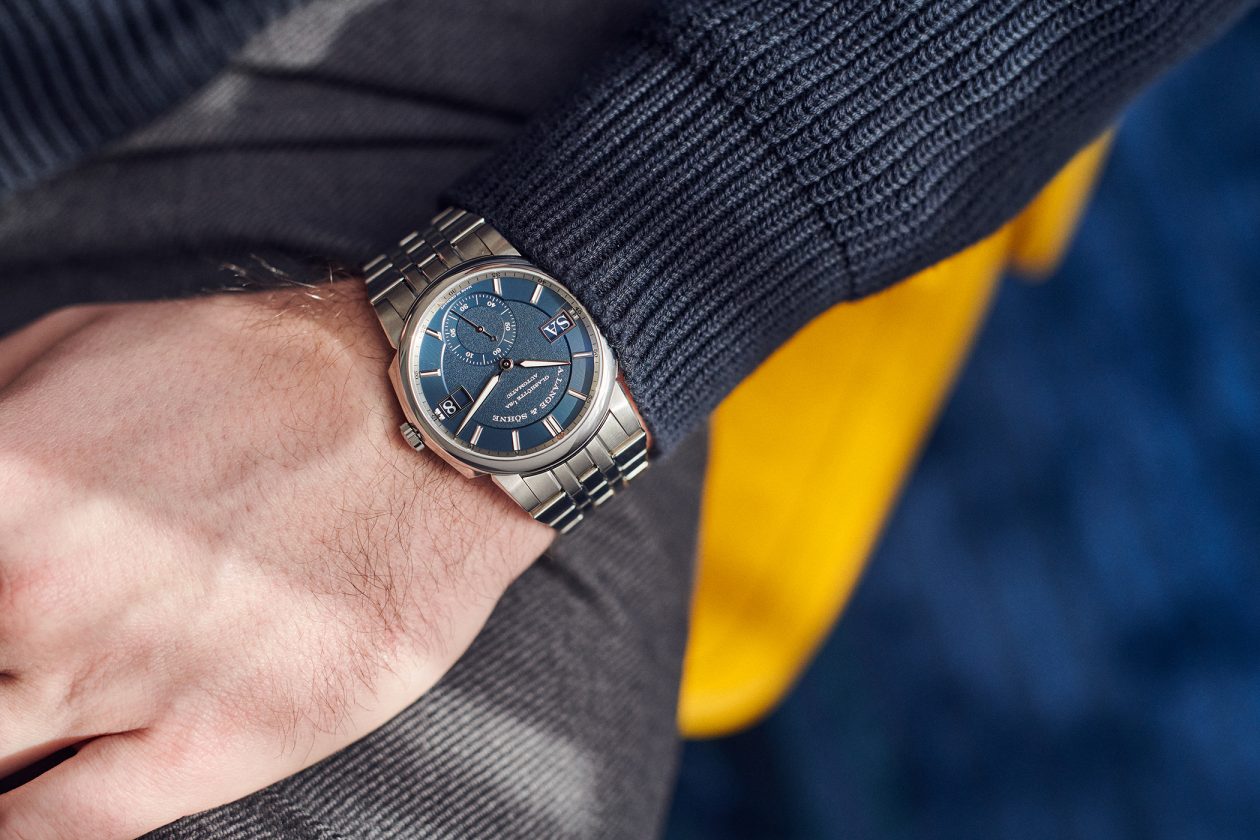 The crown is screwed-down, located at 3 o'clock on the right side of the case. Thanks to the Odysseus is 120 m water resistant, a first for Lange. On both sides the crown seems to be surrounded by protective guards. In truth those are two neatly hidden pushers to correct the date and the day of the week.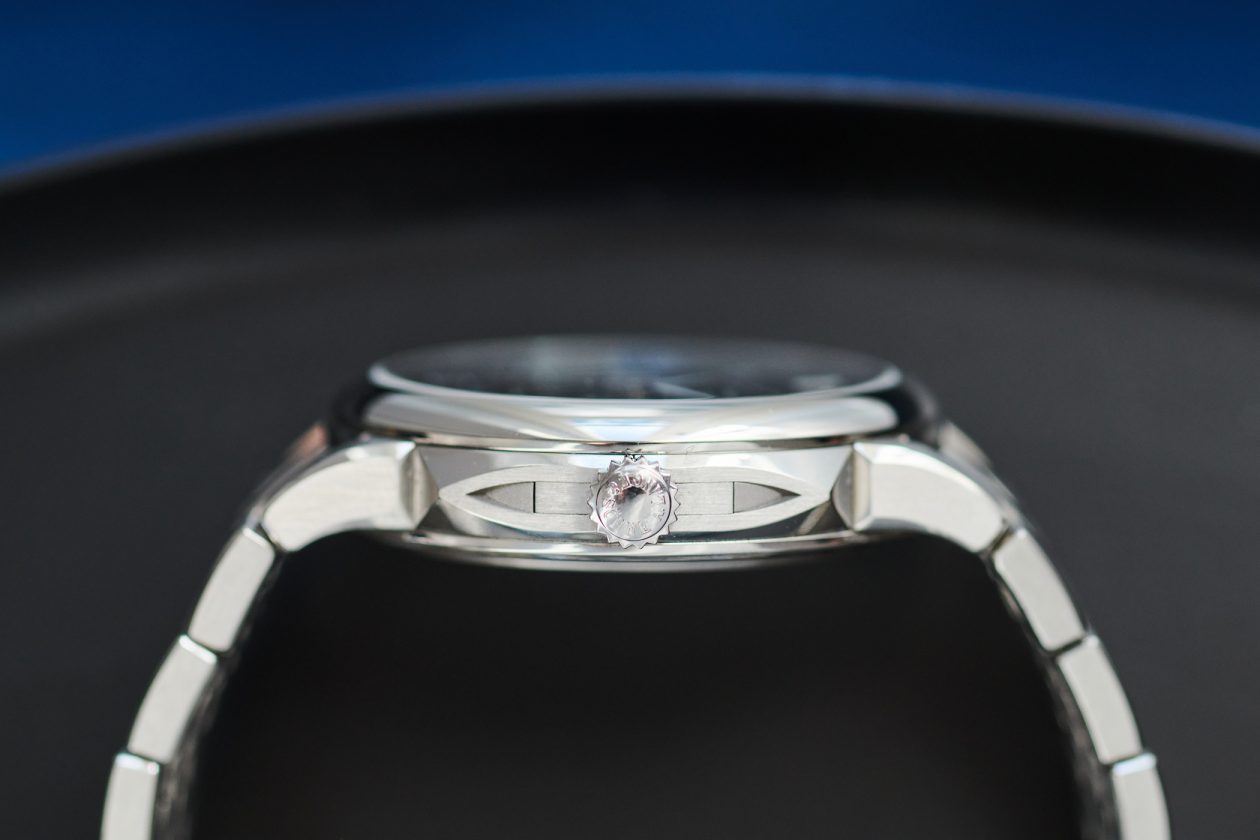 From the top the case is completed by a rounded, polished bezel. Polish also goes on the lugs and aforementioned pushers. The rest is typical Lange's smooth satin brush, horizontal on case sides. Two sapphire glasses on front and bottom are flat, the one making the case back surrounded by very aesthetically pleasing, engraved ring with all usual information.
Bracelet
Looking at the case of Odysseus one can't not have his gaze drawn to the bracelet – unquestionably the most controversial element of the entire piece. As we already noted, it is not an integrated bracelet per se, but a bracelet seamlessly fitted into the case. Lange decided to keep the typical lugs but made the bracelet wrap around so it looks like a single piece of metal. As hard and challenging it was to make, the outcome is – and do please sit down for that – in my humble opinion the best steel bracelet on a watch I have ever experienced.
It is good but not to overwhelming 25 mm where the bracelet meets top of the lugs, narrowing all the way down to 19 mm by the clasp. Each link is made of five elements, finished with alternate brushing and polished edges. Every piece has been matched to perfection, and on top of that it's almost childishly easy to remove the necessary links. To do that one only need to push down small, round buttons on the bottom of the external parts, for example with a regular toothpick. It's never been easier, yet secure. Same goes for the clasp.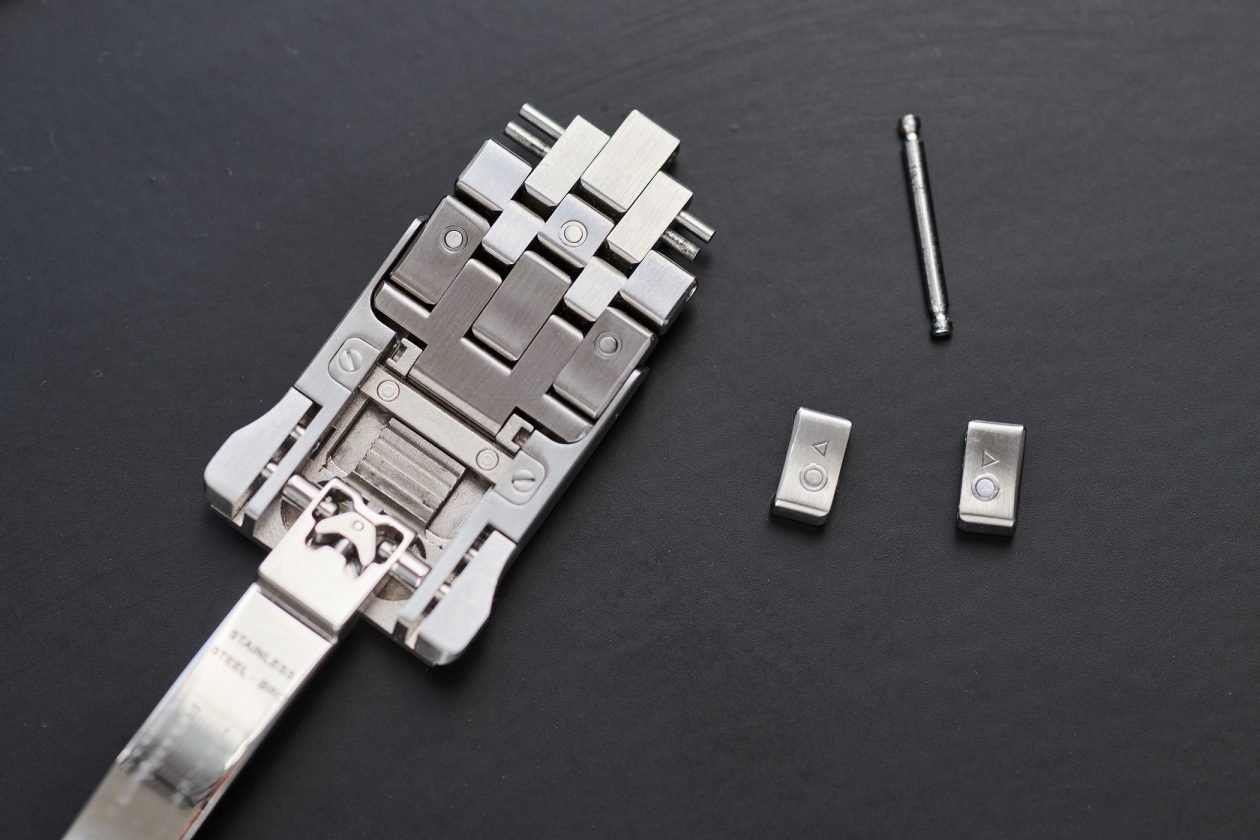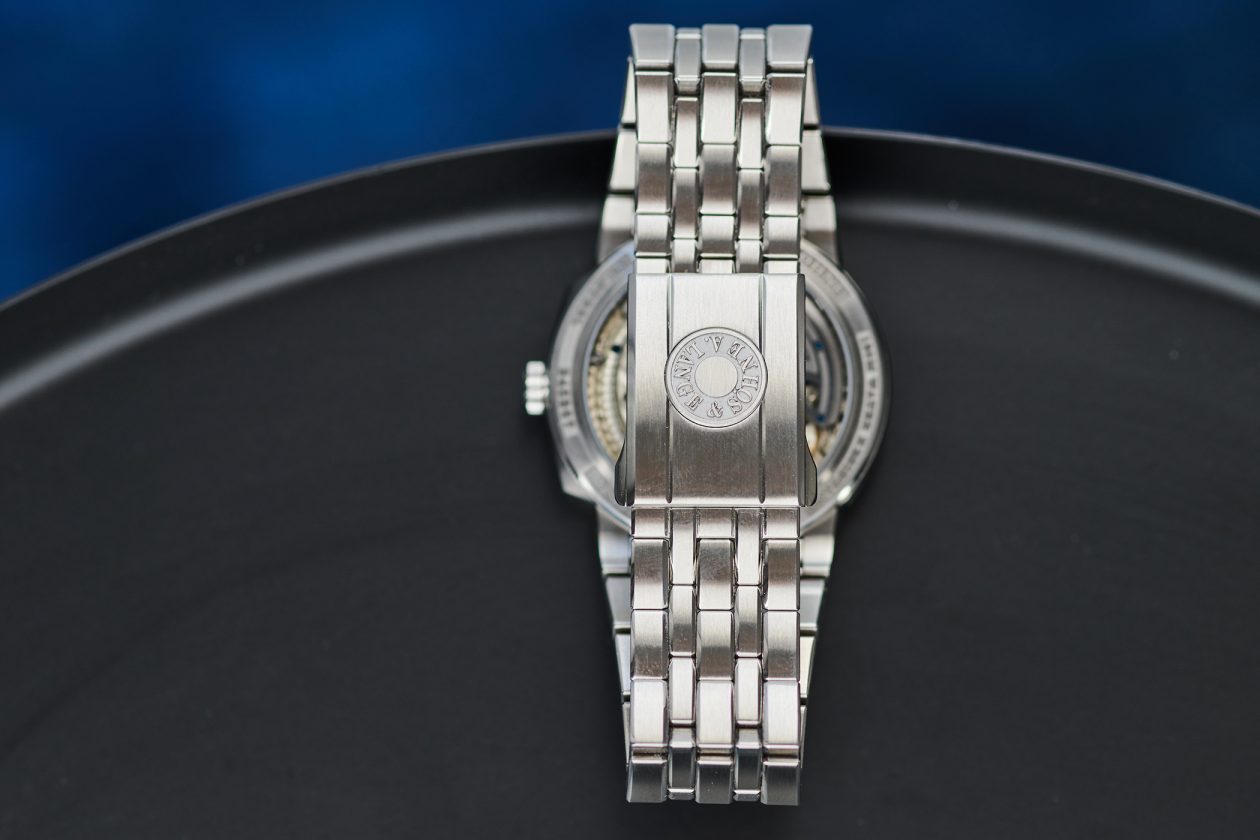 In a steel bracelet the clasp pays almost a leading role. We already have a significant piece of steel to attach to our wrist – would be nice to have something easy and comfy to put it on and of it with ease. Odysseus folding clasp is about 2,5 cm of steel with two safety buttons on the sides. What's more it has a truly ingenious extensions system, operated by a round push piece on the top, with Lange logo embossed. With one press, not taking the watch of the wrist, one can extend the bracelet by full 7 mm. Comes in handy, especially on a hot day when our wrist tends to expand a bit. One push and you fit adjust the size just right. Easy as it sounds.
Datomatic
Lange is not the one to cut corners, so for the new watch a completely new movement was conceived. That made a lot of sense with vast majority of brand's movements being very classic, traditional and manually wound – not to fitting to a proper sports watch. New caliber was named Datomatic – an acronym made of the words Date and Automatic.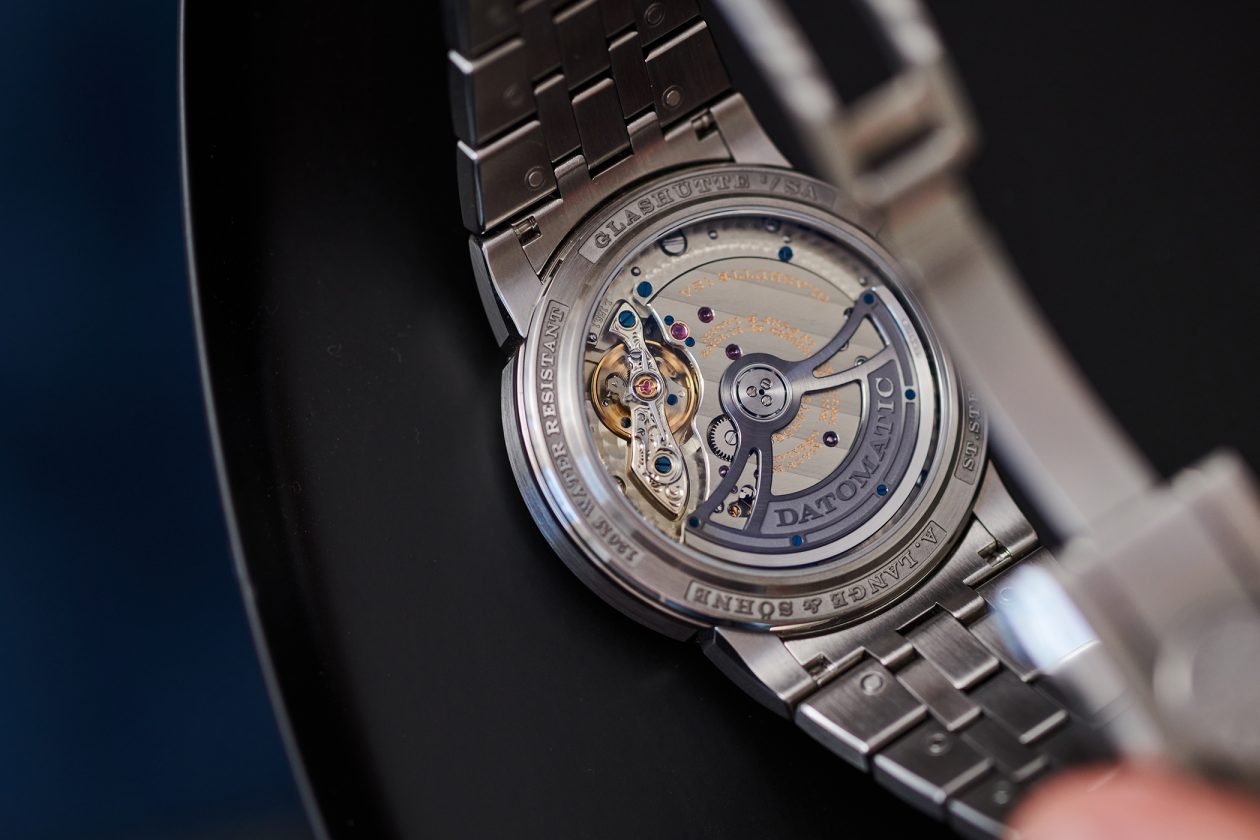 In general, the caliber 151.1 is afresh take, based on the best of the tried Lange mechanisms, but fitted to the predictable daily use of the watch. Daymatic is equipped with a central oscillating rotor with a platinum mass for the automatic winding. Balance cock is now a full bridge, attached on two ends to provide more stability to the balance wheel, that is regulated with four of inner screws and set at 4 Hz.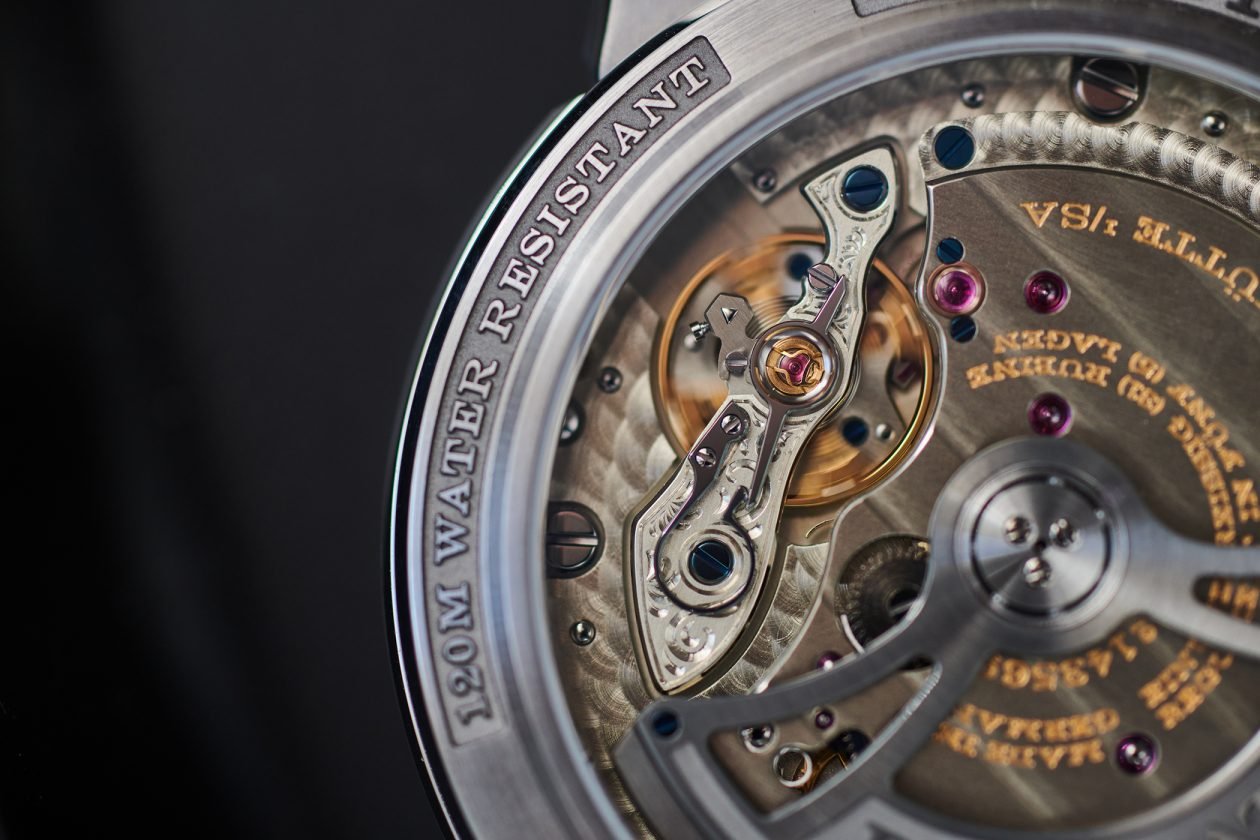 You can wind the watch via the crown, stop the second hand to set the time and adjust the date and day of the week with dedicated pushers. Functionality is followed by aesthetics. There is a hand engraving of the wavy motif on the balance bridge, Glashütte stripes on the bridges made of German silver, gold chaton holding the ruby and heat-blued screws. All in all Datomatic might be on the simple side of Lange watchmaking skills, but it is a very adequate movement. And a little touch to plate the winding rotor rhodium grey gives it a nice, sporty touch too.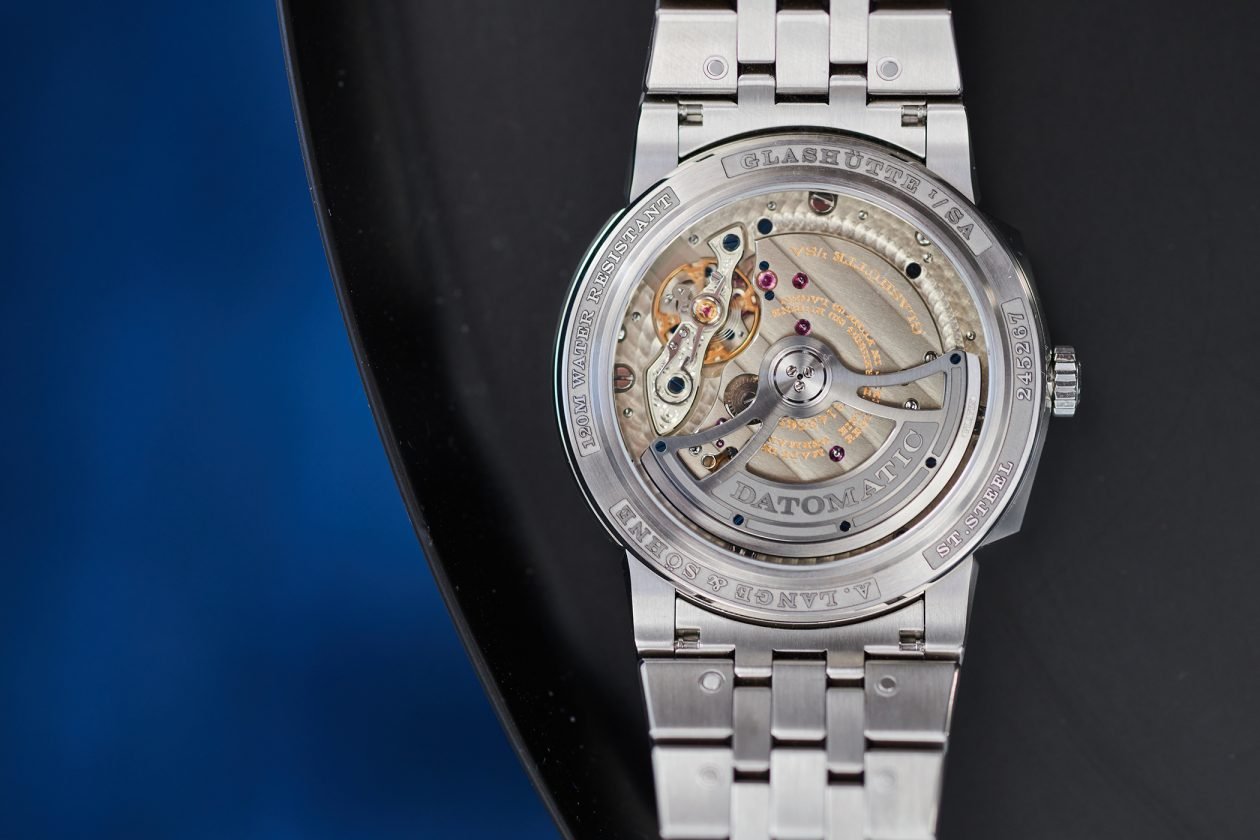 The dial
For the premier reference of the Odysseus Lange made a rather safe choice to go with the blue. The dial, on the very first gaze feeling like a Lange design, has multiply finishes. Starting with a silver minutes ring on the outside (with a nice little hint of red on the "60") there is a snail pattern on the inner ring with applied hour marks and a grainy texture in the middle, duplicated on the small seconds sub-dial at 6.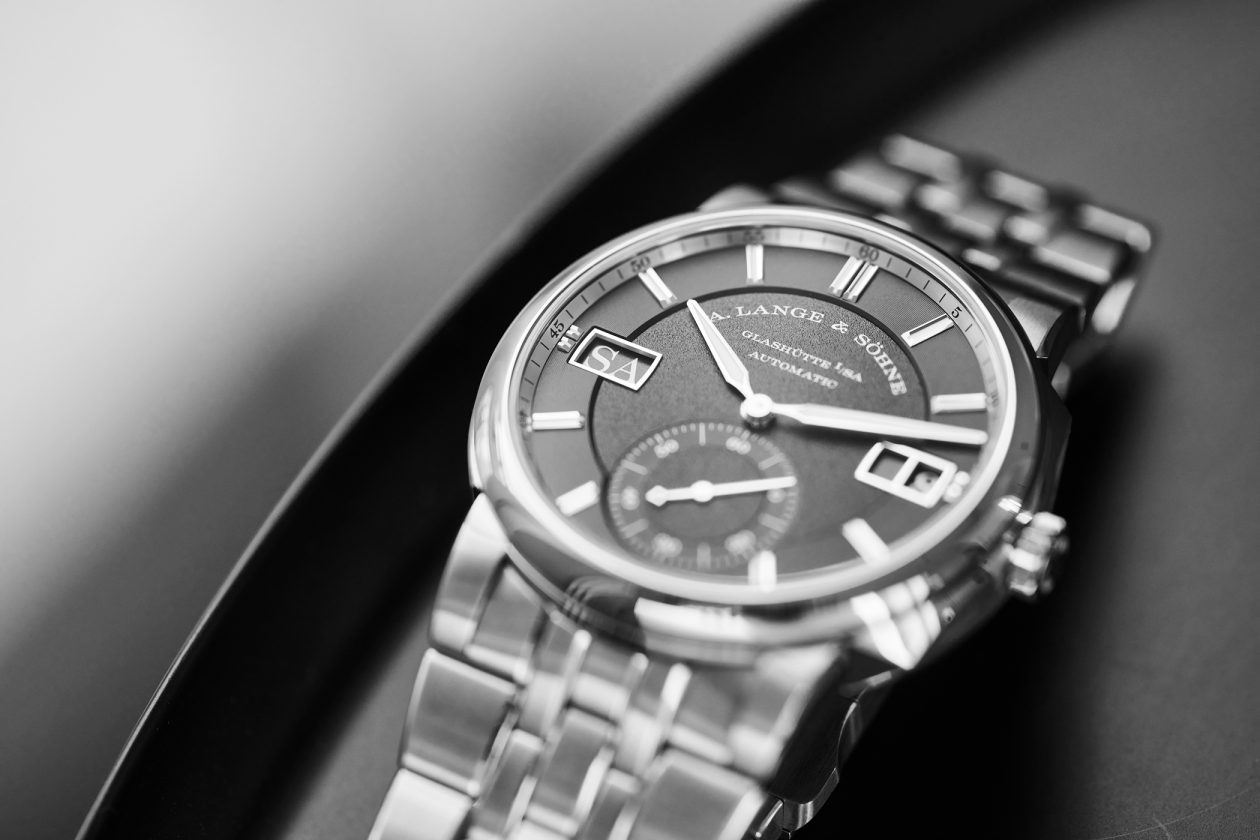 Shade of blue, sometimes adopting a deep navy look, contrasts well with silver appliques made of gold and some white details. And speaking of details – one that stands out immediately is the pair of large windows at 3 and 9 o'clock. The both indicate the calendar, one on the right being a typical oversized date and one on the left a new, double letters day indication. The windows balance the symmetry nicely too, giving the overall design more complete feel. Last but not least there is a rather unusual for Lange use of super-luminova, applied to the indices and pair of sword-shaped hands.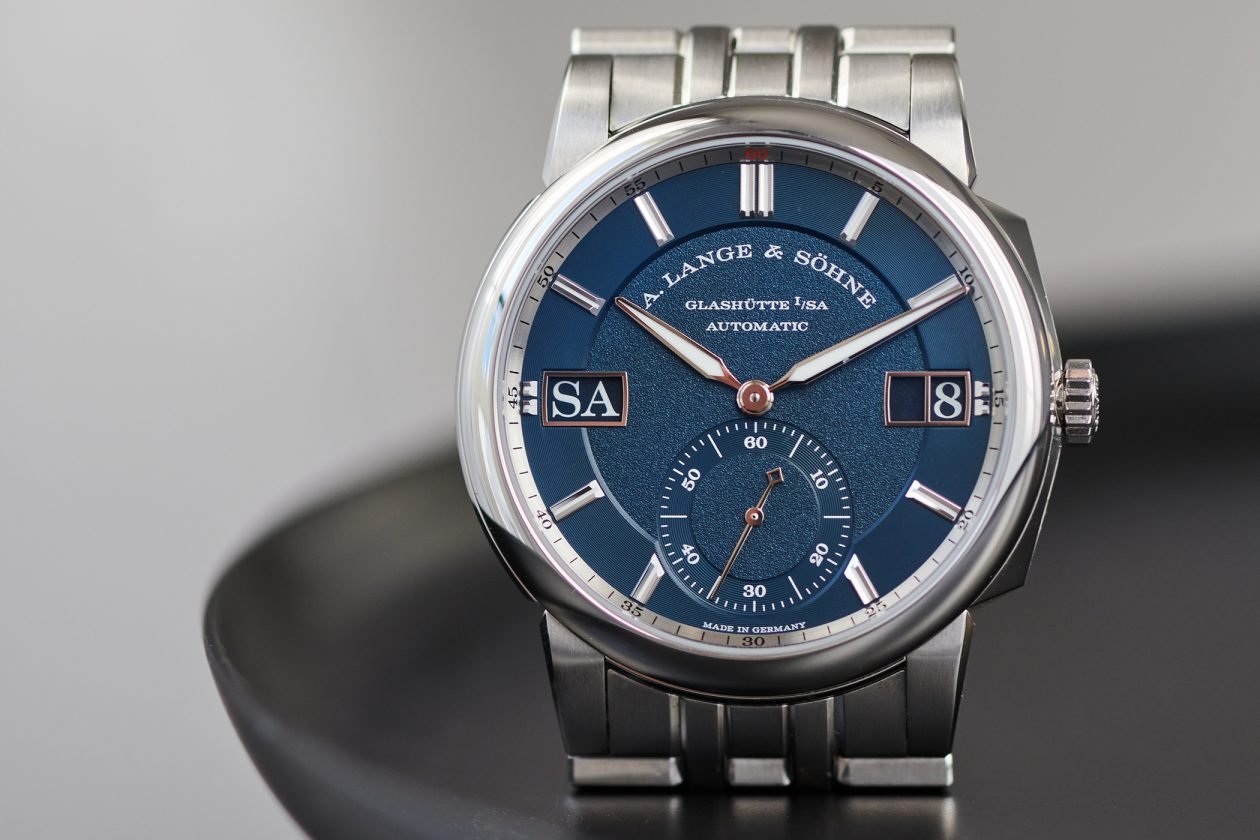 Legibility always was and still is a strong asset of every Lange watch, and it's no different here. There will for sure be new colours coming soon, but with blue it is surely one handsome piece.
Final thoughts
To give the Odysseus possible most comprehensive and objective opinion, I tried to look at it from two different perspectives: how good of a watch it is and how good/competitive of a sports watch it might be, in the category it aspires too?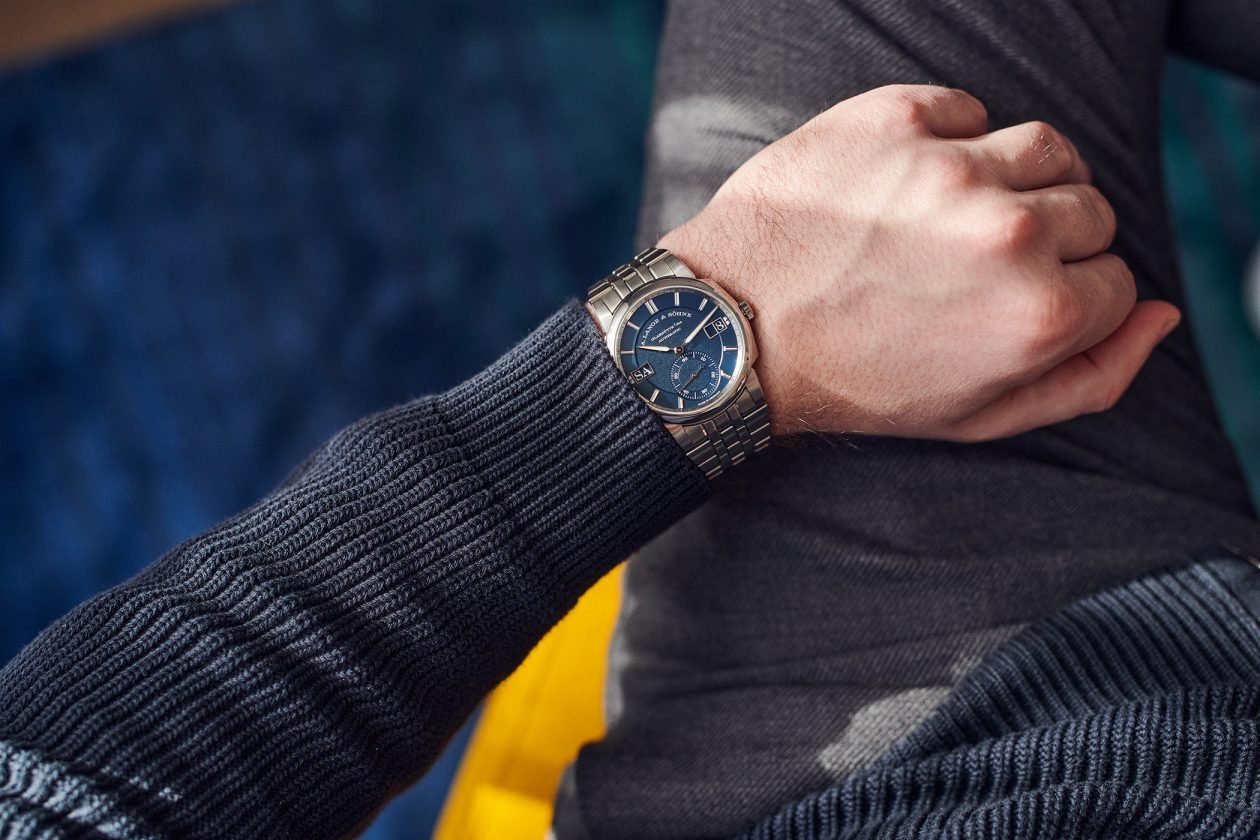 To answer the first part turned out to be really easy – Odysseus is as good as I thought it to be, and beyond. Lange just seems to never disappoint (me). In the whole watch industry it's one of the few that never goes beyond a certain, high level. And when it might have felt recently that the Germans might luck a bit in creativity, that we have seen all that before, they again prove us all wrong. Odysseus – first Lange without a strong German name to it – feels a bit like Lange in a nutshell, with every great bits that make the brand's noble reputation. Attention to details, dedicated movement and quality in looks and finish are what makes a Lange watch. Completely new watch, but still very Lange.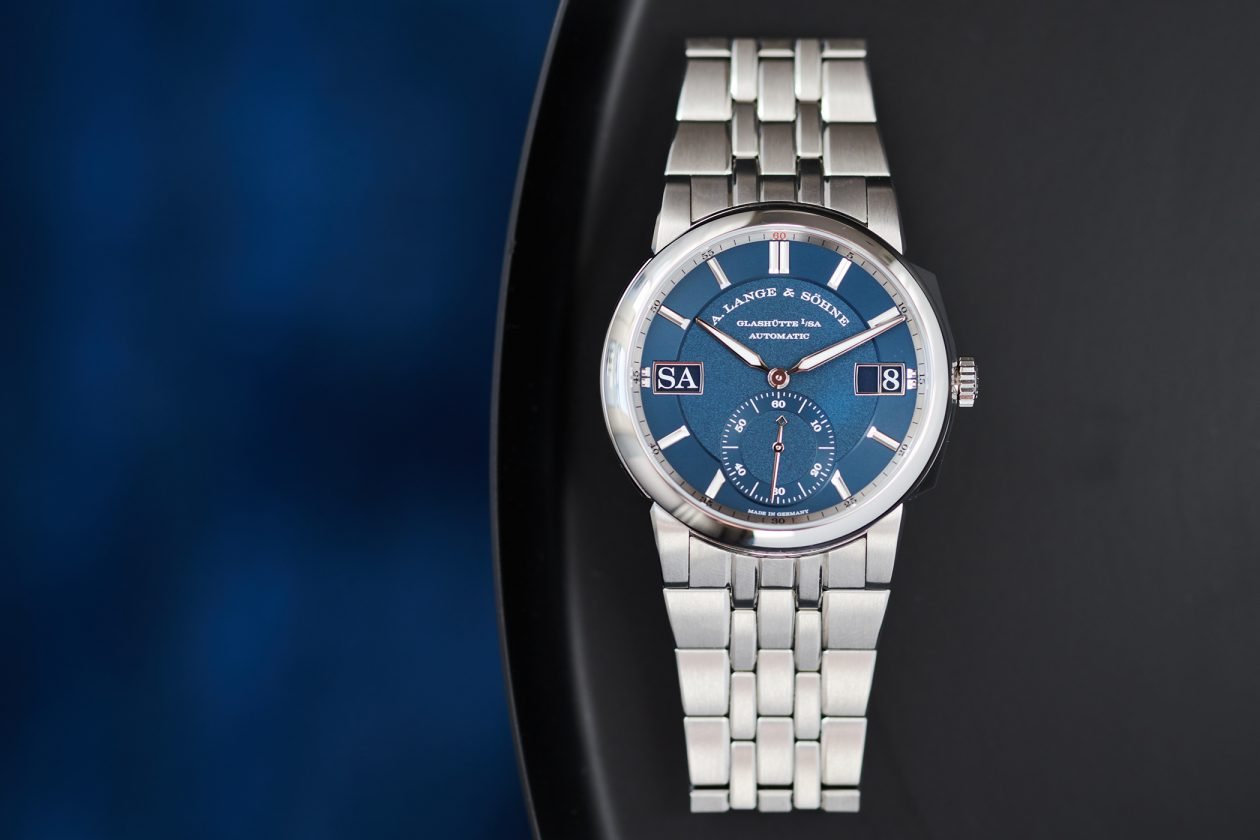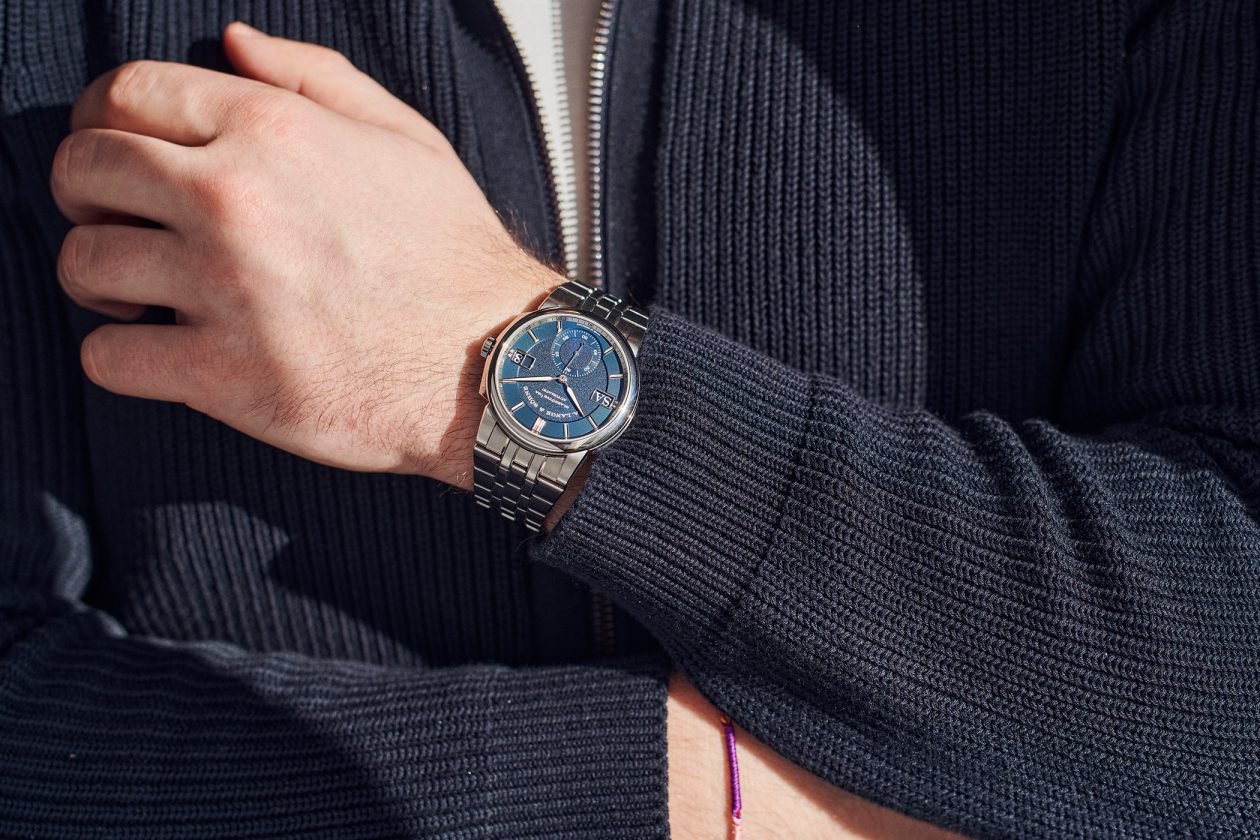 Many of the opinions I read after the release seemed to agree with me, but there were also some saying that Lange could have done more. Frankly speaking I don't agree. For a manufacture as conservative as A. Lange & Söhne , it wouldn't be wise to experiment way out of the box. I'd rather have a true Lange take on a sports/casual watch… which brings me to the second conclusion.
It's safe to bet that Odysseus was brought to life to challenge the big guns of the sports steel watch category. The biggest are of course The Royal Oak by Audemars Piguet and the Nautilus by Patek Philippe. Both designed by Gerald Genta in the 70's, proclaimed a golden formula for a utilitarian every-day timepiece in the least precious but highly appreciated metal.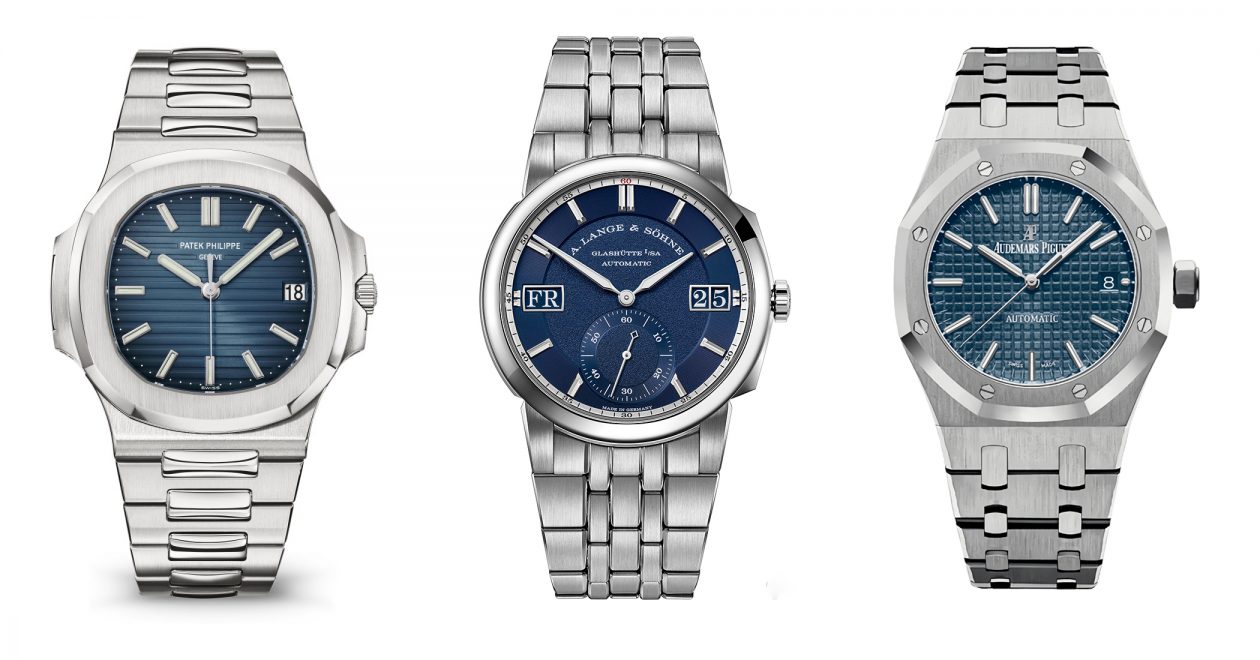 Does the Odysseus stands to the test? Well, I think it is a completely different watch. So different, that I rather not even try to compare, because is the Lange even a sports watch? I have a hard time seeing it that way, with those looks, small second, case shape. There is no single definition of a sports watch put there, but if we try to agree on any it could as well be any non-classic watch in steel, preferably on a steel bracelet. In short a suitable daily beater, and here Odysseus fits like a glove. Will it stand to it's mythical name and fight for the wrists owned by PP and AP? That depends on how you take it, but for sure it has all the necessary perks to be a respected contender.
As price might also be a factor, it's worth mentioning that if think it's a steel Lange so should be relatively cheap, you'd be wrong. With a price tag of 28 000 EUR that watch is right about the level of the Nautilus (at retail) and somewhat over the Royal Oak. It will be made in limited quantities, so might be as hard to get as the other two. Not to mention Patek's second hand market price is nowadays at about two times the price of Odysseus, and Royal Oak is not whole lot easier to get too.