Review

Doxa SUB 300 "Caribbean" [live photo, price]

Among the plethora of iconic diver's watches Doxa SUB 300 holds a very special place. One of the most characteristic diving timepieces has just recently been brought back to life.

The history of watches made for diving has so many chapters and so many heroes, that if you'd like to make them into a Netflix series, quite a few full seasons might come out as a result. First diver's watches came to life when there was absolutely no electronic aid equipment available – they were full purpose tools. Watches that are made for a precise purpose are usually form-follows-function, so the mid XX century diver's were designed with functionality first. The looks played a supporting role. And somehow it all worked well together, because surely nobody can say a Submariner or a Fifthy Fathoms are ugly timepieces. While most of the diving watches of the period has been designed in a certain esthetical frame (round case with large crown, black dial and rotating outer bezel) some went out of the box. One of the most stand out divier's watches was created by a small brand called Doxa.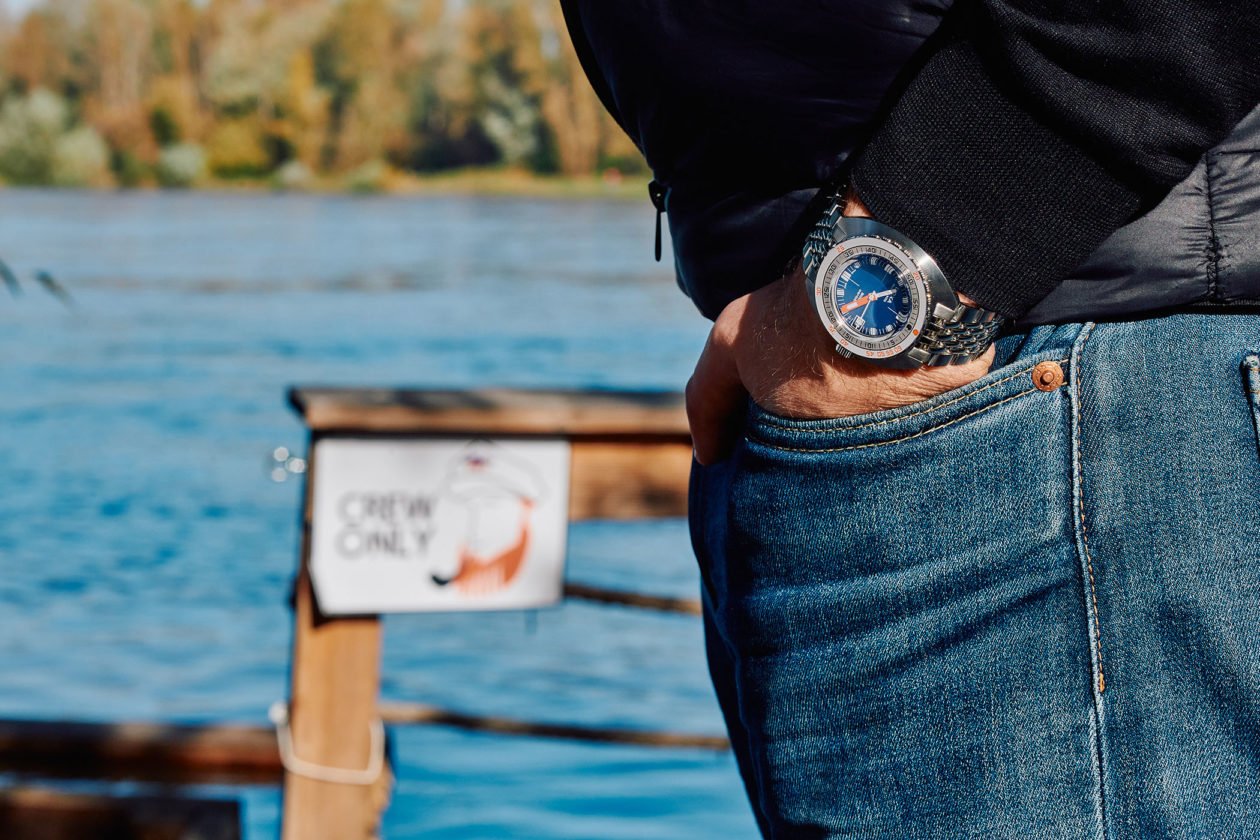 History
The idea to create a perfect diver's watch for both professional and amateur divers came to fruition at Le Locle based Doxa in the early 1960s. The task was handled to Urs Eschle, then Doxa's product development manager. Eschle surrounded himself with a group of specialists, also directly from the diving world, and embarked on a mission to design a completely new timepiece, from scratch. It was supposed to be an answer to all the flaws of other watches at the time, cause by both the freshens of the subject and harsh conditions that the diving watch was facing underwater. The new piece was also supposed to be affordable, which was just another thing to challenge and consider.
Final concept, presented first at Baselworld 1966, turned a traditional concept of a diver's watch almost upside down. Doxa SUB has been equipped with a large 42 mm, tonneau shaped case (gigantic at the time) with fully incorporated lugs and quite a slim profile. The crown has been placed at 3 o'clock and protected by a guard that's part of the right hand side of the case. From the top the case received a rotating diving besel with a saw-like edge and double scale, that allowed diver to calculate not only time but also depth that he can reach without necessity of decompression. Dial color has been decided when diving with the watch in Lake Geneve. Bright orange turned out to be the most clearly visible under dark water and to highlight the tool-watch side of the SUB even more, the prominent minutes hand was quite substantially bigger then the hours. Why? Well, for the diver minutes are far more important than hours.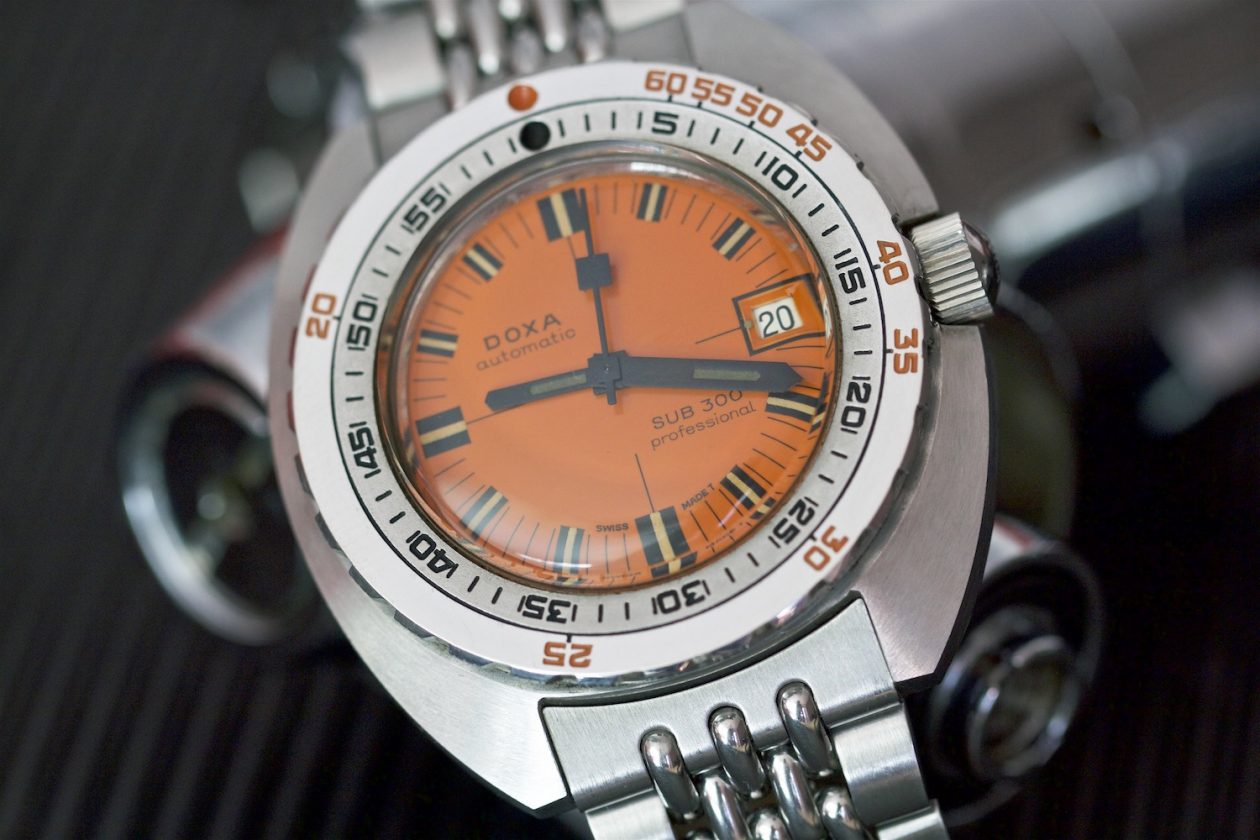 First automatic Doxa SUB came to the market in 1967. Although it quite quickly grabbed attention, proper fame came with introduction of Jaques-Ives Cousteau. The legendary French explorer, adventurer and diving precursor liked the watch so much, that the company he was running at the time – US Divers Company – became exclusive Doxa retailer in the US. What's more, Doxa SUB became Cousteau's and his Calypso vessel team watch of choice. The legend was born, with time enhanced with new additions to the lineup.   
SUB nowadays
XXI century Doxa is a clear division between two sides of the company – SUB and everything else. The division is so clear, that both have different websites and identity, almost like two different brands in one. Current SUB lineup consist of 8 different pieces, from a simplified and cheaper SUB 200 all the way up to chronographs and 300 "Carbon". The original SUB 300 made its comeback three years ago as a limited edition with three different dial options, 100 of each. The watches were quickly sold-out, so everyone else willing to own part of diving history had to go with a bit, but vividly different SUB 300 T… up until last year.
SUB 300
It was August of 2020 when the abyss opened and the new Doxa SUB 300 came into the daylight, all in faithful form with a few modern touches. Lack of a regular 300 in the portfolio was quite an oversight by Doxa, luckily fixed in a proper way. In my humble opinion this is one the most interesting diver's watches on the market today, but before we go into conclusion…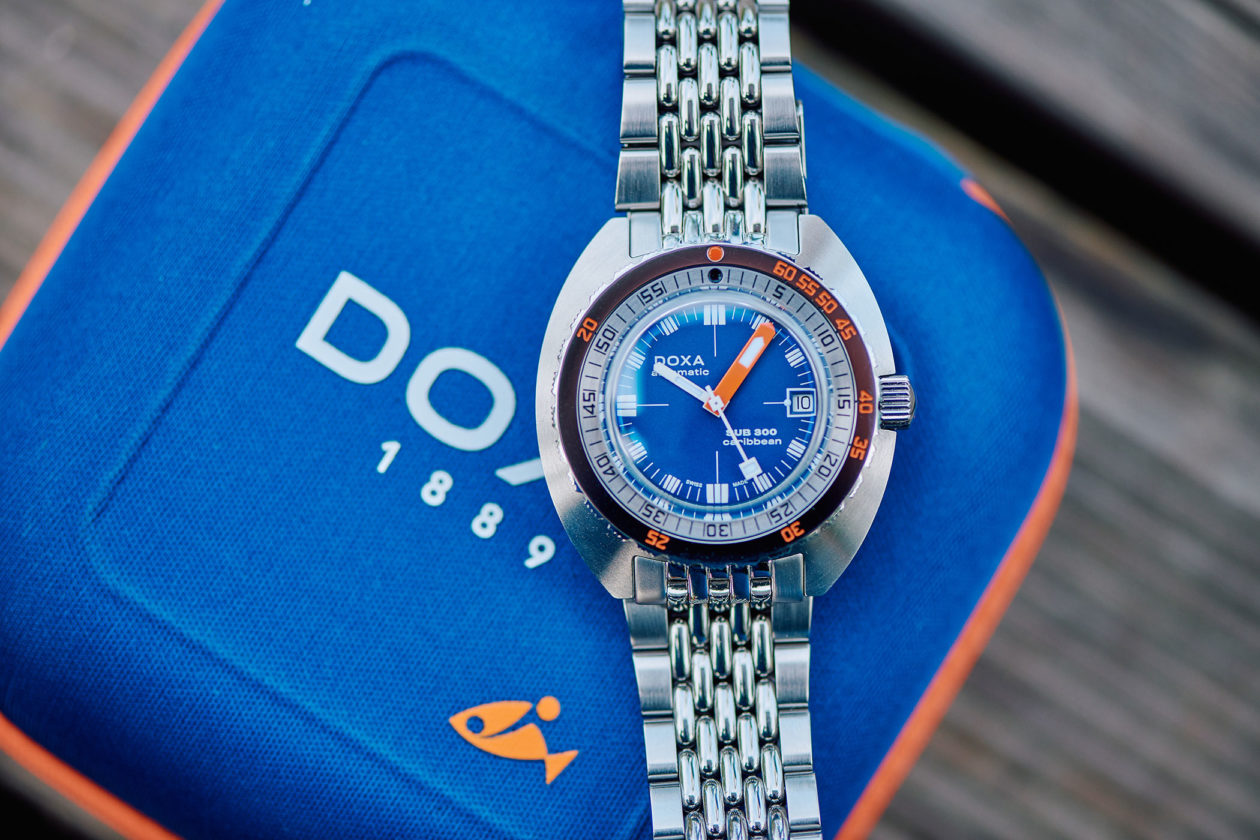 SUB 300 of today looks almost identical to the one introduced half a century ago. There was no mingling with the design – that was reserved to the aforementioned SUB 300 Carbon Aqua Lung, which btw. is a great watch too. The new / old SUB retains the steel construction, unusual rotating bezel, colorful dials and tones of character. Made out of stainless steel, the tonneau case measures 42,5 mm in diameter, 45 mm lug-to-lug and perfectly reasonable 13,4 mm in thickness. The case is brushed from top and polished on the sides and the solid caseback, embossed with Doxa logo. Logo-signed crown at 3 o'clock screws down and is slightly recessed for protection.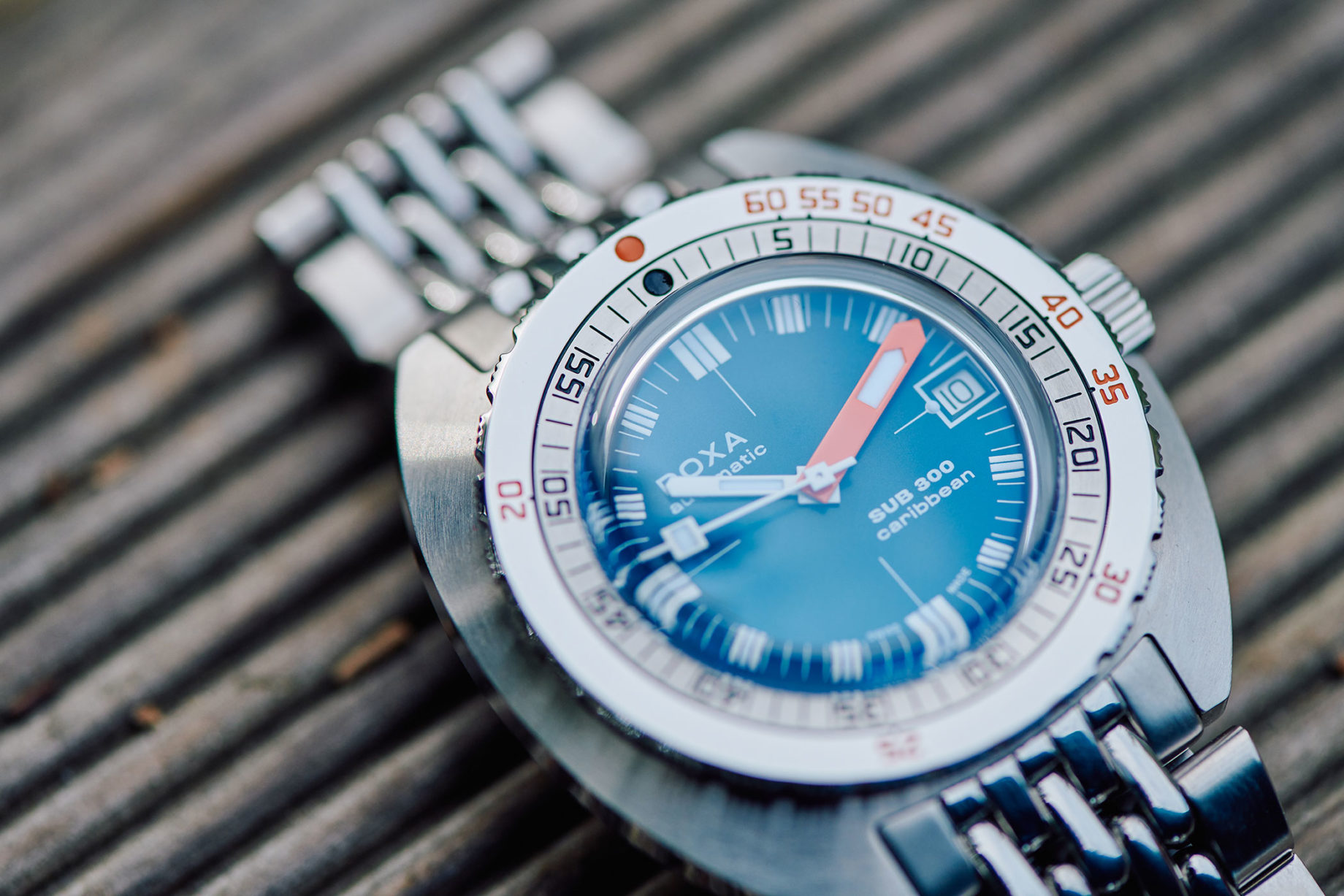 Looking from the top one noticed probably the most significant element of SUB's unusual design – diving bezel with two different scales. The outer polished ring has depth scale in feet, the inner one has been satin-finished and marked with minutes. Turning is easy thanks to the grippy edge and precise, one-minute clicks.
Over the bezel a sapphire, highly domed crystal protrudes. It is boxy, a reminiscent of old acrylic crystals from vintage pieces. The glass is elegantly convex and… surprisingly small. Quite a substantial case along with wide, massive bezel makes the dial opening (and the crystal) looks smallish at first glance. That impression however passes away quite quickly for the SUB 300 is quite a readable watch. Among the six different color options available I went with the blue "Caribbean". Why that one? Tu put it simply, blue is the best diver's watch color. To be philosophical, nostalgic even, that was the closest to the Caribbean I could get this year.
Blue of the dial is matt, nice shade and complemented by white print of the indices, texts and white date window at 3 o'clock. Of the three centrally mounted hands the minutes one stands out – just like in the original concept – with bright orange color and significant application of luminova. White seconds hand with a rectangle on top and a small hours hand seem a bit lost in comparison, although they are visible enough to make time reading rather easy on daily basis, not only under water.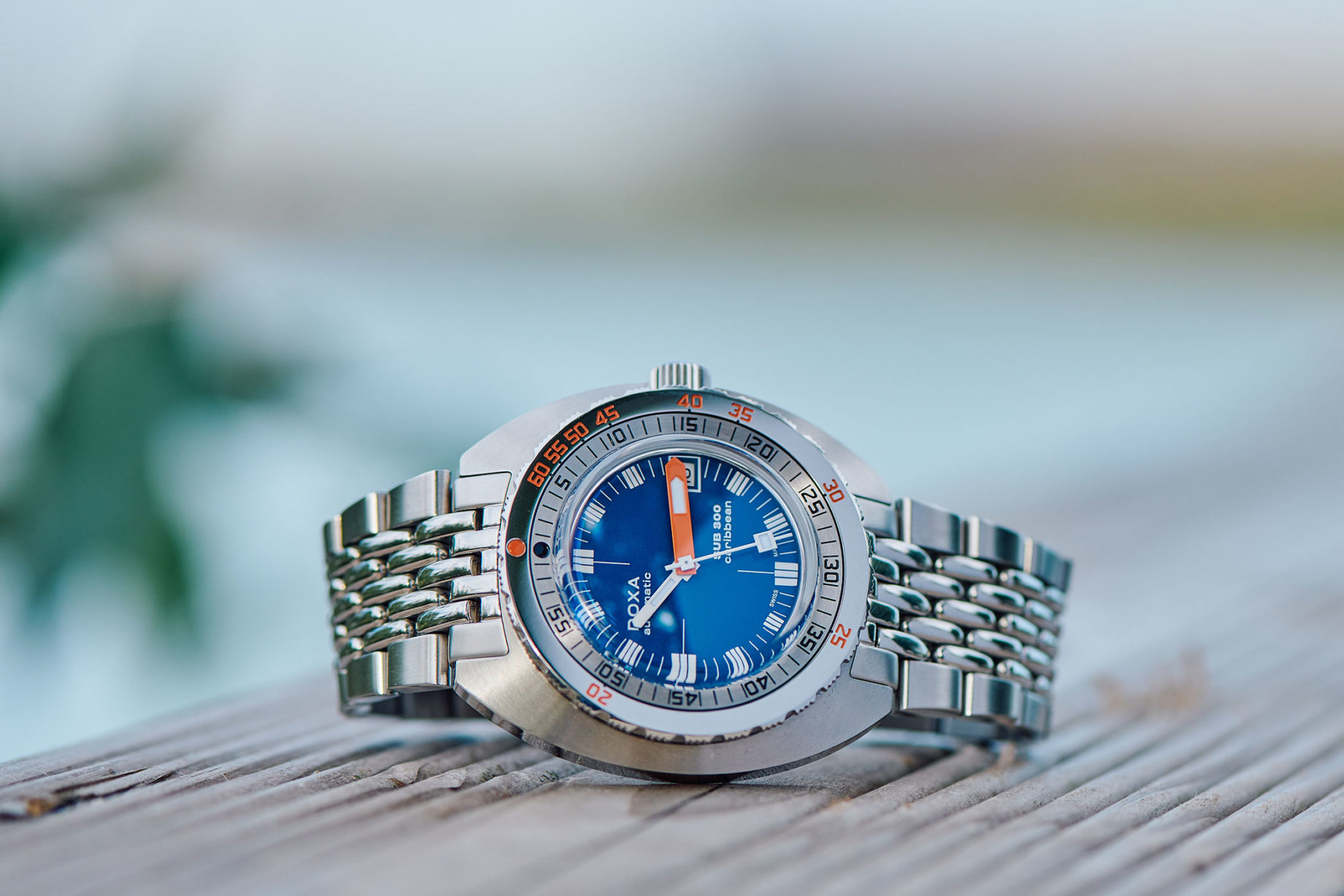 Mechanics
The movement powering Doxa SUB 300 is maybe a bit standard and of the shelf, but good and with a high-end spec. Under the full back of the case ticking out is an automatic ETA 2824-2, certified by COSC. What it means is the watch has a guaranteed precision of – 4 / + 6 s per day. There is also unimpressive 38 h of power reserve, stop-seconds, quick date setting and winding via the crown. In a true diver's watch the mechanics play secondary role and is supposed to be reliable, robust and just enough. And so it is, plus a nice touch with the COSC.
Impressions
One thing can be said about the Doxa SUB (practically any model in the range) – it is a very charismatic and characteristic watch. The original concept of creation guaranteed the SUB it's recognition and in the market so occupied by competition it's one hell of a thing to have. Not to mention it just simply looks great. It is a watch with lots of details, tasty elements and overall high-quality of execution. I did especially like that small, domed sapphire box glass that felt like an old plexiglass and created that cool distortion on the dial.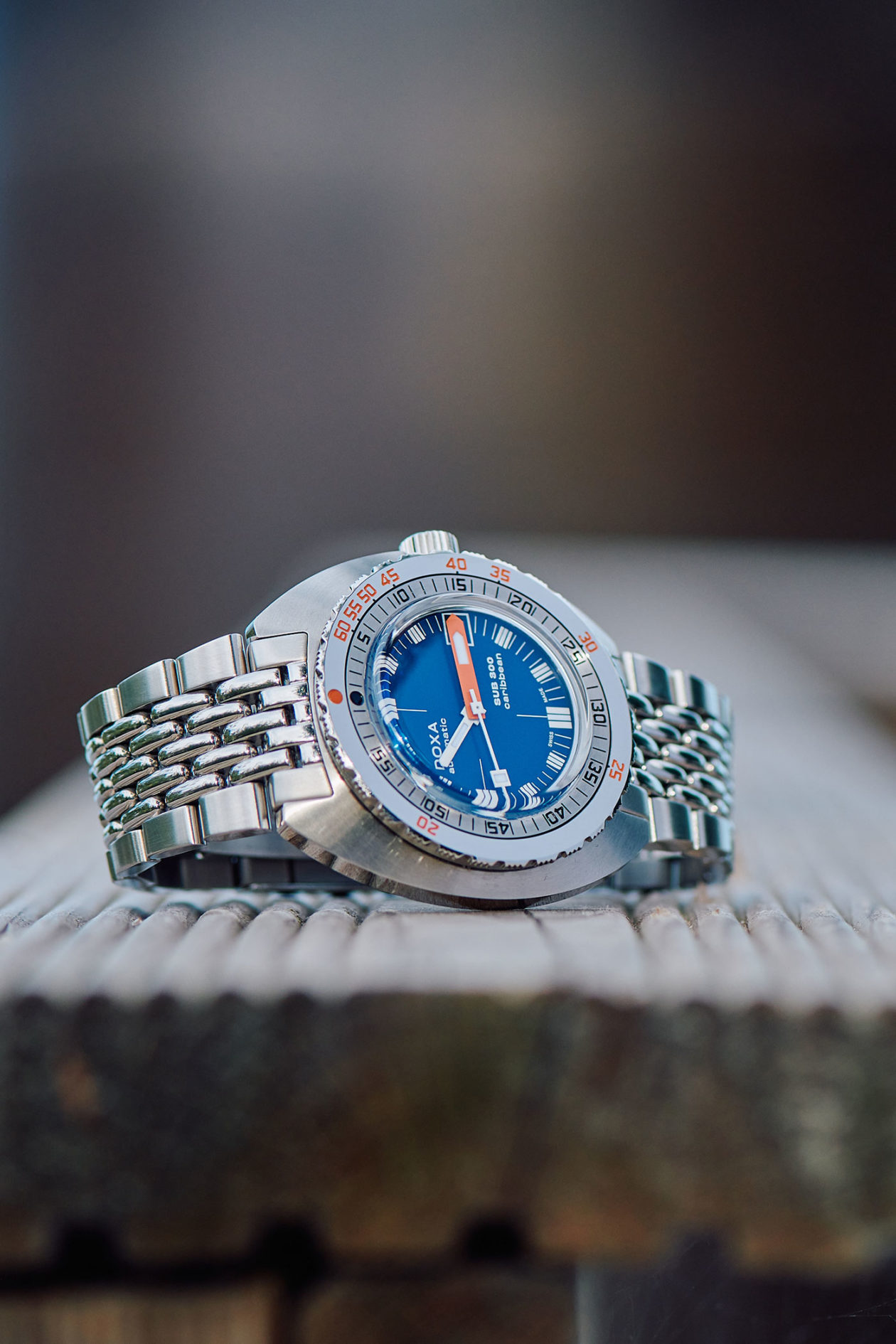 Modestly sized case of the SUB 300 wears very comfortably on the wrist. I have a rather girlish sized wrist but the 42,5 mm wore like charm, also thanks to the non-overwhelming lug-to-lug. I didn't have chance to try on nicely integrated rubber strap, but the "BoR" (beads of rice) bracelet is comfortable and well made with mix of polished and satin-brushed links, polished on the outside. Bracelet looks on a chunky but functional clasp with safety and very handy micro-adjustment. Especially on a hot day when your wrist tends to vary in girth, that four-step regulation helps quite a bit. There is also a diver's extension in case you'd decide to take a plunge and enter SUB's true, natural habitat – the depths.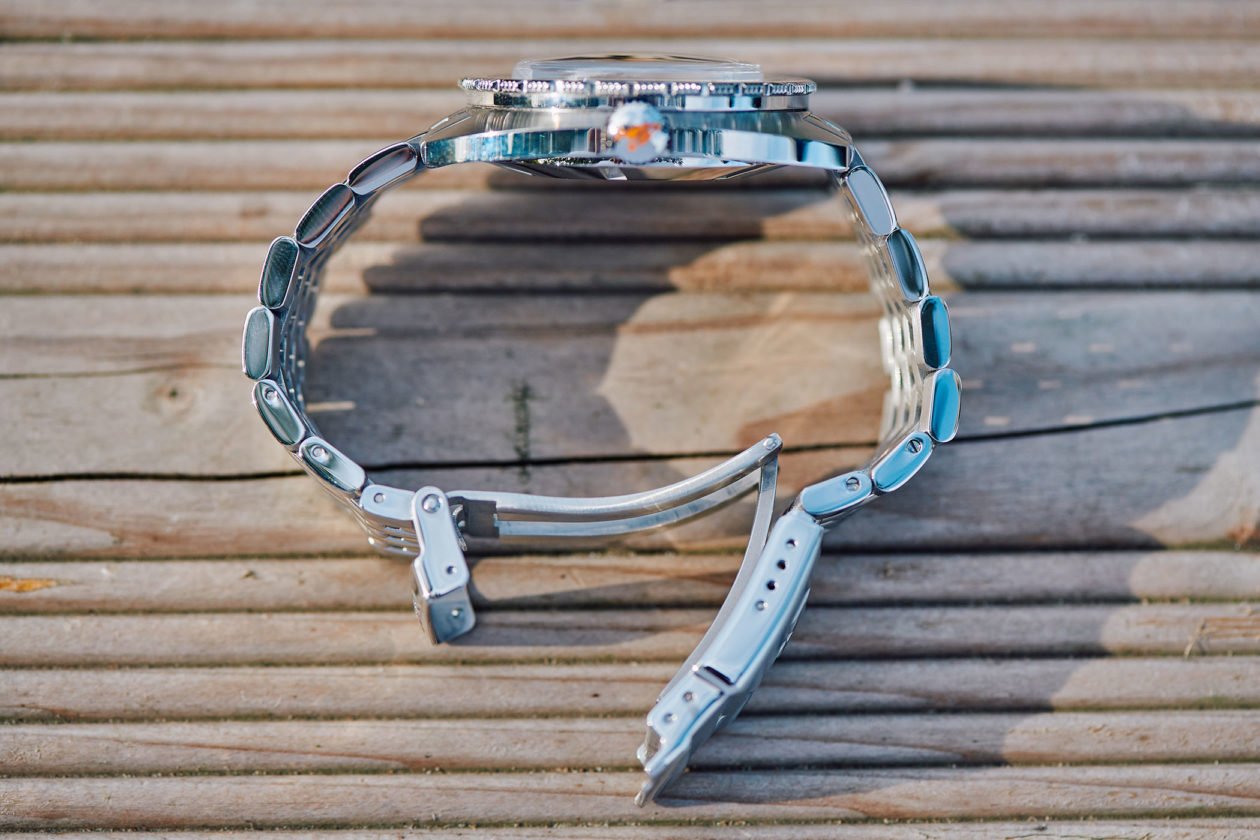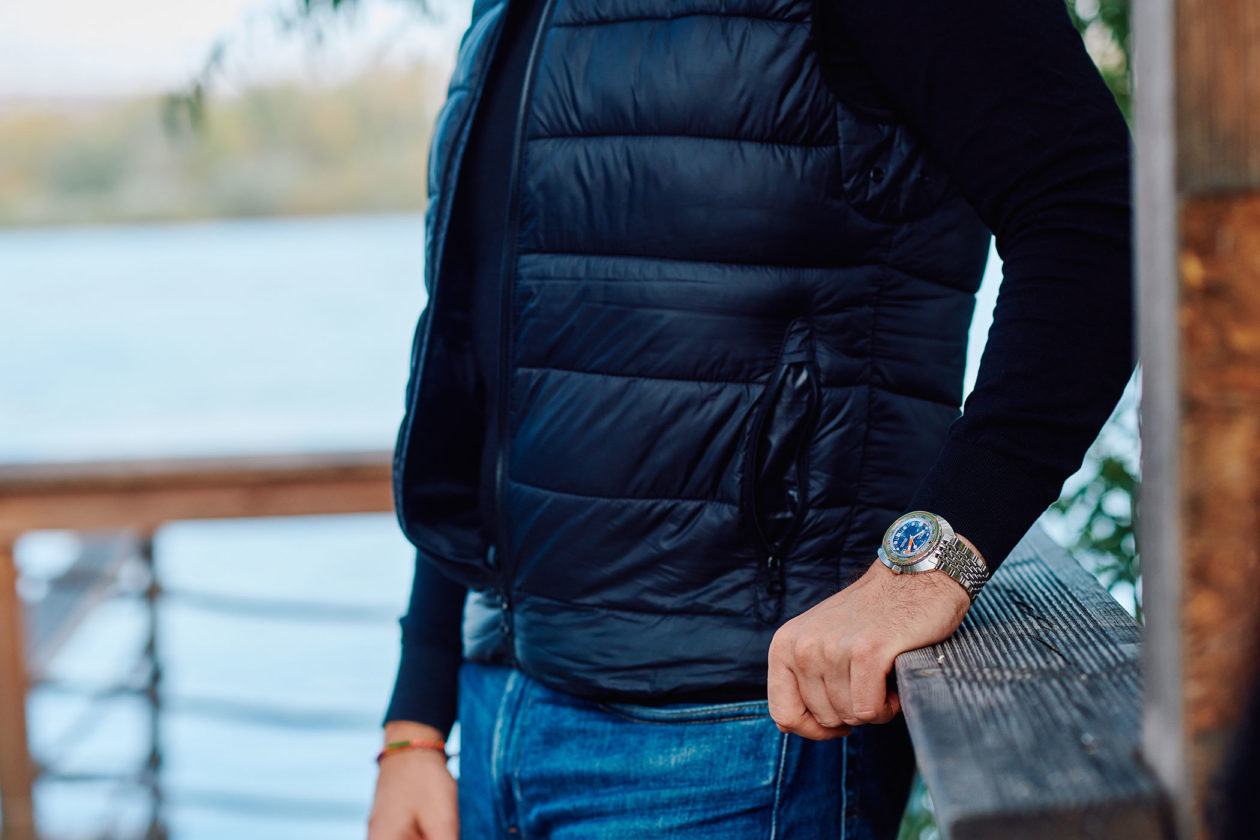 Among so many different mechanical watches that are poured over us annually, it's increasingly difficult to find something truly interesting, something that stands out. And it is perhaps the biggest perk of the Doxa SUB 300, among many others. It is quite a specific tool-watch, but it is in this oddity (so to speak) where the beauty and strength lies – provided you share the same taste in watches as I do. On a metal bracelet Doxa SUB 300 will set you back 2 490 EUR, and that means it will not shatter your budget like many other diver's – maybe a bit more noble but on a completely different price level too.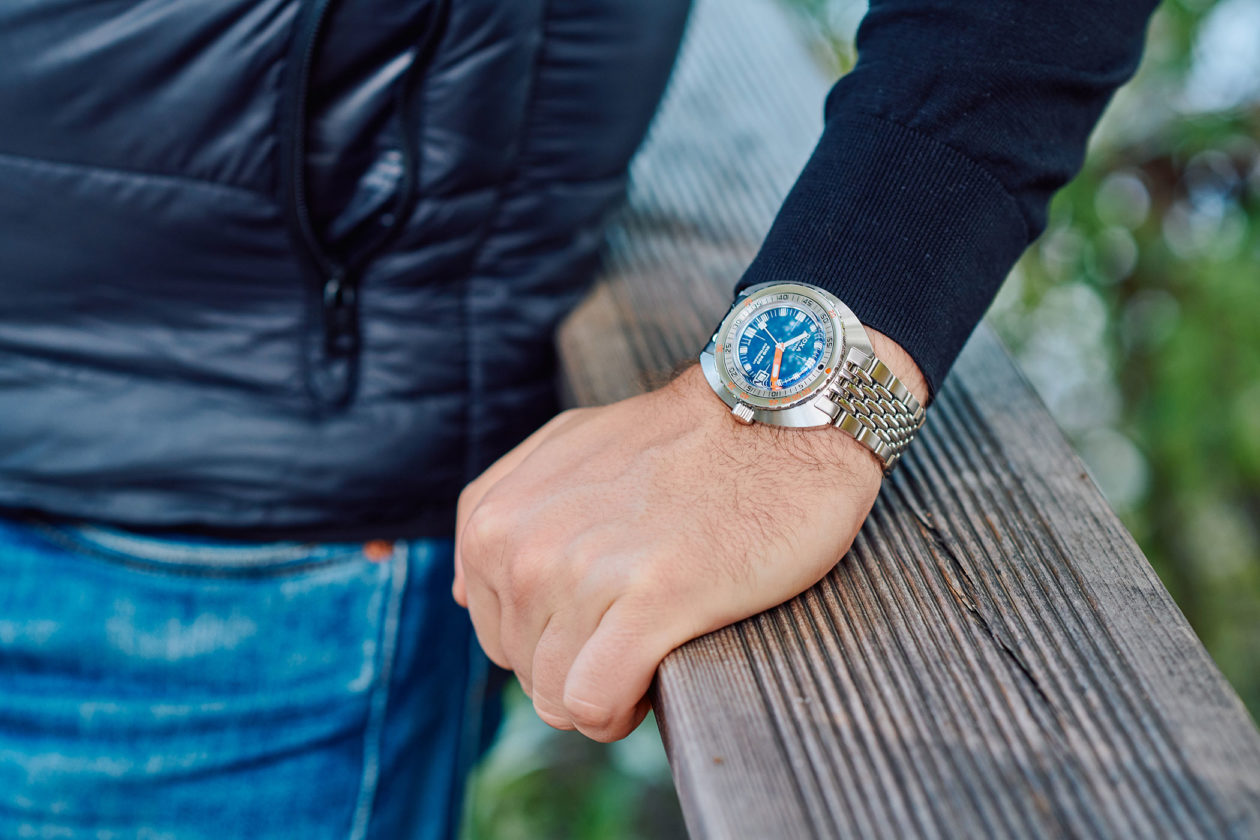 Test watch provided for tests by Doxa.