Review

Furlan Marri Grey Sector [live photos, price]

Furlan Marri has broken its way onto the watch landscape. Mechanical, classic Grey Sector is a wonderful proof of why the humble microbrand from Kickstarter made such a fuss.

It might seem that creating a new watch brand – one that has any potential chance of success – requires a certain set of skills, like determination, charisma, creativity and perhaps pugnacity. The market is difficult, enriched with new companies on almost daily basis, overcrowded in practically every segment. And then there is Kickstarter, which allows one to almost fully finance the creation of the actual brand, without even being sure what one does is absolutely right. Easy, right? Not so, especially if you agree on the fact, that vast majority of new brands disappear from the watch scene faster than they come on it. What is the gold recipe for success than? We will try to answer that question, based on Furlan Marri and its first, mechanical watch.
Furlan and Marri
Andrea Furlan and Hamad al Marri came with an idea to start a new watch brand in times of the pandemic lockdown. When you meet Andrea in person for the first time, you're struck by his modesty and almost some degree of shyness, that does not match what he created – especially the buzz that it caused. First ever Furlan Marri watch has been a chronograph with a strong vintage vibe, inspired by the legendary Testi Tondii by Patek Philippe. It was (still is, present in the collection) powered by a mechaquartz movement, with a mechanical chronograph module, made by Seiko. The collection, offered in 5 different versions, was launched on Kickstarter, and… in merely few weeks gathered over 1 000 000 CHF (that's one million!). How (the hell) did a modest, battery operated watch managed to achieve that?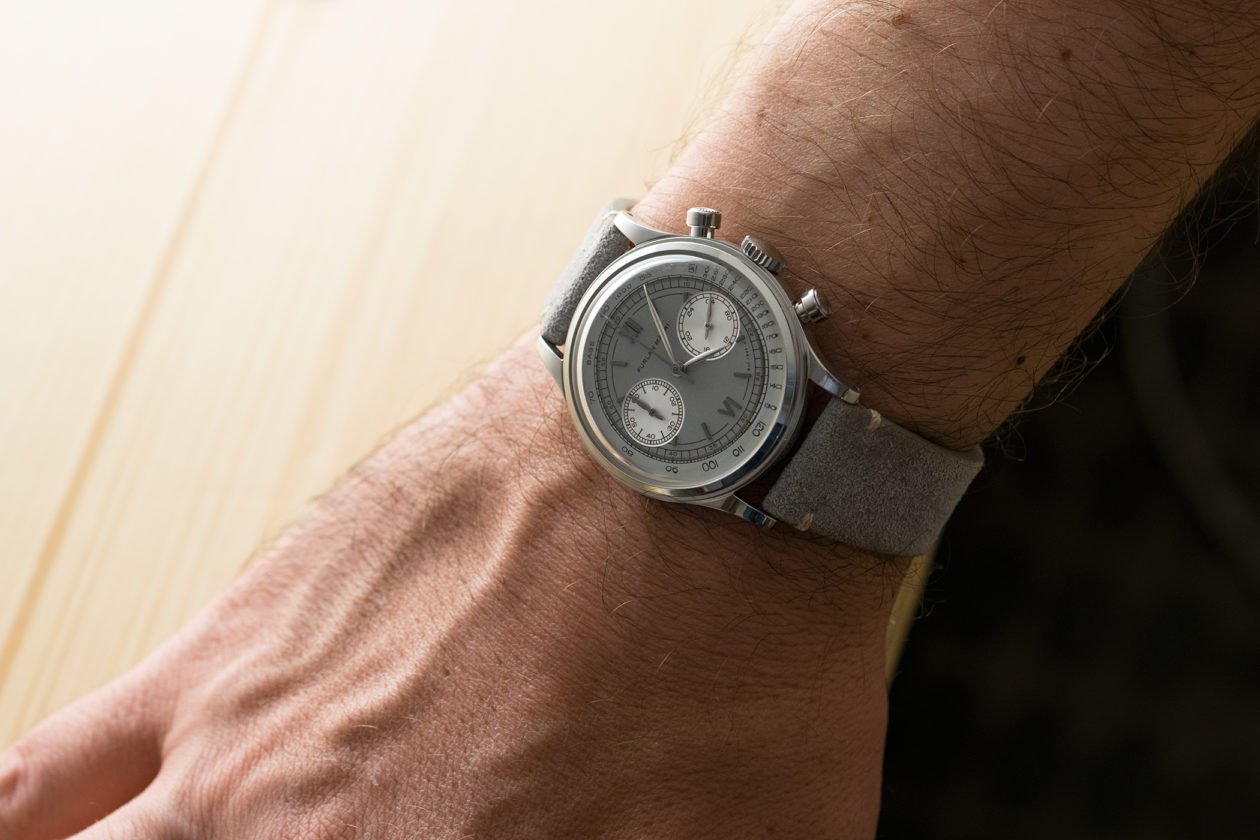 First off, Furlan Marri played with the winning card, taking inspirations in vintage. The watch has been designed that way, and then enriched with a level of details unheard of for that level of watchmaking. A classic set of colorful dials has been added on top of that, paired with a very attractive price tag. All in all the watches were so good, that they ended up on the wrists of even the most respected and established collectors. From the very beginning, Andrea Furlan said that the brand will follow on that path, and the collection will both include affordable and more expensive, mechanical watches. The first mechanical watch came to life about a year after that.
Furlan Marri Sector
Vintage, classic, details and now a Swiss heart – that's the shortest characteristic of the first ever mechanical watch by FM. This time it has not been inspired by a specific, single reference, but rather a characteristic shape of a sector dial. Symmetrical, evenly split dials like that came to life somewhere around the first half of XX century.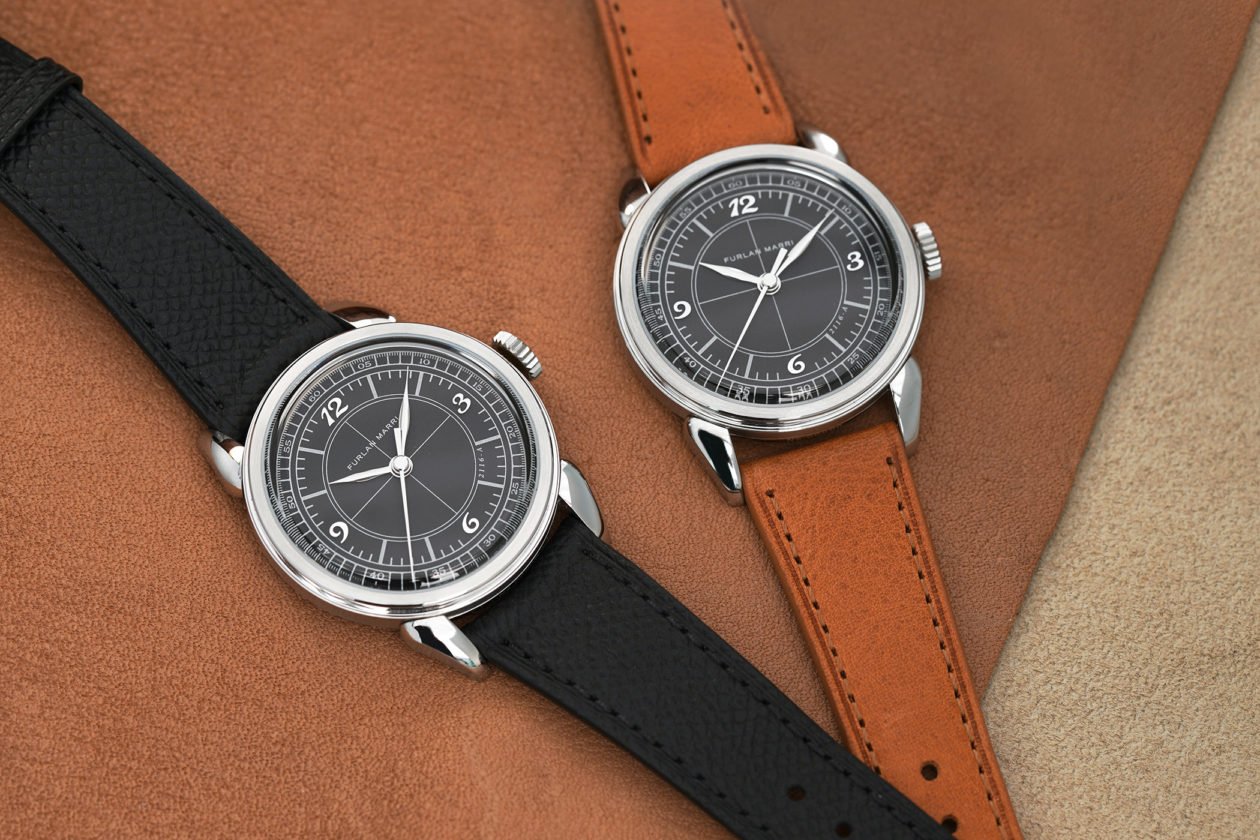 It used to indicate, that the watch is a chronometer – today it is more about the aesthetics. In this first, premier edition (which also sold out rather fast) the 2166-A "Black Sector" had a black dial, enclosed in a modestly sized steel case with a very specific "crab" lugs. Based on that watch, with some slight modifications, the Sector is now part of regular collection.
Grey Sector
To introduce Sector to the portfolio, Furlan Marri presented three versions of the watch, or rather three dial colors: salmon pink with black applications (the most sought-after one), silver with heat-blued hands and the most restrained of the trio – grey.
Let's start with the dial, especially that there is a lot to say. The overall greyness of the watch face has been enriched with different types of finishing and decoration, from the satin-brushed rings with minutes and hours markers, all the way to grained middle part. It's on that element that the "sector" lines are painted, in white. Most of the other markers and scales are also white, except for polished and applied Arabic hours marks.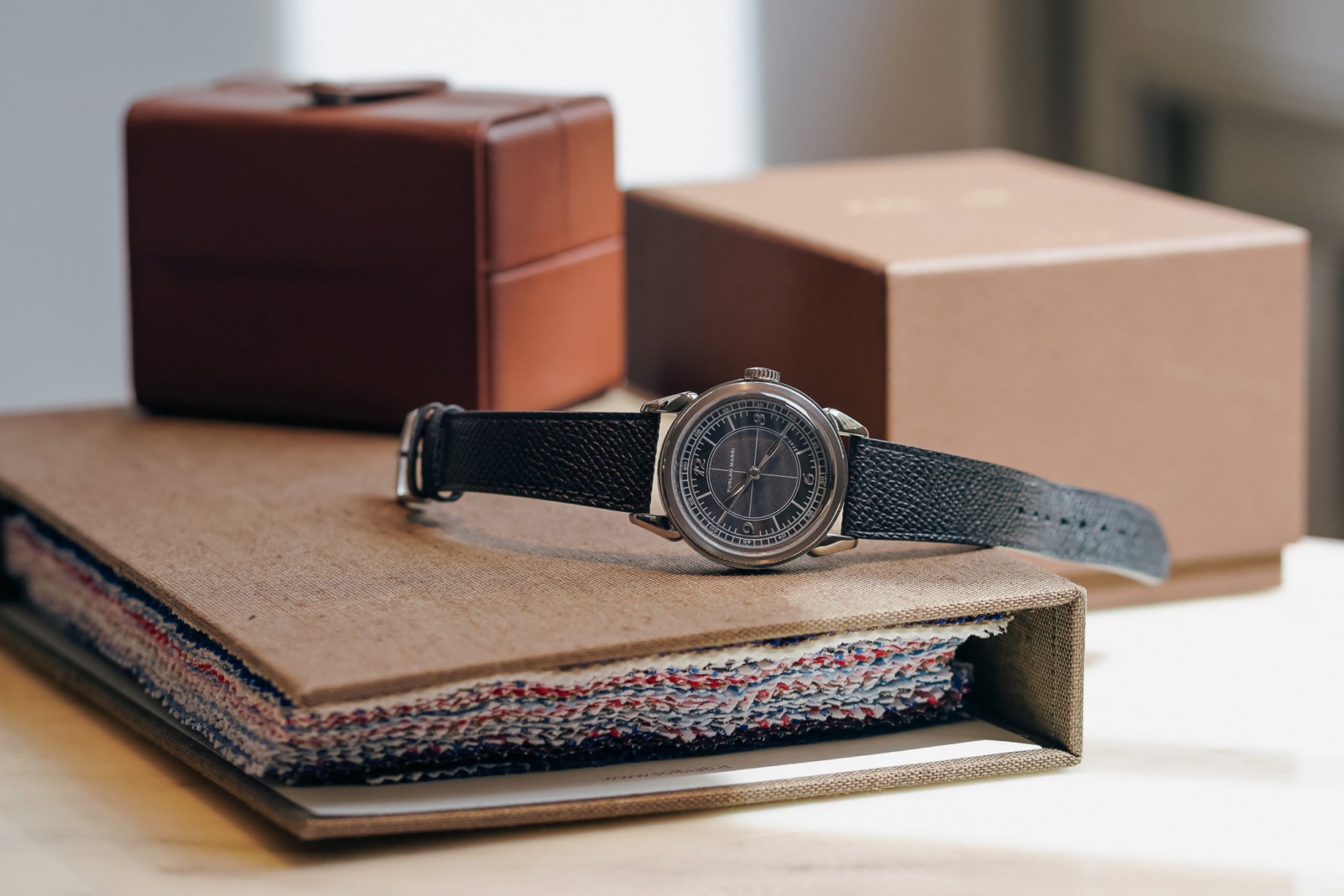 Polishing is also done to the three centrally mounted hands – and it is here that you can especially tell how much attention Furlan Marri puts to even the smallest details. The hands have a very elegant, rounded shape, nice volume and slick profile. The seconds hand is slightly bent at the tip so it follows the indices closely. On top of that the hands mount is topped with a closed cap, looking very quality and finished also with some concentric brushing. If you agree with the theory, that the face of the watch is essence of a good design, Furlan did almost perfectly. One small complain I have is a rather too blurry brand logo, painted in the top half of the dial.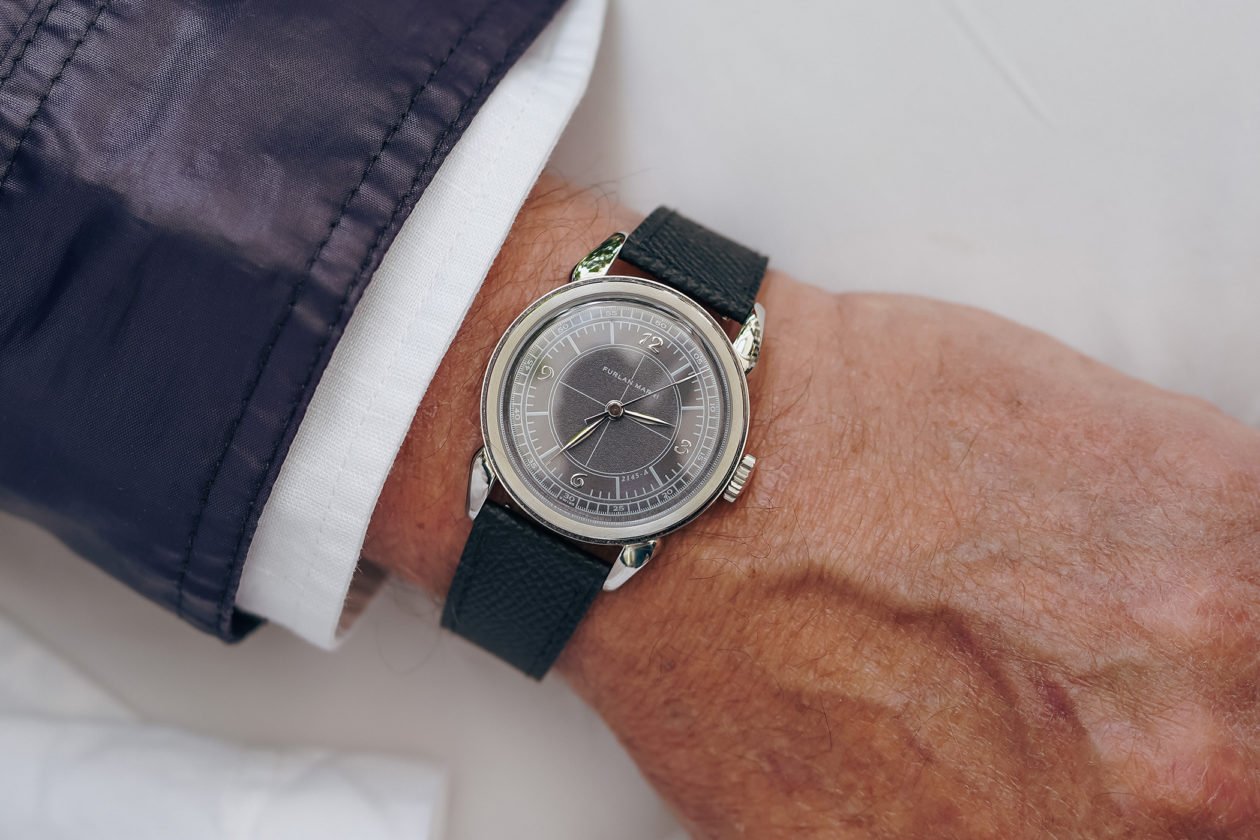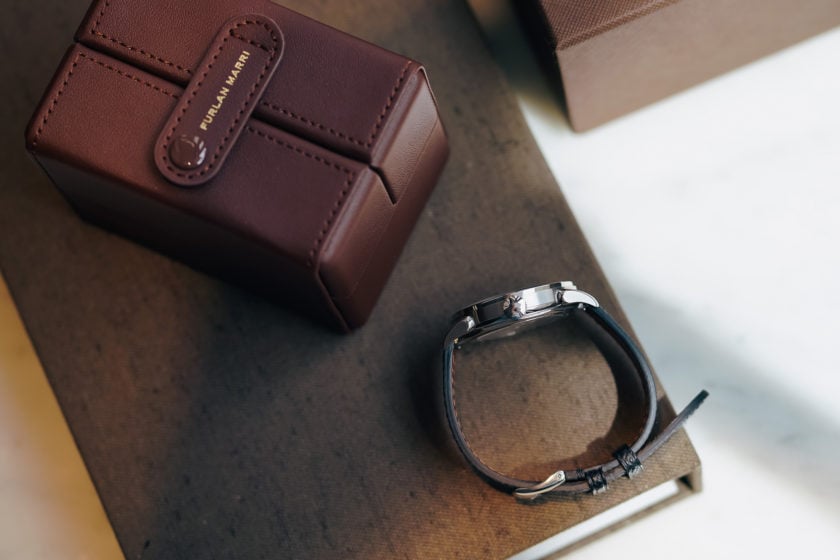 Step-case
To match the sector dial, Furlan Marri designed a complex, stylish casing. It's made out of stainless steel and measures a slick 37,5 mm in diameter and 10,5 mm in thickness. Rather widely set lugs (20 mm) are shaped like an aforementioned crab claws or, if you wish, teardrops. Undoubtedly it is a particular form, but it does fit here so well and looks tones of character. Compared to the first iteration, the lugs are a bit slimmer, less pronounced. They have been finished with some brushing on the flat sides, the rest is highly polished. On the right hand side of the case, there is a wide, flat crown, comfortable notched and mirror-polished on the front.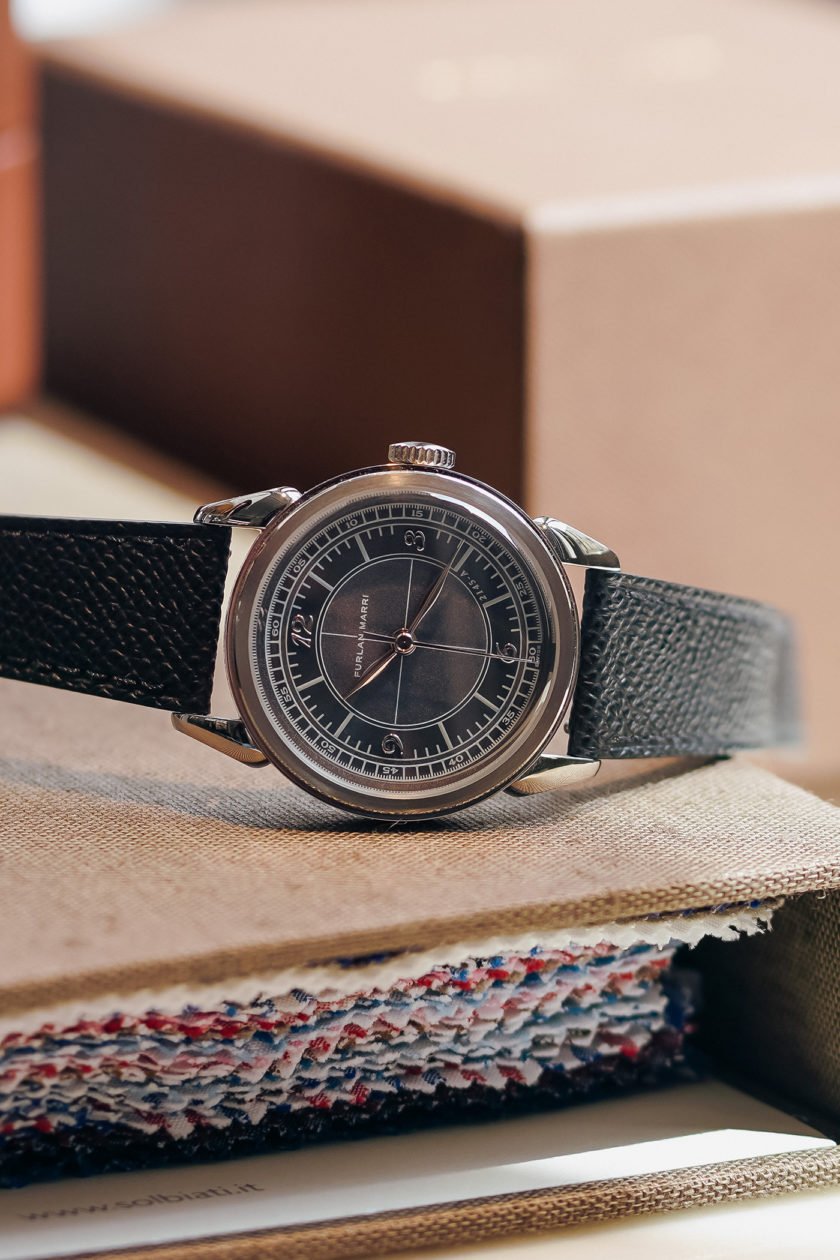 Top of the case is closed with a flat, satin-brushed bezel and a slightly domed sapphire glass. The bezel has a smaller diameter then the central part of the case, and that creates the step-case, with a visible and prominent… well, step. Case parts have been either polished or brushed. Between the lugs at 6 o'clock there is a number of the watch engraved. There are also two sets of wholes drilled in the lugs, so you can use either a straight or curved strap comfortably.
La Joux-Perret
Usually watches from brands of Furan Marris level "save up" when choosing a movement, going with something cheaper, trusted and accessible. FM Sector, on the other hand, utilises a Swiss Made, La Joux-Perret caliber. It's definitely not a usual suspect, not seen often in other watches I can think of. G100 caliber comes with a more than satisfying 68 h of power reserve, generated by a tungsten, galvanized rotor with Geneva stripes and gold painted brand's name.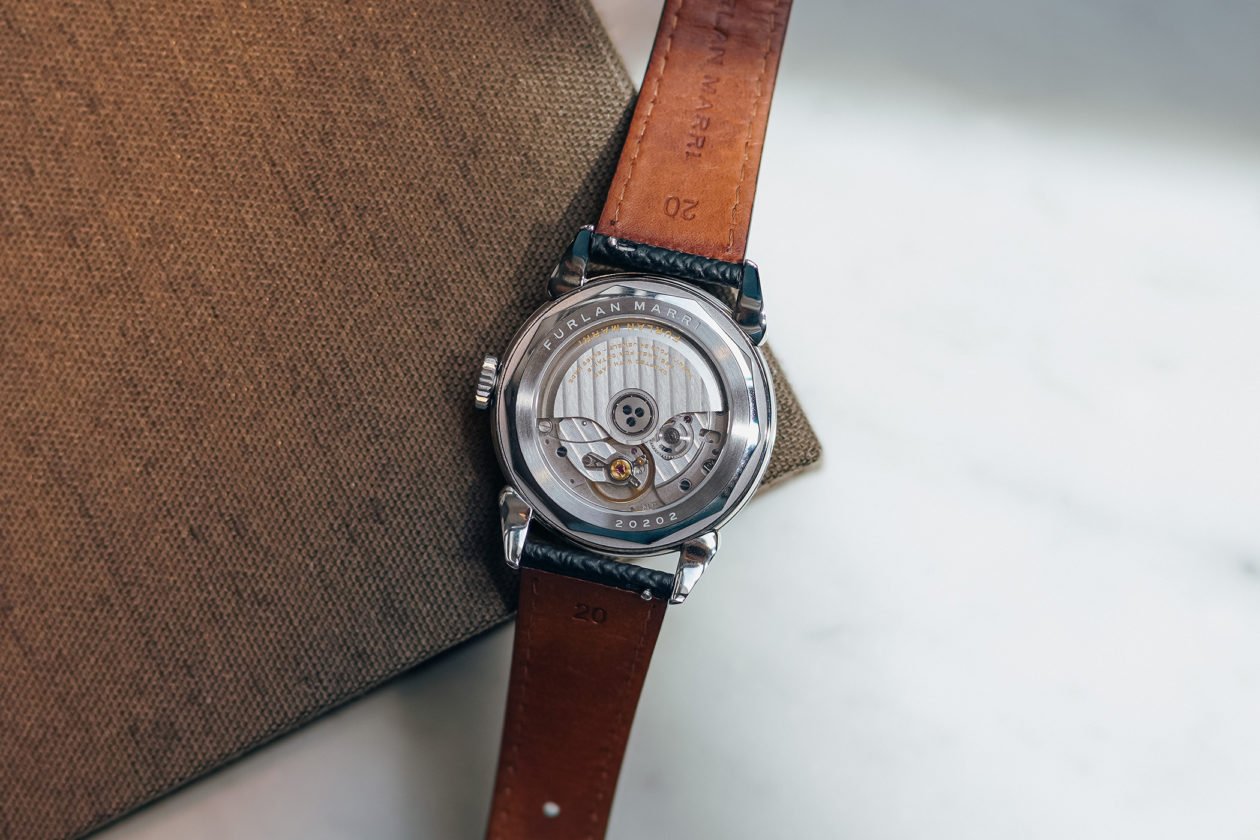 The whole movement is well pampered, additionally with blued screws and some snailing. All that can be easily admired through the sapphire back, and admittedly there is plenty to look at, especially for that price level. On the technical side, the G100 caliber is 4,45 mm thick and beats at 28 800 A/h (4 Hz).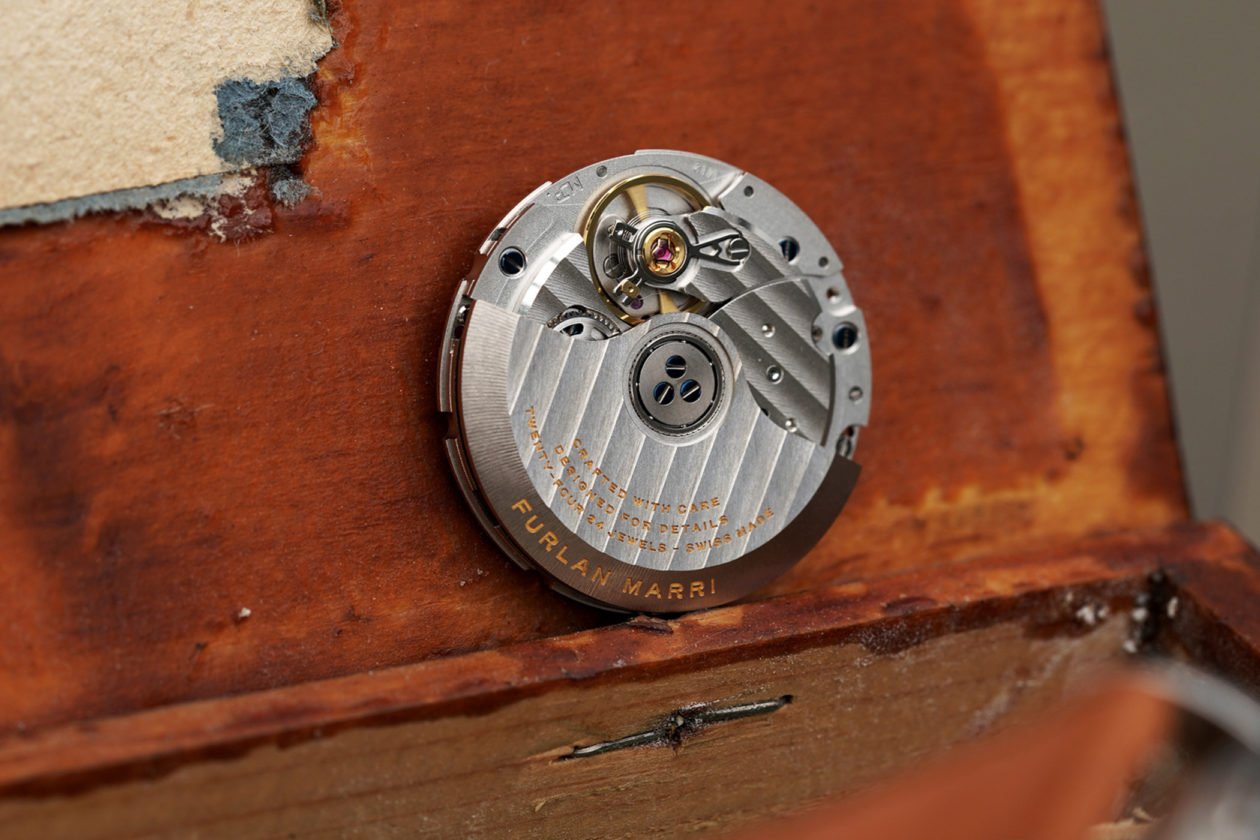 Final thoughts
I follow Furlan Marri's path closely from the beginning, as I totally buy brand's philosophy. Creating an all-new, independent microbrand is not as easy as it sounds. There are plenty of possibilities and temptations, but on the other hand the market is packed and moody. Furlan decided to play with a potentially safe vintage card and classic, but did it without compromise, carefully and smartly. Especially the first value can't by overestimated, as it is so tempting to cut corners, especially on the very start of the business.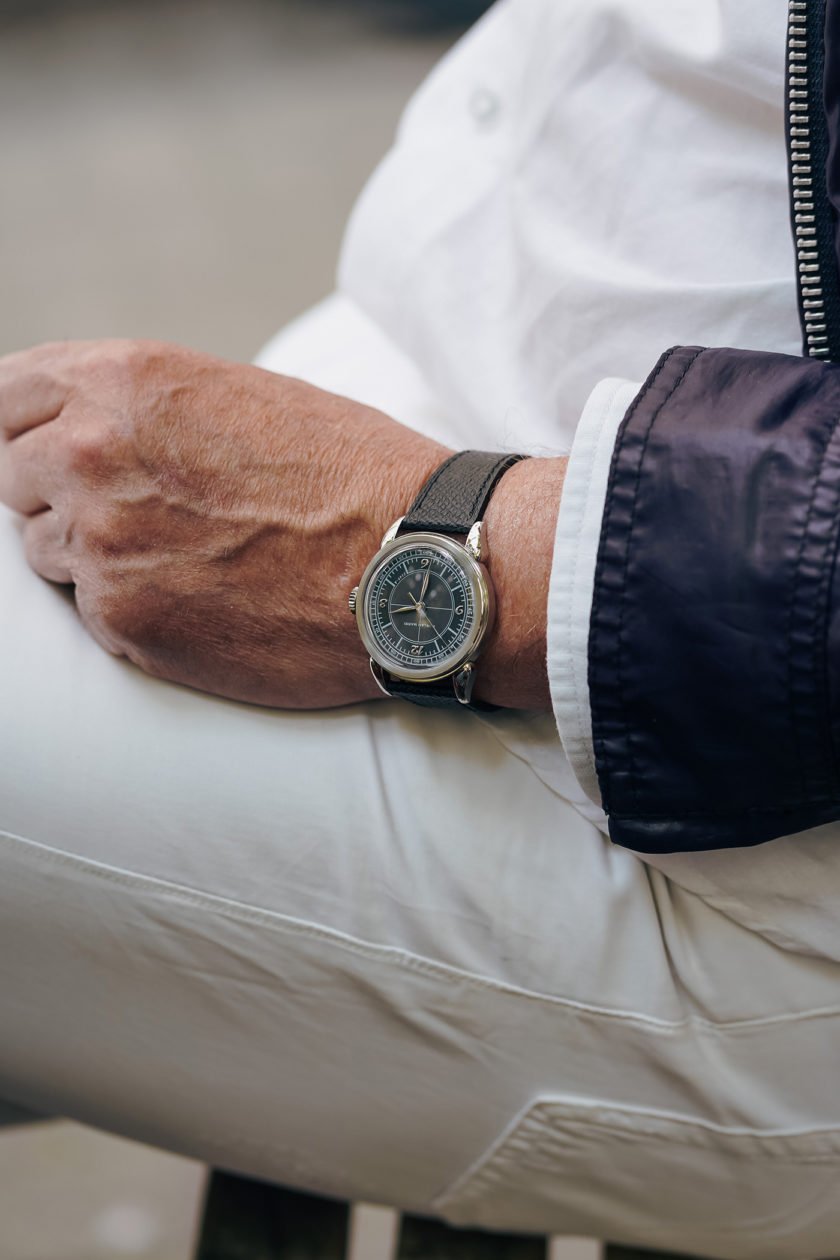 Grey Sector is a watch than can impress you for so many reasons. A watch would set you back 1 250 CHF (plus VAT), but offers much more than the number suggests. On the wrist, a very nicely proportioned, modestly sized case feel and fits perfectly, and draws your eye with many small details. Then your gaze goes towards the dial – maybe a tad bit too monochromatic for some, but packed with substance. Especially those great, beautiful hands deserve a round of applause.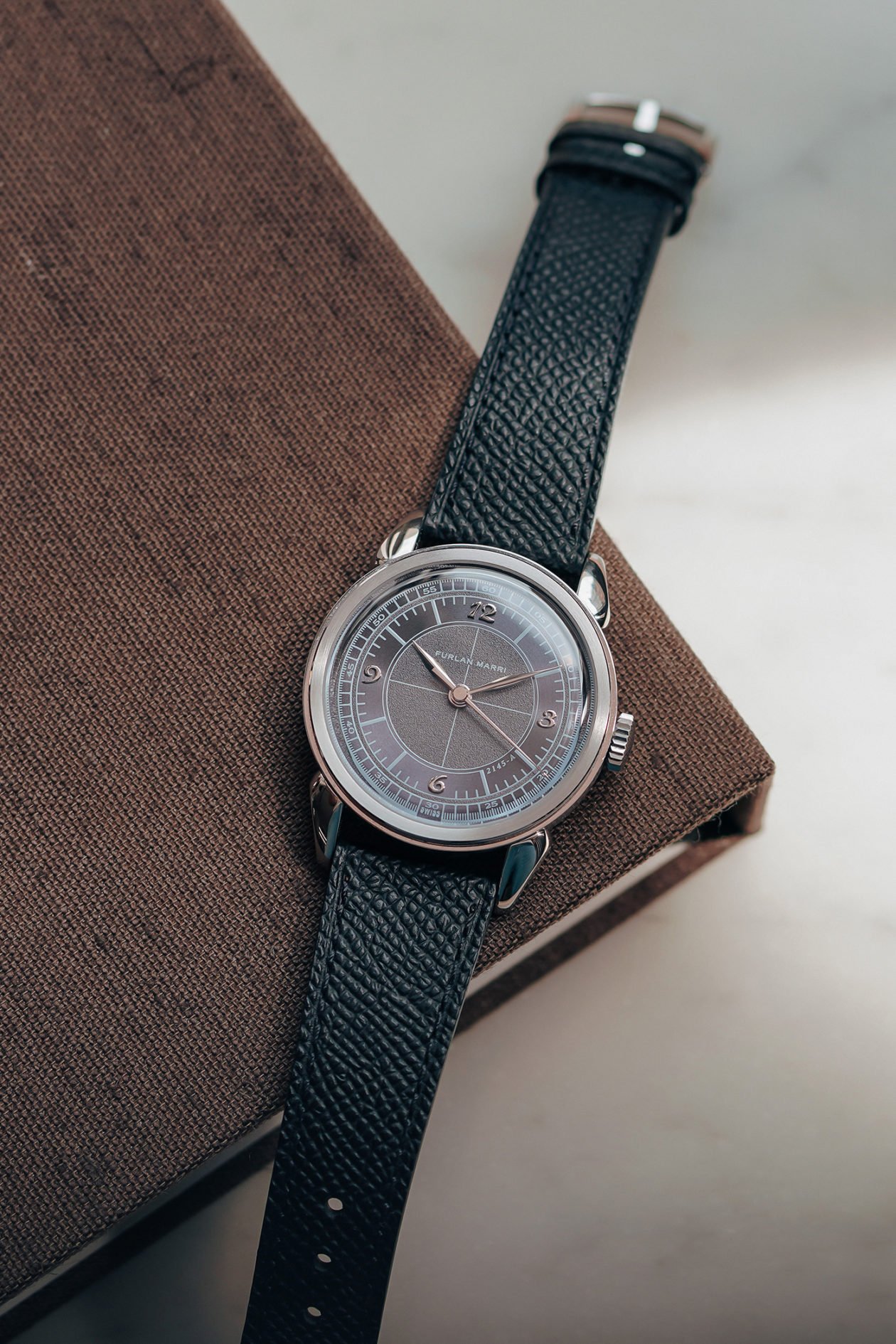 To that, Furlan Marri adds a very good (and quite pretty) automatic movement, and a strap made in France out of soft, good quality leather, with either straight or curved end. The watch is presented in a very eye-pleasing, leather pouch-box (easily useable as a travel case) with a signed certificate.
Over a 1 000 CHF for a microbrand watch might be a bit more, than one could expect, but with a higher price comes lots of bonuses and add-ons. I could easily say that even more established and bigger brands don't offer a watch of that quality for that money. Furlan Marri Grey Sector stole my watch-geek heart, and after our last conversation with Andrea Furlan, we can only await next chapters of the brand's history with high anticipation.