Review

IWC Big Pilot's Watch 43 mm [live photos, price]

Big Pilot is one of those watches that certainly earned a status of an icon. Specific in design and size, the watch is still as popular as ever. No wonder any efforts to alter such an icon cause anxiety about its character being permanently gone.

I don't envy modern designers facing a challenge to refresh or even slightly modernize any legendary object. What they have to face is not only a bunch of very orthodox fans, ready to complain about any slightest detail, but also – or rather mainly – with the iconic thing itself. How to modify something and make it feel fresh while keeping all the tale tales of a legend? Most will decide for only a minor tweaks. In watches sometimes it is a dial color, crown shape or a case size. Sounds like not much, the problem is that even slight alternation can influence certain DNA and the way it's perceived. I admit, first time I heard about IWC's plan to shrink the Big Pilot's – it was exactly my way of thinking. Will 3 mm shaved of the case still make for a proper Big Pilot's?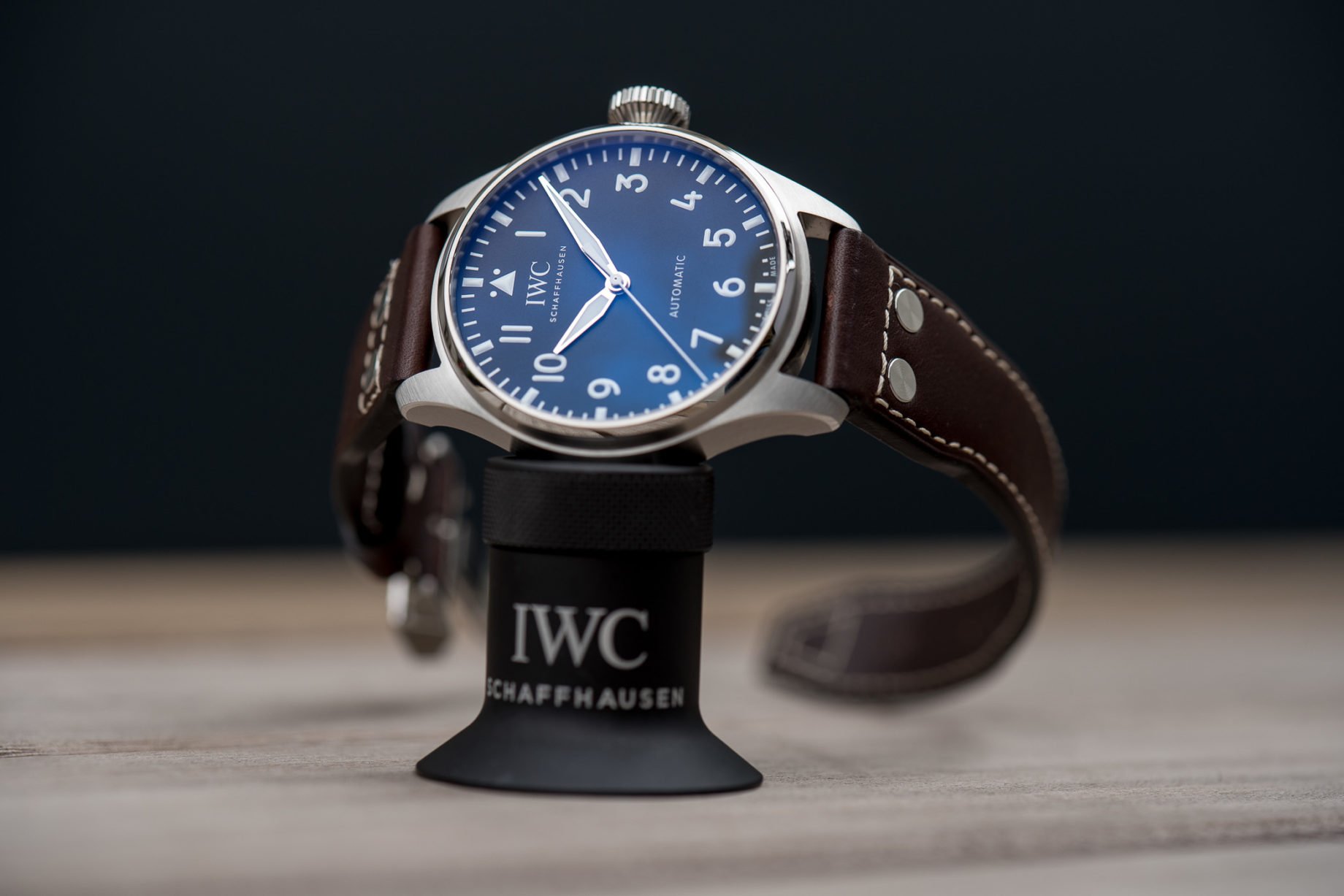 Große Fliegeruhr, the Big Pilot's Watch
Before we take a look at the new, smaller Big Pilot's, it is worthy to have a glance at pilot's watches rich history. As it usually happens in watches, they came to life from a need of a moment. In the late 30's of the XX century and during the II World War, military ordered a watch that combined three particular characteristics: magnetic resistance, readable black dial and a big crown. About that time, on order from German Luftwaffe, IWC Shaffhausen created a timepiece nicknamed Große Fliegeruhr. The watch was 55 mm in diameter – and despite being obviously different in that matter – became a role model for a modern watch collection known as the Big Pilot's form IWC.
Up until now it was a 46 mm Big Pilot's Watch (BP), that gained a vast following among collectors, celebrities and even mere mortals. Especially those with a slightly bigger wrists, appreciating large watches. In general, it is a rather simple watch, that – at first glance – does not stand out from the crowd much. There are plenty brands out there with similar, pilot's inspired watches, and often with a quite lower price tag. Why is the IWC Big Pilot's so successful then? I think it is this simple, common yet particular look. The watch is so unique, that you can recognize it instantly from afar – a bit like a famous Rolex loupe, the shape of a Royal Oak or a Reverso or Panerai's crown guard. You can even say, that cause of the size it is a statement piece. Why make it smaller then? To understand and try to provide an answer let's have a quick look at IWC's pilot's watches collection.
Pilot's from Schaffhausen family
It's suffice to say IWC's pilots watch collection is quite extensive. It includes, among others, Pilot's Watch Chronograph, a smaller Pilot's Watch "Mark" (number XVIII at the moment) and – or should I say primarily – the Big Pilot's. Then there are sub-families like the Spitfire, Top Gun and Le Petit Prince. All of them have some particularities, like the ceramic cases of the Top Guns or the blue dials of the Petit Prince, but it is the old Big Pilot's that comes to mind of an average watch collector first, when asked about a watch for pilots from IWC. Unfortunately for most, it was a thing of a dream, and not only because of it's price. At 46 mm it is a watch that looks like a frying pan on most wrists – and that is not a good thing, to say the least. With a new 43 mm version IWC is trying to reach new customers, now able to enjoy this watchmaking icon on their wrists. Not to mention it's a nice supplement to the collection, fitting right between smaller, 41 mm pieces and a large, 46 mm BP.
Dial – all about simplicity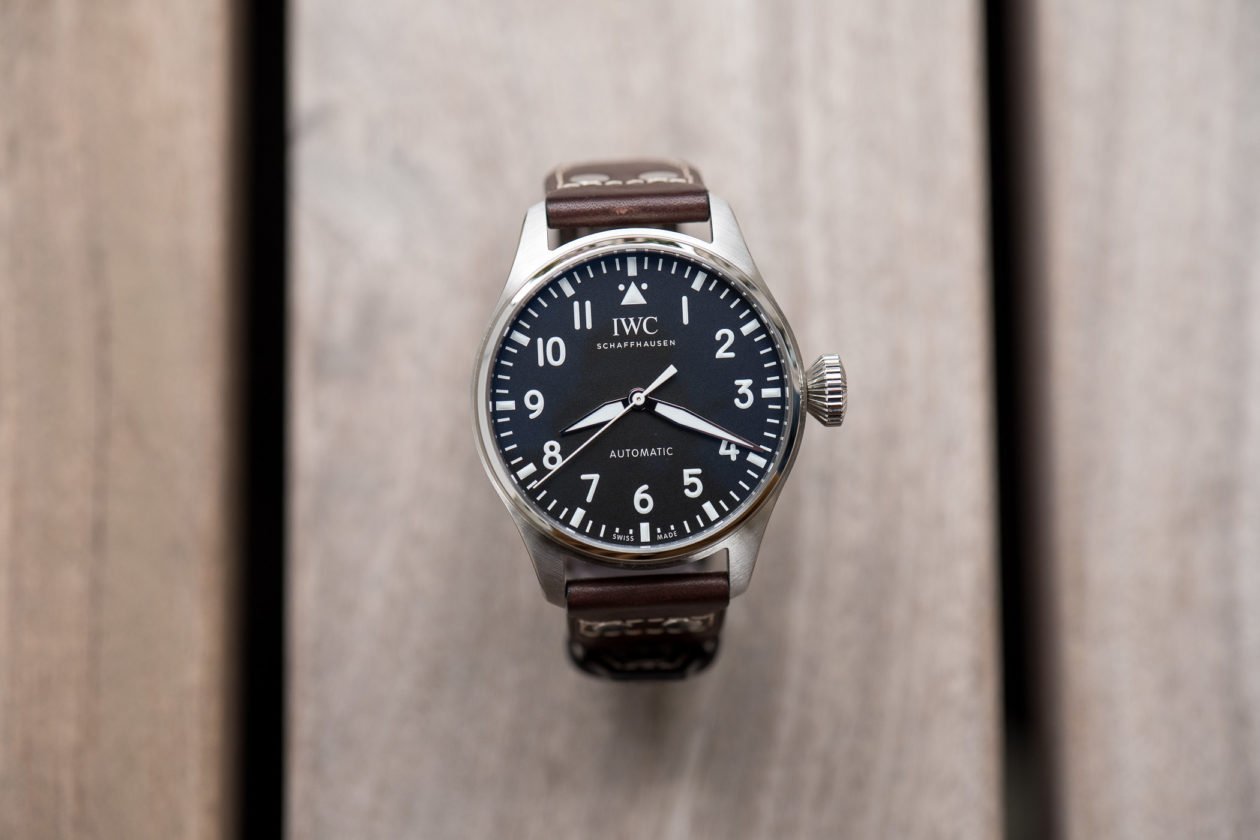 The 43 mm Big Pilot's dial is quintessential simplicity – but it is exactly why it's so good. I can hardly think of a watch that was so easy and fast to read the time of. Just a quick glance and you already know the time, thanks to a very restrained design and thoughtful details. Black, mat finished dial (there is also a blue option with sunburst finish) is surrounded by a white minutes scale and adorned with 11 luminescent hour marks and Arabic numerals. There is pilot's watch typical mark at 12 o'clock – a triangle with two dots. There is also brand's name printed in white, and an "Automatic" distinction at 6… but that is it. Power reserve indicator from the 46 mm is gone, and so is the date, keeping the entire layout clean and lean. I wouldn't mind a date window though, and think it might be one of the future additions to the 43 mm BP range.
Time is indicated by 3 centrally mounted hands. Two of them – hours and minutes – are sword-shaped, richly filled with Super-LumiNova. Hands are polished so the bounce off the light to make the entire dial even more vivid. Third hand – a central second – assures the wearer that his watch is actually running.
The case
Although the new BP went through a heavy diet, the case did not lose any of it's distinct character. It is made out of stainless steel and almost entirely brushed, which makes the watch feel rather rough, quite technical too. Only polished bits are the bezel and edges of the lugs. There is also some polishing to be found on a large "diamond" crown – reminiscent of those oversized crowns form the past, that allowed pilots to operate even when wearing thick, leather glows. Crown is decorated with a "Probus Scafusia" seal.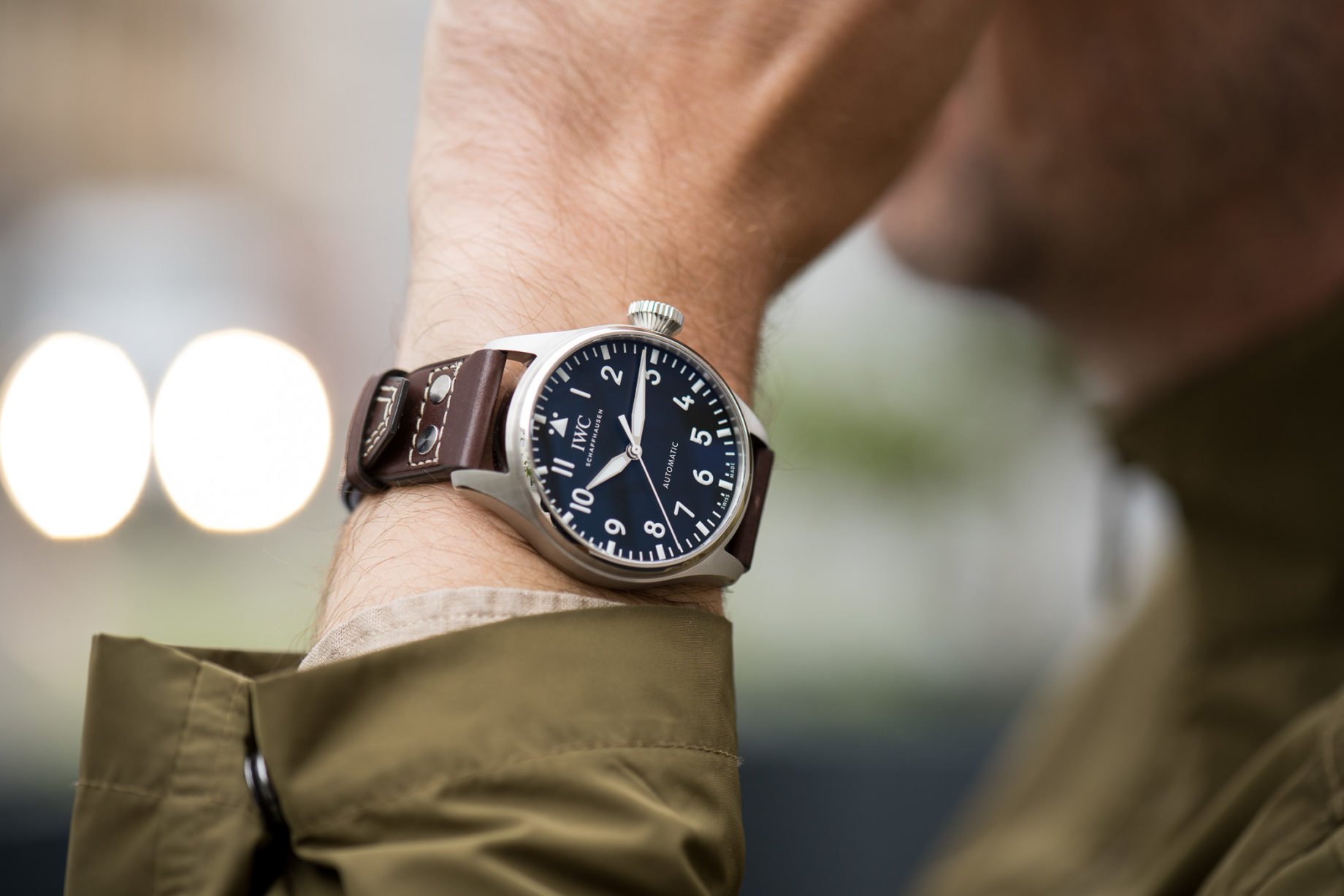 If you think that 43 mm is rather small, I'm here to let you all know that lug-to-lug of the case is hefty 52 mm, and thickness comes at 13,6 mm. With the crown the case is about 48 mm, which is significantly less then the 46 mm watch (46,2 x 15,6 x 57 mm), but still quite substantial.
Leather, rubber or steel?
The watch we got for a review came with a brown leather strap with typical, steel rivets and light stitching. Wider at the case, strap tappers towards the steel folding clasp. When you buckle the watch on, it doesn't feel heavy nor bulky on the wrist. I could even say it is surprisingly light and easy for the heft of the massive steel watch case on the other side.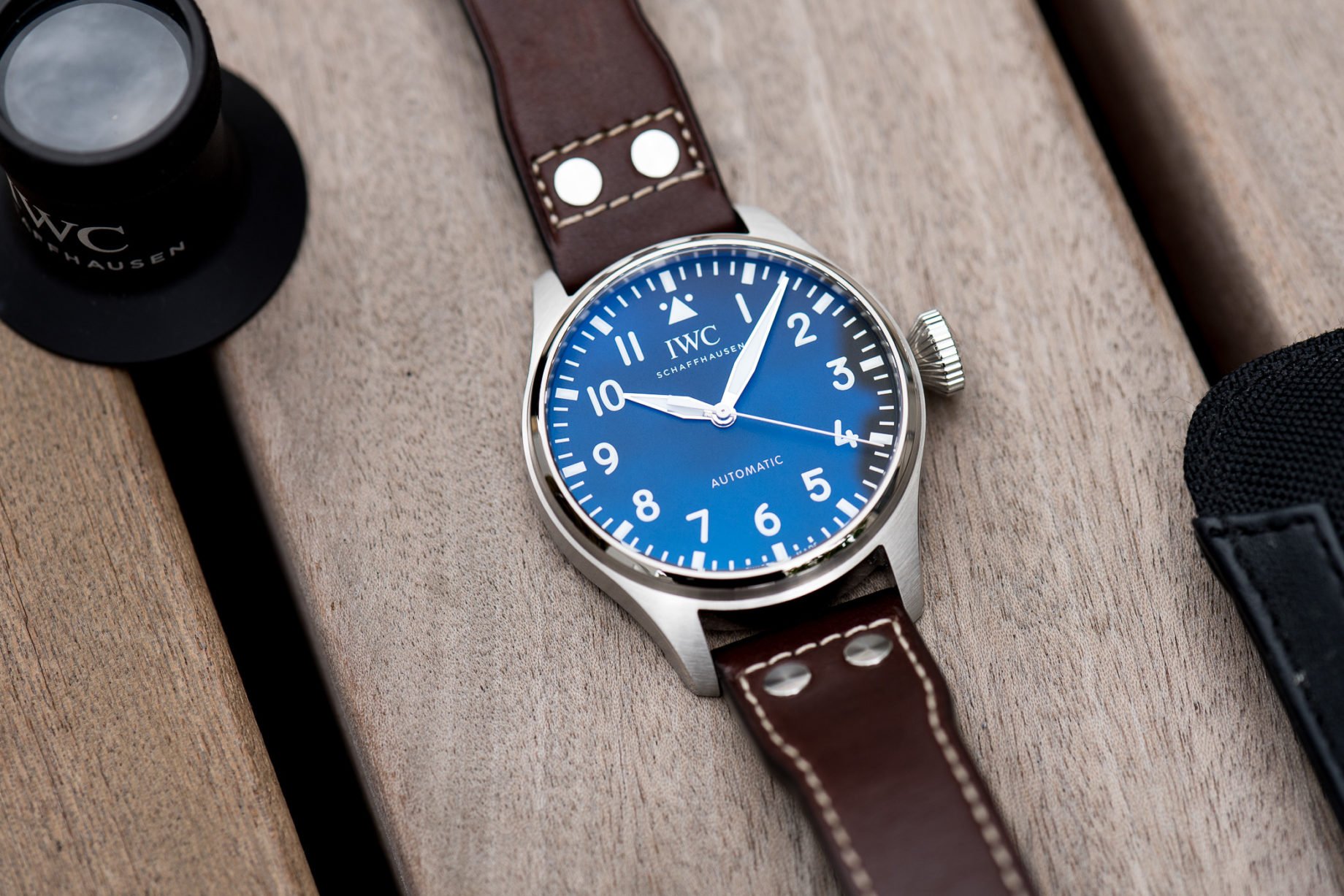 Strap has been equipped with a quick release system. IWC designed it as push button on the underside of the strap. One push and you can easily change leather for rubber or a steel bracelet. I didn't change it, but it's nice to have an option. Not to mention the deep brown straps fit very well.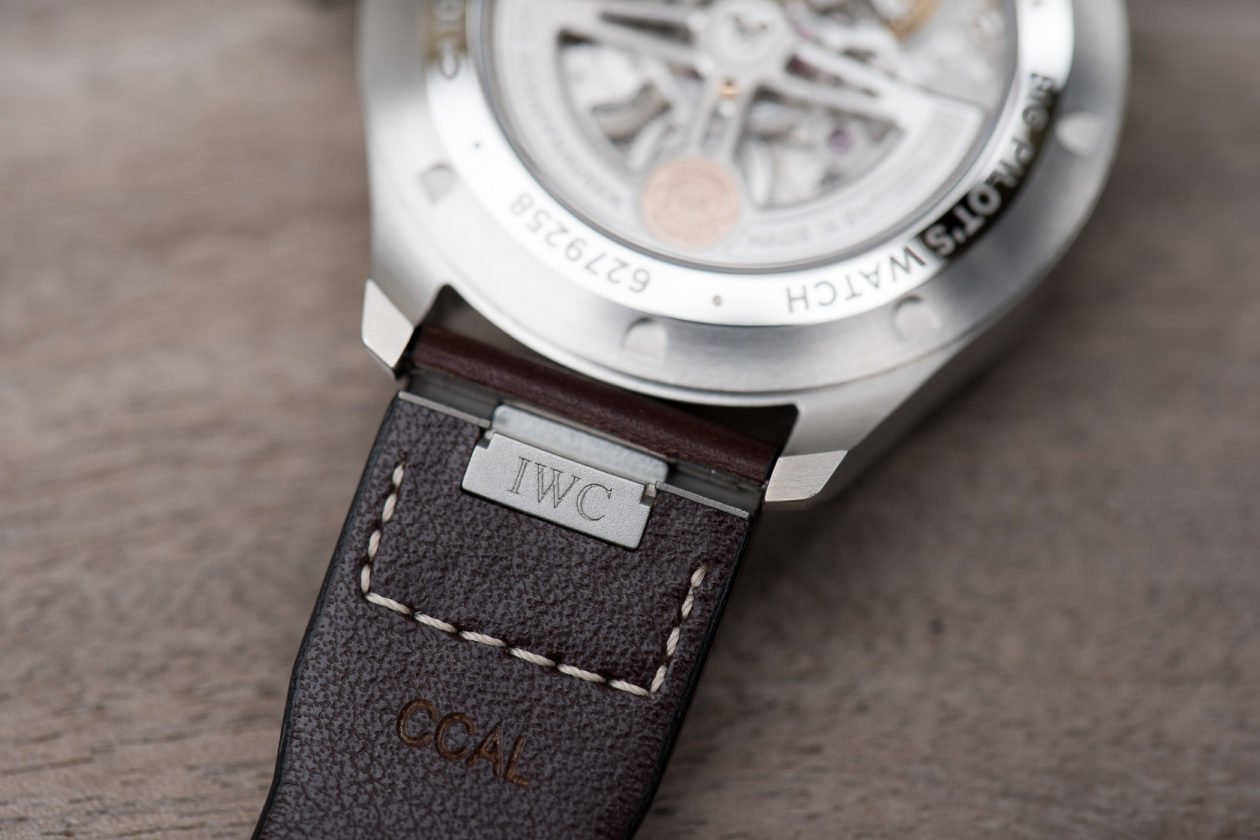 Mechanism – the technical way
Powering the watch, IWC presents automatic caliber 82100 with 60 hours of power reserve. Ticking at 4 Hz, the movements is visible through sapphire back, and I have to say it's quite a pleasing sight to behold. It is quite a different experience then movements by Patek Philippe, Vacheron Constantin or Jaeger-LeCoultre – equally well made but on the rough side. The kind you can find in some Panerai calibers for example, the one I truly like, as well as a winding rotor, shaped like a steering wheel, adorned with "Probus Scafusia" golden medallion. On closer inspection you notice some black elements of the construction. Those are the parts that experience more friction and potential damage, therefore made out of ceramic.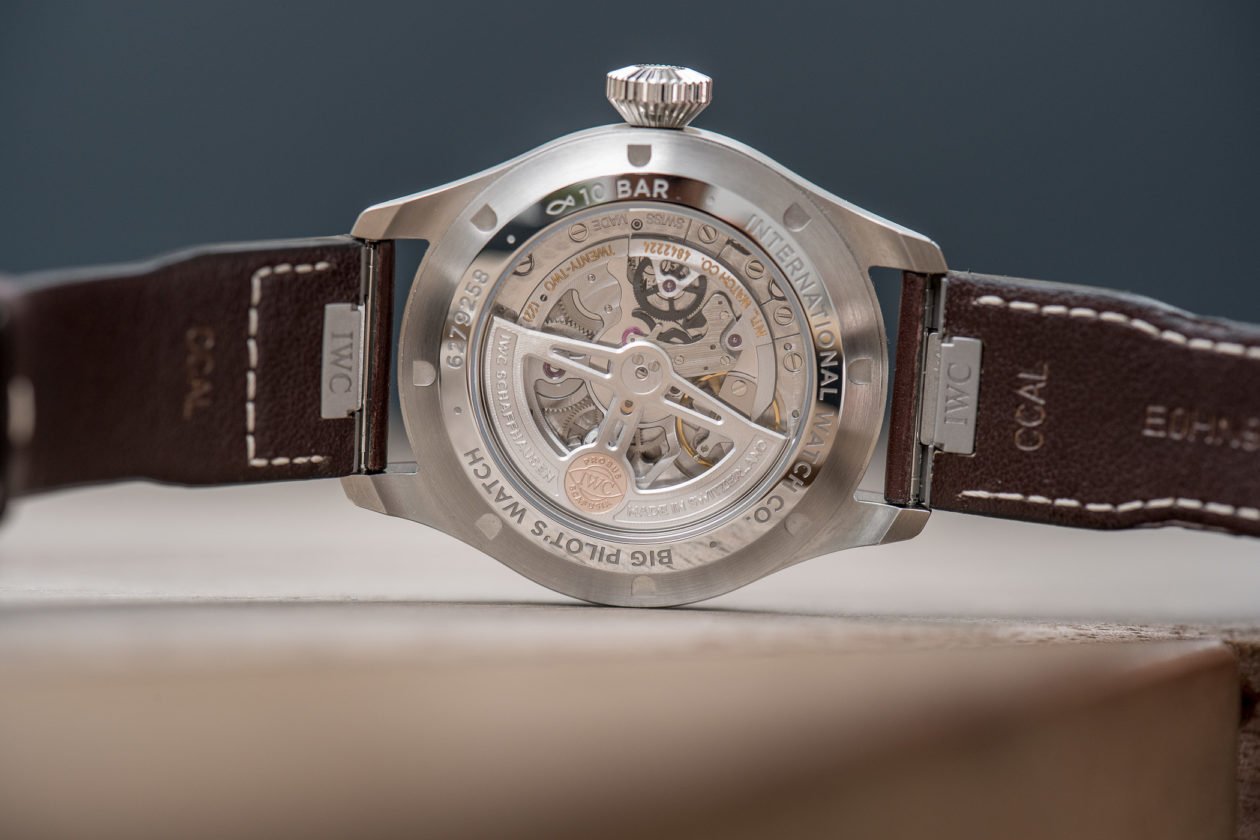 With the choice of transparent back IWC gave up on the additional, soft iron cage that protected movement from extensive magnetic fields.
Small but still big – my thoughts
With original, 46 mm case the Big Pilot's was never an option for me. On my small(ish) wrist, despite eternal affection, it looked rather bad. 43 mm change a lot. It is still a significant watch, but one I can actually wear. I could even imagine some people using it as a daily wearer.
I caught myself thinking, after I send it back to IWC and wore one of my smaller watches, that I missed that "WOW" factor that the BP 43 mm provides. On one hand it is a clean, super-readable watch in an ascetic form, on the other the size, weight and overall look that makes it noticeable, even by the people, that never pay any attention to what I wear around my wrist.
Now the big question to end – If I was to spend my own money to buy it, would I? Until now I always thought that the IWC I'd eventually add to the collection is Mark XVIII. Despite being a little less impressive (in terms of movement), it felt like a better fit for my wrist. After testing the BP 43 mm the choice is not so obvious anymore. Big Pilot's is The Big Pilot's. Icon, legend and a tone of pleasure wearing one daily. One thing did not change – whenever I think about pilot's watches, I think "IWC". The Schaffhausen based brand associated itself strongly with aviation, with a watch for every aviation and flying geek out there. The choice is vast.
Big Pilot's 43 mm on a brown leather straps comes at 8 900 CHF.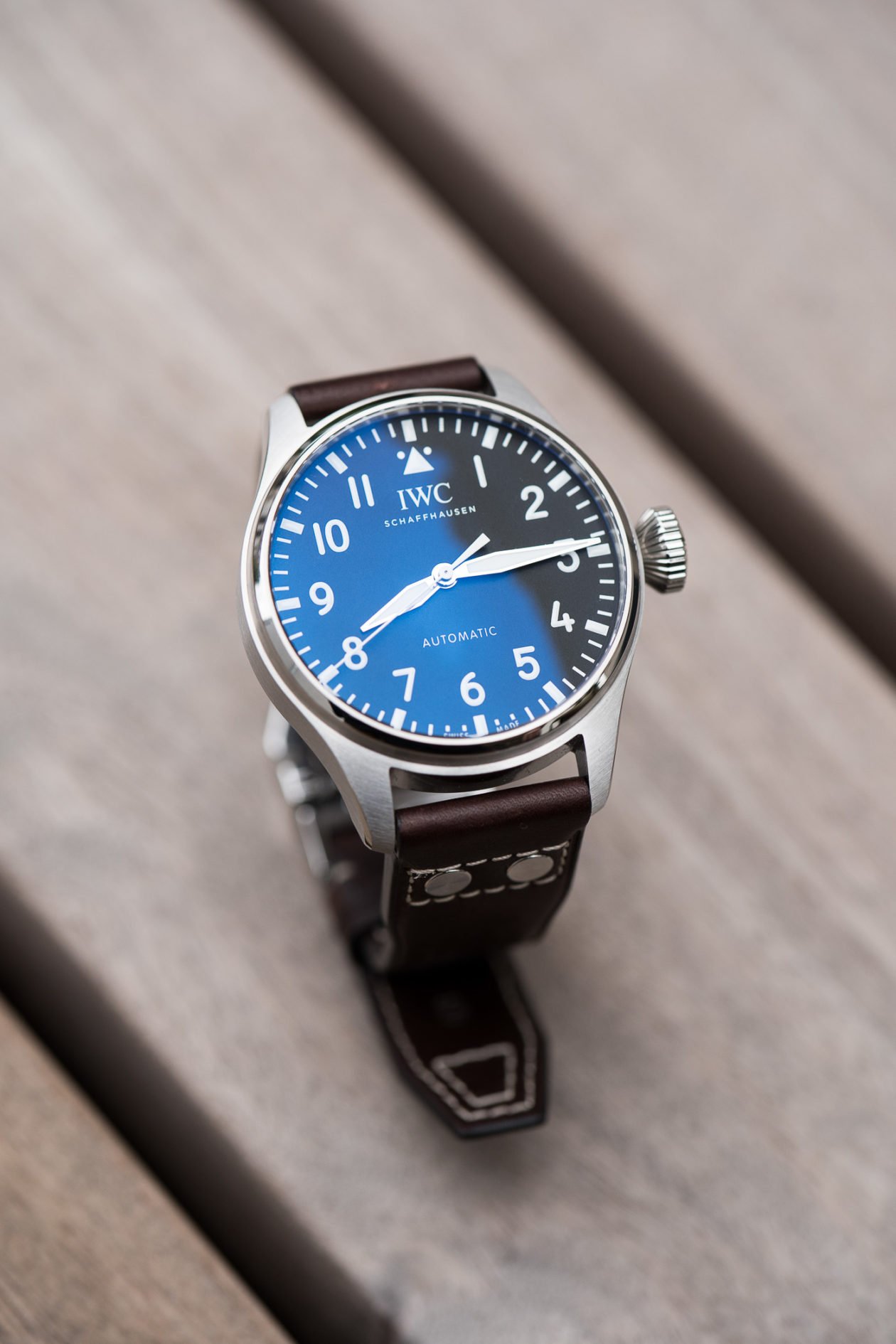 Test watch provided by IWC Schaffhausen.