Review

IWC Portugieser Chronograph [live photos, availability, price]

Amongst the classically designed chronographs best there is a watch designed in Schaffhausen on the Ren. Almost unchanged from day one, it's now being offered in an in-house version. The best one yet?

Lately at CH24.PL (admittedly in Polish, so you might have missed it) we often debate about the definition of a "classic watch", and how to interpret it. We live in an age where everything seems to be getting redefined and understood the new way, but watches – as conservative as they are – last in set of rules and canons shaped decades ago. Although, what we wear and how we wear it changes constantly, definition of a classic-watch (unwritten) remains an old, a bit dusty myth, that has some seeds of truth in it too. Nothing wrong with it, as classic watchmaking is a bit like a glass of good single malt whisky (never with ice), perfectly cooked filet-mignon (with creamy green peppercorns sauce) or the lowest button in a jacket, that can never be buttoned-down. Some things are not to be changed, but rather respected with care. So, what is a classic watch for the wrist like? Simple, elegant, not complicated, minimalistic. And how does the star of this review fit into all this? Well – I think, and always thought, that the IWC Portugieser Chronograph is perhaps the greatest example of sporty yet very classic timepiece. Why is that? Read on.
Portugieser
Every Portugieser watch related article should start with a piece of IWC's history. The watch has originally been created in the 30's (of the XX century) when two Portuguese merchants came to Schaffhausen with an order. The gentlemen expressed a will to obtain a wristwatch with the specs of a marine chronometer, which was quite a challenge those times. IWC managed to fulfill the requirement, simultaneously creating one of the true icons of watchmaking – the entire range for that matter, cause it is hard to pinpoint one specific model. A lot happened through the following years, so let's skip to the part significant to our story. First IWC Portugieser Chronograph came to life in 1995, in a shape of reference 3712 Chrono Rattrapante, followed in 1998 with reference 3714 Automatic Chono.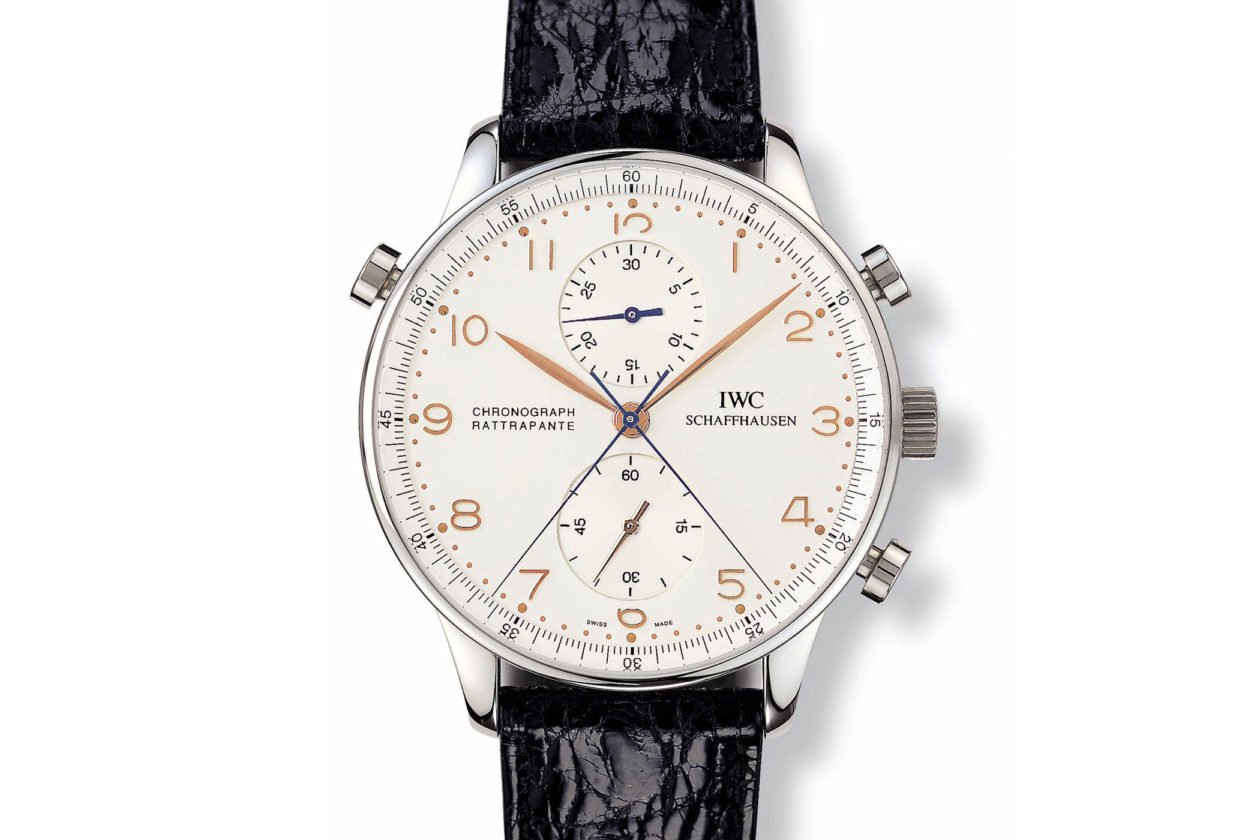 Just like the base model the chronograph received a rather simple aesthetics with only a basic set of indications, minimalistic both on the dial and the outside of the watch. It turned out to be a design so good it remains unchanged in IWC portfolio up until nowadays.
Ref. IW371604
The IW371604 is the latest iteration of a Portugieser with a chronograph, presented back in 2020. Not much has been changed, but since it has been all done subtly and with a thought, made up for an overall improvement. We shall discuss if it's the best Portugieser Chrono yet at the end, now let's have a look at some details.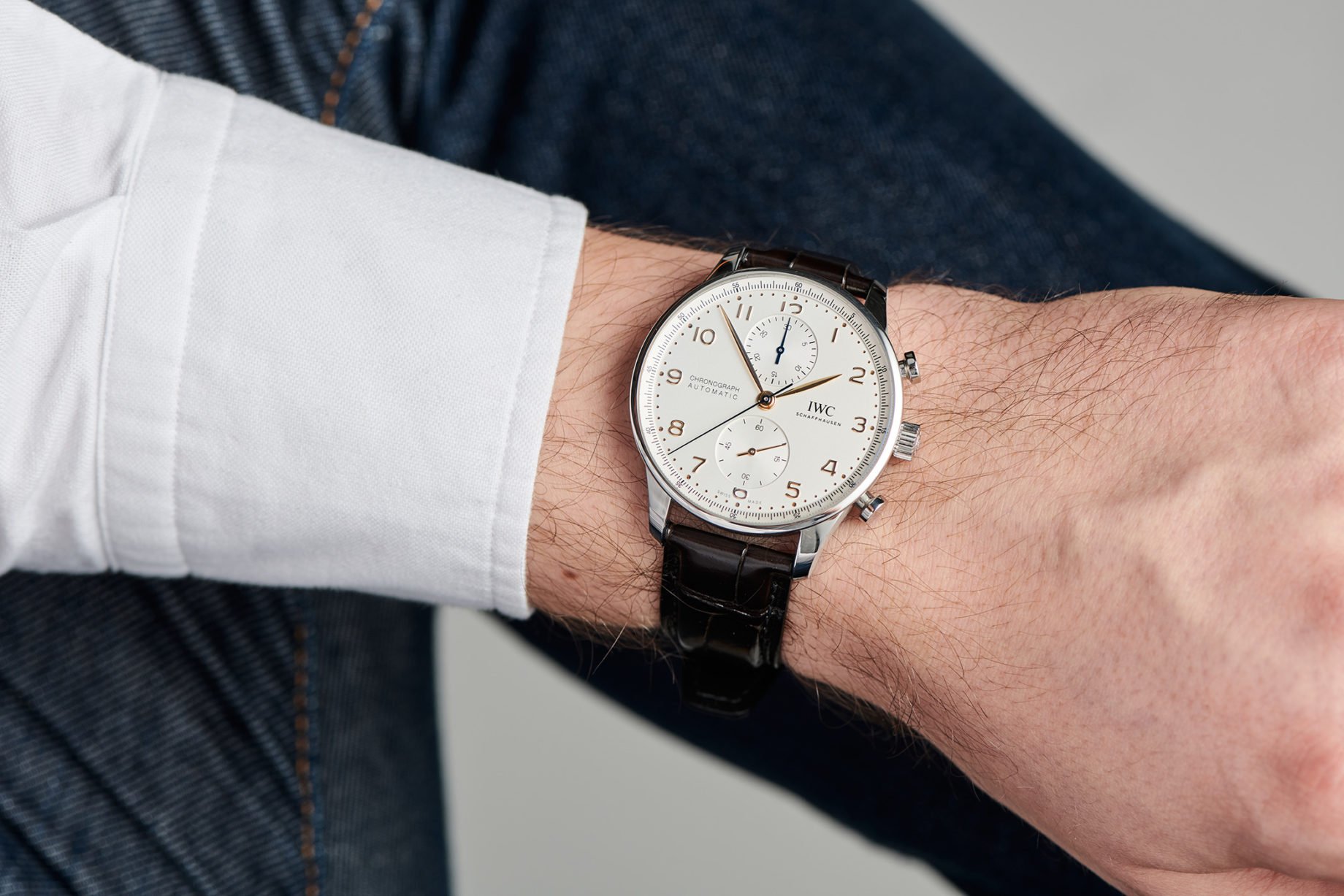 Steel version of the watch, that has been provided to us kindly by IWC, has a case measuring 41 mm, thick by 13 mm and closed with a pair of sapphire glasses, both front and back (which matters, as you will soon discover). Mostly brushed and partly polished case, on the right side has a non-screw, comfortable crown with a "Probus Scafusia" embossed logo and a pair of two "mushroom-shaped" stopwatch pushers.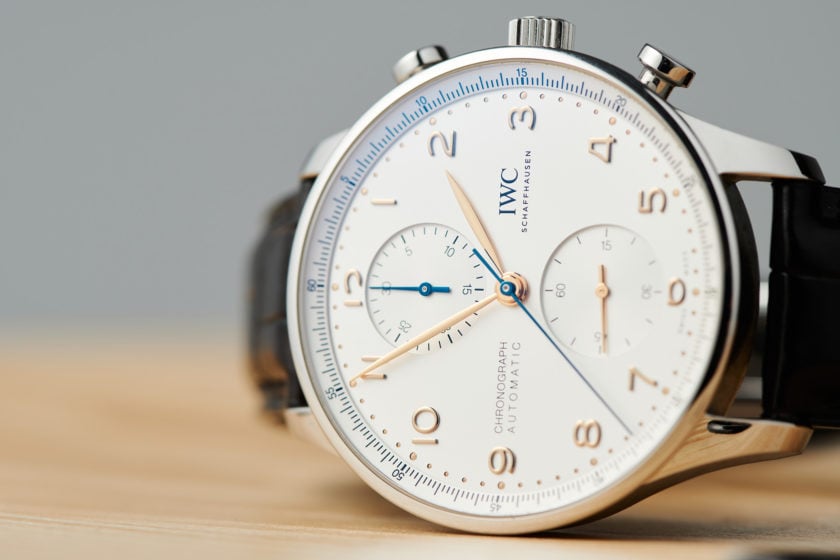 Thin, polished besel has been placed on the top, holding a sapphire, domed glass with double-side antireflective coating. What hides beneath is a typical, clean Portugieser dial.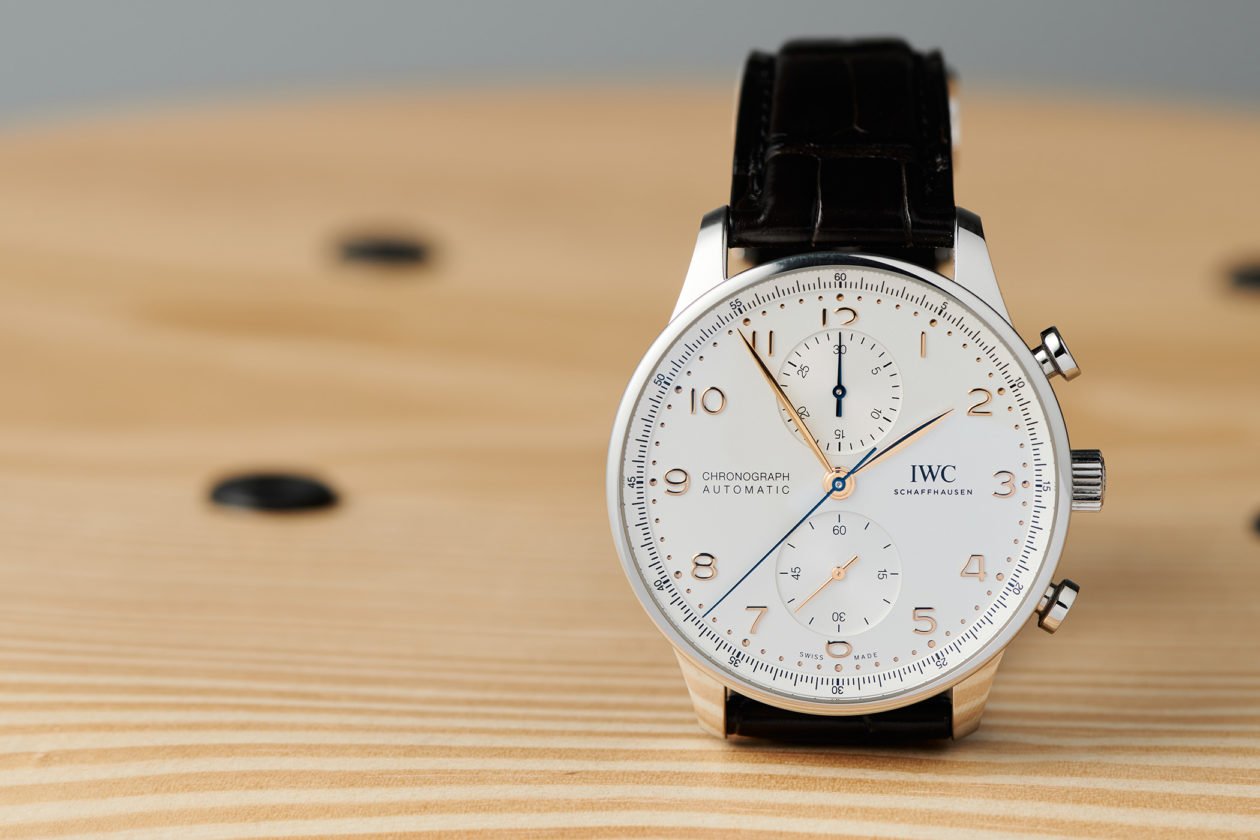 When buying a Portugieser Chronograph, IWC allows you to select a few dial options, from classic black and silver to colorful variants in red, green and metallic blue. For me the one to go to was always the one you see on the photos – silver dial with gold appliques and contrasting, blue chronograph hands. The dial has a matt, slightly opaline shade to it, which corelates wonderfully with applied markers, made out of rose gold. There is gold on the Arabic numerals, on the minutes track with smaller and larger dots, a small seconds hand at 6 o'clock and a pair of central timekeeping hands, shaped like leaves (hence the nickname "leaf hands"). All the gold elements have been nicely polished to give it a warm shine. About the only drop of colour are the aforementioned, chronograph hands: central seconds counter and a 30 minutes counter at 12 o'clock. There is also a black painted minutes track, IWC logo on the right side and a info about the movement and complication on the right. Those are usually superfluous, but here balance the dial layout nicely.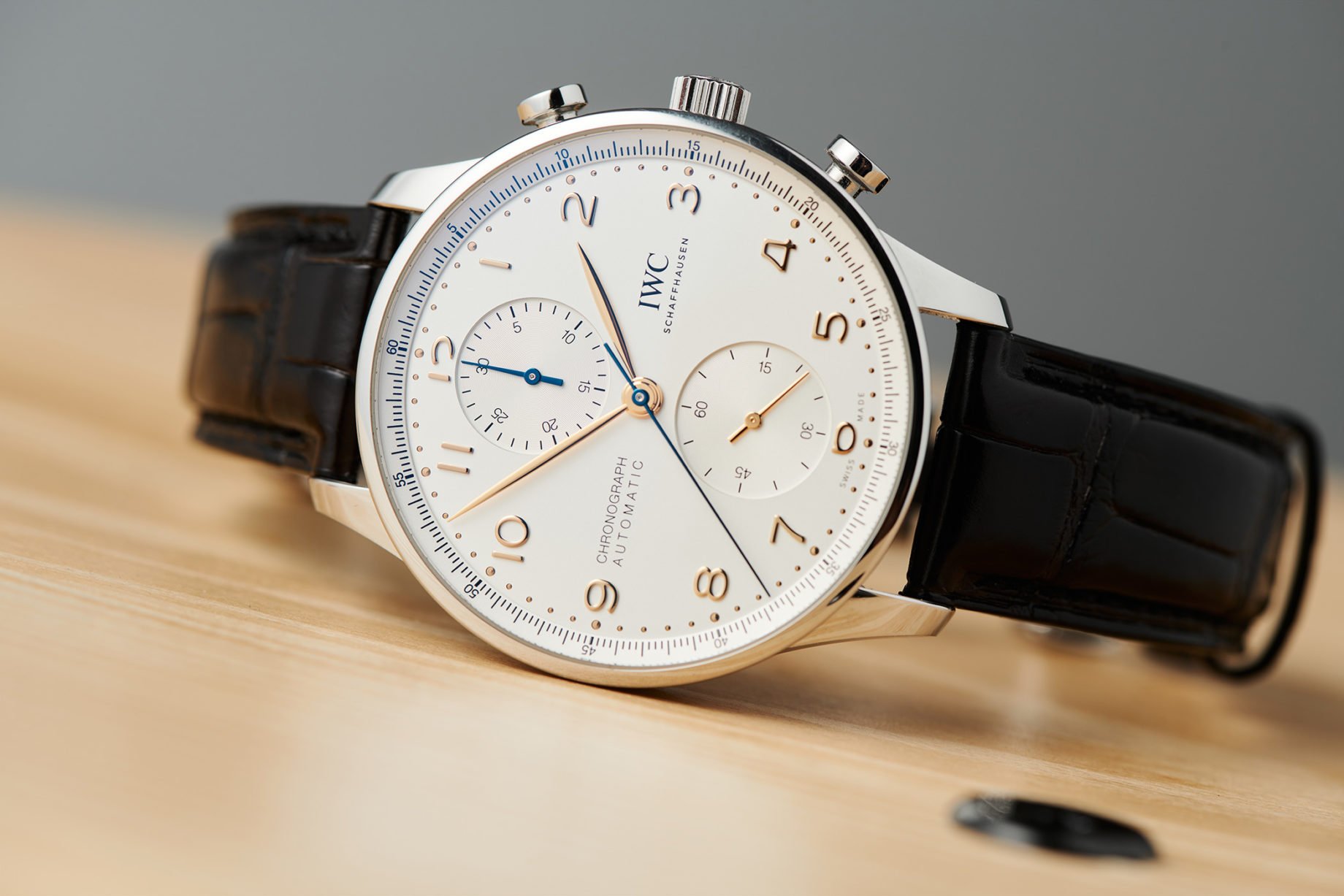 That's it, and in the chronograph category the IWC Portugieser has always been perceived as a role model of readability, minimalism and class. Combination of silver and gold emanates pure elegance with that nifty little touch of blue (hands) that remind you that is a sporty complication watch after all. You can also appreciate the lightness of the entire design and execution, subtle details and forms. All this of course does not harm the readability, which was already one of the ground rules of the very first Portugiesers, and still is.
While one can easily miss aesthetical changes in the new Portugieser, the mechanics is all different story. After decades long life-span of the watch, IWC has finally introduced a non-limited version of the watch with a manufactured movement. Thus far, there was only a limited edition run for the 150th anniversary of the company in 2018. In two references, with lacquered white or blue dial, IWC proposed an automatic caliber 69355. Up until that time all the Portugiesers Chrono have been powered by a highly modified Valjoux 7750. The last one being a caliber 79350 (in reference 3714).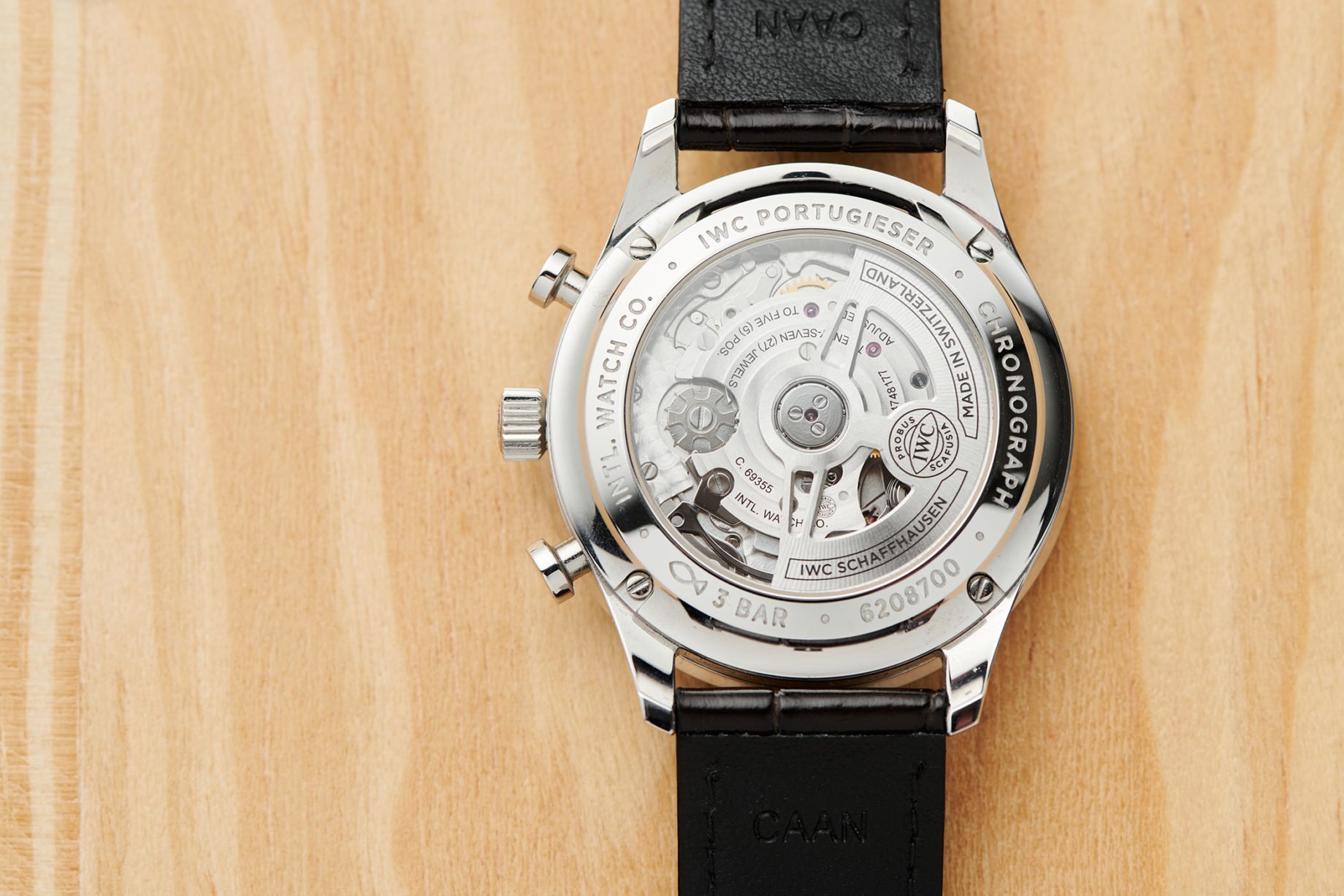 From now on you can find a 69355 caliber in all the catalogue references. Amongst many particularities of the movement there is a Pellaton winding system, which utilizes a bi-directional movement of the winding rotor to more efficiently supply the main spring. Power reserve comes at 46 h – a solid result for a modern watch and today's standards. The balance of the escapement ticks with 4 Hz, and the entire movement works with 27 jewels, included amongst the 212 components. Few of them made out of wear and tear resistant ceramics.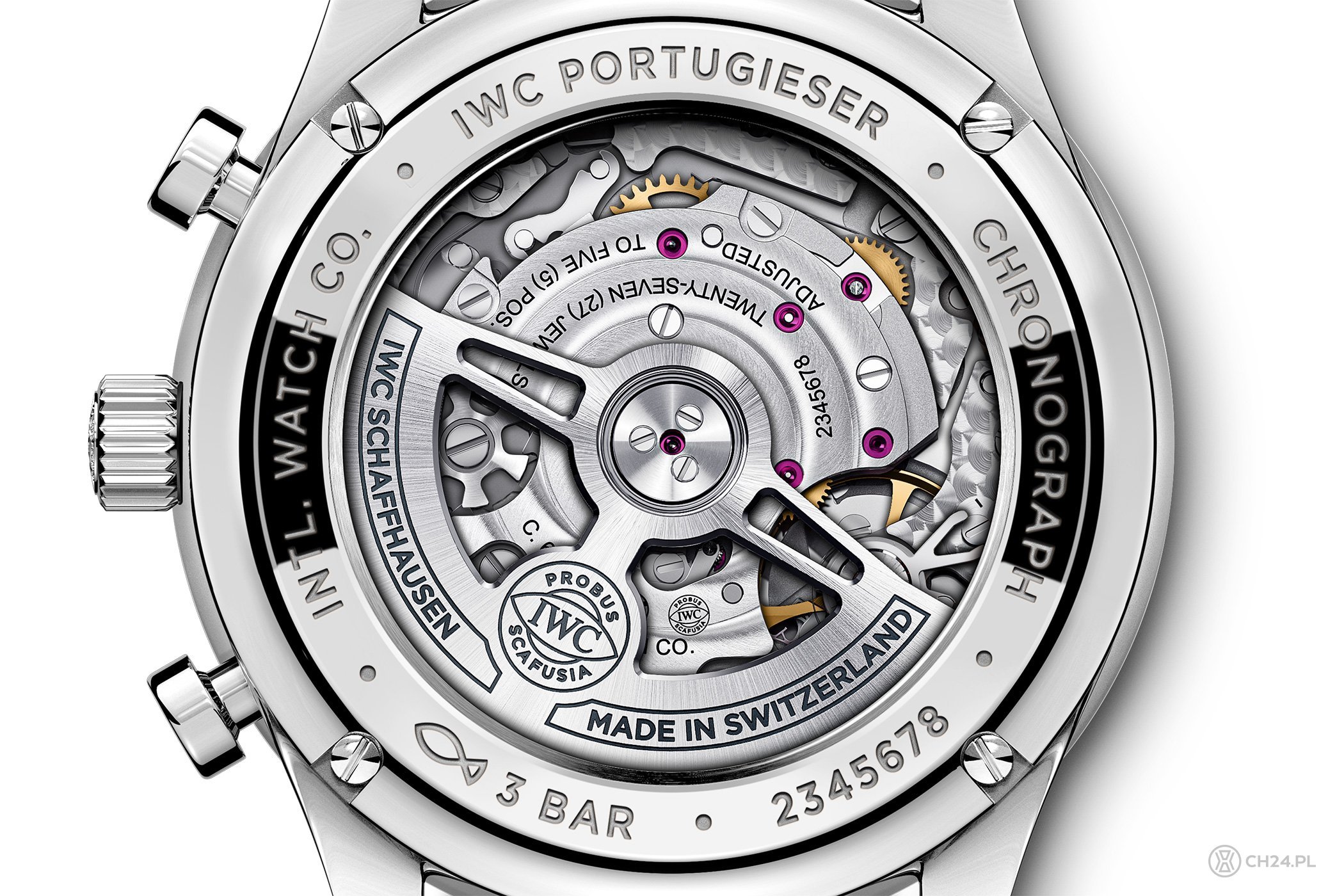 Looking on the 69355 from user perspective it must be said it is a solid, well designed construction, very easy to operate, with a nice, smooth chronograph with a column wheel. I also applaud IWC for using a transparent case back, that gives you a nice look inside the inner workings of the mechanics. And not an ugly mechanics too. You can't expect a variety of watchmaking decorations on a price level of the IWC Portugieser Chronograph, but the manufacture does have it's own very pleasing style. The bridges are adorned with concentric Geneva striping, screws-heads are polished and the base plate decorated with some nice perlage. On top of that there is a semi-skeletonized rotor with some black engravings.
My thoughts
Since I can remember, I've always been a big fan of IWC Portugieser, and especially the Chronograph one. It is by far my favorite complication, and when done right and with some class – very tasty thing too. In theory it is a strictly sporty complication, which in my humble opinion (or, IMHO) does not limit it merely to be used only in sport and sporty timepieces. Perfect example? – the IWC Portugieser Chronograph.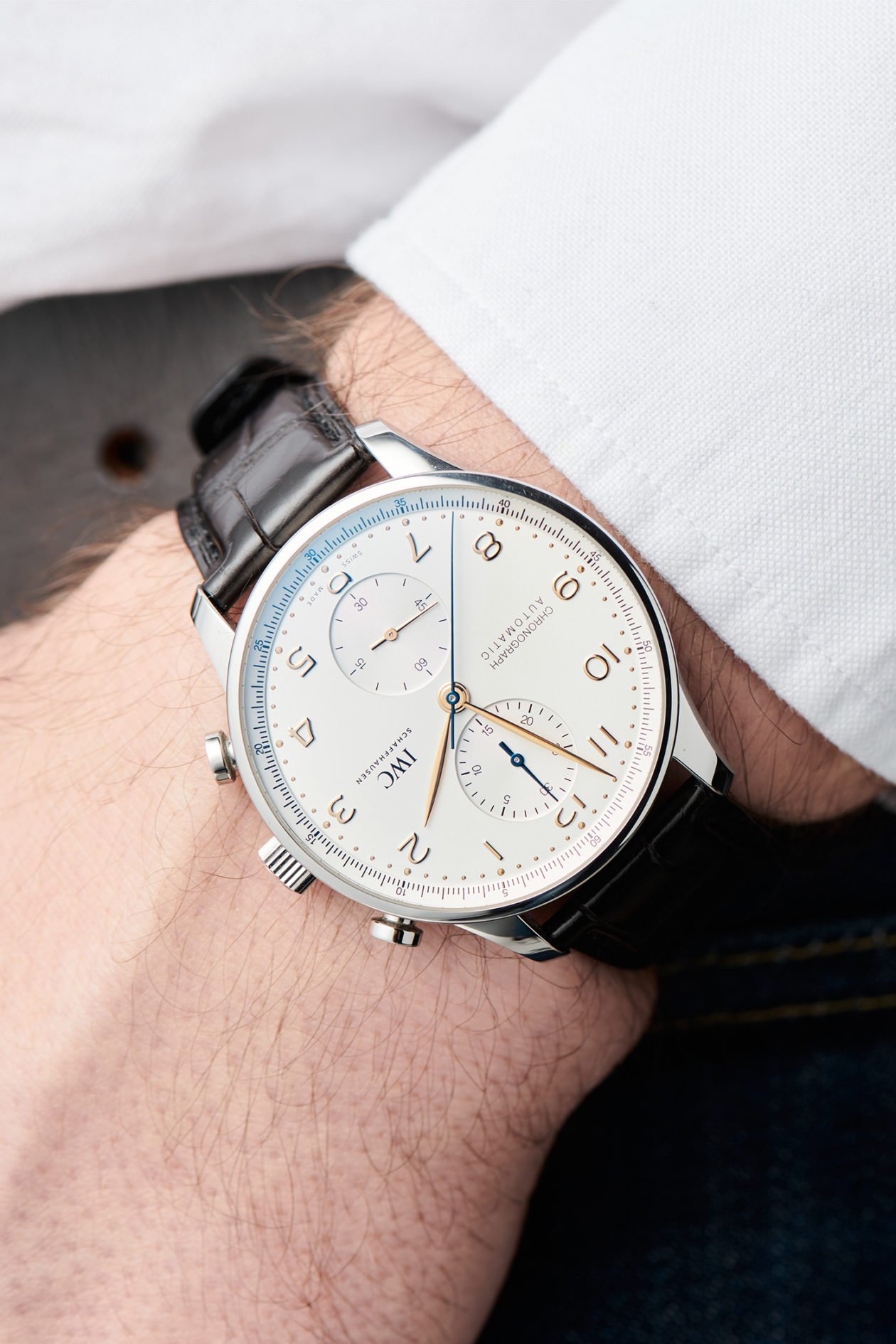 I had a chance to wear the test piece of the Portugieser Chronograph for a few days and it has been the longest period of time I had a pleasure top spend with this watchmaking icon. First impressions? Exactly what I expected – it is an iconic watch for a reason, and for a reason (mostly) unchanged for almost 30 years. All works just right in this project, every element fits and works, making up for a fantastic every-day wearer, for less and more formal opportunities. A piece will set you back a reasonable 8 850 EUR.
In its newest iteration the Portugieser – despite gaining an 0.1 mm in diameter and 0.4 mm in thickness – wears just perfectly nice and comfy, and will do so on every other wrist. The case lug-to-lug is 47 mm, which is more than fit for even smallest of wrists. Profiled, slightly bended lugs contribute to the comfort. It comes equipped with a fold-over butterfly clasp, signed with a Probus Scafusia logo. Only minor drawback is there's no safety buttons, so one needs to pull it rather hardly to unbuckle.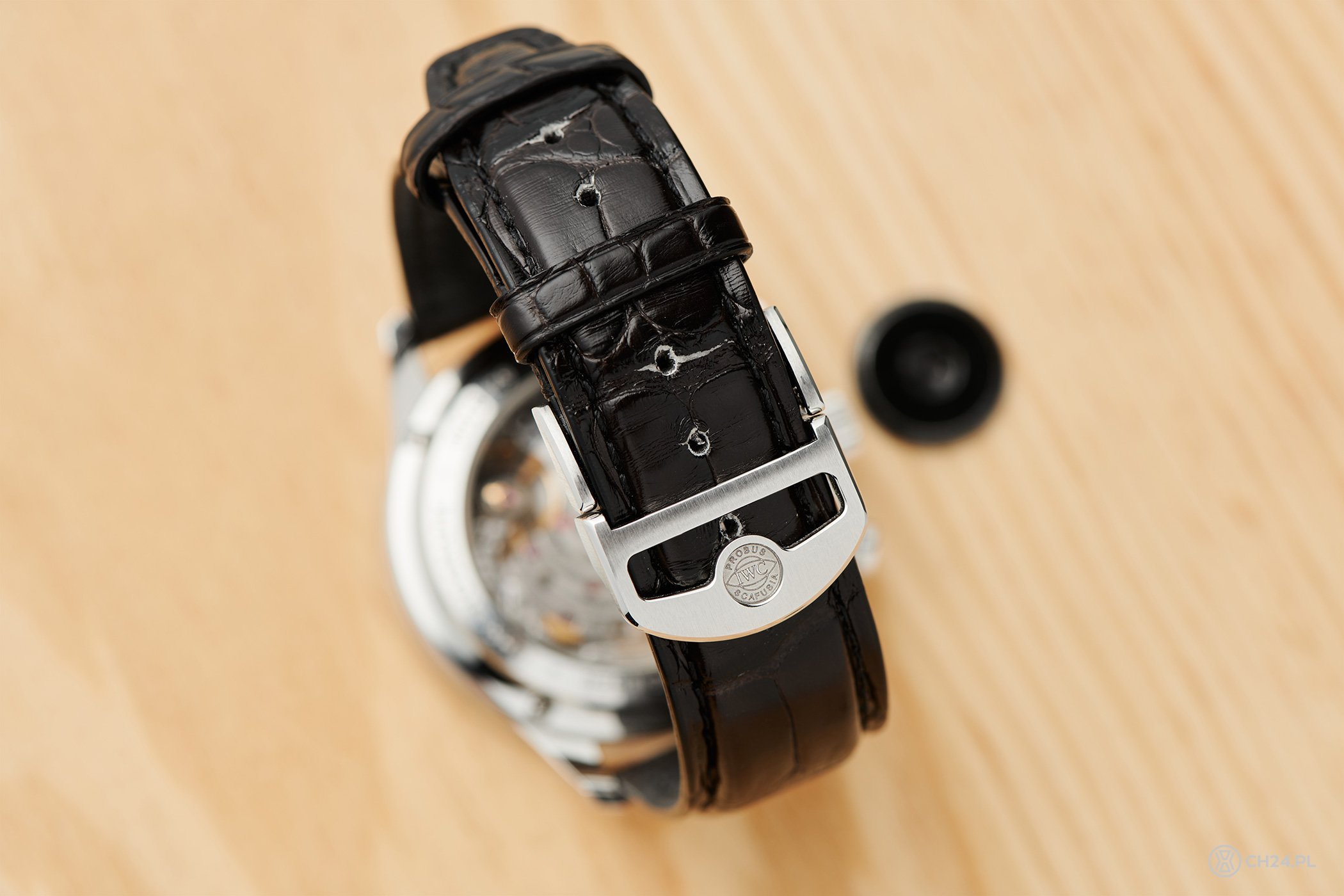 And the dial option? It is all a matter of taste of course, but I find the original, silver one with a touch of gold and blue the most appealing one, both elegant and casually smart at the same time. If I were to categorize IWC Portugieser Chronograph, I would create an all-new category – a smart/casual timepiece. And please IWC – never be tempted to change it!
PS. If you would like to look at the Portugieser as a sporty watch, there is a solid metal bracelet option, released some time ago.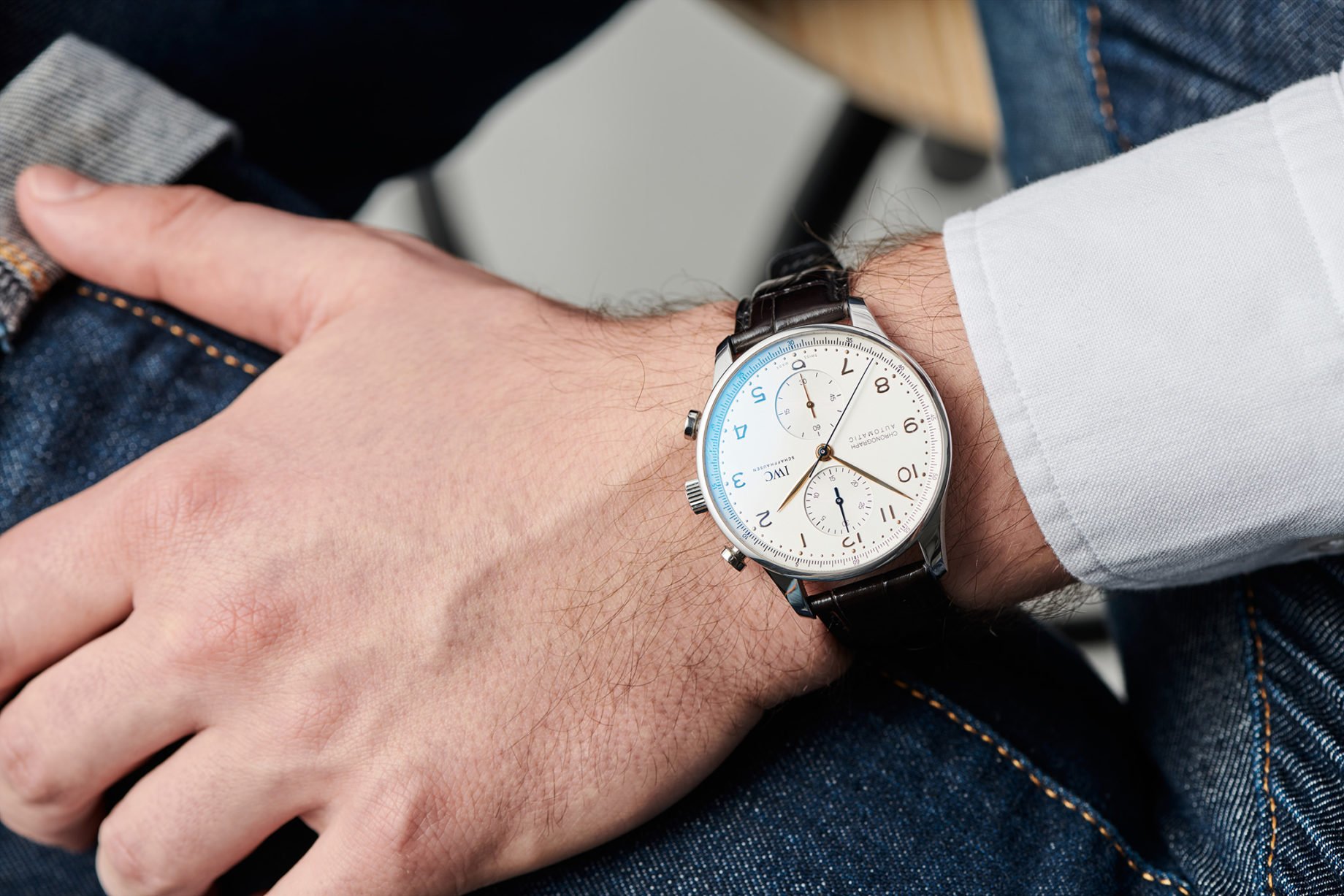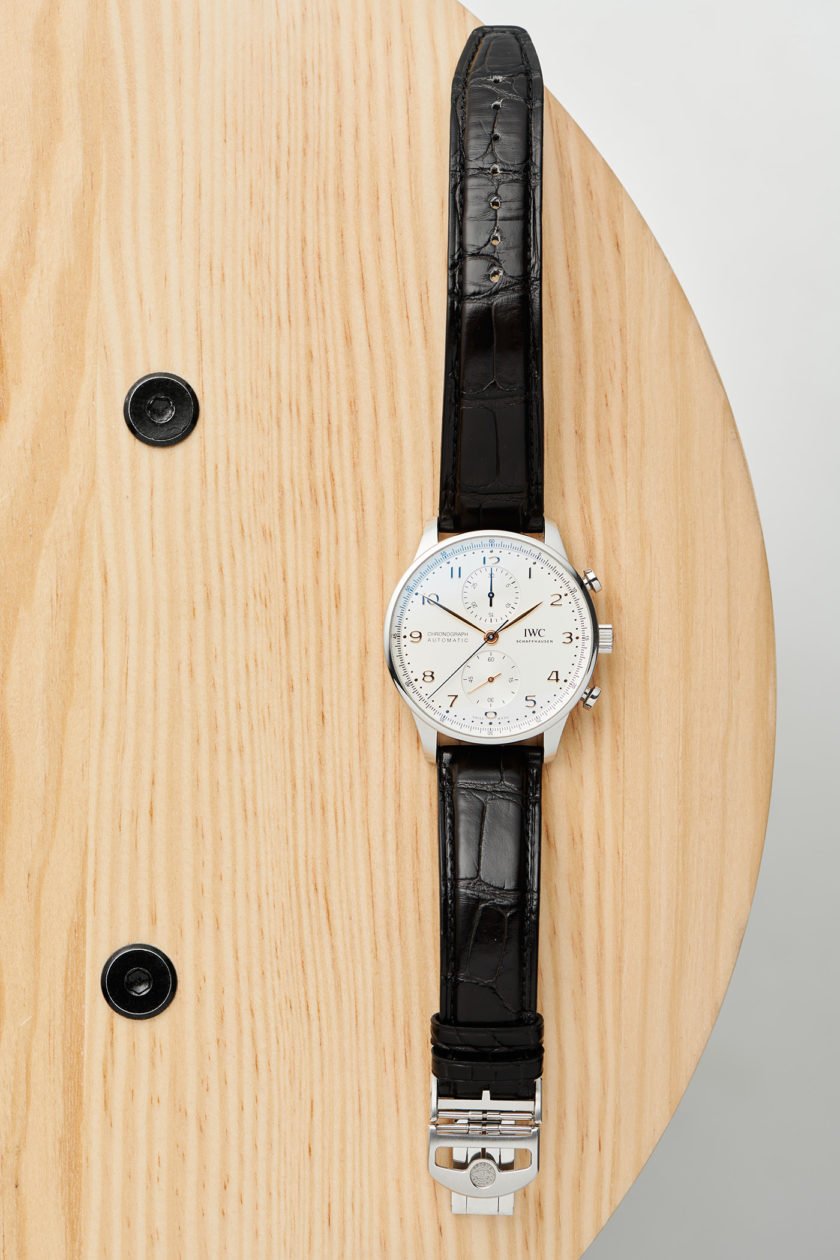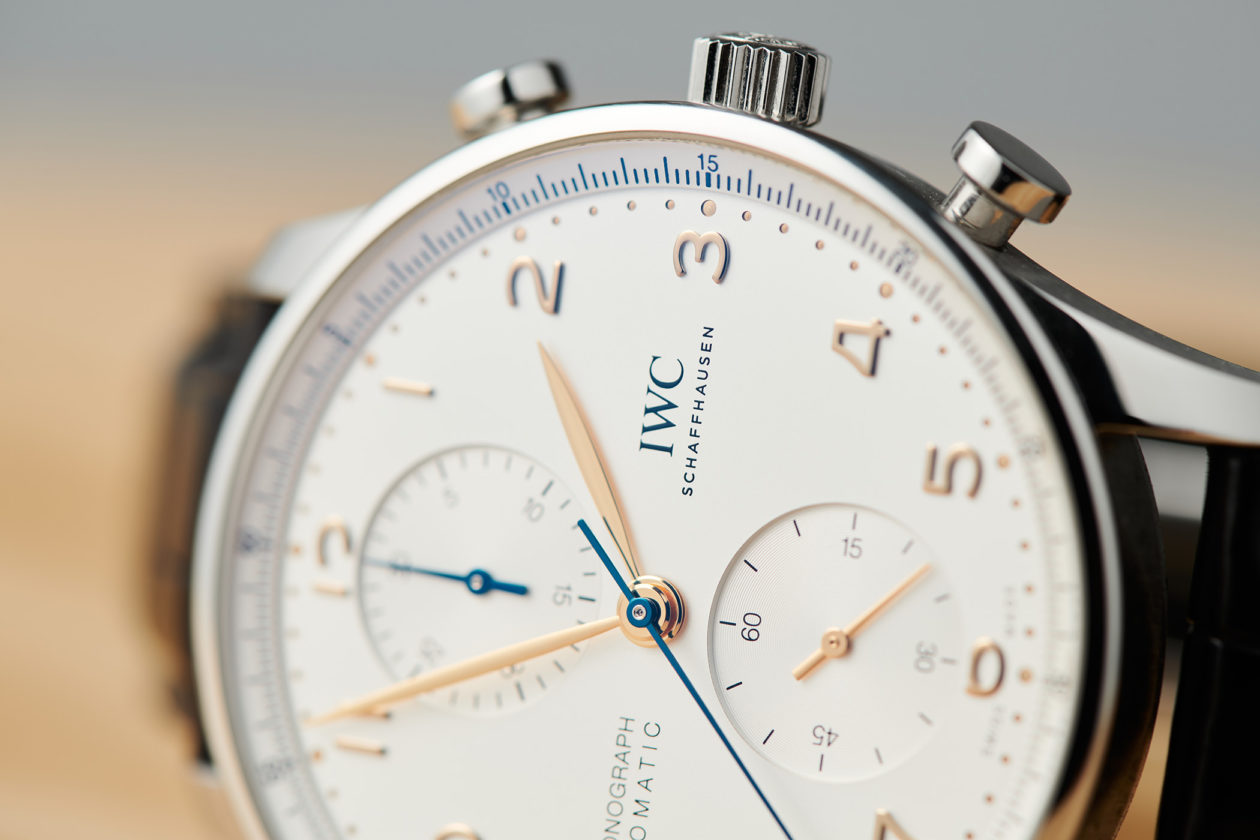 Test watch provided by IWC Schaffhausen.