Review

Longines Legend Diver – Poland Limited Edition [live photo, availability, price]

Essentially sporty steel Legend Diver watch turns to a real prince charming when dressed in full rose gold. The cherry on the cake however is the limitation, made exclusively for the Polish market!
Luxury must be comfortable, otherwise it is not luxury

Coco Chanel
I often wonder what is the true power of vintage watches, so that it's so loved buy almost every watch afficionado out there. There are probably a few good reasons, led by timelessness of design and history, which is of very high importance in the world of watches. Because of all that vintage tends to transmit into modern watchmaking, inspired by or in a form of re-editions. Such new watch combines all the perks of a vintage watch but made in modern way, without all the quality issues and the so called "patina". Among all the swiss watchmakers one that masters the Heritage game is Longines. Located in a picturesque village of St. Imier, Longines produces wide variety of different watches but it's the Heritage line that draws all the collectors, even those with quite a refined taste and experience. Those are hard to please, but the way Longines re-edited the past makes it hard not to pay attention.
All the inspirations that fuels Heritage collection can be found under one roof, in the specious home of the manufacture and it's museum, housing probably all the historical pieces that shaped the brand. One by one they are taken out of the archives to be transformed to modern versions, fateful to the original but contemporary in accordance to times. Longines never disappoints with the Heritage. Diverse lineup of watches presented over the years could easily make for a great, complete collection. For me however number 1 position in the Heritage line still belongs to the watch, that was presented over a decade ago – the Legend Diver.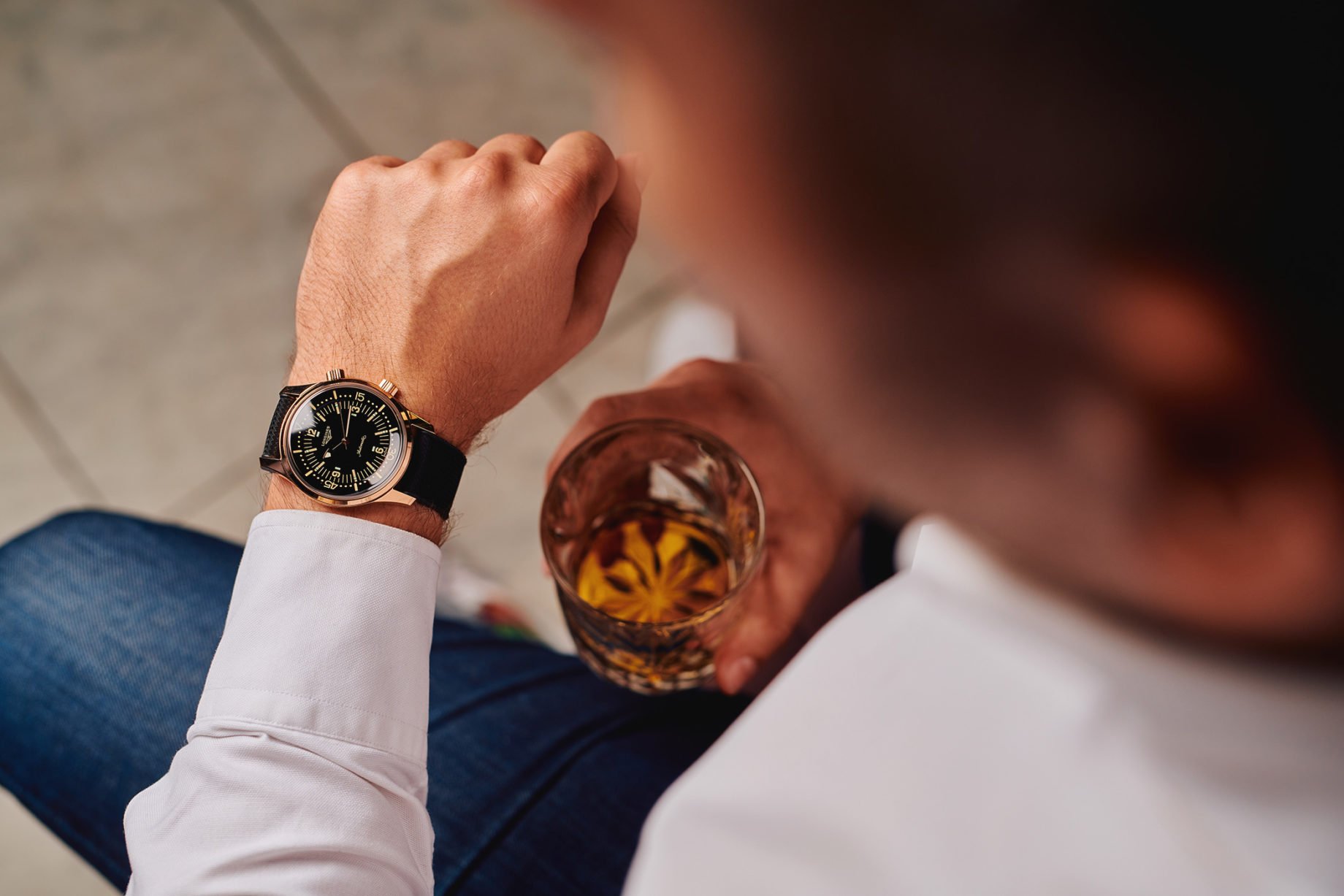 Piece of history
The watch that started it all – reference 7042 – left St. Imier manufactory in the early 1960s. According to the trends back there, it was a large watch in a Super-compressor case, with two crowns on the right side and high water resistance. Diving and decompression times could both be determined by the inner turning bezel, set with one of the crowns. Simple time display was highly readable thanks to the black dial with some luminova, glowing in the dark. The original Legend Diver watches are today a highly sought-after items, rare on the secondary market.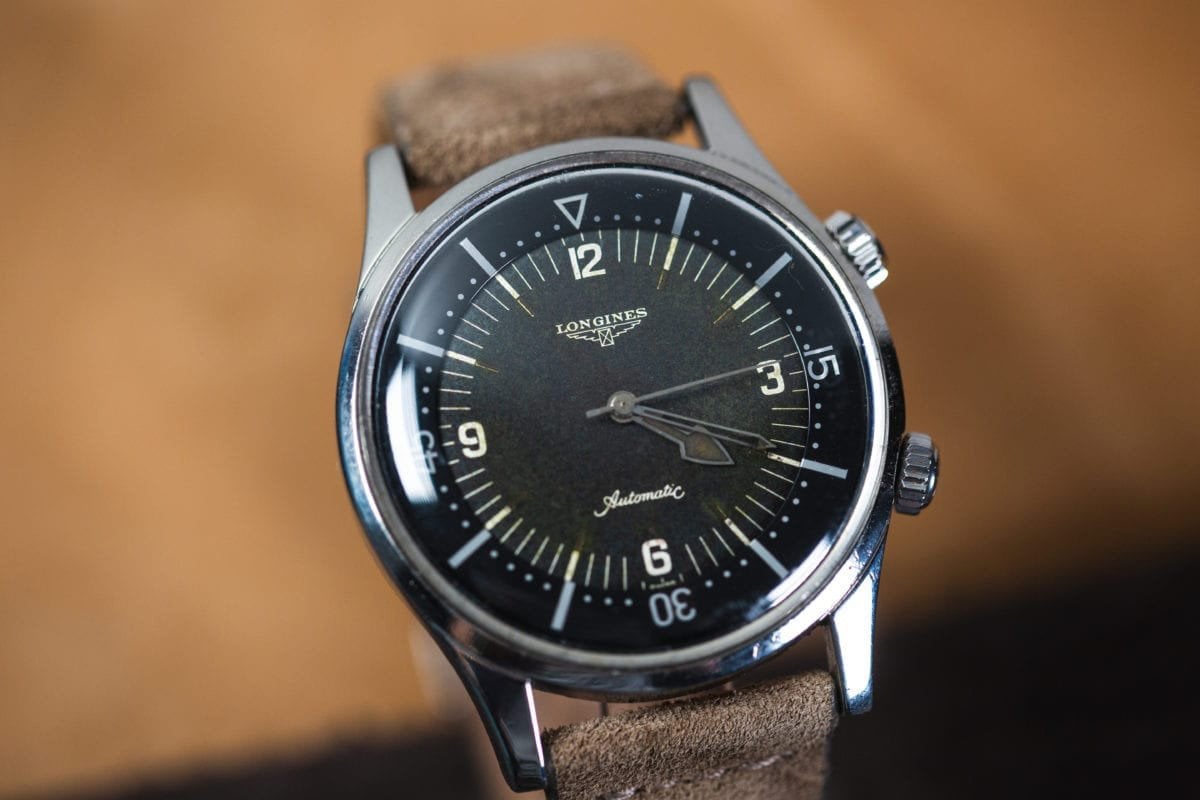 Those who loved the original LD watch were quite surprised by Longines in 2007, when the brand decided to revamp the iconic diver. Accidently it turned out to be one of the hottest new pieces that year. Although CH24 was not created for another 2 years, I vividly remember high demand for the piece, in both it's original versions: with and without date. Non-date model was gone quite quickly, but the date version, produced to this very day, soon became on of the neo-vintage hits, especially with its reasonable price tag.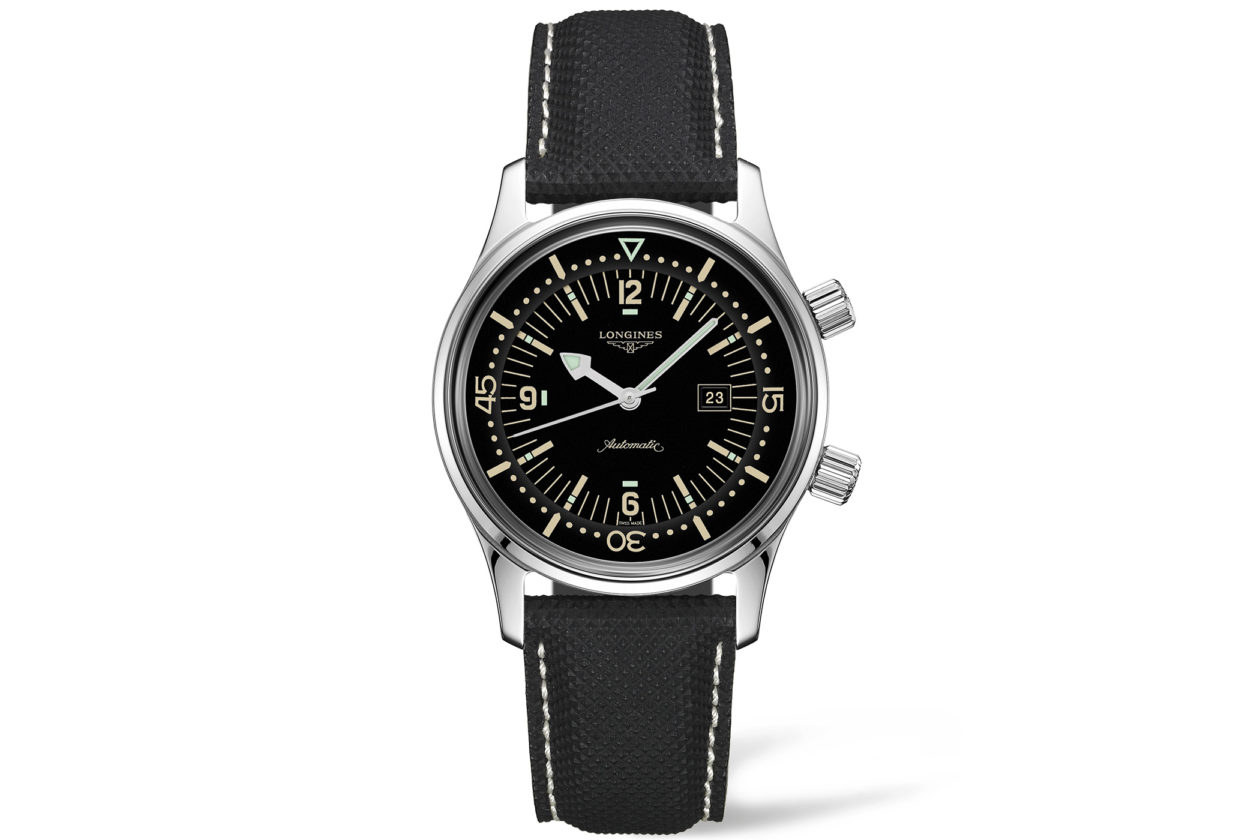 Modern Legend Diver, quite faithful to its predecessor, has the same 42 mm case made of stainless steel with long, tapered lugs. It grew a bit in thickness (cause of the modern, automatic movement inside) and a plastic glass was replaced with sapphire one, with antireflective coating. Both of the patterned crowns are now screwed-down. Water resistance stands at 300 m (1000 feet) and from the back the case is closed with a solid caseback with embossed diver in full aqualung gear – exactly like 60 years ago.
In so called mean-time Longines released a luxury version of the watch. Pink gold LD has been made for only 3 years and went by rather quietly, despite even the big screen appearance. And no any silver screen it was. Gold Legend Diver appeared on the wrist of James Bond's adversary – Patrice – in "Skyfall". It was also last year for the gold version… up until now.
---
Longines LD Poland Limited Edition
There is some very unusual emotion when unboxing a brand new watch. Excitement mixes with satisfaction of making the right choice and adding to the collection. We can only imagine the excitement of opening big, brown wooden case with a leather-embossed Longines logo, especially when you see that golden plaque with "Poland Limited Edition" (we're Polish, so you understand). As a result of great trust and cooperation, Longines and its Polish branch created a dedicated, limited edition Legend Diver.
The Longines Legend Diver – Poland Limited Edition is made out of solid, 18ct rose gold. Fully polished case has two gold crowns, gold bezel on top and a gold back. It is on the caseback that you can find the only information about the nature of the edition, engraved around the gold diver medallion. Luckily enough Longines restrained from creating overly ornamented personalization, so the glossy black dial has been kept clean. The date's also missing, to the joy of watch purists out there, appreciated an uninterrupted symmetry. Hands are golden, with some luminova placed also on the dial markings.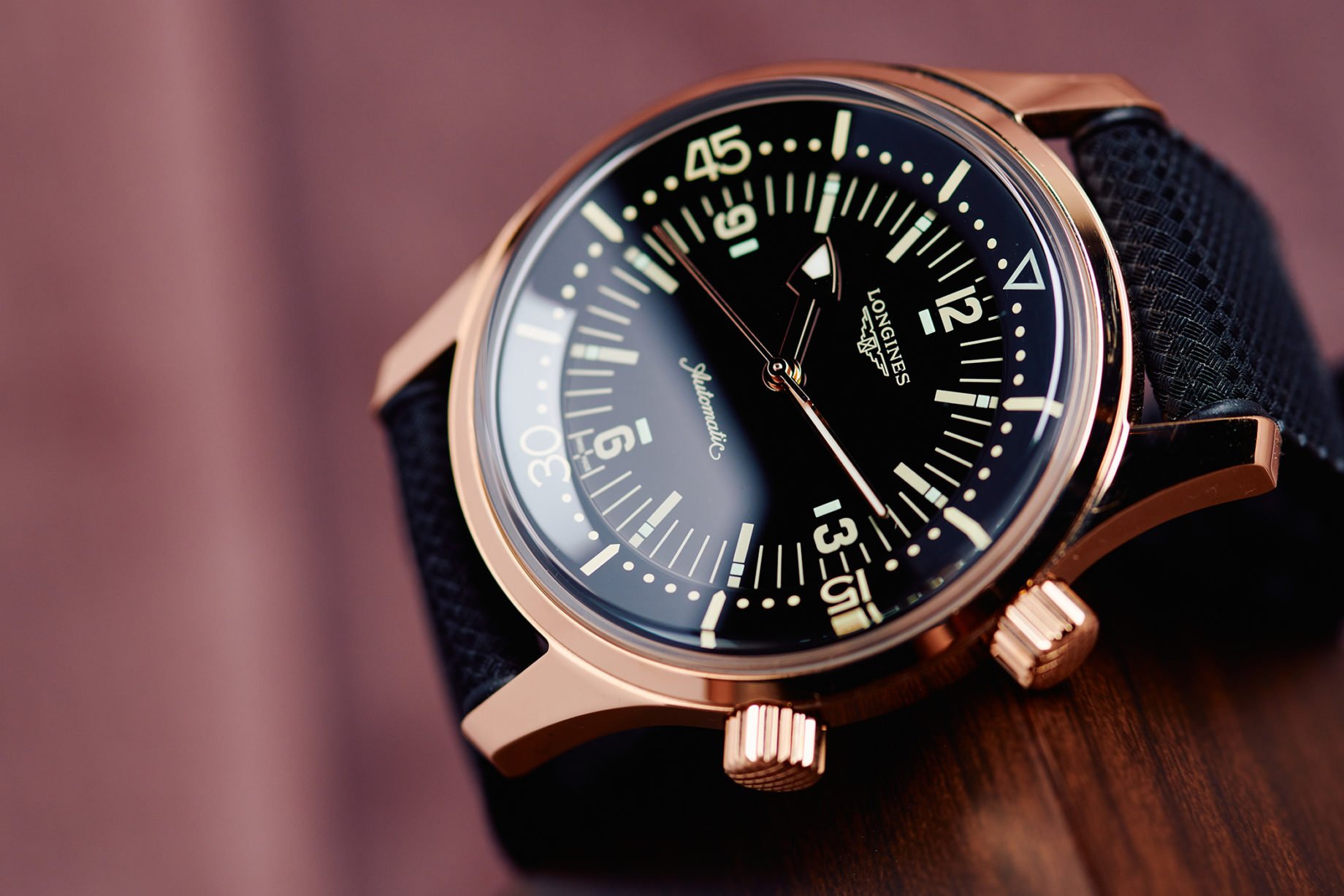 From the technical standpoint Legend Diver Poland LE is similar to the regular, steel version of the watch. Case measures 42 mm in dimatere, 13,6 mm in thickness, has a sapphire doomed glass, 300 m of WR and an automatic caliber L888.2 (ETA A31.L01) with an adequate 64 h of power reserve.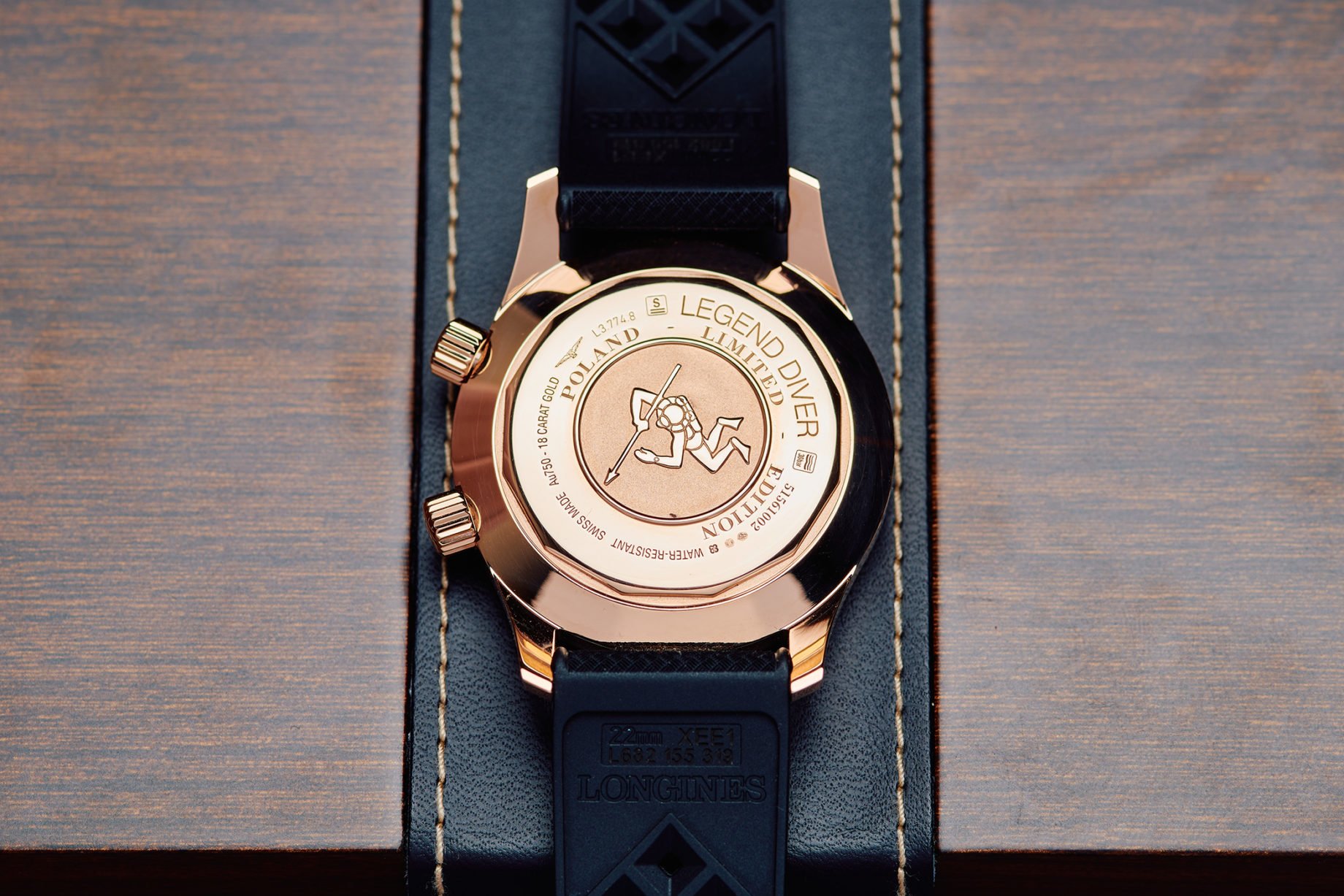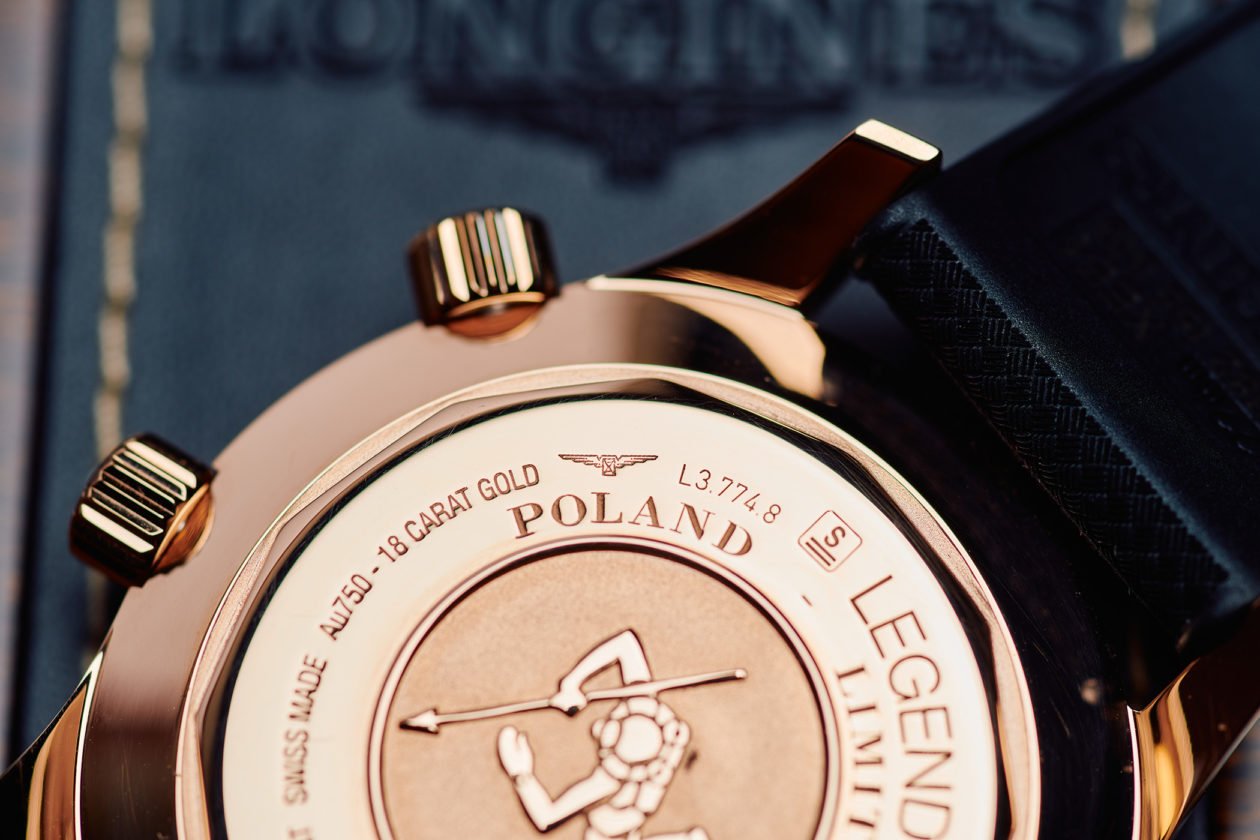 There will be a limited, rather small number of timepieces made – only 63 happy collectors will have a chance to wear the watch. 63 in honor of the year a particular Legend Diver reference that inspired the re-editon was made. The watch comes equipped with a fitting black rubber "tropic" strap. In the box there is also a grey alligator leather strap and a tool, that allows one to quickly change character of the piece, from quite sporty to elegant, perfect for an evening dinner at a restaurant or a glass of Single Malt at a bar. Both traps come with simple tongue buckles, PVD coated in rose gold color.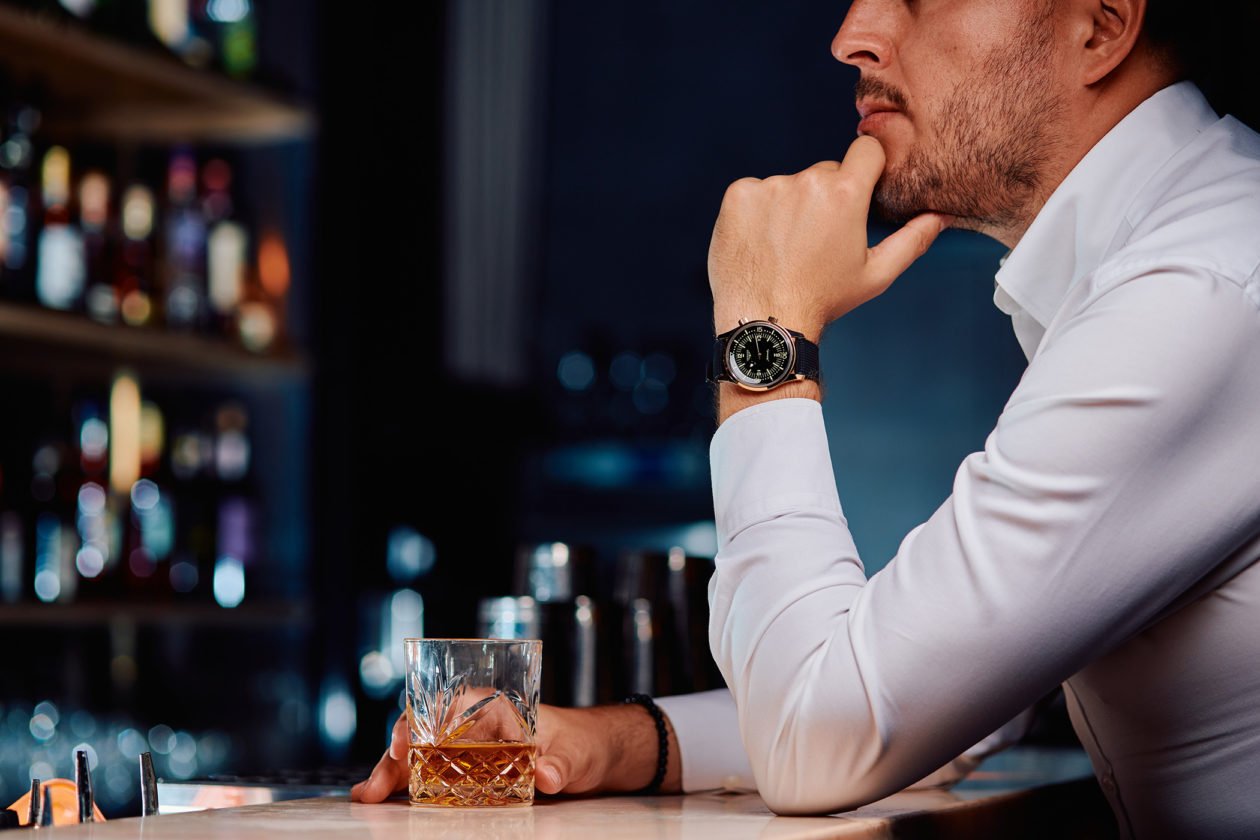 CH24.PL is a an official media patron of The Longines Legend Diver – Poland Limited Edition.
We absolutely love watches here at CH24, so when we learned about the project, we were more then proud to become it's official media patron. Poland is still quite a small market for watches so we are even more happy with a great relationship that Longines has with Longines Poland. We take the Legend Diver – Poland Limited Edition as a token of appreciation former brand's CEO Walter von Känel and present CEO Matthias Breschan have for our country. Longines is on of the strongest and most respected brand here, with a long tradition and recognition. A beautiful, gold watch proves that right, and 63 lucky owners will have a chance to wear it on their wrist. Price is 43 590 PLN (~9 600 EUR). Available right away in selected Longines retailers in Poland only. For more information email us at [email protected]
---
---