Review

Montblanc 1858 Monopusher Bronze [live photos, price]

In its brand new watch Montblanc combined a rare monopusher chronograph with a bronze case. We checked, how does this combination works in daily life.

I begin every next article about Montblanc watch with the same statement that the brand has established its position among people mainly as a quality maker of writing instruments and leather goods, not timepieces. It's hard to argue with that, since most of you think about Maisterstück pen or a wallet, when hearing word "Montblanc" spoken out loud. It was only back in 1997 when the brand introduced first watches to the portfolio – and because they were quite simple and insignificant, they got lost in vast crowds of competition. Significant change arrived a decade later, when the Richemont Group (Montblanc owner) acquired the Minerva manufacture, artisan maker of high quality mechanical movements. Minerva has been re-introduced under Montblanc, with some of brand's watches now equipped with high-end movements made in Villeret. That move helped Montblanc come out of the shadow and into the awareness of an average collector and watch media. Unfortunately that did not change whole lot, since customers still preferred a more well know, watch-established logo on the dial of their wrist companion. Another solution to the trouble came in a personal form – an introduction of Davide Cerrato as a head designer of Montblanc watches department. Cerrato, former Tudor chief of design, introduced number of significant changes to the collection, creating a more coherent, characteristic lineup. The 1858 collection, named as such for the year Minerva was found, presents a quite sporty watches with retro, century-old styling. One of those pieces landed on our test bench.
1858
Just over a year ago we had pleasure to test the first 1858 Chronograph. The new pieces draws a lot from those design cues, including a round, classic shape of the 42 mm case with 22 mm lugs and a slightly thicker case, coming at 14,7 mm.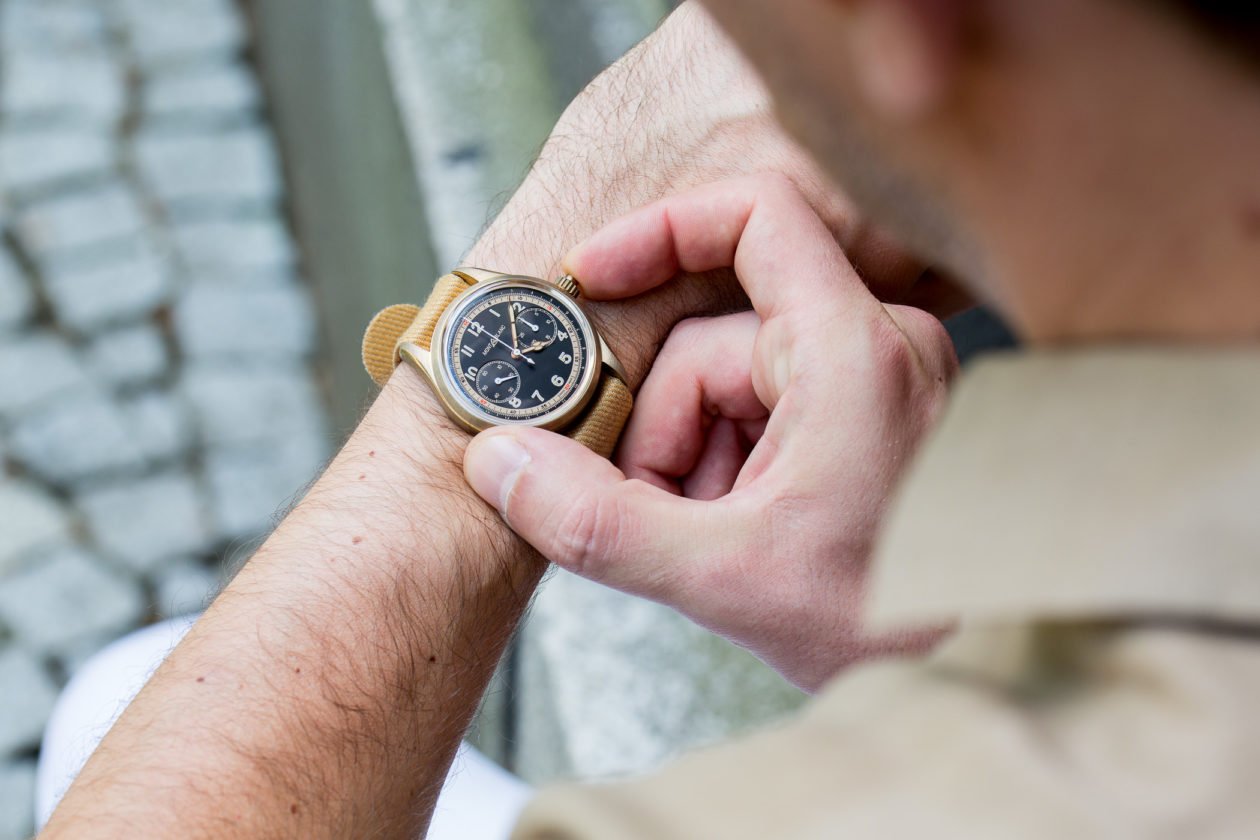 If you're somewhat interested in watches you already know, that a monopusher chronograph is a stop-watch operated by one push-piece only. When you press it the chronograph first starts, then stops and eventually resets to zero – all with the same button. 1858 Monopusher Chronograph has the pusher integrated in the crown at 3 o'clock while maintaining a 100 m water resistance.
Design
I had a pleasure to wear the Montblanc for a few weeks. It happened so it was warm, sunny summer time that called for a summer, casual attire. Surprisingly each time I strapped it on my wrist, safari vibe came to mind. That could be because of the color scheme – there's a lot of ecru used on the telemetre scale, seconds chapter ring, both sub-dials (30 minutes counter and small second) and a vintage Montblanc logo. Similar beige colored luminova is applied on the cathedral hands and indices. It is however one of the weaker sides of the watch – the luminescent material is not very bright nor long-lasting. Luckily enough, at nights I… usually am asleep. Other then that small glitch design of the dial is just great. Small red details add some life and white hands against black background ensure perfect readability, both in terms of reading time and stop-watch.
The piece we reviewed was delivered on a beige NATO strap (there is also an option of leather and metal "bor" bracelet"). It's worth mentioning, that it is not a typical NATO, that goes freely under the spring bars. This one is attached more like a regular strap, so you need a tool to change it. I have a small wrist, so when buckling on one of the last available holes, I had part of the strap dangling on one end. As common to a nylon strap, this one wore great and comfortably, pinned to the wrist with a wide steel buckle covered in bronze layer, signed with Montblanc logo.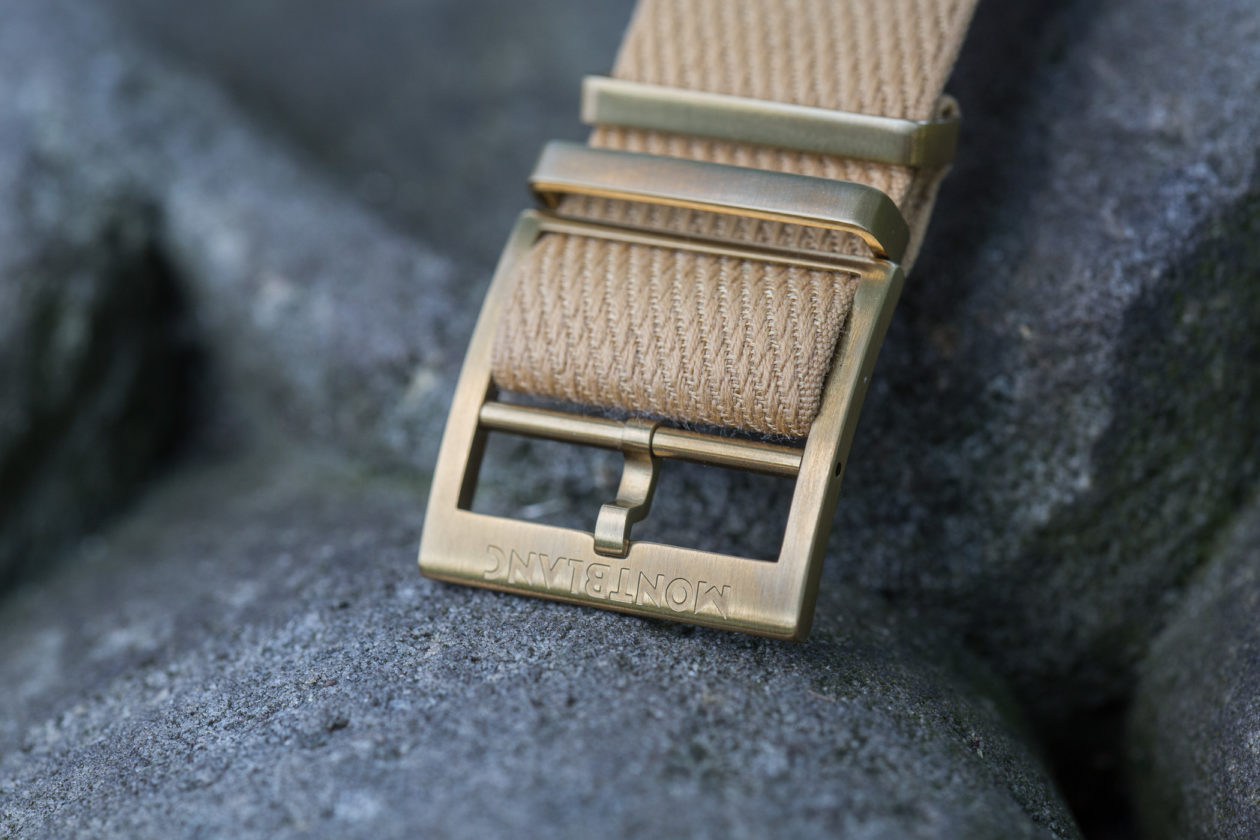 When you take the strap off, an engraved, solid caseback with an image of mount Montblanc comes to light. It protects an MB 25.12 caliber inside, a Sellita based automatic movement. Providing 48 h of power reserve, the engine ticks with 4 Hz and provides quite good timekeeping, within reasonable margin of few seconds a day.
Conclusion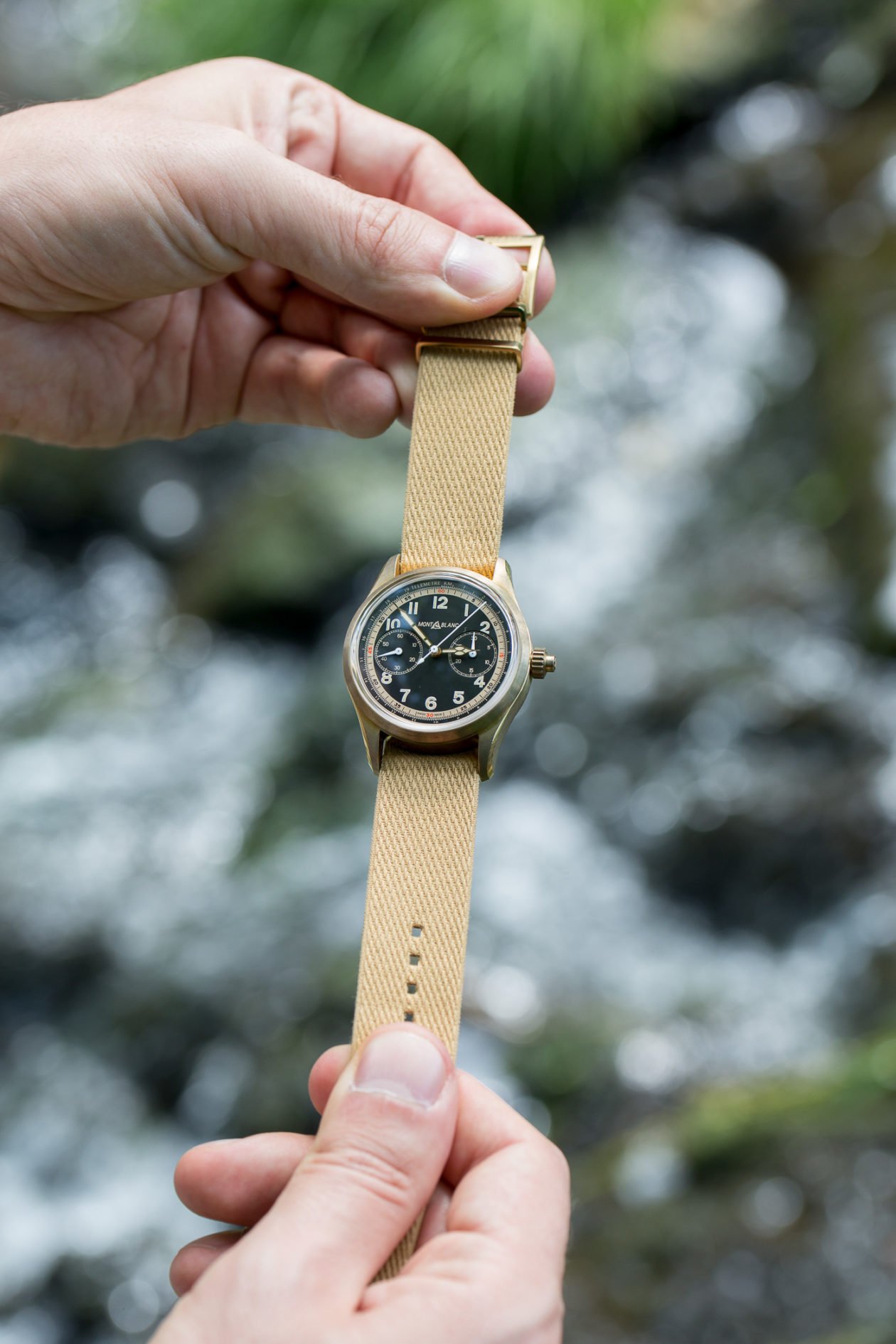 In fact a monopusher chronograph is quite a rarity, and if I was to name brands using this type out of the top of my head, Vacheron Constantin, IWC, Longines and Montblanc come to mind. When you dig a bit deeper, there are some more, but still quite a low number. When you consider a monopusher and a bronze case, I can't think of any other then the 1858 Monopusher Chrono by MB. When you take the 5 100 EUR price tag, it's an offer hard to dismiss.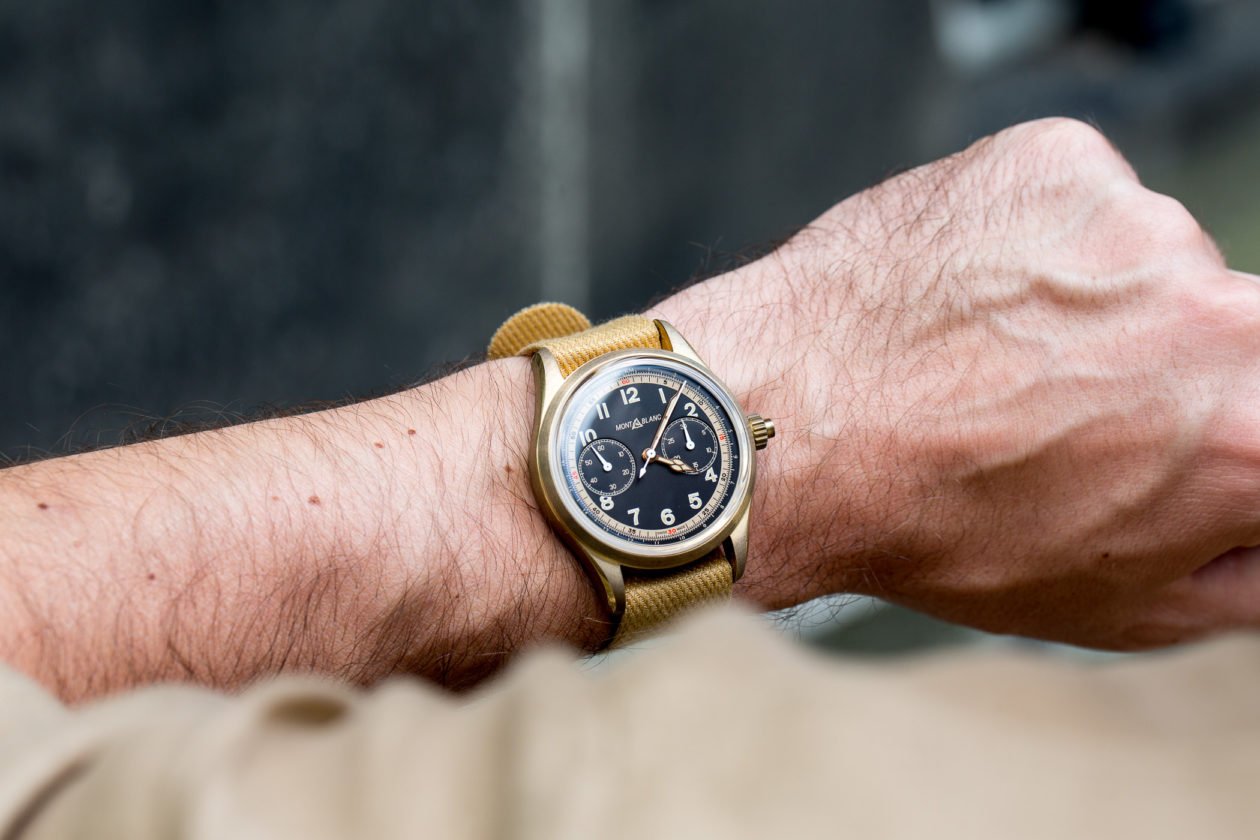 But who might be the target customer for the 1858 Monopusher? I find it highly unlikely for it to be someone's first watch choice. When you're buying a watch for over 5k, you probably lean towards a more recognisable brand and a more typical type of timepiece. However when you already own a solid collection of a couple of different watches, this might turn out to be a very interesting option. It stands out in term of design, it is well made, does not copy anything else and introduces an interesting complication housed in a case of quite a trendy material. And when speaking about that trendy material – bronze – it took only a few days for the watch to cover with a layer of patina. Bronze "lives" with you, and when touched with water, sweat or even air it will change and gain a unique personality. When you take proper care of it, it might be one of your closest, personal pieces. I certainly will remember my time with the 1858 Monopusher Chronograph by Montblanc fondly.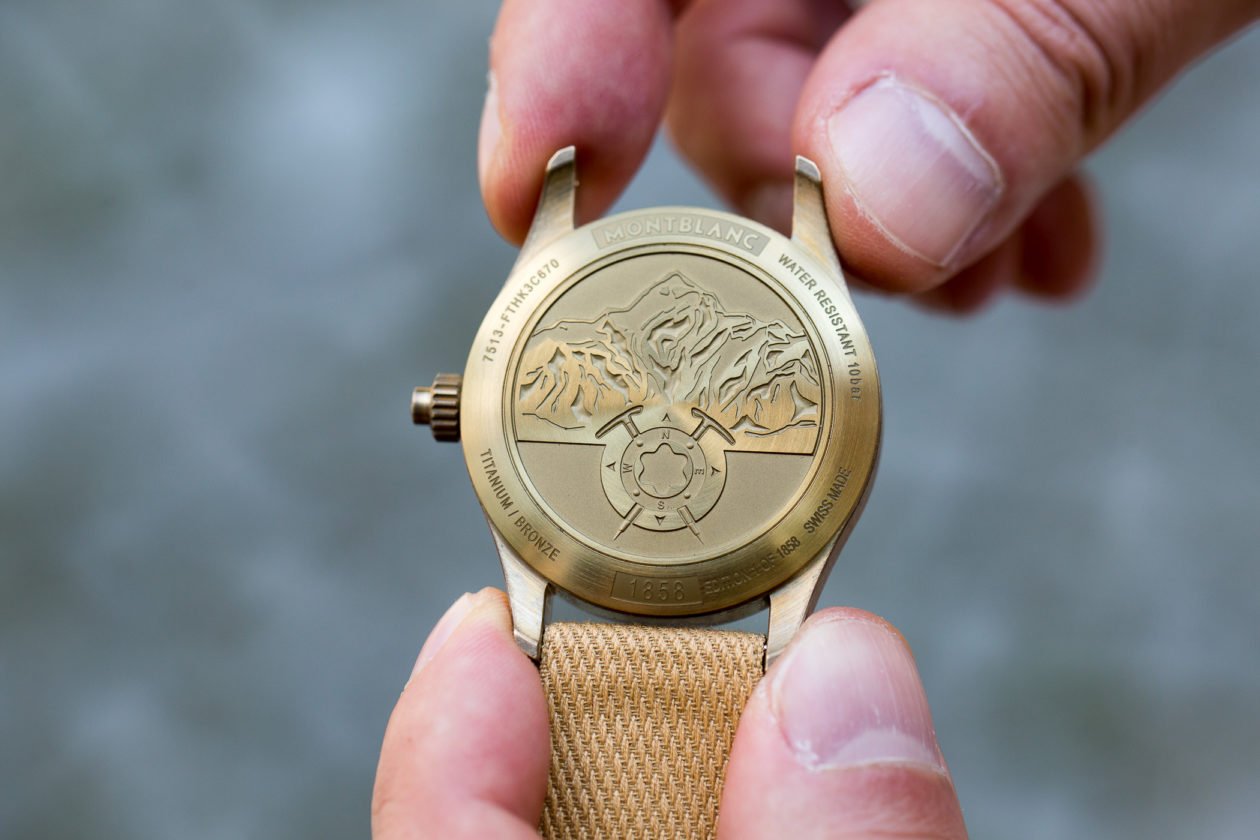 Watch provided for testing by Noble Place, Montblanc distributor in Poland.