Review

Oris Aquis Date Calibre 400 [live photos, price]

Aquis Date Calibre 400 is Oris premier watch powered by the new manufacture movement, that was 5 years in the making. The caliber comes with number of upgrades and a higher price. We check, if it's a smart buy.

Although since the middle of the 80's Oris offers only mechanical timepieces, they rarely come with a proprietary movement, instead using mostly Swiss Made of-the-shelf calibers, mainly from Sellita. That allowed Oris to keep the price low, maintain production and reliability, not to mention easy servicing, if needed. But it wasn't always like that. Couple of decades ago Oris had over 200 in-house calibers, that for economical reasons nowadays are made rather scarcely, for very special occasions. In 2014, for the brand's 110th birthday, Holstein based Oris perpetuated a caliber 110 with a hefty 10 days power reserve. Developed and enhanced through next years, it should be treated as more of a curiosity and sort of a show-of-power, that mostly because of its high price never gained mass popularity. Oris still lacked a proprietary base movement that would also allow to keep the price almost unchanged. It all happened at the end of 2020, when caliber 400 has been introduced – a brand new, automatic, base movement as it should be.

It came as quite a surprise to see Oris with its own, automatic caliber, for the journalists and clients alike. Young and vigorous Rolf Studer, a man co-running the company already for some time, is no short of surprises, but they never went that far, usually focusing on esthetical details. Studer, a co-CEO with an open mind, wide smile and positive attitude, reinvigorated Oris with interesting projects, some new styling and smart strategy, that allows the company to grow while still being fully independent. To put it shortly – Oris owes the man a lot.
Calibre 400
We usually start our reviews with the outside of a watch, but this time it is the movement that plays the leading role, so let's look at it first.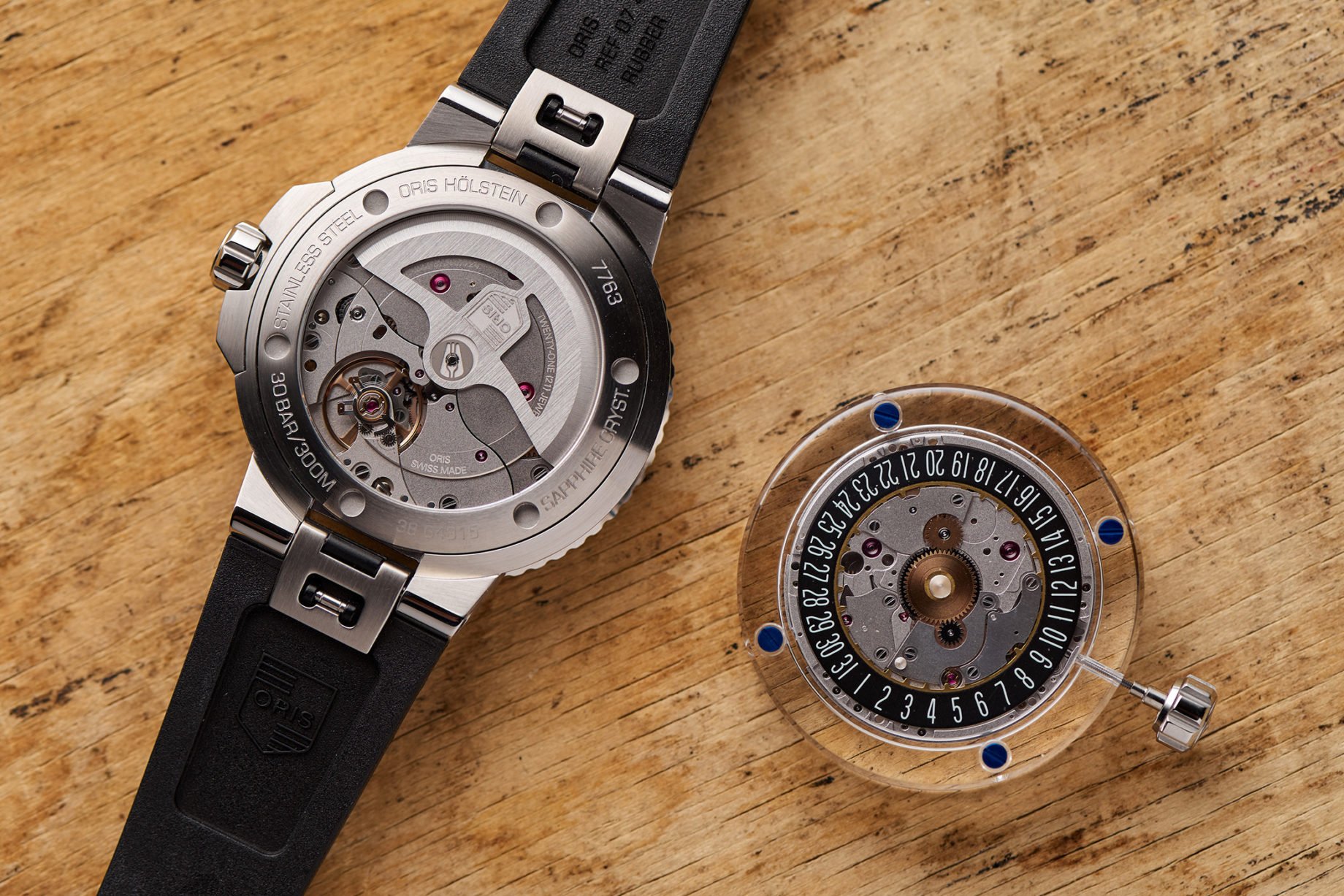 According to Oris, it took them 5 long years to fully develop and execute caliber 400. Constructed of 135 components, it comes with two mainspring barrels, accumulating energy sufficient for 5 days. Barrels can be charged via the crown or with automatic winding, provided by semi-openworked rotor. It's worth mentioning here, that new movement enhances the warranty on a watch to 10 years – all one has to do is register the watch on the official website, under "MyOris" tab. Oris also point out a water resistance test is required after 5 years, with optional gaskets change. Fully maintenance however should be done after a full decade.
Calibre 400 is COSC chronometer certified, but on top of that each piece undergoes a number of additional tests, including accuracy test in 5 positions. Average daily rate should not exceed – 3 / + 5 s a day (compared to – 4 / + 6 by COSC). While I'm not particularly keen on atomic precision, I did run a small test. The watch performed within 2 to 3 seconds a day, on average.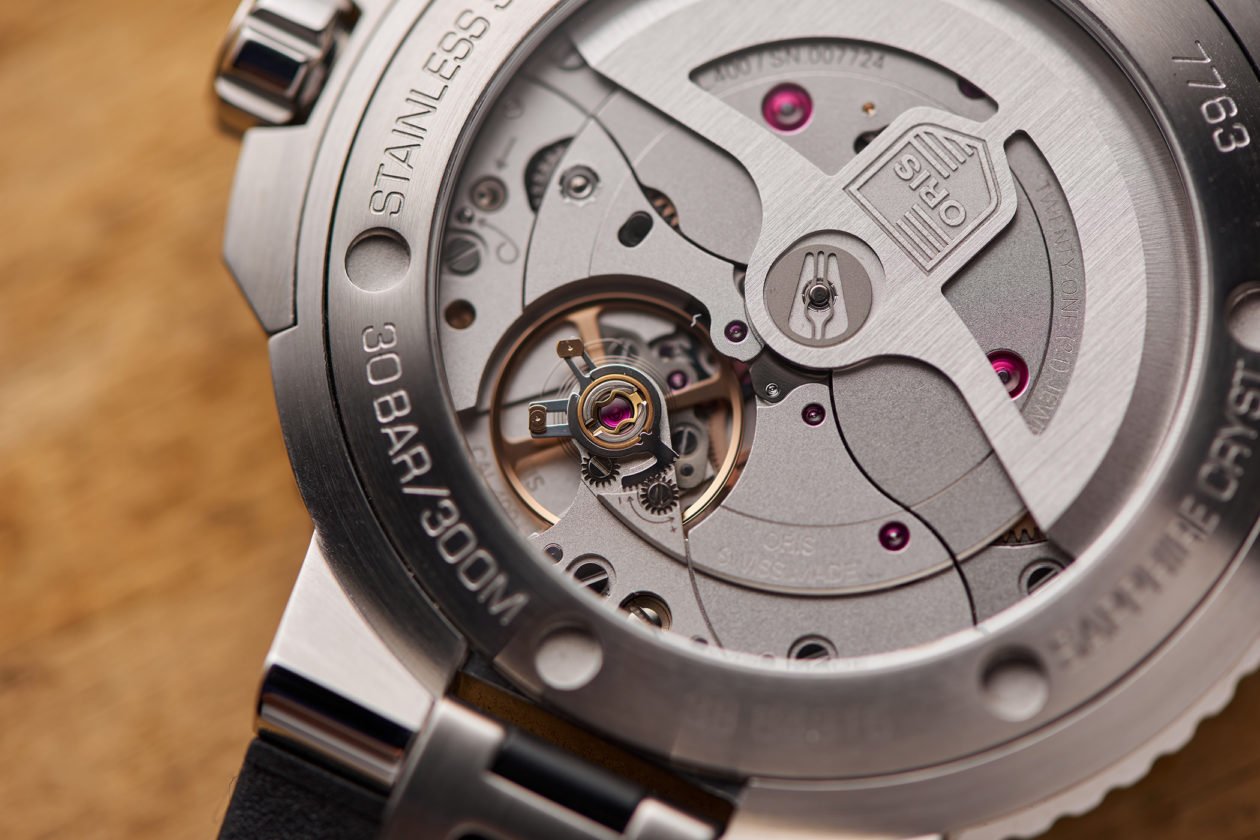 The dimensions come at 30 mm in diameter and 4,75 mm in thickness. It ticks at 4 Hz. As much as the idea and the overall design is fully in-house, Oris like many other the companies has no capabilities to build it itself, so uses outside suppliers.
Talking about caliber 400 we can't forget the anti-magnetic properties. About 30 different parts have been made from magnetic-resistant alloys. During vigorous test the 400 has been put under influence of a magnetic field of 2250 Gauss, which resulted in a deviation of around 10 s a day. ISO 746 standard states, that a watch can be called anti-magnetic if it runs under 30 s a day in 200 Gauss magnetic field. Suffice to say, Oris movement is more than entitled.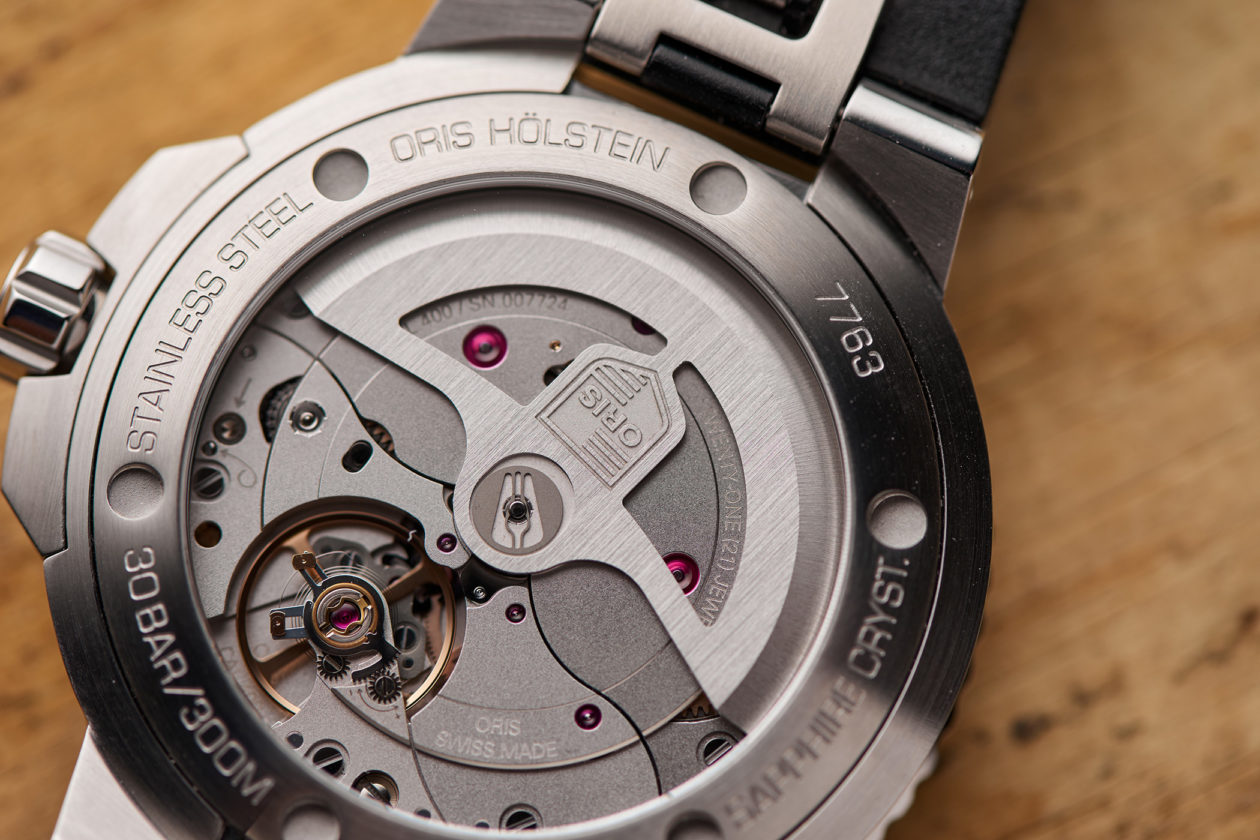 Ok then – so we have a 5 days power reserve, a 10 years warranty, magnetic resistance and timekeeping well within COSC standards. Are there any drawbacks? One thing surprised me. When you pull out the crown to set time and then push it back, minutes hand tends to randomly jump forwards or backwards a few minutes, making it hard to be precise. Oris claims officially, that it is nature of the movement construction, and that it happens to plenty other mechanisms on the market. A solution is to set the correct time and then move the crown ever so slightly both directions. That in turns make all the wheels engage and – problem solved.
Why Aquis?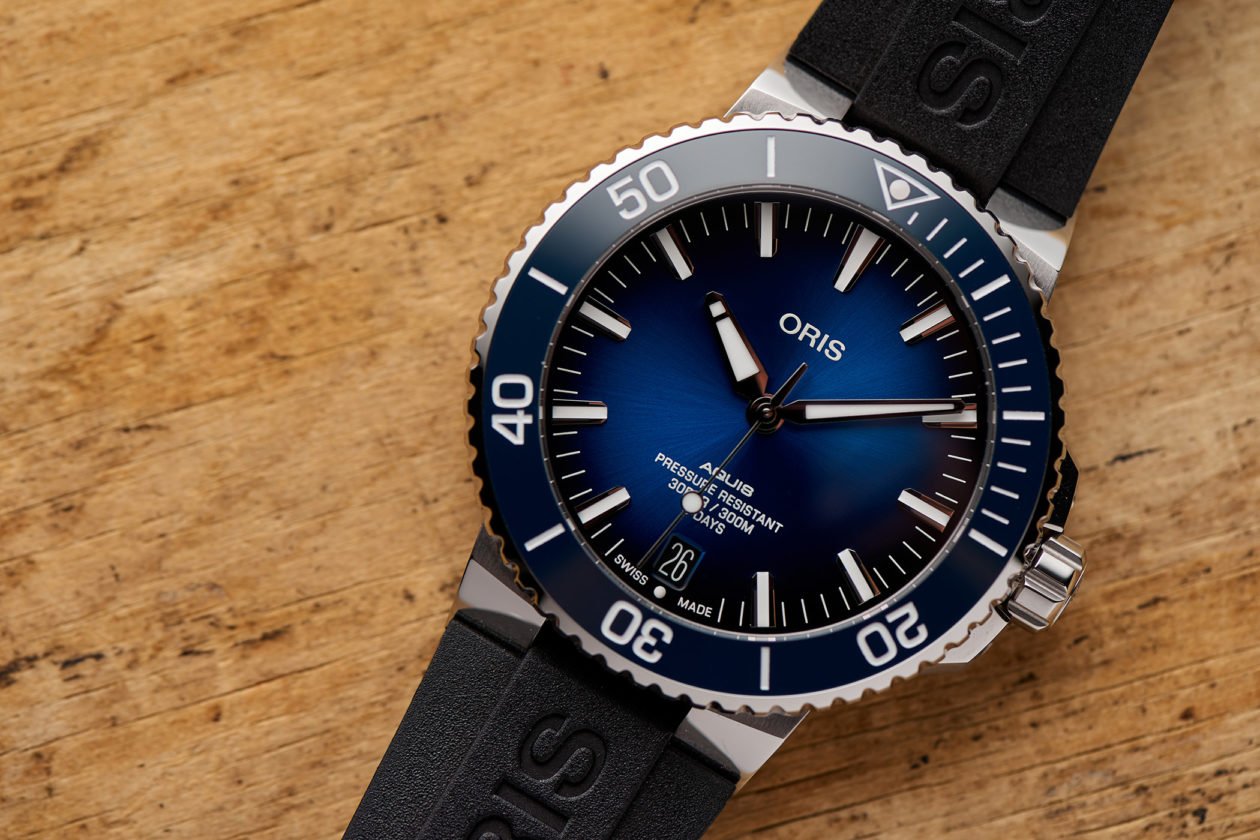 If we'd try to split Oris diver's watches fans into teams, I'd surely join the "Divers Sixty-Five" one, not the "Aquis". I prefer vintage styled timepieces, and the "65" in steel with black dial is one of my all-time favorite watches made in Holstein. The fact is however that Aquis remains brand's bestseller, so it's no surprise it is the model selected to be the first one equipped with a brand new caliber 400.
Aquis Date – old vs. new
For the first glance, old Aquis Date (powered by caliber 733 – Sellita SW200-1) does not look that much different compared to the new one. Only on a closer inspection will you notice, that on the bottom half of the dial there is an additional text line – "5 DAYS" – the date window is slightly bigger and there's no applied index at 6 o'clock. The color is also different.
Turning the case over reveals one more minor change in the overall design. Steel part of the caseback is thinner, with a wider sapphire glass revealing more of the working movement.
Aquis Date Calibre 400 has a 43,5 mm case, but thanks to short and profiled lugs (lug-to-lug is about 50 mm) it presents itself quite good even on my 17,5 cm wrist. Thickness has been reduced by 0,5 mm (now it is 13,5 mm) and the water resistance remained at 300 m. As a true diver's watch, the case is topped with a unidirectional bezel with a ceramic insert and minutes scale in white. It might not be the smoothest one to turn, but has a precise, comforting click to it.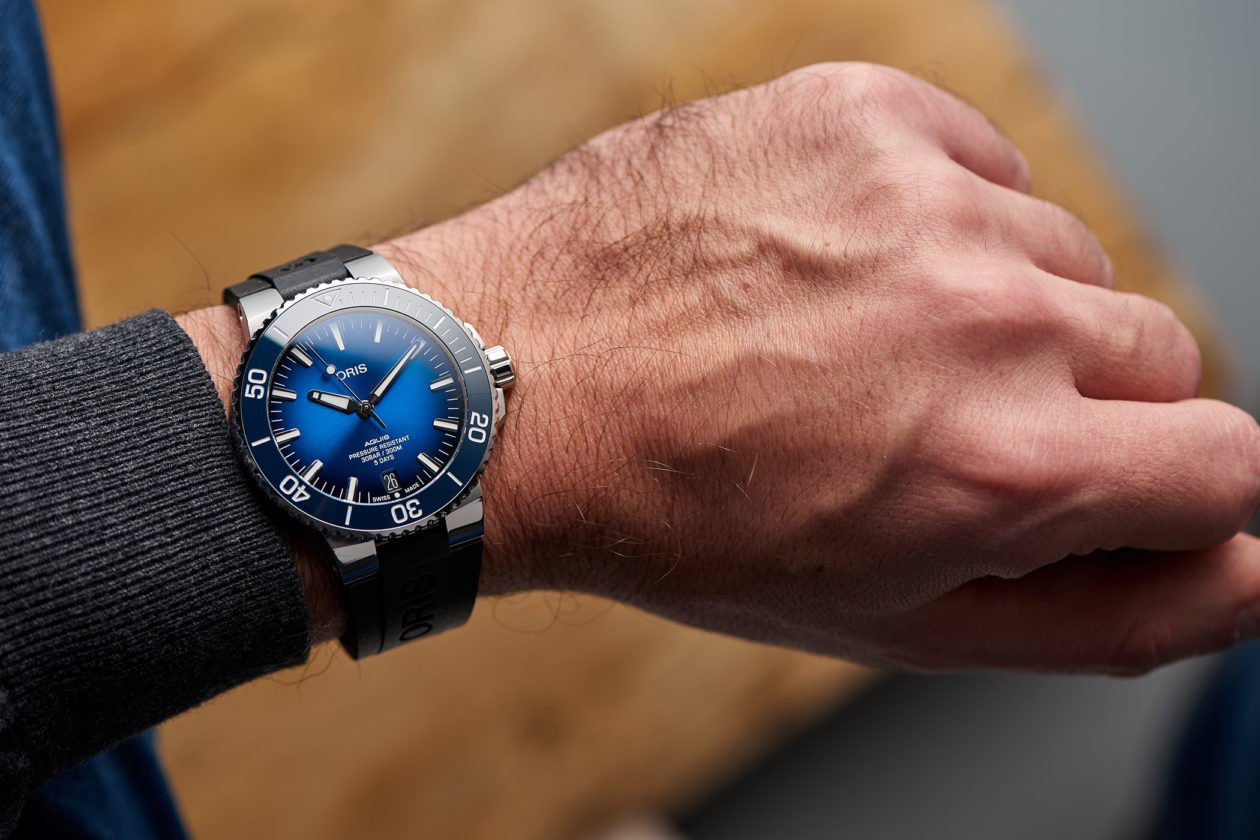 I already mentioned the difference in the dial of the new Aquis Date. New shade of blue is more intense, quite mesmerising to be honest – I caught myself just staring at it quite a few times. The composition is made of applied hours indices and centrally mounted hands – both elements with rich amount of Super-LumiNova. Hands are set by the screw-down crown, protected additionally by a set of protective guards, screwed to the case.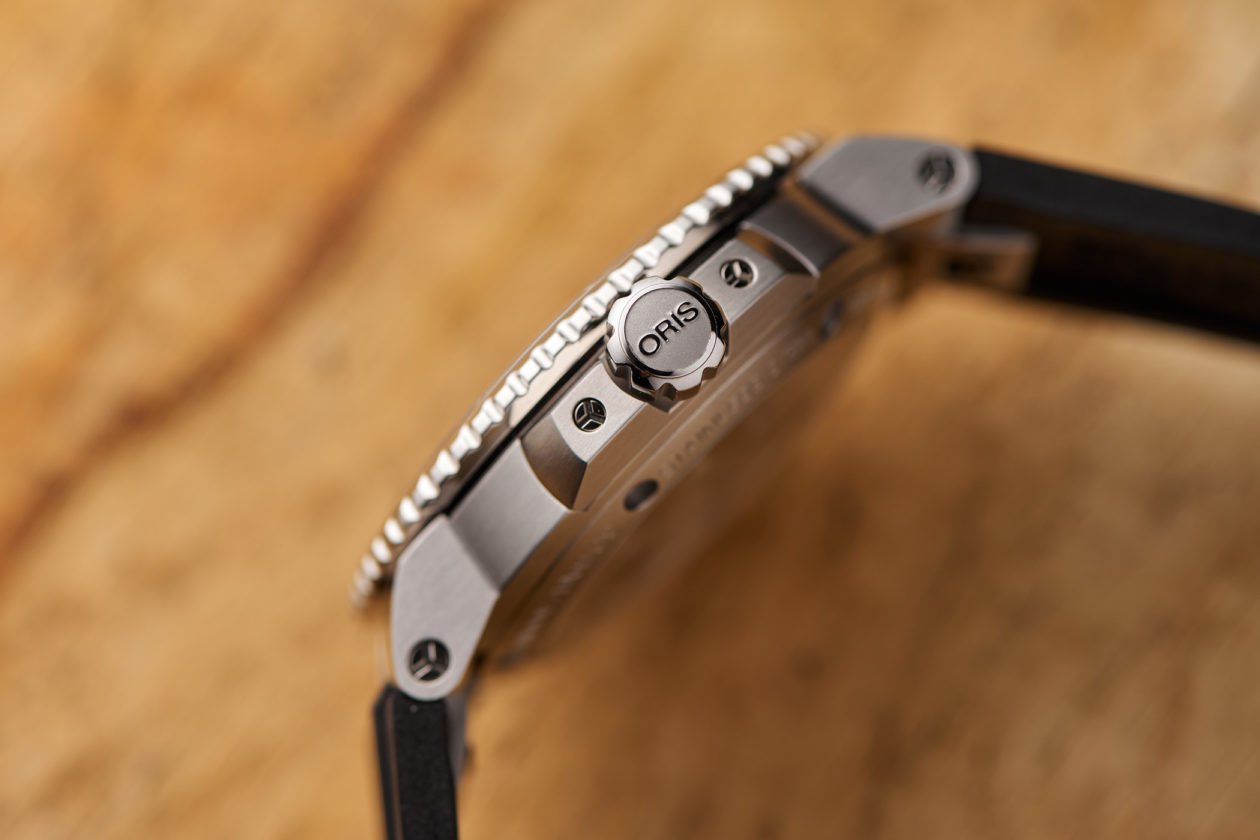 The watch is sold either with a solid steel bracelet or a rubber strap. Both have been equipped with Oris own quick-change mechanism. Instead of more common pushers or levers, Aquis presents a steel plate, that needs to be lifted (with a fingernail for example) in order to unhook the strap. Easy and perfectly comfortable to use.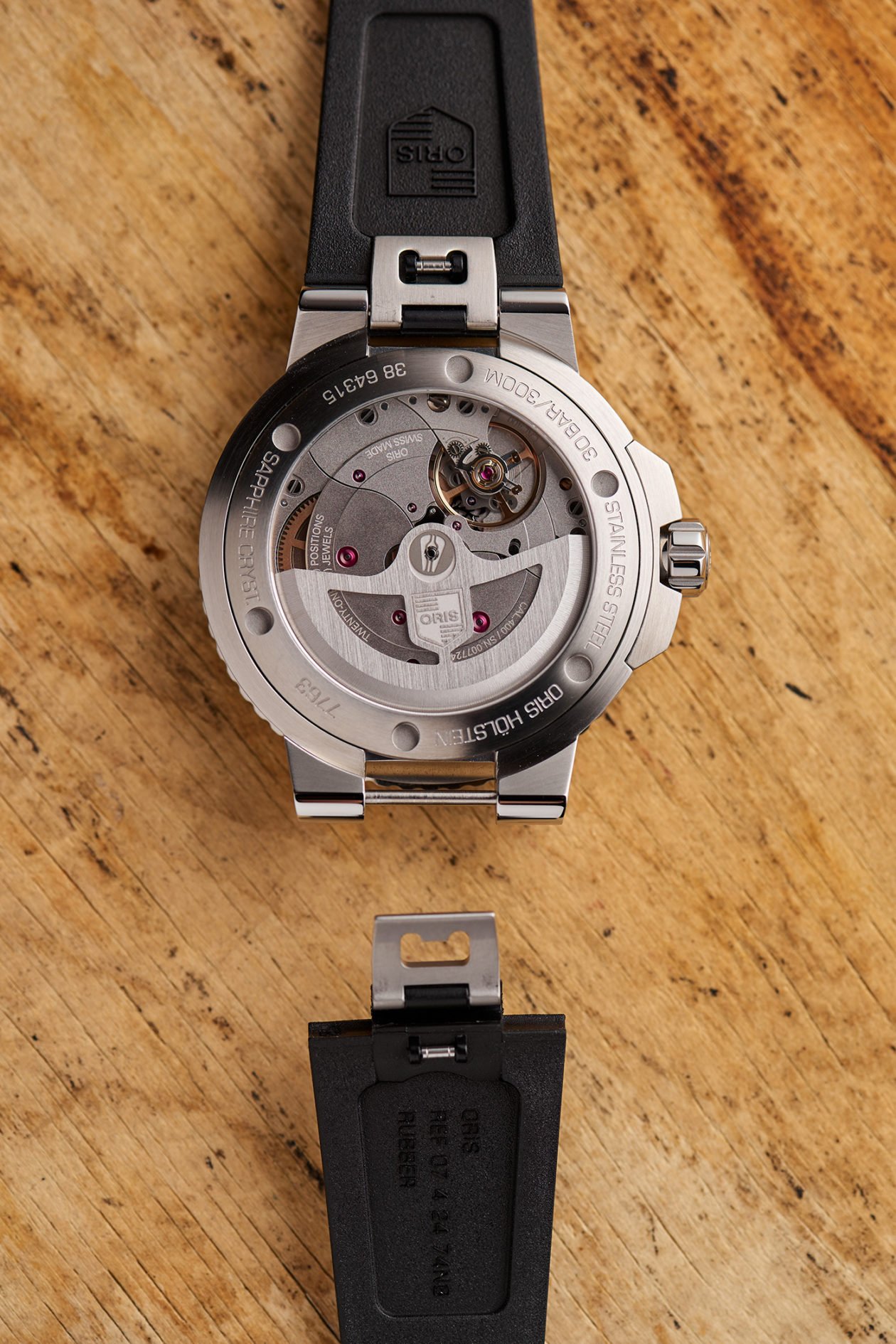 For the review we went with the rubber strap option. It can easily be adjusted to the wrist size by the clasp, just like any regular leather strap. However on my rather tiny wrist I had to use very last hole, and that in turn created a bulky situation. Luckily it doesn't affect wearing comfort, as the watch sits nicely on the wrist, isn't too heavy or in any way disturbing.
Strap closes with a standard butterfly with safety buttons and micro adjustment. It can be adjusted in 5 steps without taking the watch of the wrist – one just needs to press two button and slide to a desired length. Comes in handy, not that fastening on a different strap-hole would be any more difficult. Option of a rubber strap lowers price of the watch by significant 200 EUR.
Conclusion
The previous Oris Aquis on a rubber strap costed about 1 500 EUR – the new one, driven by Calibre 400 is around 2 750 EUR. That begs the question, is extra money (over a 1000 EUR) worth an upgraded movement and few stylistic tweaks? In my opinion yes, if it is supposed to be a daily wearer that you can safely left home for the weekend – it will still run precisely on Monday. 5 days of power provides a welcome comfort. Then there is the full 10 years of warranty, which gives you a decade of peace and quiet. Magnetic fields resistance helps, as it can affect movement stability and rate. All the above matter, a bit like subtle improvements in modern cars – you barely notice, but welcome every single one.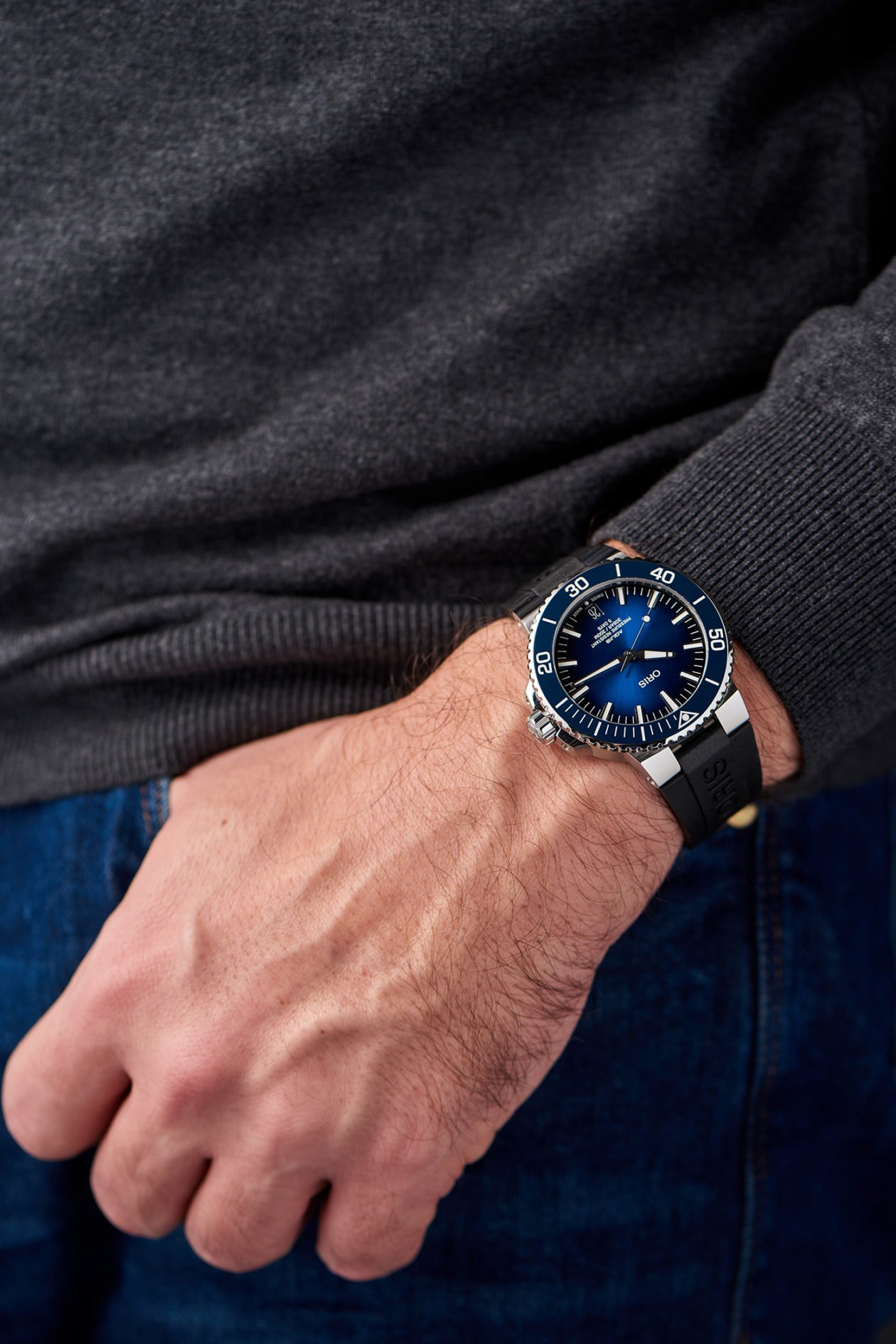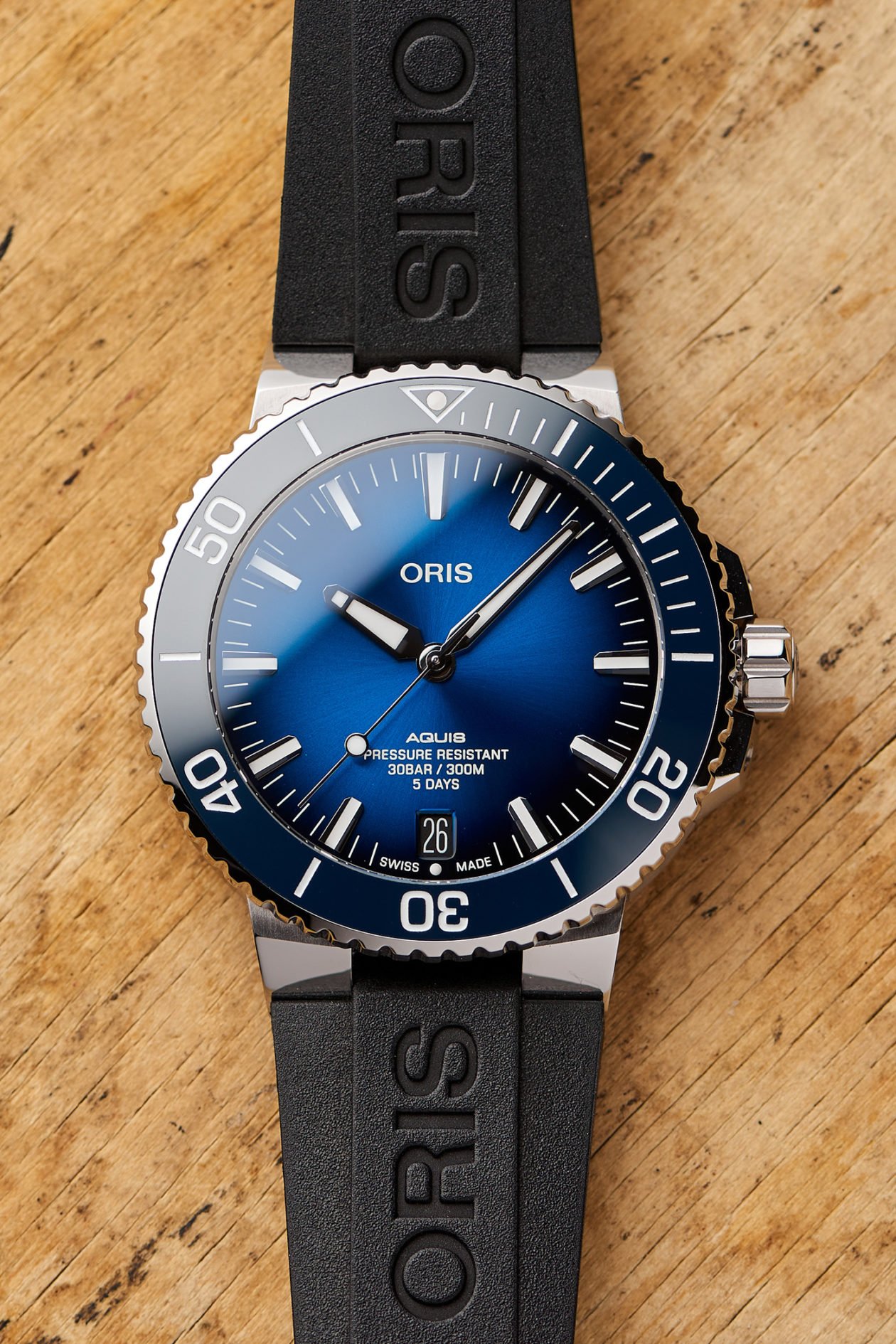 Test watch provided by Janeba Time, Oris official distributor in Poland.