Review

Seiko 5 Sports [live photos, price]

The king of Seiko on-the-budget watches finally got a major revamp. The new "5" is sporty and available in a variety of colors. What's more it resurrects on of Seiko's most iconic pieces ever – the SKX.

Do you remember your first watch? I don't, but I do recall the one I chose for myself, for my 18th birthday. Much to a surprise of my mom (sponsor of the gift) I chose a small, very usual, quartz Candino with tinny tiny date window and ordinary black strap. I have it to this day, good 20 years after. Despite it being as impressive as a Fiat Punto – LPG powered – and not running anymore, it still holds certain sentimental value. First mechanical watch I got came a bit later and with the brand that was most likely a first serious watch for many. Far from distant land of Japan, and thanks to persistence and help of a friend, I obtained a Seiko "Samurai". I was happy as a hippo, so to speak, as I could finally wear a piece of a solid, proper watch, highly appreciated by general collectors. And it had that mechanical, ticking heart I listened to all the time. We did not find love with that Samurai, so we had to split our relationship, and replace it with… another Seiko. Took me some time to get the right SKX, long debating between the black 007 and 009 "Pepsi".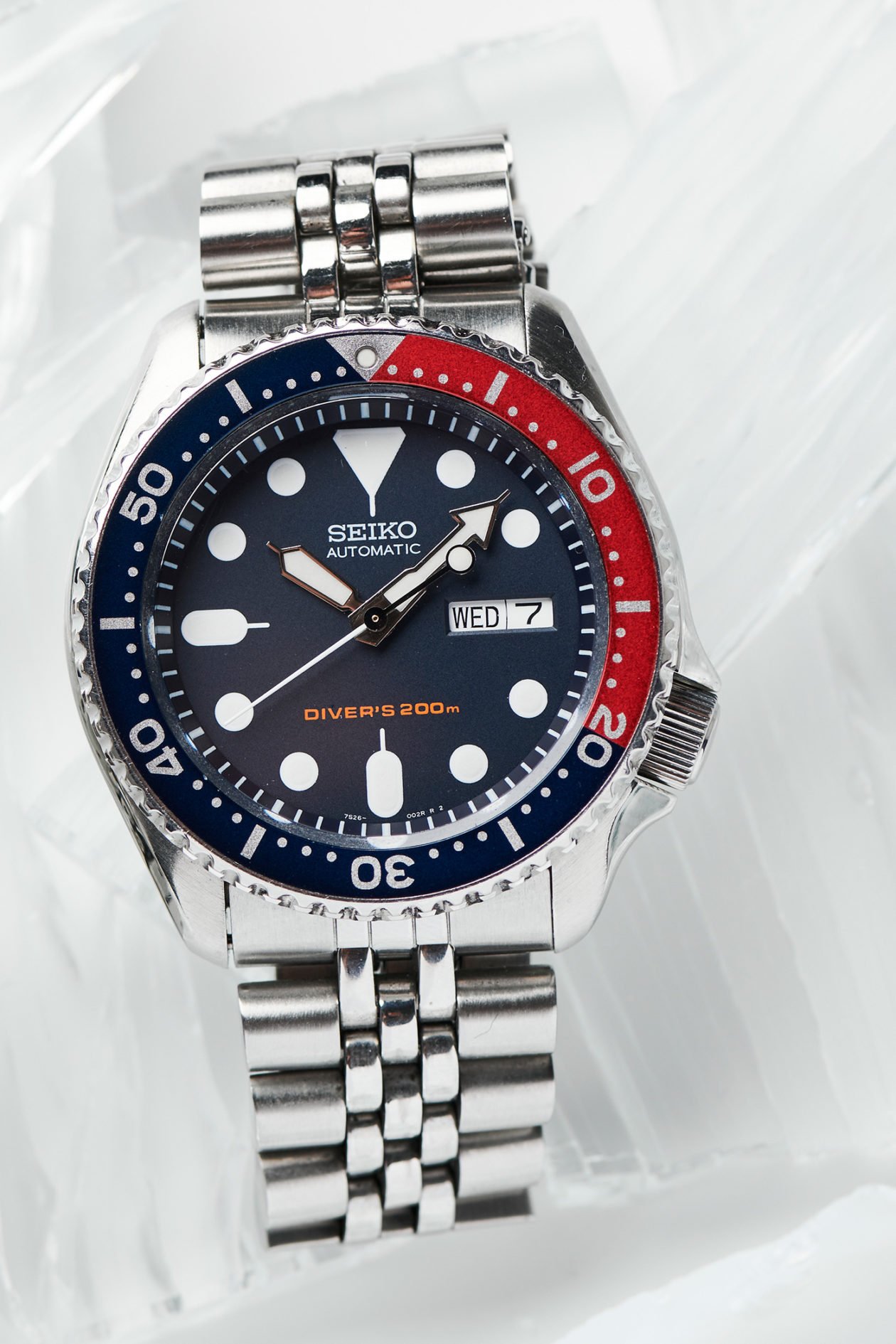 Chance took over, along with a great offer for a pre-owned one on one of Polish watch forums. For just about a 100 USD – less then average watch strap nowadays – I bought an unwrapped a watch, that I own till this very day. Own, like, admire and wear often, because an SKX is perhaps the least expensive way to make yourself wrist-happy. Unfortunately some time ago Seiko took a decision to stop making the SKX. You can still find some pieces here and there (for quite a premium) but the watch can already be called a collectors classic. This review however, it is not about that great watch, but about the one that is here to replace it, sort of.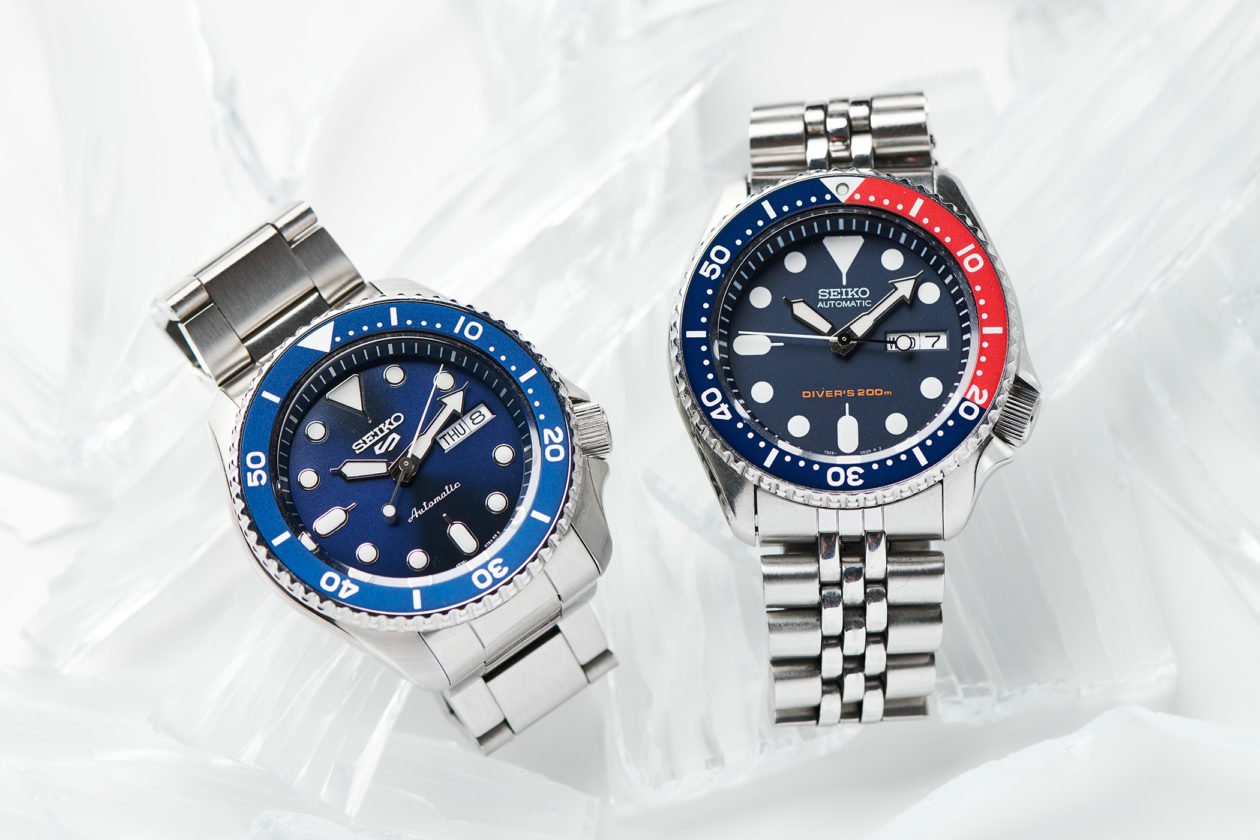 Seiko 5 Sports
The "5" has always been Seiko's entry level mechanical watch, often a first ever watch of a young, aspiring future collector. Take a handful of money and you can have a proper watch with classic styling and an open back with a view on the movement inside – own, manufactured Seiko movement to that. A year ago Seiko revamped the line completely, limiting the collection to a specific design cues and style. Although not officially, Seiko 5 Sports replaces – or continues – the SKX, in an improved but not all-better form.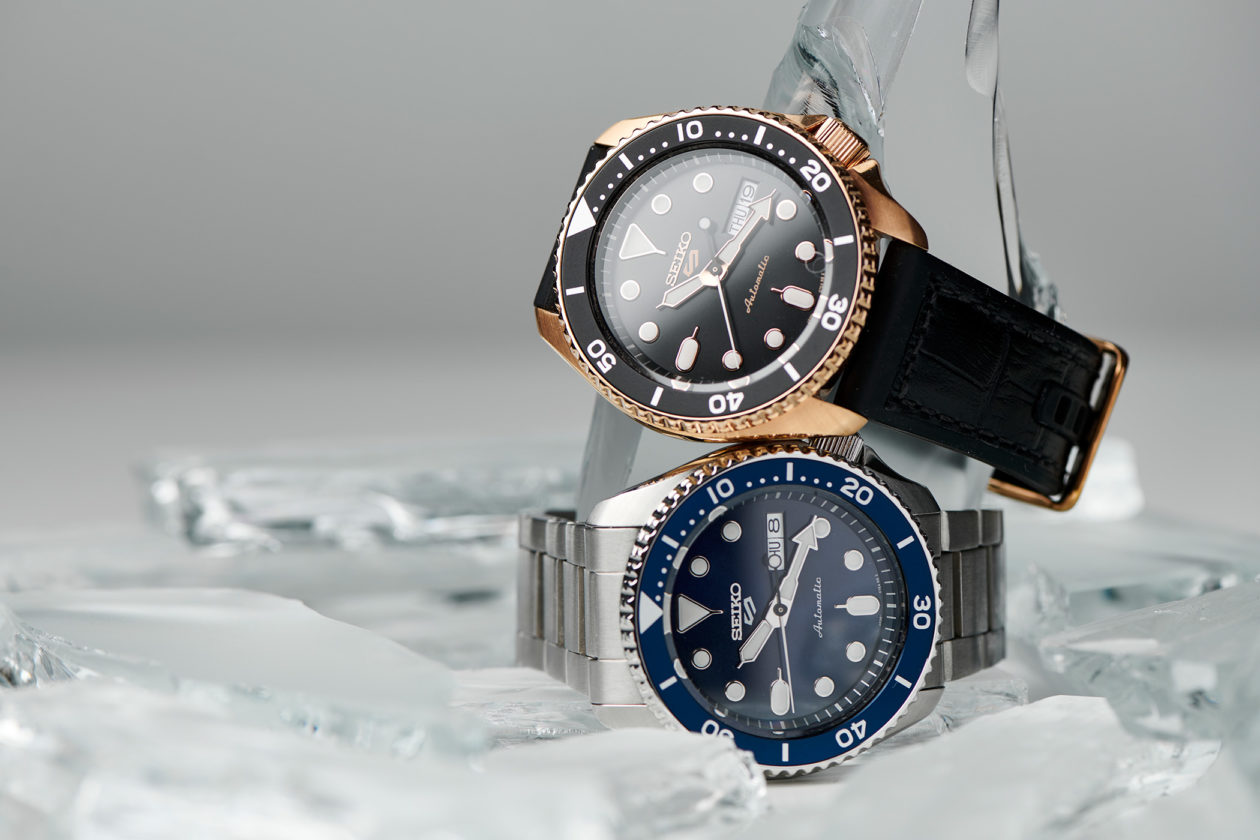 Design-wise the new 5, in all its 27 versions, basically copies the SKX. Round, steel case with wide set of thick lugs (22 mm) has a crown located at 4 o'clock and a diving bezel with an aluminium insert. There is a top glass made of Hardlex crystal and a mineral glass back – something not to be found on a solid-back SKX.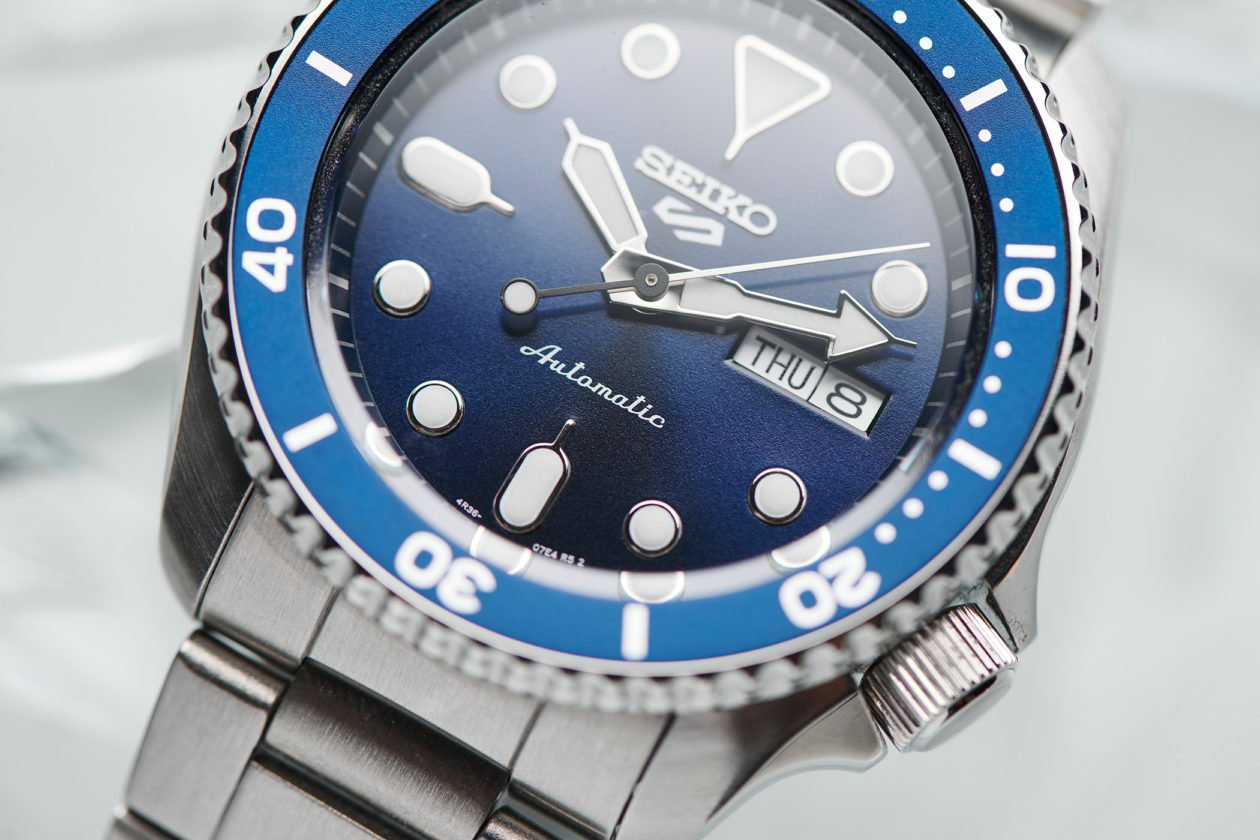 The case measures 42,5 mm in diameter and 13,4 mm in thickness – just a tad bit more then the SKX. There is a more vivid drop in water resistance though, a full 50%, down to a 100 m. There is also no screw-down crown which in total makes the new watch drop the pro-diver suit. Is it good or bad? I let you decide.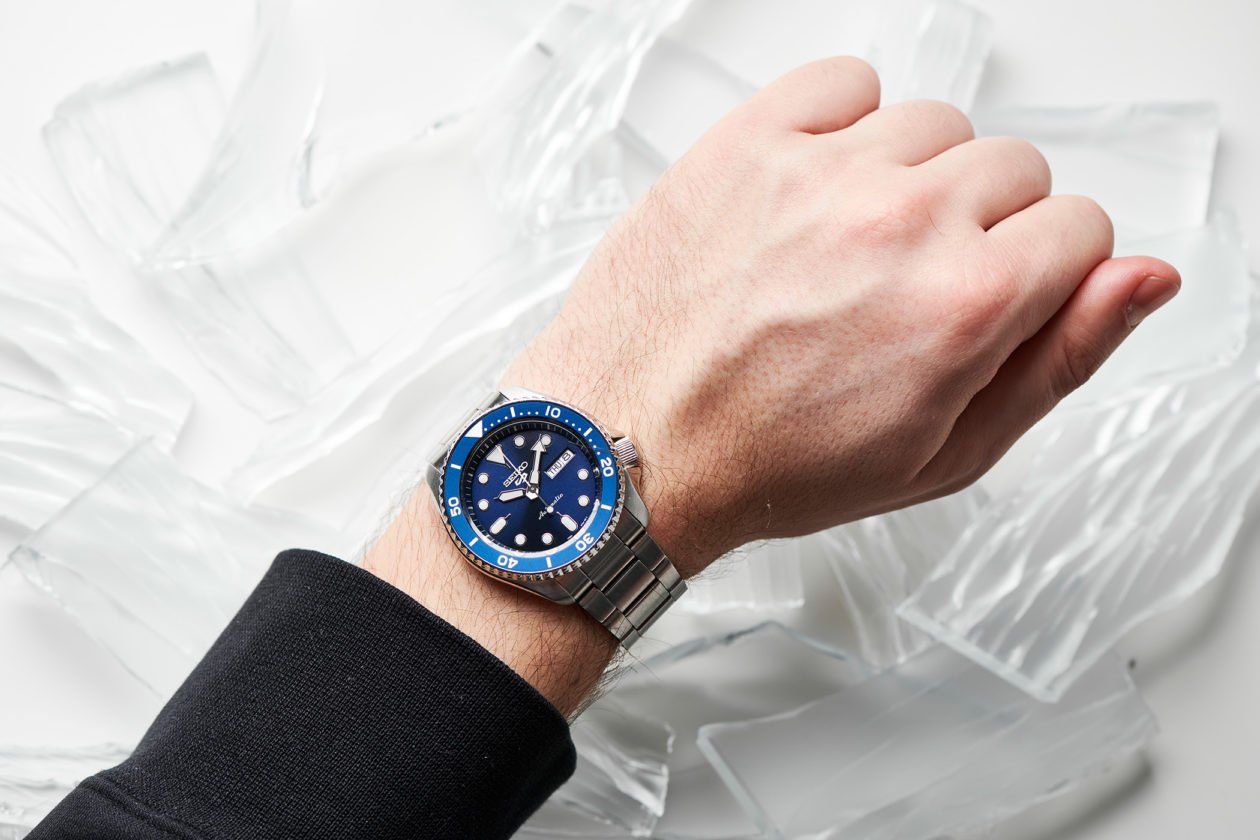 Thanks to Seiko we had a pleasure to test two different versions of the new "5" – classic all-steel blue one and a more luxurious take with a pink gold PVD. Both, just like the rest of the collection, come with a typical diver's watch dial with applied, round indices with luminova, a double date window (date and day of the week) at 3 o'clock, a pair of typical Seiko hands with some lume and simple seconds hand with a round counterweight. Not short of controversy, there is a new "5" logo on the dial, along with "Automatic" – both written in italics, and slightly ill-fitting to the general design. There is also slight texture and barely visible sunray pattern, that makes the dials slightly change color under different lights.  
The gold model comes with a black dial and gold appliques, while the steel one is all-steel throughout.
Inside the case you will find a new automatic movement – caliber 4R36. It boosts 41 h of power reserve, has a 3 Hz balance, Seiko's proprietary "Magic Lever" for automatic winding, stop-seconds mechanism, winding via the crown and quick set date. To make a potential "5" customer happy, the movement is on display behind the glass back, but there I not much to talk about the finishing, as there isn't any. 4R36 is a typical work horse, there to fulfil its duty and nothing more.
Conclusion… and why I prefer the SKX
In theory, and in the metal, Seiko 5 is nicely made, sporty daily-watch, good for almost every occasion and, considering number of options, for absolutely every possible taste. Of course one needs to keep in mind, that it is a well-made for about 340 Euro on the bracelet, Oyster type with satin-brushed links and quite substantial Seiko clasp with safety buttons. Other options include rubber-leather strap (the one on gold model), mesh bracelet and some nylon NATO.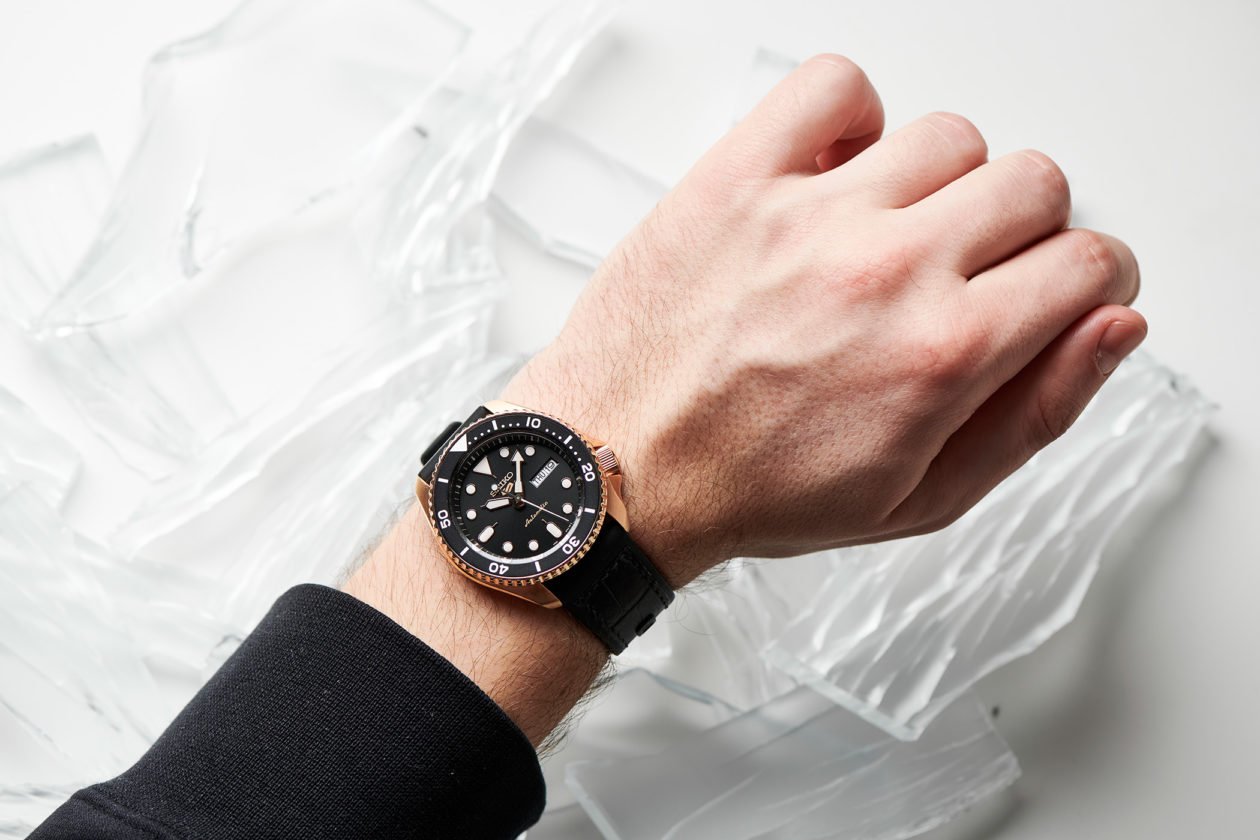 For anyone, beginner and not so much, fresh new Seiko 5 Sports might be just the right choice, perfectly universal, with some character and perceived value higher, then the actual price tag. I can imagine myself feeling that… had I not have the SKX.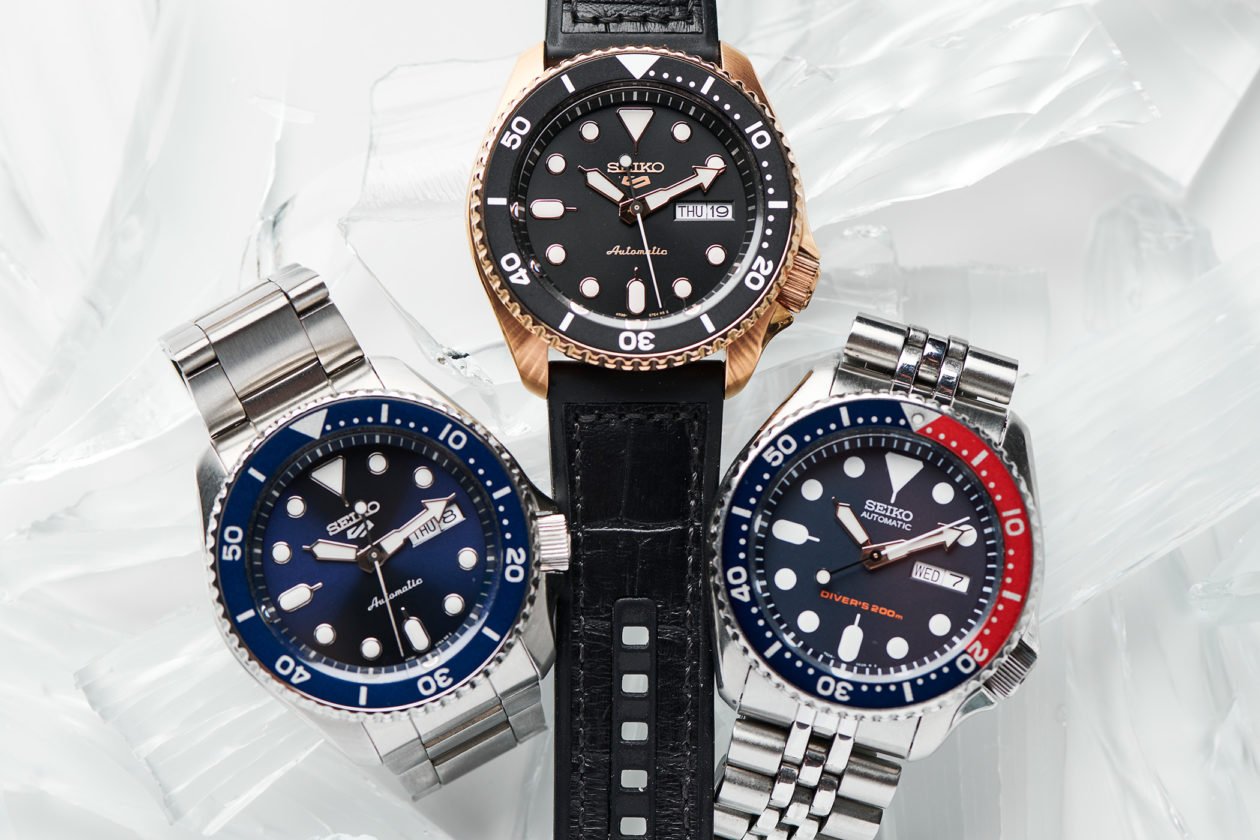 In theory the "5" is superior in almost every detail, with better dial, better movement, vast array of references and quality of build. SKX has a dial as flat as salt lakes in the US and the indices that miss the markers on the bezel by quite a significant margin. It also has an older generation movement with no stop-seconds, no crown winding and far worse precision. On top of that there is that rattling jubilee bracelet that rips the hair of your wrist better then the newest Gilette, but… I still go with the SKX. When Seiko designed it quite a long time ago, there was a clear goal to make a budget friendly diver's watch, a genuine tool-watch with no compromises, ornamentation or even exaggerated attention to details – and it's precisely the definition of SKX. I prefer a solid back with an engraved Great Wave off Kanagawa, screwed-down crown, proper 200 m of WR and a jubilee. Or maybe, just maybe it's the sentiment in my head and heart talking, backed by the iconic-watch status, that the SKX already has. That mean something, and the new 5 Sports would have to do a lot to get there. Having said that I can easily imagine the watches sell really good and land on many wrists of those, who look for a sports watch for an affordable price. It is by far not the old, rattle, thin-can made Seiko 5 for cheap money. Now that is one serious watch with no serious competition in its price range.  
Test watch provided by Seiko.