Review

Serica 4512 [live photo, price]

Among the redundancy and blandness promoted by numerous new microbrands, there came another project that seems to stand out above the average. Created by enthusiasts for enthusiasts, Serica 4512 is a watch that combines the old with the new in a more successful way than many re-editions we had the opportunity to review at CH24.

It seems that France recently has become a real cradle for thoughtful and properly executed projects. Not so long ago I treated myself with a French Baltic Aquascaphe (just before they launched new HMS and Bi-compax watches in September) and now I had the pleasure to test Serica 4512 – which, in a similar fashion, builds upon that feeling of nostalgia, offering yet another great value-for-money timepiece.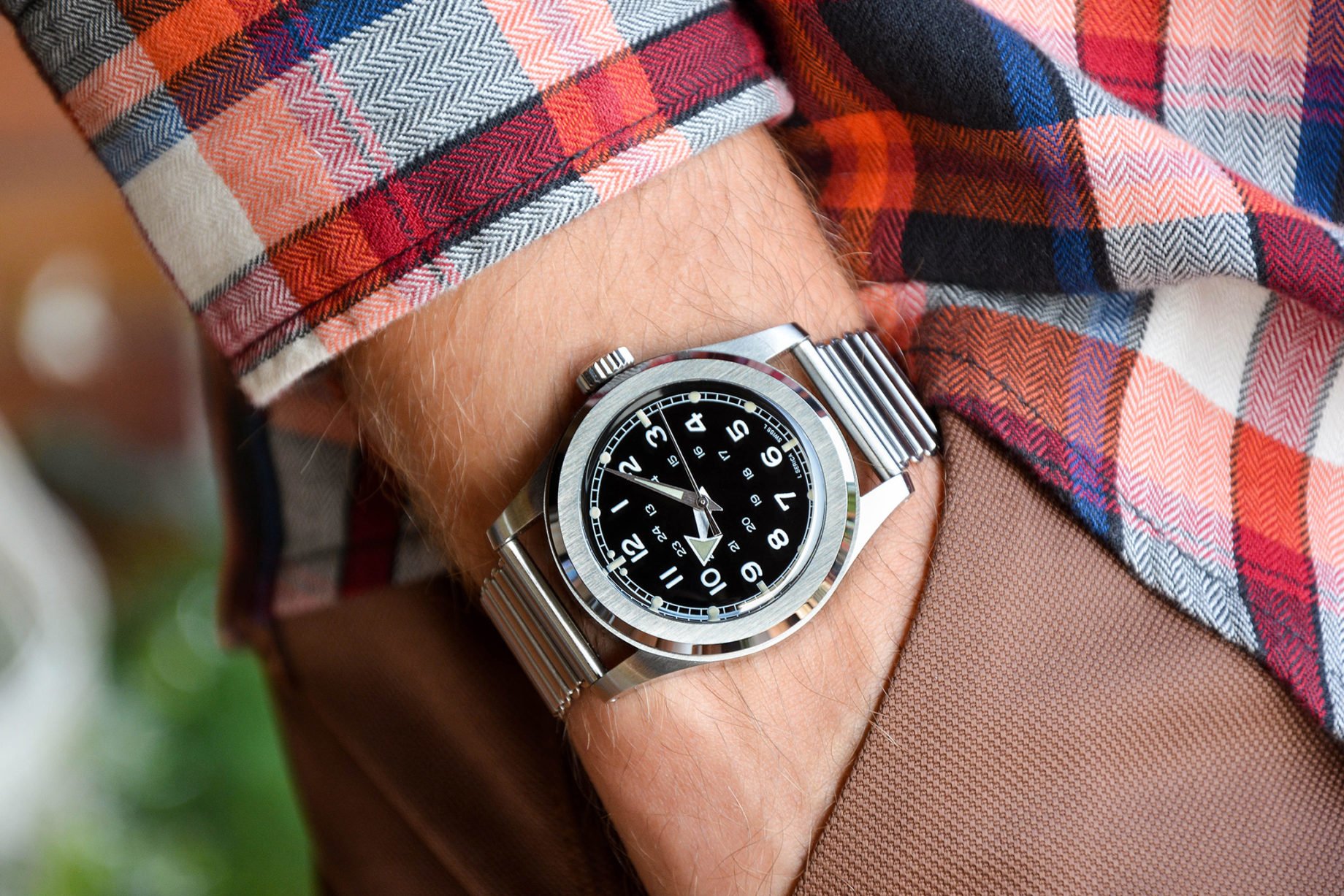 Serica has been created by a group of industry insiders, French Les Rhabilleurs journalists Jérôme Burgert and Gabriel Vachette, a watch designer David Gagnebin and a gentleman by the name Matt Hranek, editor and publisher of WM Brown Project and author of highly acclaimed book "A Man and His Watch". Together those four gentlemen, passionate about mechanical timepieces, decided to introduce a watch that would directly revamp the military watches from the Second World War (the likes of famous Dirty Dozen) while at the same time be a perfect choice for more elegant and casual occasions.
We already wrote a bit about first Serica projects (in Polish) some time ago. In short, Serica W.W.W. WMB Edition was presented in two dial colors (black and white), equipped with a domed mineral glass, powered by an ETA 2801-2 (or Sellita SW 210-1) movement and water resistant to 100 m. In retrospect, this first edition can be considered as a sort of a prototype watch, as ref. 4512 appears to be improved in almost every aspect – although at the cost of a higher price.
When best is the enemy of the good
According to Jérôme Burgert, Serica intends to develop in a consistent and conservative way – small steps, not everything at once. At the same time, a well-thought-out branding strategy is implemented, which is confirmed by the discreet introduction of the brand's name at 6 o'clock. Where there used to be the standard "SWISS MADE", now there is "L SERICA SWISS L" – a clever solution that allowed the dial to be signed without interfering with its sterile military design.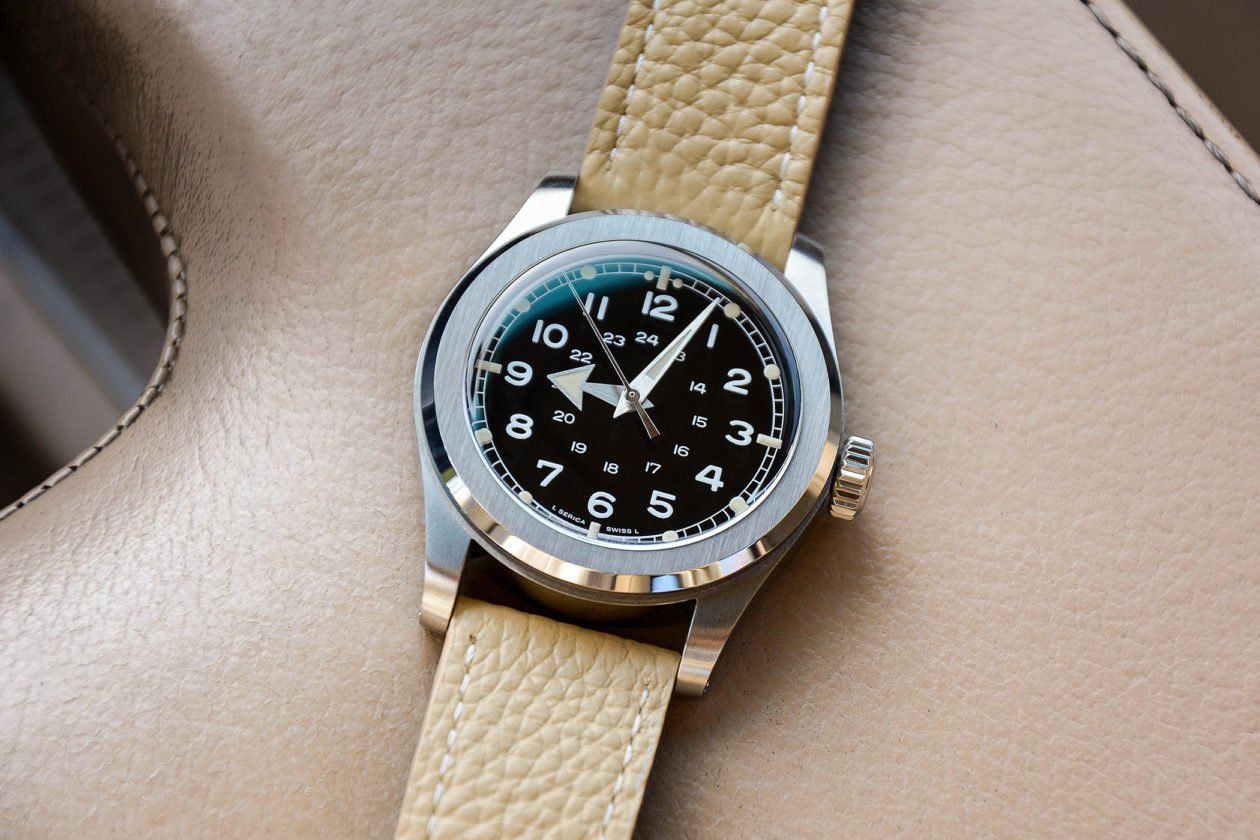 Although the white dials are now missing from the collection, there are three new black variants, named California, Commando and WMB (the one we tested), all with prominent hour indices painted with Super-LumiNova paired with a set of "Broad Arrow" hands. Simplification of the offer is all about creating a more recognizable product. At same time Serica team admits, that making the watch available with new dials in two different colours would not have been possible at this stage of development.
Speaking of progress, in ref. 4512 the hardened mineral glass was replaced by a double domed sapphire, slightly protruding beyond the contour of the bezel. It is supposedly covered with as many as ten layers of AR, which (with the glossy dial and the curvature of the glass) quite effectively eliminates unnecessary reflections – of course not all of them, because it's physically impossible with this configuration. In everyday use, the watch remains quite legible. An issue might occur only when you like to take photos of your beloved mechanical toys. You can see literally everything against the background of that glossy black dial, from the smallest specks of dust, to all smudges and fingerprints. Also – avoiding unwanted reflections on that convex glass will be a proper photography challenge for any Serica owner.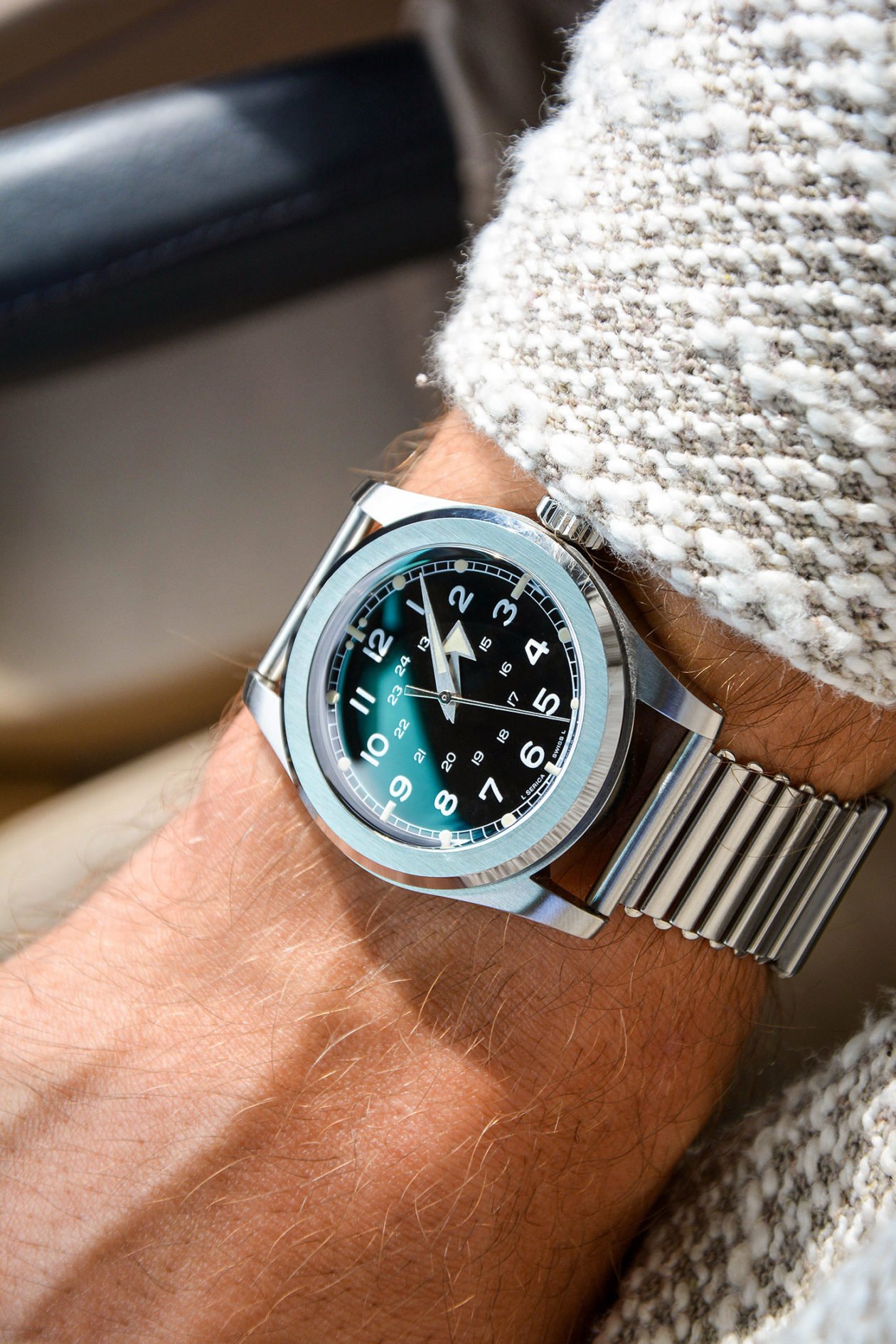 One thing that remained almost unchanged, compared to the previous versions of the watch, is the case. It still measures 37,7 mm in diameter, 11,3 mm in thickness and 47 mm lug-to-lug. The back is solid, screwed-in with engravings in a rough military style. Both the bezel and the case sides have been brushed, with lugs decorated with subtle satin-finish. Another notable stylistic feature is that stepped-case design and a rather wide mirror-polished bezel's edge, which clearly stands out from the brushing on the top. It is difficult to say how well it will stand the test of time, but brand new it looks just great.
When a true bond is not necessarily automatic
Instead of working with ETA, which tends to be rather unpredictable when cooperating with small brands, Serica made a deal with Fossil Group. People at Swiss Technology Production helped to equip ref. 4512 with caliber STP1-11 in Côtes de Genève finish, with a manual wind and no date, hence slimmer for a solid 1 mm. That in turn helped to keep the case slim yet increase its water resistance to 200 m. What's more, according to press materials the STP1-11 is twice more accurate than the previously used standard ETA 2801-2. New movement keeps the 45 hours power reserve and 28 800 A/h beat rate.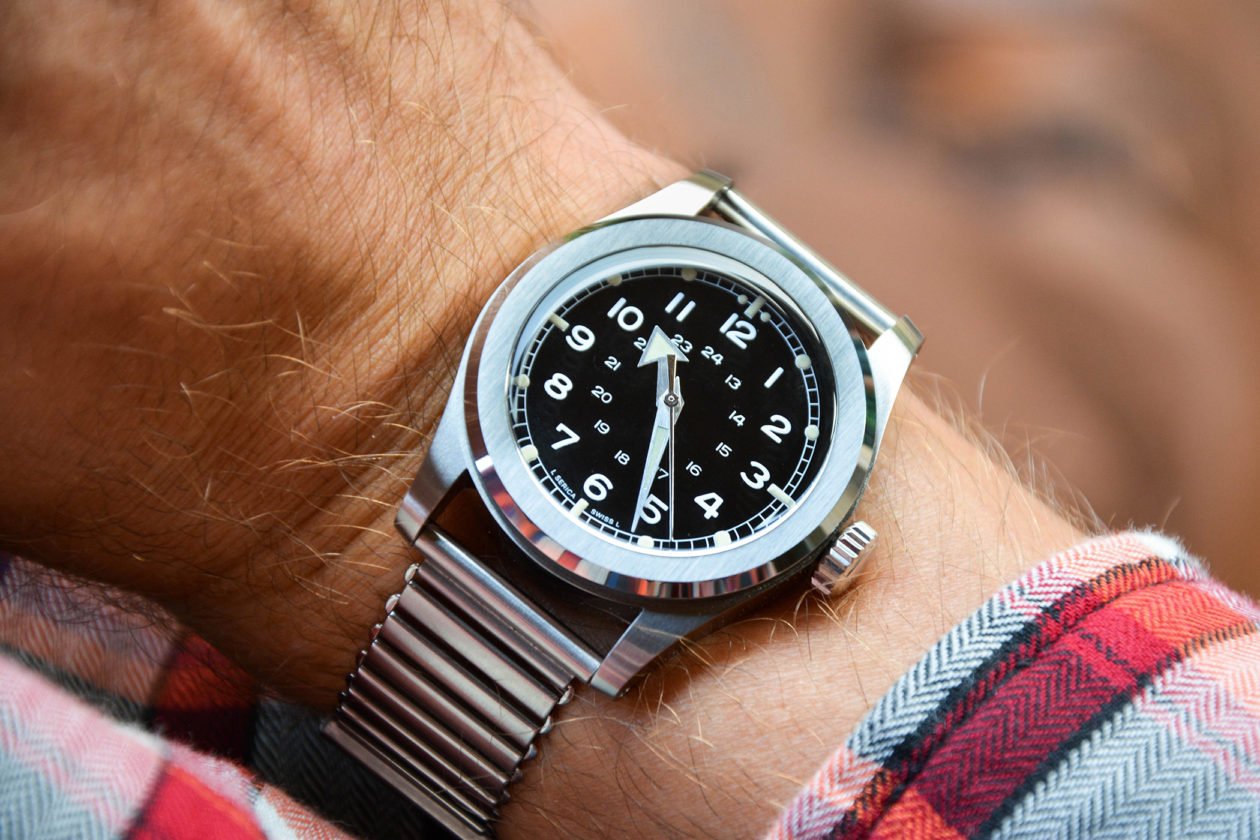 The use of manual wind with no date has other benefits as well. The fewer modules and parts, the lower the failure rate. This mechanical "simplicity" allowed Serica to offer a left-handed variant with the crown at 9 o'clock. Putting technical matters aside, manual winding is not only a nod to tradition, but also allows you to create a bond with the timepiece. For a true enthusiast, there is nothing better than the sound of a hand-wound mechanism in the morning and the STP1-11 sounds quite nice. The crown of the 4512 helps to make that daily routine more pleasant thanks to its generous size and easy grip. Unfortunately every time you use it, it has to be unscrewed and screwed back again – which is maybe not bothersome, but in the long run will probably lead to faster wear of threads and gaskets.
When Joseph Bonnie joins the team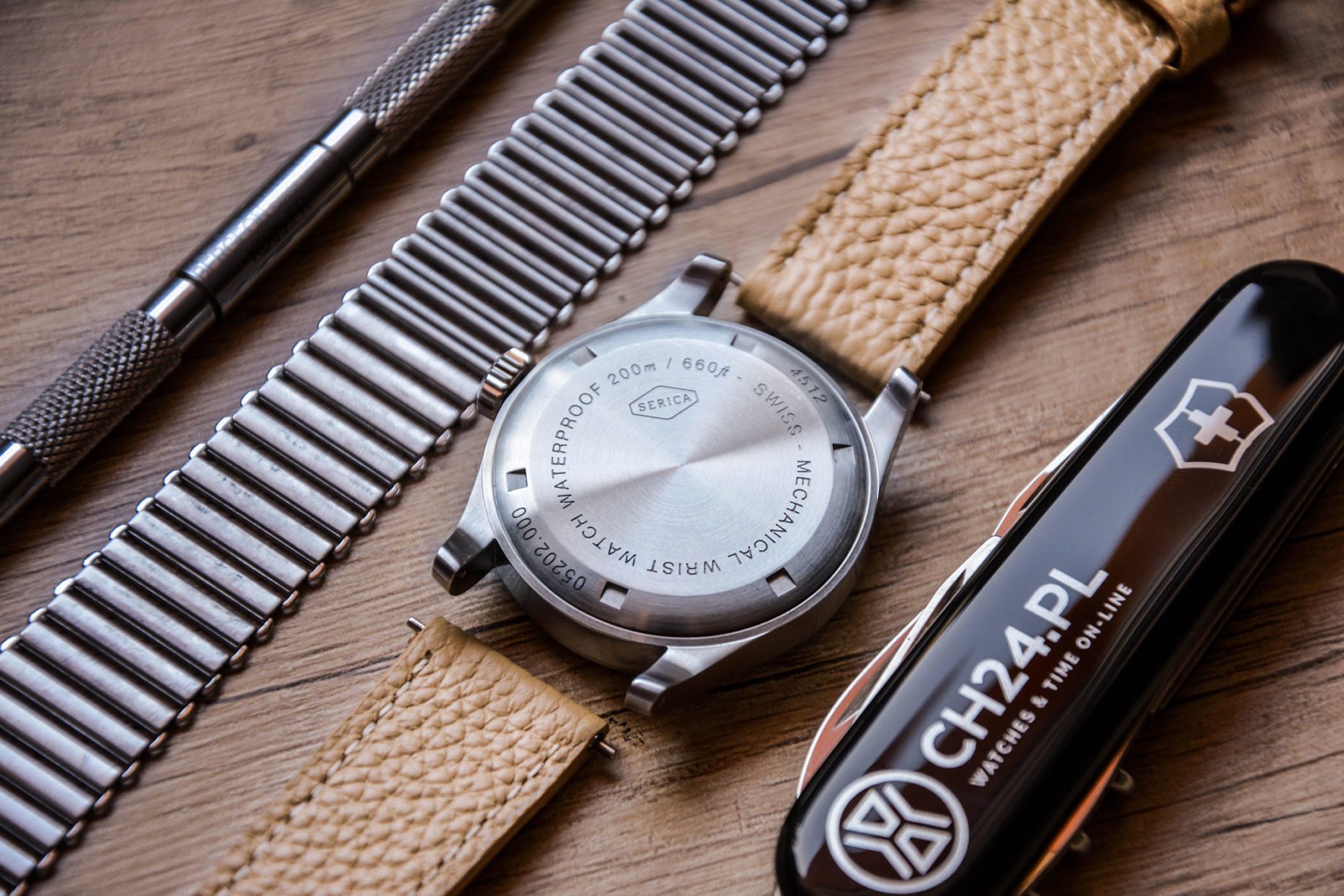 Surprisingly enough, Joseph Bonnie is not just another name that has joined the ranks of Serica but a separate brand founded by Gabriel Vachette. Several manufacturers of various accessories operate under this banner and one of their products is the "Bonklip" bracelet which can be seen on the ref. 4512. As you can read on the JB website, this design was resurrected after 50 years of absence. It can be associated with first Rolex watches (Viceroy and bubbleback), also with military watches worn by British Royal Air Force pilots and with famous bracelet manufacturers such as Gay Frères or JB Champion. As a huge vintage nerd myself, I was quite surprised by that, as I have never seen anything alike before. Quite refreshing.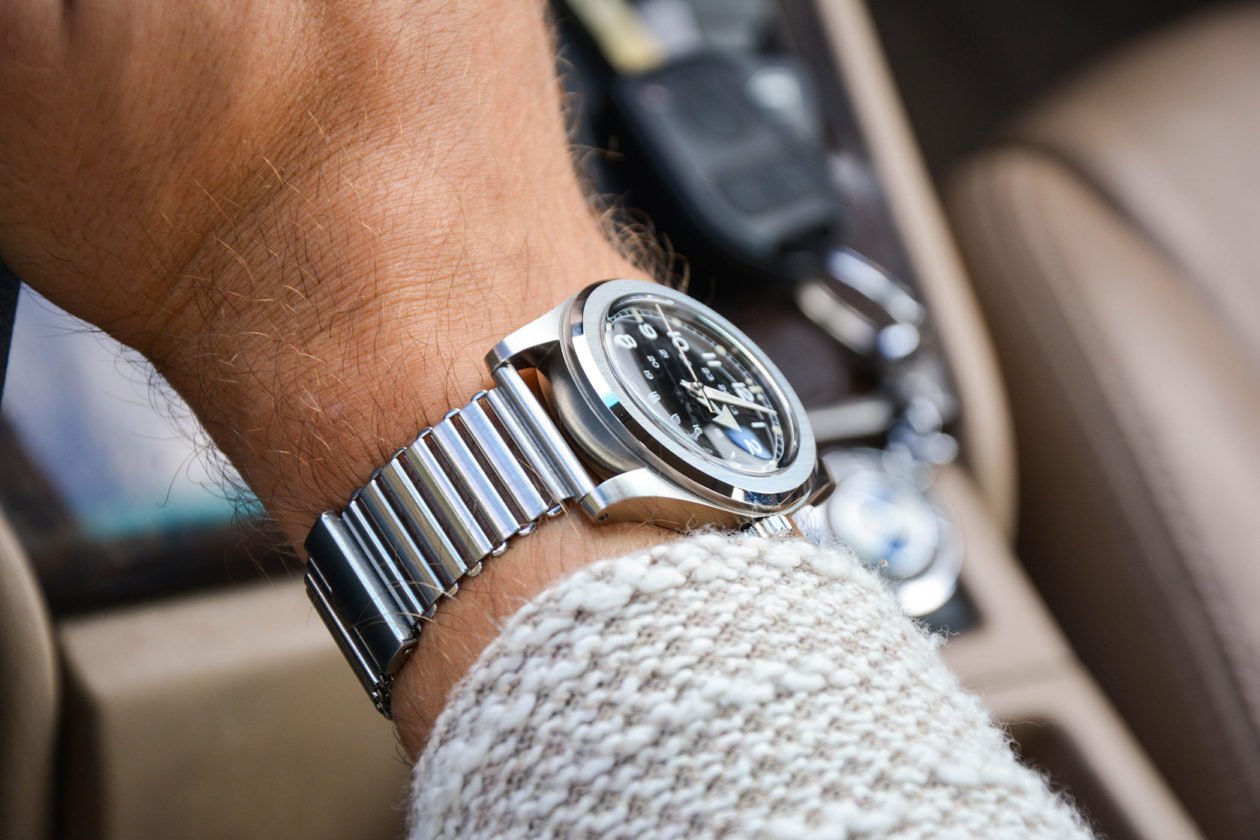 The bracelet is made of slim steel links. The clasp has a locking hook that can be placed in between any of the links, which gives you almost unlimited microadjustment on the whole lenght of the bracelet. The band is also very light, significantly lighter than any average steel or mesh bracelet. It feels like it's not even made of metal but of some kind of fabric. It's very comfortable on the wrist but the "Bonklip" design has its flaws. First of all you can't wear it loose. Despite of an additional safety lock, the locking hook can slide from between the links if the bracelet is not worn tightly. It happened to me once when I was tearing the foil from the courier package with a strong tug. Luckily the whole watch didn't fall on the floor as the bracelet creates a closed loop, preventing it from slipping off completely. However this can also create some potential problems. If you have really big hands, chances are you won't put them through a closed loop. Fortunately, the classic 20mm between the drilled lugs gives you the opportunity to wear this watch on a variety of straps.
When quality goes hand in hand with satisfaction
While testing Serica 4512 for several weeks I was also able to wear both vintage and modern watches from renowned manufacturers. Nevertheless, this relatively small and inconspicuous "daily-beater" defended itself perfectly. I really wanted to go back to it every time I had something different on my wrist. I think that the Serica team managed to achieve their goals and ref. 4512 is indeed a multipurpose watch that has the potential to become something more thanks to its thoughtful design and competent execution.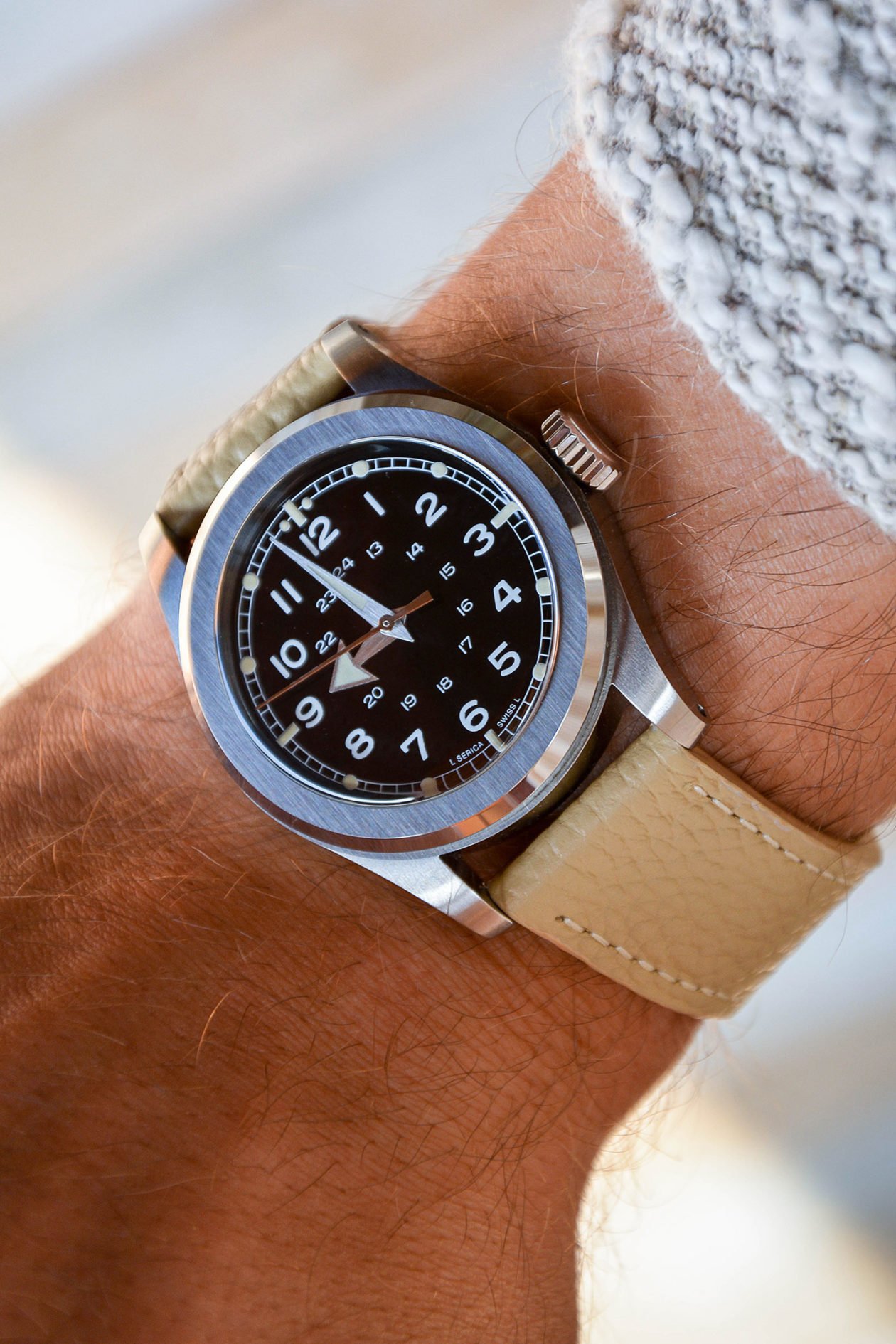 Serica is a young company and it has to fight for the customer with an idea, quality and a reasonable price (690 EUR). As long as all those values go together, I believe that the company will have a bright future. They not only have the good understanding of the industry, but also an excellent taste and a consistent business plan. At CH24 we will observe their work and keep our fingers crossed for their progress – especially that Serica gave us some hints that we can expect new and exciting premieres soon.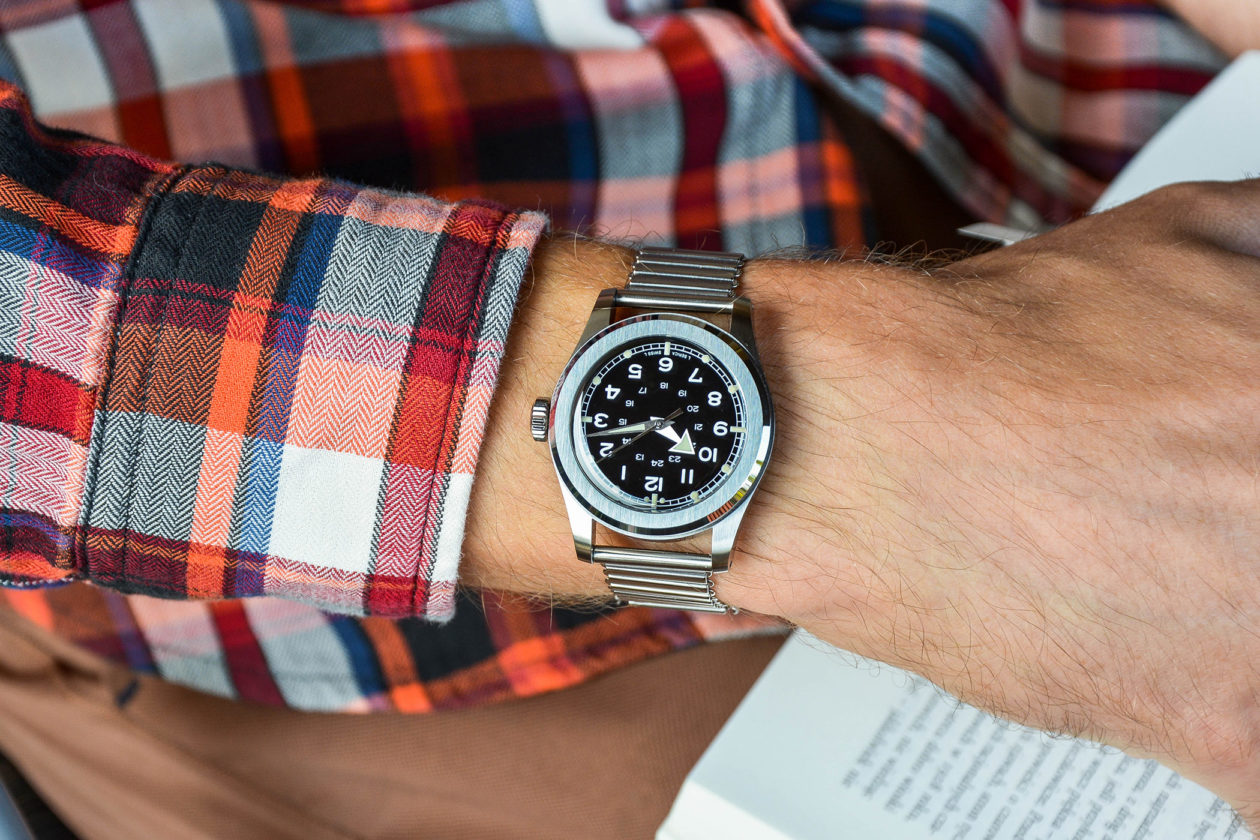 Test watch provided by
Serica
.