Review

TAG Heuer Carrera Automatic 42 [live photos, price]

Among the rich category of iconic watches inspired by automobiles, Heuer Carrera holds a very special place. Its newest incarnation draws from the original reference, but in a vastly modern way.

The 60's (of the past century) had its own set of unique rules, in life and watches too. Enough to say times were different and creativity played a far more important role. Watch brands were not yet run by accountants and PR played a lot less significant part in brand's success or lack of it. People mattered more, not only as part of creating watches (which is a human thing today too) but more so in the creative side of the business. Idea was what decided if you win or lose. In the 6th decade of the XX century Jack W. Heuer entered his 30s, and while still young, he already was a valid part of Heuer brand, named so by his great grandfather. How important actually Heuer was for the business? – well, it's safe to assume that without him we would not have witnessed one of the most important , iconic chronographs in the history of watchmaking.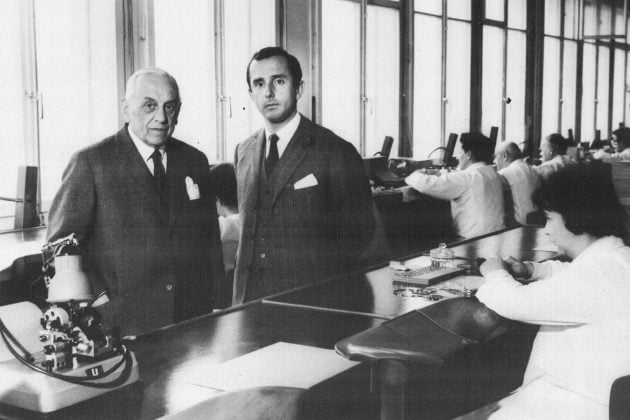 Birth of a legend
Heuer Carrera (the TAG prename came later) came to life in a time, when a lot of major chronographs enriched watchmaking. Those watches however were, in Jack Heuer's opinion, too cluttered and too busy on the esthetical side. Heuer turned to his love for minimalism and combined it with automotive passion, thus resulting in a creation of a Carrera in the year of 1963.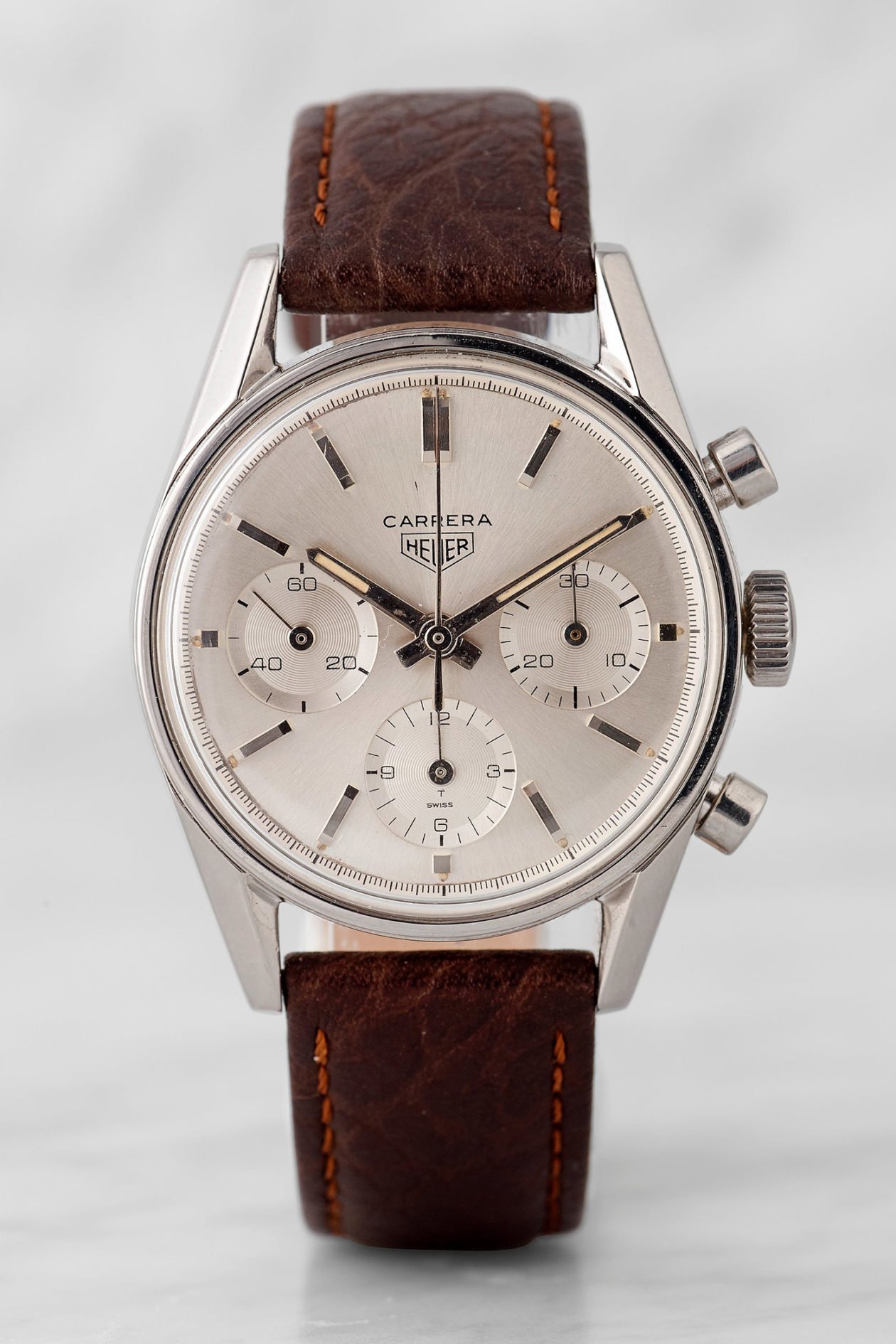 Why did he name his watch Carrera? Surprisingly not for the famous 911 by Porsche, which ironically came to life in the exact same year. The watch was named after a legendary rally, that drove through Mexico in the 50's, called Carrera Panamericana. Heuer came to conclusion that it is a name that not only has a very strong automotive vibe but also sound good, easy to pronounce in every language. The premier examples of the Carrera had a rather classic form with either 2 (at 3 and 9 o'clock) or 3 counters (at 3, 6 and 9), without even a tachymeter scale, typical to sport's chronographs. Movement-wise, one could chose between manually wound caliber Valjoux 72 or 92. With time date has been added to the dial, and then a variety of different versions appeared, paced by history and innovation.
You are all probably quite familiar with history of the Carrera. Almost 6 decades after the launch, it is still a flagship product of the brand, king of it's portfolio. Under the helm of just 26 years old Frederic Arnault – brand's present CEO – the collection shrunk to just two basic references, replacing crazy and rich visions of Jean-Claude Biver. There is still a Tourbillon Chronograph Automatic Carrera to be found in the collection, but it only makes an exception to a rather ordinary line of watches with an apparent node to the past.
XXI century Carrera
The new iteration of a basic, classic Carrera chronograph was presented in September last year. It is quite difficult to count which iteration of the watch it is, but as I have always been a fan of it – and kinda skeptical lately – we asked TAG for a test watch. Coincidently it was about the time TAG announced its partnership with Porsche, so our photoshoot with an old 911 Cabrio fitted just perfectly too.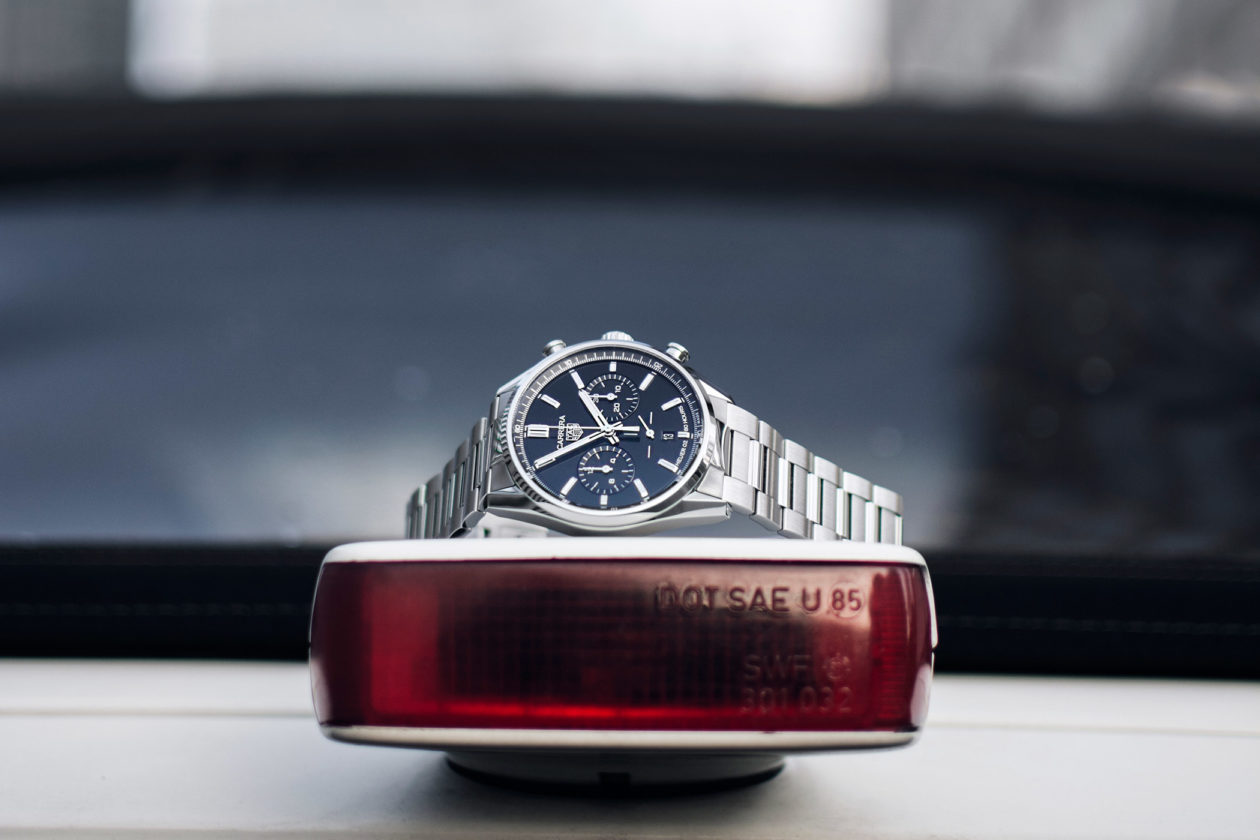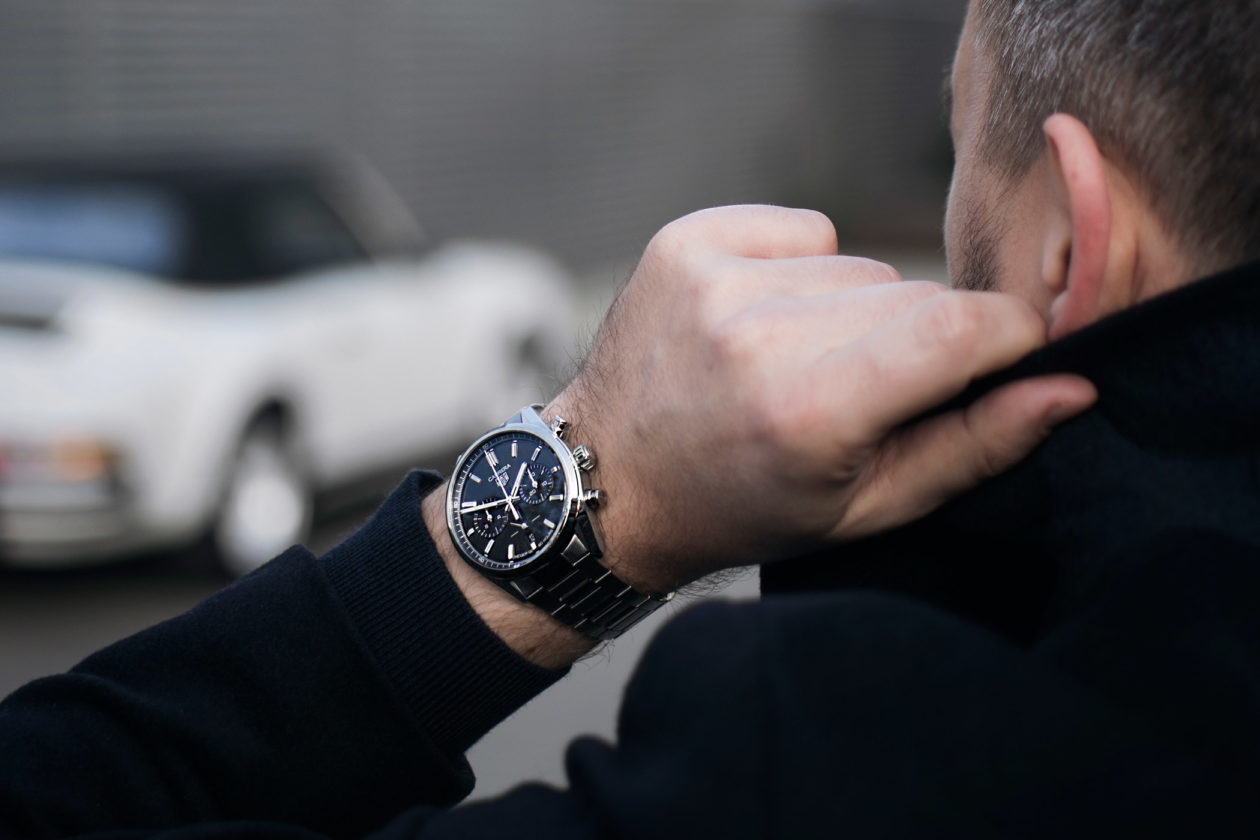 First thing that I noticed after unpacking the watch (and after the press info we had) was it's size. The basic Carrera (one I will refer to) grew considerably. Steel case measures 42 mm in diameter and 13 mm in thickness. Quite a lot of original traits have been preserved, including an overall shape with long, straight lugs with sharp edges. The case is finished in polish with brushed sides, locked on both sides with sapphire glasses. Front one is domed, and covered with antireflective layer. The non-screw crown is placed on the right along with a pair of oversized pump-pushers for the chronograph.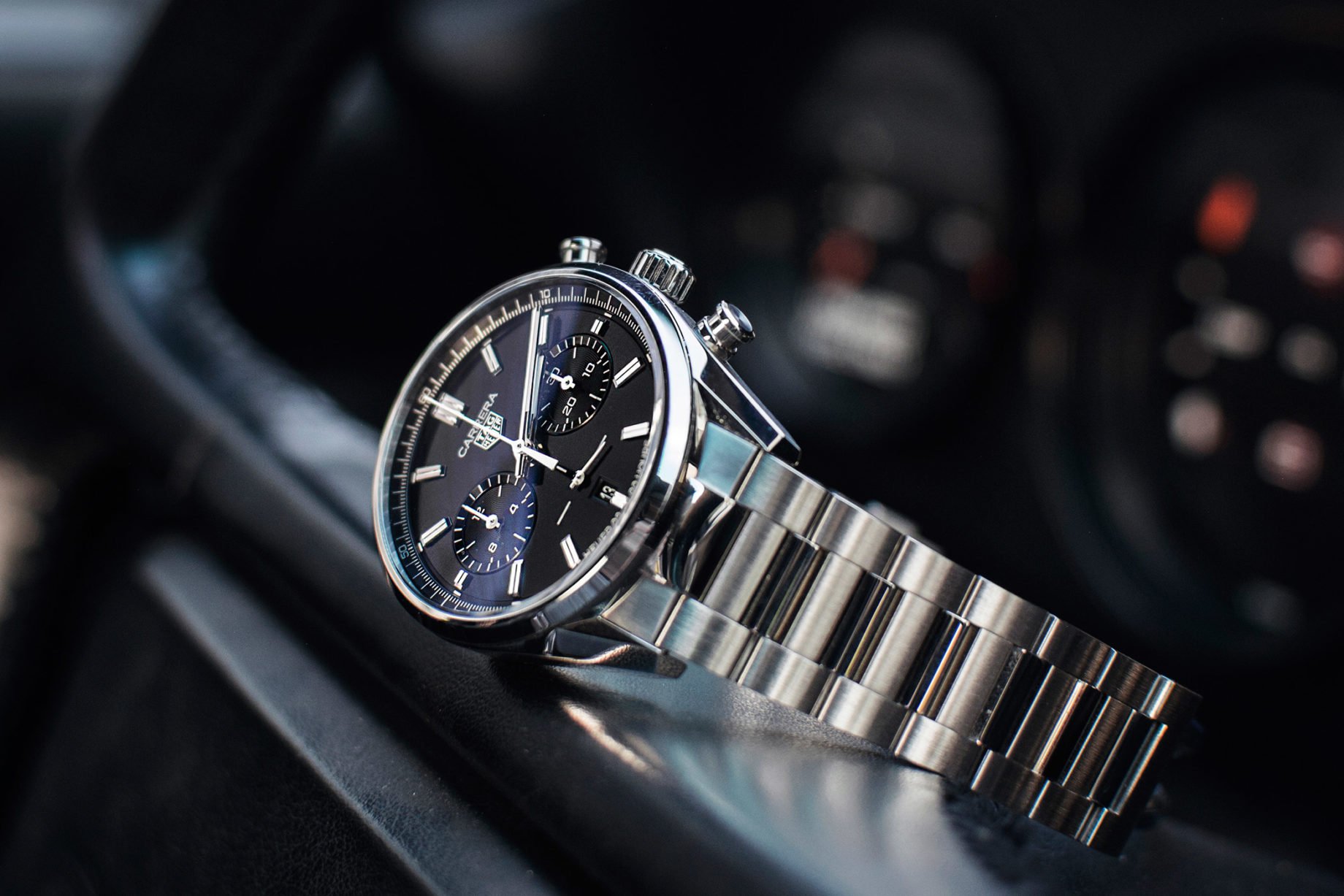 22 mm wide lugs of the watch hold a solid steel bracelet. It has been assembled from H-shaped links, mostly satin-brushed with polished center-links and sides. Bracelet tapers slightly towards the clasp, integrated neatly and with two safety buttons. All in all new Carrera I rather hefty, quite large "mans" sports watch, which to my surprise wears a lot nicer that it might seem, that sheer numbers suggest. 42 mm is quite possible the top of what my rather thin wrist can handle. But, as we know, 42 mm and 42 mm can be very different experience, cause it is more about the shape and the form. Carrera case stopped bothering me with its dimensions after some time, and a very good bracelet with modest clasp helps too. I did not have a chance to try the watch on one of the straps, but the bracelet works, and I only find one minor drawback – it tappers ever so slightly, which with 22 mm by the lugs and just a bit less by the clasp feels a bit heavy and balky. Luckily, mostly on the visual side.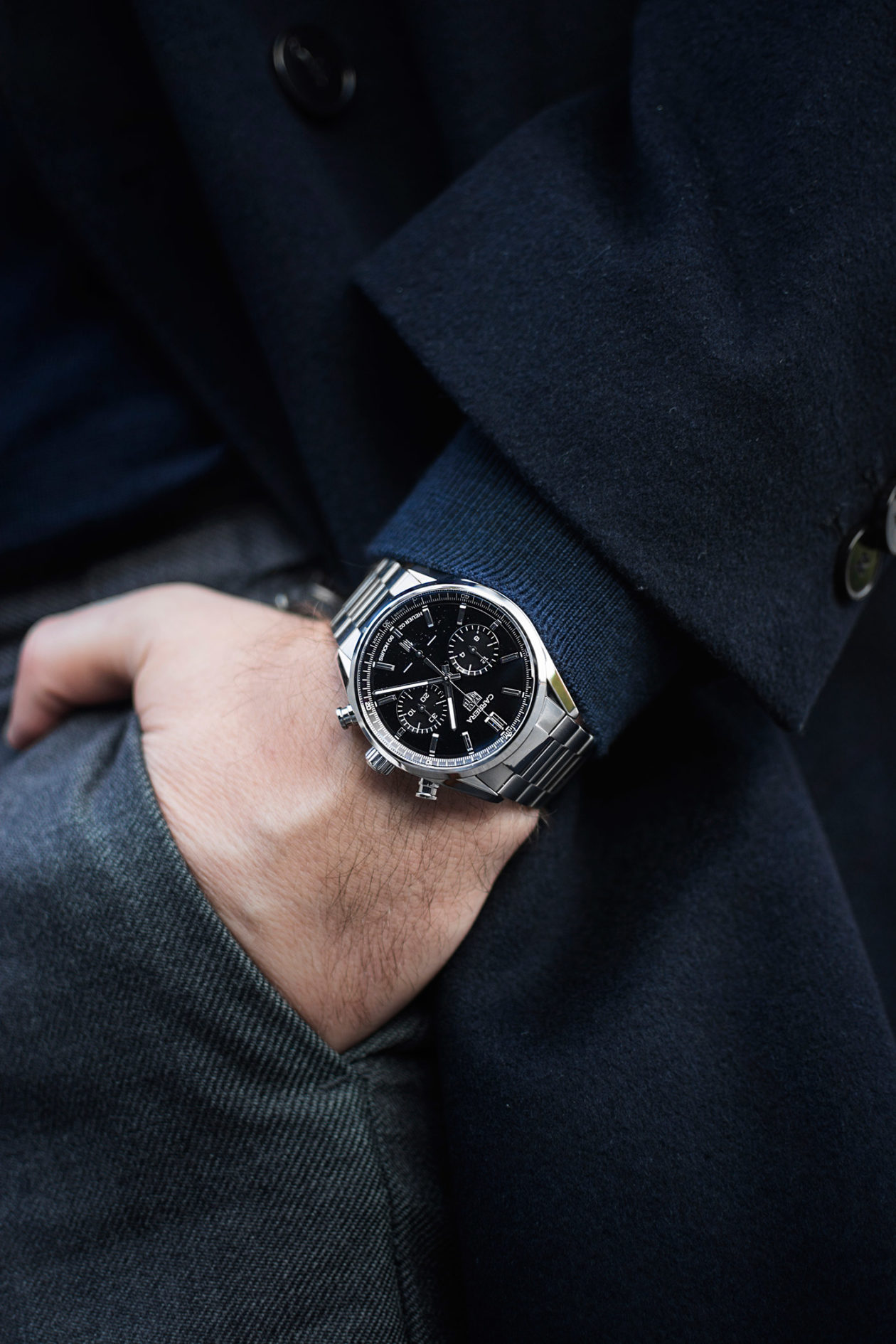 I mentioned already, that the clou of Carrera's design has always been simple, clear, undisturbed dial. That thought's kept in the new one. Out of all the available versions: silver, blue, grey and black, I chose the latest. For my taste, that simplicity in color is also a perk of the watch.
Dial of the Carrera Automatic Chronograph in inspired by both two and three-registers models form the past. That's been achieved by a clever trick of placing three sub-dials, but with small-seconds one without any visible border nor frame, positioned flat on the main surface. One might like that style or not (I'm surely not a fan), but minimalists at heart should like it. Two chronographs counters, 30-minutes and 12-hours, are fully flagged, slightly sunken dials with snail pattern. The dial itself is half-matt, slightly opaline under certain light, with applied hours indices and simple, lume-filed hands. Raised chapter ring with minutes scale surrounds the whole dial, that is completed by a date window, very discretely placed in the small-seconds. TAG Heuer's logo has been applied at 12 o'clock. I could only get rid of the movement inscription – it does matter, but maybe for aesthetics sake it should've been left out.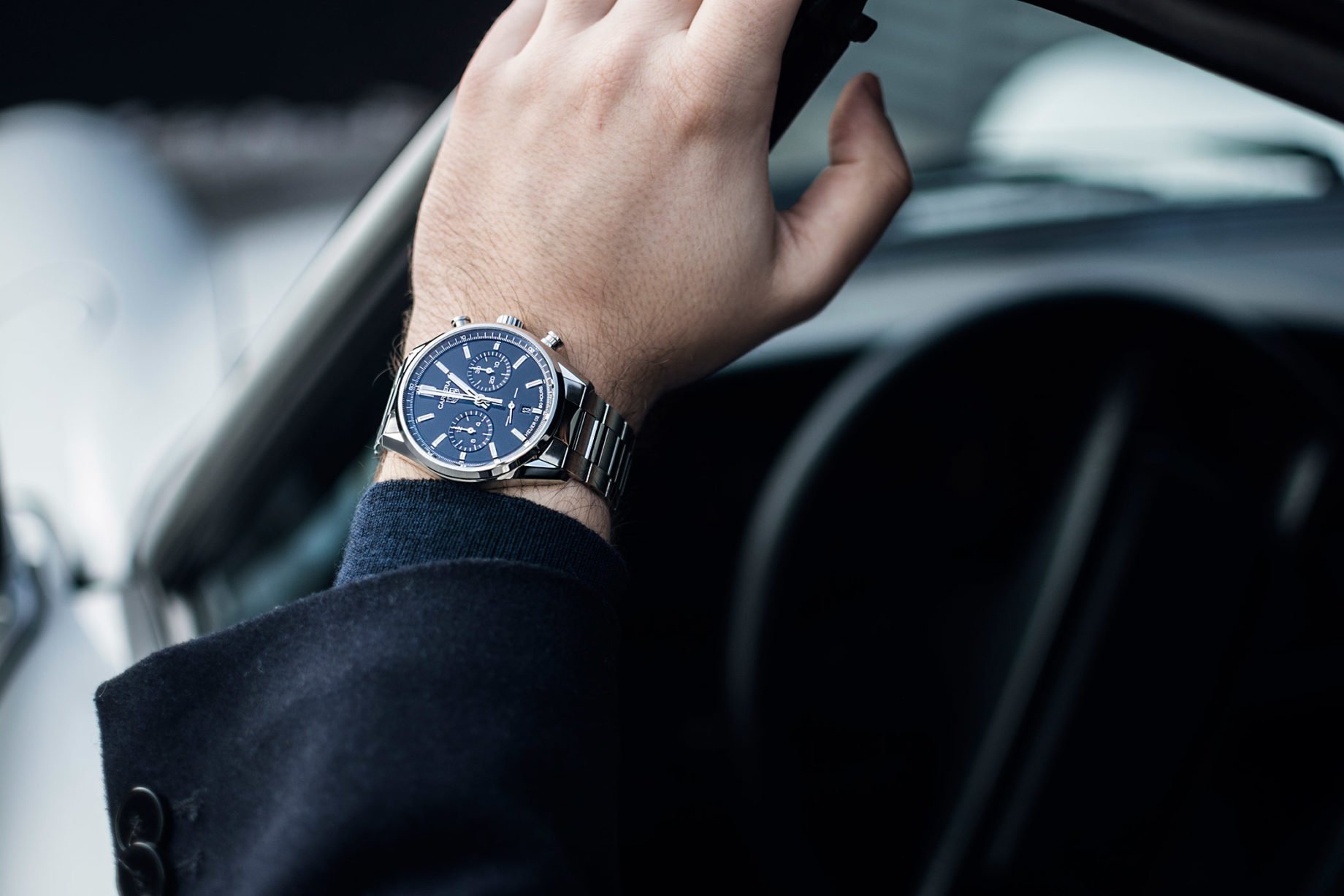 Heuer 02
That's where we get to the movement inside the case. Mechanics is another chapter of reach history of Carrera watches. It was one of the models that housed a legendary Caliber 11 – one of the very first automatic chronograph movements ever made. TAG also chose Carrera for the 1887 caliber, made under the license from Seiko. Now another important chapter in Heuer's history finds its way to the Carrera – caliber Heuer 02.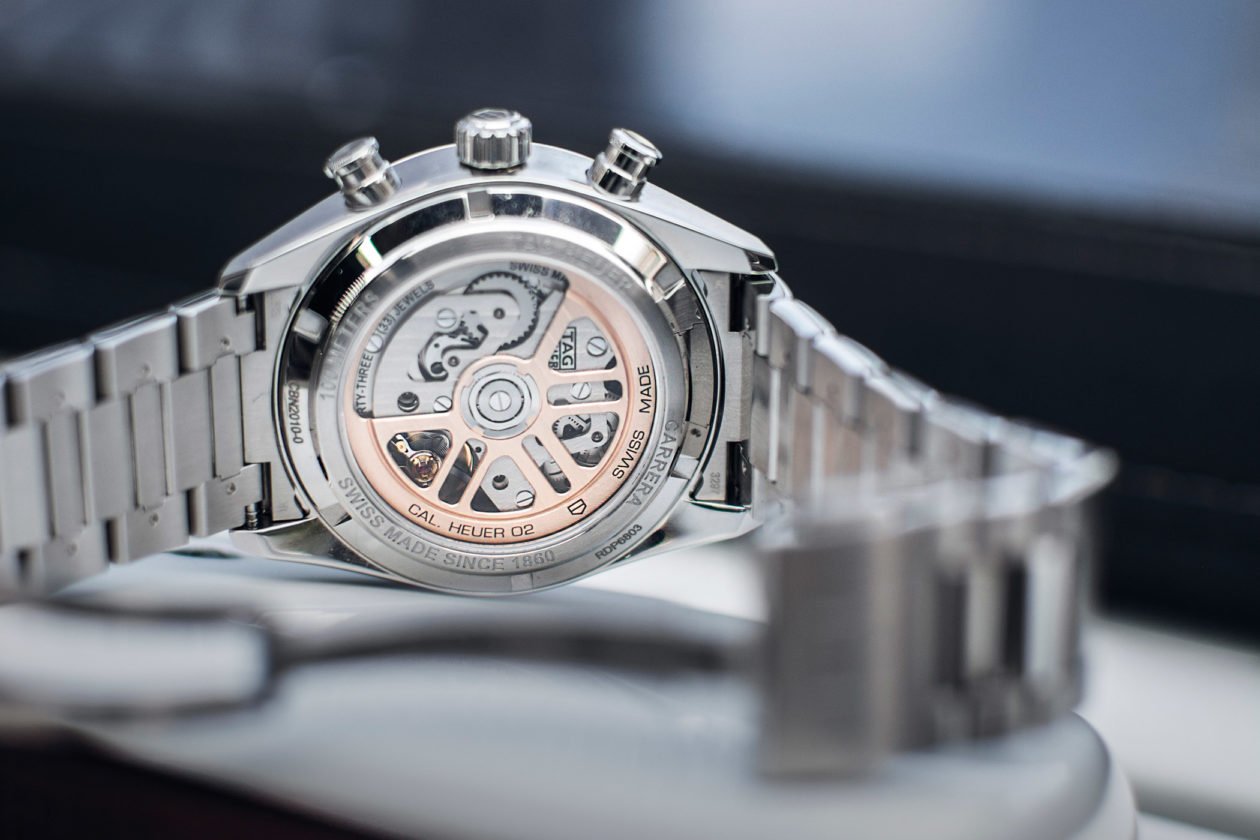 Unlike the Seiko base, this one is a fully manufactured construction with rather satisfying 80 h of power reserve. Power is stored in a single barrel, supplied by a centrally mounted rotor, shaped like a wheel rim of a car, plated in rose gold.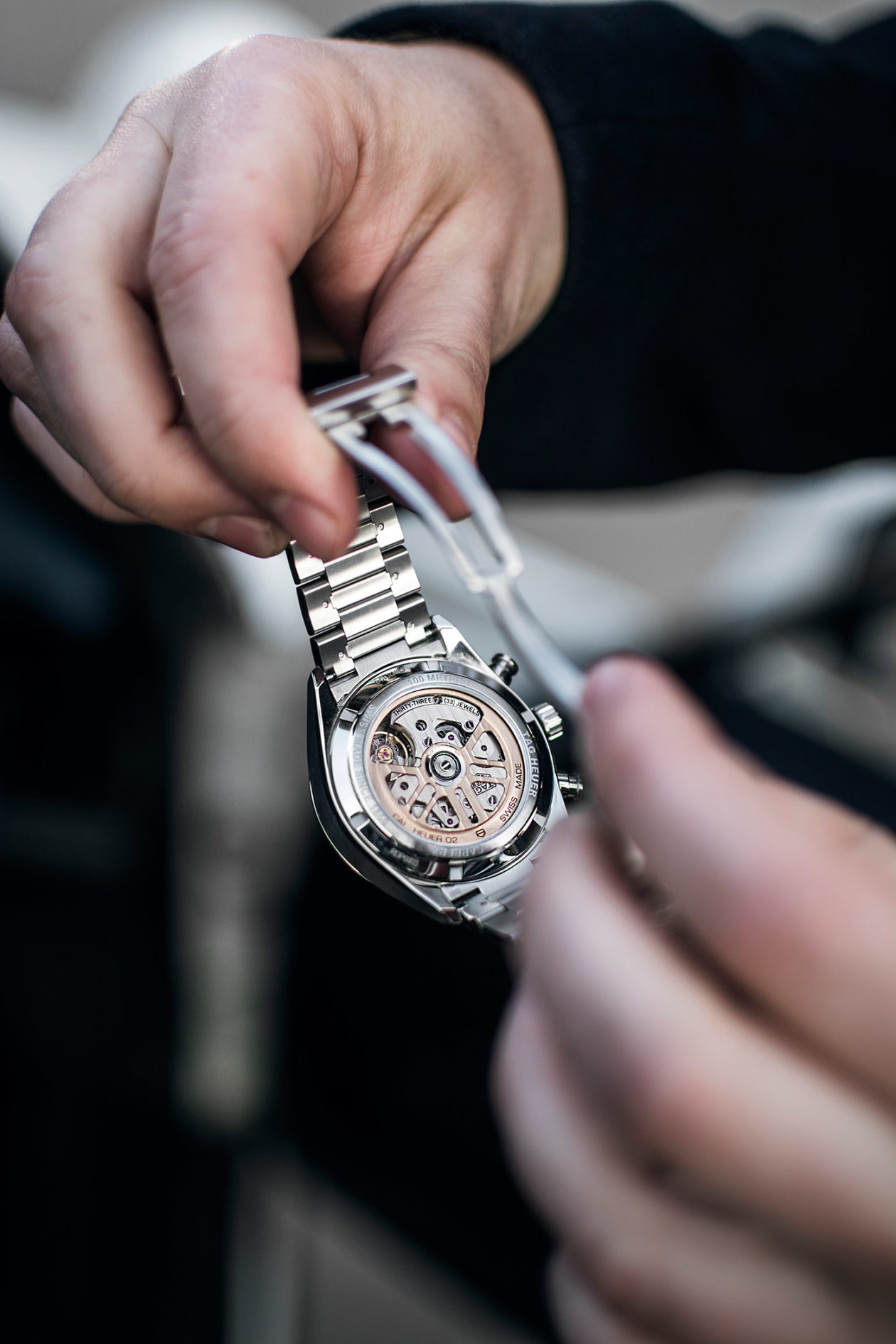 Heuer 02 comes equipped with a column wheel and vertical clutch, ensuring smooth operation of the chronograph. Frequency is set at 4 Hz, and every function controlled via the crown. TAG also take good care of the visual aspect of its movement. Largely covered by the aforementioned rotor, you can spot some nice decoration like Geneva stripes and polished screws. Heuer 02 is now a base chronograph of the brand, and it works just well in both functionality and feel.
Conclusion
One thing has to be said and praised about TAG Heuer of the 2021 – one can find almost every type of the watch in the collection, for variety of tastes. For those, who love vintage and look for heritage, should have a good choice between some Carrera 160 Years Limited Edition Silver and Montreal, some classic Monacos (some equipped with the Heuer 02 as well) and re-vamped Autavia. When I look at the new Carrera Automatic, I see a smart, modern interpretation of a classic, aimed for a younger audience.
I could easily complain, that a smaller case of the watch would eventually make for a better watch… and it would probably be true, however I assume it wasn't TAG's goal. Almost every next step and every decision regarding TAG Heuer collection over last few years shows, that it is always a well thought through decision, aimed for a predetermined client, looking for good quality, masculine watch with a famous logo on the dial. The one that's willing to spend just over 5 000 EUR and then sit comfortably behind the wheel of his sports car and enjoy every second of the ride. I'm exaggerating you say? Well, sort of, just because Carrera Automatic Chronograph, powered by Heuer 02 engine, is simply a very good wrist-chronograph for practically every occasion. Well build, nicely finished, with a quality movement and a bit of history in the background. I have no idea what Jack Heuer (88) thinks about the new Carrera, but I'm pretty sure he smiles gently – like a proud dad – seeing his almost 60 years old baby growing up, quite faithful to his original idea.
Test watch provided by Trufey, official distributor of TAG Heuer in Poland.