Review

Tudor Pelagos 39 (vs. Pelagos 42) [live photos, price]

The titanium-cased diver from Geneva-based manufacture turned out to be one of the hottest watches of the past year. But is it truly that good, especially compared to its original iteration?

Vast majority of top and respected watch manufacturers has the so-called flagship model in its portfolio – a watch that is easily recognized by any more or less experienced collector. For Tudor it is without a doubt the Black Bay – guess you will not argue with me on that. Ever since its debut at the long forgotten Baselworld fair in 2012, Black Bay became an instant hit, not only for the brand but also for a whole segment of affordable sports watches in general. To no surprise too, as it is a classic diver's watch (based on a vintage model) with a great quality of execution and an attractive price tag to that. One quick jump to Tudor's official website (well, maybe not so quick) can help you estimate there is roughly about a 100(!) different BB references, from the simple non-diver models all the way through to the special editions in ceramic, bronze and even gold. How good of a watch the Black Bay is we wrote plenty of times at CH24, reviewing the likes of the GMT, the Pro and the Chronographs, both the Reversed Panda and the Dark. There is quite a significant chance that if you have a look at your watch-friends collections, you will find many of them that have (or had) a Black Bay of some sort. What is both curious and interesting, I did not and do not own one. Why is it? In my humble opinion there is a far more interesting watch in Tudor's lineup. And this is the story about it.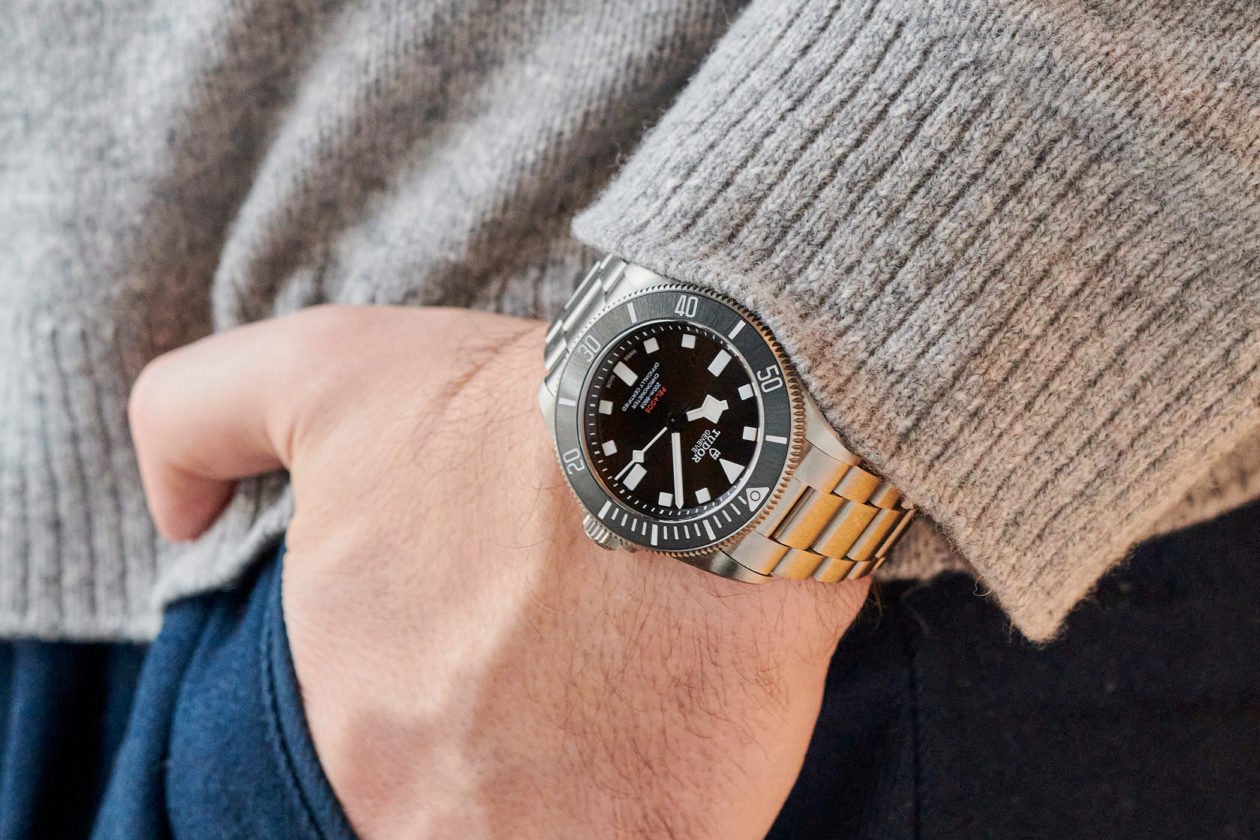 Pelagos
First time Tudor unveiled the Pelagos was at Baselworld in 2012 – exactly the same year as the first Black Bay. It is not hard to actually guess which one stole the show. Pelagos has been conceived as a Tudor of modern times, not directly inspired by history but rather crafted for the contemporary diver's wrist of the XXI century.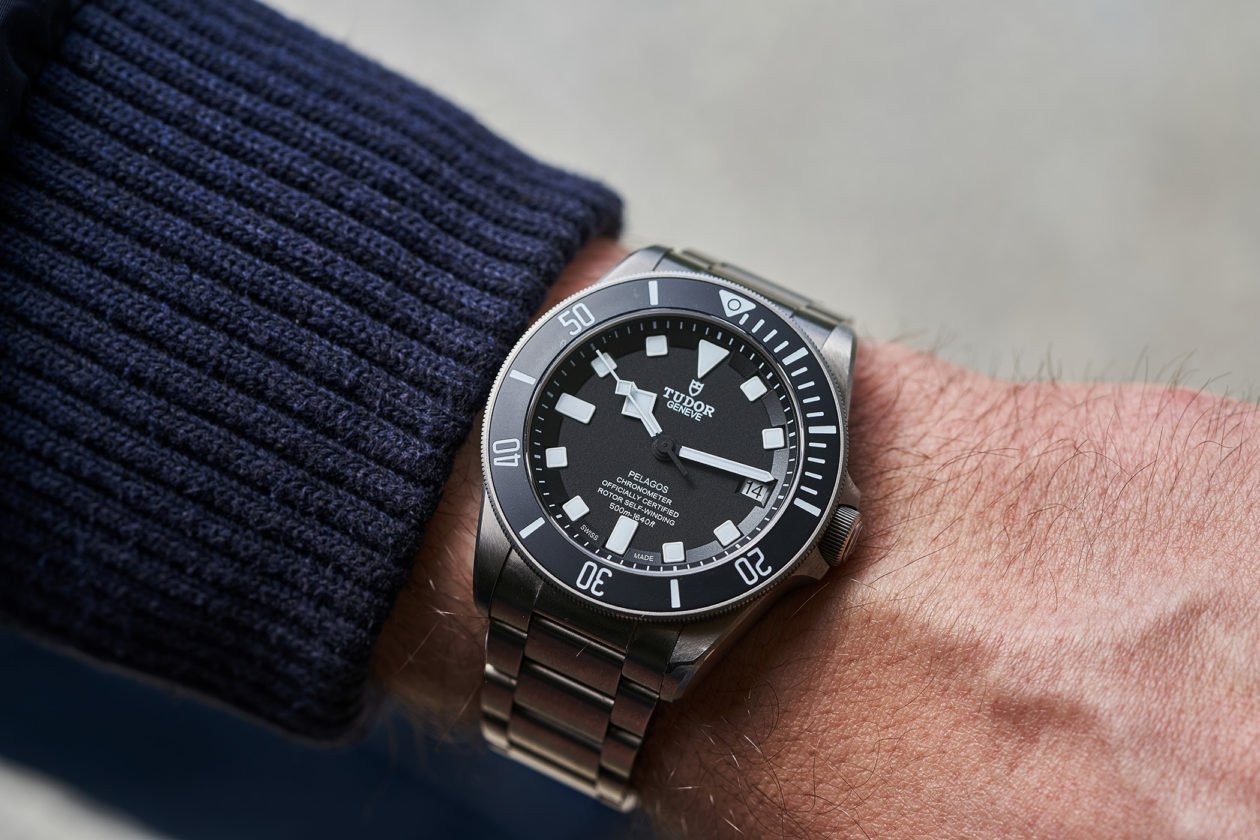 First and probably the most important thing was the choice of the material – light, hypoallergenic and corrosion-resistant titanium (grade 2), which was the first for both Tudor and Rolex in their long history. The case has been measured at a rather significant 42 mm in diameter and rated at 500 m of water resistance. Tudor added a helium escape valve, diving bezel with a ceramic insert and a titanium bracelet with a genius – yes, it is that good – clasp with safety and micro-adjustment. The entire watch has been build as an uncompromising tool, with every detail being there for function and purpose, not for aesthetical reasons. That raw functionality was to be found even on the monochromatic dial, which presented about the only inspiration with the past – a set of "Snowflake" hands with matching, rectangular hour marks, made out of white and bright Chromalight. I can't recall today how excited I was with the Pelagos back then, but my beating watch-nerd-heart fell in love with it when 3 years later Tudor introduced a fully in-house version.
At Baselworld 2015 the Pelagos went through a series of changes, the most important being a new mechanical heart. Stock ETA movement has been replaced by the manufactured MT561 caliber. Made by Kenissi (owned by Tudor), the movement offered 70 h of power reserve, anti-magnetic silicon hairspring and improved overall quality. The new mechanism in turn made the watch a bit thicker and added an impressive 5-lanes of text in the lower half of the dial. The blue version has also been added to the lineup, but my very classic taste leaned towards the black. Pelagos is a watch with a character, boldness, rawness of shape and form and very direct in its purpose too. About the only issue people always had with it was the size, usually to voluminous for those with smaller wrists, or the vintage-size inclinations. Until now…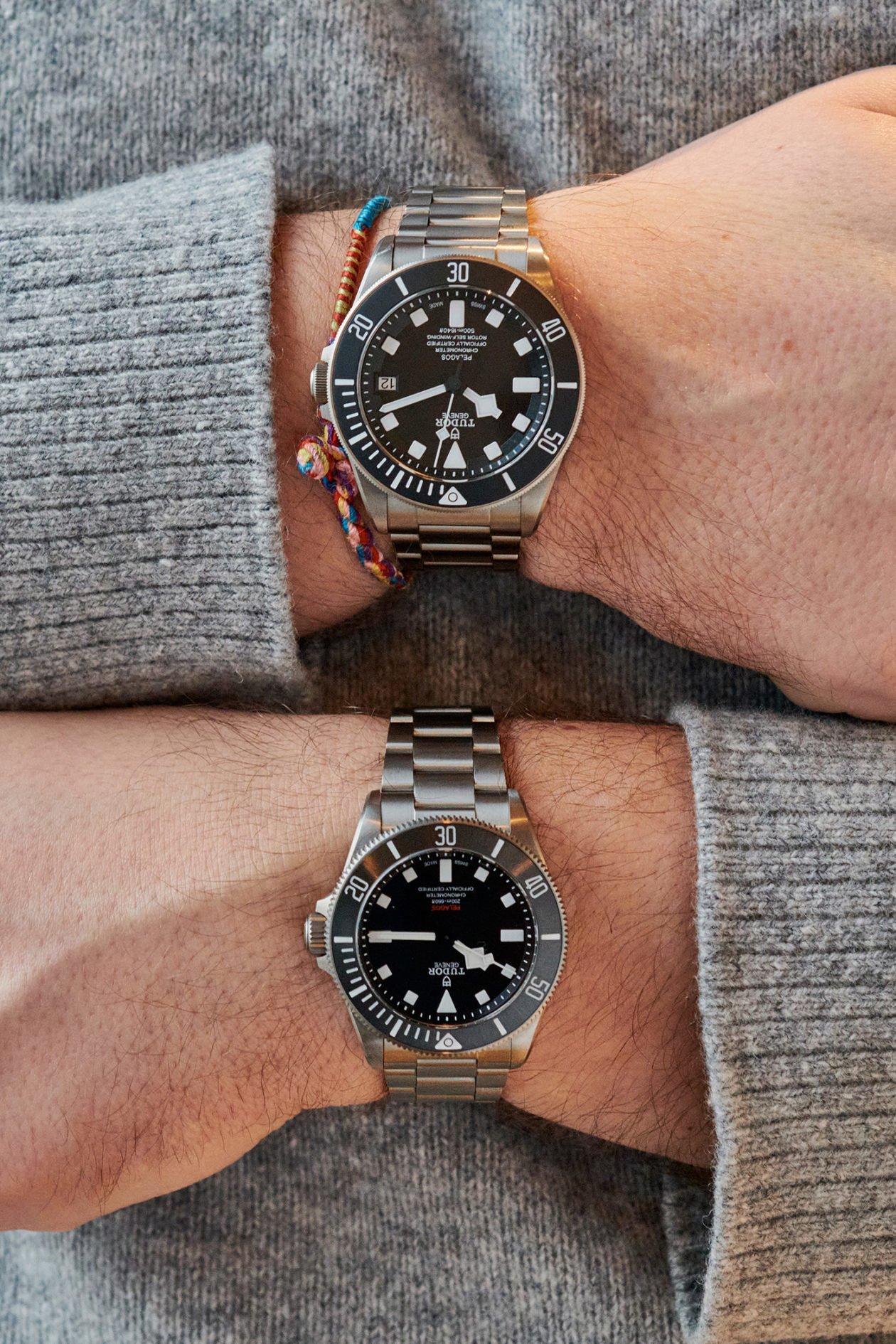 Pelagos 39
Not many watch brands out there, especially those big, well established ones, seem to be listening to their customers, rather basing their business on cold calculations, excel sheets and financial reports. It might seem like voice of the people would be an easy recipe for success, if not for the fact, there is as many voices as people expressing them. Sometimes though a clear opinion arise, and that was the case with Pelagos. There was one, clear, loudly expressed wish – smaller size please! Tudor listened… and even if it wasn't so, let's assume that the brand at least got inspired.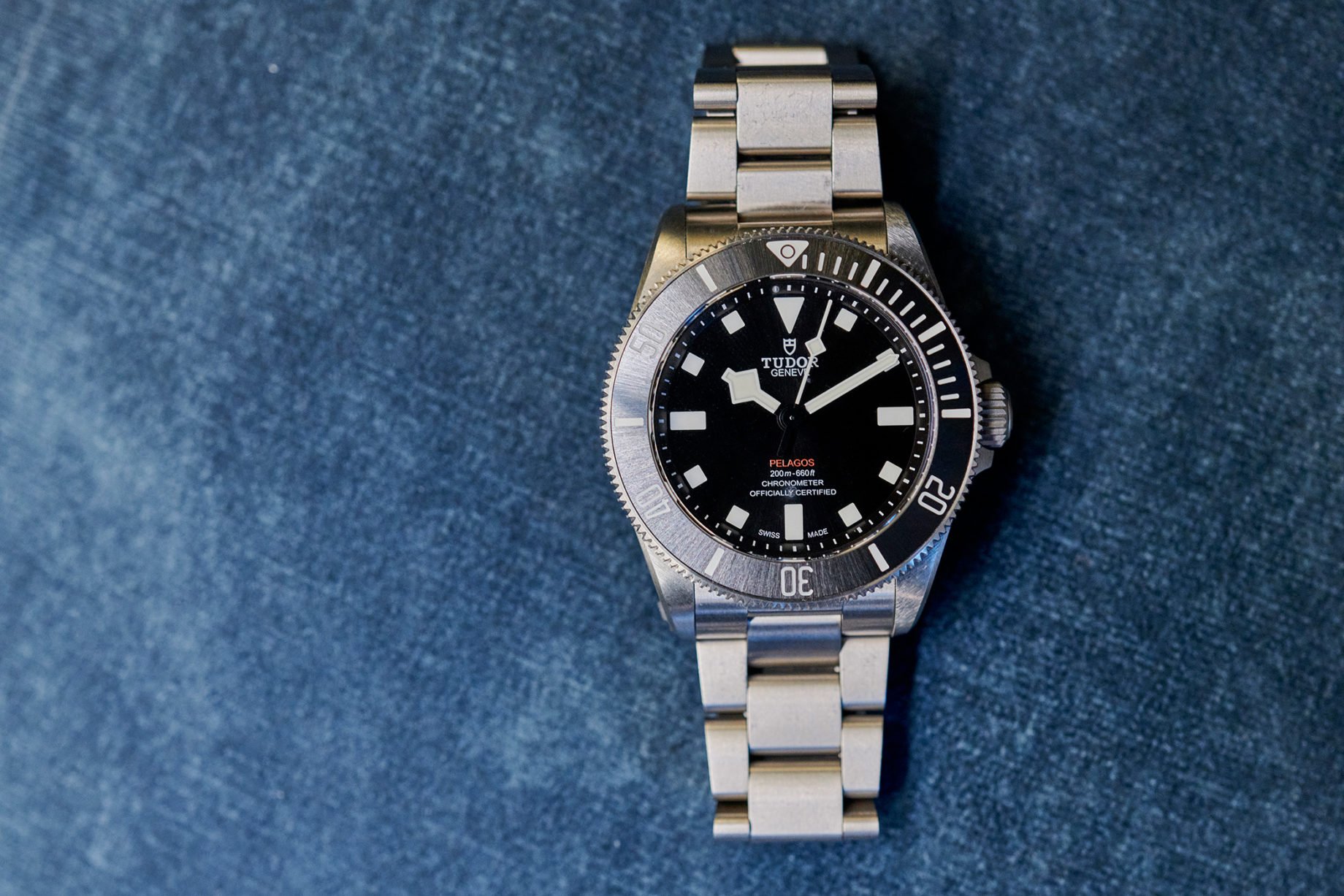 Pelagos 39 was unveiled in September of 2022, during the ongoing Geneva Watch Week. Tudor was not part of that event, but very cleverly benefited from the fact that almost the entire watch world downed on Geneva, including the international press. Cleverly so, that almost immediately everyone was talking only about their new watch, forgetting everything else around.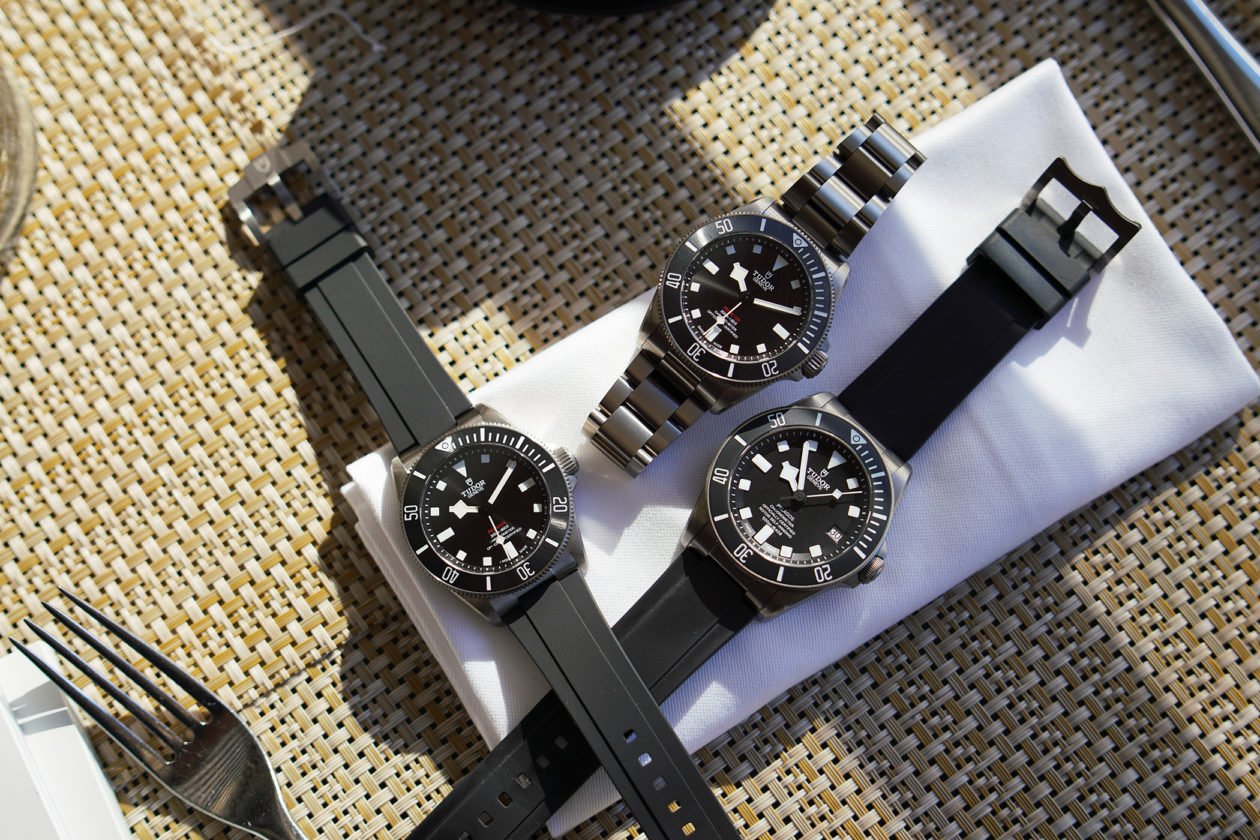 39 mm
It's not hard to figure out – especially that the name suggests it – new Pelagos is all about new size. A rather big (although I'd say not overly big) 42 mm watch has been replaced by the 39 mm one. The watch also went on a diet and slimmed down – from 14,3 mm to 11,8 mm in thickness. With that came smaller lug-to-lug – now 47 mm – and a smaller weight of about 105 g, with the full bracelet. All in all, finally a Pelagos that would fit even the most modest of wrists.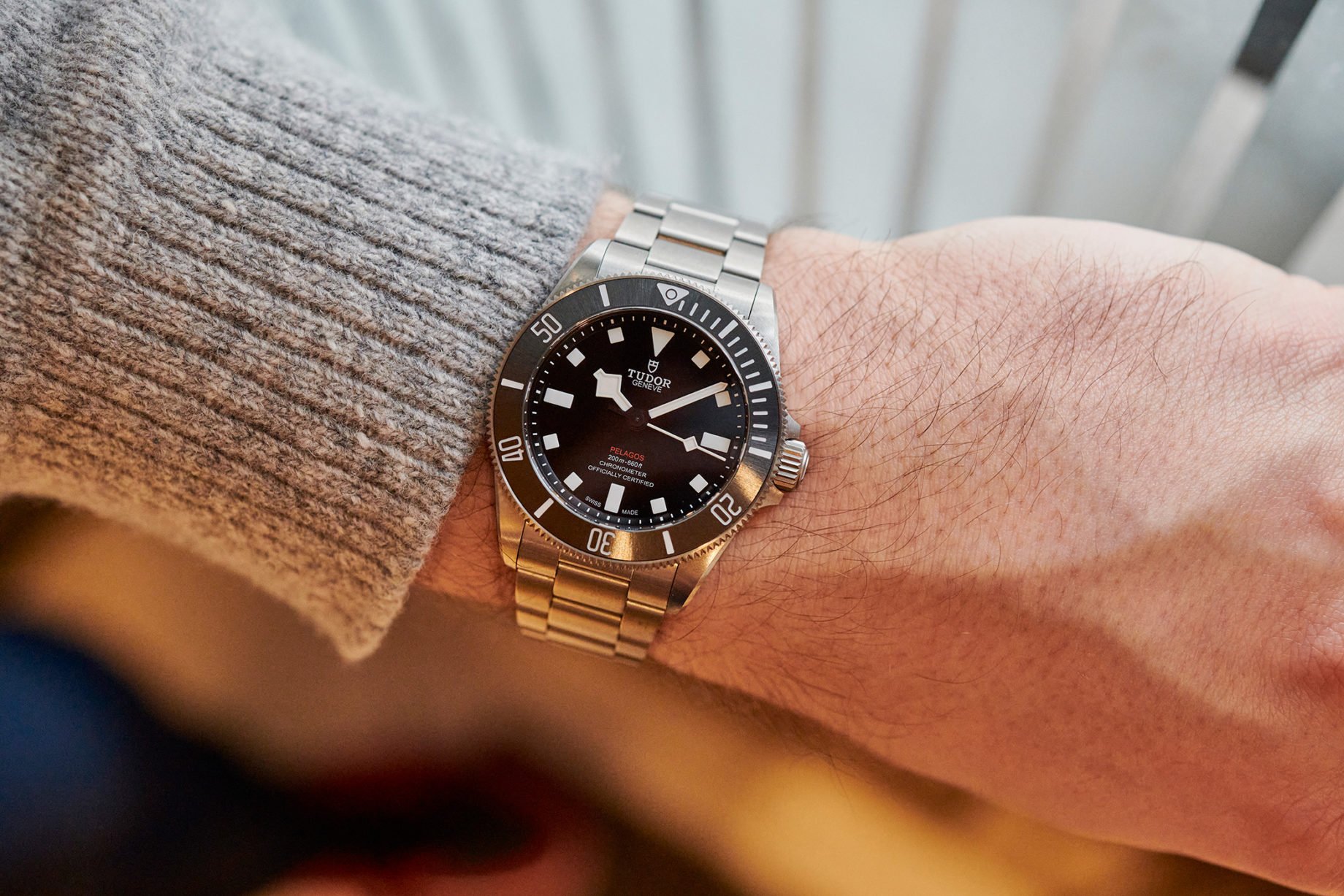 The entire outer form of the watch, including the Oyster type bracelet, has been unchanged – not in shape that is, cause the details make all the difference. The case remains a classic round one, with a screw-down crown protected by two protruding elements on the right hand side, solid caseback, wide lugs (21 mm), unidirectional diving bezel with comfortable toothing, flat sapphire glass and a classic, aforementioned Oyster bracelet. There is no helium escape valve anymore, and the water resistance has been tuned down from 500 m to a reasonable 200 m. What changed entirely is the overall aesthetical finish of the watch.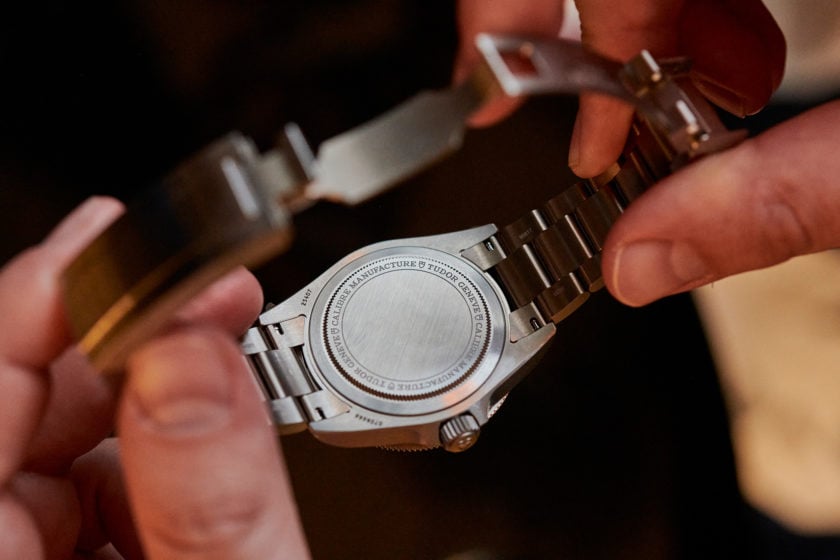 Form vs. Function
While the original Pelagos has been designed according to the form-follows-function formula, the new, smaller brother did not follow that line. Pelagos 39 is somewhat a civilian, casual version of the Pelagos, made to look nicer with pampered details in place of the raw, technical feel of the predecessor.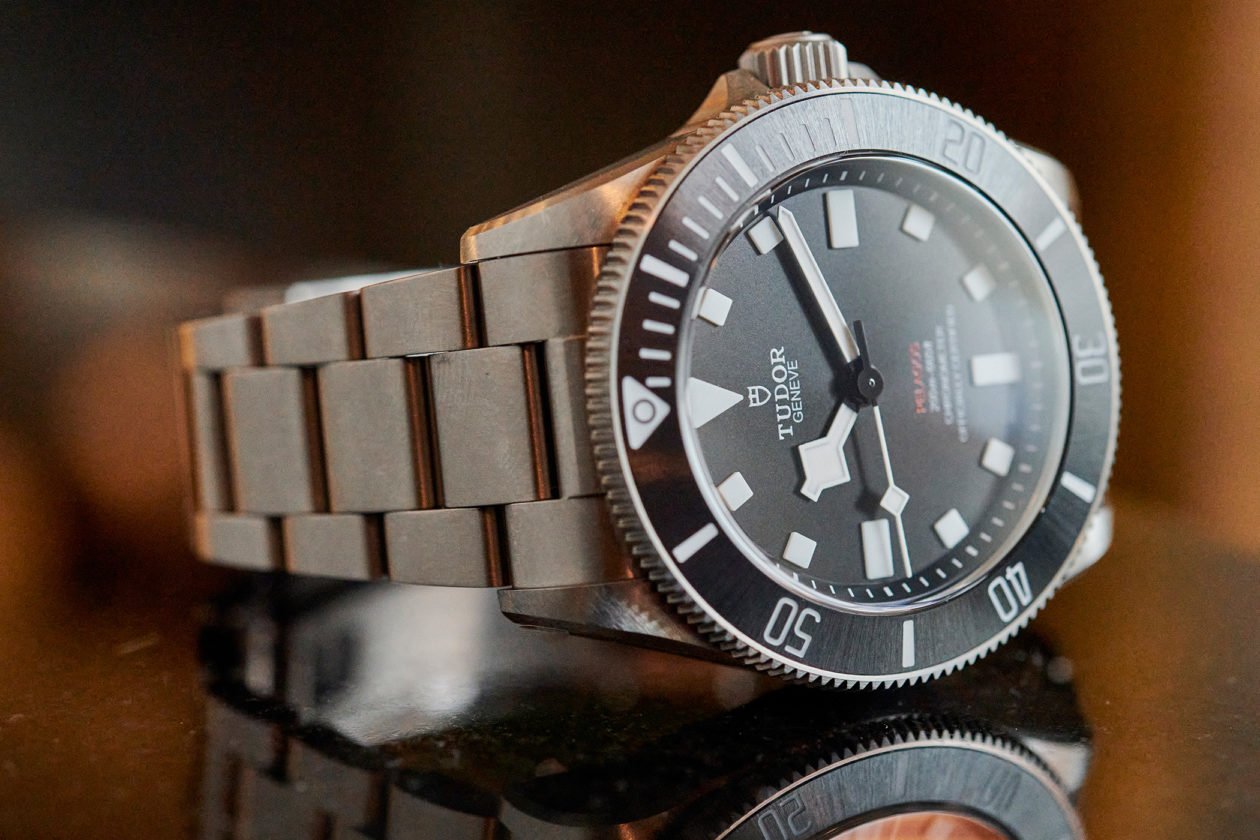 On the outside it is still a matt-finished, fully brushed watch, including the angles on the lugs and all the bracelet links. That's it however, as for the new looks of the watch Tudor decided to replace stealthy matt with some shiny finished details and decorations. Ceramic insert of the bezel has a sunburst pattern, making it shine in the sunlight with every possible shade of grey. The same kind of decorative cut, albeit in a more discrete form, is to be found on the black dial. The dial is surrounded by a slightly angled, sandblasted ring with minutes markers. It is completed by applied, luminova hour marks and a set of three central hands, including the iconic "snowflake" hour-hand. There is no date to be found, which probably made half of you cheer right now and the other half just shrug the shoulders. The only subtle touch of color to the monochromatic composition is a bright-red "Pelagos" name in the bottom half – a nice, lively touch and an inspiration with some vintage references of Tudor (and Rolex) diving classics.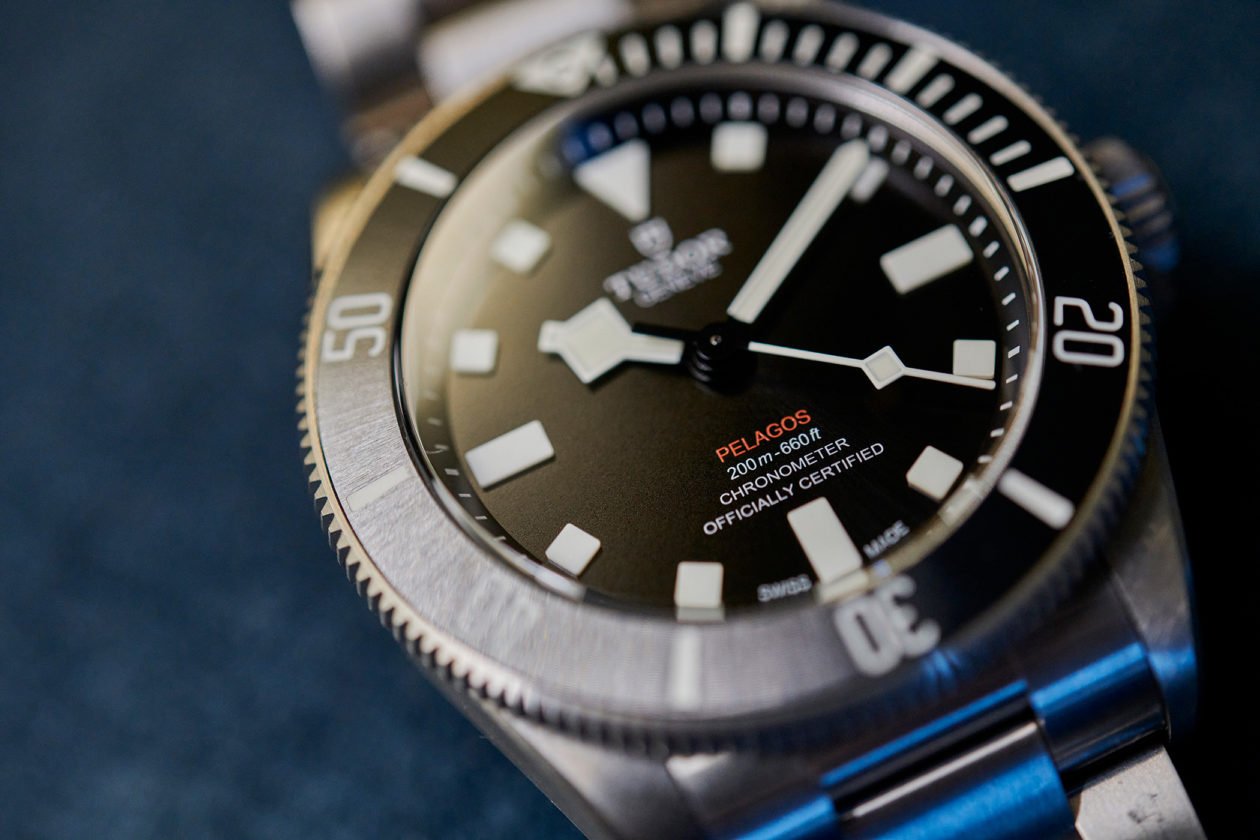 Manufacture
Inside the case, Tudor placed one of its own (build by Tudor-owned Kenissi) base automatic calibers. The MT5400, used also in the entire BB 58 range, comes with a significant 70 h of power reserve and precisely regulated balance. Thanks to in-house fine-tuning the movement guarantees daily rate of – 2 / + 4 seconds, way better than the official COSC certification (that it also has). There is also a full balance bridge and the 4 Hz escapement. Locked behind a solid back, the MT5400 is finished with some sandblasting and polished screws.
Pelagos – which one to get?
I have no doubt that buying a Tudor Pelagos is a great choice, well justified and guaranteeing satisfaction. The Geneva based manufacture (now with it's independent new factory in Le Locle) provides an amazing value for money – probably one of the best in the entire watch industry. The quality goes along with manufactured, proprietary movements, finishing details, robustness and finally the brand itself, not to mention the attachment to an older brother, Rolex. With all that, the tough part is – which one to choose? Which Pelagos in this case? And all-in-all it is a rather simple choice to make, for those are very different watches indeed.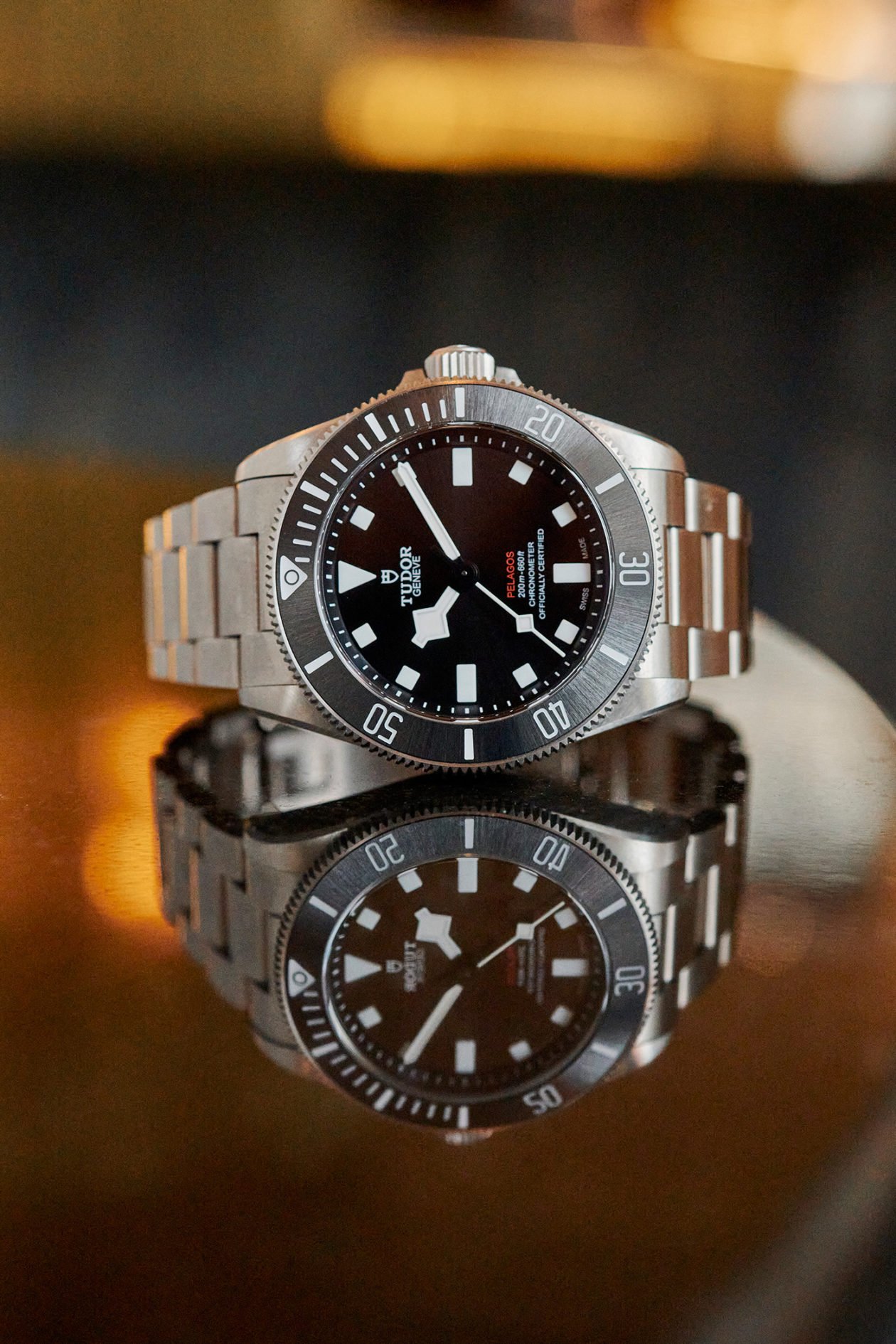 The original, 42 mm Pelogas will be the choice for those who seek for an uncompromising tool-watch, made in purpose with all its functionality – even if you not intend to dive with it once, or deeper than an average pool. If however you don't care about any of that, and you do like pretty details and smaller sizes – the 39 Pelagos it is. I am a happy longtime owner of the reference M25600TN-0001 (42 mm, manufactured) Pelagos, so might not be fully objective with my judgement. I totally lean towards the technical face of the Pelagos, its rough rawness and purpose, despite not being a diver in any shape or form myself. I do however completely understand that the size might be problematic for some, and the "39" solves it perfectly. And the fact it looses most of the raw feel for the elegant, more refined looks doesn't sound (and feel) that bad either. Thanks to all the new things, Pelagos became a slightly more refined, elegant watch which makes it a more obvious daily-wearer, for any occasion or outfit. But how good it feels as a daily wear? – for that I asked a friend of mine, with a completely unbiased opinion but quite a taste and a nice collection of fine watches.
---
"The watch has outgrown my expectations. All the elements that seamed like flaws on the press pictures, including shiny dial and bezel, turned out to be a positive surprise. It feels like Tudor thought this watch out carefully. Would make it a bit more rough, like the original? Yes, but than it might be much less elegant. They way they did it we get a watch for everybody, which is a quality that please everyone" – says Rafal Kluziak (@analog_ovo on IG). "I like a expressive design, so my diver's watch of choice is Bulgari Diagono Scuba. But if I were to wear a classic diver, I'd go with the Pelagos 39 over for ex. the Rolex Submariner. The 39 Pelagos is simply more interesting to me, has some of very neat design cues and a better, vintage-like size. And the Rolex-like quality on top."
---
Availability and price
Tudor Pelagos 39 is priced at 4 660 EUR, 320 EUR less than a 42 mm version. With the watch you get the bracelet and as an extra, comfortable black rubber strap, quipped with a titanium buckle and a rubber diver's extension. Strap is mounted to the case with bracelet's end-links, so it is perfectly integrated as well.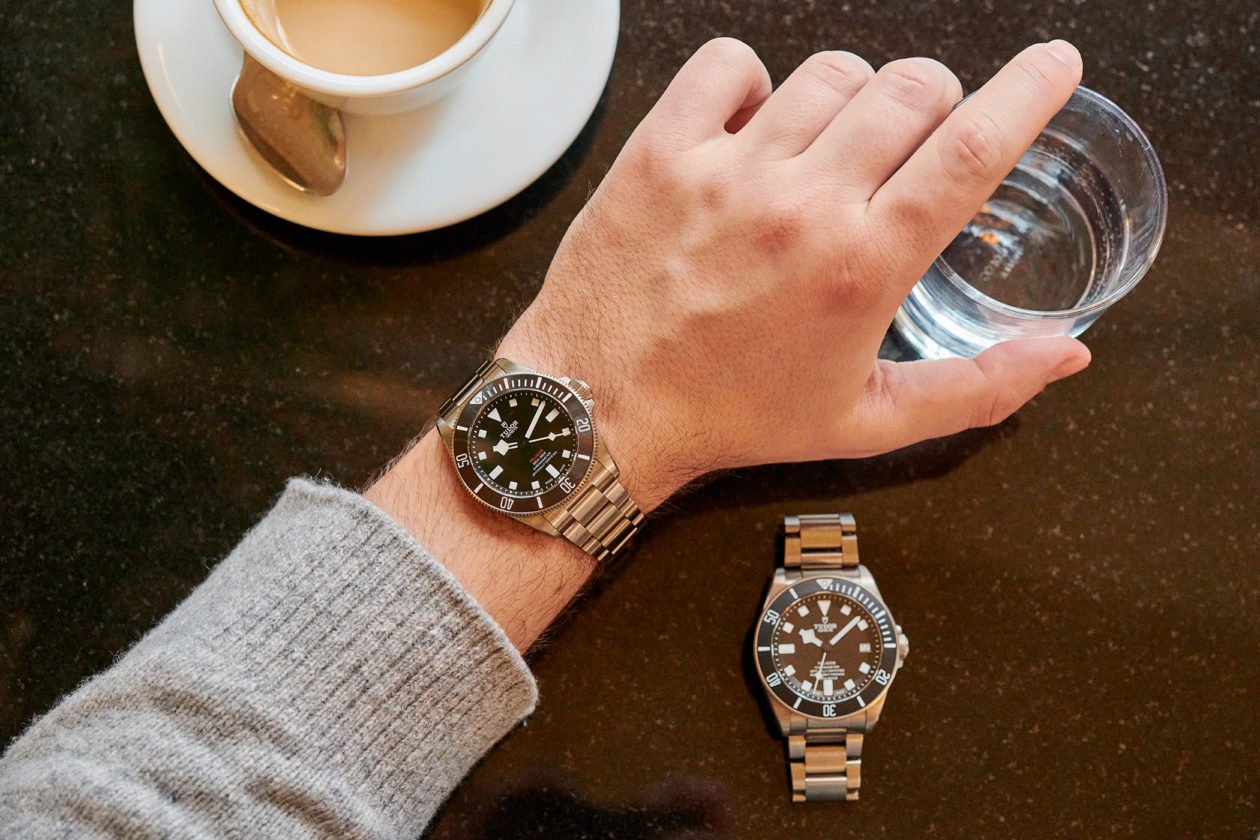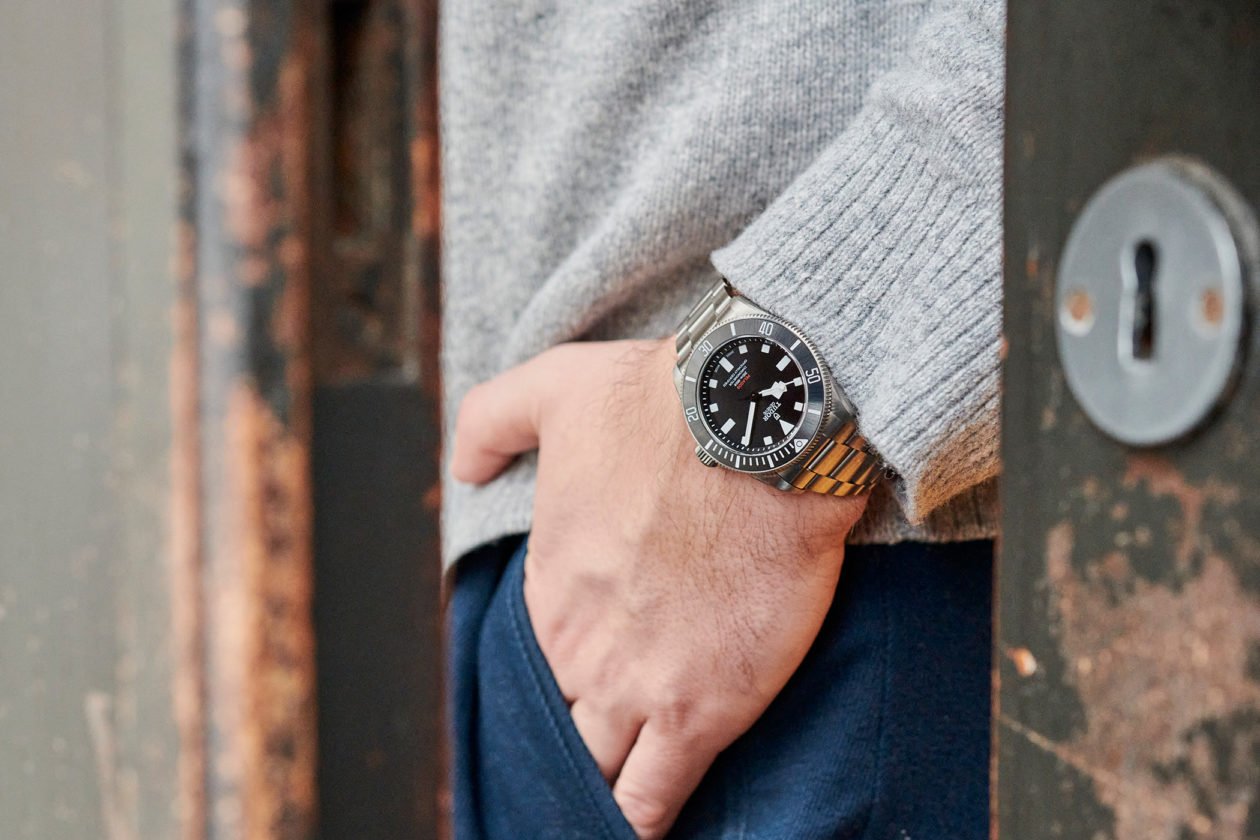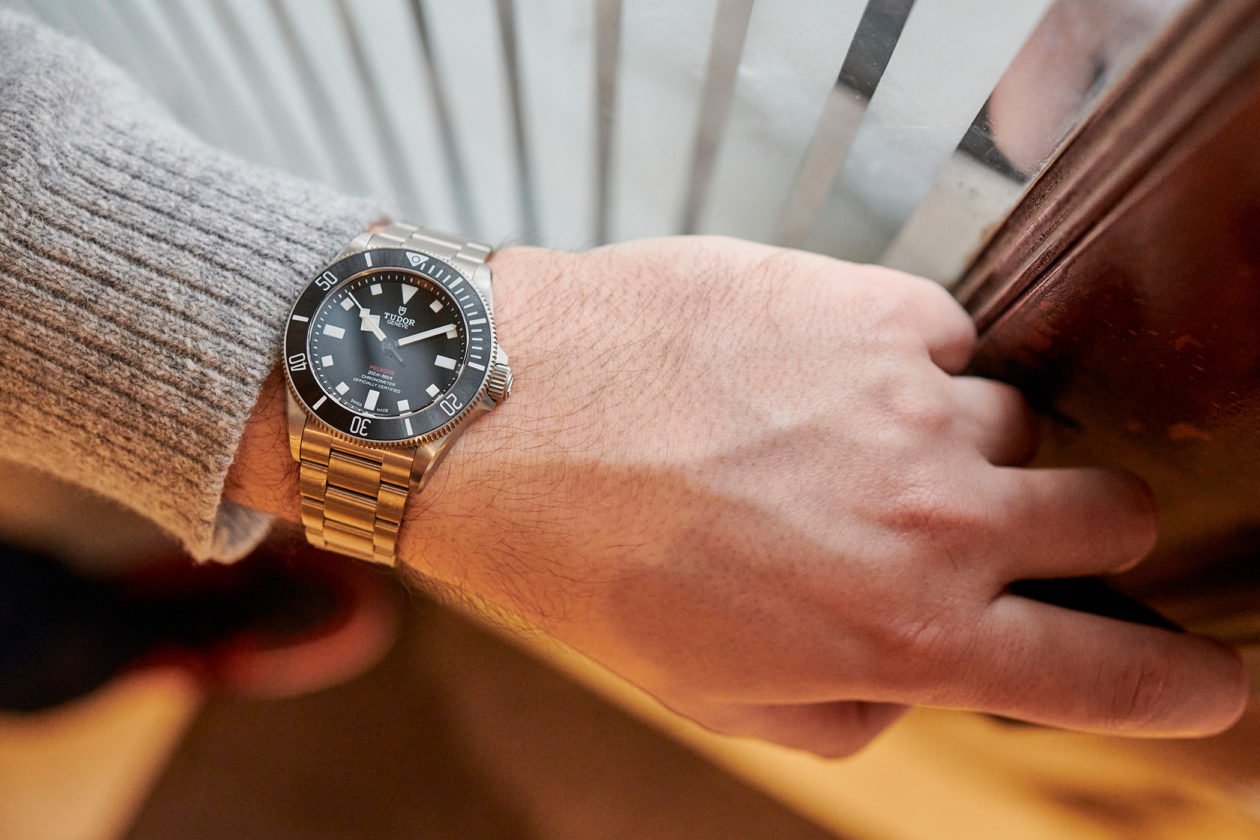 Test watch provided by Tudor.
Thank you goes to Zaremba Cafe for sharing the venue for the photo shoot.