Review

Zenith Chronomaster Revival Shadow [live photos, price]

Strongly based in the past yet vividly modern, the Chronomaster Revival Shadow version is surprising watch that perhaps best expresses Zenith's present philosophy.

If one would like to compare heroes of watchmaking history to mythological gods, Zenith deserves the title of Phoenix. Phoenix who rose from the ashes thanks to the right people and lucky coincidence to become one of the great icons. Interestingly enough it's not about a particular, single watch, but a movement, bearing a very pleasant name of El Primero. It was very close for the El Primero to vanish in it's infancy, defeated by quartz crisis and mindless owners. It has been saved by a gentleman named Charles Vermot, who hid all the plans, parts and machines used to make movements in the attic of Zenith manufacture in Le Locle, thus saving it from disappearance. Covered with dust and almost forgotten, El Primero returned with a flair and is today – still – one of the top calibers of it's kind out there. Not to mention Zenith's pride and glory.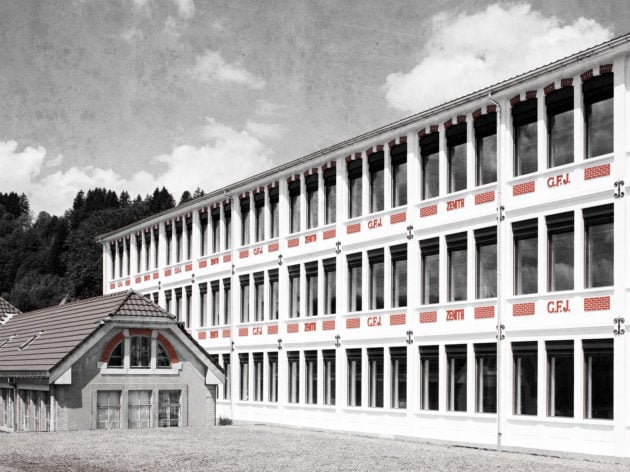 Modern Zenith went through many ups and downs, almost as if one had to fall down in order to stand up stronger. The right path began a few years ago with Jean-Claude Biver, then had of watches at LVMH (Zenith's owning group). Mr. Biver's way of doing business – so to speak – is very straight forward, quite radical, precise and with skilfully selected individuals. At Zenith the choice has been Julien Tornare – young, energetic, trusted man with a mission to lead Zenith into the future. This article is not about Mr. Tornare, so let me just say he is one of the nicest and most passionate CEOs in the industry. A man on a mission to realize Zenith's motto "future of innovation" – a combination of traditional watchmaking craftsmanship and very contemporary approach to design and construction. A watch you're about to read might just be a perfect example.
Size does(n't) matter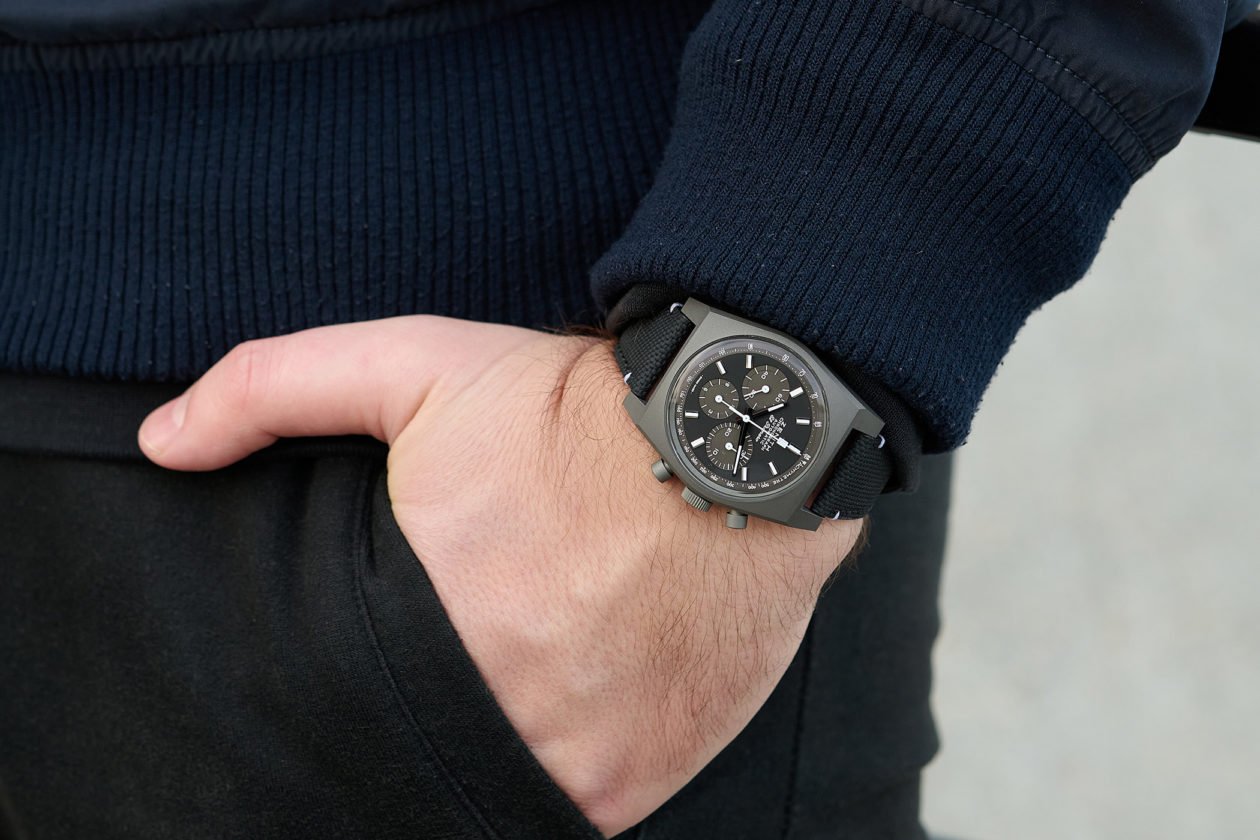 First thing that struck me (almost literally) after opening the box, was a very… very modern size of the watch. Zenith designed the new Chronomaster as a faithful copy of the 70's original, keeping all the important details, including dimensions. Tonneau shaped case measures merely 37 mm. Lug-to-lug is just 45 mm, and along with 12,6 mm of thickness the feeling is prominent. It gets even a step farther with the color – as we all know, black makes one look slimmer, and the Chronomaster Shadow case is made of titanium, finished in a matt, micro-blasted, dark grey. The dial is also quite dark, only slightly contrasted with three light-grey sub-dials. To sum things (and impression) up, it is modesty in size and feel, but most definitely not too small. Original doubts quickly step down to be replaced with an appreciation for comfort, provided equally by the size, material and shades.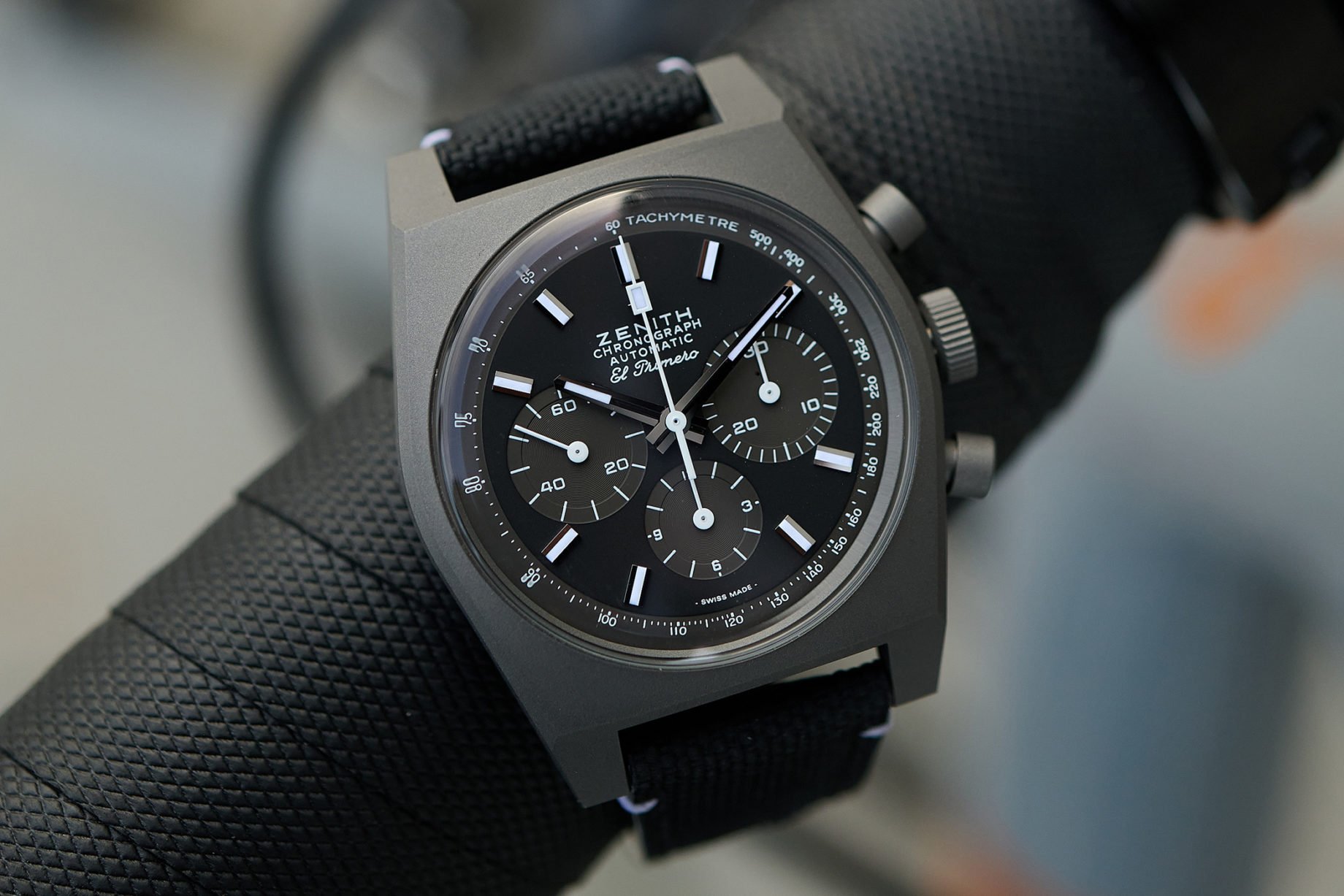 Zenith paired titanium of the case with a black rubber strap, embossed as if the top side was made of fabric. The strap feels and looks appropriately, complementing the whole look. You fasten it to your wrist with a traditional, titanium tongue buckle.
The aforementioned black-grey dial comes designed with typical set of "three-compax" sub-dials: small second at 9 o'clock, 12-h chronograph counter at 6 and 30-minutes counter at 3. In the Chronomaster Revival series (that the Shadow is part of) sub-dials don't overlap, like in a classic El Primero. Monochromatic dial is finished with some steel and white luminova indices, white writing and black, straight hands with some lume. One last detail comes in a form of slightly angled, outer ring with a tachymeter scale.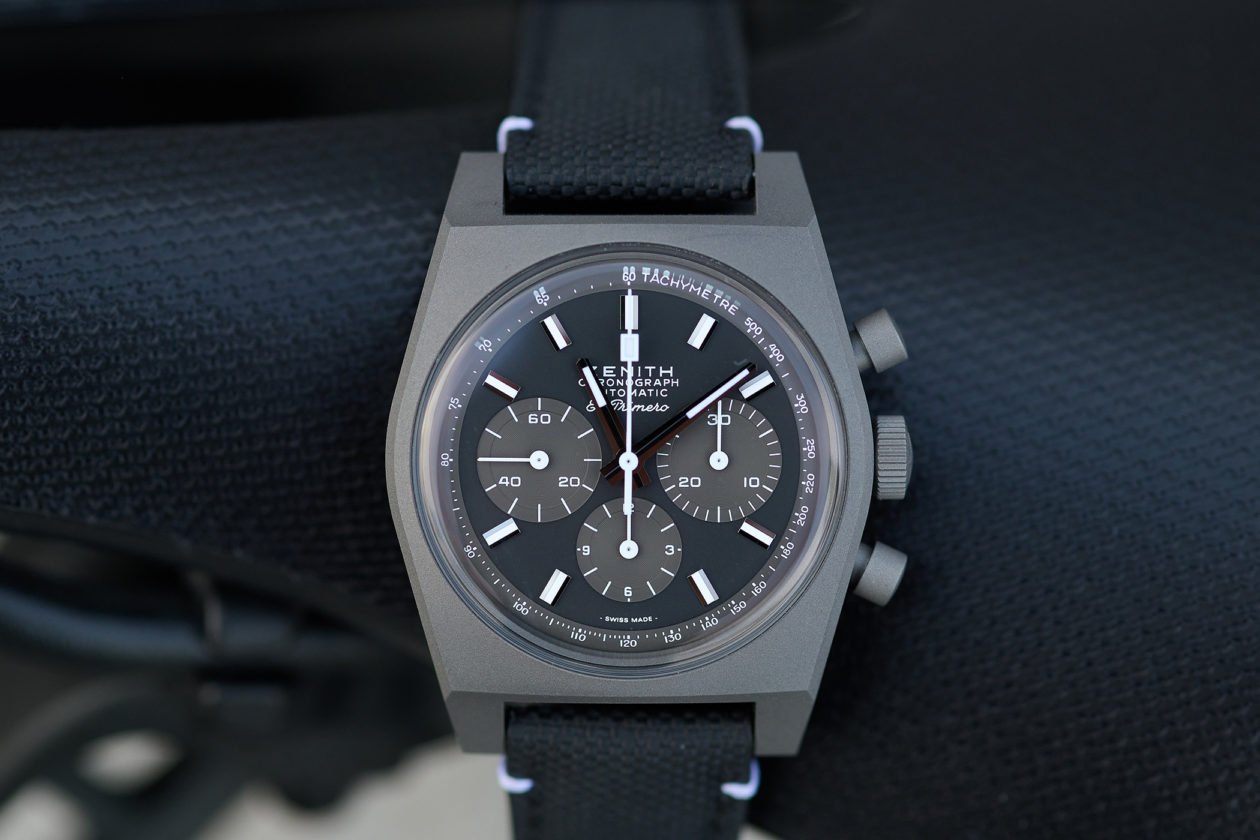 Retro mechanics
While the entire outside of the watch, despite its classic roots, can be quite fairly called modern and contemporary, the mechanics represent absolute tradition, and in the best execution too. When El Primero was launched good 5 decades ago, it amazed the watch world with its intricacy and watchmaking skill. In times when automatic chronographs were in infancy, El Primero offered a possibility to measure time up to 1/10th of a second, provided by a balance wheel ticking at blistering 5 Hz. High frequency was questionable, because the higher it goes the more difficult it is to tame. Zenith however masters El Pimero's fast pace with mastery, developing the movement with number of pampered, enhanced iterations. Chronomaster Shadows houses caliber 4061.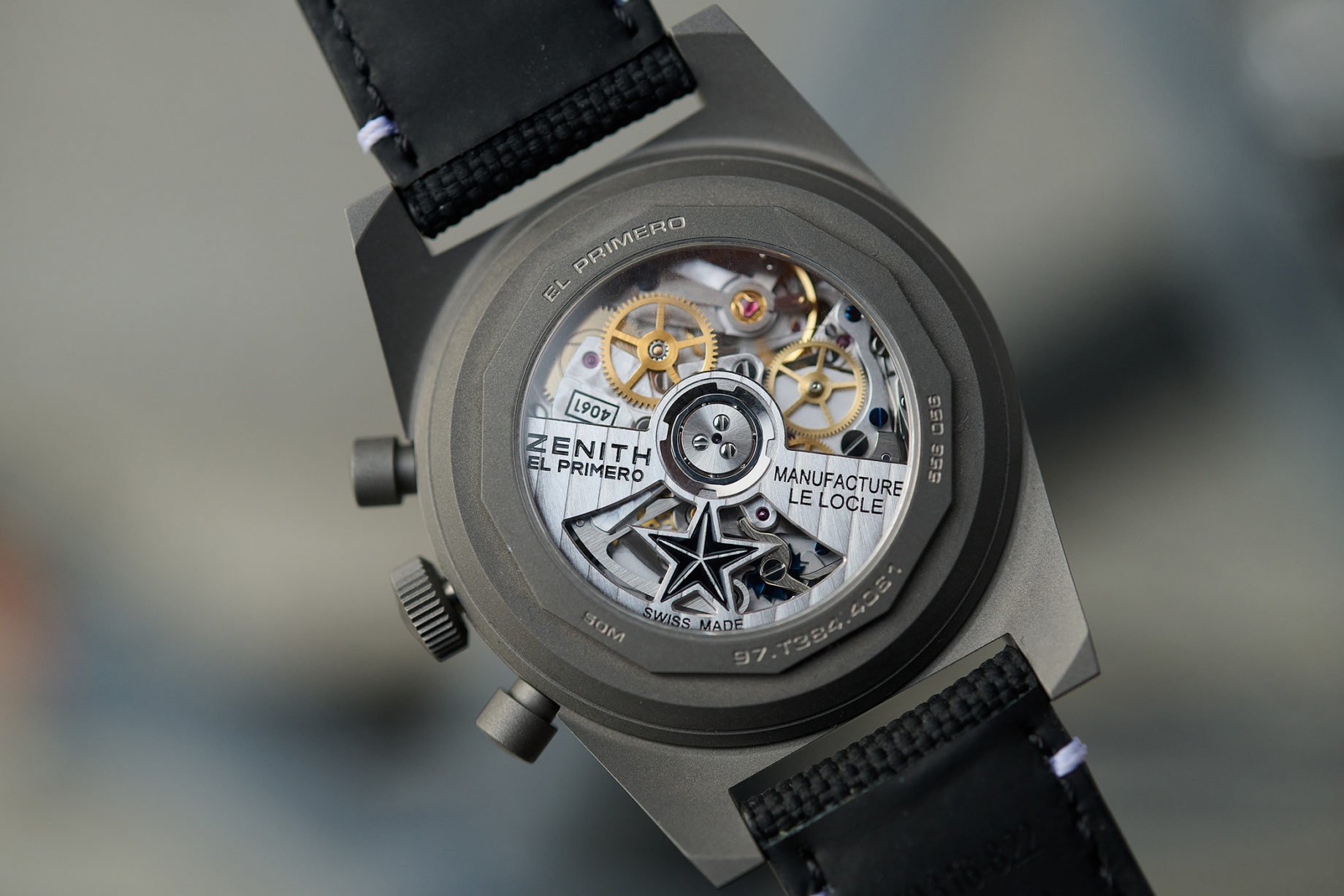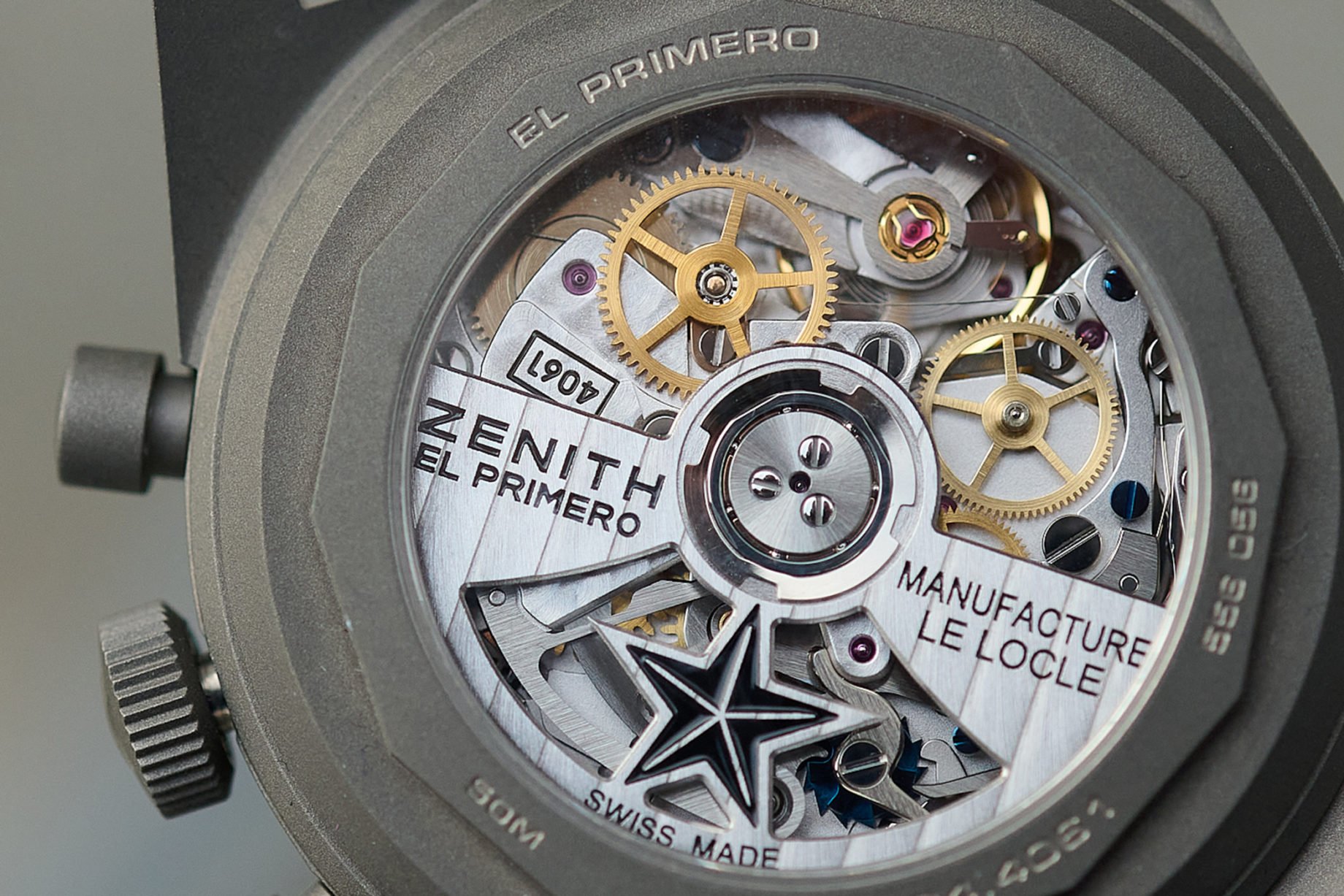 The automatic movement comes with 50 h of power reserve, provided by a centrally mounted, semi-skeletonized winding rotor with a Zenith star (you can also wind it via the crown). Chronograph is driven by a column wheel, blued and perfectly visible just under a dedicated bridge, through the sapphire glass back. 4061 runs at 5 Hz (36 000 vph) and comes with a useful stop-seconds. 282 parts of the movement are finished nicely (although not overly) with some Geneva stripes, brushing and blued screws. Functionality of the mechanism is spot on, as it always was with the mighty El Primero – just a perfectly executed chronograph with smoothly gliding stopwatch seconds hand.
Tradition and modernity
Although in theory a marriage between traditional and modern is not that difficult, in reality it is not always that obvious. The hardest part is to find the right balance, the right proportion, so there won't be too much vintage or too contemporary. Zenith Chronomaster Revival Shadow proves how to do it just right and tastefully too. On one side we have an undisputed vintage vibe – classic chronograph, legendary El Primero and modest proportions. On the other titanium, matt, grainy finish, stealthy blackness and the overall feel are vastly modern.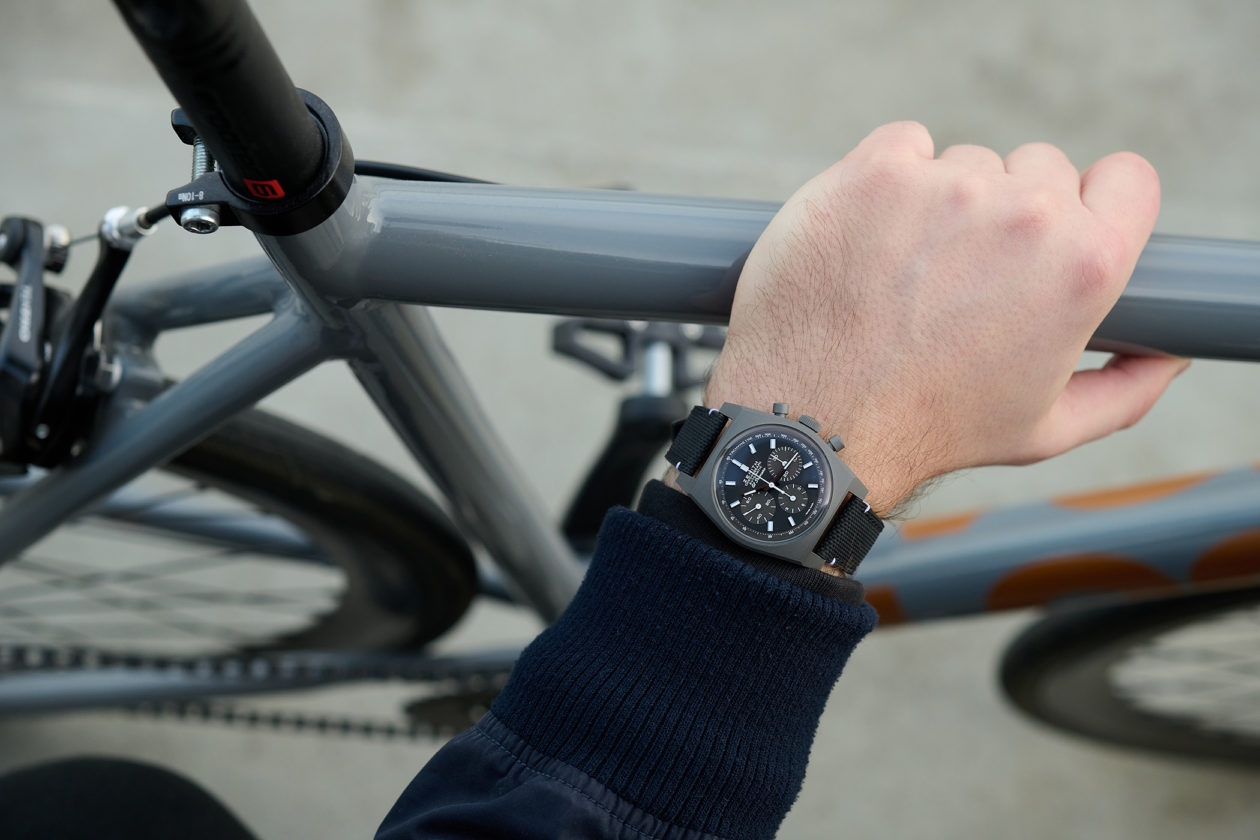 For a dozen days of wearing the Chronomaster Shadow I learned to appreciate its modesty in size and weight, paired with an unpretentious appearance. Not surprisingly those exact things have been highlighted by my watch-friends, quite surprised (in a positive way) when trying the watch of my wrist. It's that unpretentious feeling of the watch that's apparent quite fast… provided you're not a fan of heavy, oversized chunks of steel around your wrist.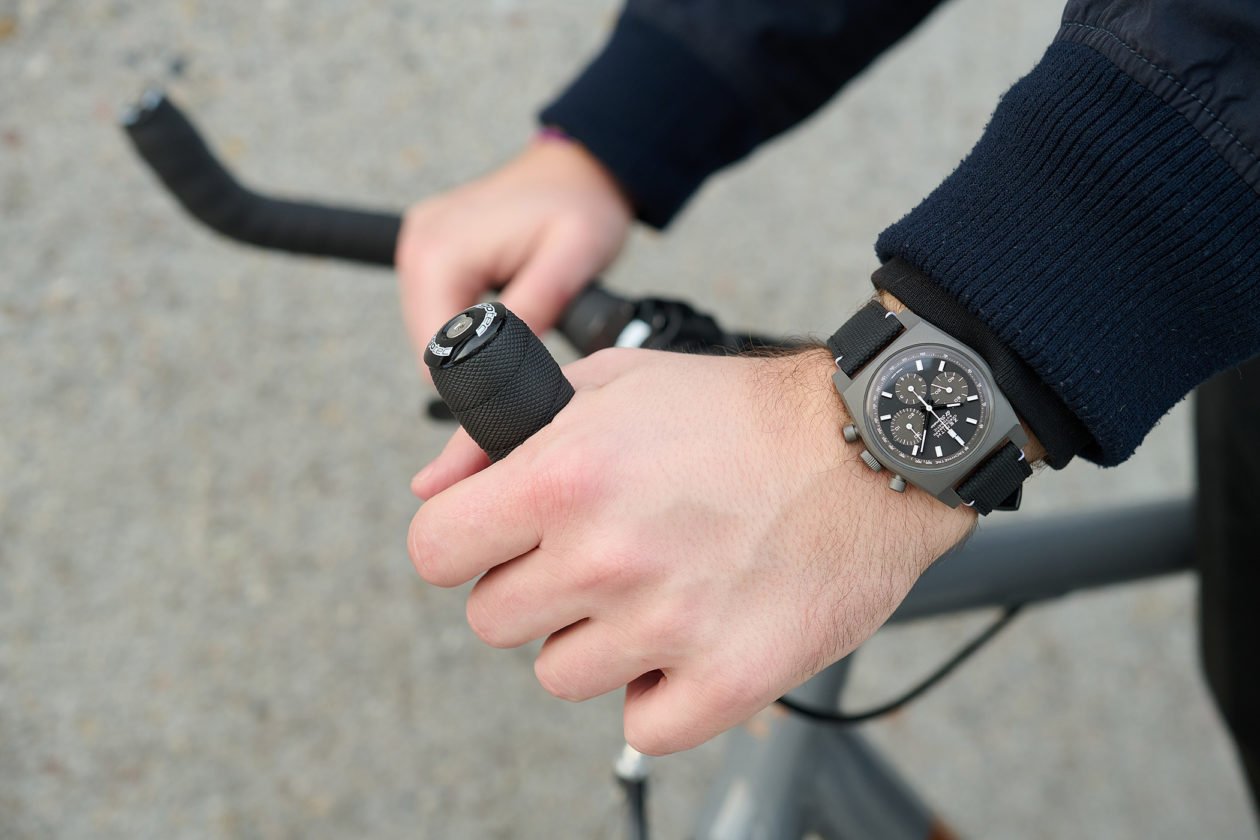 Titanium as a watch-case material has its perks, but one must remember it tends to scratch. I didn't manage too (despite my sometimes clumsy wearing skills) which does not mean some care is welcomed, not to mention you can't refurbish titanium on your own. Not everyone will also appreciate low weight, but that equals lightness, and that means… you guessed it… comfort. For someone like myself – an avid all-black watches enthusiast – it is also a plus, cause black makes the watch look sporty. It also means, that dark Chronomaster Shadow, with its dark dial and strap feels a lot different then all the other models in the series.
The steel ones are predominantly classic while the black watch is all about sporty and casual. With a price tag of 8 400 CHF it is a very attractive proposition of a great, a bit unusual watch for a daily wear. But even more than that it's a great reminder that one should never judge the book by the cover.