"Road Trip to Glashütte": Glashütte Original
Attachment to tradition and cultivating the old trade, loosely combined with modern technology, it's what defines Glashütte Original manufacture in a few words.
Although, such description could be easily applied to many other forges of horology, I must say that right here I had the impression that the time really stopped. It's probably because of location in a small, inconspicuous town of Glashütte, populated by just 7000 citizens; or the fact that an age-old machines are still being used here. The effects of their work are unchangeably beautiful watches that could easily compete with their Swiss neighbors.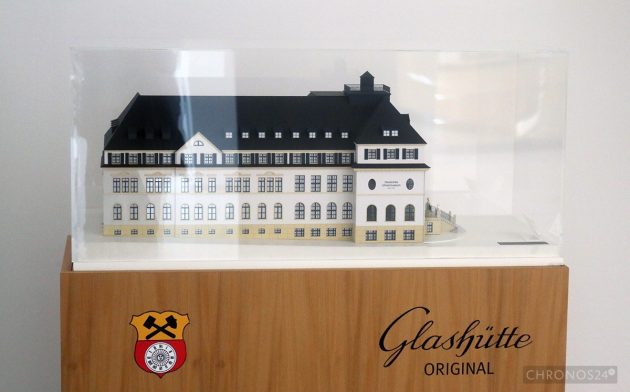 The headquarters of currently Swatch Group owned company is located in the famous Altenberger Straße. As many before me, when I saw the street for the first time I could not believe that exactly here, what's best in "made in Germany" timepieces is created. The place is filled with calmness and tranquility, looking rather modest. Quite a modern Glashütte Original (GO) building additionally underwent interior refurbishment a few months ago, allowing employment of new staff and increasing production volume, as we were told. The exact figures were kept secret, but in the past it was around 10,000 pieces per year.
Apart from young employees, in the ranks of workers can also be found people who have been attached with GO for 30 years and over. The company also owns The Watchmaking School; once completed, it allows finding work and using acquired knowledge in the manufacture. No wonder that many people from surrounding area choose to be watchmakers; especially dental technicians, bored with the industry, change their profession and become watchmakers, carrying out tasks requiring remarkable precision.
The manner, in which GO is functioning today is mostly affected by its past, especially by the division of the country into GDR (East Germany) and FRG (West Germany). The reality of the then East Germany (as in Poland) forced great creativity and often necessity of making something out of nothing. Currently retiring engineers knew that they couldn't afford to buy specialist machines, but being aware of the potential result they could achieve, they were making their own, thus they have managed to become almost entirely independent from external suppliers. Over 95% of the parts are made on the company's premises in Glashütte.
At the beginning of our visit we had the opportunity to meet a ten-odd member team, whose workers are making and maintaining tools or repairing machines.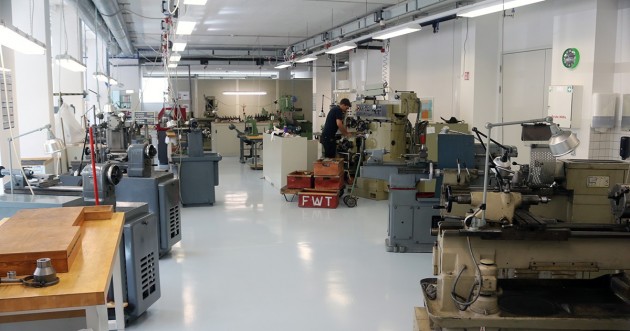 Modern, available on the market CNC machines were there as well. Our attention attracted the one responsible for manufacturing small parts e.g. fragments of tourbillion cage, made in the spark erosion process i.e. metal is precisely contoured into a desired shape by using accurately controlled electric current. In one day, as many parts are made as other machines could have done in 1 minute; the problem is that they just would not be as gentle and precise, and may cause damage to the structure of the metal.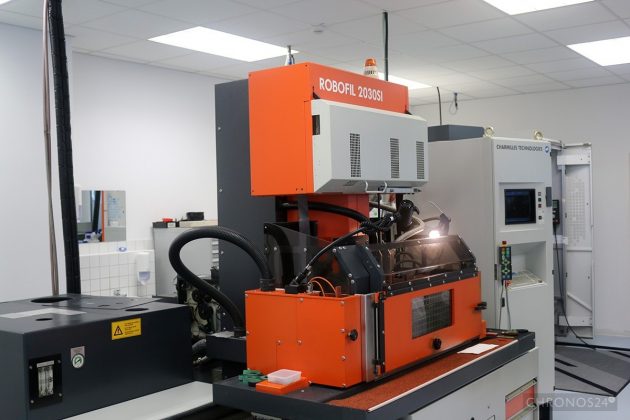 The process of creating a new model starts in the research and development department. Every movement is designed, tested and built in-house. The development department consists mainly of men, whereas the design department employs mostly women. A skilful combination of tradition and modernity is achieved mainly due to age diversity in the workplace. Younger employees work in groups together with older colleagues and the company itself protects its image to avoid being seen as old-fashioned. It takes about three years to create a new calibre.
The next stage is the production of base plates, this process utilizes modern CNC machines. Everything is checked by computers that control the diameter of the holes and the thickness of selected fragments, while taking between 30-60 measurements all the time. Eventually, an employee checks every plate.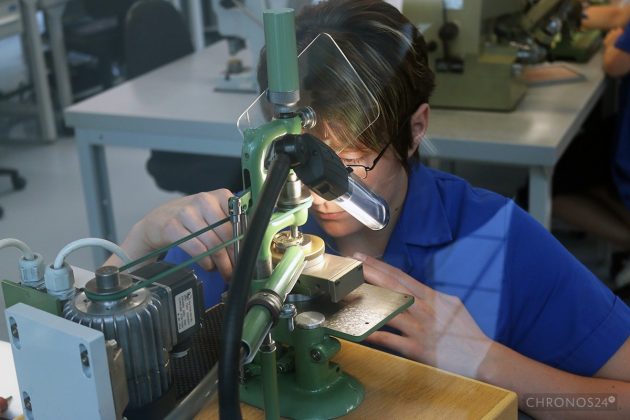 Machines are also responsible for engraving the logo and inscriptions on the caseback while artistic engraving is left for independent artists from Dresden.
The next room accommodates the decorating department. At GO, a few different types of "beautification" are used; from circular graining and sunburst finishing to sandblasting and use of Geneva stripes (Glashütte ribbing). To discourage complacency, some employees, not only those working in departments responsible for movement decorating, perform different task in the morning than in the afternoon. It's a proven method used in many visited by us manufactures.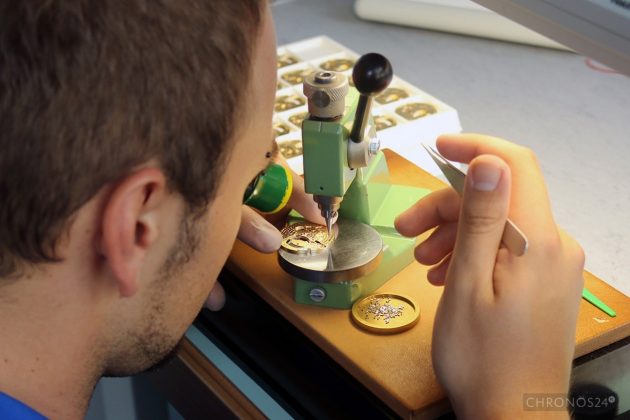 Hand-adjusted machines mill the wheels and gears, 10-12 raw "discs" are manually placed on a special rod. To help to supervise the process, there are magnifying glasses located above the spinning elements. What's interesting, most of equipment here is really old, however, GO doesn't see the need to replace it with worth hundreds of thousands of Euros new machines, because firstly, they work well and secondly, modern machines are so efficient that they would only be used for one month in a year to fulfill company's demand. It's just not cost-effective as far as economical aspect is concerned.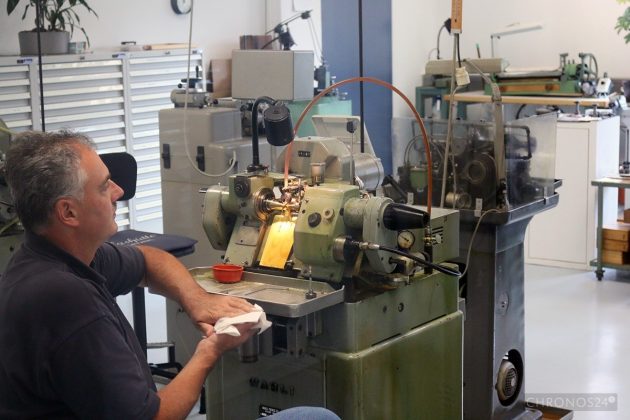 In the next room the screws are made. They are machined at first and then gold-plated or blued accordingly, with their heads hand-polished.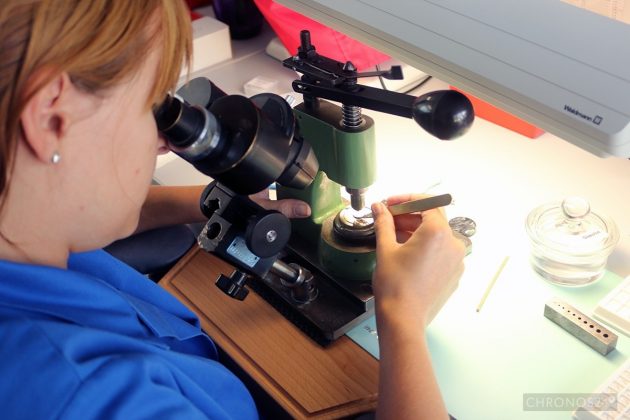 Metal elements are heat treated, which increases their durability and resistance for corrosion. It's crucial that employees responsible for this department have appropriate experience as this process can only guarantee expected results, if it's correctly followed.
The process of assembling is divided into a number of stages. At first, trained staff gathers selected groups of components into subassemblies, which then land on watchmaker's desk, which assembles them into fully working timepiece.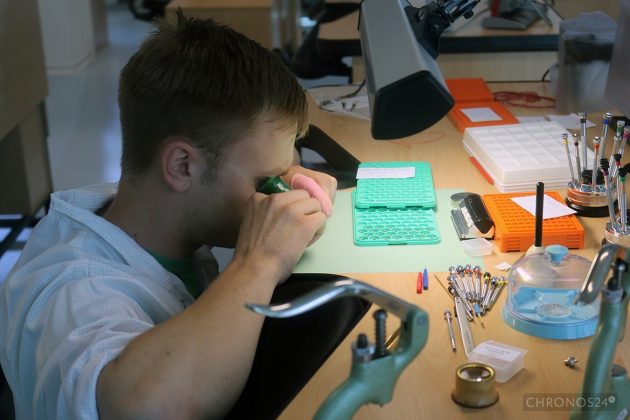 Once assembled, the calibre is thoroughly checked by the person responsible for quality, and then it goes to accuracy-testing machines. At GO, quality is a priority: single components, their groups (subassemblies) and complete timepieces are tested.
In the polishing department, we have learned that this task is not as easy as it looks. Equipped with a special polishing paste and a flat, heavy tin file, en employee gives small elements (as the swan-neck) perfectly gleaming surface. It's very difficult to do it just right. The moves of working here employees – mainly women – are incredibly accurate and years of practice allow them to do it almost blindfolded. I've managed to do it too much on one side and not enough on the other – just no effect at all.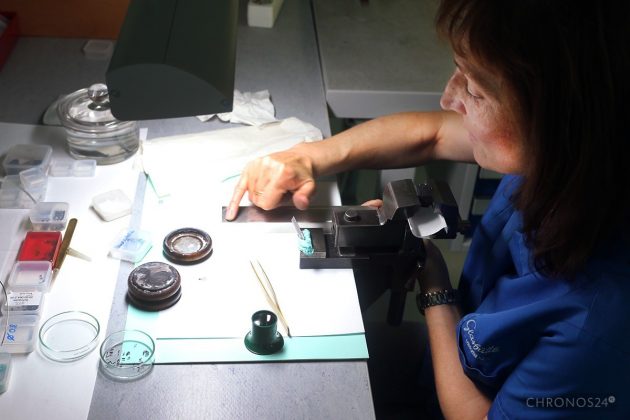 At the next work station the mentioned swan-necks have their edges hand-polished.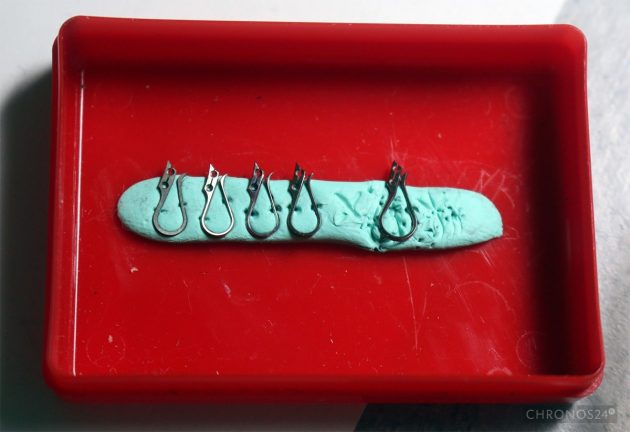 The dials for GO timekeepers are made in a separate manufacture located 600km away from Glashütte – in Pforzheim; they are created using different materials (e.g. nacre) and various techniques (e.g. lacquering). They end up in both men's and women's watches, including other Swatch Group brands.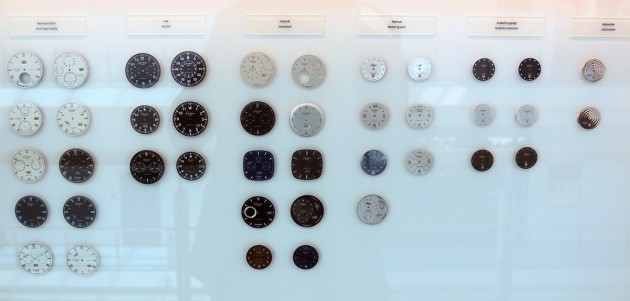 Lastly, there is an important fact worth sharing: during our visit in the manufacture, we were told that there is no pressure or any standards to adhere to if it comes to productivity, which is hard to believe. GO came to the conclusion that everyone can have worse and better days and lets its staff to work in their own pace.
The visit in Glashütte Original proved the opinion that the Germans not only know how to make excellent cars, but superb watches as well; an impressing manufacture, an original approach to used equipment, the importance of human factor and lastly the final product. No surprise that GO's merchandise is becoming more and more popular amongst buyers.
---
After the visit, we went to Glashütte Original boutique in Dresden, where we could acquaint ourselves in peace with the whole manufacturer's assortment.