Road Trip: Visiting Carl F. Bucherer
During our visit to Carl. F Bucherer manufacture in Sainte-Croix we had a chance to see how this brand looks like compared to the more famous and prestigious competitors.
Since 4 years that we run CH24.PL, we had an opportunity to see various watch manufactures, from basically every level of the industry, however that representation was not enough to have a clear, objective picture. Therefore this August we took a weeklong trip to Switzerland to visit 7 very different watch manufactures – each with the capability to make its own, in-house movement. We saw an entry-level brand, mid-range producers, an independent creator and family-owned companies.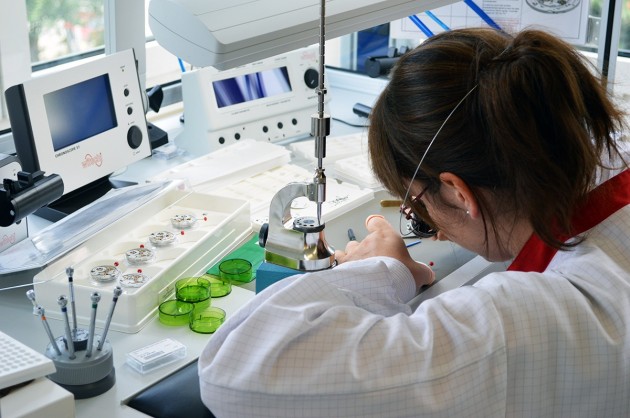 The latest is also the case with Carl F. Bucherer – Lucern based company with the history dating back to 1888. We however visited not the Carl F. Bucherer's headquarters, but their manufacture building in a little town Sainte-Croix, in the Jura mountains – west of Switzerland, just by the border to France. It is that kind of place that makes a very nice impression of a calm, easy-going village, unlike the crowded and noisy Geneva. Nearby France also provide some very nice work force (that can at the same time live at the much lower cost) and the team is led by Mr Philippe Roehrich – Managing Director of Carl F. Bucherer Technologies S.A. in Sainte-Croix – who was our guide for the tour.
Family tradition
To show, why CFB (short for Carl F. Bucherer) deserves respect we must first have a look back at its history. It all began in the year 1888 in Lucerne, where Mr Carl Friedrich Bucherer opened his first watch and jewellery shop – to this day a flagship boutique for the brand. Premier watch collection came a bit later – in the year 1919, and from this day on the company remained in the hands of one, single family. Before the strike of the quartz crisis, Bucherer was one of the European leading chronometer manufacturer. The crisis resulted in a reduced production and the distribution limited to own shops. Of course the outcome turned out to be brand-awareness decreasing dramatically. Under its present name – Carl F. Bucherer – the company exists since 2001. The same year brought a wider distribution network under the helm of Mr Jörg G. Bucherer.
CFB A1000 – Carl F. Bucherer's pride
The Sainte-Croix location of the Bucherer manufacture is the venue for the R&D department, prototyping, but most importantly the creation, assembly and testing of the CFB A1000 in-house made, automatic calibre. One look at the movement and you will never mistake it with anything else. The decoration applied to the bridges and plates is unlike any other out there, but the key has to be the peripherical winding rotor – a ring surrounding the entire movement in place of traditional, centrally mounted oscillating mass. This tricky construction not only provides required amount of energy to the main spring, but also has its aesthetic value – now the entire movement is revelled for your viewing pleasure.
Carl F. Bucherer in numbers
Production (in 2013) of CFB estimates at around 20.000 pieces, 3500 of them equipped with in-house movements. Percentage of in-house-made components in each watch reaches about 70%. Jewels, bearings, hair-springs and some other components are bought from external suppliers. Number of employees (worldwide) reached 150.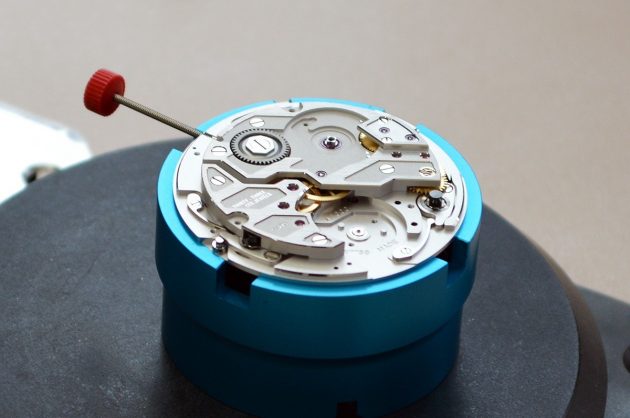 Research, development, testing…
R&D department at Carl F. Bucherer's Sainte-Croix manufacture is computers room with skilled employees designing and testing movements solutions, that are for the moment only a virtual idea. The picture below shows a lever with a colour scheme, that represents various stages of tension inside the part, when installed in a working movement. Modern, high-end software allows to pre-determine eventual errors that might cause a finished movement to damage (part braking, extensive tension or friction, etc.).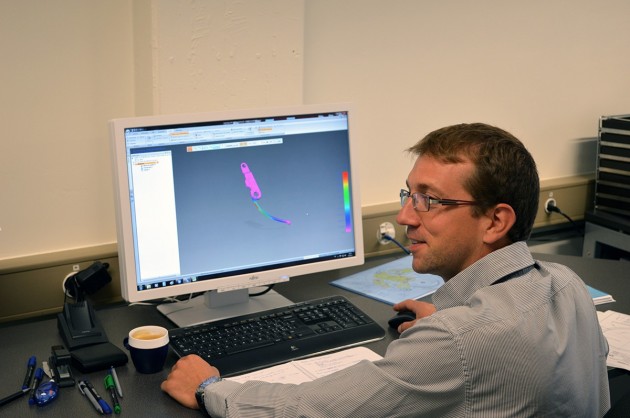 In one of the dedicated rooms we were presented with the shock-test (similar to what might happen with your watch, when you hit it on the door frame). As we all know, extensive shocks can be fatal for any mechanical watch. Carl F. Bucherer addresses it with a specially developed tool. The movement is mounted on a plate, that is than risen and dropped down for an impact. Prototype movement is stressed like this for number of times (hundreds to be precise) – each with a force between 450 and 550 G.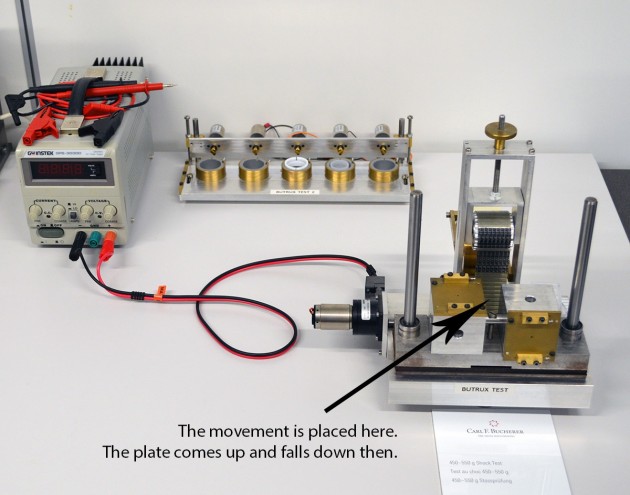 Another test involves a pendulum, that hits the watch with a very high speed – another way to determine its resistance to shocks.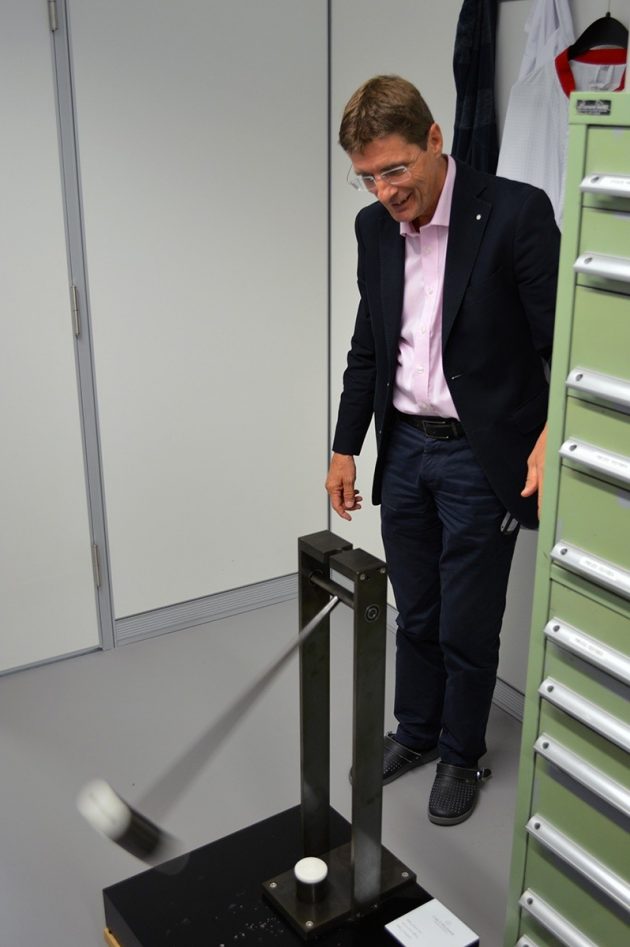 Every stage of the process involves in-depth controlling. Every movement is disassembled and thoroughly examined for any signs of mechanical damage.
Testing also involves a microscope magnifying even a smallest component that can then be examined for any flows or imperfections. As every part has strict number of rules, it is quite easy to determine, if it fulfils them or requires additional work.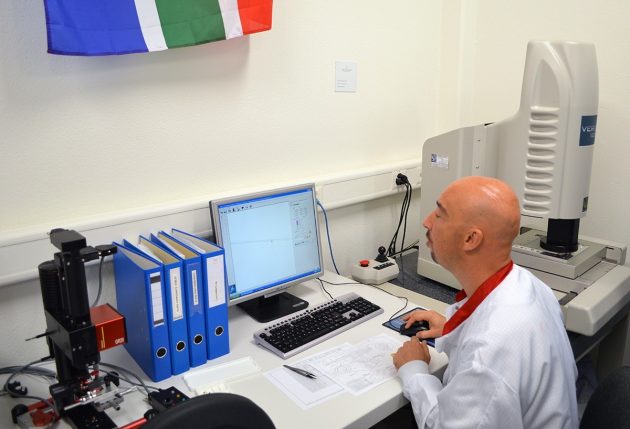 Final watch and movement assembly looks pretty much similar to every manufacture you know. At Carl F. Bucherer we really appreciated, how much of this work is still made by hand. There are of course CNC machines and other high-tech electronic stuff here and there, but it is the human that counts the most.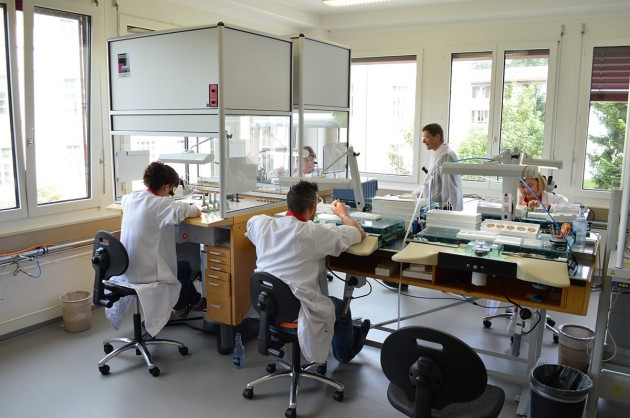 Speaking about the machines – the pair you see below sets the jewels on the movement plate. The one on the left stacks ruby jewels into the numbered set, the one on the right sets them in the plate, measuring each whole and then analyzing which stone is the right one to use. The process seams simple, but requires the machine to be precisely programmed to apply the right amount of force to position stones, as there are number of different rubies used.
20.000 watches made by CFB might seem far less than some other competitors form the same segment, but it has its advantages. Every watch is made with utmost attention, checked in every small detail and finished to perfection – and this is not what big manufacturers can always achieve. Moreover the company run by a family ownership, without the outside participants and money, can allow itself to risk a bit more. It therefore can grow faster and introduce innovations that do not require long-time debates and meticulous economic calculations to happen, before the first new lever or wheel can be drawn.
Visiting a watchmaking manufacture is always good. Looking at a brand through its marketing department and usually exaggerated press releases does not draw a full picture, not to mention that it is misleading most of the times. It was, for us, somewhat a surprise to see Carl F. Bucherer as a true, watchmaking manufacture with people (watchmakers, technicians, operators) involved in every single step of a process. Sainte-Croix is a lovely place to visit, and also a lovely setting for a watch manufacture that takes its in-house aspirations very seriously.
Gallery