Review

Baume&Mercier Capeland Chronograph Flyback [live pics, price]

Contemporary Baume&Mercier is today a different, brand new brand. Improved, more expressive and with gems like Capeland Flyback Chronograph.

In a review of Baume&Mercier Classima Jumping Hour (sorry, in Polish only) a while ago I mentioned how crucial last 2 (well, now 3) years were for the manufacture form Geneva. Under new leadership, with new strategy, refreshed portfolio, new image campaign and 3 new collections, B&M moved a step (if not two) in the watch brands prestige hierarchy. Sure, when you look at Richemont brands, little company from Geneva is no match for the likes of Jaeger-LeCoultre, IWC Schaffhausen, Roger Dubuis, A.Lange&Sohne or Cartier – and most likely will never become one. It is all true, but then again it is not a way for Baume&Mercier. It is vital to have an entry level brand in you offerings next to the Big Names, one that an average customer looking for good quality watch can afford. And this is exactly what "The New" Baume&Mercier is – resurgent like a mythical Phoenix year by year creates interesting and well thought-through novelties. It is the thing with this year's Clifton range inspired by classic, simple timepieces from 1950s. It was the thing last year with new Hampton and two years ago, with redesigned Capeland. Inside this last collection B&M created a flagship model of the company offer – Capeland Flyback Chronograph. Also inspired by history and vintage, CF chronograph was enthusiastically received, because of number of reasons.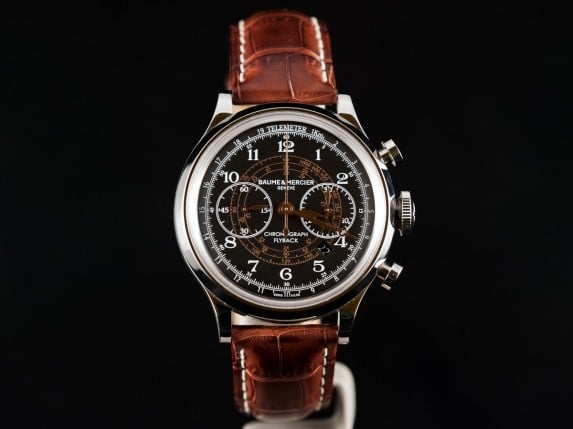 Retro
To be perfectly honest from the start – Capeland Flyback Chronograph is one of the most beautiful watches out there – no doubt. It just looks brilliant, largely thanks to Mr Alexander Peraldi and his design team, infused, yet again, by history. It is easy to discover (especially when you look at the picture below) that the inspiration was a 1948 mono-pusher chronograph, of course by Baume&Mercier.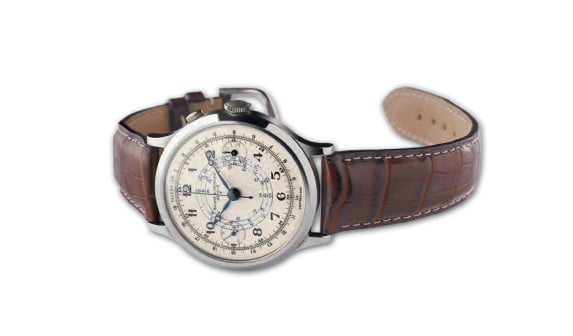 With such row-model in hand, it was almost impossible to deteriorate the new, modern Capeland. The piece was originally launched in 2011 with classic, white dial and blued steel hands – just like the 40's version. Especially red gold case variation is a stunner to look at. 12 months later B&M added new model to the series – with black/gold dial – and it honestly was a jaw-drop. Usually new colour version doesn't make a new model, but this one did, creating a whole new, transformed timepiece.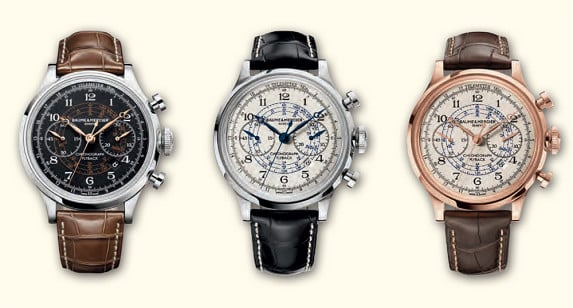 So let's start from the design. One word to describe it is retro. If there is any truth in saying that "classic is timeless", this could just be the very perfect illustration. Every single detail of the watch looks turns back to history, from subtle looking, nicely profiled case with polished and satin-brushed finishing, "chave" sapphire glass, vintage pushers and large crown, brown alligator strap with white stitching and perfectly finished buckle, all the way to the dial.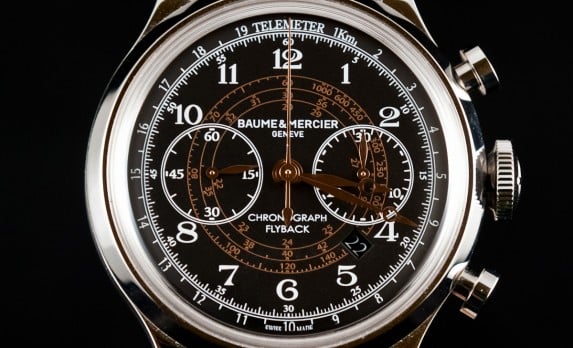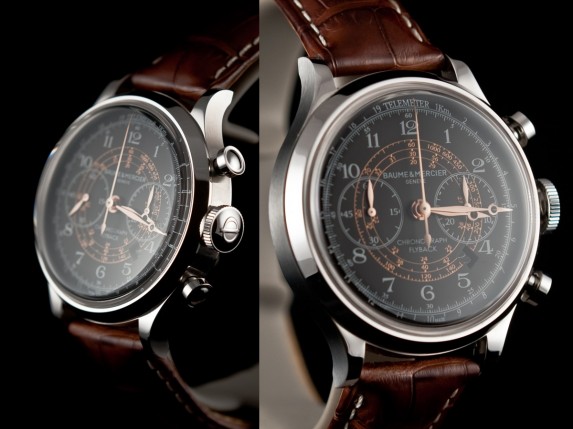 Watch face – the dial – is in this particular piece what you might call a "cherry on the cake", the star of the whole show. Just as the whole piece, the dial looks like it was copy and paste from the middle of the last century. Black dial disk is slightly domed at the egg. The outermost part bares Telemetre scale, then (looking to the centre) there is minute ring, 10 Arabic numerals, 2 small sub-dials (small second and 30-minutes chrono counter) then the Tachometre scale and angled date window at 4:30. Tachometer markings were painted gold to correspond with golden Breguet hands (hour and minute) and two small sub-dials hands. Let's be fair – it just looks WOW!. Warm, polished red gold plays brilliantly with black, slightly opaline background and white details. It is both stylish and elegant, tasty combo… however. There is always a "but" somewhere, and this time it is a small thing against the "form follows function" theory. This mirror polished, gold hands are readable only at certain light angle, and at certain others the just blend in, making time reading difficult. But as they say – you can't have it all.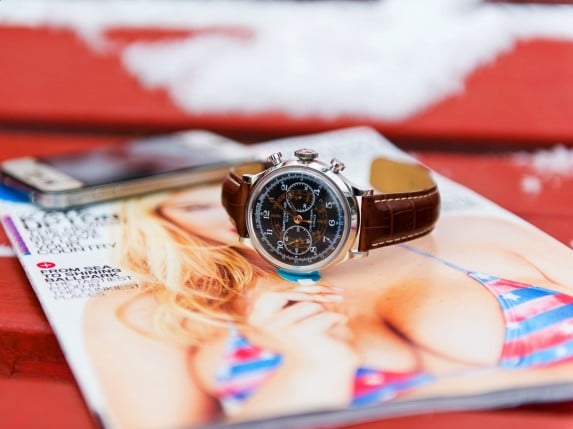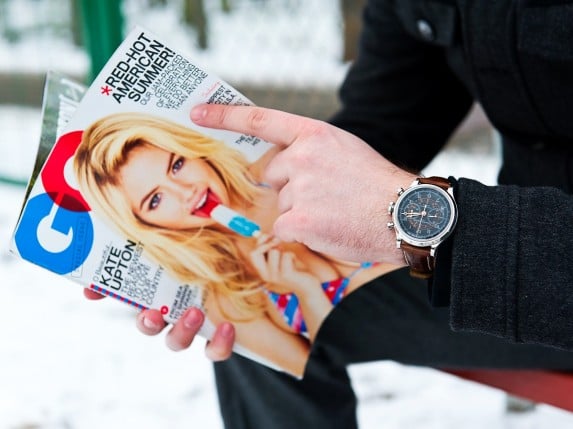 Other minor inconvenience – and I'm shocked to even write it myself – are the dimensions. I do like big chunky watches born out of this "let's go big" trend of some last few years – the problem is it does not always work. Capeland Flyback measures full 44×16.5mm, and it is a lot. A bit too much for such retro-styled piece and surprisingly much for my not so small wrist. 42mm in diameter and maybe 1.5mm less in thickness would create perfect balance between proportional look and comfort (not that it's a very uncomfortable watch to wear). I could also live without highly profiled sapphire glass back, which dissipates a clear view of the movement. And, since we mentioned the movement, let's focus on it now.
Flyback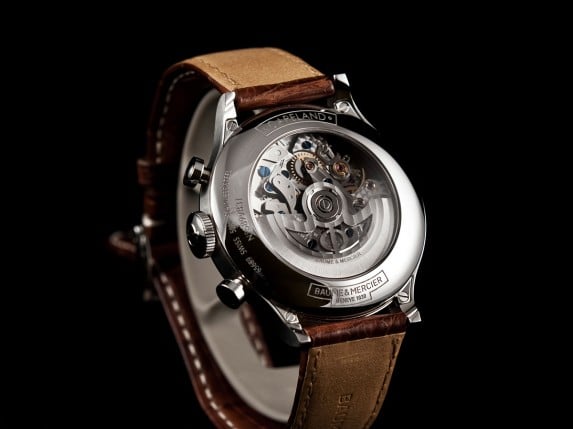 To be perfectly strict you can't name Baume&Mercier a "manufacture" since it doesn't produce its own, in-house movements. Instead what you get from B&M are good and reliable calibres from ETA and La Joux-Perret. It is a mix of both that powers the reviewed Capeland. All has been written about the good old VJ 7750 – movement you find in vast number of timepieces around the market. La Joux-Perret is a well known and tested brand as well, specializing in mechanical complication modules. Their marriage is called La Joux-Perret 8147-2.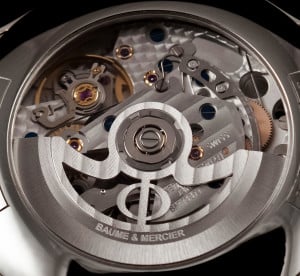 Mechanism works and feels just like a good Valjoux with its lively rotor and quite hard pushers. The bi-compax sub-dials layout busts the overall vintage character. Flyback is the chronograph's second hand complication that returns the running second to zero and on again with single push of the button. Contrary to standard chronograph, you don't need to stop the measurement in order to start new one – it just jumps back and starts immediately on demand (meaning – push of the pusher at 4 o'clock). Originally designed for pilots it can by used in number of different occasions, like quick race-timing of next laps etc. La Joux-Perret made Flyback works very properly and smooth, without any second hand jumps and with a jumping minute counter, which I personally prefer to the smoothly running one (cause of it much more readable nature). Not screw-in crown allows you to set everything in 2 positions. Pull it to position 1 for the quick date setting and to position 2 to set time (with stop-second). The movement can be re-wound to.
Quite impressive level of finishing applied to the 8147-2 presents perlage on the main plate, Geneva Stripes on the top bridge, polished levers and heat-blued screws. Massive winding rotor was skeletonised with a Φ symbol (brand's logo) and some Geneva Stripes too.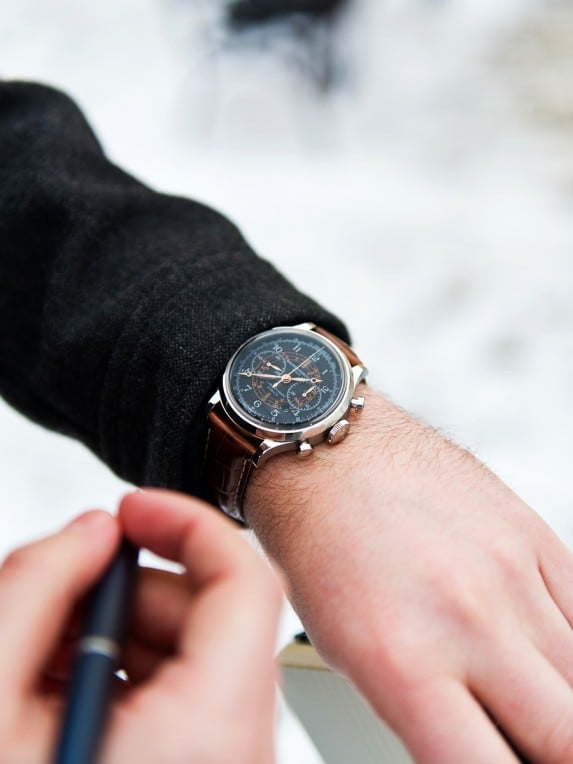 As with all the watches, especially those we like or crave, the decisive factor is (unfortunately) the price. Capeland Flyback Chronograph (Ref. 10068) will cost you around €5.950EURO. Seems like a lot (especially for supposedly entry level brand) but, on the other hand, you get very well made, stunningly looking watch with more than good movement. Not to elegant, not overly sporty – just perfect for every day, smart-casual outfit.
Among many comments that my friends made about the watch, one particularly highlights my point: "It looks like your grandpa's watch". I'm not much of a vintage watches guy (never was) but old-school/contemporary bland offered by Capeland Flyback Chronograph simply works for me almost flawlessly. Baume&Mercier did an outstanding job to get the brand back on two strong feet. Whoever decided to dust-off old stocks and archives and go history-way deserves full credits and high-five. Keep up the good work B&M.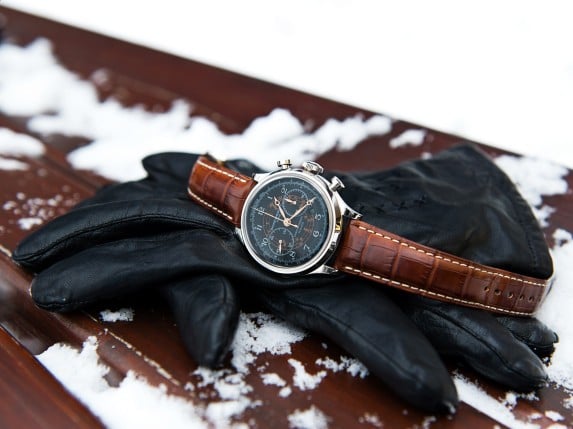 In (+)
– stunning retro design
– gorgeous colours combinations
– flyback chronograph
– nicely decorated, good looking movement
– very good overall quality
– nice strap with supremely finished buckle
In (-)
– a bit too big, therefore slightly less comfortable
– average readability
– price on the higher side
Baume&Mercier Capeland Flyback Chronograph
Ref: 10068
Movement: La Joux-Perret 8147-2, automatic, 48h power reserve, 28.800 A/h, small second, date, flyback chronograph
Dial: black with white and gold appliqués
Case: 44×16.5mm, steel, sapphire glass with anti-reflective coating, sapphire glass back
WR: 50m
Strap: alligator leather (brown) with white stitching, tongue buckle
Limitation: —
Prize: €5.950EURO
Tested watch provided by Baume&Mercier.