Review

CORUM Admiral's Cup Seafender 46 Chrono Dive [live pics, price]

CORUM's Admiral's Cup in extreme edition – professional chronograph for professional diver.

I vividly remember when looking at all the novelties prepared by the industry of BaselWorld 2011 I came to the press stuff from CORUM. Next to undoubtedly great Golden Bridge Automatic with an automatic, vertical winding mass and converted to classic Admiral's Cup collection (called Legend) other novelty was Seafender line – diving-dedicated timepieces with either a chronograph or standard, 3 hand variant with day-date display. While I'm not a divers fan (diving watches that is), rough, row design of the titanium, monochromatic Seafender did – on pictures – a more than good impression. Impression, that was only enhanced by in-hand live experience with the watch during BaselWorld.

Lately, thanks to the CORUM manufacture, I had a chance to get an on-hand experience to find out, if it was just "judging book by the cover" or is the Seafender 46 Chrono Dive piece of a true diver's watch.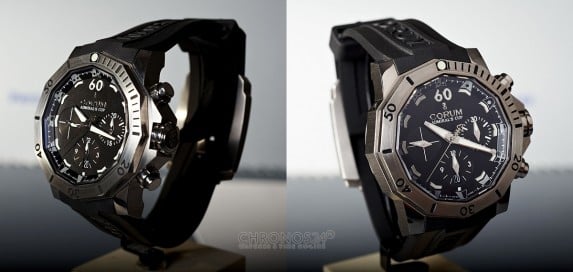 Admiral's Cup is an unmistakably recognized Line of sport watches with Marine heritage. Characteristic 12-side case with edgy finish, signal flags in place of hour marks – the DNA is what gives the collection it's recognition. Tested Admiral's Cup Seafender 46 is an evolution of the AC line, now divided into 3 sub-collections: Legend, Chalenger and Seafender – most extreme and sporty of all (even though including highly fragile tourbillion). This year's novelty is also somewhat an evolution of last years Deep Dive – giant, 48mm tool-watch rated up to 1000m of water resistance. The 46 was shrinked by full 2mm, and also offered as a chronograph – the sportiest complication of all.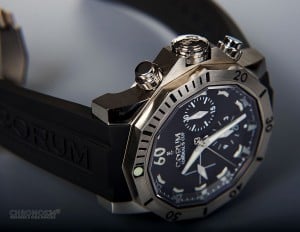 One, perfect word to describe the diving CORUM is rawness. Everything from materials used, through finishing, design up to the details creates raw, technical, almost cold composition. If you require your diving watch to be a tool, not a toy – Seafender 46 Chrono Dive feels the shoes almost perfectly. Still gigantic, 46mm wide and 16mm tick case is certainly a watch for a big wrist. Hover it's fully titanium body and rubber strap with genius, large buckle compensates the size providing comfortable everyday wear, in and outside the weather. Another advantage of titanium, except its lightweight, is its look. Gray color along with almost full-brushed finishing (only top of the lugs and the crown with buttons are polished) and engraved besel is a fairly impressive appearance. The style is continued on the dial – black with white luminescent marks, 3 sub-dials (small second, chronograph's 30-minutes and 12-hours counters), date window (at 6 o'clock) and rodium plated hands. Visually the layout is great and large amount of bright-green glowing luminova gives a perfect readability. The only glitch is an almost invisible stop-watch seconds hand. If you use your chrono, it might cause a bit of a problem. One also might be surprised by lack of the helium escape valve. Seafender 46 Chrono Dive is one of the very few dive watches not to incorporate this "device". On one hand, since the helium escape valve is relevant form 300m down, it's absence is forgivable. On the other it makes me wonder – how tiny percentage of dive-watch users did ever use one?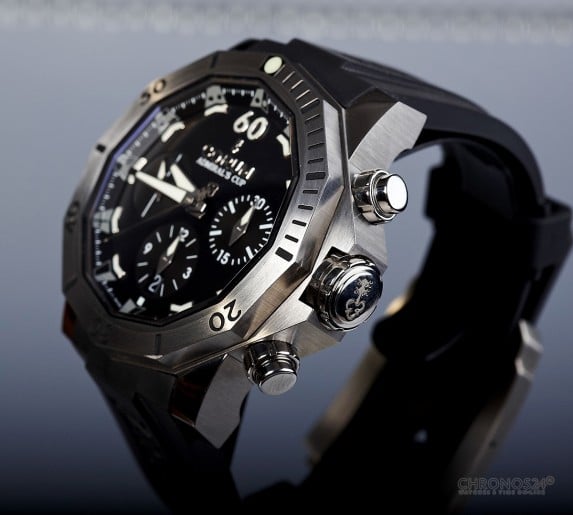 What powers the mechanical stop-watch is fairly series produced version of the legendary Valjoux 7750. The one in Sefender 46 Chrono Dive is actually a 7753 (addition of the push-piece date corrector at 10 o'clock) signed as CO753 calibre. The movement is chronometer-certified by COSC. It's somehowe a pitty that manufacture didn't go for an in-house caliber, but still the VJ one is a perfect power-horse with good reliability, precision and comfort – things that are necessary for a mechanical diving instrument. One major inconvenience with the movement is a very acoustic (loud) winding (a common problem for the VJ7750). Heavy metal rotor winds the mainspring in one direction, which means, that the turn in the opposite direction does nothing other than generating a disturbing sound, powered-up by the titanium, which is far better sound conductor than steel.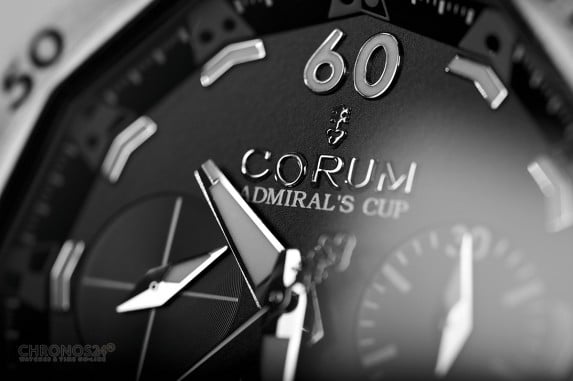 I mentioned before that dive-watches are not my cup of tea. This reluctance comes from a vast number of so-called divers, that only pretend to be what they are in fact not (not to mention that "dive watch" is a highly unreliable term). Think about it. Can you put a watch like reviewed CORUM against, let's say, a ROLEX Submariner? On one hand they are both divers, but in fact are very different in almost every aspect. For my taste the Seafender 46 Chrono Dive is what a diver's watch should be, and what a diver should expect from such timepiece. Of course nowadays no professional and life-loving adept of the ocean-deep-exploration will entrust his life to a mechanical watch, when he has all the electronic computers he needs. Combining this modern instruments with a reliable, legible and easy-to-use watch is a perfect way to go, and exactly what the dive watch is created for. Don't get me wrong – Seafender 46 Chrono Dive is as good under weather (I believe, never tested that way) as it is an every-day wearer. Sufficient size wrist, spare sum of $9.650USD and specific taste will give you the same level of satisfaction as diving in the crystal-clear waters of the sunken in the dark Dahab Blue Hole (Egypt) or any other diving-cult venue.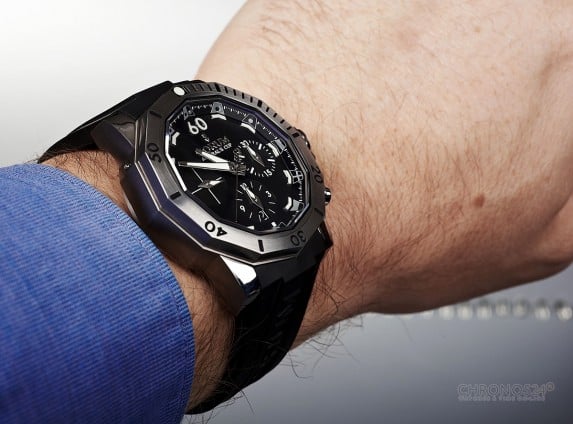 In (+)
– genuine diver
– raw, technical design
– very good wear/use comfort
– perfect buckle
In (-)
– "invisible" chronograph seconds hand
– hard to unscrew chronograph push-buttons
– acoustic winding
Test watch provided by manufacture CORUM.
Text: Łukasz Doskocz
Photos: Dariusz Lewiński