Review

A.Lange & Söhne Grand Lange 1 [live pics, price]

In a small picturesque village of Glashütte in the east of Germany, mechanical watches of the highest timekeeping workmanship are made – such as the Grand Lange 1, which we have just put to a test.

Do you know what the most pleasant part of being a watch journalist is? Doing what you actually enjoy in life, the possibility of getting to know fantastic people, or the chance to visit interesting places and observe the making of mechanical timepieces are all obvious advantages, by all means, but they all fade away when faced with the possibility of sharing one's time (pun intended) with the watches themselves, which is the flesh and bone of our test reports. Let's face it – there is no other way I would get to wear that many different, and very often superb, wristwatches. They do make an expensive hobby (being a luxury branch, which knows its price), so the pleasure of using different models of watches, at least for two weeks, is for me – a watch-maniac – a reward in itself (although, without a doubt, writing the test reports such as this one is a real chore). Before we move on to the current test report – which is the result of probably the most pleasant of over fifty tests I have performed – let's spare one more thought for one of the most intangible elements of the world of wristwatches – prestige.

There are a plethora of different rankings, comparisons and so-called prestige pyramids published every year, but how do you actually define prestige? If you were to approach ten people who feel passionate about a thing, ask them to define what prestige actually is and have them measure each watch manufacturer against that characteristics, you would probably get ten different lists. Arbitrary unwritten rankings often quote the top three "big fish" of the watchmaking industry, namely Audemars Piguet, Vacheron Constantin and Patek Philippe. These are all brands that well deserve the top ranks, hands down, but this list seems to be missing, in my personal opinion, yet another impressive manufacturer. What's more, one that is not located in the area frequently cited as the birthplace of the horology industry. When we came back, exhausted, from this year's BaselWorld, I barely managed to sleep off the week of ceaseless running around, when a package from Germany appeared at my doorstep – this is the country we're touching in this review – containing a watch I have been wanting to test for years. I have been wishing for this package for so long not only to describe the very model which arrived in the post, but also to present the arguments for A.Lange & Söhne to be on the tip of my Pyramid of Watchmaking Geniuses. Before we move on to the watch itself – Grand Lange 1 – let us say a few words about the German-based manufacture and its uniqueness.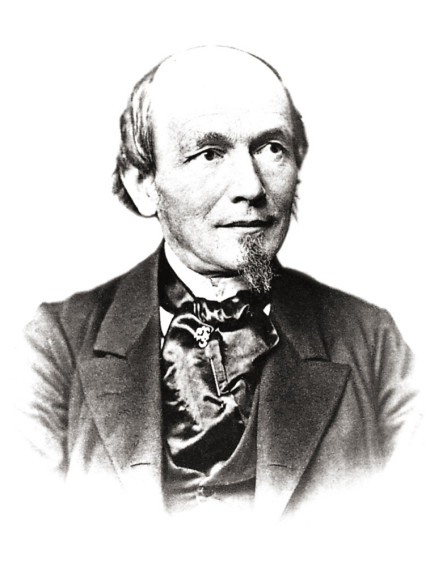 Lange's past
The Founding Father of the whole German horology industry was a gentleman named Ferdinand-Adolf Lange. Born in Dresden in 1815, Lange is undoubtedly the most important character of the Glashütte watchmaking history – his biography can be found HERE. The steering wheel of the German goldsmithing was taken over by his successors, led by Emil Lange and his brother Richard, who, on a side note, one of the current watch styles of the brand is dedicated to.
Lange present
Besides the men above, there were two more who shaped the manufacturer to its current form, the late Gunter Blumlein and Walter Lange. The former was, according to many, a true genius in managing the watchmaking branch of the VOD group (currently Richemont), leading Lange, but also IWC Schaffhausen and Jaeger-LeCoultre to success. In order to fully comprehend how unique and crucial character Blumlein was, it is enough to quote Walter Lange: "He was a universal genius. Swiss watchmakers had two heroes of the contemporary era. One was Hayek, the other was Blumlein."

In turn, Walter Lange was a descendant of Ferdinand-Adolf and the founder of A.Lange & Söhne in its current form. When communist East Germany forced the Lange family to leave their homes and move west in 1948, the then young Walter did not even consider abandoning the family tradition and he vowed to restore the watchmaking craft made-in-Glashütte in true style. The big moment came almost exactly 24 years ago – on December 7, 1990 Walter Lange established A.Lange & Söhne, following by intense development of the company and its watches. The culmination took place 4 years later. On October 24, 1994, Lange proudly presented four premiere models in the Dresden Castle – women's Arcadia and men's Tourbillon "Pour Le Merite", Saxonia and Lange 1. The last model is especially important in the light of the remainder of this text.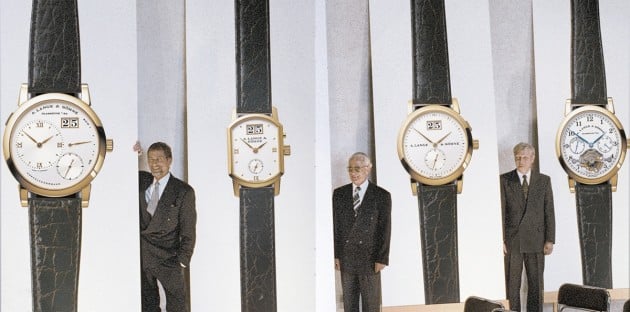 ---
When Lange gave us the green light to test one of their products, the ages-old matter of choosing the right one appeared… and dissolved just as quickly. There is no more worthy Lange & Söhne watch than the legendary, even iconic, Lange 1. The watch which, as mentioned before, comes from the Lange premiere collection, was largely responsible for building the corporate DNA of the brand, both when considering the movement and the design of the timepiece. Here are my impressions following exactly two weeks of wearing its enlarged Grand version.
Grand Lange 1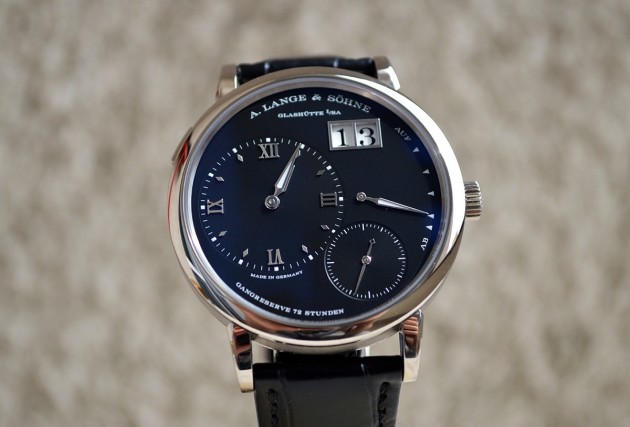 One look at the face of the GL1 (Grand Lange 1) is enough to be completely convinced as to why the watch is so crucial to the DNA of the brand. If you consider the layout of the watch's face to be designed by sheer chance, you are completely mistaken. The whole asymmetric layout is based on the so-called golden ratio, which dictated the positioning of the hour and minute sub-dial, small seconds and a large calendar indicator. The first element takes up the left half of the dial, while the seconds hand is moved to the right of the face (at 5 o'clock), together with the power reserve (at 3 o'clock) and calendar (at 1 o'clock). Although the matte black surface of the dial seems crowded, the whole design, especially following the above mentioned golden ratio, is coherent, full of character and legible. Time indication sub-face with the Roman numerals and minute graduation is large enough, and the seconds indication is always a welcome element. One of the characteristic features of the Lange designs, a large date indicator, is composed of two openings framed in polished metal. The legibility of the date indication leaves nothing to be desired, although I would love to see the left, decimal, frame not to be left empty 9 days of the month – at the beginning of each month it does not carry any value.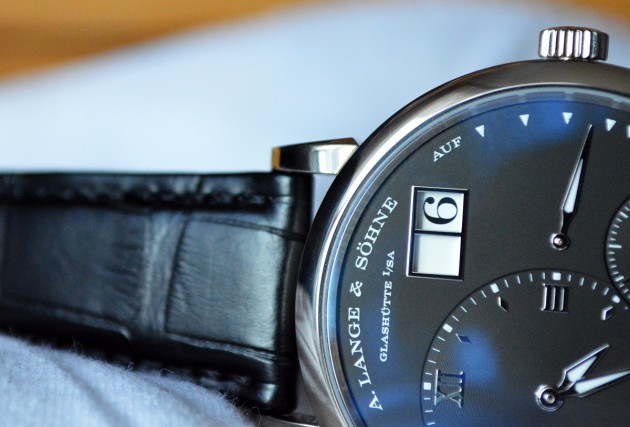 I am not aware of the motives that drove Lange's designers, but having the chance to replace Wilhelm Schmid as the company's CEO for a day, I would immediately change this one little thing. The number "0" would be an excellent replacement of the pale, blank background.
Since Lange & Söhne is a synonym of stylistic consistency and tradition, these traits have also dictated the whole exterior of the watch. The dial is enclosed in an 18-carate 40.9×8.8mm white gold bezel, striking an ideal proportion between legibility and comfort of use.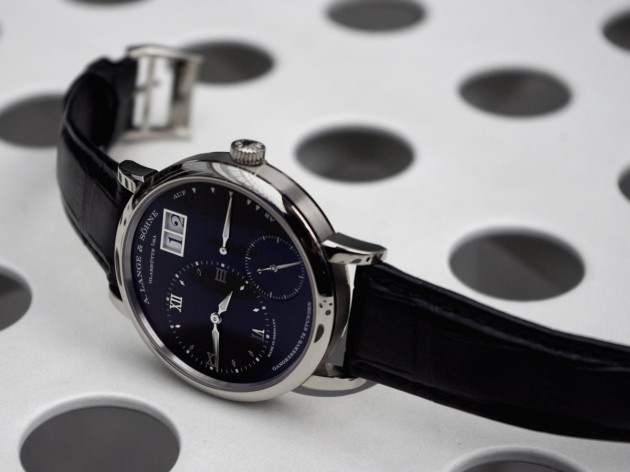 Characteristically shaped slender lugs with a crocodile leather strap (hand-sewn with black thread and black leather lining) and a simple, traditional buckle make the watch wear as it should be – just as if it was not there. Even considering that white gold is noticeably heavier than steel, and that there is a lot of this metal in a 41-milimetre case.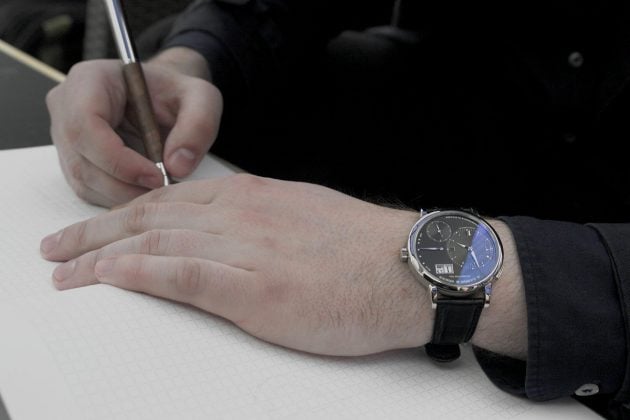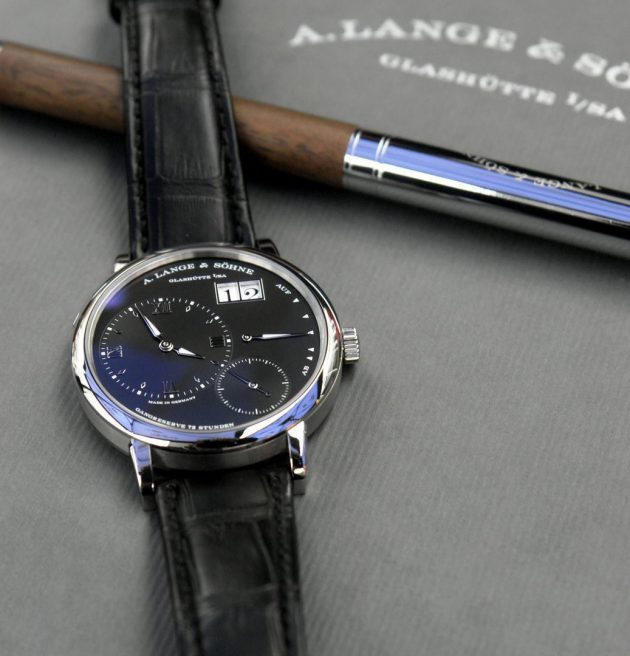 The finish of the timepiece makes a tasteful combination of polished bezel, lugs and the edges with delicate satin flanks. Such a design adds more class and taste to the watch, both additionally strengthened by the presence of sapphire-glassed satin lid held in place by six screws.
Manual
There is one more, deeply traditional value held by A.Lange & Söhne – namely, the manual mechanical calibers. Manual calibers necessitate a close bond between the watch and its owner, when the winding of its energy reserve – the mainspring – is required from time to time. Apart from rare exceptions, Lange watches are characterized by a manual movement, so valued by the enthusiasts. Even large complications and chronographs are consistently powered by mechanisms that lack a convenient, but troublesome, automatic winding mechanism. A caliber that requires manual winding means tradition and class, combined with stability, precision, lower dimensions and the possibility of expanding a watch with additional complications.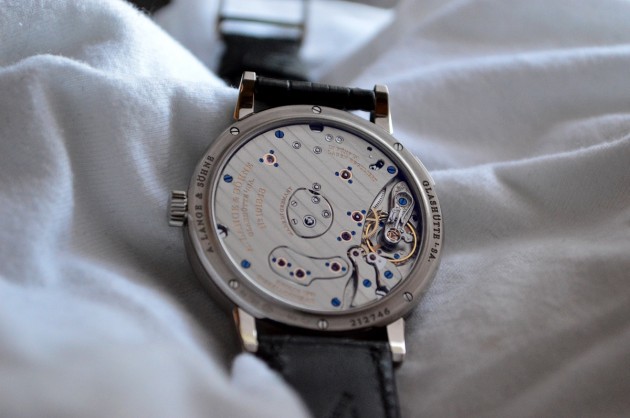 The golden case of Grand Lange 1 holds a caliber of the designation L095.1, the eleventh movement of the Lange 1 collection on the day of the watch's premiere, designed to be used with the larger size of the timepiece and its dial. A large mainspring barrel holds 3 days (72 hours) worth of power, while a small balance wheel, protected by an engraved bridge, ticks at 3 Hz (21.600 A/h); after the crown is pulled out, the stop-second mechanism is engaged. In addition, L095.1 is equipped with a Glashütte-produced hairspring.
All in all, GL1's movement is functional, easy to maintain (although the crown might be just a little bigger), keeps the time and power reserve perfectly, and what is more – it looks astonishingly. There is something about Lange's decorative style, something that makes the products stand out, even if the patterns used have been recycled in the industry. L095.1's bridges and plates are decorated with Glashütte stripes, similar to the Geneva stripes, phased and manually polished edges, golden chatons with rubies assembled within, polished blue and white (i.e. silver) screws, golden engravings, mirror-polished steel elements and, finally, the abovementioned balance setup.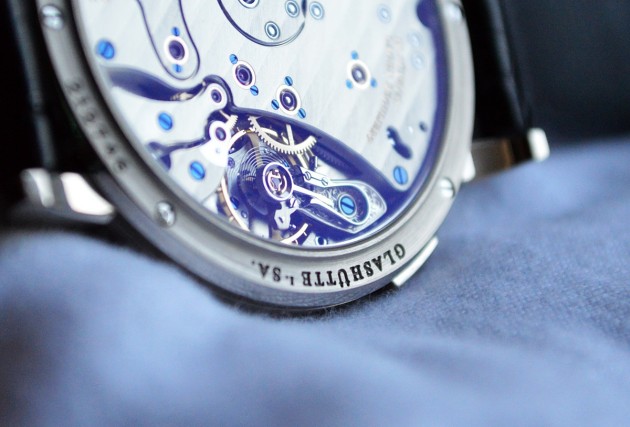 This element – in each Lange & Söhne wristwatch – is hand-decorated with a floral pattern, engraved by specially trained artists that hold their own room in the Glashütte facilities. The patterns engraved on each bridge are so unique that even after many years it is possible to discern who decorated a given element of a given watch.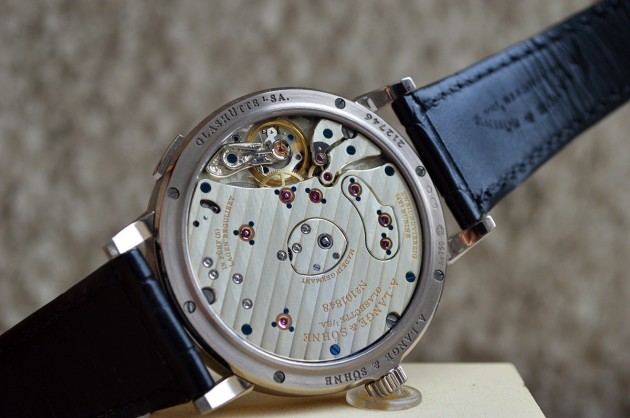 Lange's craftsmanship is absolutely second to none, as perfectly proven by the caliber powering Grand Lange 1, even though this movement looks modest when compared to the other creations of the manufacturer. The mechanism's architecture, workmanship and finish, as well as the movement's efficiency and functions are of the top rank, with the small exception of the date indicator which changes the displayed value a good 25 minutes after midnight.
Overall impressions
I have stated, at the beginning of this article, that testing watches is undoubtedly a privilege of my profession. On the other hand the duty of packing and sending back a tested timepiece is a little like saying good-bye to a good buddy – it is far from being pleasant. Grand Lange 1 grew in my own eyes each day of the test. As a relatively young man (or so I like to believe), I prefer less classical or conservative watches, so this time – let's hear it for the design team which combined classical approach with definite character. An asymmetrical layout creates a totally different range of impressions that traditional watch faces repeating the familiar pattern do. Such a design is not to everyone's liking, of that I am sure, but in my view this dial is not only equal to excellent design work, but is also synonymous with an icon that immediately, although not pushily, exclaims – Lange & Söhne!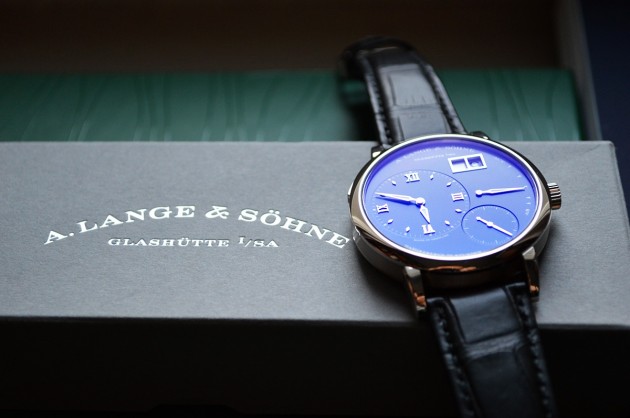 The design pairs up with top-notch workmanship. Lange produces around 5000 watches each year – a low (when compared to other manufacturers) production volume which is reflected in the detail with which their timepieces are crafted. I have had two opportunities to visit Glashütte and the Altenberger Straße manufacturing facilities and I can assure you that the amount of manual work performed there is overwhelming. It is clearly visible in the finishing of the movement, the cut of the case and the details on the dial, perfect to the dot. Naturally, such dedication to detail raises the price of owning such a chronometer – Grand Lange 1 in the white gold version costs a considerable 34.300Euro. It is a hefty sum – GL1 is the most expensive wristwatch we have tested so far – but this amount is largely justified; an owner of such a timepiece pays for the workmanship of the highest rank. I am not trying to praise A.Lange & Söhne for more than they are worth, but I simply consider the manufacturer a bright, if not the brightest, spot on the wristwatch manufacturer map. Lange is consistency, is tradition, is class, limited production size and a very consistent company image, which places the watchmaker and his skills at the unmovable primary position. Grand Lange 1 will satisfy each lover of "all things classical and more", presenting them with a traditional timepiece with an off-traditional design. If you do not find this particular model especially appealing, Lange 1 offers a few other variants, including wristwatches with perpetual calendars or tourbillons.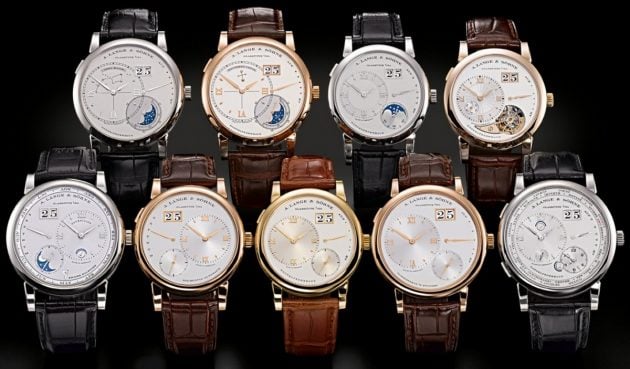 Haute Horlogerie is not only Switzerland; small and picturesque Glashütte can measure up to Valle de Joux or La Chaux-du-Fonds. Oh, and all the best to Lange & Söhne at its twentieth birthday! May Lange 1 be followed by other horology icons!
---
---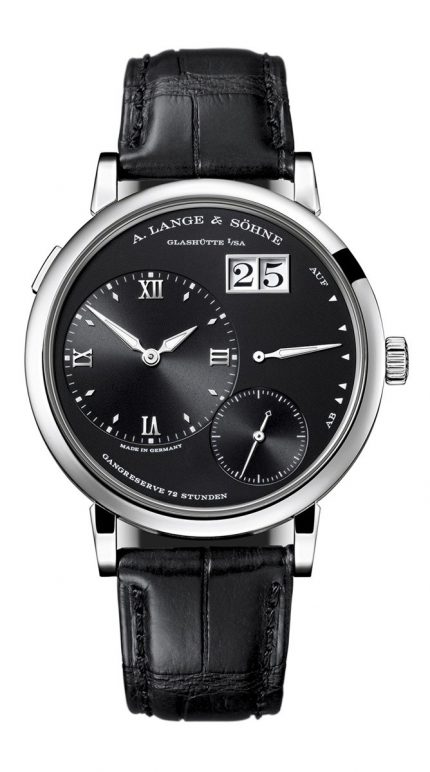 In (+)
– great, unorthodox design
– perfect bland of classic and contemporary
– manufactured, great movement with…
– …outstanding finish
– made by a very special brand
In (-)
– empty date window every 9 first days of the month
– crown a bit to small
– unfortunately a very high price tag
A.Lange & Söhne Grand Lange 1
Ref: 117.028
Movement: L095.1, manual, 72h power reserve, 21.600 A/h, small seconds, big date, power reserve
Dial: black with white gold aplicques, polished gold hands
Case: 40.9×8.8mm, white gold, sapphire glass, sapphire back
WR: 30m
Strap: crocodile leather, black, black stitching, tongue buckle
Limitation: —
Price: 34.300Euro
Watch provided by A.Lange & Söhne.
Photo: Wiktor Ruzik, Łukasz Doskocz