Review

Audemars Piguet Royal Oak Offshore Chronograph "Navy" [live pics, price]

Gerald Genta created an icon, Emmanuel Gueit its more sporty version, and we are testing its newest incarnation – a chronograph in blue-coloured "Navy" version.

This test could have proceeded in a totally different way. If not for some customs and legal regulations, the watch would have ended up on Tomek's wrist – and Tomek has been dreaming of this particular model ever since he saw it during the SIHH. Blind fate brought Royal Oak from Le Brassus straight into my hands, and I am not such a big fan of this watch. This, however, made me all the more curious – an organoleptic test of a legend which does not perfectly fit our tastes is another type of pleasure. You definitely know the feeling of astonishment when others like a watch that you would not consider putting on your wrist. Royal Oak resembles a few other icons of this calibre – it has a large group of dedicated enthusiasts and a narrow one of those on whom it does not make a good impression at first, nor second glance. Before we move on, however, let's go back to the 1970s.
Genta's genius

As we know, the best applied art specimens (including wristwatches) are usually born as the necessity of a moment. RO (Royal Oak) was no exception, although its creation was a coincidence of many factors, not all of which were favourable. 1970s in the watchmaking industry were dominated by small-sized, classical, stylistically simple watches and gold – and that is when Gerald Genta received an out-of-this-world commission. Mere moments before 1971's BaselWorld he received a phone call from the then Managing Director of Audemars Piguet, Georges Golay. The task commissioned during this conversation was short and concise – Genta was to design, at the request of an Italian distributor, a possibly universal watch in a steel case. This wouldn't be surprising – Genta was already a renowned designer by then and AP's contractor – if not for the fact that the phone call was made at 4 a.m. and the design was to be finalised the very same day. Genta's inspiration came from his childhood memories and from a diving helmet, its characteristic shape and hexagonal securing screws.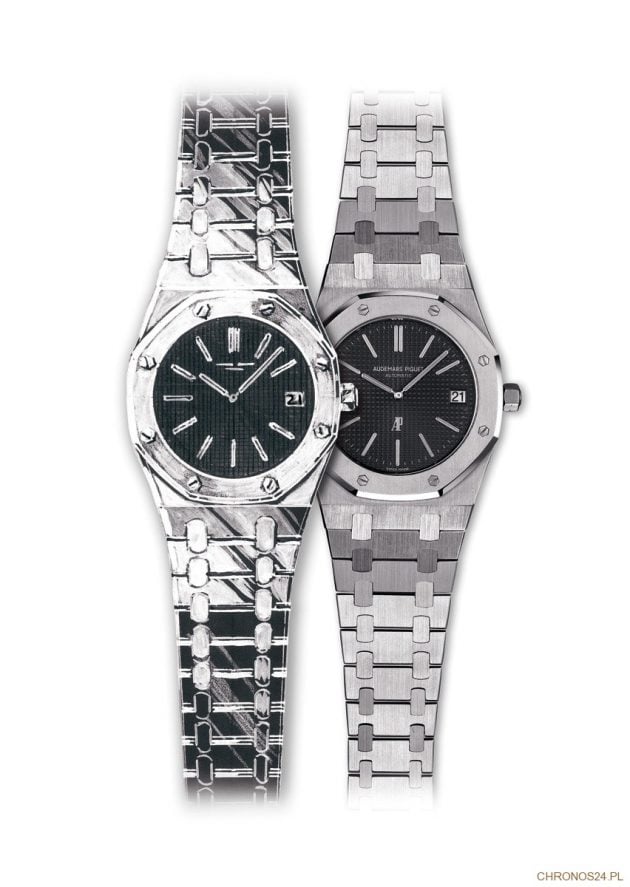 Genta took a piece of paper and drew a design which is considered iconic nowadays: a watertight case with an octagonal bezel and eight hexagonal screws securing the piece, a narrowing-down bracelet, flat sapphire glass and a face bearing a guilloche motive with a set of indices, accompanied by glow-in-the-dark hands. The customer accepted the project, but AP's impressions were more on the cold-shoulder side – it was too far from the elegant look that was promoted by the manufacturer. Even the final name of the piece was not the producer's idea – it was suggested by their Italian partner, Carlo De Marchi. What is more, the Royal Oak, introduced in Basel in its steel form (although the prototype was made in white gold, easier and cheaper to machine than hard, watchmaking steel at the time) cost a fortune – 3650 CHF (which translates to round about today's 10.000CHF) and did not result in mass hysteria. At the beginning, 1000 copies were made, 400 of which were ordered by distributors from Switzerland and Italy each, and 200 were marketed internationally. The watch sold poorly, was unreasonably expensive and decidedly too big (39mm); its true success came as the effect of FIAT's boss, Giovanni "Gianni" Agnelli, proudly showing Royal Oak on his wrist (or, more precisely, on the cuff of his shirt) 2 years later.
Offshore
Although the original Royal Oak bears a sporty character, its true sport version, or its concept, was made in AP in 1989. Stephen Urquhart, now the CEO of Omega, was leading the brand then, and a young, 22-year-old Emmanuel Gueit was asked to design the timepiece. It was supposed to be Royal Oak with even more character, more masculinity, and the "Offshore" word was added to its name after the fiftieth copy was produced. It was due to the fact that the company – even though the management liked the design – was in doubt as to whether to introduce the model to the market at all.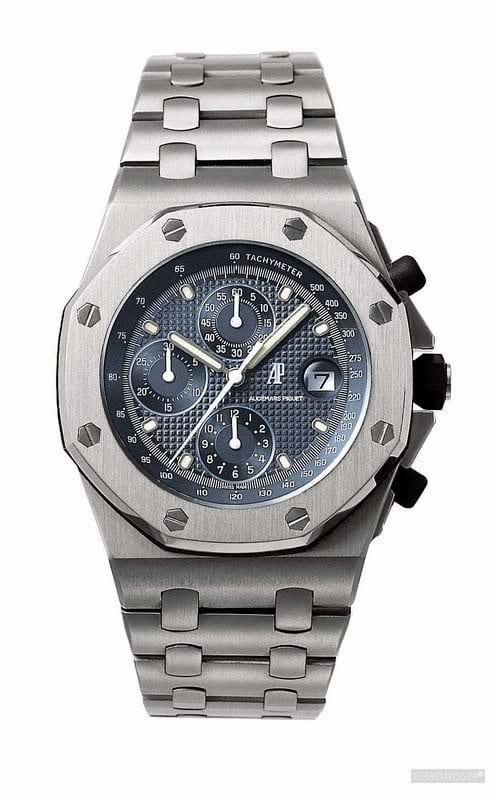 Offshore was large (partly because of its anti-magnetic nature), very technical, with sharp edges, a chronograph and a design that was miles apart from the trends of the day. It cannot be a surprise that long 4 years passed between the birth of the concept and its premiere – the watch debuted in 1993. Its early days were the same as with Genta's idea – the market was sceptical, with lots of reservation, and even Genta himself labelled the design as a heresy. Success came with the passing of time and as it often happens, brought a group of other models, from smaller women's versions to concept madness, innovative materials and Grand Complications. A year ago (SIHH 2014) Audemars Piguet showed their Offshore Chrono, resembling the original to the highest degree yet.
Offshore Chronograph "Navy"
Let us move on to the star of this test, then – the newest incarnation of Royal Oak, initially designed by Genta and given a sporty character by Gueit. Offshore is characterised by two key aspects – chronograph complication and design, and the success of the watch owes mostly to the latter.
ROO Ref. 26470 is a 42mm case of stainless steel (or pink gold as an option). A geometric base full of sharp edges is crowned by the famous octagonal bezel set on a rubber washer from the top and an octagonal caseback from the bottom. Both the bezel and the back come with sapphire glass. The bezel is secured to the case with eight hexagonal screws, which are mounted from the top and screwed-in from the back, which is the reason for their magical, always perfect positioning. Beneath a flat sapphire glass lies an angled ring with the tachometer scale, and beneath this – the actual face of the watch. Its surface is ornamented with a machined "Mega Tapisserie" pattern with a characteristic square grid. It bears eight large Arabic numerals, polished and filled in with luminous material, three small dials (from the top: seconds and two stopwatch dials), a round date indicator with a magnifying glass and a set of simple hands, also with small amounts of luminous substance applied.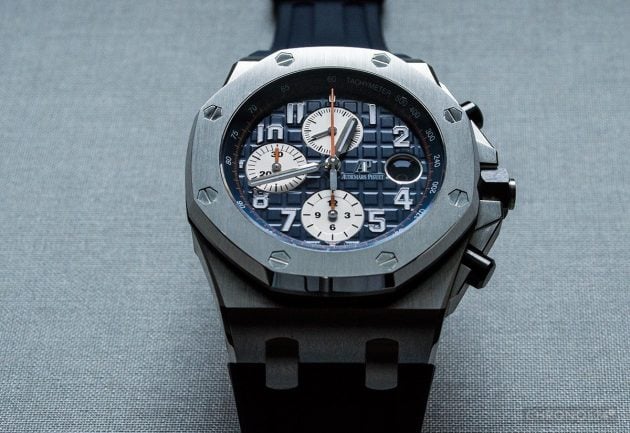 In the Navy version, the face is of navy deep blue colour, the numerals are silver and the hands of the chronograph as well as the tachometer scale – orange. They are supplemented by AP's applied logo and black indices on the small dials. This variation of the model is the most casual one from the five available (comes also in grey, black, cream-brown and gold-black) and has by far the largest number of enthusiasts. We also liked the blue ROO the most – a sport watch ought to have a dose of liveliness and fantasy to it. Navy blue, as all shades of blue, seems to be very popular lately, and although such colours don't fit every watch, navy Offshore looks excellent. I have a larger issue with the overall design, though. ROO is a very characteristic piece, a technical, massive watch full of edges – which has both some advantages and disadvantages. The execution and finishing are the advantages – it's perfect in the smallest details and diligently executed on the very top level.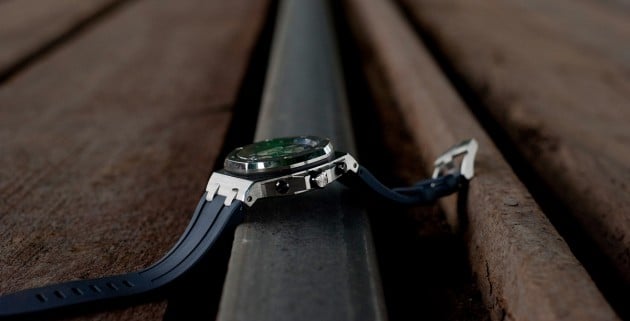 The case is dominated with brushed surface, perfectly supplemented with polished edges and the heads of the bezel screws, as well as black ceramics. This last material was used for the round buttons of the stopwatch and a hexagonal crown topped with a steel element bearing the AP logo. Technically, everything is top-notch, but comfort seems to somewhat suffer.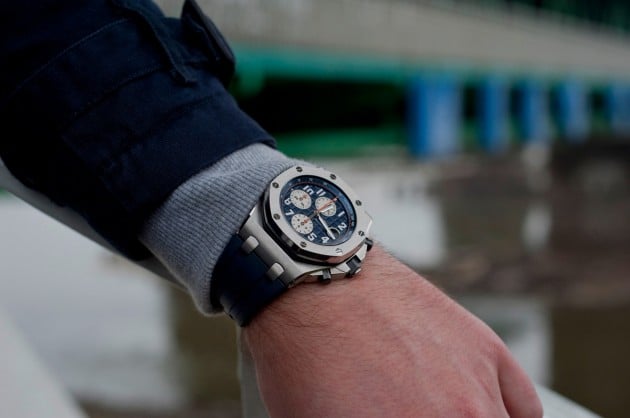 Although ROO Ref. 26470 is "only" 42mm in diameter and 14.2mm in height, this is the largest 42mm I have worn on my wrist, ever. Because of the construction and the ears that form an integral part of the case, this watch wears like a 44, or even 45 millimetres and the feeling is not alleviated even by a very good, thick rubber strap with an excellent, massive, well-produced and finished clasp. It is another thing that a sports watch is not a minimalistic timepiece that you wear with your suit and this one still wears much better than 44mm versions. It is a fact: one needs a rather well-developed wrist to wear the Royal Oak. The largest problem, though, lies inside.
Engine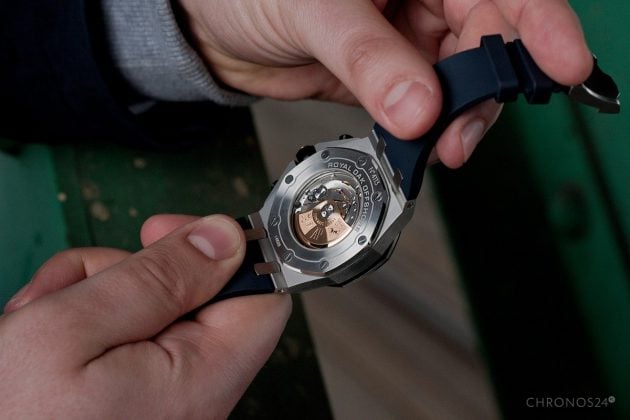 Usually we list the price of the tested timepiece at the end of the text, together with our conclusions and the final arguments speaking for and against it, but we will make an exception here. ROO Chronograph "Navy" comes with a price tag of 24.400CHF. This can be no real surprise but for one thing – the mechanism. You would expect a watch that costs almost a hundred thousand Polish Zlotys (PLN) to have not only perfect finishing details and material, but also a manufacturer's movement. Yes, I know – in-house does not need to stand for quality or anything better than a stock calibre, but it's sort of nice to have a top manufacturer's watch with its own, fully manufactured movement. Especially that AP has the capacity for such solutions.
ROO Chrono's steel housing hides a 3126/3840 automatic calibre inside – and if you are familiar with the naming system of the brand, you will quickly notice that half of the mechanism is manufacture's own. The base of the movement is the valued and by all means great 3120 automatic calibre with a 3 Hz balance wheel, full balance bridge, regulation capabilities with inner weights, flat hairspring and 50-hour power reserve. Winding of the mainspring is the responsibility of a large 22-carat gold rotor set on ceramic bearings.
The base is supplemented with a chronograph module produced by Dubois Depraz. Stopwatch operates on a series of levers without the column wheel and has smooth minute (up to 30) and hour (up to 12) indication.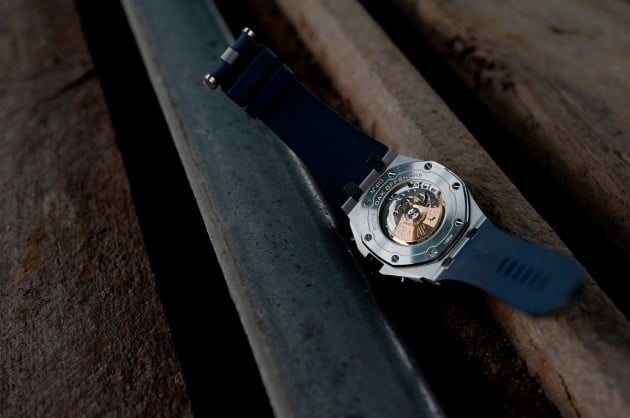 Construction of the mechanism (applied to most of the Offshore chronographs coming from AP), although it worked perfectly during the test, has a few faults. Module chronographs are by definition thicker than integrated ones, which affects the thickness of the complete watch. The date indication needs to be set deeply in the metal ferrule as a consequence, and even an integrated magnifying glass does not improve its legibility. There is also the immeasurable value of prestige – you would expect AP to sell watches equipped with movement produced exclusively in-house. Even more when you consider the skill with which AP decorates the movements – looking at 3126/3840 you will find it all: Geneva stripes, bevelling, polishing, perlage and an absolutely magnificent finishing of the pure-gold winding mass.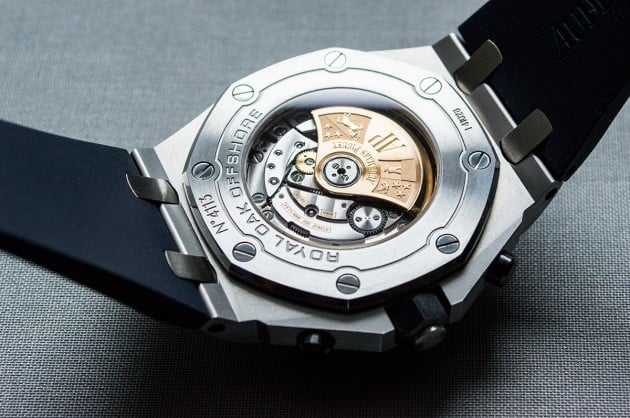 Like it… or not?
It is commonly believed that Swiss watchmaking is led by the grand trio: Patek Philippe, Vacheron Constantin, and Audemars Piguet. Within this group, the manufacture located in Le Brassus has the most diversified character, although this is considered a drawback by some enthusiasts. As we could witness when visiting the small village 100km from Geneve, the company has enormous potential and a gigantic watchmaking infrastructure – an effect of many years of rich history – but how does sporty Offshore fit into this? Well… exactly like a watch of this kind may fit into the portfolio of watchmaking classics – as a supplement and an alternative. The art of meticulously building mechanical timepieces will always be valued more highly in its traditional form, which does not change the fact that Royal Oak Offshore "Navy" is a great piece of watch to wear. It offers everything that you would expect to find after spending a cartload of money on a timepiece with the AP logo – an excellent quality of manufacture, attention to detail and the overall feeling of luxury (which are all important). A large drawback – or maybe an insufficiency – is the mechanism and as its consequence, the price. On the other hand, Patek's competing Nautilus (on a side note: another of Genta's creations) will cost you twice as much, but comes with completely in-house movement. Vacheron's counterpart, Overseer Chronograph, is decidedly the least interesting of the three.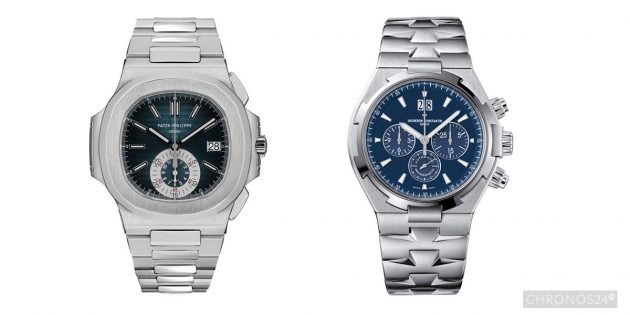 After two weeks of wearing Royal Oak I will still probably not become a fan of Gerald Genta's designs, but if I'd be asked to select a Royal Oak watch for myself, I would probably go for the cult Jumbo piece or the latest edition of the Ref. 15400 automatic. Offshore will definitely hit the soft spot of enthusiasts of more sporty, larger, less formal watches, who still wish to preserve the typical Royal Oak style. To be honest, I might just know why this particular watch has so many fans.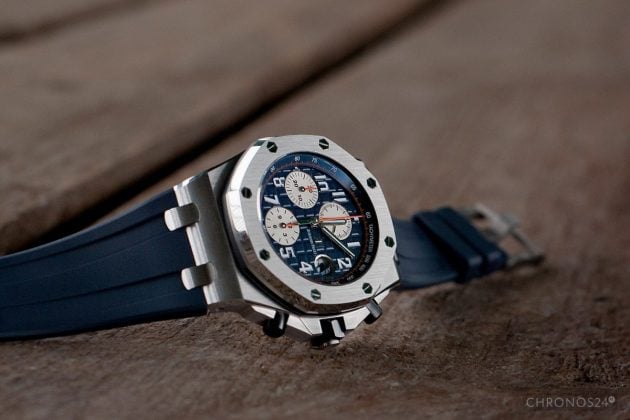 ---
---
In (+)
– technical, "characteristic" design
– watchmaking icon
– outstanding quality level, lots of details
– great colours combination, fresh and bold
In (-)
– not fully in-house
– wears bigger than it seems
– very high price… to high
Audemars Piguet Royal Oak Offshore "Navy"
Ref: 26470ST.OO.A027CA.01
Movement: 3126/3840, automatic, 50h power reserve, 21.600 A/h, date, chronograph
Dial: blue with silver sub-dials and steel applications
Case: 42×14.2mm, steel and ceramic, sapphire glass, sapphire caseback
WR: 100m
Strap: rubber, navy-blue, steel buckle
Limitation: —
Price: 24.400CHF
Watch provided by Audemars Piguet.
Photo: Mateusz Pawelski