Review

Cartier Calibre de Cartier [live pics, price]

The luxury brand Cartier equals beautiful jewellery and – what many seem to forget – excellent watchmaking workmanship in both its intricate and basic versions, as proven by Calibre de Cartier.

The contemporary watchmaker map hosts brands and manufacturers of every possible profile, starting with budget watches of mainly quartz movements, through simple mechanical watches, more advanced mechanisms with moderate and serious complications to massive complications and weird innovations lifting the art of watchmaking to new heights. You will find equal diversity in the histories of the individual brands. There are some stretching back whole decades, written on dusted sheets in equally dusty archives, but there are some still being written, trying to fight against the apparent lack of multi-generation heritage. An equally diversified field is the activity background of watchmakers. Some of them are manufactures in the strict sense, while others, forming a minority, albeit a significant one, have a richer background. More frequently, the names appearing in the watchmaking industry are ones which have been so far known for other luxury goods. Louis Vuitton or Ralph Lauren are fashion giants who bravely invaded the world of wristwatches. Hermes, so far associated mainly with haberdashery and the famous Birkin bag, has presented collections reaching high expert and connoisseur praise in the past few years, but it seems the two manufacturers who are objects of the most fierce discussions are Montblanc and Cartier. The former one is, naturally, the German writing implement potentate with their Maisterstuck collection… and an excellent watchmaking branch, largely owing to the Minerva brand that was acquired a few years back. Cartier, who have supplied the wristwatch for this test, suffers from frequent associations with jewellery, which is largely unfair.
Cartier's history
Although Cartier is, indeed, a major player on the luxury jewellery market, the brand also has a long, rich and eventful watchmaking history. The company was established in mid-19th century by Louis-Francois Cartier – a French jeweller, father to Alfred, grandfather to Pierre, Louis and Jacques, successors to the family business as well as the authors of introducing the brand to wider, international waters.
First watches bearing the logo of the company are the result of close friendship between one of the Cartier brothers and a Brazilian pilot Albert Santos-Dumont. This result, a square Santos, is currently one of the brand's iconic creations, followed by a string of equally iconic models throughout the next hundred years – take, for instance, Tank which has been inspired by the top view of a Renault tank – and clocks, such as the once-famous Mystery Clocks with hands that seemed to be floating in mid-air. Although the company's name mostly evokes associations with jewellery, Cartier holds equally strong presence in the watch world, and all started with the takeover of the brand by today's Richemont group in the early 1990s.
Cartier today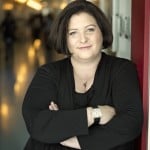 In order to fully comprehend the high position the French-Swiss manufacture holds in the watchmaking world, it is essential to recall the year 2006 and the person of Caroline Forestier-Kasapi. The watchmaker, educated in the trade school of La Chaux-de-Fonds, and having prior experience with Renaud & Papi brought a massive dose of innovation and knowledge into Cartier's business. Forestier-Kasapi, the Development Manager, pulled Cartier to a new level, having created a gamut of very complicated and even more complicated movements in a manner of but a few years, including tourbillions, repetitions and calendars, in a number of absolutely stunning combinations.
Large complications created in the modern premises of the brand in La Chaux-de-Fonds do make an obvious massive impression on whoever looks at them, but it was far more vital for the company to create a true manufacturing base mechanism. An old saying is wise to state that it is most complex to create something that would be both simple and functional. For a full-fledged watch manufacturer, having a base movement out of which complications can evolve is much more vital than the resultant complications themselves. It is the entry-level watches that create the image of the brand to the wider audience; additionally, the independence that having such a movement brings to the brand is also not to be underestimated. This is the path Cartier took under the leadership of Forestier-Kasapi, presenting, during the Geneve 2010 SIHH, a model whose name says it all – Calibre de Cartier. A watch with a specific shape, with an automatic 1904 MC movement and a whole lot of Cartier-specific DNA caught my eye immediately during its introduction, and four years after its premiere I had two full weeks to make sure that my first reactions were justified.
Calibre de Cartier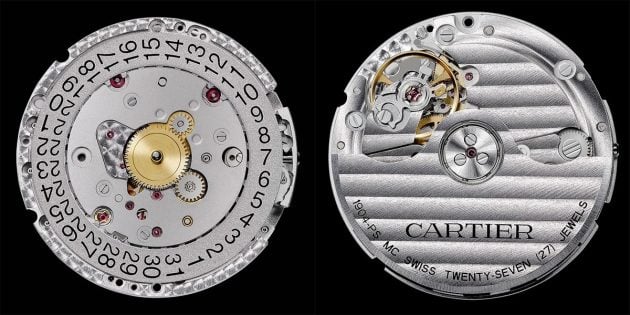 The tested CdC is an important watch owing mainly to its premiere movement, so this is the place the test report will start. The calibre is the abovementioned 1904 MC – an automatic movement with a centrally mounted, large rotor, set in a ceramic ball bearing, offering a 48-hour power reserve, small seconds hand and a date.
Cartier's construction is a solid, simple and functional mechanism that offers the ability to be expanded with e.g. chronograph complications which came two years ago as the 1904-CH MC calibre.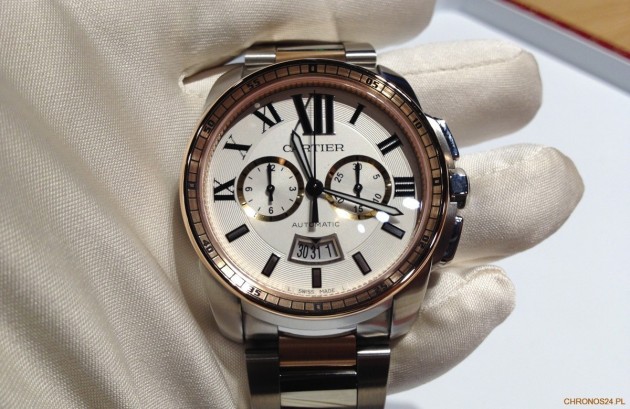 A 4-hertz balance of the wristwatch, regulated by a special index, provides reliable timekeeping accuracy within the COSC limits; the ability to correct the date indication quickly and a stop-second mechanism allow for precise setting and a large rotor serves its purpose perfectly. As with each serious basic movement, the fundamental set of decorations is composed of aesthetic Geneva stripes on the rotor and the bridges accompanied by a few black-filled engravings. It seems there is nothing special to the decorative aspect of the mechanism, but the calibre makes for a pleasant sight, placed under a sapphire glass back.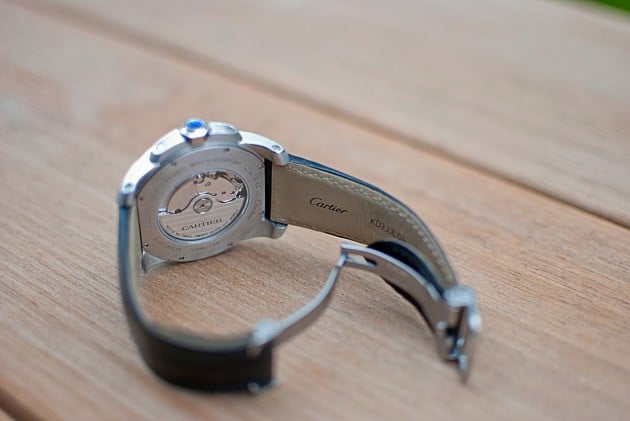 When presenting the base movement for the very first time, Cartier decided to take courageous steps and also prepared a new case from scratch.
There is much good to be said about the brand's presentation of the new model, especially that it is a visually attractive one that bears definite character. A 42-milimetre construction with a proportional depth of 10 millimetres, available in a few variants (steel, steel with gold and gold) has an intricate form with a plethora of details, alternately with satin and polished finish.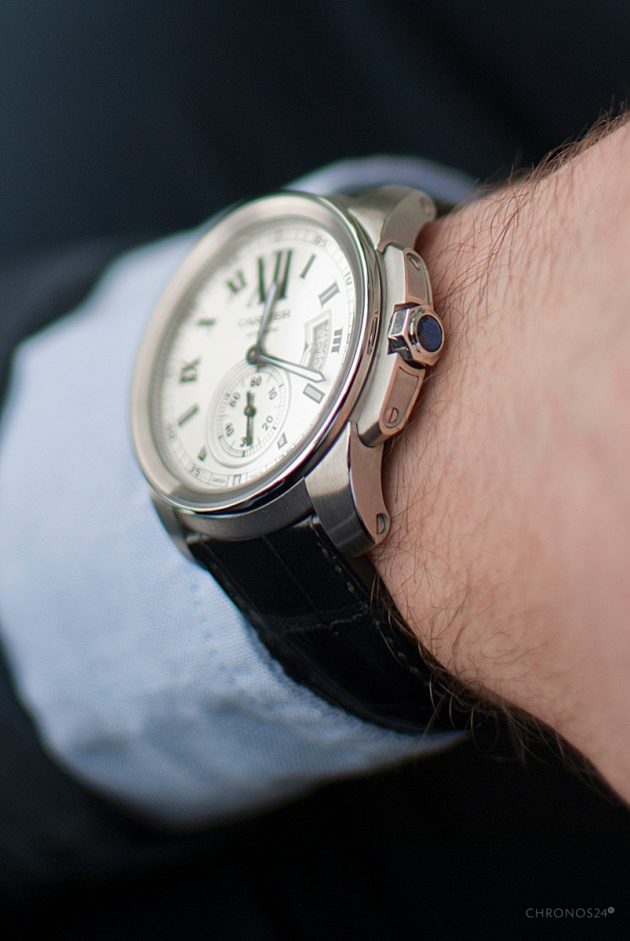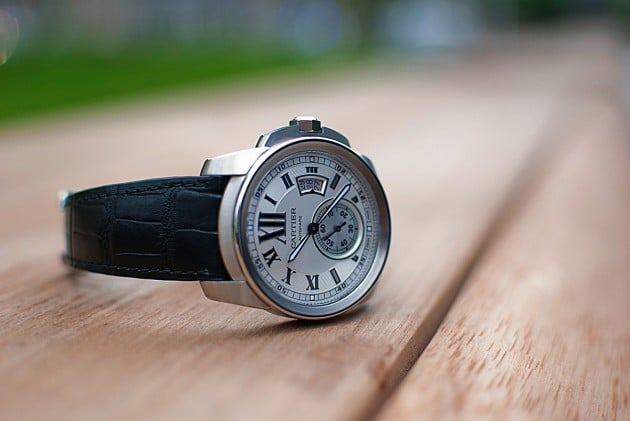 The first thing that catches the eye are the lugs – massive, profiled ones, with a downward turn and strap-pins that are screwed in. On the one hand, such a sharp profile ought to guarantee an ideal fit of the watch to the wearer's wrist, on the other – what appeared to me during the test – the shape of the wrist itself really counts. I had major problems with obtaining a good fit, especially with the piece's strap and buckle. This is decidedly the largest disadvantage of Calibre de Cartier – a half-black matte crocodile leather strap fits the image of the watch quite well, but a clasp buckle is a major oversight of the designers.
If it was not enough that the clip does not wear comfortably on the wrist (it is too large and has a weird feature of rolling the strap over in order to shorten it), it also needs to be buckled and unbuckled with the use of some extensive force – one practically needs to rip the clasp open. Luckily, the rest is much better-designed.
Apart from massive lugs, the enclosure is also a well-finished home to a seven-sided crown (not screwed-in, unfortunately) with a blue cabochon and a narrow bezel, polished from the top, with a sapphire glass atypically placed below its surface. However, Cartier's true DNA lies in its face.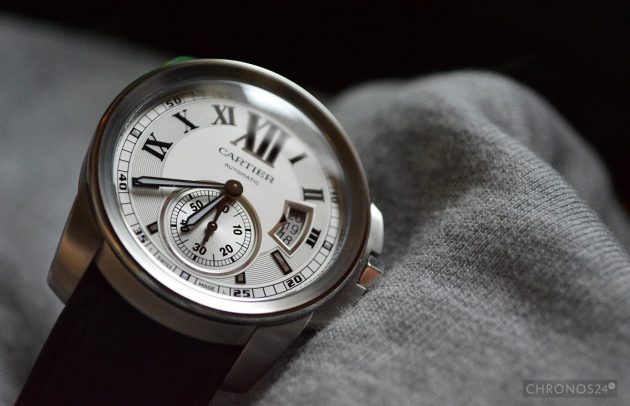 Characteristic features of Cartier watches are large graphic elements, Roman indexes and guilloches – all to be found in Calibre de Cartier's silver-white face. Looking from the inside, you see a toothed ring of the bezel, followed by a painted minute ring with Arabic indexes, a guilloched ring with Roman numerals and square hour indexes, a small seconds counter set in a reasonably large dial with Arabic numbers and finally an open date window with three indications. Apart from the last element, not really suited to a classical face, the whole monochromatic design is coherent, full of character and so "Cartier" – especially owing to a large XII index. In a few areas, green luminous material has been placed. What is important is that the design is so characteristic that it would be difficult to find a similar one, which is an obvious advantage to Cartier. The feel of the watch allows to make a similar conclusion.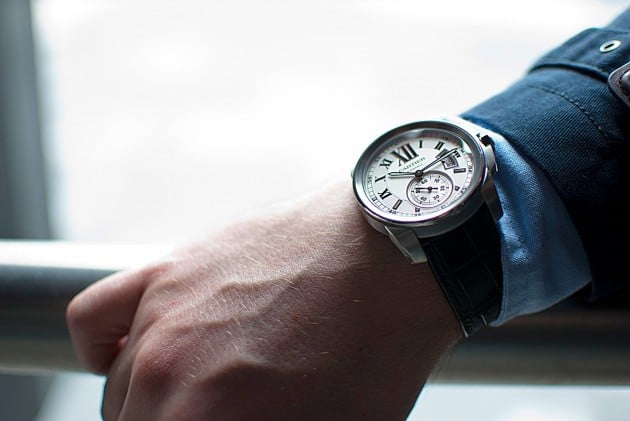 It would be classified by many as a sports watch, especially when set with an optional steel bracelet with satin links, but it might as well be seen as a casual watch or even team up with a less formal suit, especially in its white dial version. Black face variety looks decidedly less official. A rather universal size (42mm with a white face and a thin bezel makes an illusion of being noticeably larger) and a non-aggressive look make the CdC an ideal everyday watch. Should you, however, prefer a more sporty look, you can consider a really interesting Calibre de Cartier Diver, which is a diver's variety of CdC with a ceramic pivot bezel, a rubber strap, 300 metres of water resistance and a professional ISO certificate.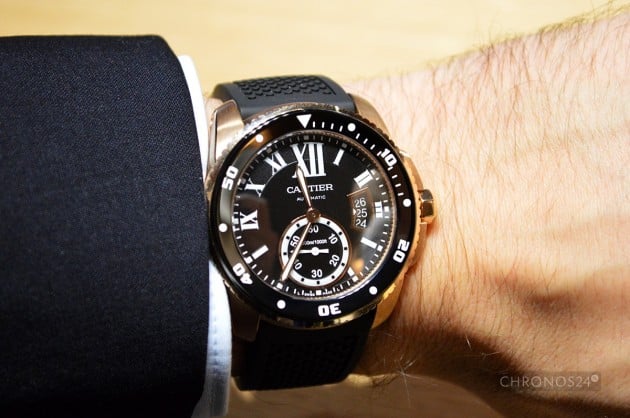 Cartier = watchmaking
I do not know whether I will be able to convince anyone to see Cartier as a fully-fledged watchmaker, but if you take a look at CdC and other products in Cartier's watch line, the facts speak for themselves. Under the leadership of Forestier-Kasapi and Richemont the company is evolving in a dynamic manner and its annual SIHH presentations are among the more anticipated ones. What needs to be added is that the impressive movements such as the Astrotourbillion or concept ID One and ID Two are accompanied by a very good basic calibre which currently also powers the cult Tank MC and MC Chronograph wristwatches.
A Calibre de Cartier with a steel bezel and a leather strap is worth almost 6.000Euro. This seems like a reasonable amount for a manufacturer's own movement, a well-made and complicated housing and an interesting dial, although one may certainly find competing wristwatches for a smaller sum (or a larger one, for that matter). Here is where we return to where we set off – to the image of the brand. I do understand certain automatic associations and certain reluctance towards companies which make everything – I am not a fan of brands that sell everything from soup to nuts. On the other hand, such views may warp the reality. Take a look at Montblanc that makes fantastic fountain pens, but also possesses an excellent watchmaking facility of Minerva. Cartier is in a similar category. The name hints at jewellery, but if you pay some attention, you will see a really serious player on the wristwatch market. Calibre de Cartier is an excellent base for the brand's collection of watches and its successful execution may speak more seriously about the manufacture than its most wacky complications. The brand itself with its beautifully sounding name is followed by the word "luxury" – at least in my mind, which is added value in itself.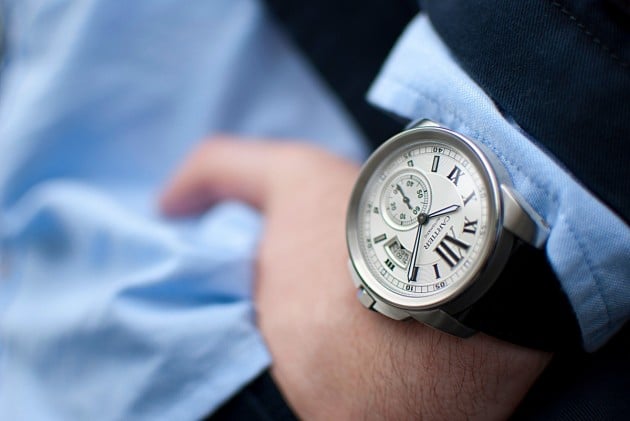 ---
---
In (+)
– lots of details
– characteristic brand's DNA
– manufactured, quality movement
– sporty-elegant-casual = versatile
In (-)
– bad, uncomfortable clasp
– a bit to profiled lugs
– loose, unscrewed crown
Cartier Calibre de Cartier
Ref: W7100037
Movement: 1904 MC, automatic, 48h power reserve, 28.800 vph, small second, date
Dial: silver-white with applied indices, black hands
Case: 42×10mm, steel, sapphire glass, sapphire back
WR: 30m
Strap: alligator leather with folding clasp
Limitation: —
Price: 5.950Euro
Watch provided by Cartier.
Photos: Mateusz Pawelski