Review

ZENITH El Primero Striking 10th [live pics, price]

El Primero Striking 10th is more than great evidence of manufacture's rebirth under the leadership of CEO – Jean Frederic Dufour.

Although for the average Pole Zenith is a brand at first glance associated with a specific plastic-steel pen or Soviet-made analogue cameras, what hides under the name is a Swiss watch manufacturer. Manufacturer with over 150 years of unparalleled history and rich tradition.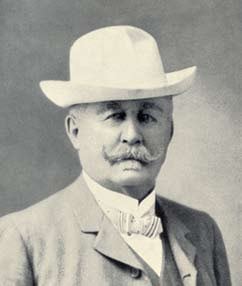 Zenith dates his roots back to the year of 1865 and a gentleman by the name Georges Favre-Jacot, it's founder. Brand's home was, and still constantly is the mountain village of Le Locle – one of the Swiss watchmaking iconic venues. Firm's philosophy, as constant as its location, was and is to create special and ultra precise mechanical timepieces in line with best of Swiss-made standards and heritage. Over the course of 147 years of its existence, Zenith, just like almost every other serious watch brand, had its ups and downs, with the vivid advantage of the first not rarely placed in the history of watch-crafting art. Awarded with hundreds of prestigious awards (more then 1420), almost destroyed by the quartz-crisis (1970), reborn thanks to passion and persistence of Charles Vermot (1984), acquired by LVMH group (2000) and somewhat degraded and marginalized by eccentric Thierry Nataf (2001-2009) to day the company is celebrating its big come-back under the helm of one of the industry most respected CEOs – Jean-Frederic Dufour.
But among all the important dates and fact of Zenith's rich history there is one special – 1969. The same year that ultrasonic Concorde and Boeing 747 "Jumbo-Jet" began their journey over the firmament and Apollo 11 commander Neil Armstrong became first man to ever set foot on the surface of the moon, the little factory in Le Locle created the movement of the watchmaking significance as high as all this events for the history of mankind. The movement in question, believed to be one of the greatest ever series produced caliber, was El Primero – legendary mechanical stopwatch designed to measure any given period of time.
Unchanged for over 40 years, delivered to such manufacturers like ROLEX, PANERAI, Ebel, Concord and TAG Heuer, El Primero is a true hallmark of Zenith. Beating at the fast rate of 36.000 vp/h and able to measure up to 1/10 of a second, it is a living and breathing (so to speak) icon. Caliber, that requires 9 months of labor involving 20 watchamkers conducting total of 5500 operations was finally exploited in its full form in previous year.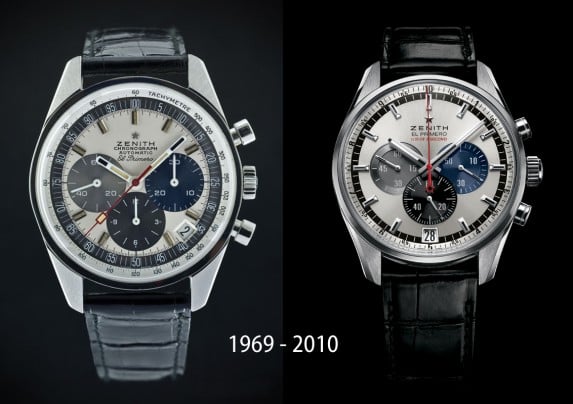 Striking 10th
When Jean-Frederic Dufour took over after his highly odd predecessor Thierry Nataf, the formula for resurrecting the greatness of the brand was simple, almost obvious you might say. Zenith was to again be a classical, traditional manufacture deeply ingrained in its heritage and high-watchmaking achievements. Radical reduction of references, total resignation of the crazy and, frankly speaking, ugly Defy collection and finally right use of the El Primero capabilities was his way to success – which was achieved in spectacular style as it turned out.
Beating at the pace of 10 beats per second El Primero was never fully explored – never was reading of such precise fraction of time possible simply from the watch dial. Not until 2010 and reveling of the Striking 10th – first fully developed El Primero powered watch with the second stopwatch hand running over the dial ring divided in 10 second, each split to exactly 10 parts (10x 1/10 of second).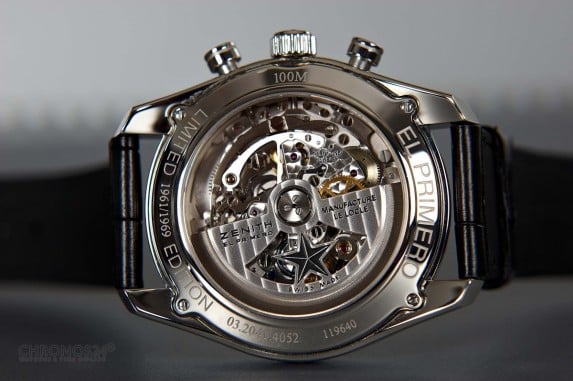 Based on the regular El Primero, the Striking 10th caliber was named 4052 B. The unnaturally fast run of the chronographs second hand was possible thanks to the 11 parts module of wheels with one 100-teeth double-wheel made of silicon. It's job is to convert impulse coming from the gear train so the hand in question could move at the speed 6 times faster than regular. 100 precisely cut teeth represent 100 small jumps of the seconds hand equivalent of every 10 passing seconds.
Equipped with power reserve of 50 hours caliber 40562 B measures 30mm in diameter and 6.6mm thick, has a column-wheel device and of course high-beat 5Hz balance wheel. Chronograph allows you to time up to 60 minutes (unfortunately not a second longer) on two sub-dials: 60-seconds and 60-minutes. The watch itself indicates time with two central hands, small second at 9 o'clock and date window changing almost instantly at midnight, at 6 o'clock.
In line with classic movement and "classic" philosophy the case of Striking 10th is inspired by very traditional, elegant form. Design is directly inspired (almost copied) by the vintage El Primero A386 chronograph. Nearly cosmetic changes involve enlarged case, date placement and small details regarding the complication used. Beautiful, polished steel case measures 42mm (4mm more than 38mm original) and is 12.75mm thick, or slim you may say. And if you would subtract thickness of the domed sapphire crystal, it would be no more than 10mm – impressively little for a column-wheel, automatic-winding chronograph. Secured on a thick, rubber inlayed black strap made of alligator leather and fastened on delicate buckle the watch is very comfortable on every-day basis. Smart use of rubber as strap inlay practically eliminates any sweat-issues that so commonly destroys regular bands. This solution should vastly be copied by others.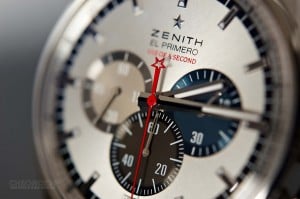 Another history-inspired element is hidden under the sapphire glass. Silver, sun-burst finished dial has a traditional 3 colors sub-dials composition. Looking form left it is silver-grey small second, black 60 minutes and dark navy-blue 60 seconds (significantly darker than this on the render images). All decorated with circular finish. Stopwatch second hand, in vivid red color, is on one side finished with Zenith star and on the other gently touches 10 seconds track on the outside of the dial. All is perfectly balanced – I would not change a single element, not even the overlapping sub-dials, that might cause a bit of a problem in easy reading of time.
Limited pleasure
If there is any significant problem with El Primero Striking 10th, it is watch limitation. There are only 1969 pieces created (to commemorate the year of El Primero birth) and judging by the number of piece I had a pleasure to test, it's most likely sold out. On one hand limitation amount of almost 2k watches is rather big, on the other what we get in the watch makes it rather small. Price tag of $10.700USD gives you classical, perfectly finished timepiece with legendary, precise and beautifully finished movement. The decoration includes Geneva stripes on the rotor, perlage on bridges, heath-blued screws and – not entirely decorative – violet-blue silicon wheel of the Striking 10th device.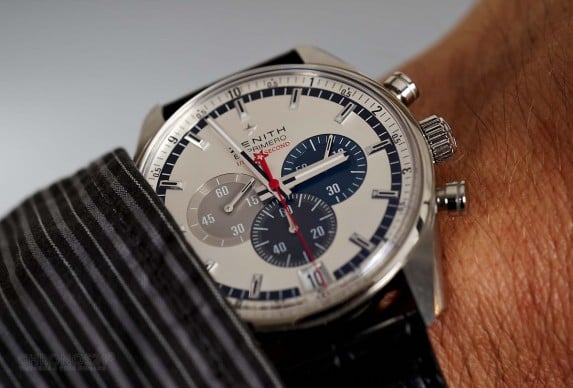 Zenith El Primero Striking 10th is a perfect watch – considered that the self meaning of "perfection" is anyhow relevant. REVOLUTION magazine prized the watch with Best Men's Watch of 2010 award explaining, that it demonstrates a return to the essential Zenith emphasis on incorporating practical innovations and useful functions into beautiful and stylish timepiece. Benjamin Clymer, founding father of HODINKEE blog summarized his review of the piece saying it has legitimate sex appeal – couldn't agree more. Zenith watch is classic, elegance and history locked in one great piece – striking indeed. The best I had a pleasure to test so far.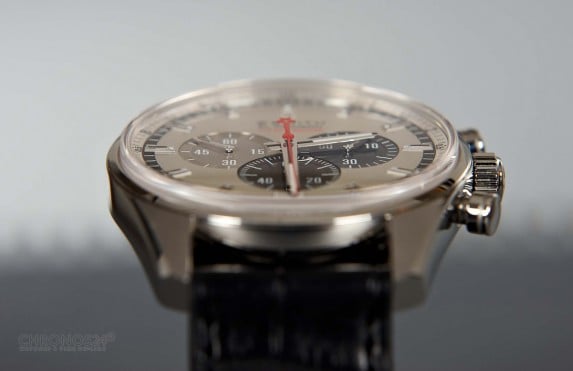 In (+)
– vintage, beautiful design
– high comfort
– iconic, precise caliber with history
– rubber-lined strap
– huge fun-factor
– great quality/price ratio
– limitation
In (–)
– a bit loose date disc
– bit hard stopwatch reset
– only 60 minutes max. to measure
– limitation
Watch provided by APART.
Text: Łukasz Doskocz
Photo: Dariusz Lewiński
Photo of Zenith from 1969: Paul Gavin / www.heuerworld.com