Review

ZENITH Pilot Doublematic [live pics, price]

Perfect traveller's watch should above all be functional – exactly like the Pilot Doublematic from ZENITH.

It so happened, that almost every single watch complication was born from the need of a moment. Timekeeping is of course the basic one, but all other functions are man-created inventions and interpretations of natural phenomenon, enclosed in a watch case, for very different reasons. Date or calendar displays were born to categorize flow of time, power reserve to show energy level left in the main spring, chronograph to measure certain parts of time, repetition to acoustically tell time in the complete darkness, tourbillion to help fragile escapement fight of the gravity field and GMT to easily determine time in any given place on earth. Watches are (in vast majority) our everyday tools, that we (by buying them) select according to our life style and needs.

Times we live in, especially last few decades of XX and XXI century, are marked by crazy progress of our environment. In the endless number of various ranks and list of world's most significant innovations of today there are constant leaders like medicine, mobile phones, internet and travelling. Travelling understood as getting from point A to point B on the
surface of the entire planet. It's enough to say that 50 years ago trip from Warsaw to New York took the eternity and today it's not more than 8 hours of pretty inexpensive flight – in any given time let's not forget. It is because of this open, global world that GMT and WorldTime watches of many kinds grew more and more in popularity. Zenith however faced this demand going a step farther. Complication-combo piece called Doublematic is most likely the watch dream come true of every globetrotter.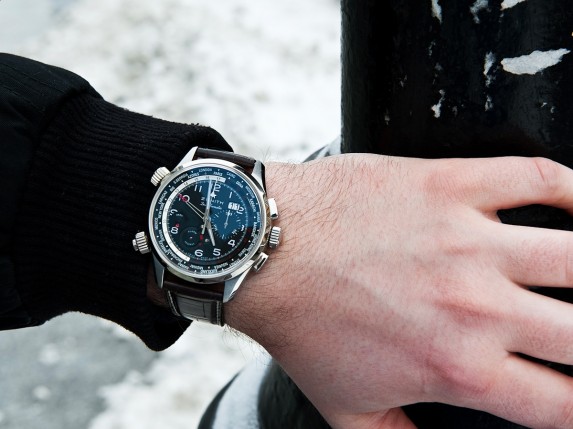 Functionality to the maximum
There is a lot going on the Doublematic dial, so let's look at it step by step, with its functionality explained. Every timepiece's fundamental thing – time telling – is conducted by traditional, central mounted hour and minute brushed hands with some amount of the luminous material. There is however no running seconds hand. Large window at 2 o'clock is the so- called "Big Date" with two separate discs for tens and digits. Its main, obvious advantage is perfect readability. Chronograph has a form of legendary El Primero, Zenith's trademark and reason to be proud of. The one in the Doublematic has central seconds hand (brushed with white tip) and 30 minutes counter at 3 o'clock. It ticks at the famous 36.600 A/h (5Hz) and is operated by two buttons (Start/Stop and Reset) on the right hand of the case.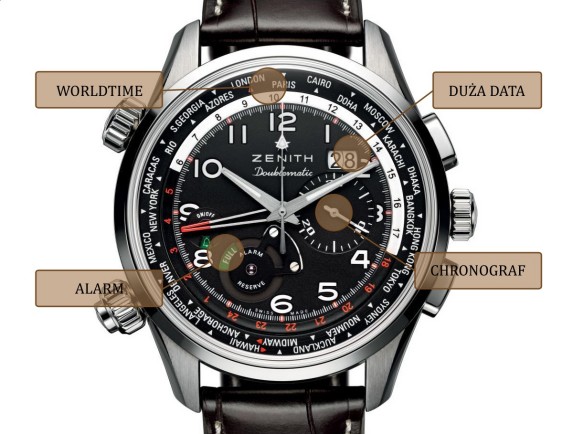 Second time zone complication I mentioned before is a WorldTime – time indication in all 24 zones at the same time. Zenith's execution is traditional two discs system located on the outside of the main dial. The one on the outside has 24 city names printed on it, representing 24 world time zones (according to UTC). The inner ring is 24h scale, divided to the day (white part) and night (black part) section. It all works very simply. Using the crown at 10 o'clock you set the city ring so that your home city is located just above 12 o'clock. Then with the main crown (at 3 o'clock), pulled to position 1, you set the time with central hands, remembering about this white/black WT disc. Now, as everything is set and ready, you can easily read the time from both discs accordingly. It is a very user-friendly, intuitive and verified complication.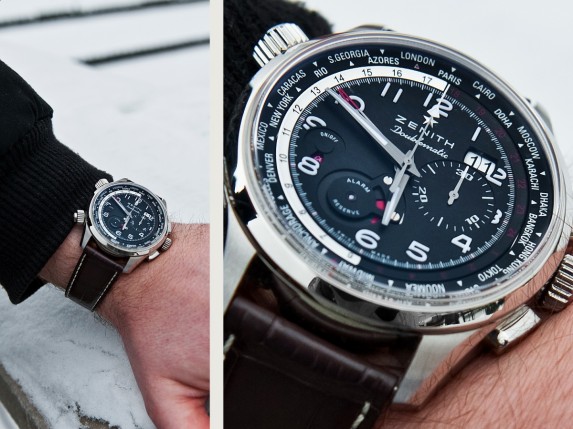 Finally the last of the Doublematic's many functions – the alarm. It was given special attention by the Le Locle manufacture with good 1 of the dial dedicated solely to its workings. The alarm is equipped with its own spring (as it requires significant amount of energy to work), wound by the crown at 8 o'clock. Spring's power reserve is indicated by the bi-coloured disc at 7 o'clock (on the dial). When it is fully wound, the disc is green with white "FULL" on it. In order to set the alarm's time, you have to pull the "alarm-crown" ring out. Alarm's hand is centrally mounted, open-worked, with red tip, set counter clockwise in almost up to 10 minutes precision. If all is set up, you just have to turn the alarm "On" (as indicated in the small On/Off window between 8 and 9 o'clock) and voila. The question is, does it – and all the other functions – work in practice?
Functional functionality
On paper (or on the pictures you see on the web) it all looks great and impressive, but it is the question of everyday use to determines its real value. Think of it – what would all this impressive complication palette do if the final timepiece would just not work right?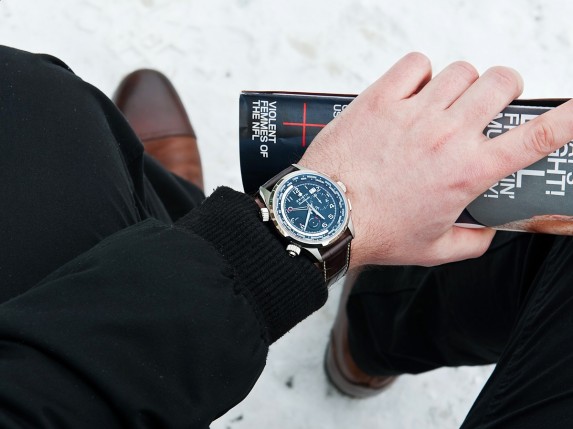 Doublematic's level of complication, and therefore its complex, modular movement combined with all the information displayed on the dial required significant space. Steel, quite massive case measures full 45mm in diameter and 16mm in thickness, together with convex sapphire glass. If you add 3 crowns and 2 pushers it comes to a hefty 53mm, and make no mistake – it is a lot. Luckily thanks to the case profile and bended, massive lugs combined with a very nice leather strap with rubber lining it wears very comfortably (surprisingly if you consider the measurements) and feels just the right size. Nicely finished butterfly buckle does its job well to, despite a bit hard working safety buttons. Control all the functions and dedicated buttons and crowns of the watch is as easy as their readability. Standard, 2 steps crown allows you to wind the watch (position 0), set the time (position 1) and correct the date (position 2). The crown responsible for the WorlTime is a bit stiff, but then again you won't re-set the disc accidentally. And it could also work in "steps" rather than this smooth way. The alarm multi-task crown on the other hand works just perfectly. Both winding the spring, setting the alarm time and starting it is as simple as it is comfy. The alarm produces a loud, metallic sound and rings for a very impressive 30s – which was just enough to wake me up or remind about some important thing to do. You can hear it for yourself…
Another positive is the very clear and readable dial, although it's unquestionably busy. As in every real "Pilot" watch, colour combination is monochromatic black and white (of the large, luminous Arabic numerals). Despite all the function displayed (large date, alarm, chronograph and WorldTime) it is still very easy to read. The only minor complaint I could have (not to by overly ecstatic) is the red print on the black background of the WorldTime disc – but again, it's a small thing. Overall impression is very satisfactory, by all means.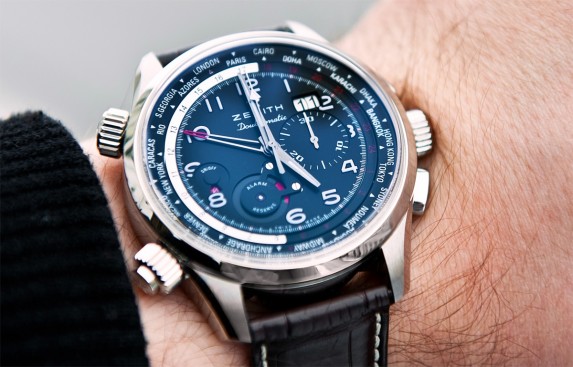 El Primero
Functionality and design are important factors in any watch, but for many watch geeks (does willing to spend a fortune on their mechanical hobby) the key factor for or against a timepiece is the movement. And Zenith has two very strong arguments here – legend and in-house value of the El Primero. It would be hard to name a more recognisable calibre out there, especially one with such great reputation.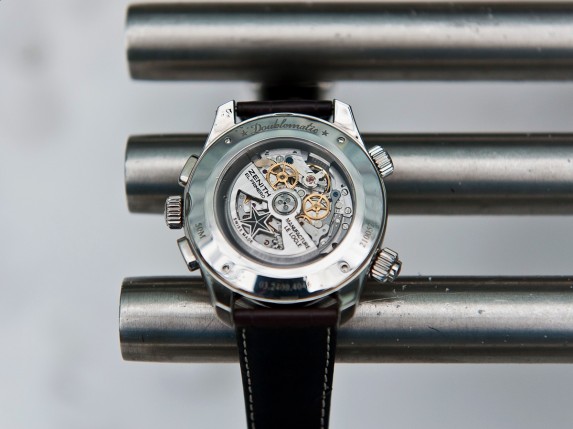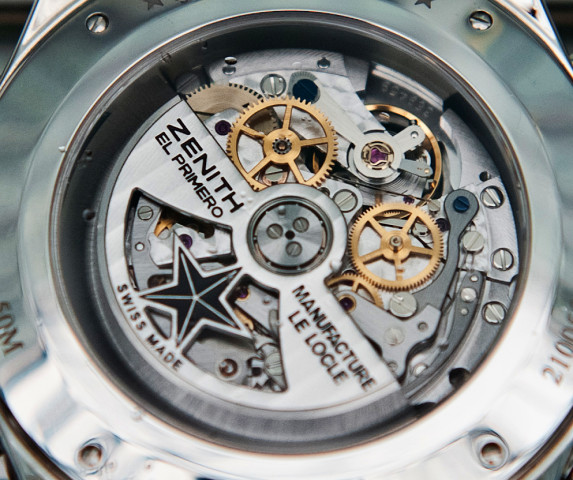 El Primero used in the Dobluematic model bears a number 4046 (same one was used before in the Class Traveller Multicity Alarm Chronograph few years ago). Movement's base is a column wheel chronograph with small but fast-ticking balance wheel (5 Hz). Added modules include alarm, two WorldTime discs and Big Date's two concentric disc. When fully wound (automatically or by hand) it will not stop for approximately 50 hours. 4046 comprises of 439 components (41 of which are ruby stones) and thanks to its open architecture looks very pleasing to the eye. Decorations are limited to some perlage on the main plate and bridges, blued screws, some golden wheels and semi-skeletonised rotor with Cotes de Geneve.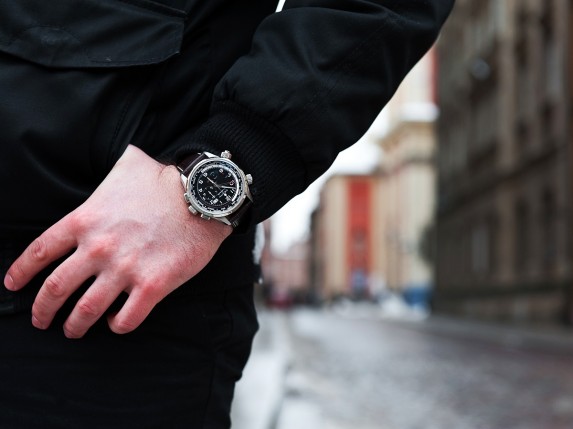 $14.200USD is the list price for the steel Zenith Doublematic (rose gold version is 2,5 times that much) and, to be perfectly honest, it's more than decent. For that money you buy in-house made calibre, fully efficient alarm, and time in every single spot on earth, whenever you wish. All this in one very well made, mechanical timepiece. It might be a bit too big for your wrist, to crowded on the dial if you're a watch purist. But one thing you can't deny is its functionality at the top level. If I'd travel more often and had a bit bigger bank account, Doublematic might just be the watch of a choice. It is both a perfect tool and a very high quality mechanical timepiece.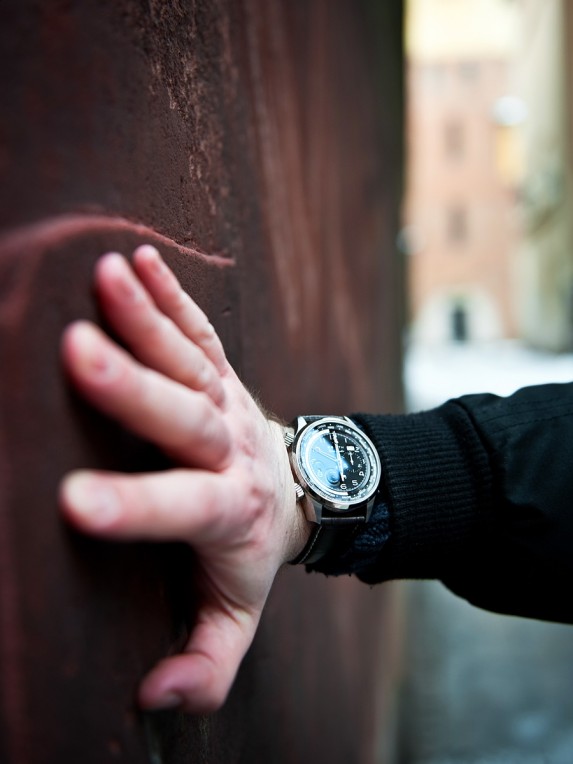 In (+)
– fantastic functionality…
– …combined with coherent design
– legendary El Primero
– efficient, good quality movement
– very nice strap with great rubber inlay
– more than decent price tag
In (-)
– significant size
– no running second
– quite busy dial
ZENITH Pilot Doublematic
Ref: 03.2400.4046/21.C721
Movement: El Primero 4046, automatic, 50h power reserve, 36.600 A/h, big date, chronograph, WorldTime, alarm
Dial: black with white appliqués
Case: 45×16mm, steel, sapphire glass, sapphire caseback
WR: 50m
Strap: alligator leather, brown with white stitching, rubber inlay, butterfly clasp with safety buttons
Limitation: —
Price: 14.200USD
Test watch provided by APART.