TOP 10

Watches & Wonders 2023 – our favorites of the Geneva show

Second edition of Watches & Wonders is a history. It was bigger, more magnificent and loaded with novelties. Here is our selection of the best new timepieces from the so-called "Geneva Week".

After last years, premier (physical) Watches & Wonders we were wondering, if such an event is at all necessary for the watch industry and will it remain standing in the post-pandemic calendar. Now we know for sure – it is needed and works just fine – as we witnessed ourselves during the 5-days-long stay in Palexpo (and 58 500 steps achieved). This year's W&W was in all respects bigger and better than the previous edition. There were over 43 000 invited guests walking carpet-cladded halls of the fair, just after they spend some significant time cueing for the security control. Each one of them was afterwards awarded for patience with 48 exhibiting brands and a quality lunch in between, provided one could find a free table.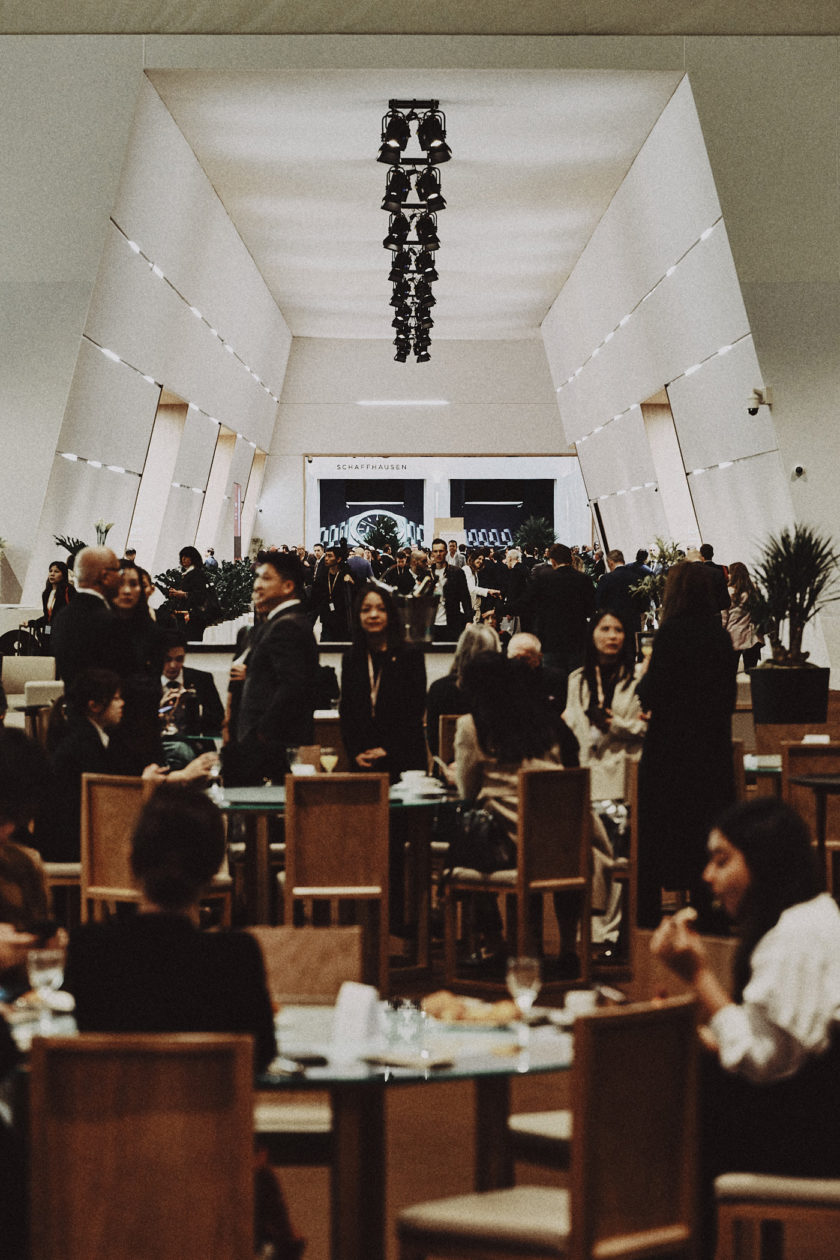 An undoubted hero of Watches & Wonders are… you guessed it – watches. There was plenty new although it seemed like there is fewer novelties this time than in previous years (SIHH and Baselworld included). Some of the exhibitors were so modest, that they only showed 1 (ONE) new watch, like A. Lange & Söhne and Ulysse Nardin, saving the rest for later releases through the year. We left Geneva tired but packed with emotions and some favorite new timepieces. And here they are – our TOP novelties of the 2023 Watches & Wonders. In random order.
1. Łukasz Doskocz – Parmigiani Tonda PF Minute Rattrapante
My fully platonic love towards Tonda PF does not weaken with time. You know that sensation of putting a watch on the wrist and… there is that instant click, you fit each other like a two halves of an apple. It is exactly how it felt for me to try one the premier Tonda PF two years ago. And the love is still strong. It is however very one-sided, for it is a very scarcely available watch, and a bit outside of my budget.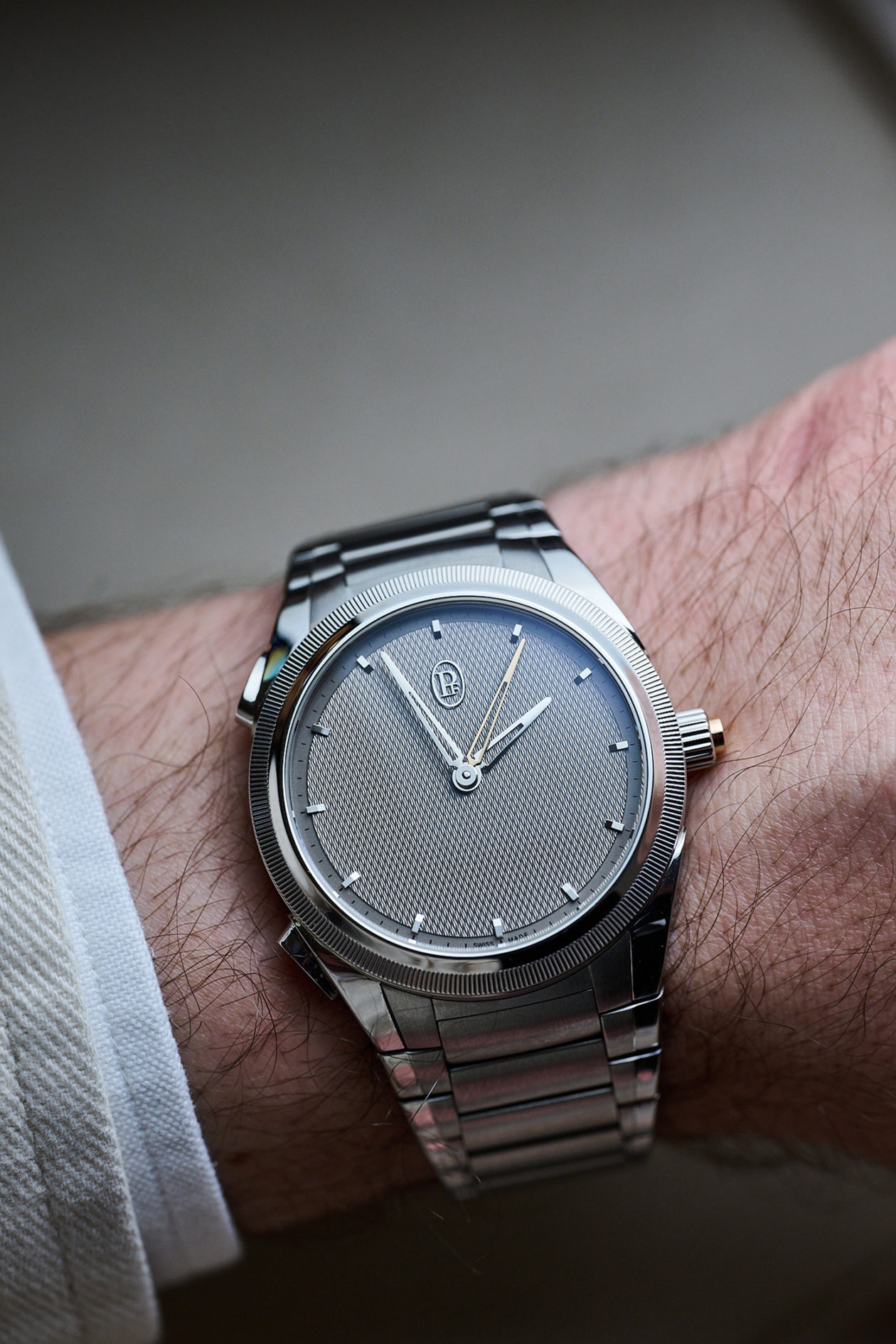 That does not change my affection of every single new iteration of the watch, including the latest Tonda PF Minute Rattrapante. The Fleurier based manufacture decided to develop on the GMT project from last year, this time giving main stage to the additional minutes hand. I did have my doubts at first with its usability, but an example of perfect pasta cooking time did hit right into my foodie heart. And the watch – like all other Tondas – I'd wear it daily!
---
2. Tomasz Kiełtyka – Jaeger-LeCoultre Reverso Tribute Chronograph
Many of you would say, that Reverso watches are all alike – but that is not true. This year's new Reverso line-up proves it, especially the Tribute Chronograph that is my first pick, and looks very, very good. The watch is not overly big and has that typical, reversable case that on side shows a traditional dial with time indication, and on the other side presents an avant-garde, partly skeletonized face with time indication and a chronograph (with retrograde minutes counter). It's just a perfect watch for those who like to merge tradition and modernity.     
---
3. Ł.D. – Chopard Alpine Eagle 41 XPS
Chopard star lit brightly in Geneva this year, largely thanks to a beautifully wide smile of Julia Roberts. The American actress is brand's ambassadress for some time now, so she accepted the invitation to pop by Geneva and grace the premiere of the new Happy Sport line. I was charmed by Julia's great attitude and sense of humor, but equally as charmed by Chopard's latest addition to the Alpine Eagle collection. The original watch launched in 2019 and… it wasn't my cup of tea at the beginning. I had a particular issue with a characteristic design of the bracelet, but that all passed after a first, proper "hands-on" experience.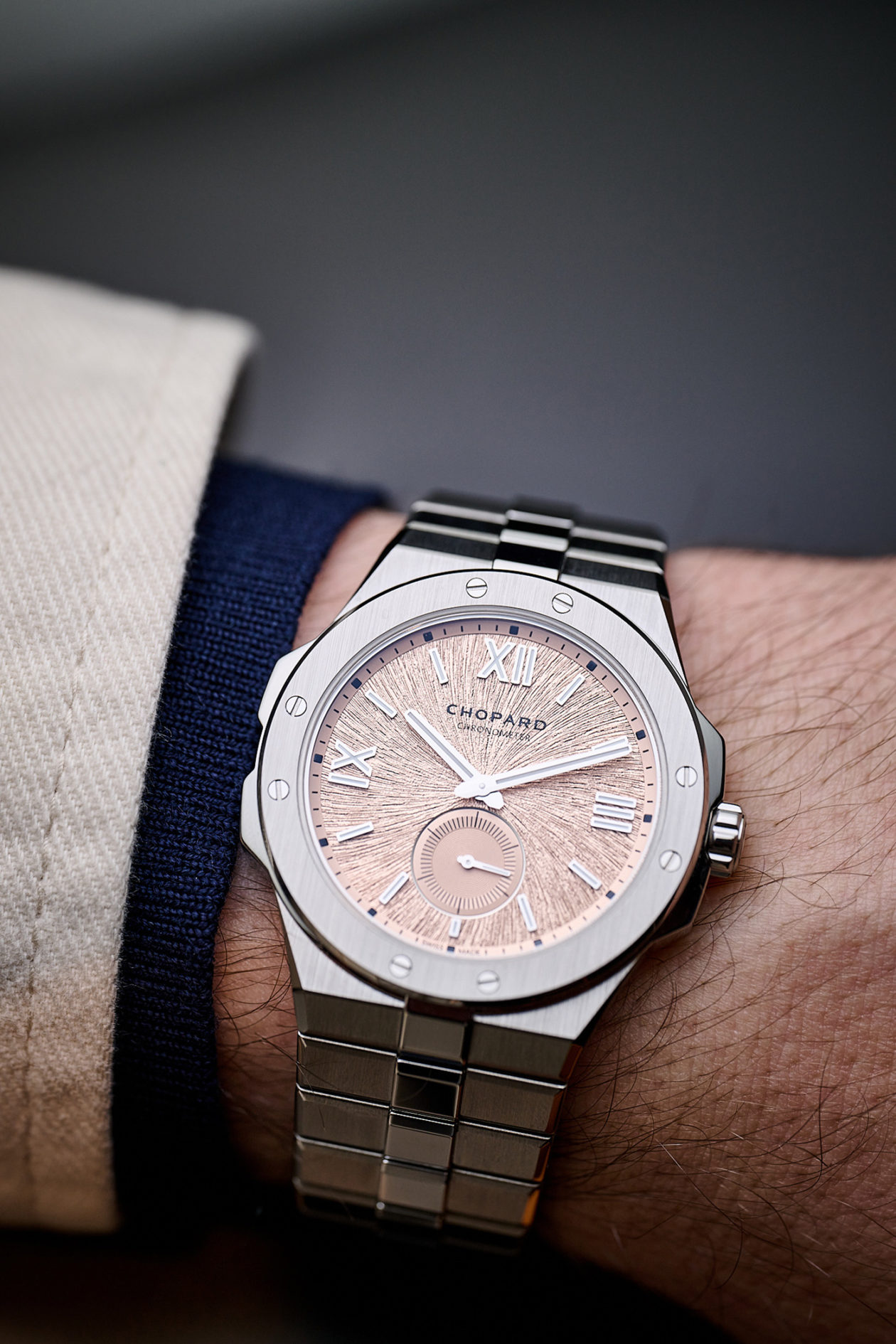 And the new Alpine Eagle? Well, that must be my favorite version of the watch yet. 41 XPS has a Lucent Steel case, which thanks to a new, thin movement is slim at only 8 mm. Therefore highly comfortable on the wrist. And then there is that guilloche, salmon-pink dial. Mmmm…
---
4. TK – Rolex Oyster Perpetual "Celebration"
My first encounter with this years, colorful Oyster Perpetual can be summed up with one short sentence: " How could Rolex do something like that?". But this is one of those watches, that have to be tried on not to be judged prematurely. When I strapped on the 36 mm version, smile popped-up on my face almost automatically. OP with the "Celebration" dial is supposed to – just like Oris ProPilot "Kermit" – cheer you up and make you smile. It is therefore best to approach it with some distance and take not-so-very-seriously.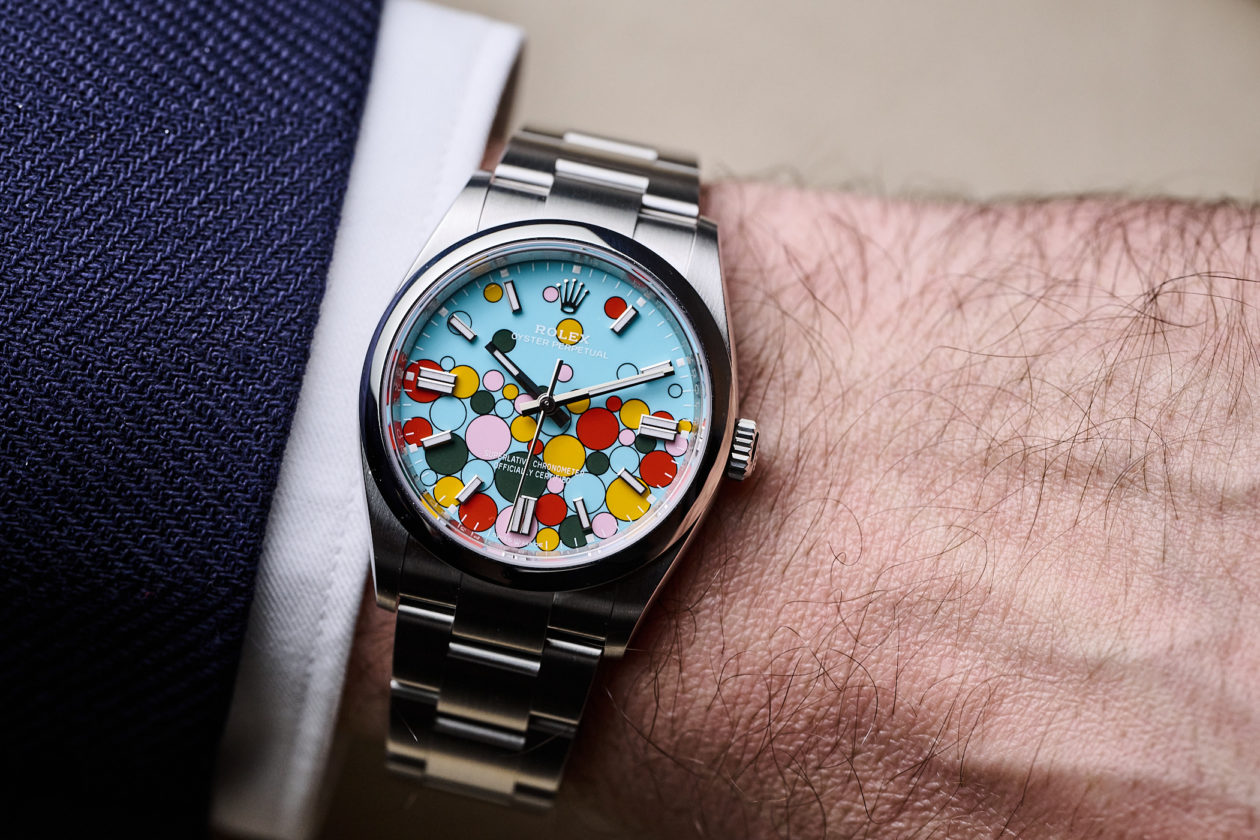 There are 51 balloons on the dial, and their color relates to the colors of the Oyster Perpetual dials from 2020. I am pretty sure that the watch will have as many fans as haters, but I am all-in. And no to mention it comes with a reliable (-2/+2 s/day) movement with 70 h of power reserve.
---
5. ŁD – Vacheron Constantin Traditionnelle Tourbillon Retrograde Openface
I have never been and am still not a fan of highly complicated watchmaking. I can appreciate pure class and craftsmanship, but I always found it a bit of a triumph of form over content, not to mention, that a watch packed with complications is rarely readable, functional or even pretty at all. My watch taste could best be summed up by one word – minimalism.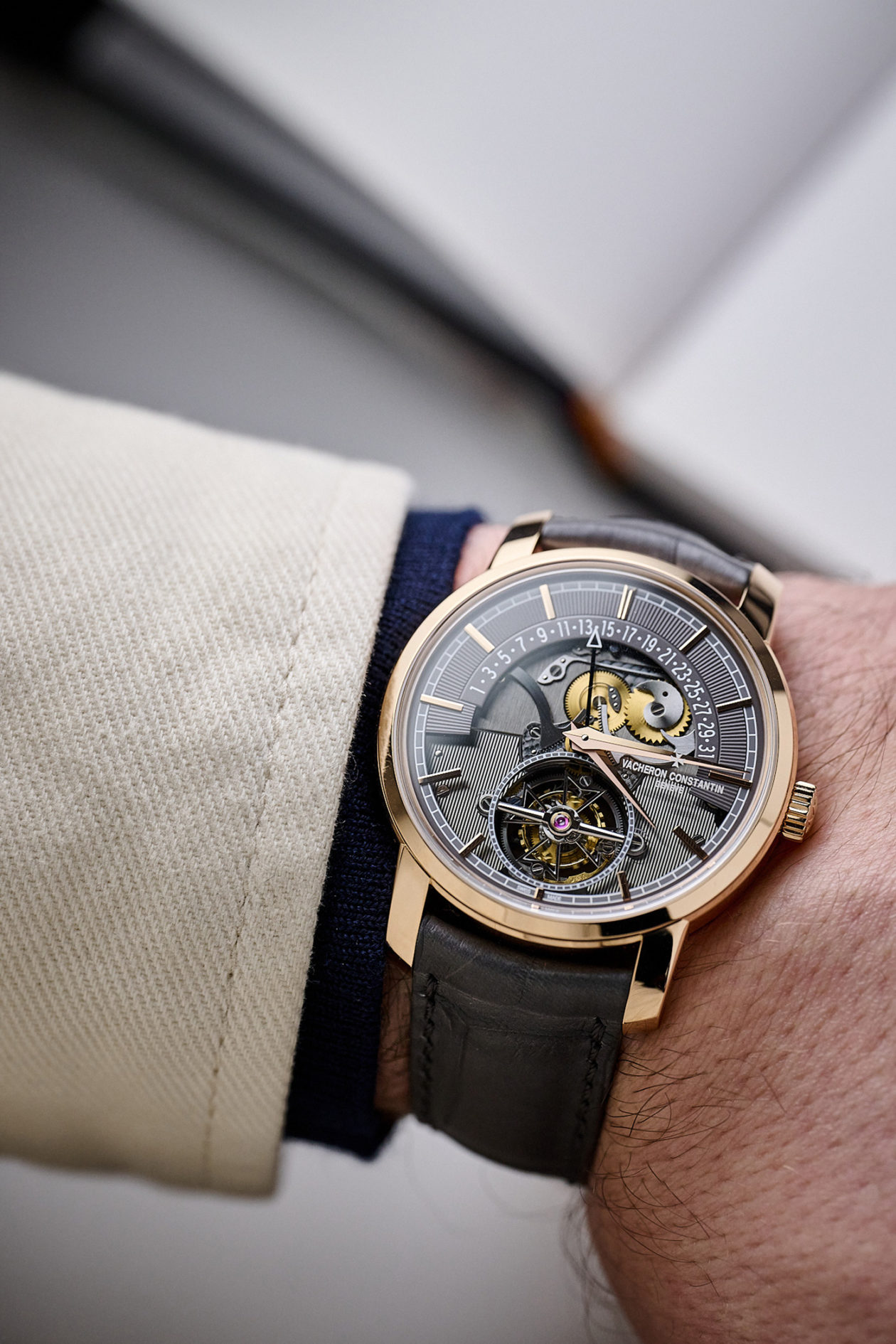 Vacheron Constantin Traditionnelle Tourbillon Retrograde Openface sure isn't a minimalistic watch – not in its name nor its details. Vacheron has an immense horological capabilities, and rightfully belongs to the Big 3 of the Swiss watchmaking. The new Traditionnelle houses one of manufacture's flagship complications – retrograde date – with a regulating organ in a form of a 60 seconds tourbillon with a cage shaped like a Maltese cross. It has all been packed rather neatly in a 41 mm case of red gold (fits perfectly) and crowned with a transparent dial with a view over the movement.
---
6. TK – TAG Heuer Carrera Chronograph 'Glassbox'
In the year 2023 Jack Heuer's baby – the Carrera – celebrates it's 60th birthday. No surprise that the brand jumped on the opportunity to add a few new models to the collection. My attention goes entirely to two of them, reminiscing the historical references with a highly domed, sapphire glass, called "Glassbox". Both watches come with interesting, vintage inspired dials (different in color and date placement) surrounded by a protruding ring with tachymeter scale.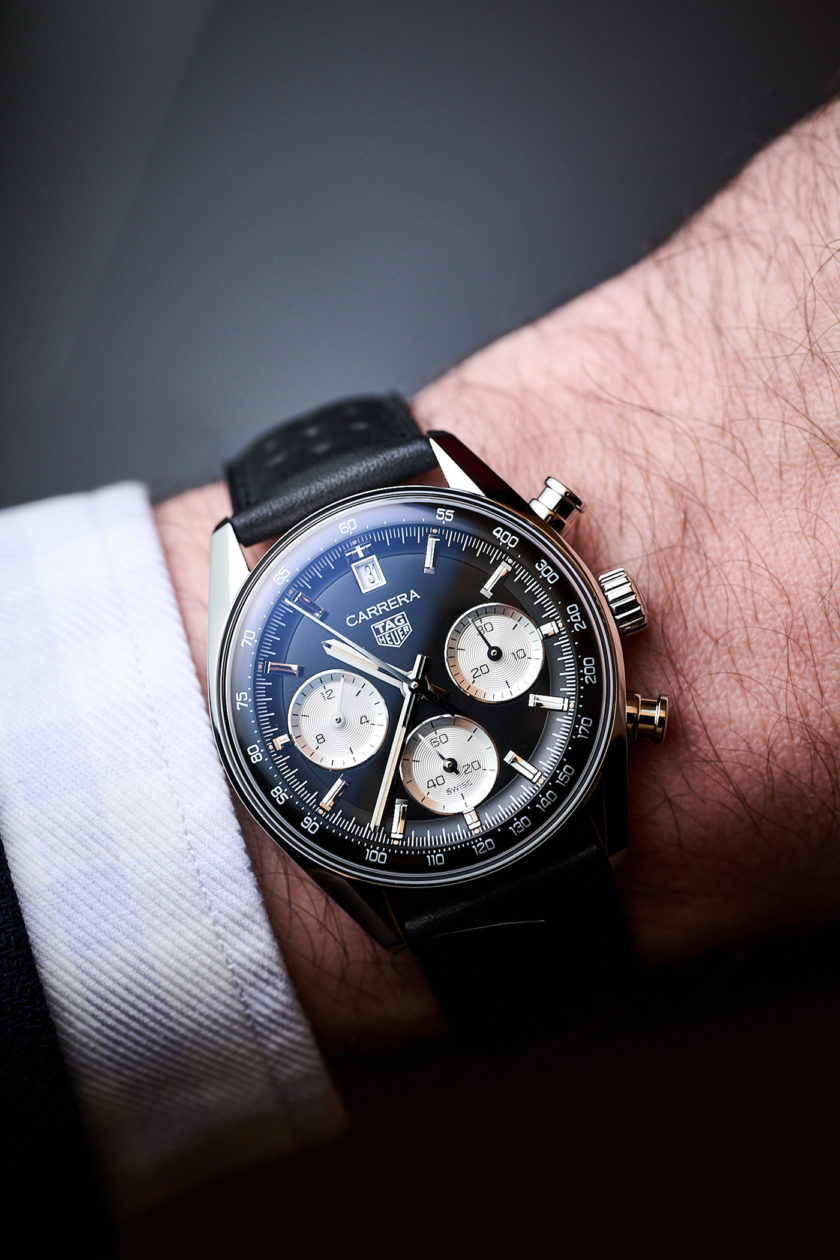 TAG Heuer also redesigned and modernized the flagship Heuer 02 caliber, which powers new Carreras. Thanks to that watch thickness could be reduced and even though it might be just a slight change, it surely improves wearability on the wrist.
---
7. ŁD – Zenith Pilot Big Date Chronograph Flyback "All-black"
Our first meeting in Geneva was with Zenith, and I immediately saw a watch that I'd happily welcome in my private collection. The Pilot line returns to Zenith portfolio in a more classic, traditional form, after the time of vintage-inspired, oversized references. Zenith tamed the "Pilot", but in a very effective way. New case came with set of new movements and dials with large, applied indices. There is an automatic three-hands watch accompanied by a chronograph – powered of course by the ionic El Primero under the sapphire crystal back. I especially like the black ceramic model.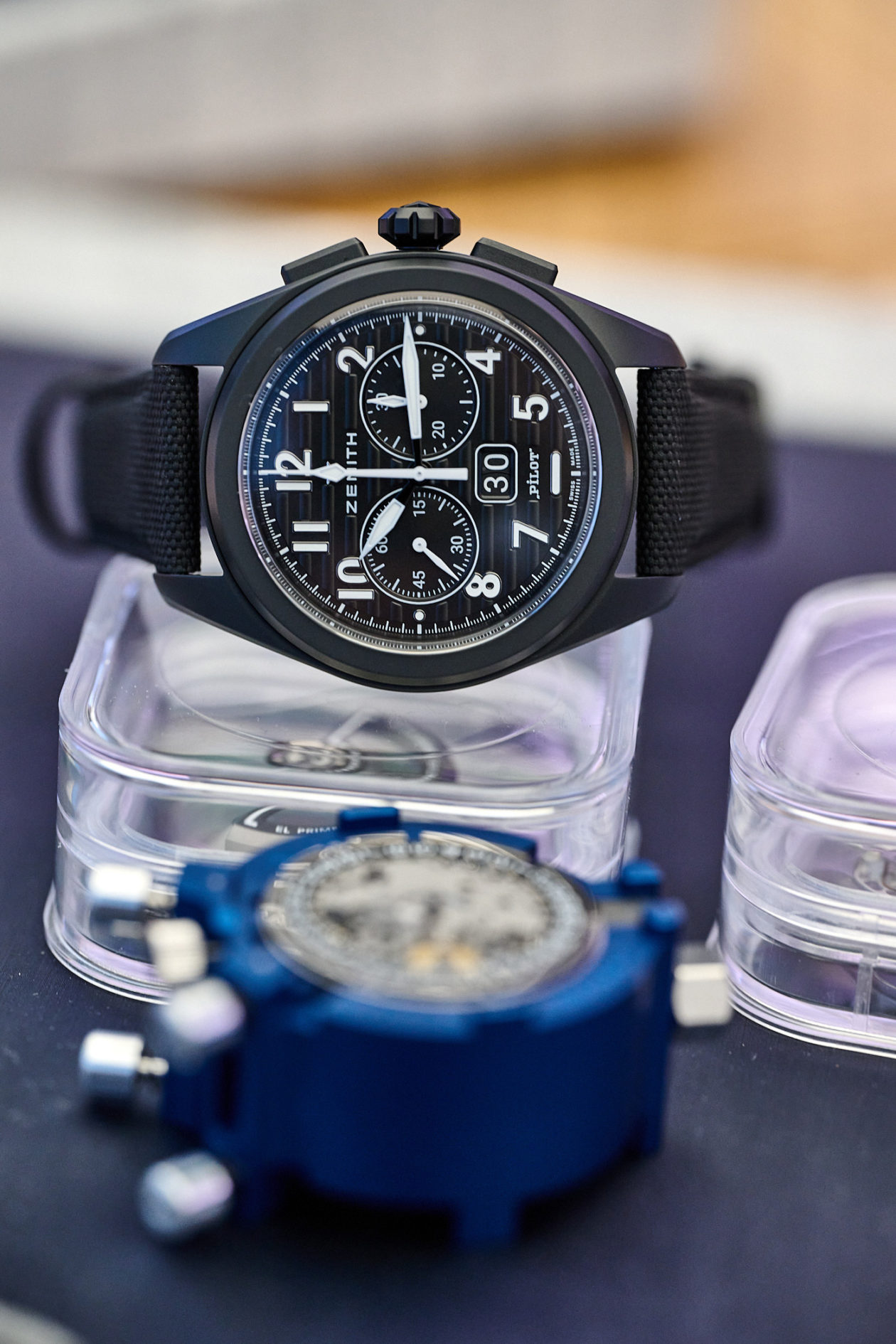 Why? Because it's all black, because the ceramic case hugs the wrist perfectly and because it is just a greatly designed chronograph watch with a legendary caliber.
---
8. TK – IWC Ingenieur Automatic 40
The first sporty Ingenieur (ref. 1832 "Jumbo" SL) has been designed by non-other than renowned and respected watch designer – Gerald Genta. This year IWC decided to revive the icon and reintroduce it in a rather faithful form. The Schaffhausen-made toolwatch has a 40 mm case made of steel or titanium, and all the details that made the original watch so attractive in 1976. There is the 5-holes bezel and that characteristic pattern on the dial. The dial itself comes in variety of colors, of which I particularly like the black one.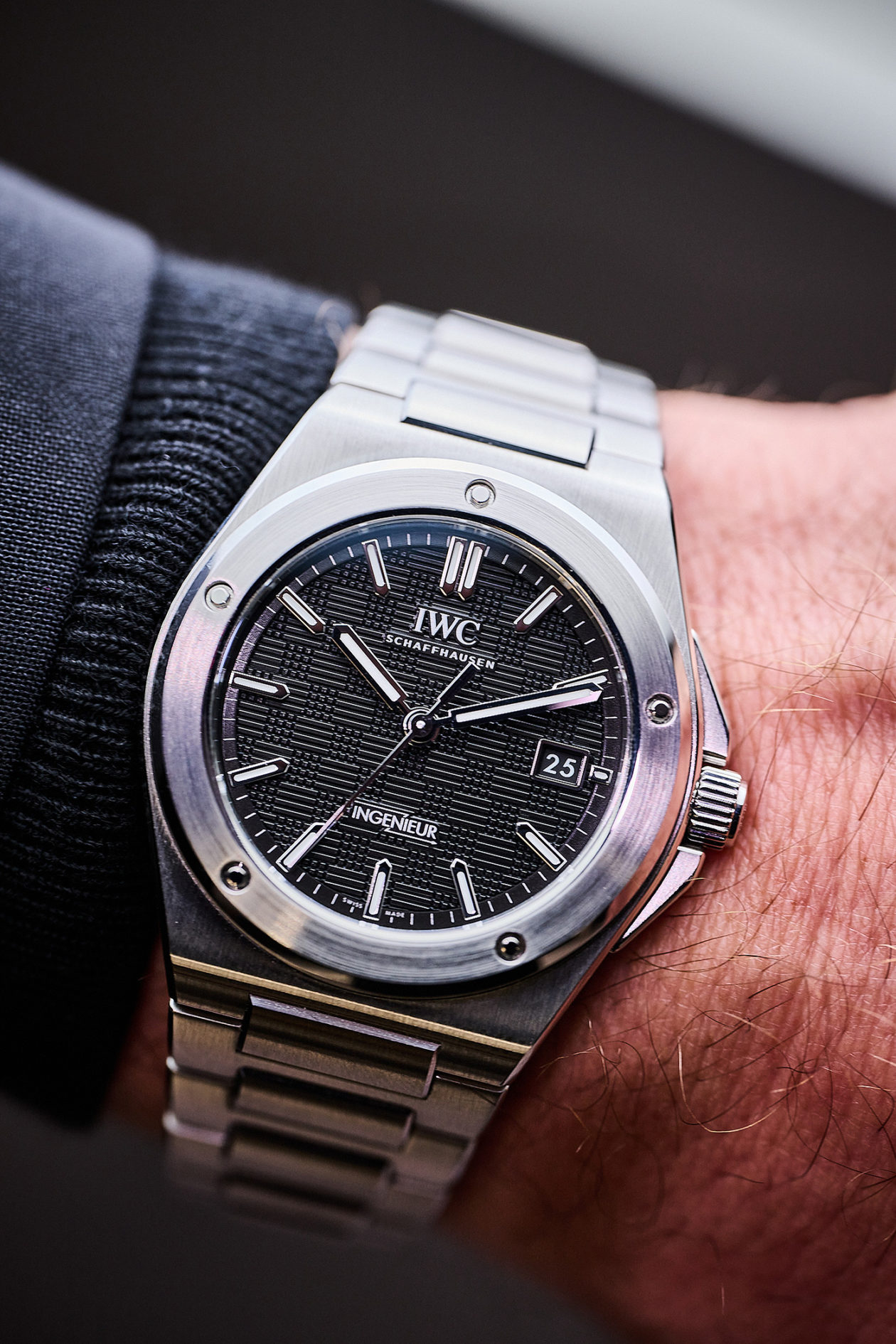 Sadly not everything about the watch is price-worthy. The bracelet clasp and some of the finishes could have been done better, with more quality. Especially, that the price has rocketed high compared to previous versions.
---
9. ŁD – Cartier Tank Privé Normale Platinum
I like cartier for many reasons, from its unquestionable "frenchiness" all the way to a very specific sense of luxury. Cartier – which is not without a meaning – was a choice of many known and famous of this world, including one of the most established and respected watch collectors, John Goldberger. It is exactly his perfectly dressed figure I imagined when strapping on the new Tank Prive Normale in platinum… on a platinum bracelet.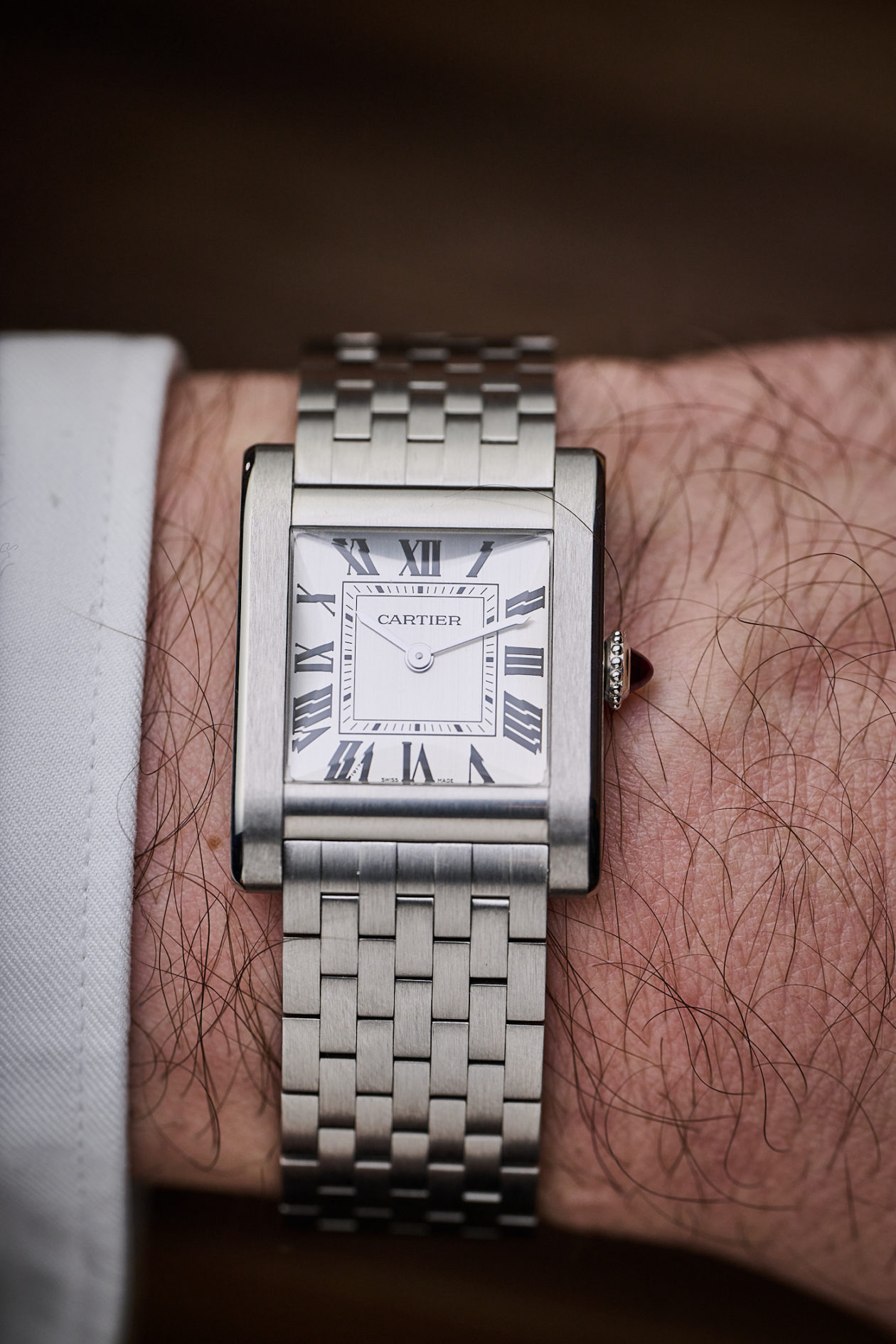 I do realize it's an incredibly expensive and opulent watch, especially in that metal, but there is something truly unique in a classic Cartier watch in shiny platinum, with that red-ruby cabochon in the crown. There is the weight too. Tank Normale is a rather smallish watch size-wise, but the heft and overall feel make up for it, and then some. I put it on my wrist and did not want to take off.
---
10. TK – Panerai Radiomir California PAM01349
2023 marks the first year Panerai is using a new material to make watch cases – the Brunito eSteel – a recycled steel with an additional PVD coating which is finally brushed by hand to achieve an old-look effect. It looks quite interesting in the metal – especially combined with a California dial (top indices in Roman, bottom in Arabic) wire lugs and a manual movement with 8 days of power reserve.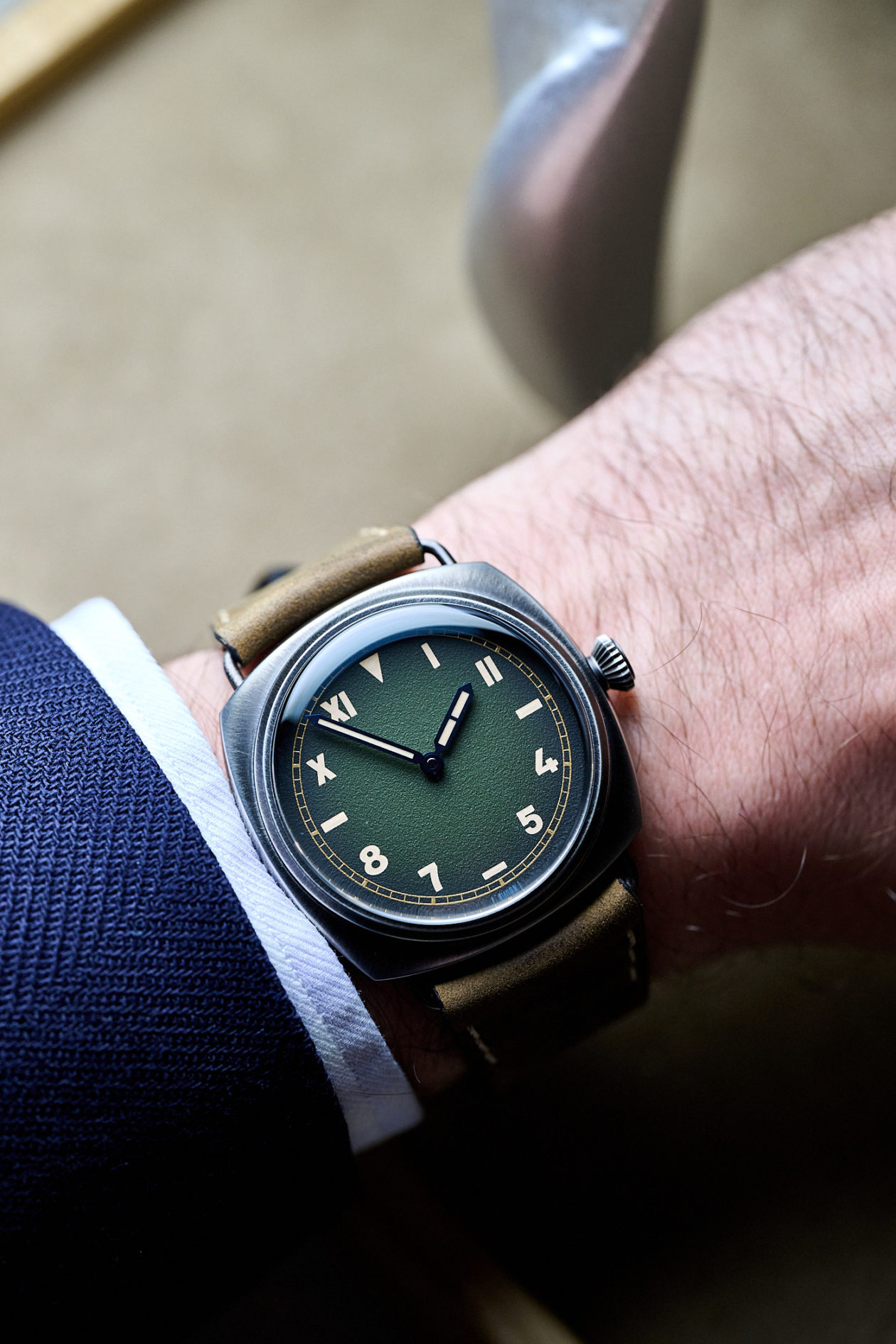 The only thing I have doubts about when looking at the new Radiomir is a combination of a grain and gradient on the dial. It's a bit too much.      
---
Bonus
This time around we flew to Geneva with our biggest crew yet. We took also our photographer – Marcin Klaban – with us, for his first ever Geneva trip. Marcin did spend most of the time behind the camera shotting or behind his laptop, prepping the photos to be published. Truth is, he has never seen so many watches in one place in one time. We did not yet made him turn to the dark side and switch his smartwatch for something mechanical, but the seed has been planted. So we asked Marcin to pick up his favorite watch of the 2023 Watches & Wonders.
Marcin Klaban – Czapek Antarctique Revelation
I did enjoy that watch a lot, especially when I saw how it presents itself on camera. Amongst the many different brands and watches I photographed, this one made stop and take a moment. All the different finishes on the movement, paired with a transparent dial, made it look very three-dimensional. I like technical-looking things, so this was the one watch I tried on immediately.