Watch of the Year 2015 – 6th edition, winners, awards [lots of pictures]
Already for the 6th time we had an immense pleasure to finish another edition of "Watch of the Year" by CH24.PL with a grand gala at Sobański Palace in Warsaw.
6 years and 6 annual editions of the "Watch of the Year" is quite a huge chunk of time, that allowed us to develop some traditional elements of our competition. The most important one is of course selecting and awarding the best of the best watch premiers of the past year, done by an international panel of experts in this craft. No less important is the last step of WOTY – crowning the event with a dinner night at the home of Polish Business Roundtable Club, a beautiful and stylish Sobański Palace in the centre of Warsaw. Best watches make perfect match with exquisite cuisine by Amber Room and classy beverages with Martell cognac (mix it with ginger ale and fresh lime, you'll thank us later), but what really mattered this night were 7 hand-made statuettes and brands, that were honoured with them.
Our special media patron for 2015 was Esquire magazine, and our traditional partners were again Polish Watch and Clocks Collectors Club and Manager MBA magazine.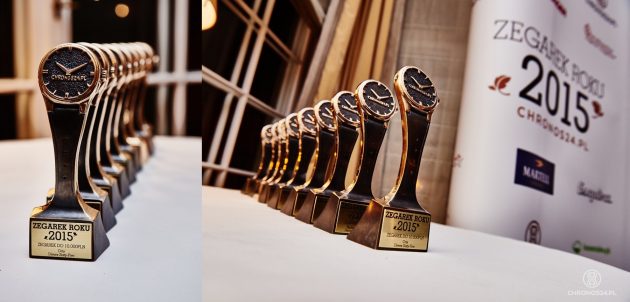 Grand Prix
Each stage of this year's voting process was a essential and fierce as ever, but the climax came when we had to select the big winner – the 2015 WOTY main price recipient. The choice was made, according to tradition and rules, among all the winners in 6 main categories – full list can be found HERE. Victory goes to a watch and a brand, that deserves the honour and the golden statuette for many reasons – not only for this particular, beautiful and special timepiece, but also for the yearly achievement, headed by very magnificent birthday and the most complicated watch in the history of watchmaking. 2015 "Watch of the Year" Grand Prix went to Geneva and Vacheron Constantin Harmony Chronograph.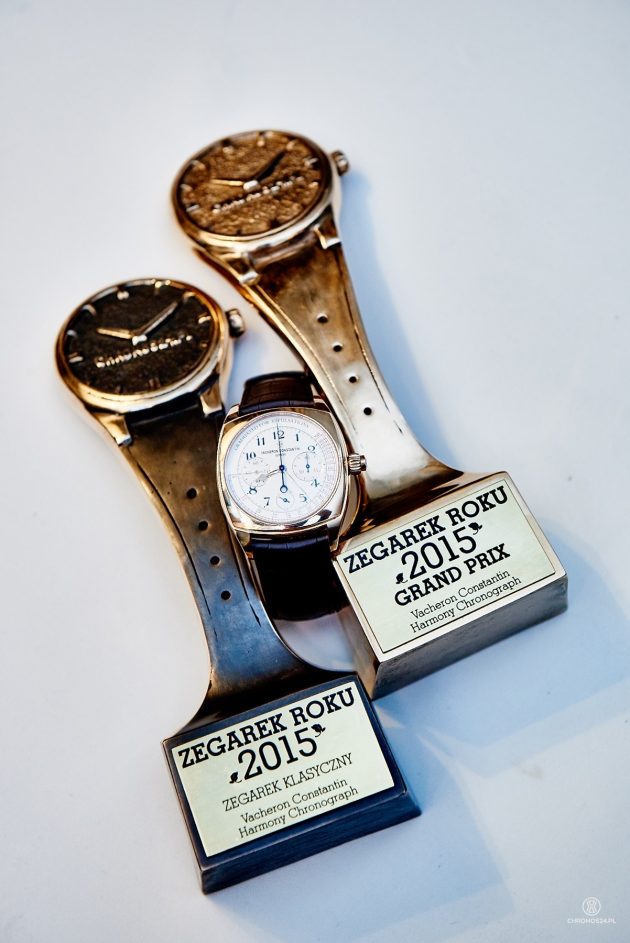 In an almost unanimous agreement by the jury and our guests of the evening the Hamorny Chronograph is almost a complete watch, beautiful on its technical and visual side equally. Gold case, silvered dial, manual movement with gold, engraved bridge and chronograph complication with mono-pusher – all comes to an almost perfect whole, that we luckily had chance to find out by ourselves. Sarah Schroeder (Vacheron Constantin PR Manager) collected the award with the number 1 of 260 piece strapped to her wrist.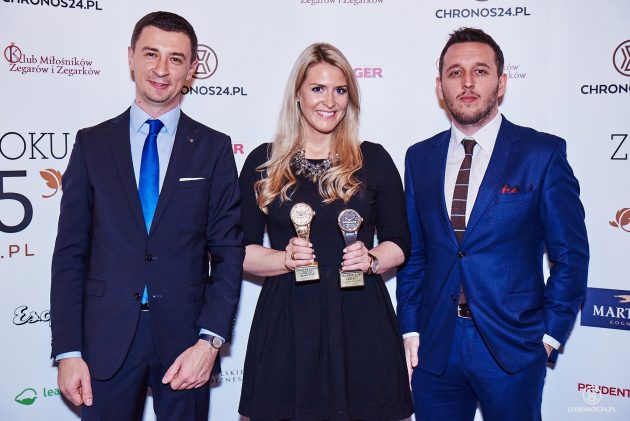 Special Jury Prize
However bizarre it may sound, watches mean more to us that just pure objects and references. Special Jury Prize was created to honour a person, brand or an event with a significant influence on the industry. After late Nicolas G. Hayek. MB&F and Francois-Paul Journe the fourth SJP award went to the "Only Watch".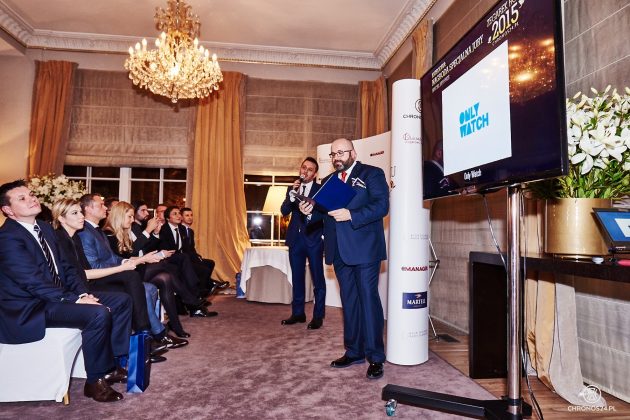 At CH24.PL we value and appreciate all the charity ventures inside the watch-world. But Only Watch is something on completely different level. Every second year few dozens of top watch manufacturers create one-off, unique timepiece. All the income from their auction goes to fight the Duchenne Muscular Dystrophy. This year's 6th edition was held in Geneva on November 7th and reached some truly spectacular results, with the total income of more than 10.000.000Euro(!).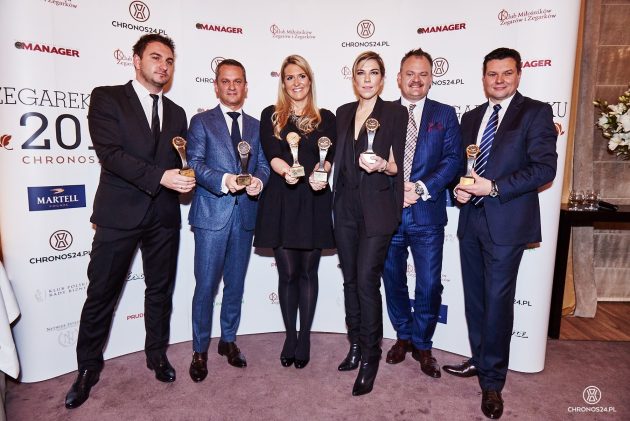 Every WOTY hand-crafted statuette went to the respected winning brand as well. The one for Oris Divers Sixty-Five was collected by Mateusz Mela from Janeba Time, Oris distributor in Poland. One for Lange & Söhne Zeitwerk Minute Repeater went to the hands of Andreas Haude, Lange's Manager Eastern Europe. Award to the Rolex Yacht-Master was received by Daria Szajnar from W.Kruk, Rolex official distributor in Poland, and for Longines Heritage Diver 1967 by Leszek Pilch, Longines Brand Manager in Poland. Vacheron Constantin, our Grand Prix winner, also received a "Classic Watch" award, also collected by quite overwhelmed Sarah Schroeder.
"It makes me extremely pleased, that with ever next WOTY edition we gain more recognisability not only in Poland but also world-wide. Thanks to competition like this one watch brands notice our commitment to promote mechanical art of watchmaking." – Tomasz Kiełtyka, CH24.PL.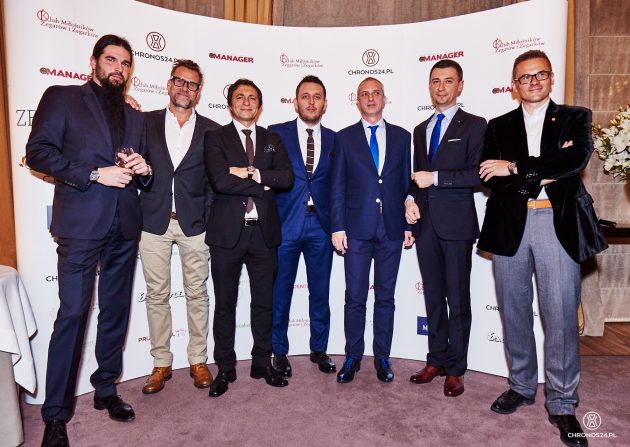 An integral part of our "Watch of the Year" gala is the actual celebrating, which simply means enjoying good time with friends, great food and good drinks, again swiftly (and with style) provided by our great friend and partner Dariusz Fabrykiewicz from Pernod Ricard. We would also like to very much thank Polish Business Roundtable Club, insurance found Prudential, Kiehl's cosmetics as well as Leastake.pl and Netwide Invest S.A.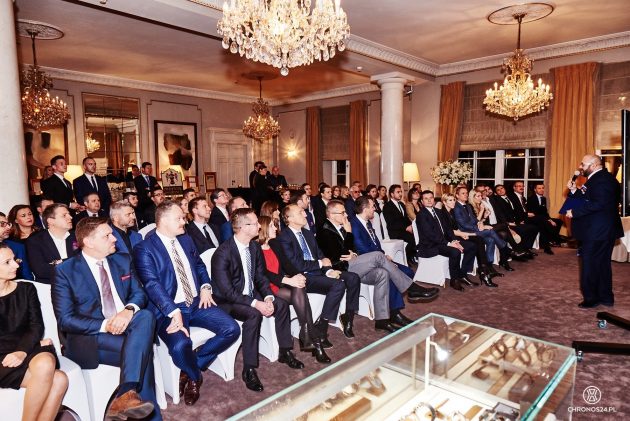 Just as last year, our partner Victorinox Polska created a very special edition of 100 unique pocket knives "Watch of the Year 2015" edition.
You can find all information about 2015 "Watch of the Year" on our official website HERE.
And meanwhile we already invite you to be with us next year for the 7th edition of WOTY. Stay tuned!