Review

Audemars Piguet Code 11.59 Chronograph [live pictures, price]

When Audemars Piguet was hard at work on the completely new watch family, they kinda boldly claimed it to be a balance for an iconic Royal Oak. When the watches finally saw daylight, the made a splash not seen for a long time. But how good or how bad the CODE 11.59 really is?

2019 has rater been calm in the watch world, despite the ongoing debate on relevance and future of watch fairs and the changing landscape. SIHH in Geneva went into farther development and growth, while Basleworld kept falling into despair. What used to be the biggest watch (and jewellery) event of them all started to look like an outdated party for old without any idea nor will to change. Swatch Group abandoned the ship first, followed by many more, systematically reducing number of participants. All of the sudden it was only those pretty expensive and lousy sausages outside Hall 1 that remain, so the new people behind the fair had to take major steps. In turn 2020 will be a big test to both fairs. SIHH, renamed Watches & Wonder Geneve moved to the end of April, followed right away by Baselworld. Will it work? Guess we have to wait and see to satisfy our curiosity. Let's just hope Basel people listened and both fairs will bring us all something interesting and new.

Speaking of new, as in new watches, past year was rather modest in bold and loud premieres, with one exception, that turned everyone's attention. CODE 11.59 was and still is subject of ongoing debates. What hides under the name was, according to AP's CEO François-Henry Bennahmias, the biggest single new project the brand developed in recent memory. Bennahmias, with all his expressiveness and highly admirable confidence went father, saying that it's supposed to be a new Royal Oak for AP, and that is one brave thing to say. It's said that work on the CODE 11.59 lasted for 8 long years, and with brand's level and respect among collectors, the expectation were high, to say the least. I don't think I even have to express, how hard it is to challenge the legendary Gerald Genta and his design. The task before the Audemars Piguet manufactory was indeed immense.

I quite vividly remember the first day of SIHH 2019 and the spirit among people in anticipation of the new grande AP. And then it was a bit like in a Hitchcock's movie, with rumbles… on Instagram. Everyone was gazing at his glowing smartphones, dismayed over a photo of this exact piece: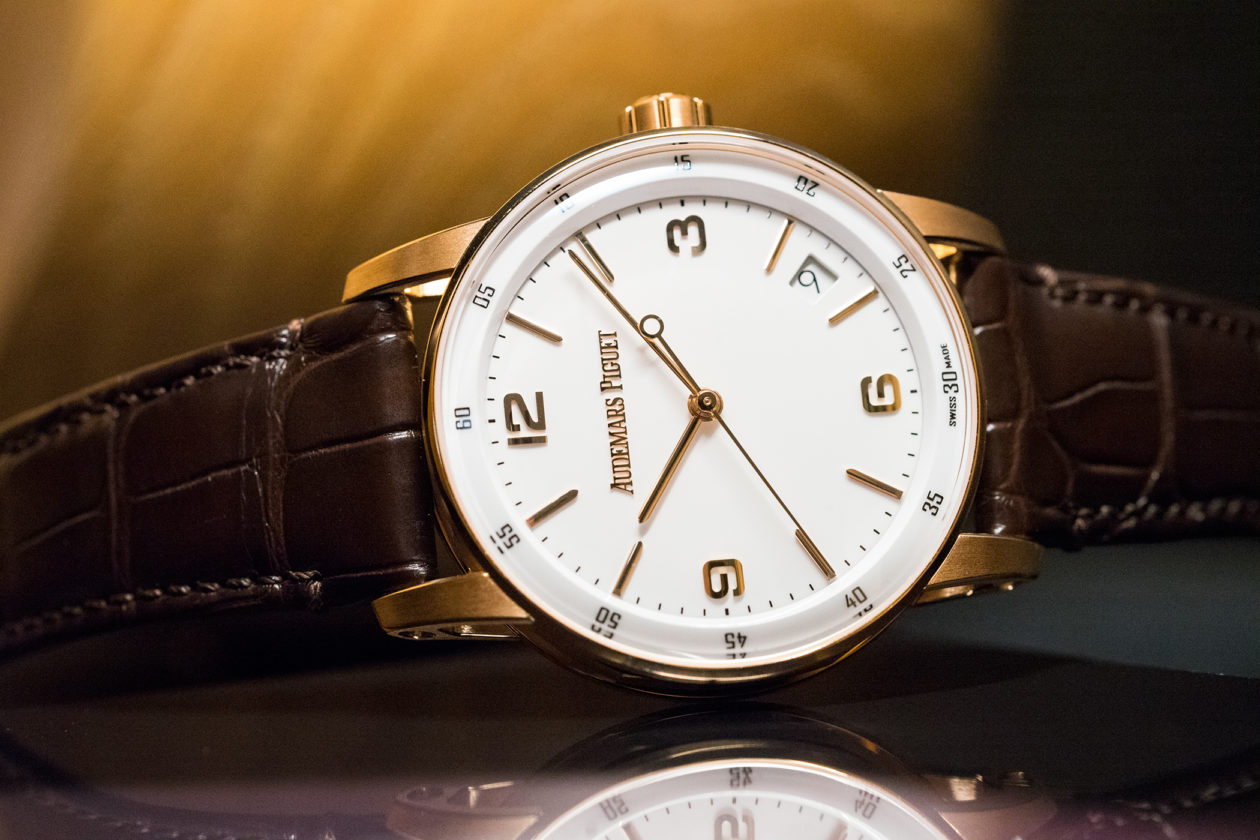 What dominated the faces of elegantly dressed women and men of walking the carpets of Palexpo was largely a disbelief. Some thought it was a joke and some rather lousy Photoshop, others refused to pay any attention at all. Most likely only a few took the photo seriously, which in turn shows, how important of a moment was it. Then I spotted a watch on the wrist of one of AP staff members, followed by an official presentation at brand's press conference. Traditional part of it was always a short but emotional speech by the aforementioned CEO. That one was particularly strong and rather serious, just proving AP wasn't messing around. It was all serious, it was happening, in all seriousness. Audemars not just made one new watch, but an entire, complete collection of 13 different pieces, from a simple 3-hands automatic all the way up too the tourbillon, the perpetual calendar and minute repeater. That is one bold move, deserving some respect no doubt. The doubtful part is that we can discuss the effect. So here I was, with the CODE 11.59 Chronograph on my test bench (aka my work desk). And I can tell you now, it isn't an easy watch to judge.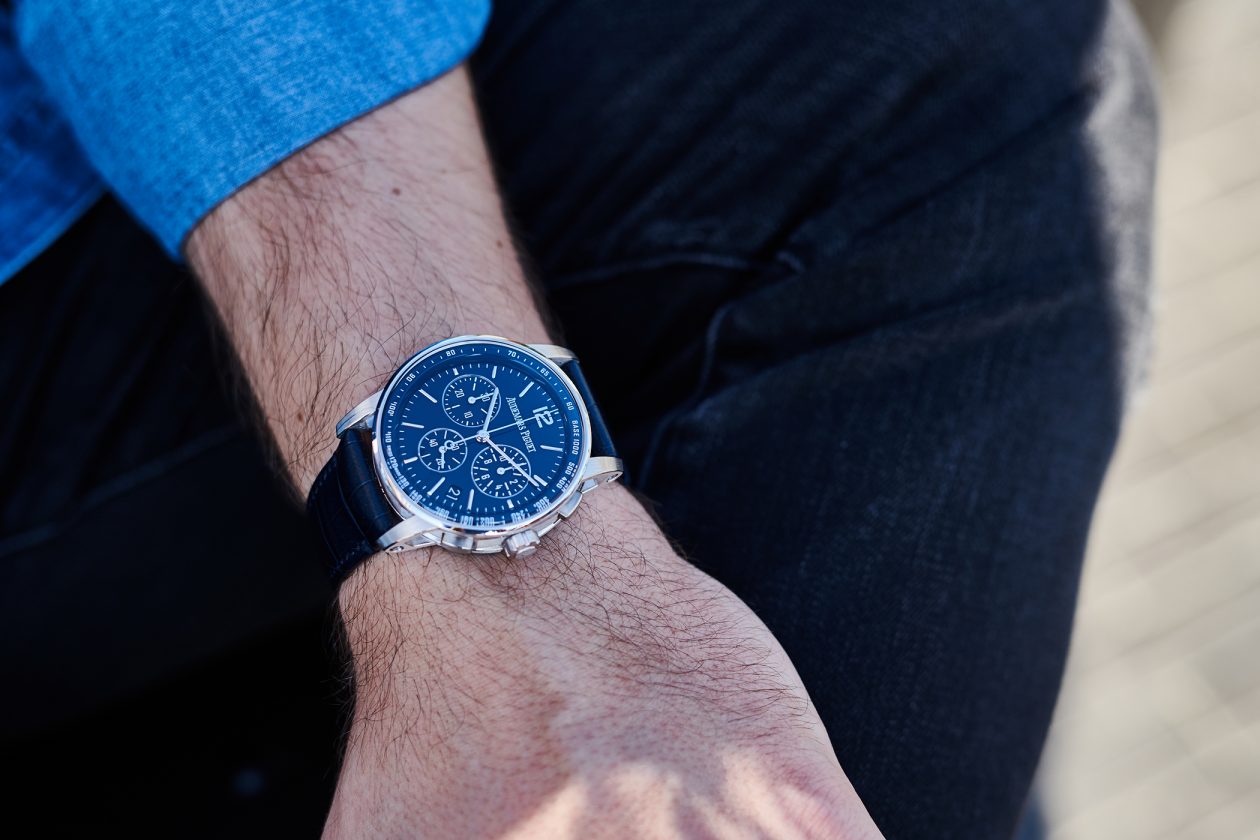 New CODE
In all the anticipation for the fresh new, highly teased AP watch we expected the unexpected. Probably no one was able to accurately predict, what could AP come up with, even when we all knew it can't just be a Royal Oak knock off. Audemars had a carte blanche in front of it, free to be scrambled on any given way.
Because stainless steel had been totally neglected in the new collection, all the pieces in the line use precious metals. The one in question, CODE 11.59 Chronograph, has a case made of 18ct white gold, measuring 41 mm in diameter, 12,6 mm in height and with modest 30 m of water resistance. For the first glance it looks round, but only when you consider the bezel and caseback.
The middle part, one housing the movement, has an octagonal shape. That is of course quite a discrete node to the Royal Oak and it's famous geometric design. Another interesting part are the lugs, party skeletonized, with screwed in telescopes, attached to the case only on the top, bezel side. The lower end just merely touches the caseback, with a tiny gap in between. One could slide a thin slice of paper there, not that it in any way necessary. In a traditional manner, a non-screw crown and oval chronograph pusher are located to the right. Because both bezel and the back are slightly wider than the middle part, both crown and especially pusher tend to hide a bit underneath.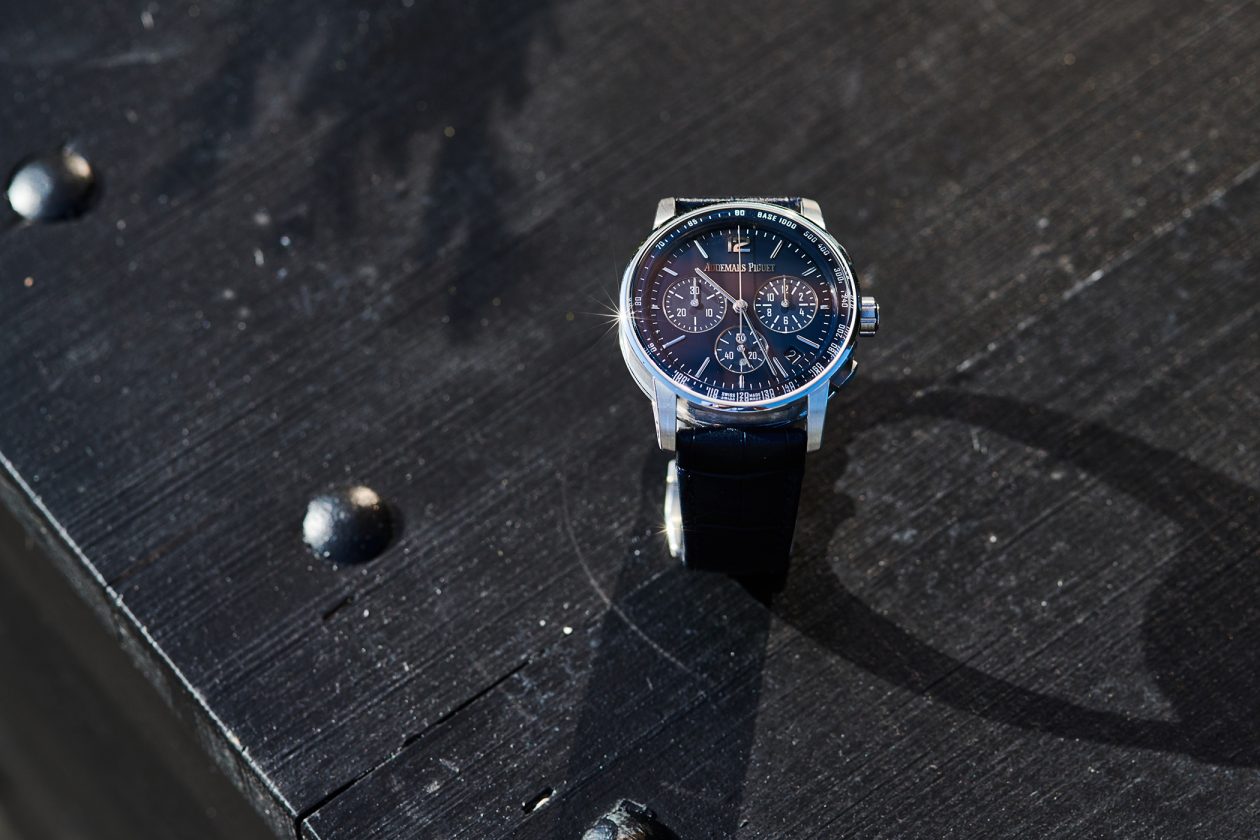 The back ring has a sapphire glass window. Same glass is used on the front, with a bit of a raise over the bezel surface. Farther the glass is also interestingly double-profiled, meaning it has a double curve along two axis. It is supposed to make the crystal even more "transparent" and therefore the dial more readable, but also creates a very unusual and interesting optical illusion. From certain angle you can see sort of wavy pattern appearing, looking quite great too.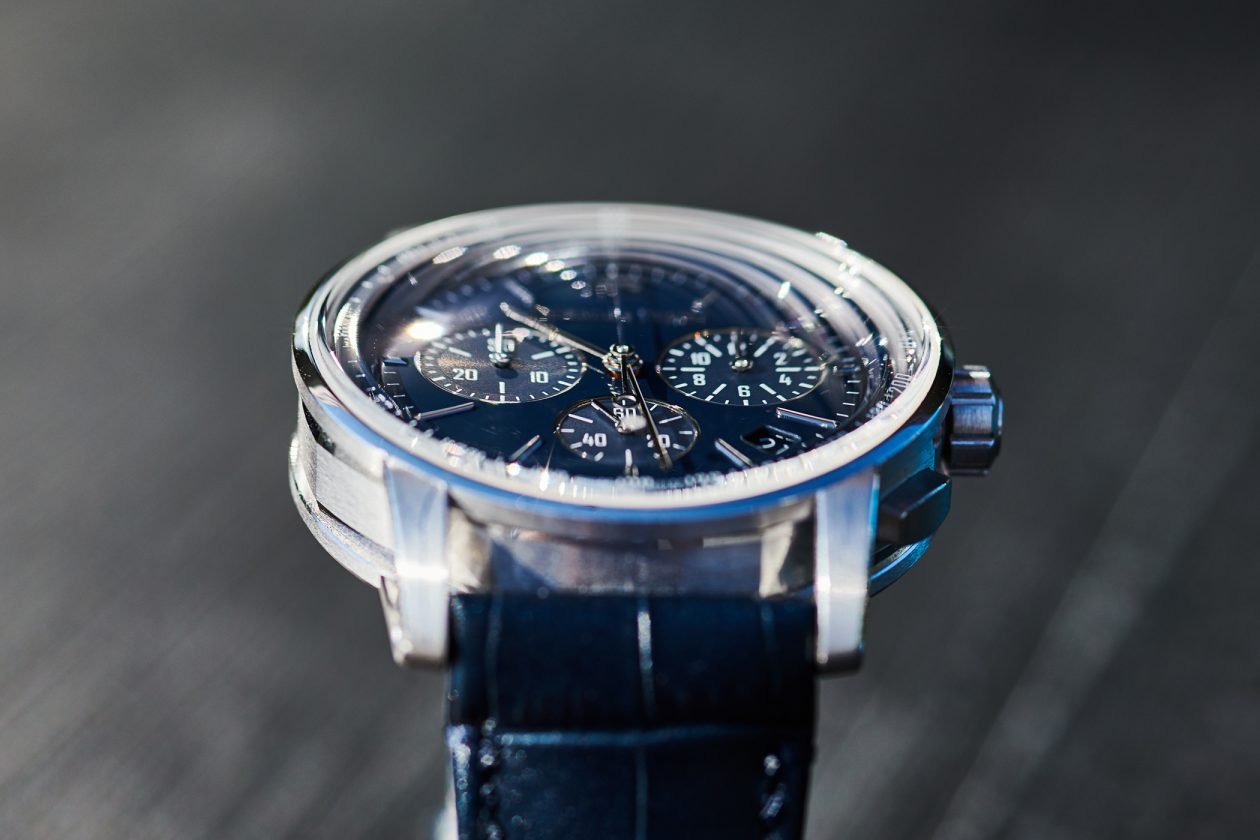 The entire gold case is done with great care, with precise and perfectly applied satin brush, contrasted with polished, beveled edges. Also the lugs go with slight beveling, adding some nice touch, and some polish on the octagonal screws heads. There is no doubt a lot of thinking and design went into making that case. It's very well made, technical, with plenty of surfaces and little details you discover along the way. It also is distinctively sporty with perfect quality, but that is what one could expect form a brand of such reputation. The case fulfils one more useful purpose – it provides housing for the movement. And it is one that all the AP fans had been waiting for quite a long time.
Manufactured
It was for years that fans of Audemars Piguet and watchmaking alike rooted for an in-house chronograph movement by the maison. For a brand commonly placed among the big three od swiss watchmaking not having one was kind of a serious drawback. Using modular movements form outside sources is just not fine watchmaking, which I already pointed out having a chance to review the Royal Oak Offshore Chronograph "Navy" a while ago. For that kind of money it is justified to want one too.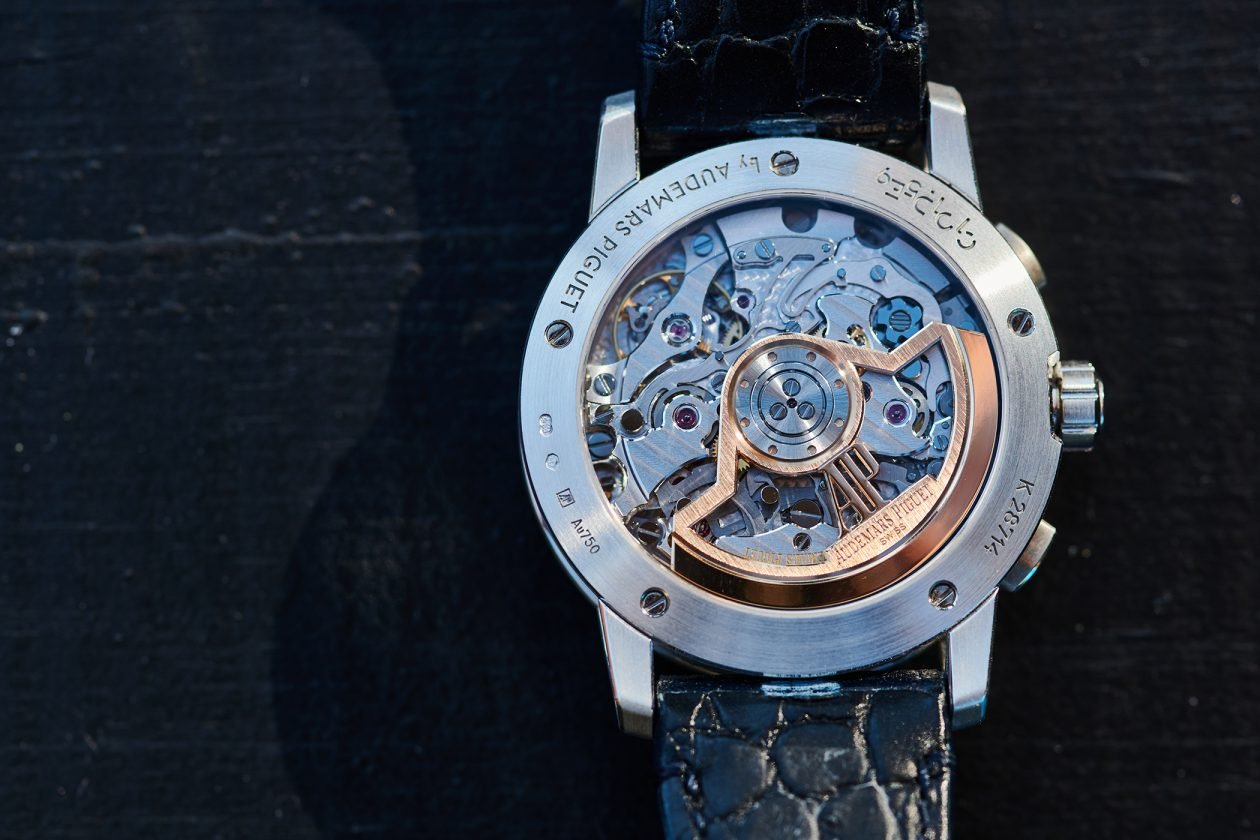 For the entire CODE 11.59 collection AP created 3 new movements, among which there is the one – almost like Neo in the Matrix – the awaited chronograph. Calibre 4401 is a high quality integrated movement, including column wheel, vertical clutch, flyback and instantaneous-jumping date, switching to the next day precisely at midnight.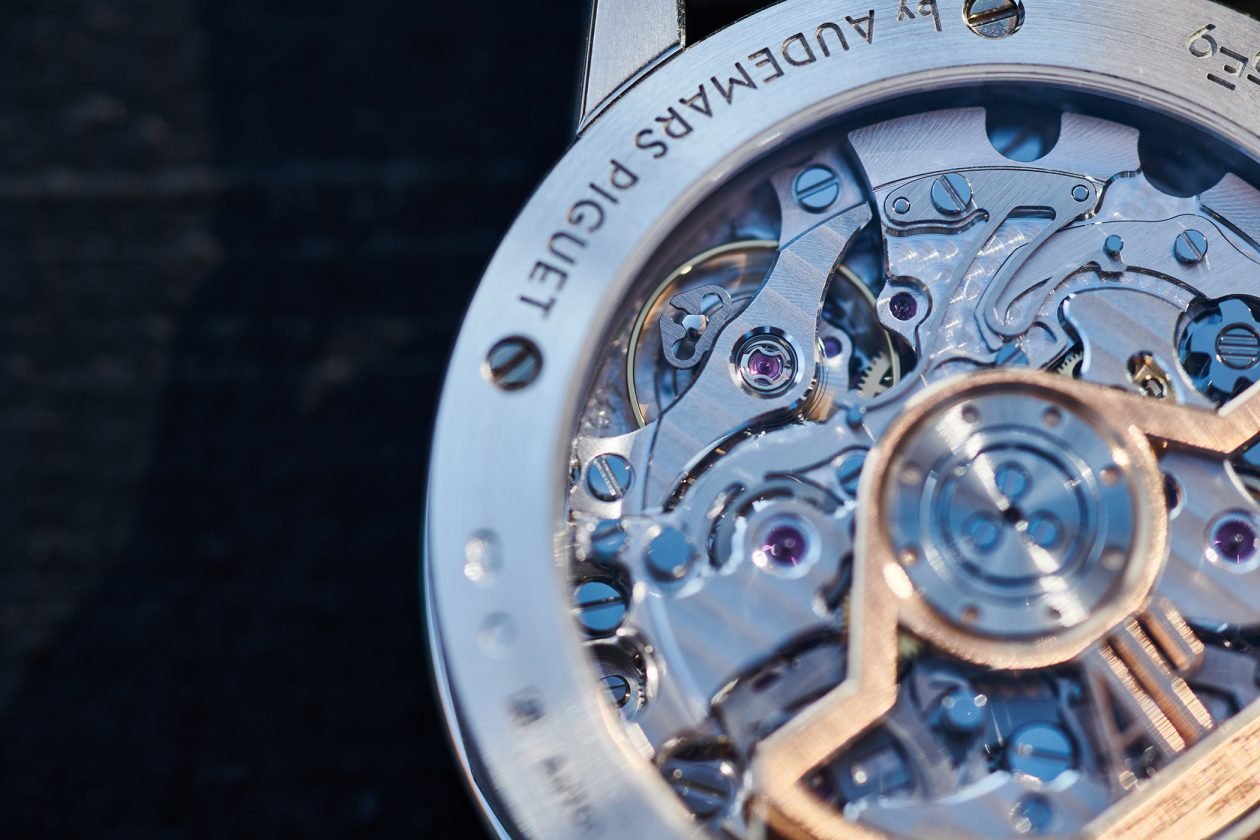 The mechanism is composed of 367 part, topped with a skeletonized, engraved 22 ct gold winding rotor. Automatic winding (along with optional manual winding with the crown) provides 70 h of power reserve. Placed under a full bridge, the balance wheel beats at 4Hz which gives a chronograph 1/8th of a second precision. Complying with the overall style of the watch movement was decorated with Geneva strips, beveling and polish on the edges, some polished screw-heads and gold filled engravings.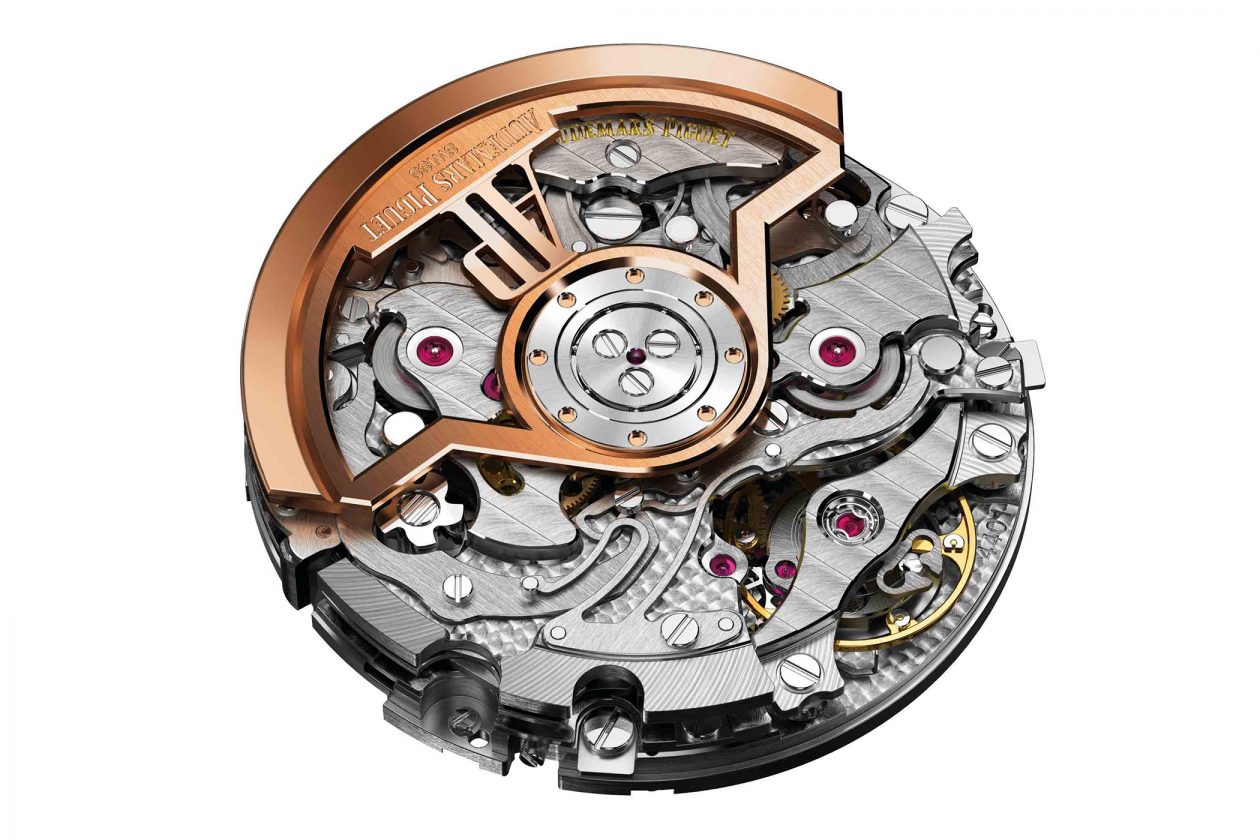 On both technical and finish sides the 4401 is, as expected, a precise, perfect machine. It's great and intuitive to use, constructed with highest respect to watchmaking art and mechanical stop-watch standards. It is most like a matter of time when it will end up in different AP watches, including the one you're thinking about now.
The Dial
All bad that landed on AP's shoulders after the launch of CODE 11.59 considered one single element of the watches. The element that is in fact the most crucial, fundamental one, because after all we do buy our watches with our own eyes, looking at the dial first. Dial, the face of every watch, is the key. And while with the case and the movement AP did the job brilliantly, with the dial…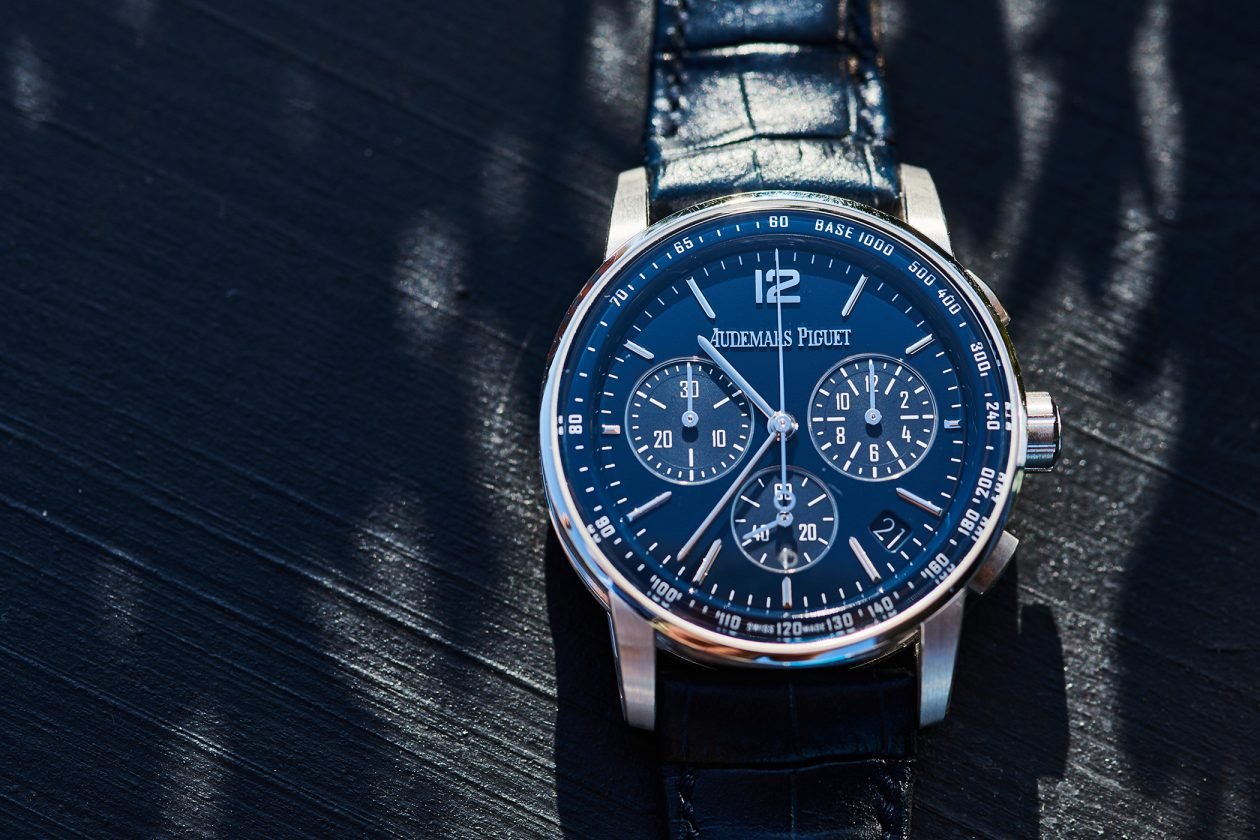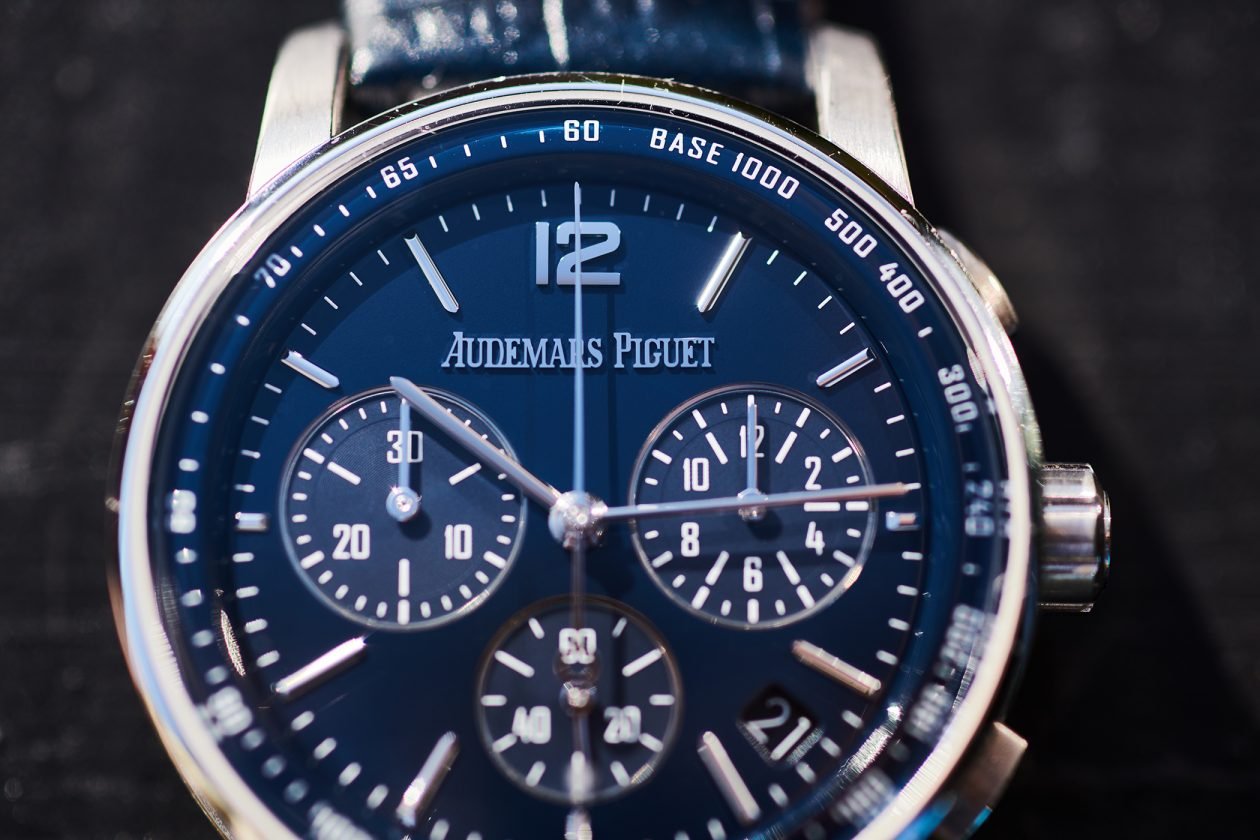 Made of metal, CODE 11.59 Chronograph dial (along with most pieces in the lineup) is extremely simple, quite classic composition. The base disc has been covered with few layers of blue lacquer with applied set of white gold simple indices and equally simple, in both shape and finish, hands. Three small sub-dials at 3, 6 and 9 o'clock are surrounded with polished metal rings and adorned with subtle snail gilouche. There is also blue lacquered raised tachymeter scale surrounding the dial. One final touch comes in 24 ct white gold, and it's the Audemars Piguet full letters logo, curved in a way that in some light it tends to completely disappear from view.
Final thoughts
The shortest way to summarize my thoughts on the CODE 11.59 Chronograph would be to write, that it's like a coin that has two sides (like every coin for that matter, but bear with me). On one side you get a great, well thought out case and just simple perfect, in-house made movement – functional, easy to use and good to look at. On the other there's that dial, the one that got AP's blood pressure levels flying through the roof. I said it before and say again – you just simply do look at the watch face first, so the impression is always crucial.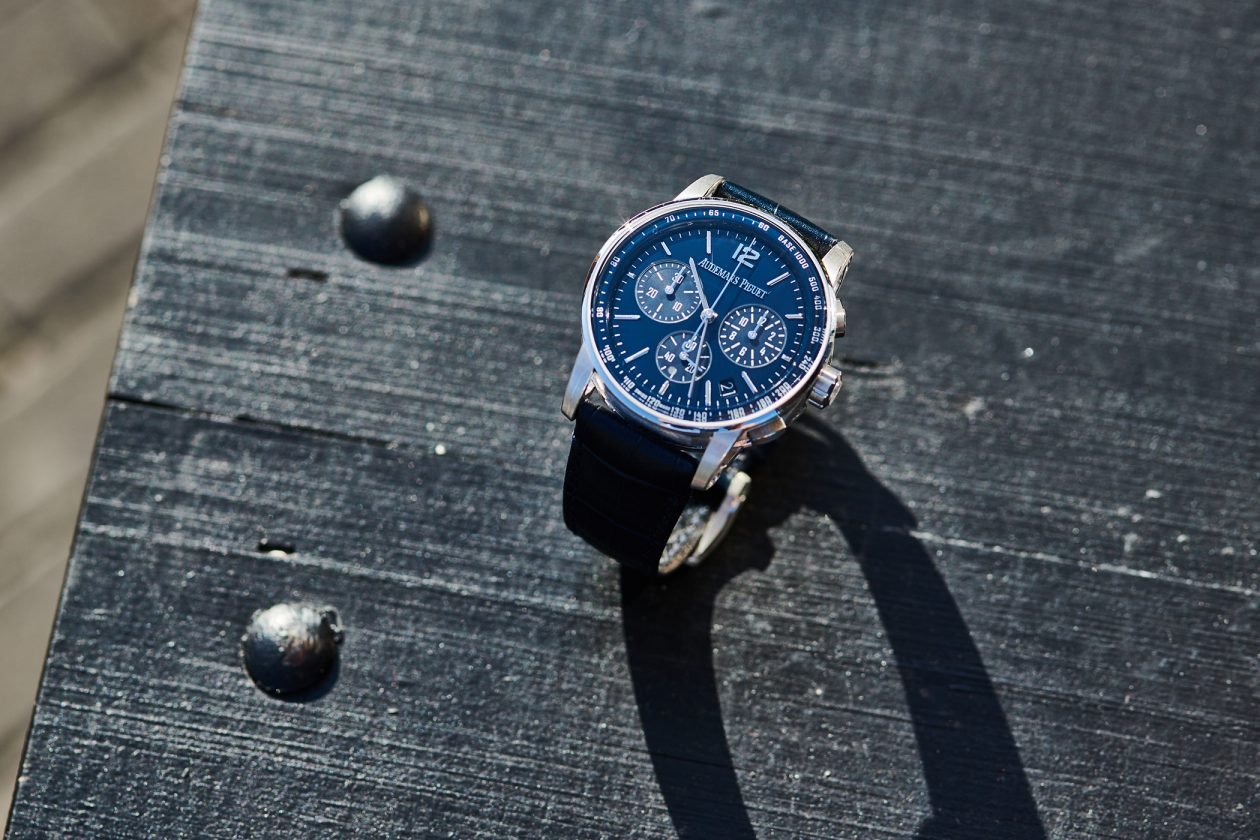 Audemars went with a surprisingly simple design there. Since it took them 8 years to polish every single detail of the project, I can't imagine any of it not being selected with attention and a lot of thinking. CODE in the name of the line is an abbreviation of the words Challenge, Own, Dare and Evolve, and I can't argue with all that being accurate. It is a new fresh watch, brave concept in many ways, very much in an AP way of thinking and quite innovative to. CODE 11.59 does not mimic any previous AP (nor any other brands) watch, doesn't borrow of any know design codes, simply paying homage to some key DNA elements of Audemar's long history. The big question is, how does all that corresponds with the final product?
I wore blue CODE 11.59 for two full weeks and for those two weeks tried to buy into AP's concept, understand why choices were made the way they did. I can quite easily swallow the price tag, which for the choice of gold, new movement, quality of build and AP on the dial comes at 35 830 EUR (+ VAT) – still quite a lot of money of course. What kept bothering me most of the time was – you guessed it – the dial. I couldn't shake of the feeling that Audemars could have done a lot more. It is in general way to simple, to plain, to minimalistic for the watch, and those multiple layers of quality lacquer can't change that. Architecture of the case itself gave AP an opportunity to make something alike, in a technical style, with a few sharp edges here and there, maybe even some skeletonizing with a peak inside. Instead we have clean simplicity, and in a watch like that I'm just not buying it.
One last thing to remember is that history – and history of Audemars Piguet in particular – teaches us patience. Back in the 70's when Gerald Genta designed the steel, quirky Royal Oak, nobody bought it except a few. If it wasn't for an Italian market a watch, that today is one of the true icons of watchmaking, would have gone obsolete fast. Can CODE 11.59 repeat that story? – I guess only time will tell. Audemars Piguet for sure has all the abilities to make the CODE a near complete watch. All it needs is a small but smart tuning.
PS
Whats worth noticing is that AP started to revamp the CODE line with… new straps. You can buy a piece form the collection with a vast array of different straps, including the one seen on the AP's official website, which is a white alligator. The one we had up for a review was a matt blue alligator with a comfy, gold tongue buckle.