Review

Longines Legend Diver Bronze [live photo, price]

In merely 10 years Longines Legend Diver earned the status of an absolute cult neo-vintage diver's watch. Its latest iteration is cladded in bronze, a metal that has equal number of die-hard fans and total opponents.

In TOP 5 Longines Heritage ranking, the Legend Diver is my absolute number 1. The brand released the re-edition of the historic diver good 10 years ago, and while it is some chunk of time, the watch did not lose one bit of its charm. The original release had a steel case with a black, glossy dial (still my favorite reference), inner rotating bezel, two crowns on the right hand side of the case and a diver engraved on the solid back. Just as the 60's original, modern LLD is quite big – 42 mm in diameter and over 50 mm lug-to-lug, thanks to overly long, curved lugs. Despite being quite large by numbers, the watch wears surprisingly good, also thanks to modest thickness. And there are the good looks. What makes the Legend Diver stand out is mix of vintage vibes, simple elegance and charm of a classic Super Compressor.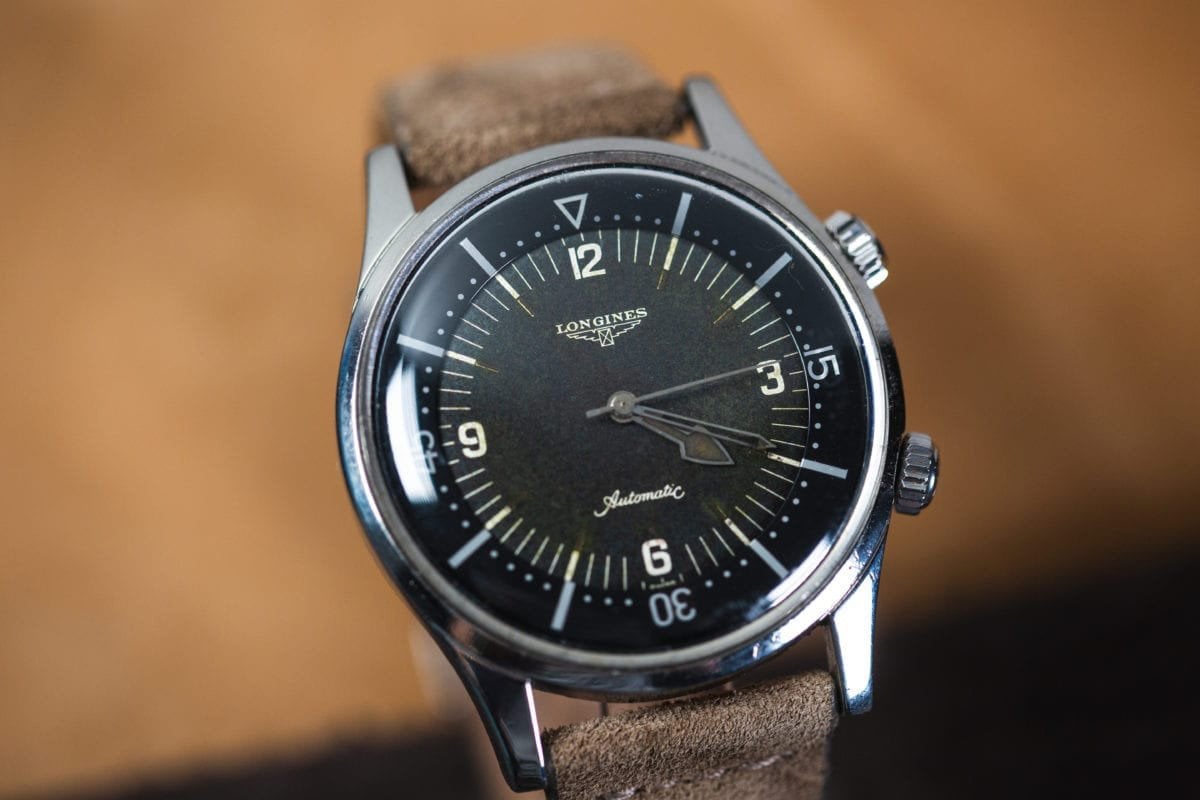 Besides the steel model, LLD came out in a few different version through the years: pink gold. Black DLC, a 36 mm case for a smaller wrist, a mesh bracelet and finally a full gold Poland Limited Edition, which makes us particularly proud. The newest, yet another different incarnation of the Legend Diver comes in a material that is almost naturally associated with the sea and diving – bronze. It is quite a trendy metal nowadays despite its nature being as fragile as the weather. There is no question bronze has it pros and cons alike.
Bronze is what makes almost the entire Legend Diver case, except the caseback. Because of the close contact with your skin, that sometimes might cause an allergic reaction, the back is fashioned out of titanium and traditionally engraved with plunging diver. The alloy of cooper and zinc has a warm, pinkish hue to it – feels almost like an aged, pink gold. The case has been fully brushed, subtle and with added class. Both of the right-hand-side crowns are also bronze, adorned with a checkered pattern on top. The glass is highly domed sapphire, sticking good 2 mm over the slim bezel.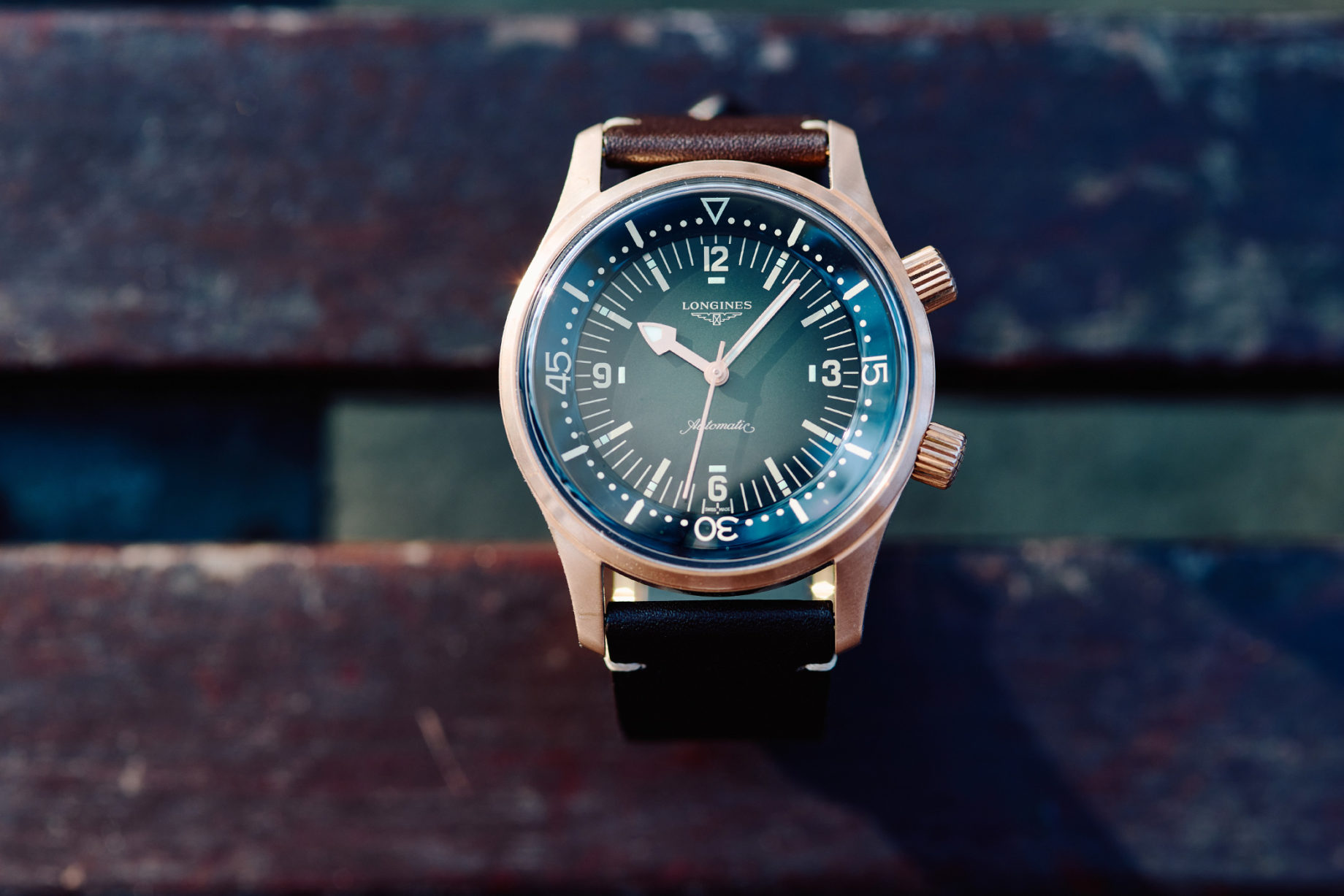 I was never a fan of bronze watches, mainly because the original look can quickly change, dramatically. Bronze come to life, and affected by the elements (water, air, even your own sweat) develops patina. Depending on the actual mix of the metal (usually it's between 80 % and 90 % cooper) the change can be modest or very dramatic, going deep into the structure. I don't know what is an exact mix of bronze used by Longines, but few days of wearing the watch did not create anything rapid or significant on the surface. Undoubtedly the case would change more over time, but there is a good chance the darker shade would fit the watch more. Not to mention the bronze LLD has the most striking dial of them all.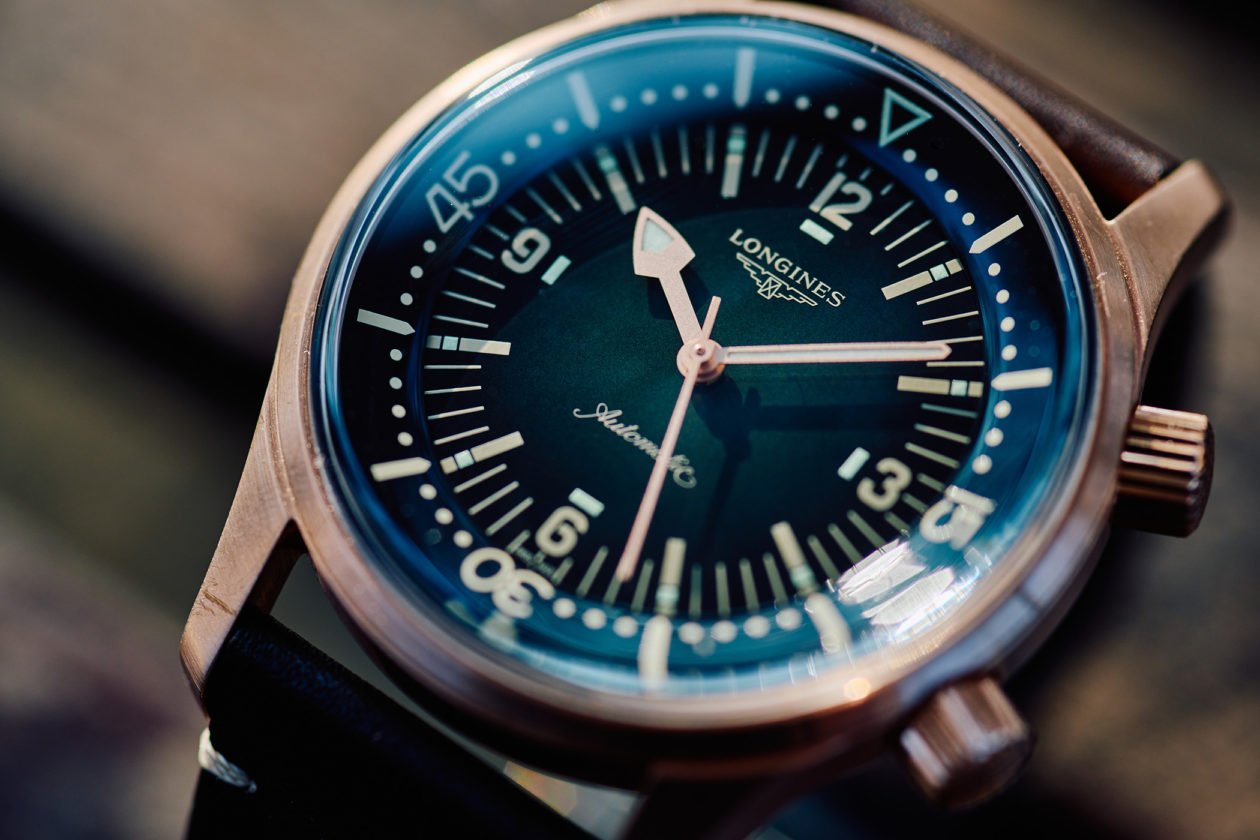 Regular LLD reference, just like most typical divers has a black dial, slightly glossy and with beige appliques toped with a bit of luminova. While the black face fits the steel case, it might me a bit dull with warm bronze. Therefore here the dial is gradient green, from a bright center to almost full black by the diving ring. The beige on indices stays, but the hands are this time golden, matching the case hue. It is not an obviously green dial, and at some angles it evens appears black, but for sure the combination works and looks wonderful. LLD Bronze is not your typical, tool-watch diver, so the changes in overall esthetics are more then welcome. Oh… and there is no date, which should please many fans. There was a no-date reference of the steel LLD for some time, but was quickly take out of the collection. And while I tend to use the date in my watch often, I can appreciate and understand the balance of dateless dial.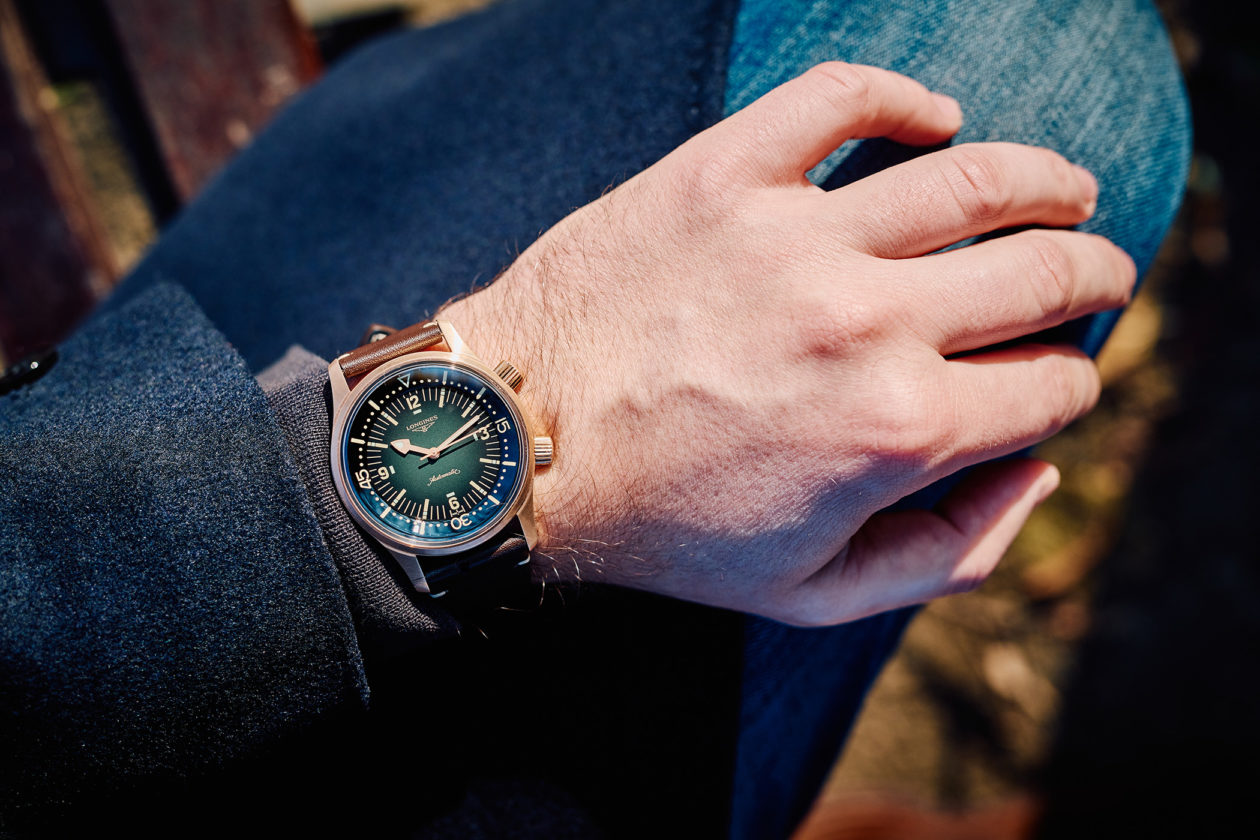 In keeping with a more elegant feel of the watch, there is no rubber strap in the set. Buying the LLD Bronze you can choose between a light green NATO or a brown calfskin strap – soft, well made with white loops and well executed buckle, in bronze tone.
Slight change has also been made to the mechanics that power the Legend Diver. The new L888 caliber has a silicon, antimagnetic hair spring, a balance wheel ticking at 3,5 Hz and 64 hours of power reserve – almost double over previous LLD caliber. The watch also comes with a full 5 years warranty.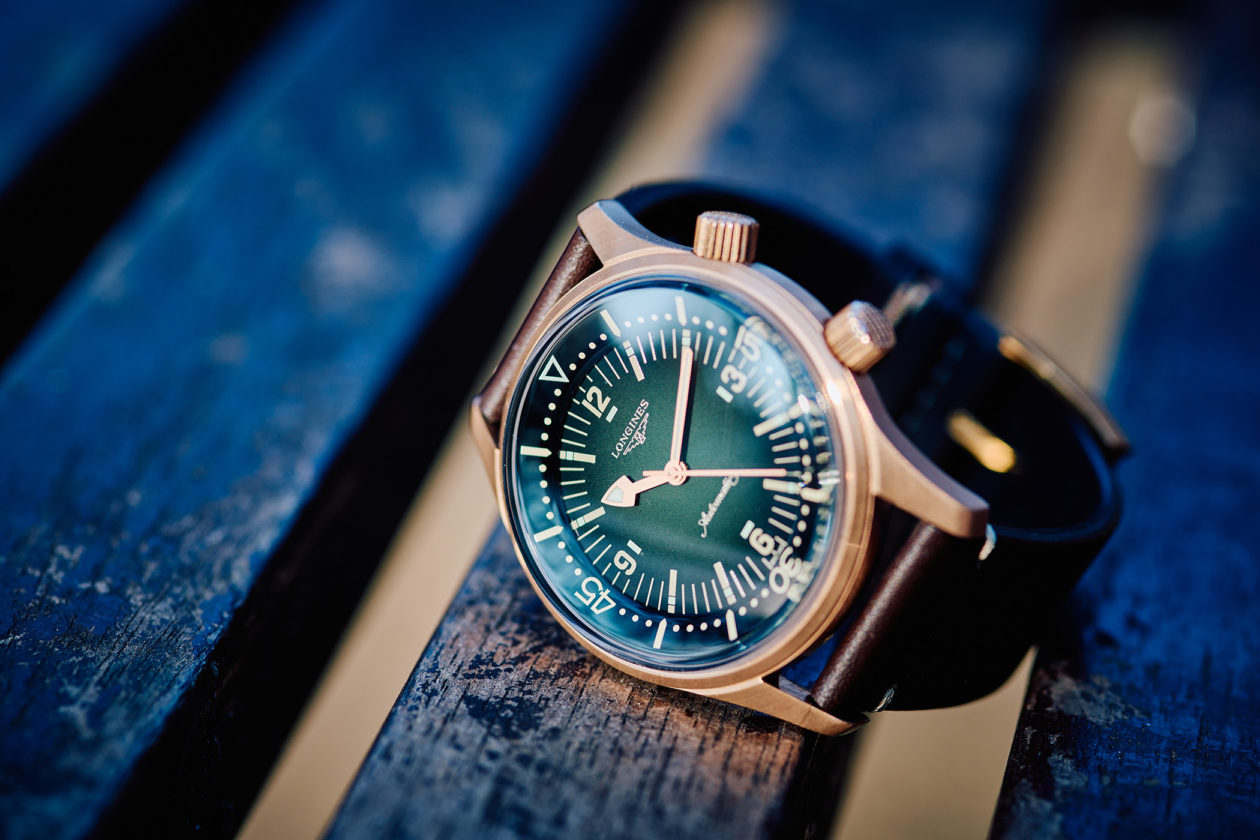 It is more often than not that few esthetical details of a watch does not make it a true novelty. Longines however managed to completely change the experience of wearing the Legend Diver. In steel it is a proper diver's watch that makes you wanna go take a plunge. In bronze it is more of a classy, elegant thing. I was not so convinced after seeing first few press pictures – and mind you not a bronze fan here – but in the metal the LLD Bronze turns out to be a great watch. The big question is – how much do you care for your watch to be untouched and brand new all the time? And are you willing to spend a good amount more on it, over the steel version. Longines Legend Diver Bronze is priced at 2 800 CHF.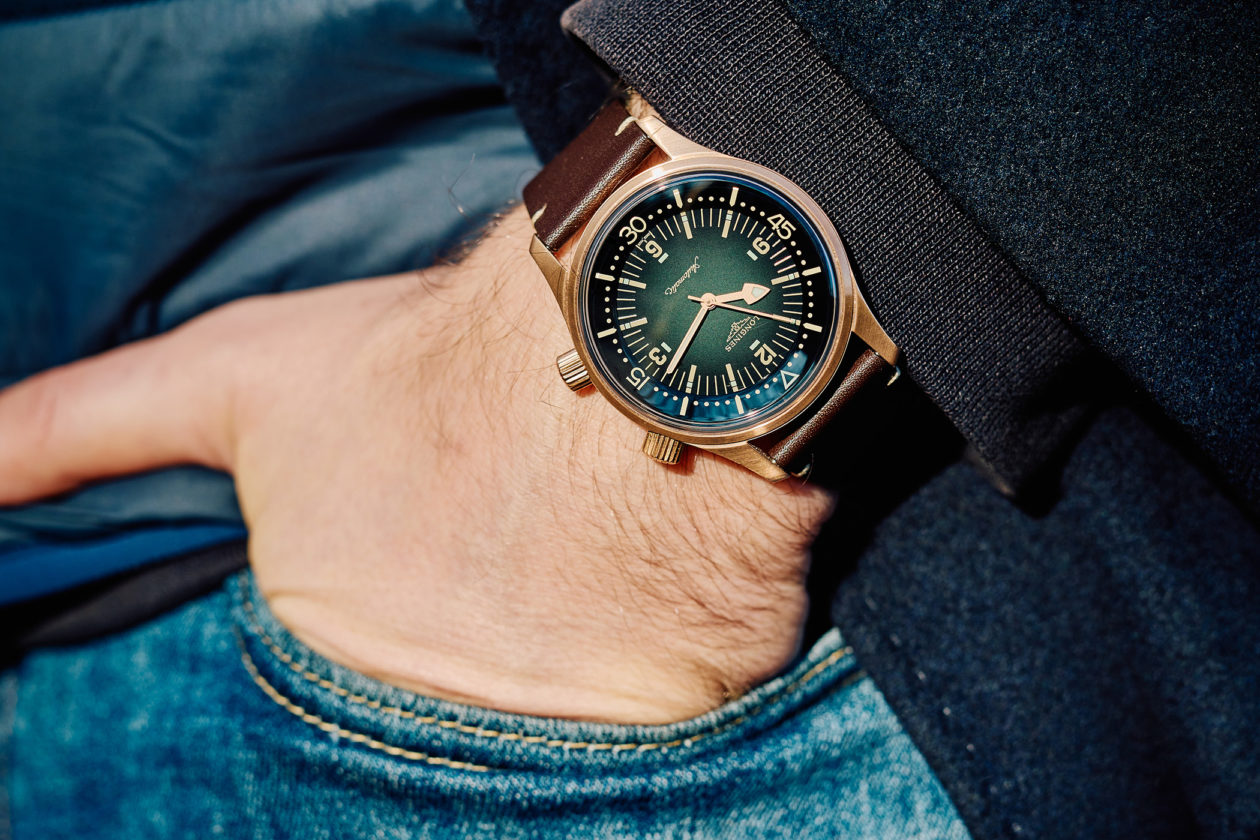 PS. Kudos to Longines for the LLD Bronze marketing campaign. Mr. John Goldberger – a vintage-watches Yoda so to speak – cruising in a wooden Riva Aquarama through the canals of Venice boosts the watch "fun-factor" by few levels.
Watch provided for tests by Longines.