Timebloid

6 watches that are perfect for starting a successful career in gangsta rap.

Let's forget for a moment about Eric Clapton's Patek, about HYT for Axl Rose or collection gathered by Anthrax lead guitarist. The musical genre that loved and will always love fine watchmaking is rap. What's more – that's probably a reciprocated feeling.

We're not that sure how many of our dear readers are on a straight road to conquer the Billboard list, however for those who definitely have it on their 'to do list' in coming months we have some tips. As we all know, a respected watch often strengthens our reputation in showbusiness equally, or even better than any other items we could possess, not excluding natural and acquired skills.

For those who want to shine not only through their lyrical abilities we propose a versatile list of watches, perfect for aspiring artists whom career is just starting to roll, as well as those who changed the projects for a multi-acre mansion. We present you a complete guide of suggested acquisitions dependable on the amount of records sold, cash spent in strip clubs and the number of incoming calls from Snoop Dogg's manager in relation to joint-track.
1. Rolex
Let's assume your career strarts to roll and finally you are not able only to rhyme about diamond Rolexes (which was your main song theme since your teen ages while being inspired by MTv), but also you're finally rich enough to purchase your first serious watch and make your homies jealous as hell. Don't worry if you're still not a platinum record range seller as it will still be OK to get an entry level Rollie such as the below Oyster Perpetual Day-Date in 18ct yellow gold. Its bezel has 42 diamonds so serious stuff is going on for sure and what's more – the dial has a color of champage (that is slowly becoming our water replacement with every new record released). Nice one for a new kid on the block!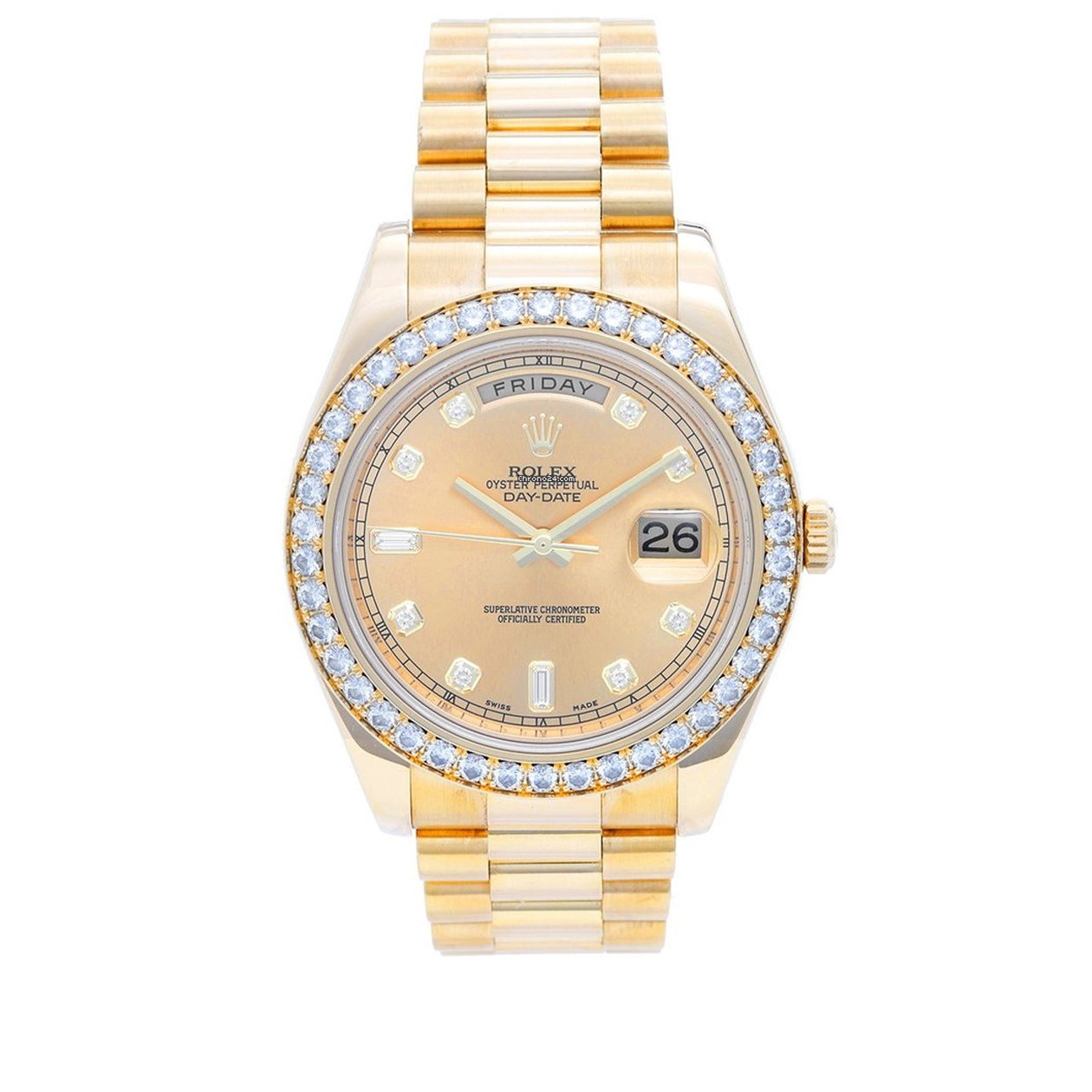 2. Rolex
Fed up with simple diamond setting from the Rolex above? Seeing those too much lately and even a label manager's dog has a collar with more bling? Maybe it's time to go a step further? This time another Rolex should be on your radar – the classic Daytona ref. 116576 with diamonds on the dial, all in platinum. A bit more than 130k GBP spent on this piece surely strengthens your confidence while meeting more and more important people.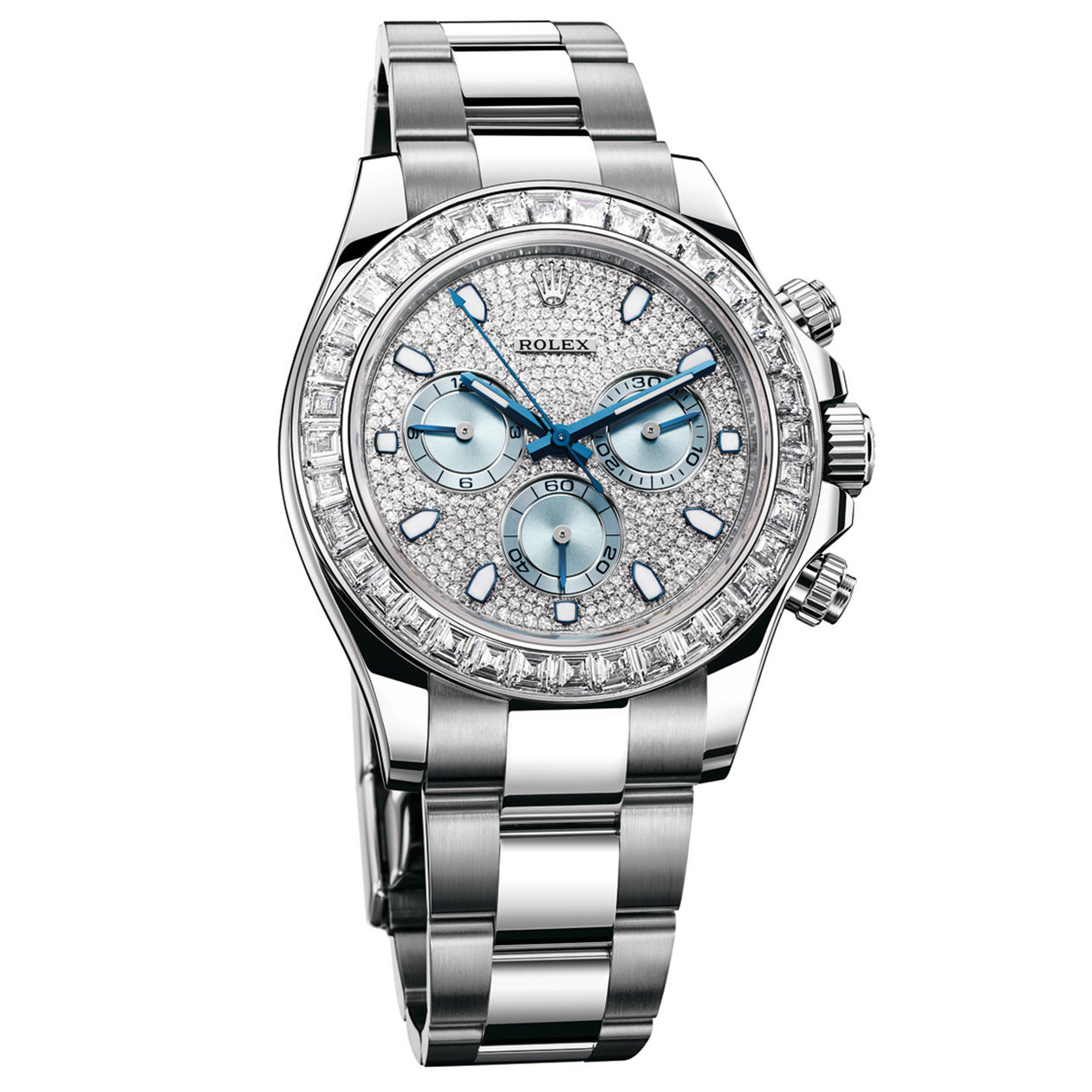 3. IceLink
OK, but let's assume you're a more avant-garde artist that never goes with the mainstream. You think that classic diamonds are a boring relict of golden era rappers from the '90s? Well fear no more! IceLink brand has a solution by releasing a watch that has a meaningful name 'Floating Diamond'. You'll find there not only a static baguette diamonds on the bezel, but also a loosely placed precious stones (guess which ones? Diamonds!) covered just by a sapphire glass case from both sides of the watch. Now you can listen to the diamonds sound just by moving the hand! Who would have thought that the street respect could be strengthened by 3rd rule of Newton's dynamics?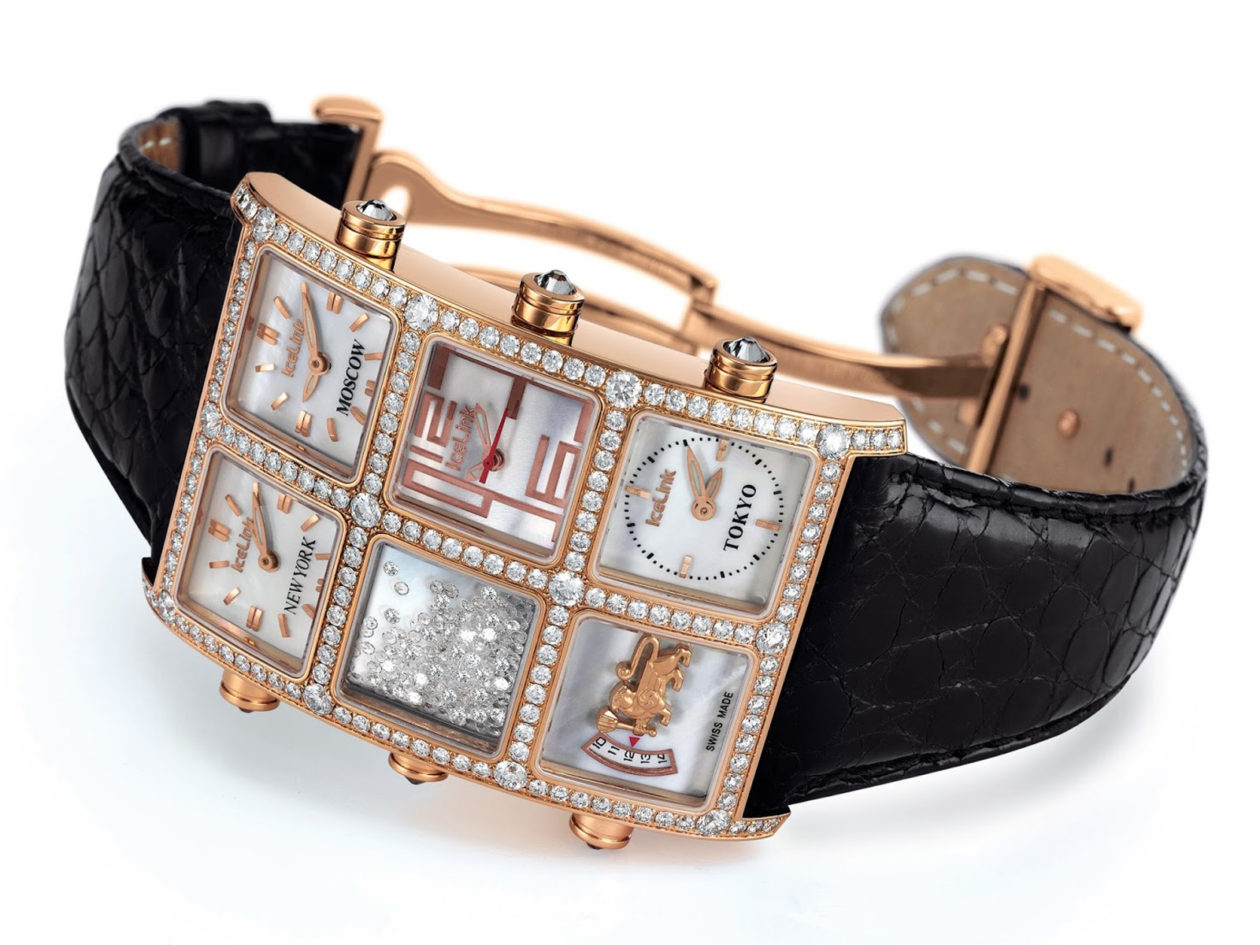 4. Audemars Piguet
Sometimes it's almost unacceptable to be a black sheep in a shed of rich bastards around you after reaching some serious wealth status. It's a high time to make a serious purchase. You need a watch that will separate men from boys (or a major label album from an underground mixtape if that's a better explanation). It's time to be iced-out, it's time to shine. Perfect moment to get for instance: a full diamond-set watch from head to toes, from dial to the folding clasp: AP ROO Chronograph ref. 26473BC.ZZ.8043BC.01 with 42mm diameter. Over 600 diamonds on the dial and bracelet totals over 50 carats on your wrist! Those numbers amaze even more than a dazzling verse in your hit-song.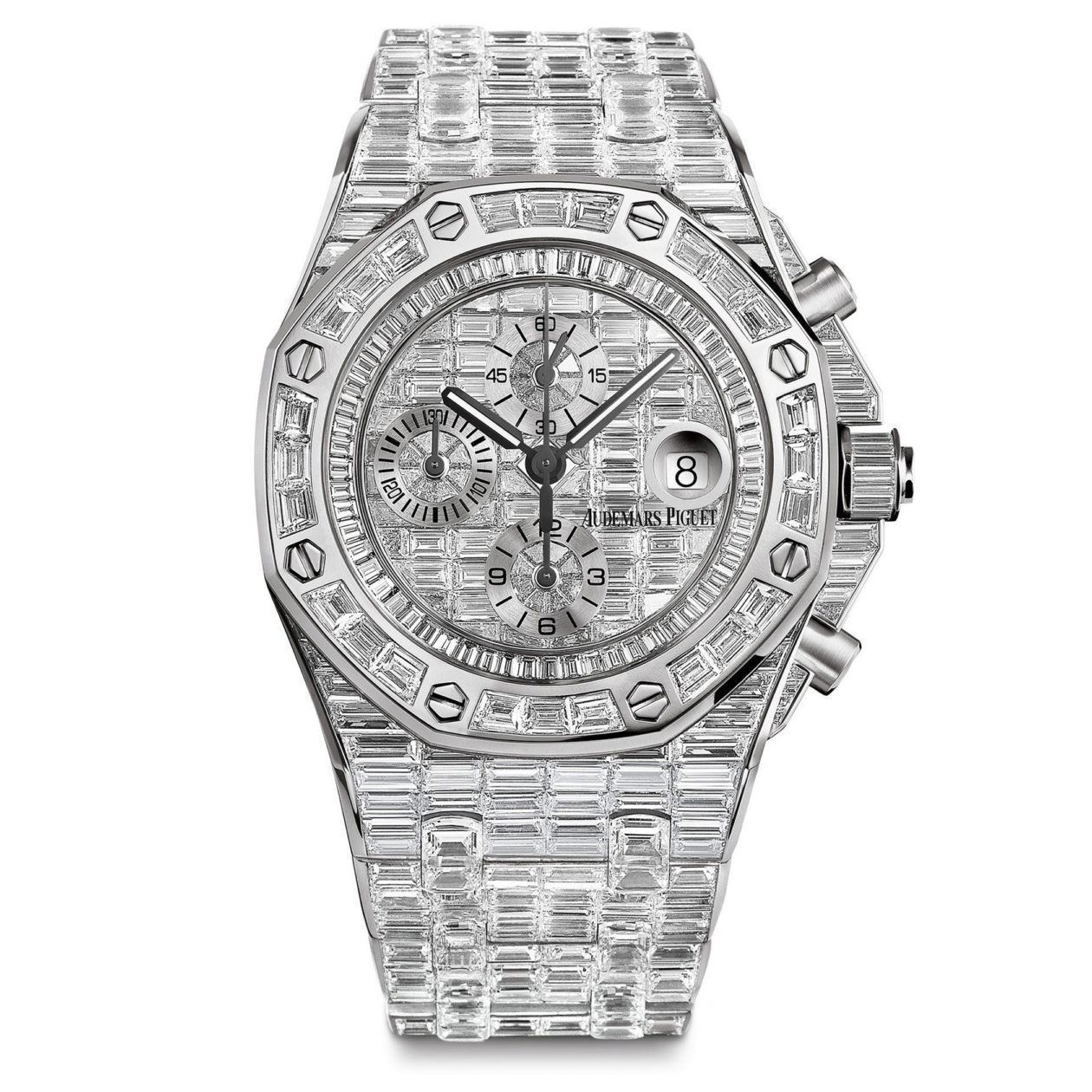 5. Patek Philippe
Living a true baller lifestyle, you can be sure that people having your level of wealth also seen such lists of proposed bling pieces that were intended to distinguish them from the crème de la crème crowd. Therefore you kinda feel uncomfortable when sitting at BET Awards you saw Lil' Wayne rocking his iced out Chopard watch (not less cool than yours!) that Birdman gave him on his 27th birthday. You have to seek deeper in the vaults of bling horology and finally you got it! You have a win-win situation because the next fully iced out watch to stand out from the crowd comes from none other than the mighty Patek Philippe. So you pick the shiny Nautilus 5720/2G "Phoenix'' that has a clear statement – I'm not only able to buy diamonds, I'm also into fine art so my bling has a subtle enameled Phoenix on top. I'm an art connoisseur from now on!
6. Jacob & Co.
You thought that having the Phoenix Patek makes you an absolute number one? Well you better have a good psychologist because you'll surely need one after an information that your colleague from The Fugees – Pras Michael (about whom the legend says that his watch collection easily beats the one owned by Kevin Hart) also has this Nautilus with enameled Phoenix! Checking that you don't have so far a hit song that can deal with "Killing me softly'' and your music royalties don't bring that much of dough yet, you make a mad gamble move that only serious player would pull out. You finally call Flavio Briatiore and offers him at least 18M bucks for his Billionaire Watch from Jacob & Co.