Timebloid

Horological showbiz: Robert Downey Jr.

In the next chapter of our periodical analysis about what's on the wrist of worldwide celebrities, let's welcome a person whose horological habits go along very well with movie characters he played, especially one in particular. Ladies and gents – Robert Downey Jr. aka Tony Stark or just Iron Man and his superheroes of timepieces world.

Although not many movie stars were so lucky to get this kind of once in a lifetime role that would be linked with them for ages, but Tony Stark surely is one of those rare birds. If you already watched the newest Avengers "Endgame", then (spoiler alert) you know that it was the last part with Iron Man as a living character. However, having supernatural powers embodied so much by practicing many hours on a movie set, then why not to continue living this way in real life? Our hero definitely knows a thing about it, especially having a wrist game at his caliber. His collection might be hard to classify into one precise manner or style, so probably the word 'various' fits perfectly as an overall description. Robert's line up, where supercomplications are seen together with very basic models and independent artisans are mixed with well known big brands is an essence of the best of the best what horological world has to offer today. It dazzles with the range of watches presented publicly so this article covers for sure only a piece of this spectacular collection that after a big success of Avengers, will have all the necessary assets to be expanded.

Admit it – it's hard to find items that personify better not-so-ordinary life's superhero qualities than superior watches. Let's start our analysis with a very avant-garde timepiece from our hero that graced his wrist from time to time – UR-110 delivered by Urwerk. As seen below on the newest Spiderman premiere, it was later auctioned for charity and reached 150,000 USD and eventually made some space for new creation from Urwerk house.
Another watch from Felix Baumgarten and Martin Frei horological lab, was seen during Avengers Endgame premiere. It was the UR-111C Black Cobra, limited to 25 pieces worldwide so simple equation = 24 watches left, waitiing for lucky owners.
As independent brands are surely Robert's sweet spot, we've seen also not one, but two versions of the same watch from DeBethune in different case materials in his possession. The mighty DB28 with ultralight Tourbillon from the hyper advanced brand has been worn in titan case as well as in pink gold. Quite a shopping statement, isn't it?
Among mainstream brands that visited our hero's wrist, Jaeger LeCoultre was an often guest as Robert was seen with many versions of cult-status Reverso line up, or more sporty Deep Sea Chronos. However our attention was certainly brought when he presented some of the JLC heavy weights. While promoting his very own Iron Man movie, Tony Stark himself was seen wearing Tourbillon Amvox3 GMT and later, with chronograph-only version worldtimer – Amvox5. Both pieces done in collaboration with exquisite car manufacturer – Aston Martin (quite a coincidence that this car brand is mostly affiliated with another movie super hero, working for Her Majesty).
As a superhero, you have to control the whole world all the time with no exception, so a steel worldtimer can be a great companion. Here, as seen on Captain America's premiere, Robert wore this sweet Geophysic Universal Time to do so on hero's duty.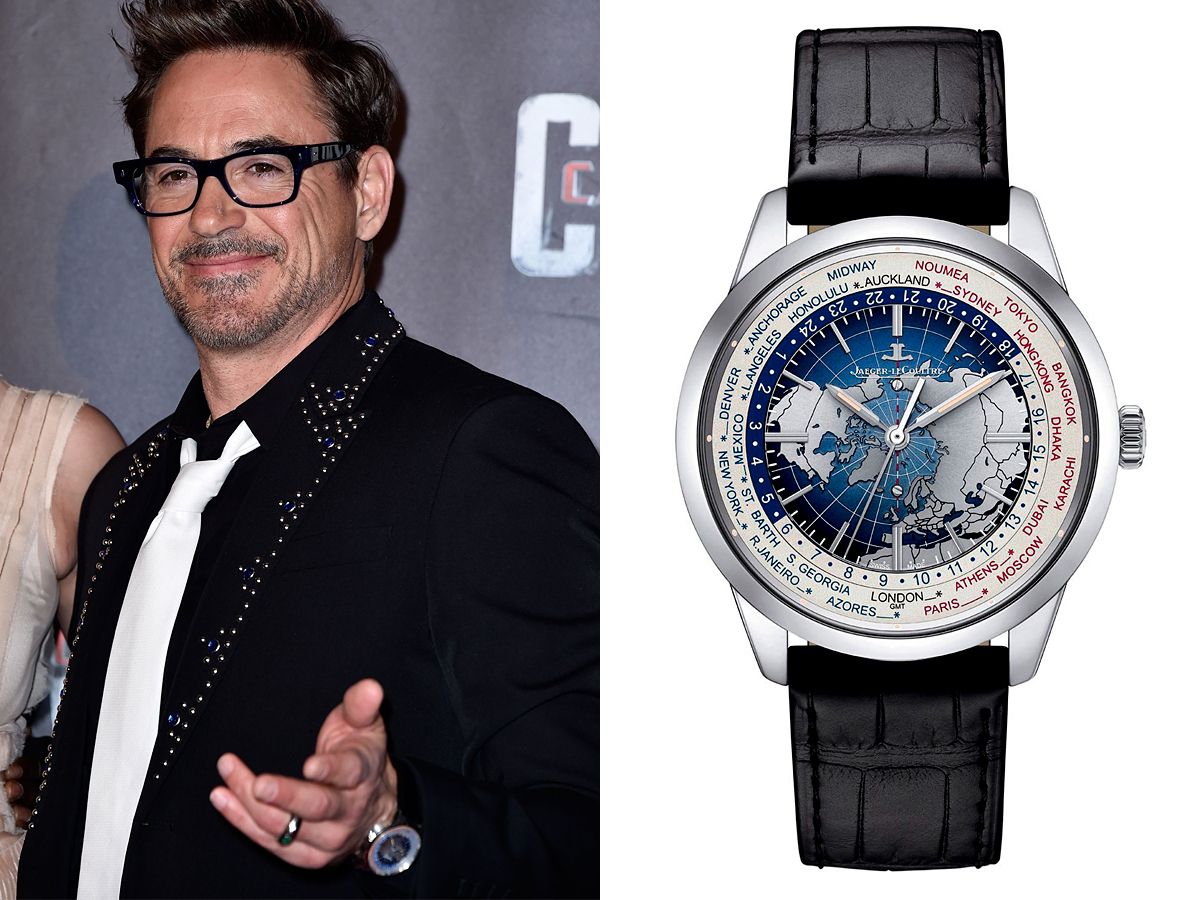 Such superior watch collection couldn't be complete without the true crème de la crème of horology – creations from Patek Philippe. Here, he chose the iconic timepiece, that in the words of his creator – Gerald Genta is named as "The Great Design'' so the timeless Nautilus. Robert was quite often seen in ref. 3712 so steel version with moon phases. So understated yet so superior.
We shall finish our article with similar watch-blast as we started the list. Let's mention probably the most spectacular watches seen in public on Robert's wrist (God only knows what else he has hidden, being exclusive only for his eyes). The last two timepieces here are a quintessence of the highest horological standard that modern watch brands have to offer. It is also an undeniable tribute to independent artisans and proof that he really knows what's up in the watch world – Greubel & Forsey.
Starting now with approx. 560,000 USD powerhouse aka Double Tourbillon 30 degrees Techinique, as seen here while Robert was making a handprint in front of TCL Chinese Theater in Hollywood. You have to admit that this is a perfect watch to get some wet cement stains on. And probably the finest watch ever seen publicly in his collection because in general, watches at this level of price and technical advancement are not that common on today's market, even in the most premium segments. Here's an over 600,00 USD GMT Tourbillon as seen on Avengers Inifinity War premiere. As a side note – this model also belongs to Francois Henri Pinault, CEO of Kering Group that gathers lots of luxury brands including Girard Perregaux and Ulysse Nardin.
We could also mention lot of many basic models as mentioned before that were seen on Robert's wrist, write about how many times he sported classic Speedmasters from Omega, Submarines and Milgauss from Rolex etc. However, let's be honest – a superhero should be remembered thanks to his mighty attributes and those extraordinary timepieces described above are what make his collection standing out from others.