Timebloid

Petro-watches aka what is worn by Qatar sheikh royalties – Joaan Bin Hamad & Khalifa Bin Hamad

Today we present watch tastes from the region where oil, money and luxury goods have flowed uninterrupted since almost forever. Introducing the sons of the Great Emir of Qatar – Joaan and Khalifa.

It is no secret that the Middle East region has always been the seat of the world's most prosperous families. The wealth of many Arab sheikhs families were also, as a rule, outside the official lists of the richest people in the world, since many estates are simply family fortunes built over years on religious and political connections, as well as those related to many branches of business. Responsible for significant part of the current prosperity in countries such as Kuwait, Qatar and the United Arab Emirates is the production and sales of crude oil. Family that is one of the market tycoons is the one we are looking at in this article. The dynasty of Al Thani, the royal family of Qatar and the two sons of the ruler – Prince Joaan and his younger brother – Khalifa. The father of the subject, Grand Emir Khamad Bin Khalifa, during his reign made Qatar the richest country in the world in terms of average earnings per capita which is at incredible $ 86,440 per year. He also contributed to the cultural and media development of the country by establishing, among others Al Jazeera, the most opinion-forming media corporation in the Arab countries. The assets of the great emir are estimated at around $ 2.4 billion, and although these are only very general estimates, it is certainly an amount that allows him and his family to have a very glamorous life.

The subjects of our article are not your usually rich children of wealthy parents. They were well-educated and trained from a very early age to be the future brains of their country. Prince Joaan is, among others, the chairman of the Qatar Olympic Committee. Khalifa served in a state body called Lekhwiya, which is the equivalent of ministry of internal defense combined with home affairs department. One could say that they are also quite boring, because despite their wealth and power, they tend to avoid scandals. Although, when it comes to watches they are certainly not monotonous. Here they both present absolutely spectacular timepieces, where it's hard to spot anything for less than 1,000,000 USD.
---
Patek Philippe Aquanaut Travel Time 5650G Advanced Research
The set opens up by Joaan and the humblest watch of this article – Patek Philippe Aquanaut Travel Time 5650G Advanced Research. Limited to 500 copies, marked as 'Advanced Research' which represents the innovative department of Patek's mechanisms, in which creating new foundations of watchmaking is constantly ongoing. The boutique price for this one is over 58,000 USD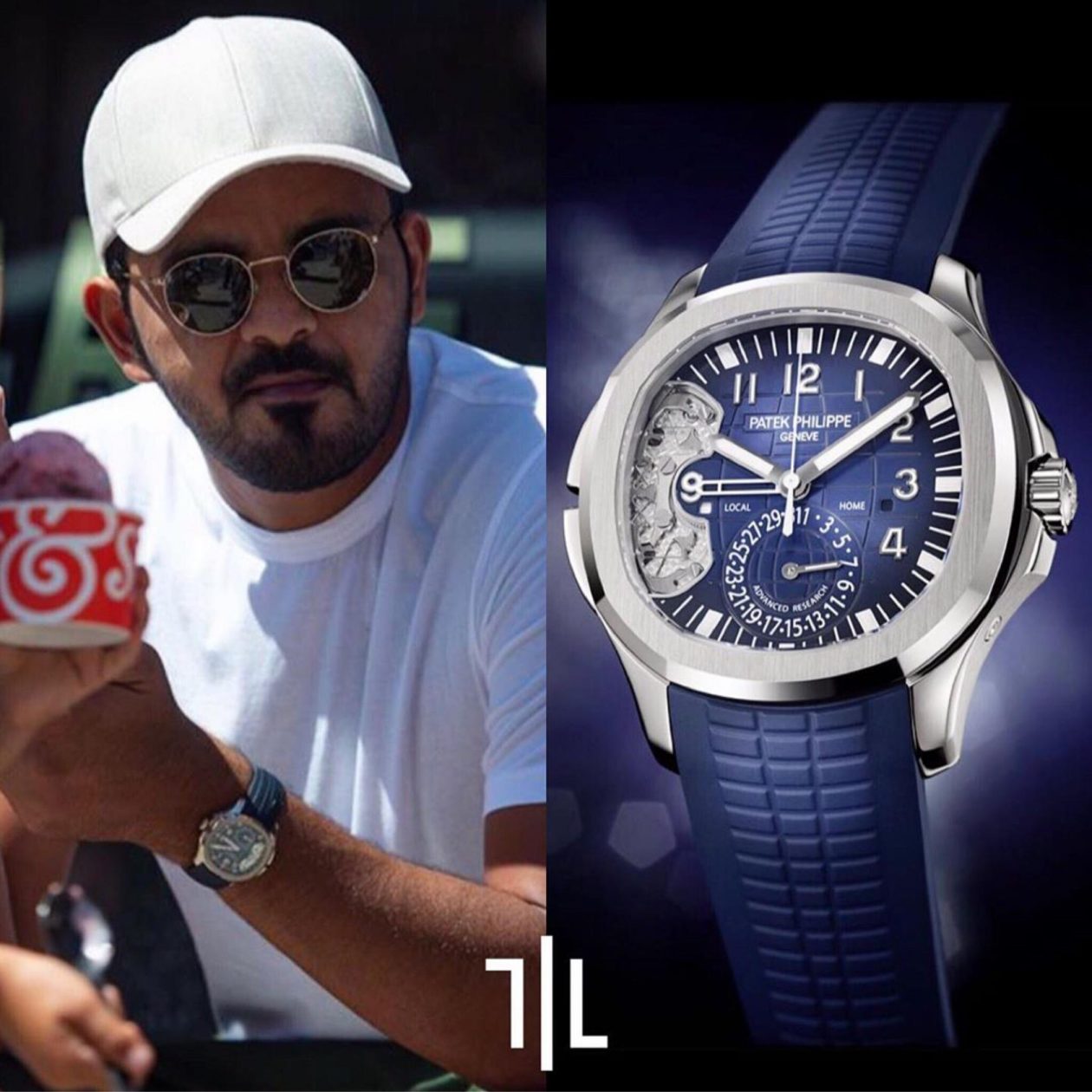 ---
Richard Mille RM 27-03
Another timepiece on Joaan's wrist is absolutely unique. And it's not only because of the red-yellow colors. Richard Mille RM 27-03, which is a continuation of ultra-light carbon fiber TPT (Thin Ply Technologies) watches made for tennis player Rafael Nadal. This model has, among others a tourbillon and a shock resistance which was literally tested with a 10,000G hammer pendulum – where G stands for gravitational force equivalent. The price of this watch is USD 725.000.
---
Richard Mille RM 27-01
However, Joaan decided to acquire the originator of the above watch as well. RM 27-01 was the first ultra-light, shockproof model, released in 2013 for Rafael Nadal. The watch with its entire mechanism weighs about 3 grams, has a tourbillon and can withstand up to 5,000G of "shock". Buying it at launch would cost you around USD 820,000.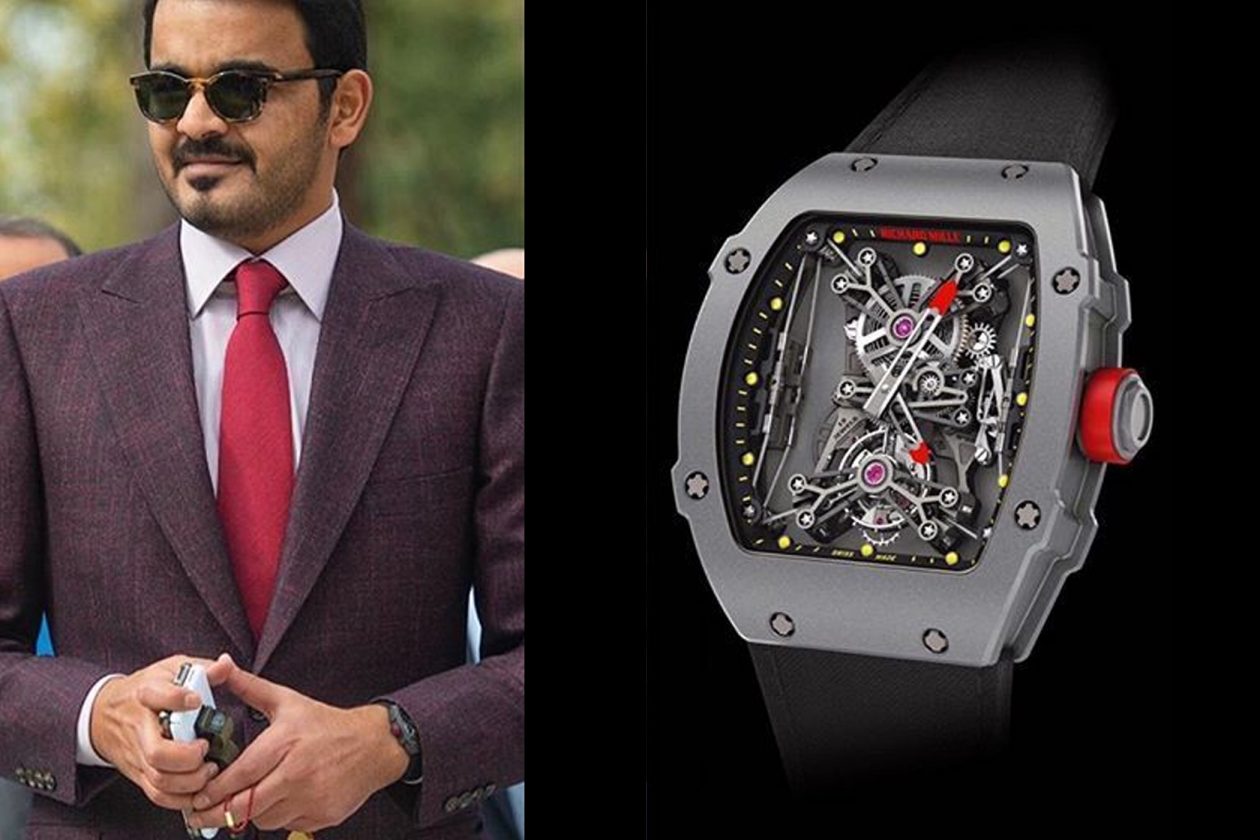 ---
Richard Mille RM 52-03
Time for Khalifa, Joaan's brother and again the brand that the brothers seem to be very fond of – very rare Richard Mille RM 52-03. Released in collaboration with the French football club Paris Saint Germain, a tourbillon with the avant-garde Eiffel Tower on the dial. This watch is said to be extremely rare. Only 10 pieces of this model were released with the price of USD 940,000.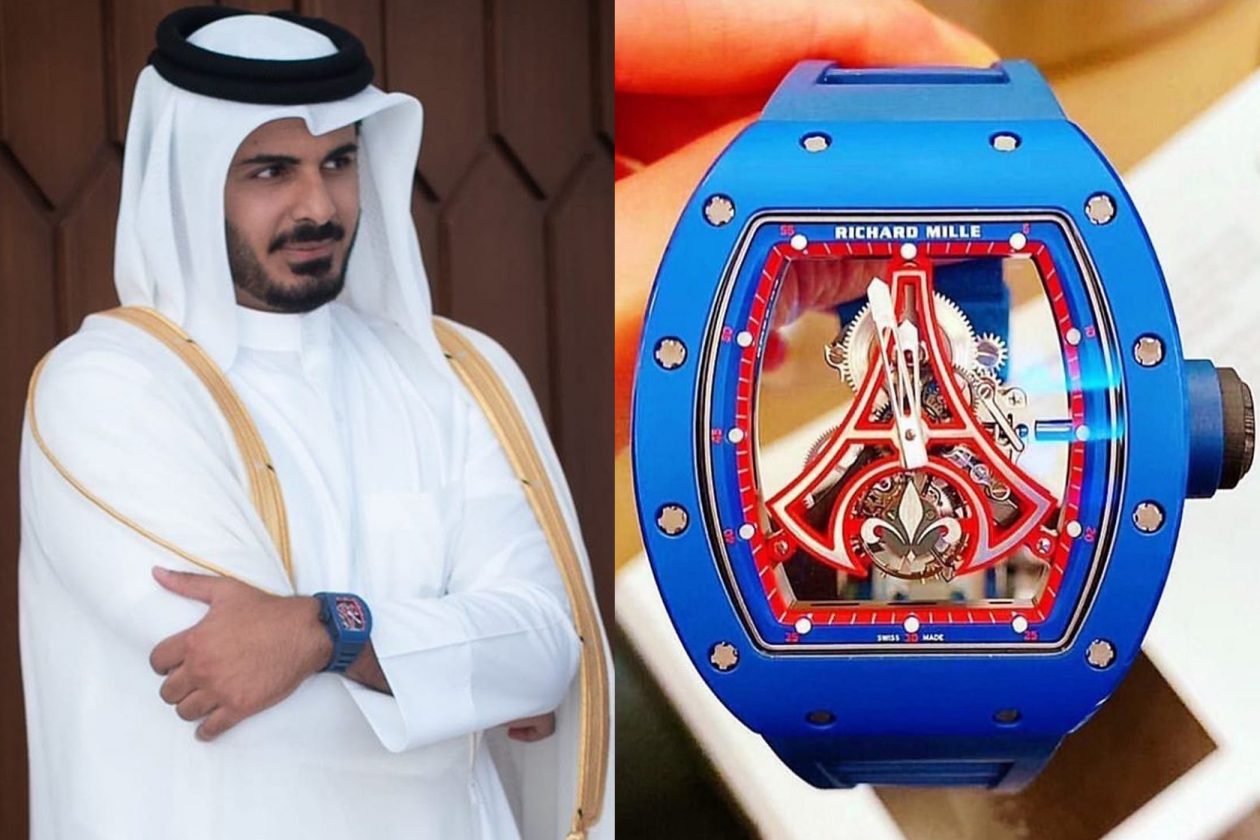 ---
Richard Mille RM 25-01
We don't know how often, being the Prince of Qatar, you are experiencing the call of adventure and craving to set up a lonely journey into the unknown, but you can certainly feel a substitute of the that wearing Richard Mille's model RM 25-01 like Joaan in the picture below. The watch created in collaboration with Sylvester Stallone, is over 50 mm diameter powerhouse with tourbillon, a detachable compass, a spirit level for more accurate position readings and a special chamber containing up to five water purifying tablets. For this undoubted guarantee of survival in all conditions we are asked to pay 983.000 USD, but there's of course no way one can put a price on survival and field safety.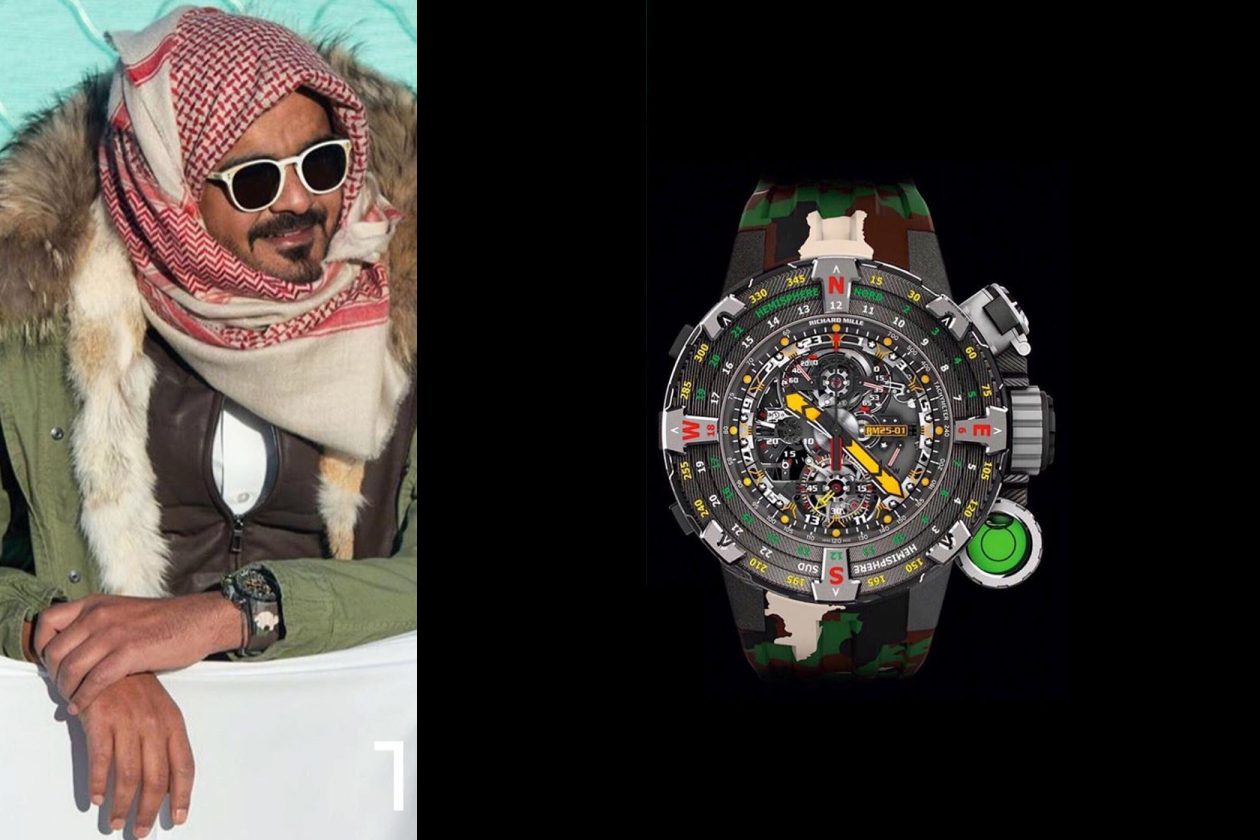 ---
Richard Mille RM 50-02
Khalifa is also an admirer of these more twisted models of Richard Mille. In the example below, we see the RM 50-02. Co-created with the airplane giant – Airbus, tourbillon with split seconds chronograph, which futuristic appearance refers to specific aviation elements. This watch is limited to 30 pieces and its price is outstanding USD 1,050,000.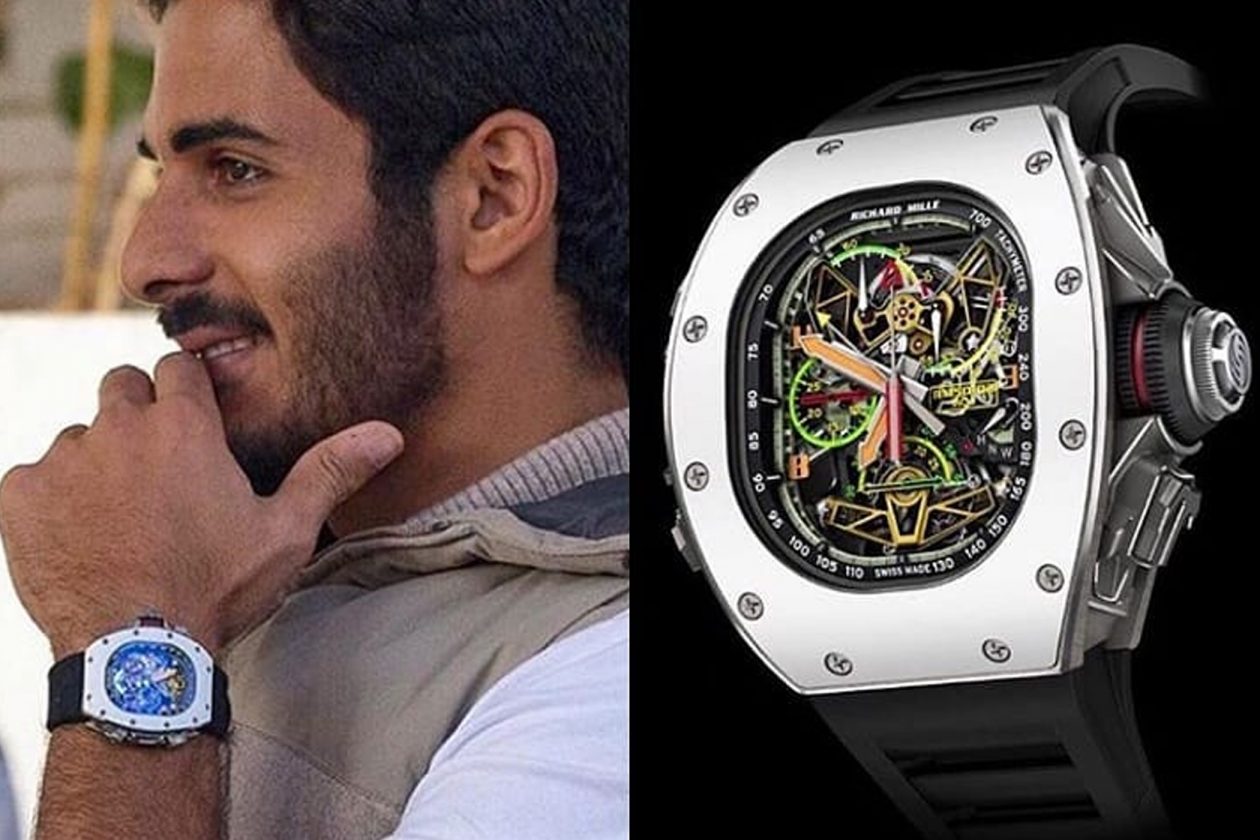 ---
Richard Mille RM 11-03 Jean Todt
We can't say that brothers, because of their assets, always choose only the most expensive models and that's their entire philosophy. Oh no. An example would be Khalifa and this rather modest (modest for Richard Mille) RM 11-03 Jean Todt. Chronograph with a 55-hour power reserve, issued on the occasion of the 50th anniversary of Jean Todt's entry into motorsport field. Quite affordable, because despite the 150 copies limit, its price is 140,000 USD.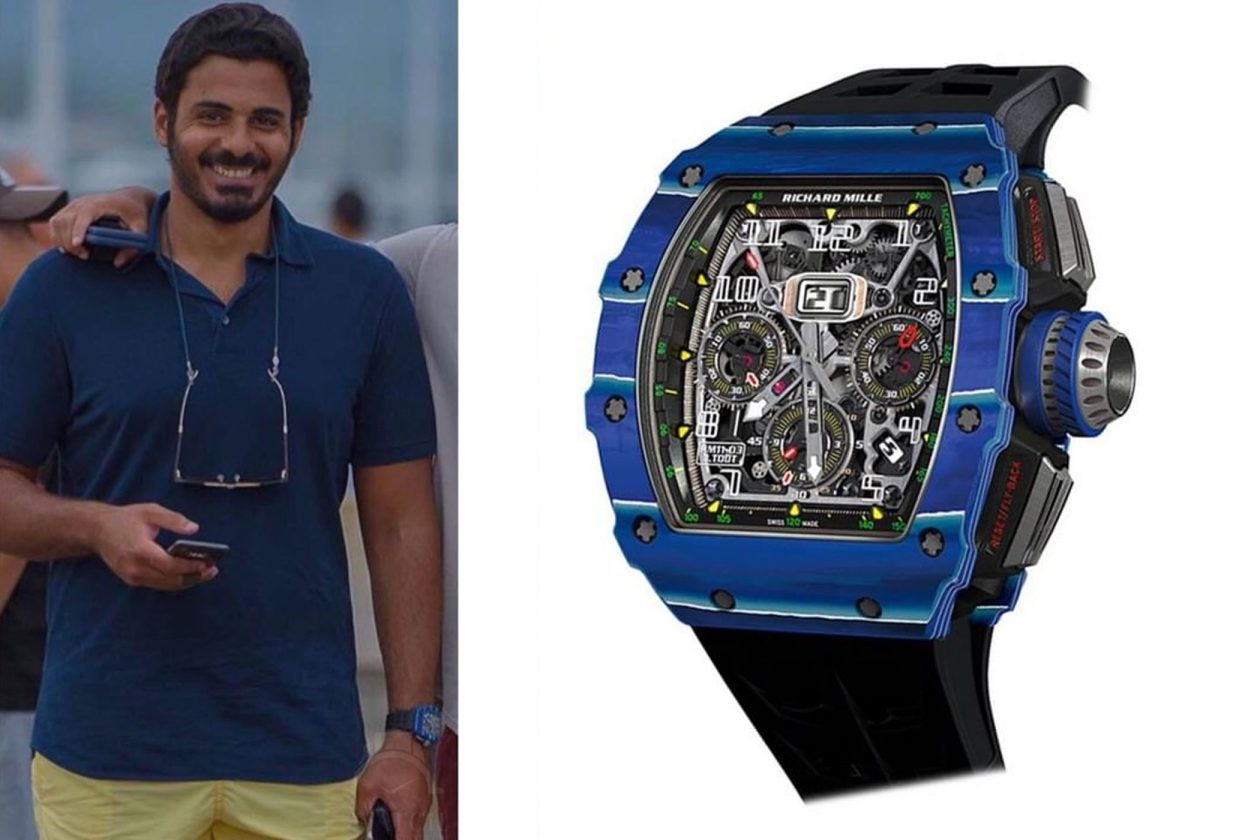 ---
Richard Mille RM 52-04 Skull Blue Sapphire
The watches we are going to present now are the absolute top shelf on every level. First, one of the rarest mass-produced timers in the world. Only 3 pieces created. Richard Mille RM 52-04 Skull Blue Sapphire. This tourbillon hidden behind the pirate skull, wrapped in a case of specially hardened blue sapphire glass. However, its price is spectacular because the three lucky owners had to pay around USD 2,000,000 to get it.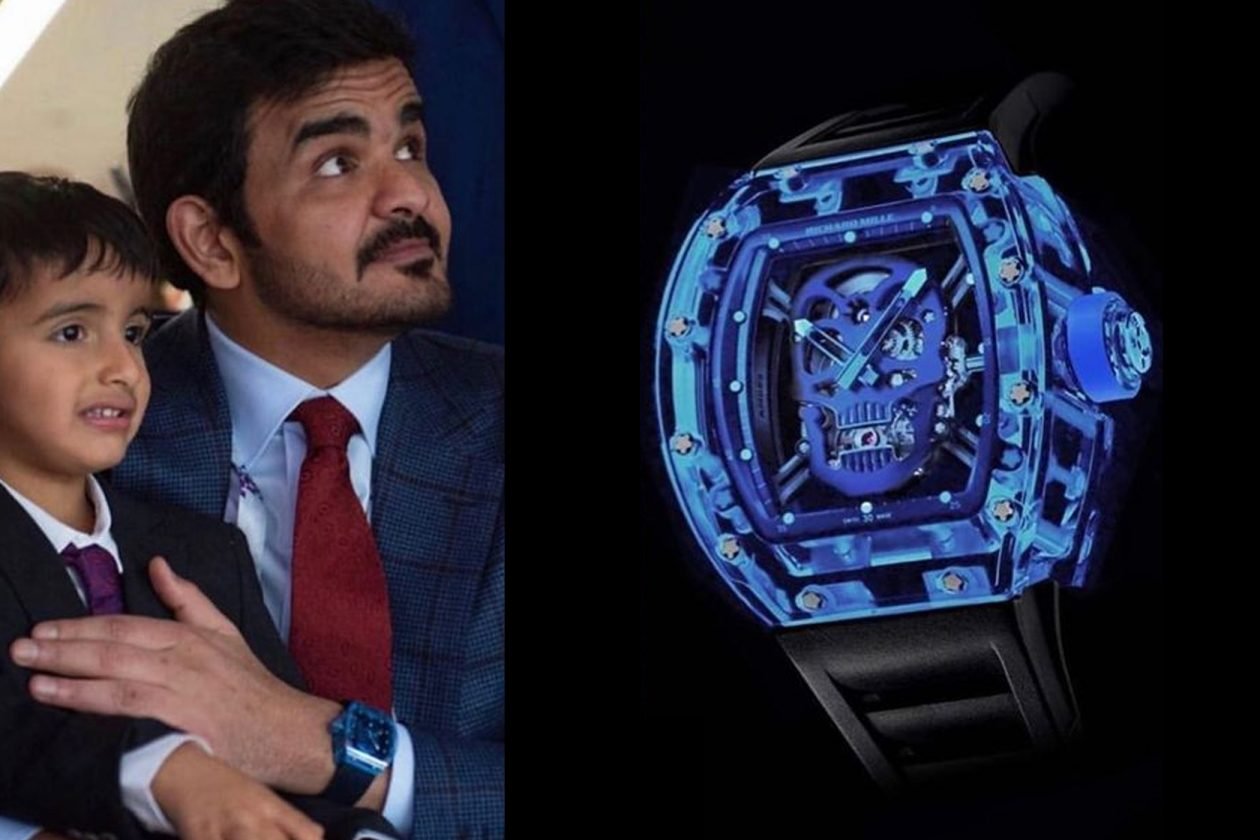 ---
Richard Mille RM 56-02
Another sapphire monster on Joaan's wrist is even more expensive than the one above, RM 56-02. Limited to 10 pieces, takes 40 days to make just the case alone and then 400 hours to finish the components of the mechanism. Costs around USD 2,020,000, and as you can see below, it is pretty good for a classic suit.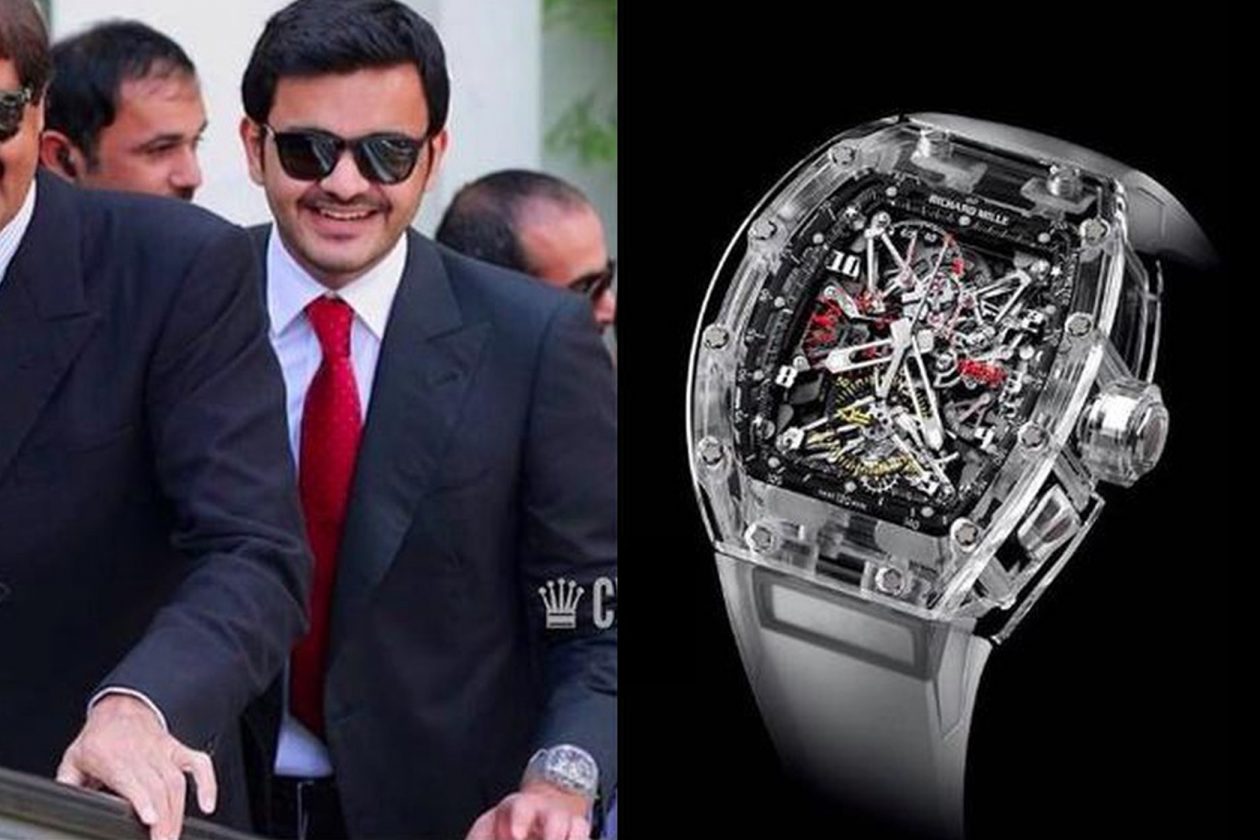 ---
Patek Philippe 6002G Sky Moon Tourbillon
The last watch in our set is not another Richard Mille. This time it's Joaan with his spectacular Patek 6002G Sky Moon Tourbillon. It's an embodiment of the Grand Complication line, 12 complications, unique hand-engraved case with floral motifs, a two-face dial and among others tourbillon and minute repeater. The cost and the sole process of obtaining this masterpiece are equally complicated. The starting price exceeds USD 2,000,000, but with these flagship models, money alone is not enough, because Patek also looks at the collector's overall relationship with the brand. Although, as we have already seen, Al Thani brothers probably didn't need to beg for one.