Timebloid

TOP 9 most expensive watches in history

We're presenting a set of very unusual timepieces. So unique that if you combine their value together it will be more than GDP of Kiribati archipelagos or, if you prefer comparisons in more aerial fashion, more than one Boeing Dreamliner. Here are top 9 most expensive watches in the world where each costs more than 10 mln USD.

Let's be honest, being into watches is not the cheapest and the most widely understood hobby. Average Joe will perceive it as nothing more but fancy form of snobbery. And prices are that element of the hobby that evoke the biggest emotional reaction and encourage discussions about the future of watches and habits of their buyers. Unstoppable demand for the most popular watches like Patek Nautilus in steel or AP Royal Oak makes them unobtainable for boutique price and forces one to wait many years stuck on the waiting list. One could think that this means that the price is still far from breaking point that could temper that madness. The following ranking is somehow a confirmation of that. If you happen to have a desire for the most unique pieces – doesn't matter if it's auction or retail – you have to prepare for some absurd amounts of cash to be spent. Is it worth it? You be the judge.
9. Patek Philippe ref. 1518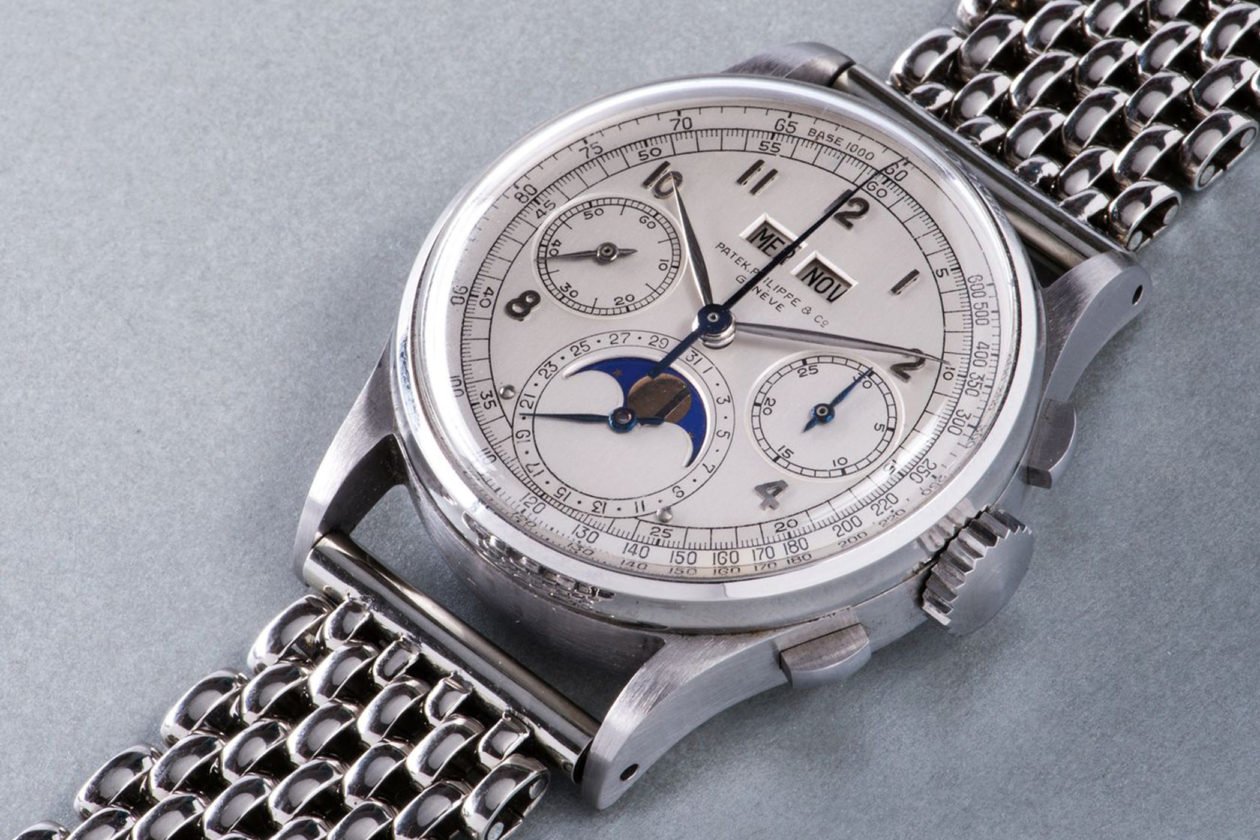 Our chart opens up with Patek Philippe ref 1518 sold on Phillips auction in Geneva for more than 11 mln USD in 2016. It's one of the four known models with the same reference that have been produced in steel since 1941. Being the first wristwatch with chronograph plus perpetual calendar combo at the time. The following watch comes from 1943 and back then it was sold for 2 265 USD which today would give us something around 38 000 USD. Still, just a small portion of the price you would have to pay for Patek pieces like that today. There's some scarce info suggesting that there were 7 buyers battling to obtain the mentioned piece with the price finally landing that exorbitant price. There's not many charts where "the cheapest" item on the list costs 11 mln USD but you just happen to read one, so shall we continue?
8. Rolex Daytona ref. 6239 "Paul Newman"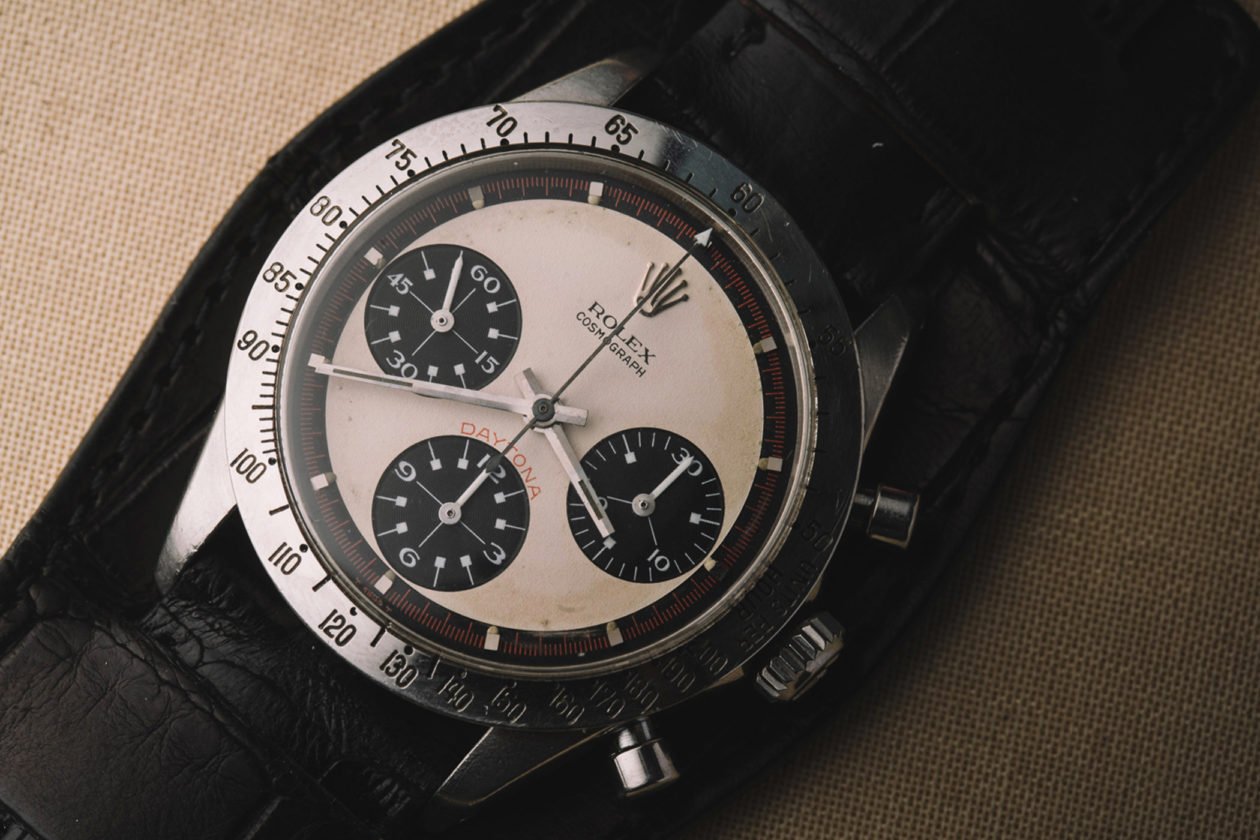 Another watch places us 6 mln USD higher on the list. That's the price Paul Newman's Rolex Daytona ref. 6239 was sold for in New York. The exact value of the watch was stated slightly above 17,7 mln USD making it the second most expensive wristwatch ever sold on auction. Because Newman was really fond of Rolex sporty chronographs, the name "Paul Newman's Daytona" sticks to few reference numbers which all happen to get good results while auctioned, but only the one sold for 17,7 mln USD was his own possession. The watch is made out of steel with "Drive Carefully Me" engraved on the back. It was a gift from Newman's wife – Joanne Woodward who in 1972 gave the watch to her husband the moment he started taking part in motor racing. The money acquired from selling the watch went directly to Nell Newman Foundation – charity organization lead by Newman's daughter, Nell.
7. Jacob & Co. Billionaire Watch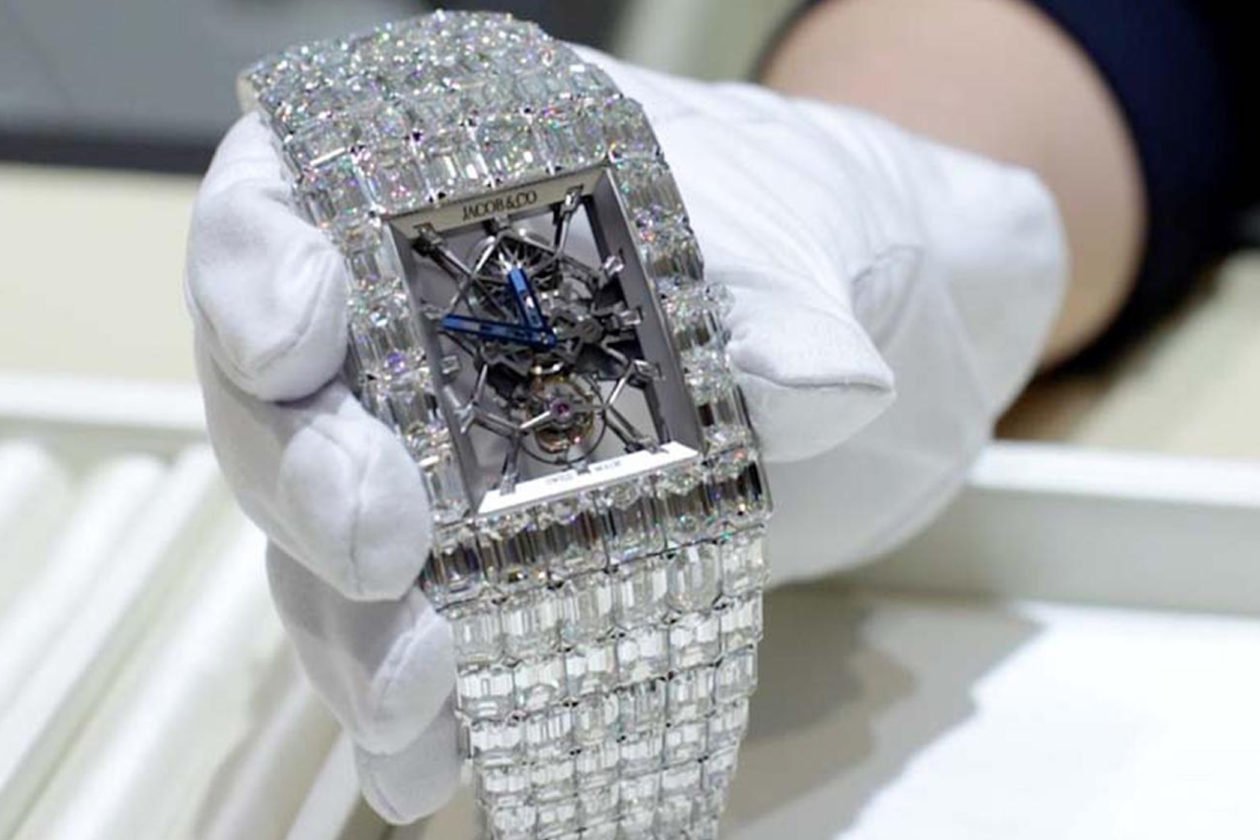 Our next entry is kind of a unprecedented manifest of absurd wealth. Eloquently named "Billionaire Watch" by Jacob & Co priced at 18 mln USD. Produced in only one piece, manually wound tourbillon enclosed in 260 carat diamond case / bracelet. The watch was created in collaboration with Formula 1 mogul Flavio Briatore and his "Billionaire Lifestyle" company. The watch was bought by Floyd Mayweather, king of KO and the person who is definitely not praised for his modesty bur rather extravagant lifestyle. You can check Mayweather's Instagram to instantly know how practical the watch happens to be – he's wearing the watch to various events.
6. Patek Philippe Supercomplication "Henry Graves"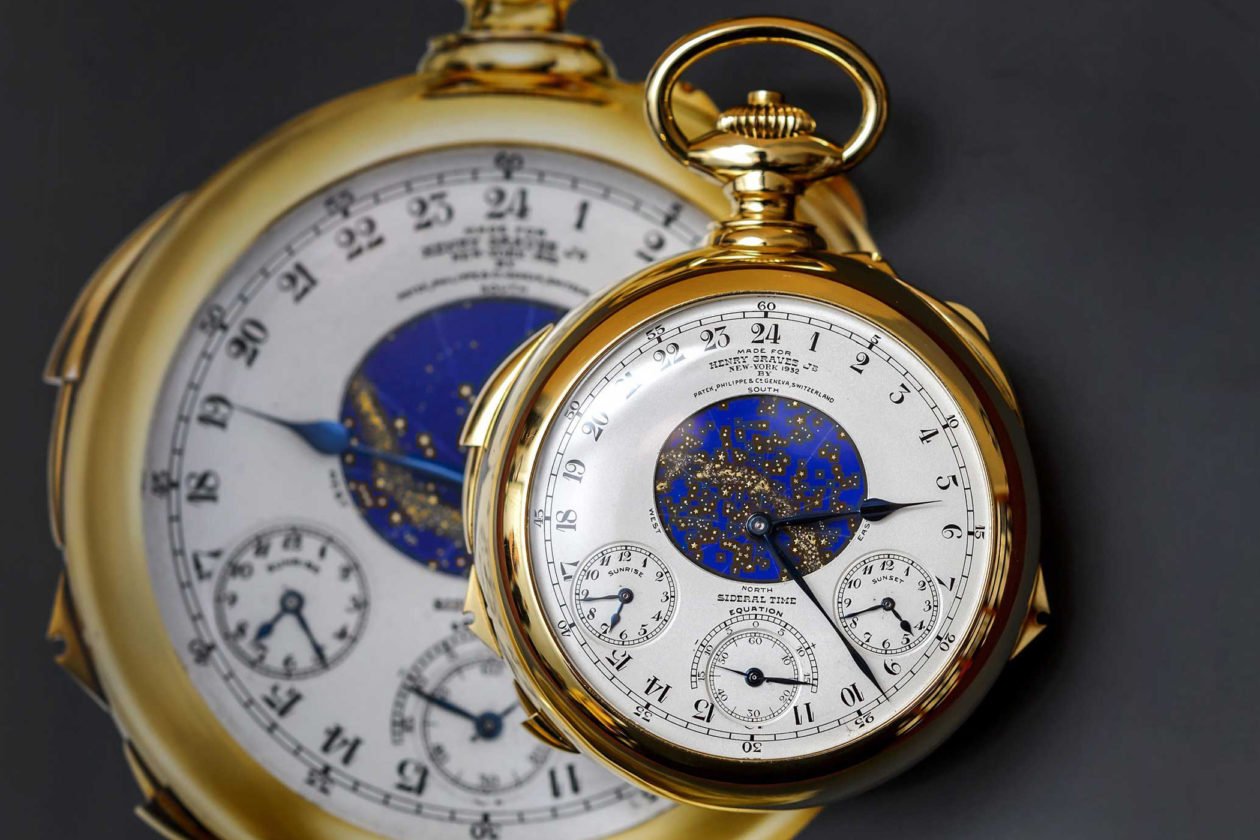 With another entry we immediately jump to amounts exceeding 20 mln USD and presenting the most expensive pocket watch that ever found buyer through auctioning. We are talking about so called "Supercomplication" from Patek which on 2014 at Sotheby's Geneva's auction reached a price of 23,9 mln USD. The watch was made in 1933 as a special request from banker Henry Graves who in the beginnings of XX century was battling an unofficial collectors war with American entrepreneur J.W. Packard who was constantly buying all the quirky watches at the time. We should also focus on the fact that the process of creating this 920 parts watch took 8 years and to this day it's one of the most complicated watches Patek Phillipe ever made.
5. Chopard "201 Carat Watch"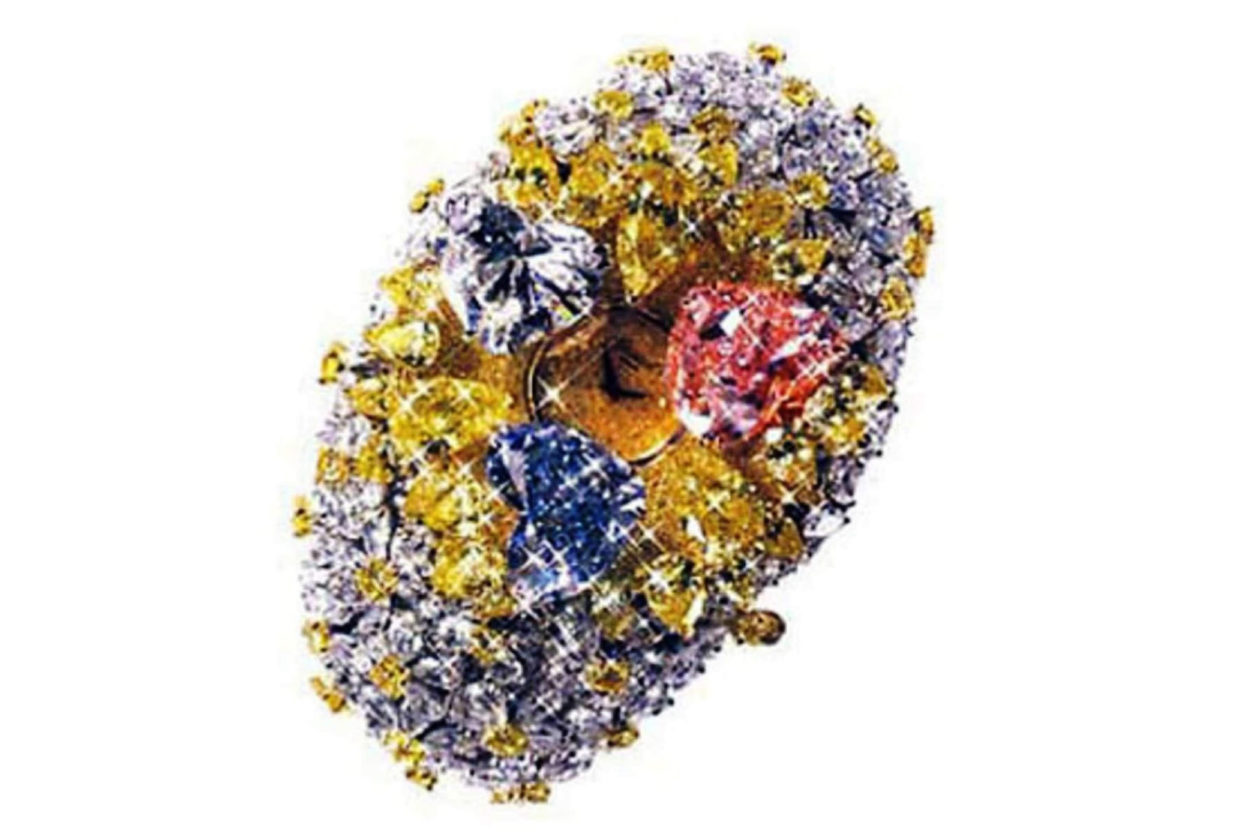 Slightly more expensive, priced at 25 mln USD is the Chopard's "201 Carat Watch". The crazy high price comes from 874 highest grade, colorful diamonds being part of the watch. The most prominent are the ones in the very center – 15 carat pink diamond, 12 carat blue, and 11 carat transparent diamond – all heart shaped. The rest of the watch is a dazzling set of regularly shaped, mosaically placed 26 yellow diamond forming a pear shape which combined weight estimates around 17 carats. There's some nice technical gimmick as well. The spring mechanism moves the mentioned heart shaped diamonds aside to reveal the proper watch face.
4. Breguet No. 160 Grande Complication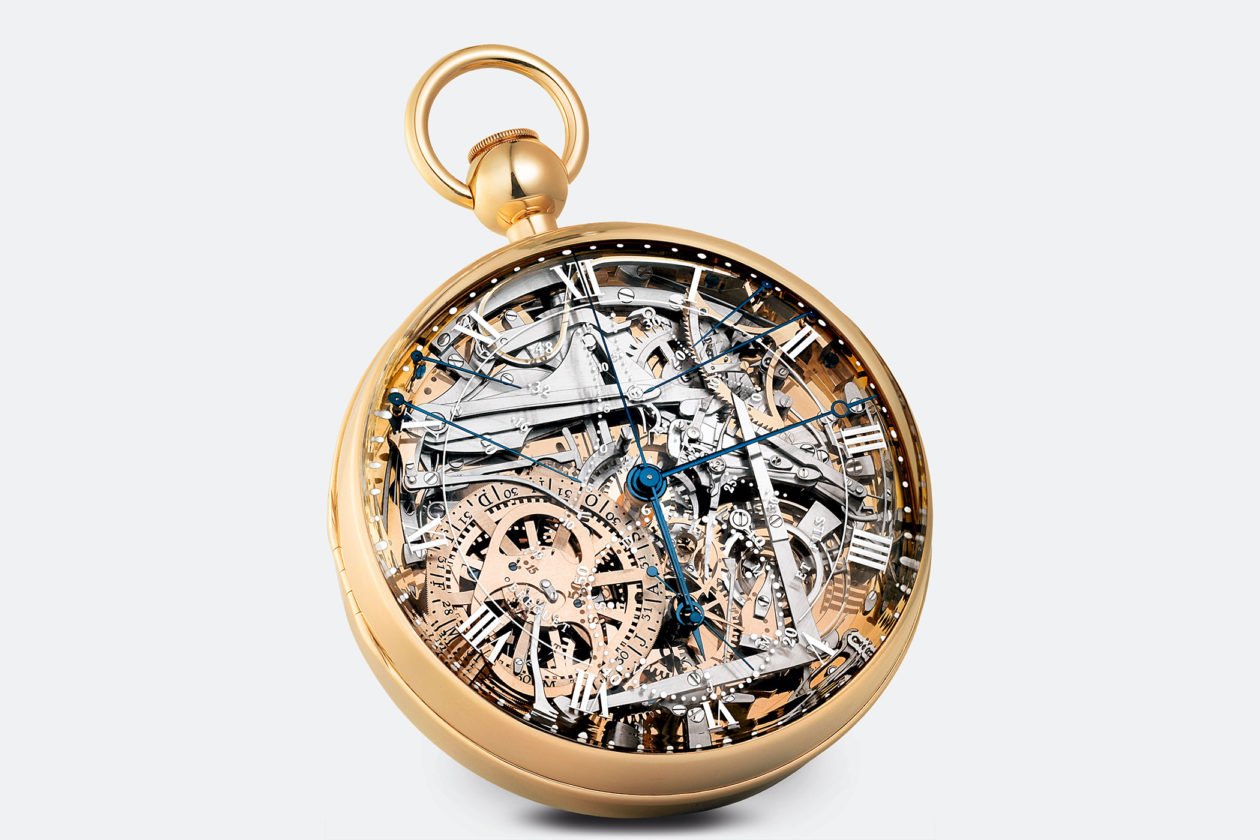 Another watch presented in our chart happens to be connected to some of the most troubled background story. Breguet no. 160 Grande Complication often called just by the name of Marie Antoinette was the token of love from count Hans Axel von Fersen to his French beloved. The watch which took almost 20 years to be made not only missed it's receivers wrist – Marie Antoinette died by the guillotine during French Revolution – but also was not finished by master Abraham Louise himself but rather by his son, four years after Breguet died. The timepiece aside from your standard watchmaker tweaks like minute repeater, chronograph or perpetual calendar also had a thermometer. Nevertheless, the fate of the watch is quite complicated itself. It was stolen in 1983 from Islamic Art Institute in Jerusalem, returned in 2007 where it stays to this day and there's also a faithful replica of the watch ordered in 2004 by Swatch Group CEO Nicolas Hayek – which remains in Breguet Museum. Official price of the watch estimates around 30 mln USD.
3. Patek Philippe Grandmaster Chime ref. 6300A-010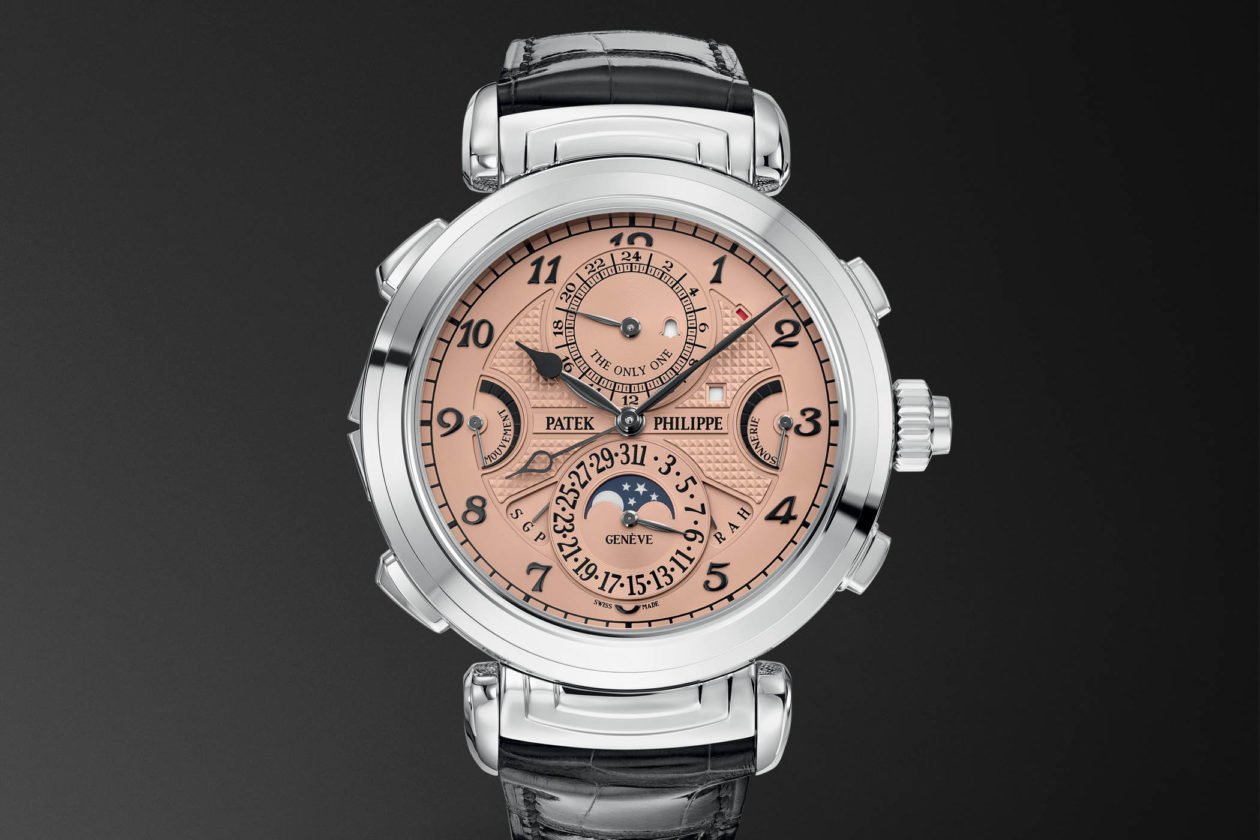 Our podium opens up with a fresh member of this exclusive gathering. Watch mentioned in every November issue of horology related magazine. Patek Phillippe Grandmaster Chime ref, 6300A-010 managed to score the price of 31 mln CHF during Only Watch auction in Geneva for the great cause of fighting Duchenne muscular dystrophy. Every year the total amount of collected money is getting bigger and the presence of a Patek brings always the big part of acquired amount. This two faced work of watchmaking art itself is bulked with 20 complications. For the auctioning needs the watch received unique steel casing, salmon-colored face and was engraved with the most exciting claim for any watch collector: "the only one".
2. Graff The Fascination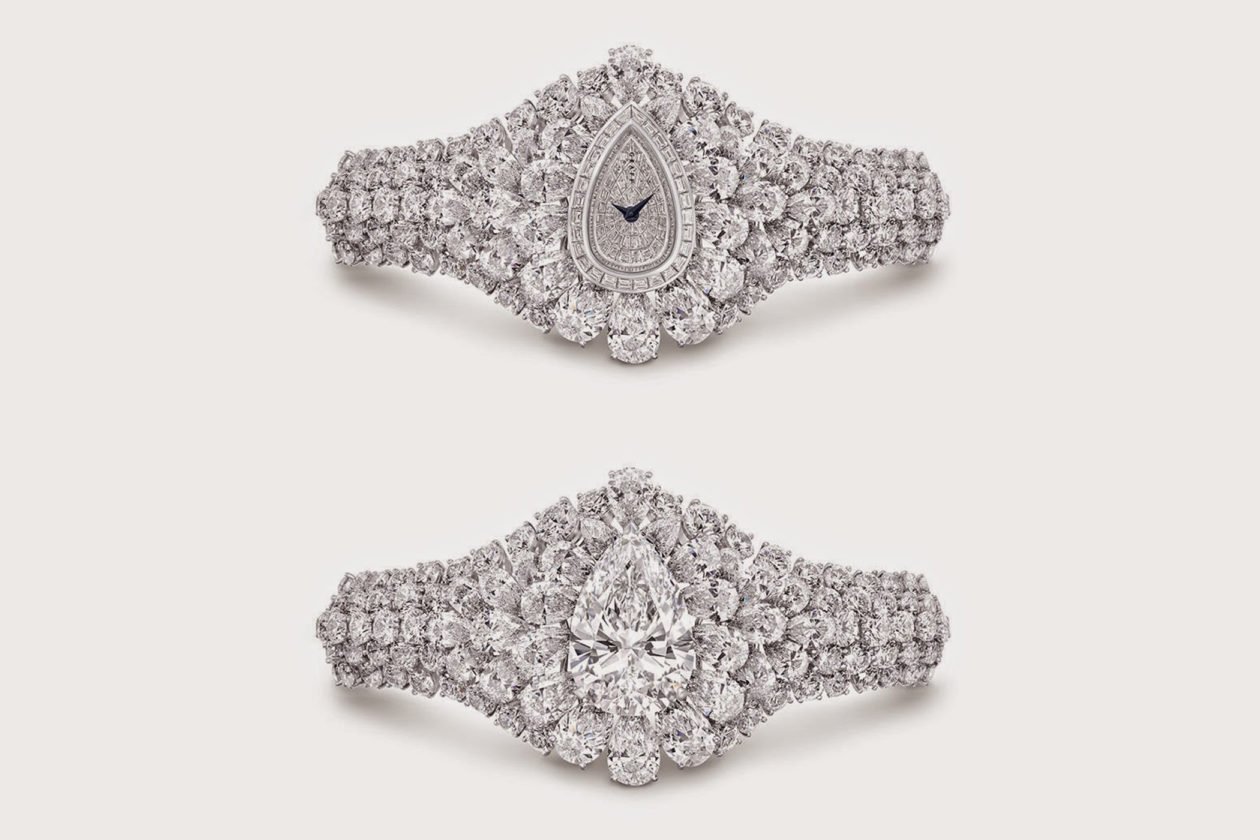 The last two spots of our not so humble chart is a haven for all the gem lovers rather than fans of traditional watchmaking. If you are willing to spend 40 mln USD for a top jewelry watch the Graff company got you covered. The Fascination is the name of this unique watch / bracelet. Weighing over 152 carats mixture of white diamonds with majestic 38 carat clear pear shaped diamond that you can cover the watch face with. When you decide to uncover the watch you can wear that majestic 38 carat diamond as a ring. Tough choice – wearing 40 mln USD on your wrist.
1. Graff Diamonds Hallucination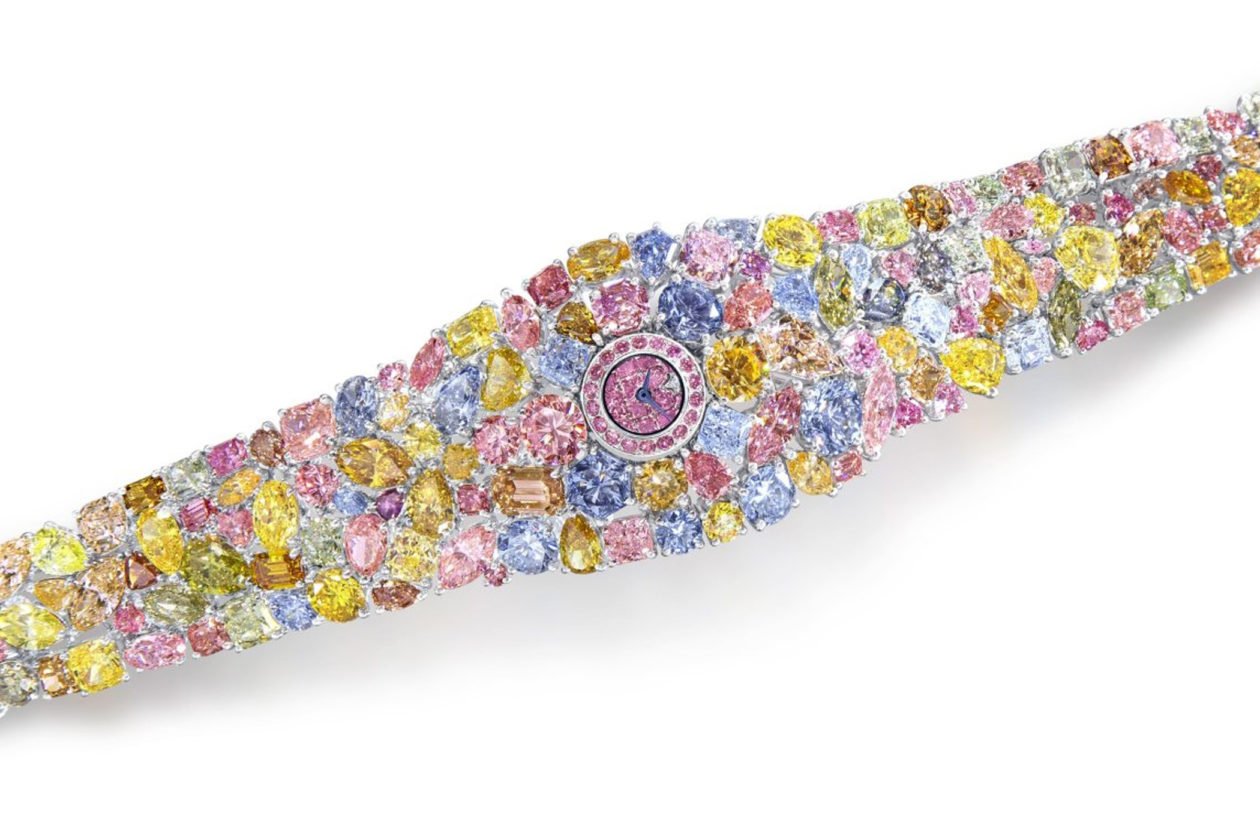 So here is is. Our number one. The most expensive watch in history of watchmaking. Worth more than any car ever sold on any auction. Graff Diamonds Hallucination, the top spot in our crazy spot was priced for 55 mln USD. Presented during Basel World trade fair in 2014 this watch is a ridiculous 110 carat combo of the most rare shapes and colors of diamonds ever existing. We cannot go full nerd about its features because ironically the heart is just "time only" with quartz mechanism. Advance complications were surely not a reason for which it was made so if there's any buyer – the purchase decision will not be driven by the geeky aspects of watchmaking.