Timebloid

Women in (seemingly) male dominated world of watches.

We are looking today into definitely more beautiful side of watch possessing. Presenting the most famous women whose watch collections might truly give you a headache. Confirming the fact that the members of the fair sex also truly appreciate the value of watchmaking mastery.

We have to agree that the subject of haute horology targeted to women was for the long time treated as the second priority. Looking through the history of exclusive pieces it's very hard to find any watch clearly addressed towards ladies. Even the bulletins released yearly by the brands usually included women's watches at the very end of the catalog – behind those targeted to men. Female oriented watches were very often perceived as a typical jewelry piece, flashy accessory, not the technical perfection combined with advanced mechanism. Not many of you know that it is women who we probably should thank for putting the watch on the wrist. Among the very first wristwatches were Breguet's creation for Lady Bonaparte – Murat from the early XIX century or Patek's piece made for Hungarian Countess Koscowicz from 1868 both of them starting the new chapter in the practical watch carrying.

Yet, there's a revolution happening as we speak. During the last few years we can observe more and more watch companies learning the importance of women clientele, who appreciate not only the looks but also the technical capabilities of the timepiece.

Recently we are experiencing a tidal wave of complicated, women-focused models like for example MB&F Flying T with flying tourbillon, astronomical complications in Van Cleef & Arples watches or advanced automatons from Jaquet Droz or Christophe Claret.However, what you can see from the list below, women collectors are not only focused on women's watches. Today we gathered the group of the most recognizable female individuals, who in their possession have some of the most premium timepieces from every respected line & brand. We present you the most spectacular timepieces spotted on female wrists.
---
Kylie Jenner
First we'll present a person who's personal wealth could fulfill anyone's collector cravings. Kylie Jenner is the youngest billionaire in history, recently got ahead of Facebook's Mark Zuckerberg who held that title previously. She exceeded the fortune level of 1 billion dollars at the age of 21 after selling 51% of her Kylie Cosmetic's shares to the global cosmetic giant Coty Inc. for over 600 mln USD. Regarding watches, Jenner is not shunning the glamor. She's often choosing the watches fully factory-stacked diamonds from brands such as Patek or Audemars Piguet. Below examples are Patek Nautilus ref. 5719G which price oscillates around 450 000 USD.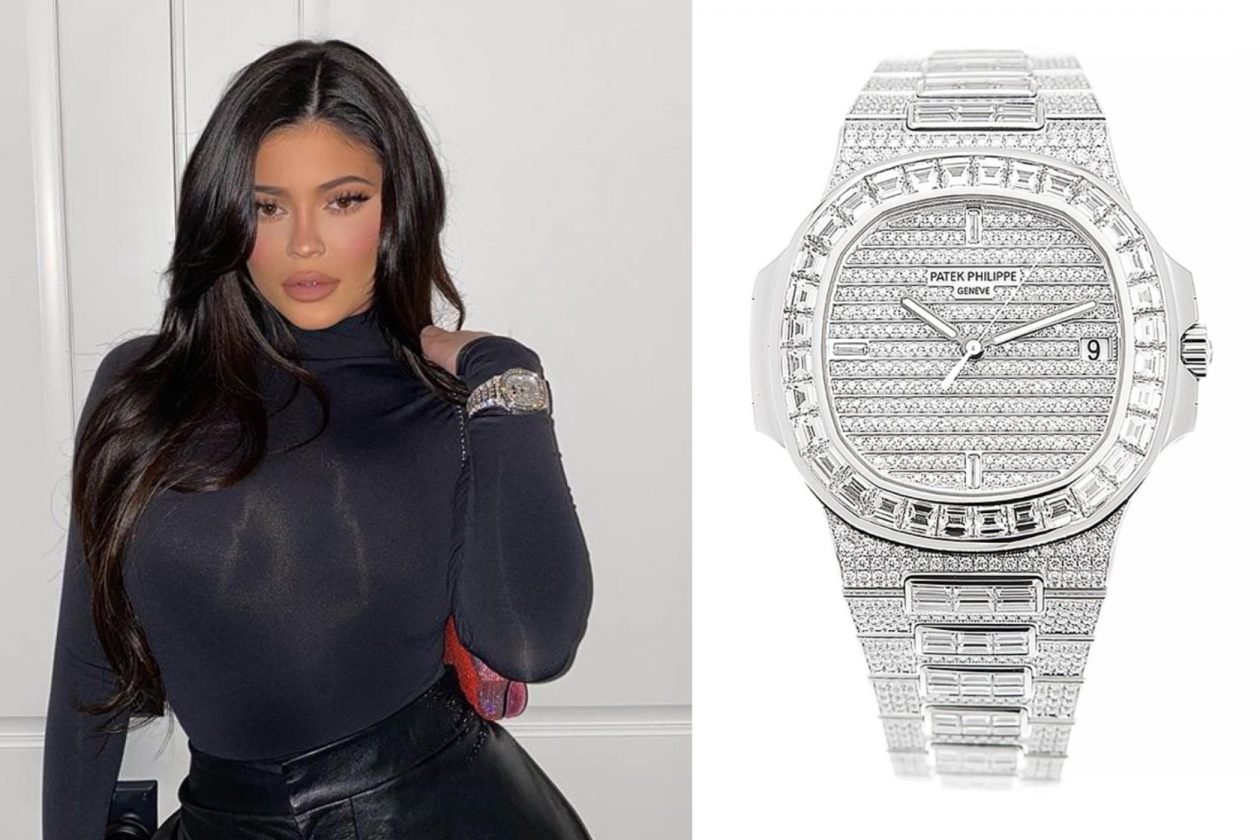 And AP Royal Oak model 15452BC.ZZ.1258BC.01 with the retail price of 140,000 USD.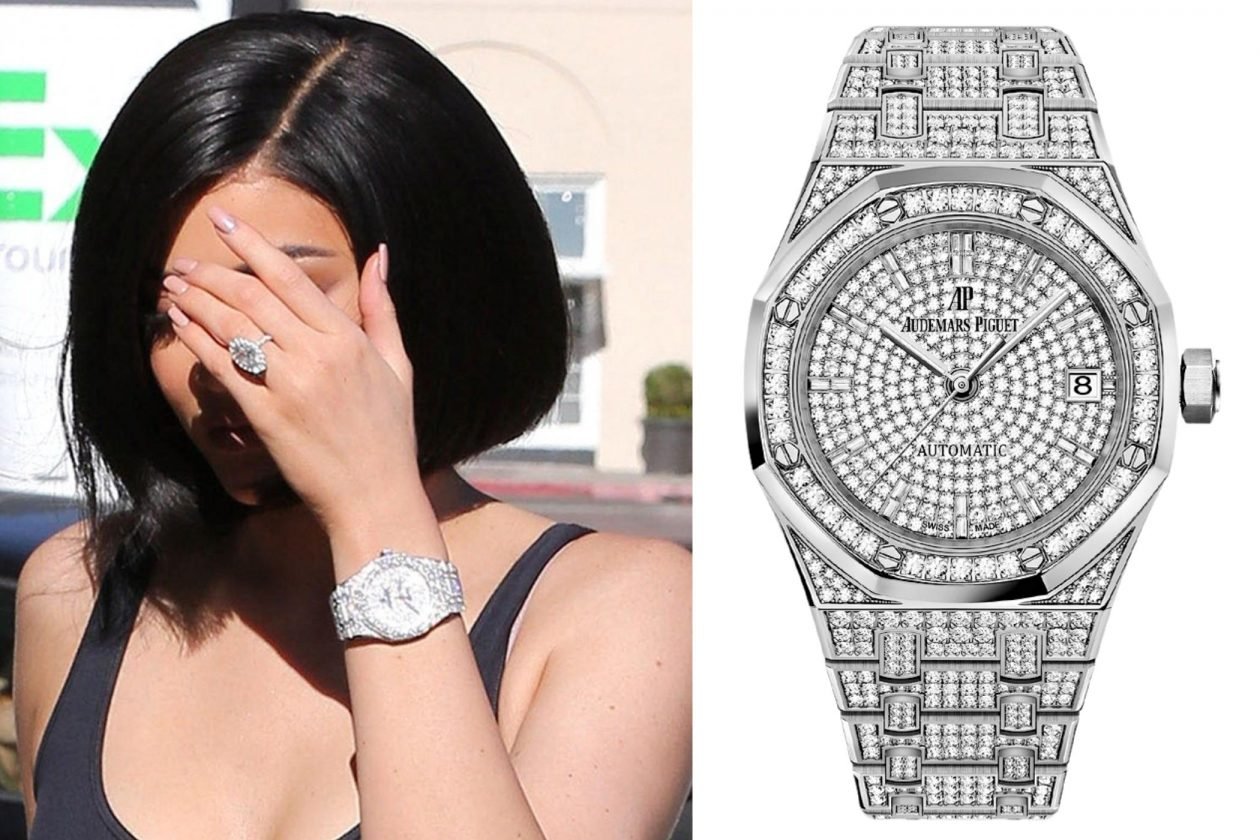 However, diamonds in watches are not the only thing tempting Kylie. She was also being spotted with more toned down models like AP Double Balance Wheel Openworked presented below.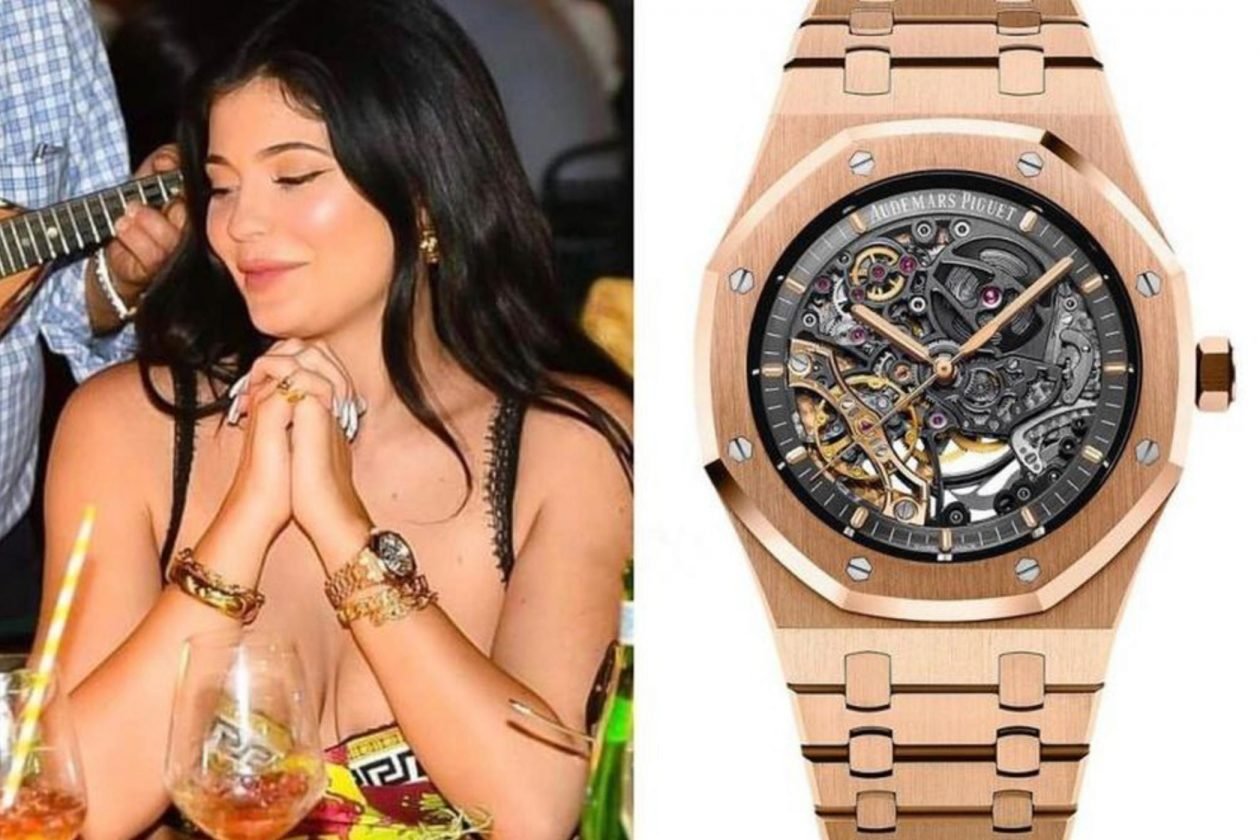 ---
Rihanna
The next celebrity to be examined is Rihanna. Highest tier artist with a taste for spectacular watches. Barbadian singer who aside from being one of the most streamed artists on Spotify, one of the most viewed artists on YouTube and an artist selling one of the highest amounts of LPs is also known for her unique taste and love for fashion. In 2017 she collaborated with LVMH under which she created her own fashion brand – Fenty. Being as productive as she is, there are many occasions on which she can enrich her styling wearing a nice timepiece. On the picture below we can see a caramel overall that perfectly matches Patek Nautilus ref 5980/1R-001 in pink gold.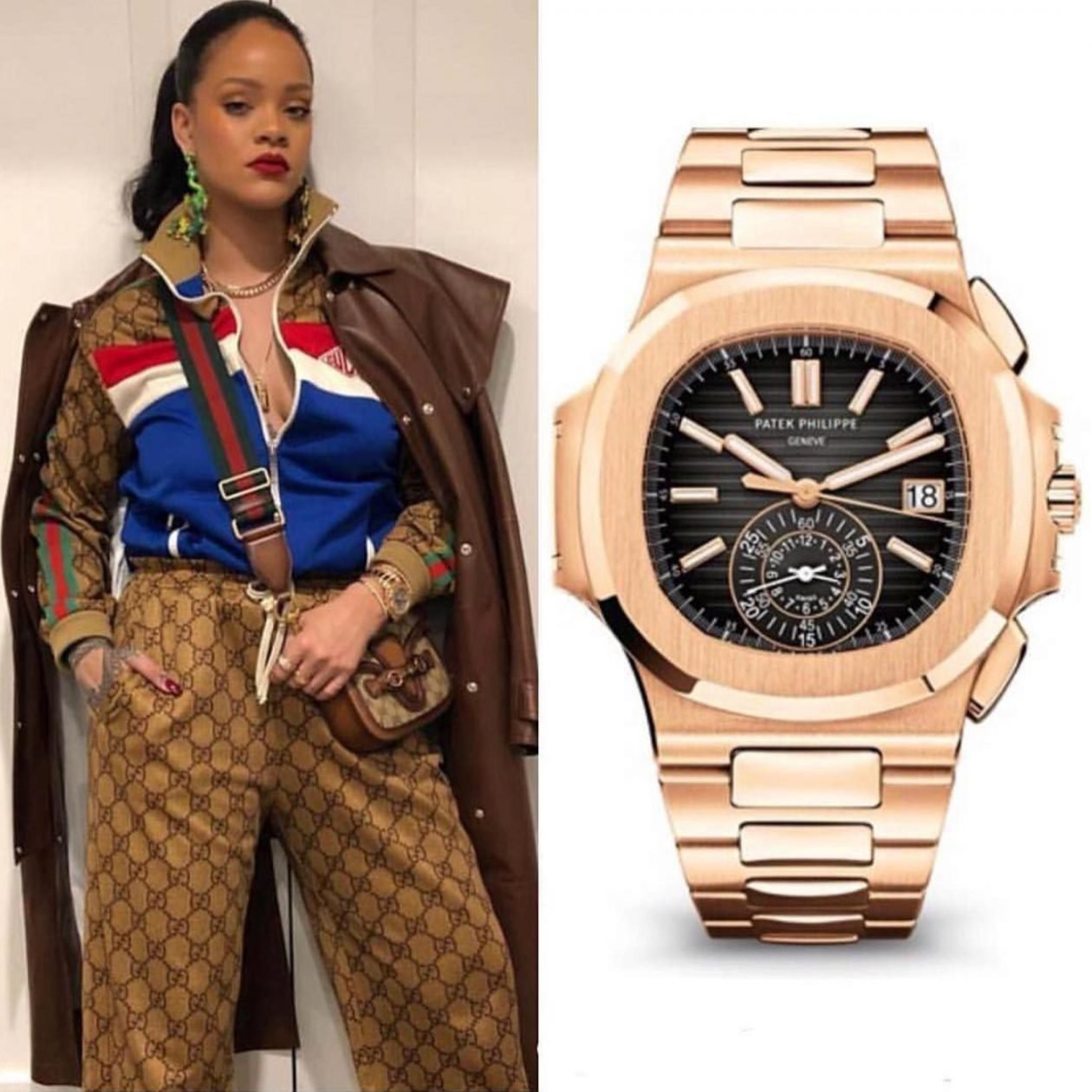 For the more elegant outfits, ones designed for the red carpet, the singer picks appropriately more flashy watches. Here we can see her attending the premiere held by her own brand – Fenty. Rihanna's wearing a Chopard Happy Sport Joaillerie with sixteen carat diamonds.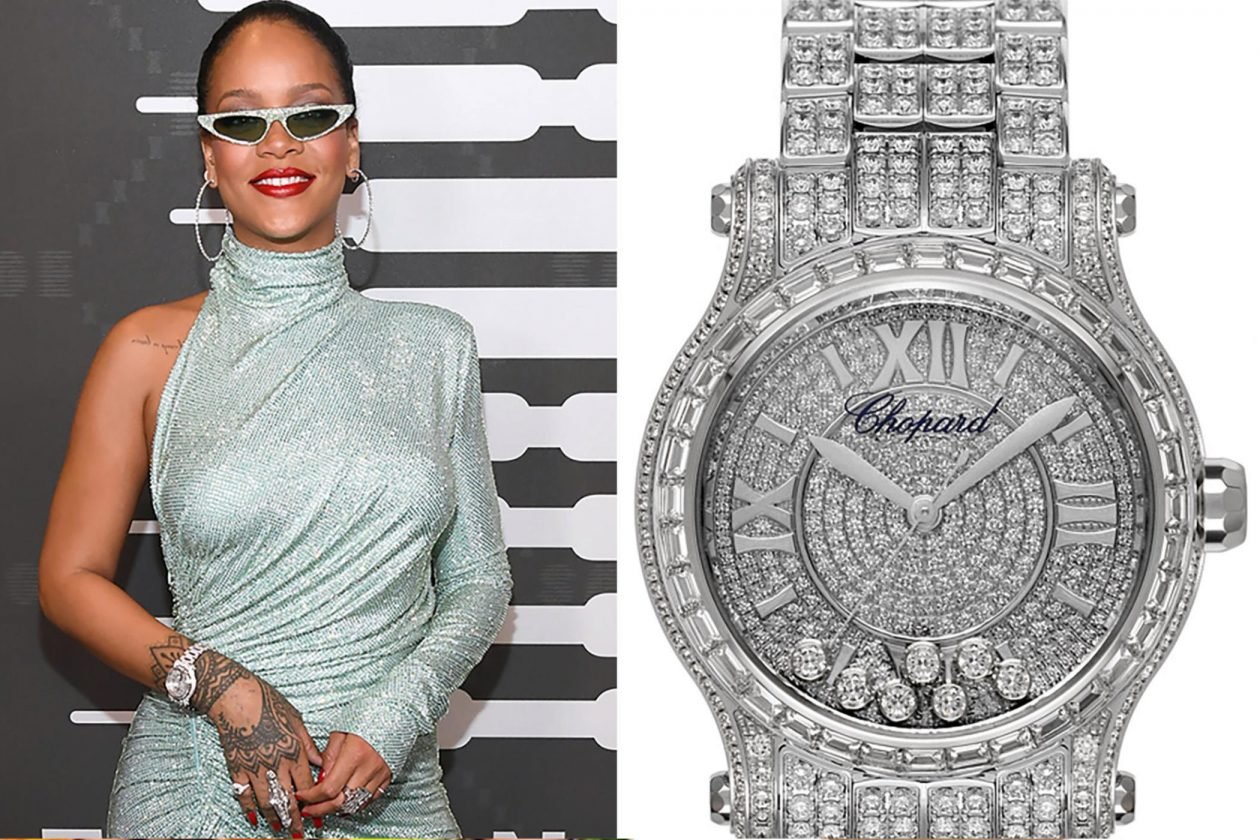 Rihanna is a big NBA fan and can often be spotted attending Lakers games. We have to agree that it's a more casual opportunity to express oneself. Her wrist still keeps the level though. Below, on her wrist we can see a two tone Rolex Datejust combining steel and yellow gold.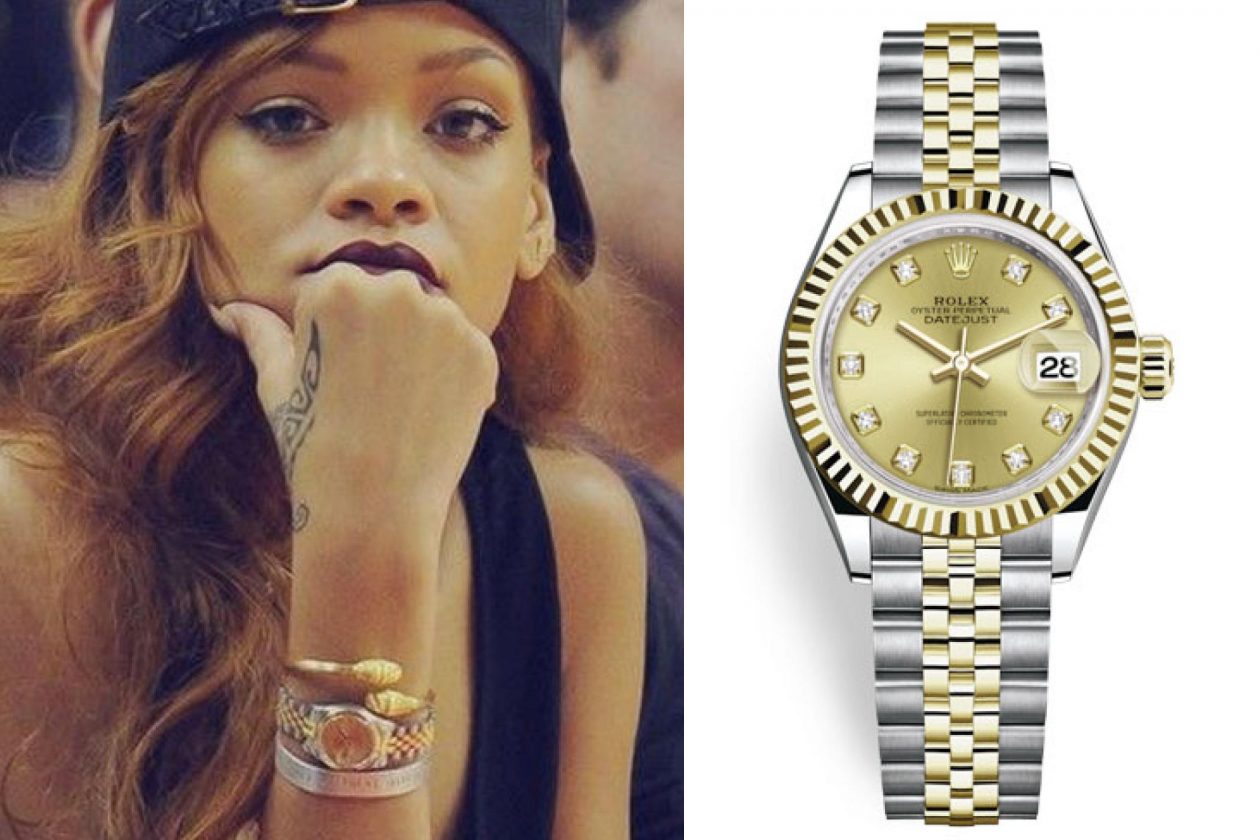 ---
Aya Kondo
Another member of our humble list is a persona from the very opposite side of public recognition. Aya Kondo is a Japanese watch collector about who the world would probably never know if not the mention in New York Times article about female watch collectors. Kondo, who's advanced watchmaking adventure started by acquiring Roger Dubuis' Golden Square Model, says that her fascination of technical aspects of a timepiece started after visiting Tokyo's watch exhibition during which few gentlemen commented on her – unusual for a woman – watch choice. Since then her watch collection grew to over 30 prestigious models, from which she's choosing few of them being the closest to her heart: Patek Philippe ref 5959P – which is more female oriented (33mm) version of the classic, platinum Grand Complication split-seconds chronograph, AP Royal Oak Jumbo Extra Thin with salmon dial and Tourbilon Souverain from F.P. Journe. It was the meeting with the creator of the last one, Francois Paul Journe, during which he showed Kondo the philosophy of "Invenit and Fecit" watchmaking process after which Aya's perception of a watch being just an accessory shifted and her passion for watches developed.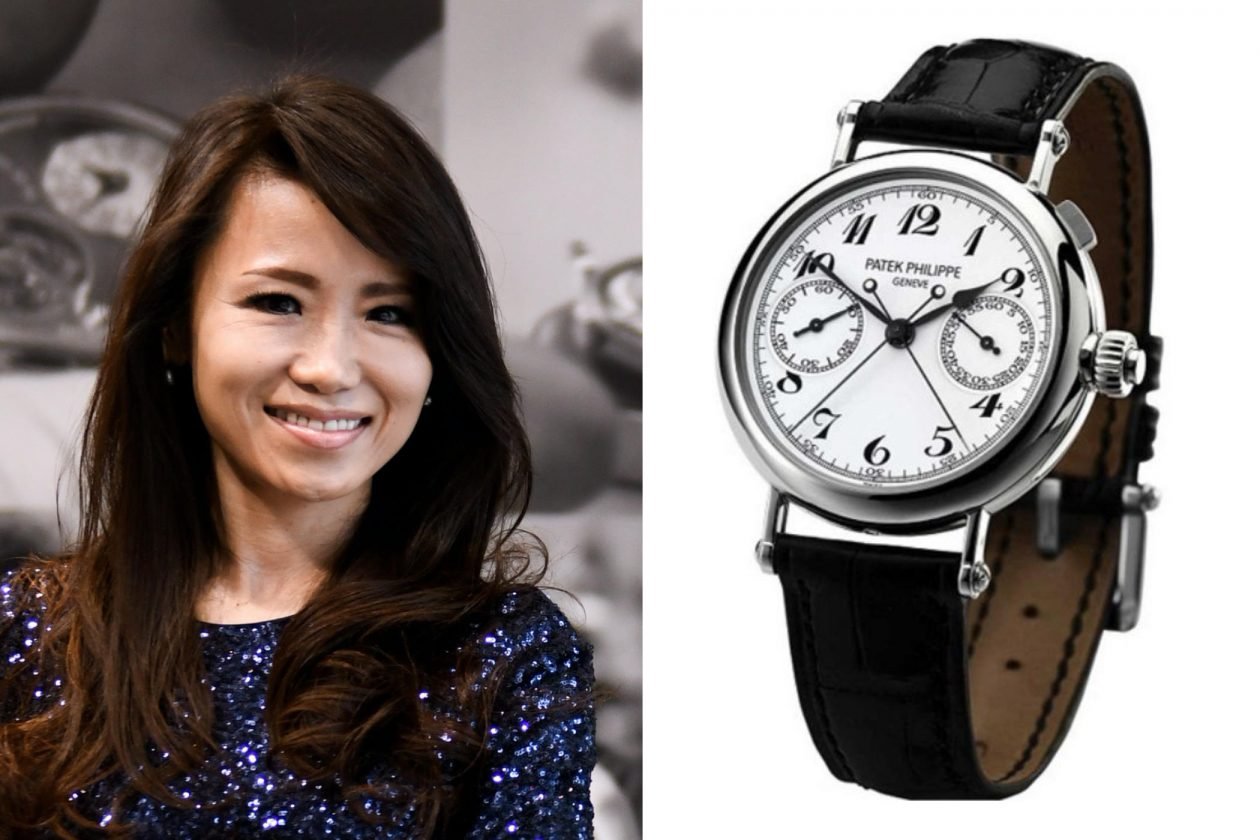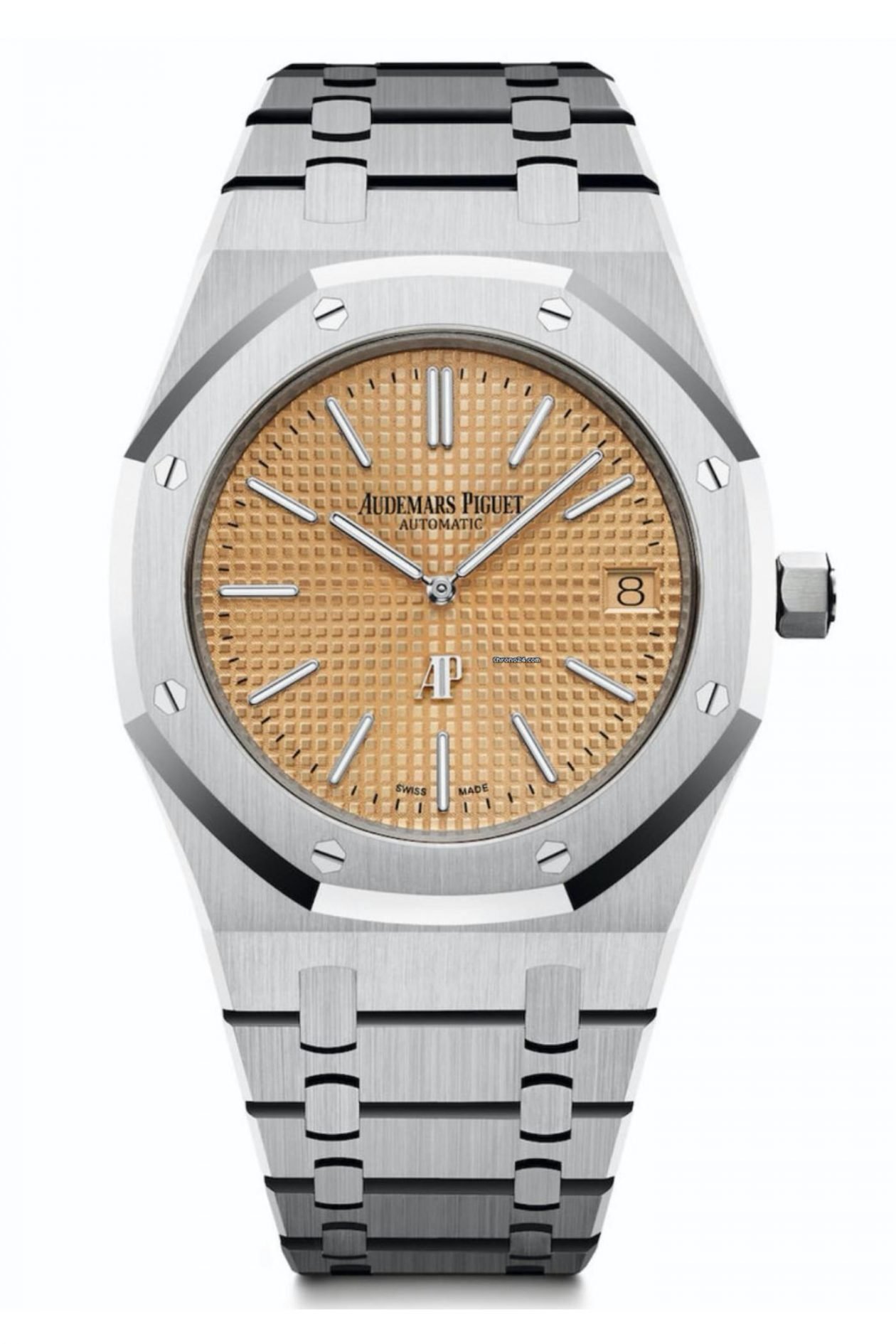 ---
Ellen DeGeneres
We've left probably the most spectacular women's watch collection in the World for the very end. Ellen DeGeneres, who's currently the host of the very popular "The Ellen DeGeneres Show", previously a screenwriter, comedian and actress is constantly showing herself in public with the absolute top models from Patek & Rolex, constantly surprising us with new additions to her enormous collection.
For Ellen every opportunity is good for maintaining the highest standard of her wrist. Presented below meeting with Olympic athlete Aly Raisman was also blessed with the presence of Patek ref. 5960/1A Chronograph. The very "sporty" character of the meeting demanded a sports watch. Simple as that.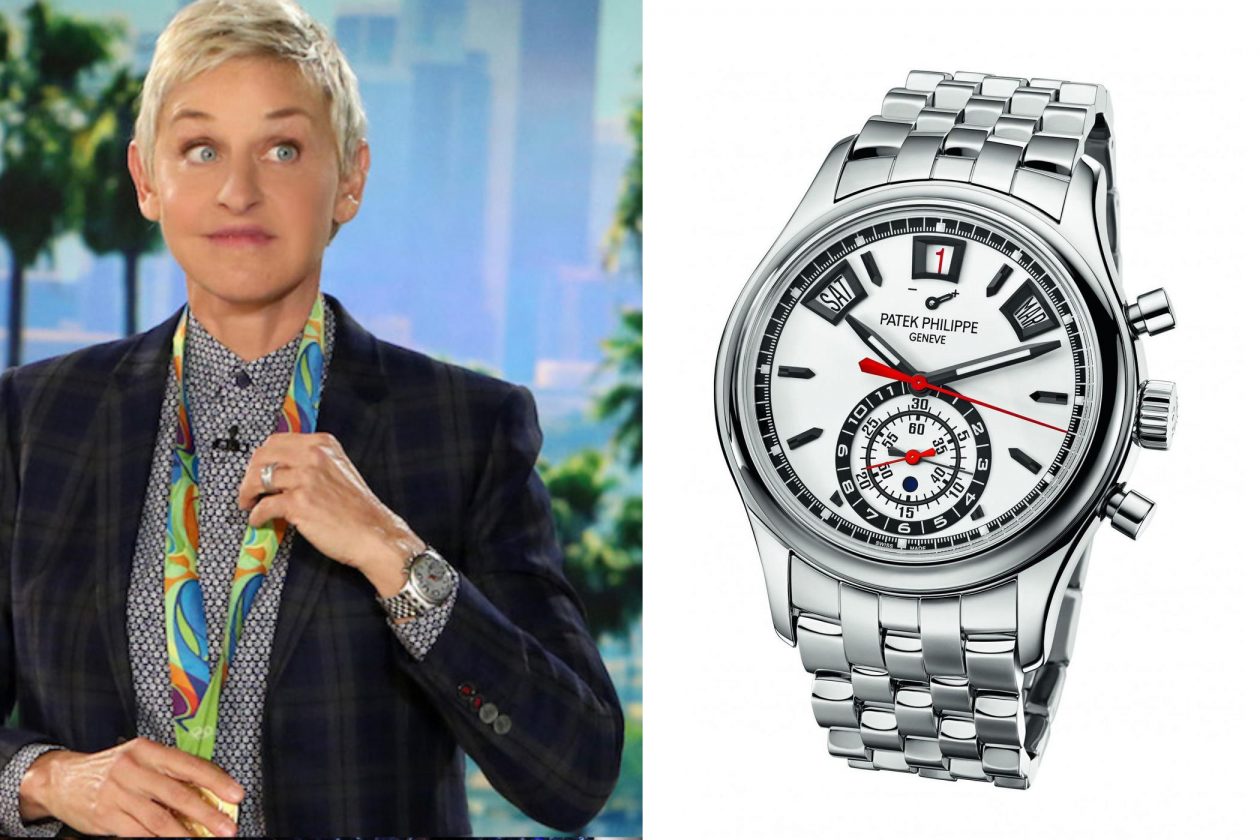 If we want to experience the most complete gaze into Ellen's collection we have to carefully watch her show. Every few episodes the new timepiece can be spotted. Here, for example, we can see a Patek Nautilus chronograph ref. 5980/1AR-001 in steel/gold mix with beautiful gradient blue dial.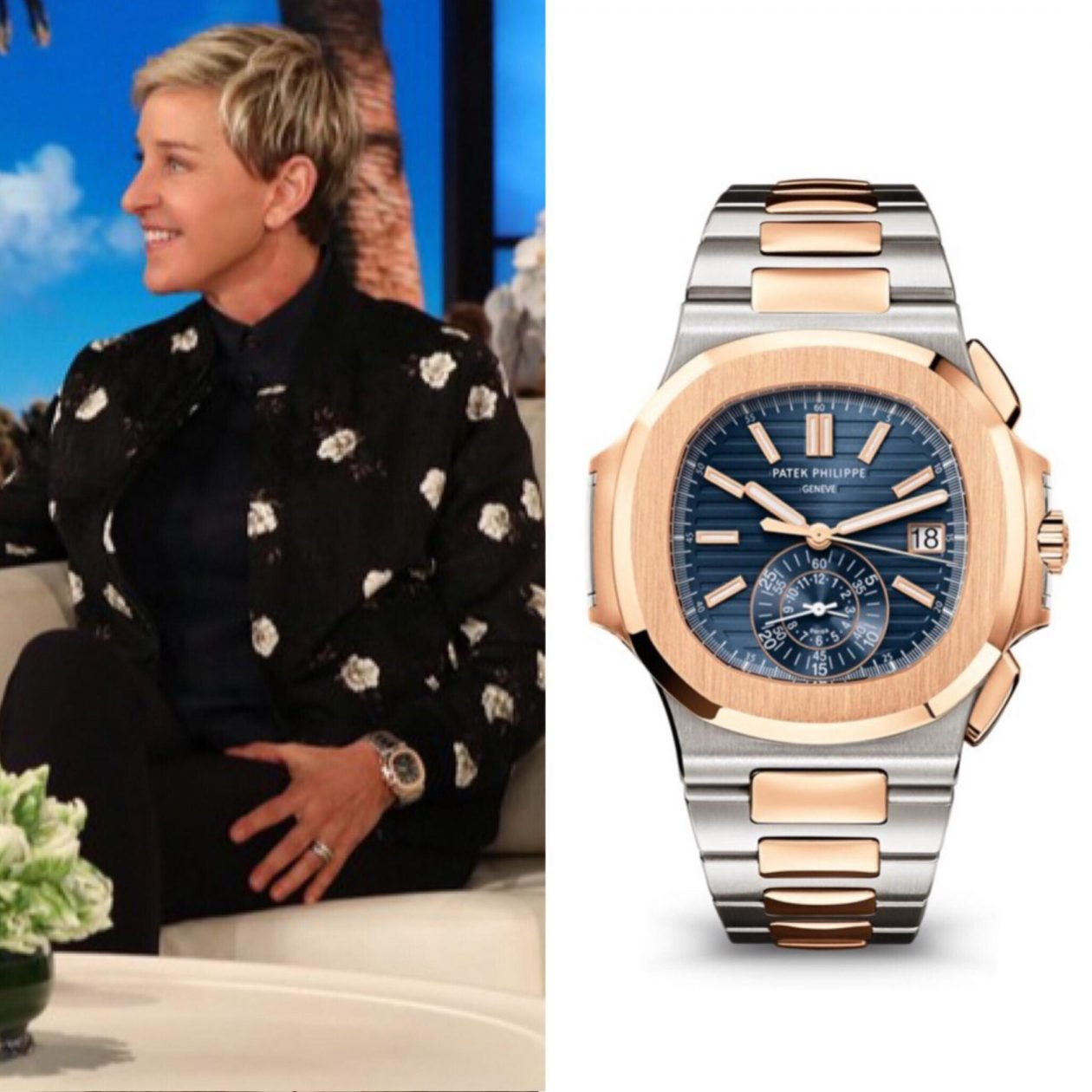 When it comes to Rolex, Ellen is not looking for anything below the top shelf. The example being the cult classic vintage Daytona Chronograph from the Paul Newman line, who was the first one being openly fond of this line of watches. Ellen is breaking all the stereotypes with that one showing that this watch, often regarded as being very manly, fits women perfectly as well.
Wrapping up our list, which speaking about Ellen could continue for quite some time, let's focus on one of the most unique watches ever spotted on a female collector's wrist. It's an ultra rare Patek Phillipe 5271P Grand Complication with perpetual calendar and chronograph with 58 diamonds embedded into lugs and bezel. Priced at 280 000 USD it's an ideal quintessence of watchmaking know-how and subtle jewelry extravagance. Woman is flighty (as we say in Poland).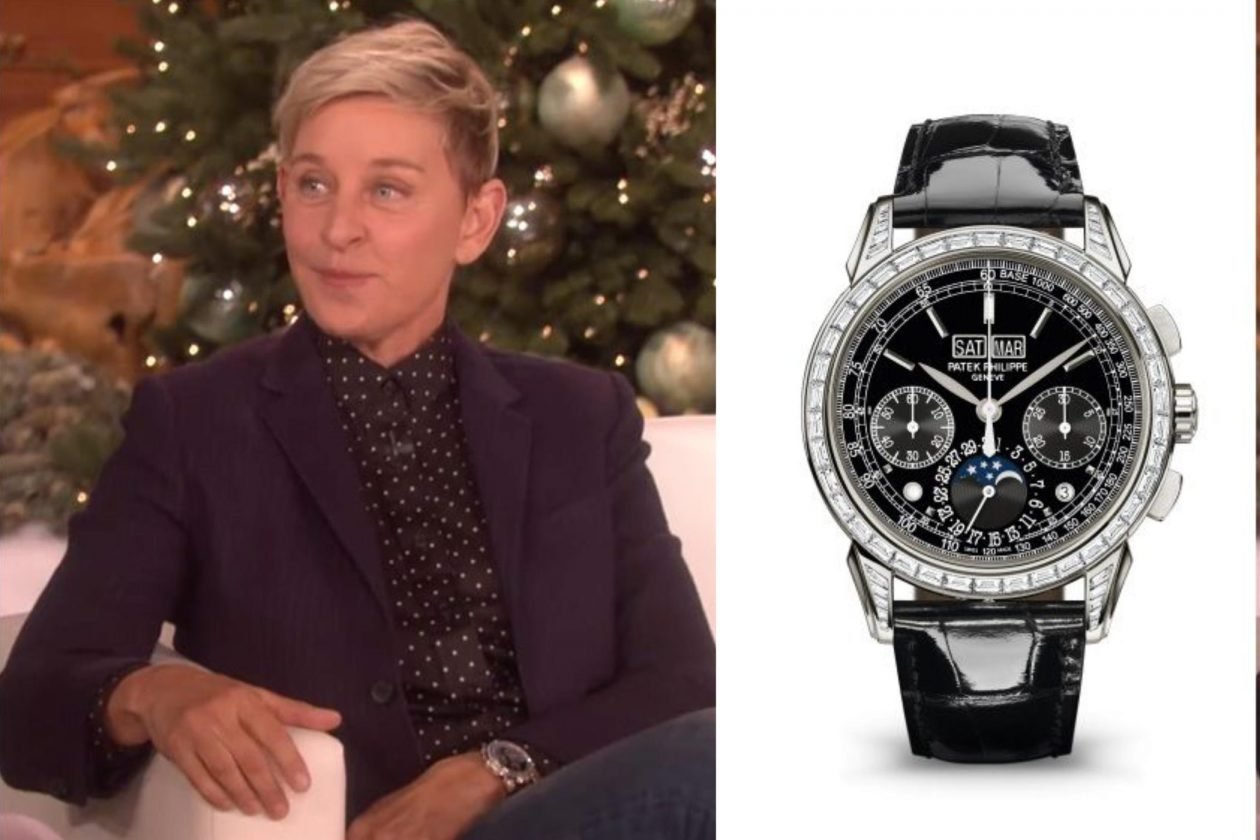 Model ten wyceniany jest na ponad 280 000 USD i jest idealną kwintesencją zegarmistrzowskiego know-how i delikatnej biżuteryjnej ekstrawagancji. W końcu kobieta zmienną jest.
---
This wrap up is probably just a fraction of women who treat high horology seriously and with an enormous passion. It often happens in modesty, without men-like bragging aspect that we can experience on Social Media regarding guy-collectors. Sometimes I happen to stumble upon some anonymous female collectors on instagram who behind the "barrier" of private account happen to have on their feed some amazing, high class watches. As an example, look at so called Miss Ikue, who happens to have every most complicated model from Van Cleef & Arples, lots of Lange & Soehne's and few Pateks. I also clearly remember the moment during SIHH 2017 where a petite Asian girl got out of Richard Mille's "back room" holding 3 bags with watch boxes and RM logo on it. So as you can see the division line between a women collectors and guy collectors is constantly disappearing and cannot be as easily drawn.