Timebloid

Watch Game of NBA Stars – Michael Jordan

We hereby present the greatest basketball player in the history of this sport. "His Airness", as MJ used to be called, is also a brand himself, the face of countless ads and products. Basketball fans usually don't realize that he had a lesser known side. Being a great enthusiast of cigars and watches. You are about to discover stuff about the latter.

You do not need to be much into sports to know what a great icon of pop culture Michael Jordan has been for over 30 years. As soon as he appeared on the NBA court, every basketball player of the 80s and 90s had a poster of MJ, and each parent listened to the begging for a pair of Nike shoes with that Jumpman logo. It is impossible to list all of his achievements in sport (and outside of it) in one article, because undoubtedly Michael Jordan is an institution that almost everyone in the world associates with something. Hard to find the rankings of the greatest athletes of the 20th century without MJ in the top three as he landed that spot in the most prestigious lists of Associated Press and ESPN. Jordan is a brand of his own that has for years become one of the most profitable goods in the sports business. MJ pushed Nike to the first place in the sales of clothing and sports shoes THEN co-created the subsidary company Jordan Brand. Throughout his career and after it, everything that Michael touched turned to gold, which is best confirmed by his accumulated assets, estimated in 2020 at $ 2.2 billion.

MJ has few great passions, which include baseball (which he tried professionally during a two-year NBA break in the years 94-95), golf, motorbikes (has his own motorcycle club), cigars AND watches. Let's look into the latter, because being such a sought-after person as Jordan, he has many opportunities to present his uncommon wrist game.
---
Rolex Daytona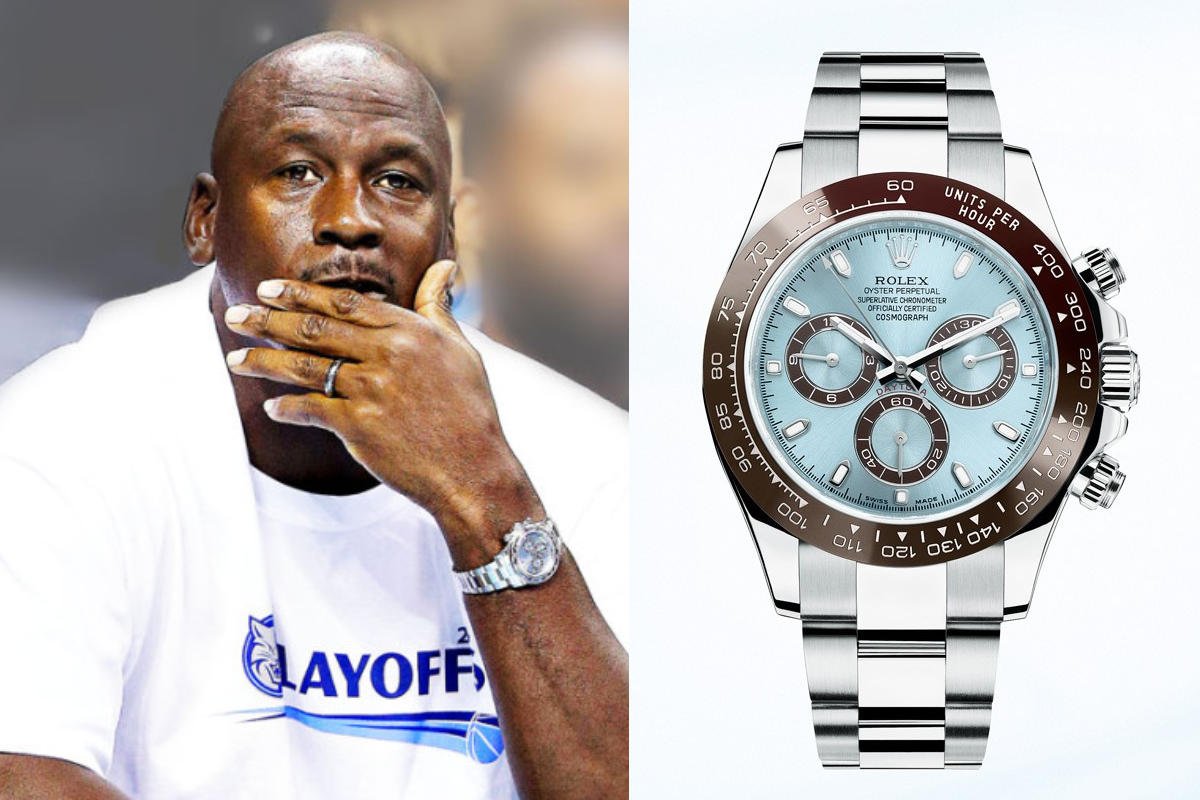 Michael finally ended his career in 2003 after thirteen seasons in Chicago Bulls and a two-season adventure at Washington Wizards. However, this did not mean a total separation from the NBA. In 2010 he acquired the controlling ownership of the Charlotte Bobcats club, later renamed Charlotte Hornets. It was then that MJ was seen on the sideline at most NBA games, and then his increased interest in sophisticated watches began to be observed. In the example below, we see Jordan wearing the unique reference Rolex Daytona in platinum, issued as the 50th anniversary of this model. You can also see a T-shirt with the words 'playoffs' and the Bobcats logo, who in 2014 reach playoffs for the second time in history, unfortunately not winning any games.
---
A. Lange & Sohne Datograph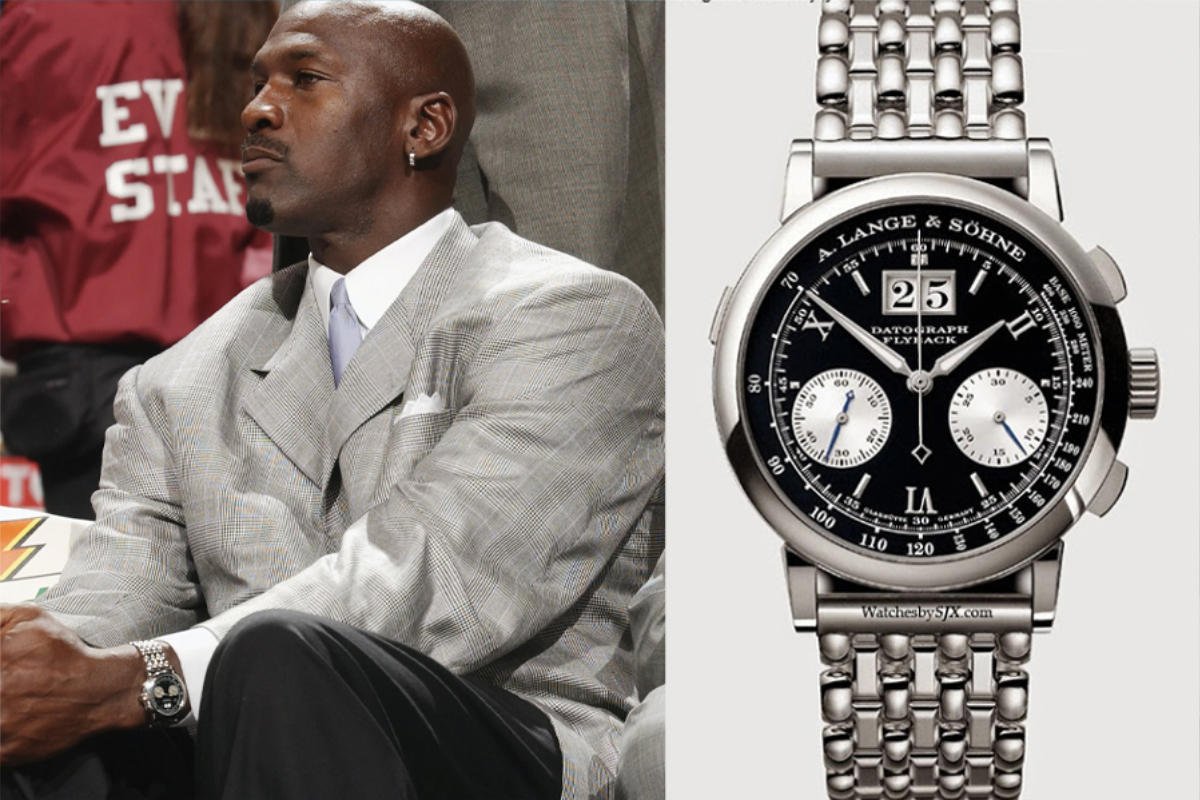 MJ's sophistication in terms of watch taste is demonstrated by the choice of more niche models, especially in years when the brand was not as loud as it is now. An example would be the following selection of the first edition of the platinum Datograph from A. Lange & Soehne, seen on his wrist as early as 2002. The watch itself had its premiere in 1999 at BaselWorld and the MJ model is a reference with an additional platinum bracelet. We can also clearly see how powerful Michael's wrist is, the 39 mm timepiece looks like a much smaller dress watch.
---
Urwerk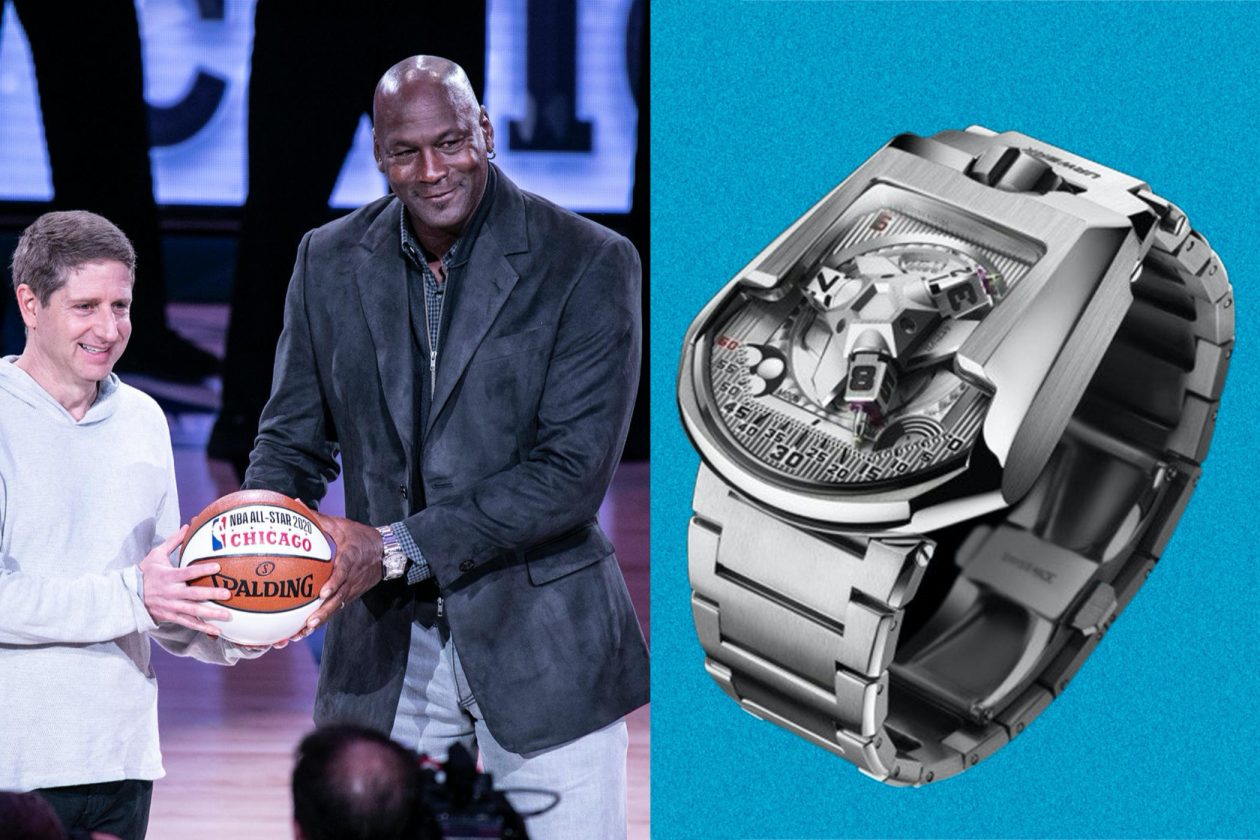 Time for a watch for real superheroes like the person we describe today. Urwerk UR-202S is a masterpiece of watchmaking finesse. Released in 2011 with a futuristic time indication so characteristic for this brand. Another popular (super)hero of pop culture also liked this company's models – Robert Downey Jr. better known as Ironman from the Avengers series. We wrote an article about him in a separate installment of Timebloid (LINK). This watch from MJ turned out to be the perfect complement to the casual set during this year's celebrity weekend in Chicago, the city where Michael spent the best years of his rich career.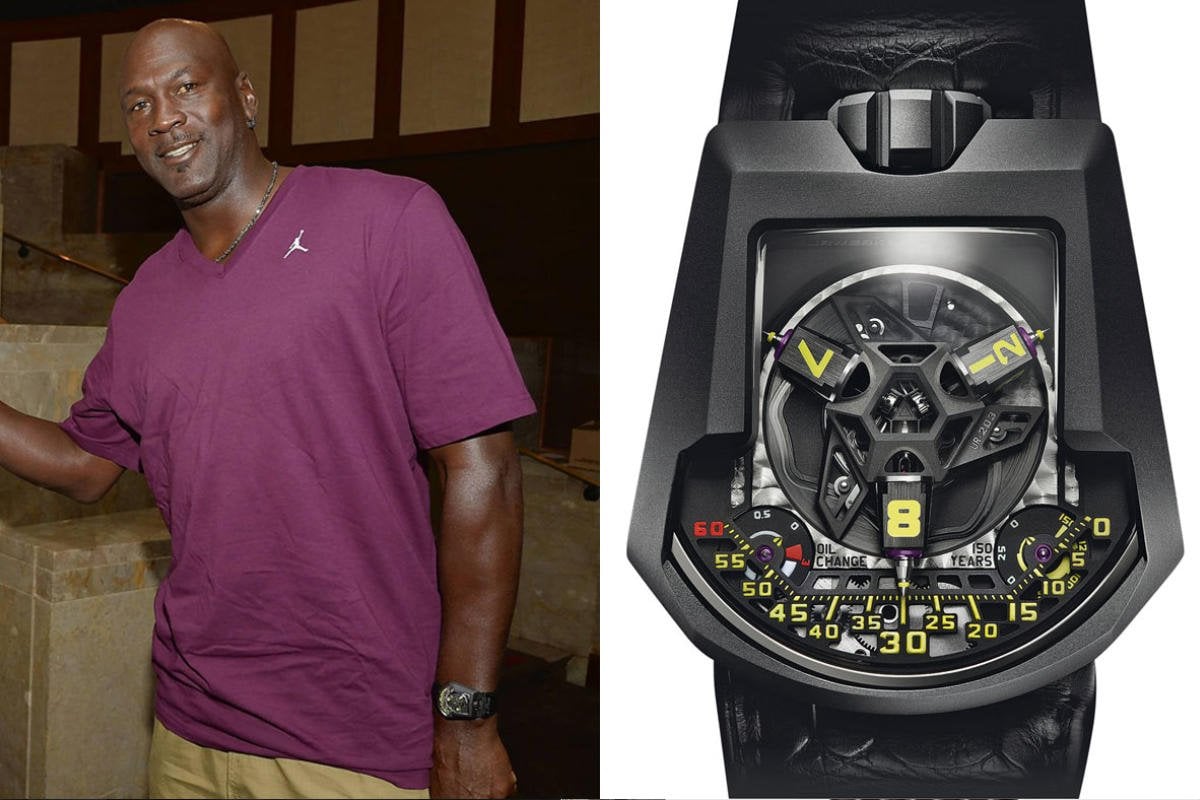 Another watch from Urwerk's set worn by MJ is the UR-203 below.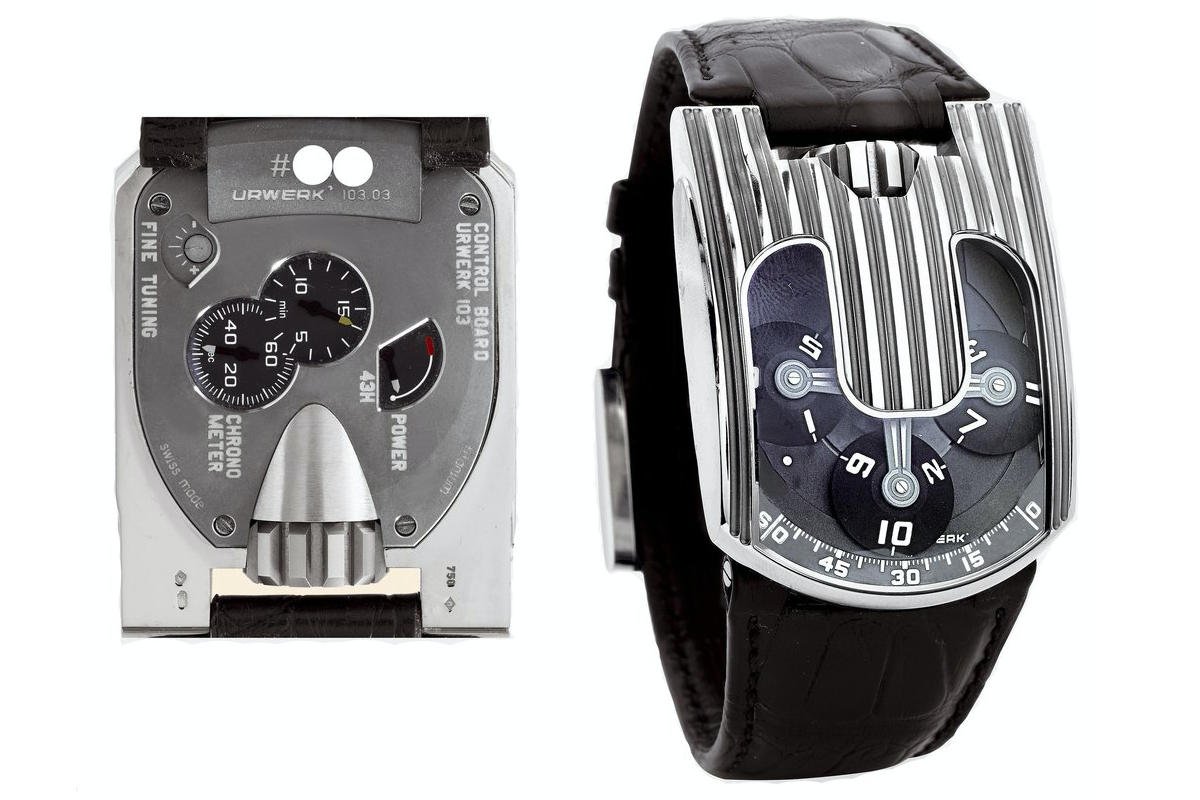 The last Urwerk seen on MJ's wrist was a true classic, unfortunately no longer available in the brand's collection – the UR-103. We only present a picture of the watch itself because the only evidence of the presence of this timepiece on Jordan's wrist is a bad quality photo of the TV screen that you can google easily.
---
Richard Mille RM-032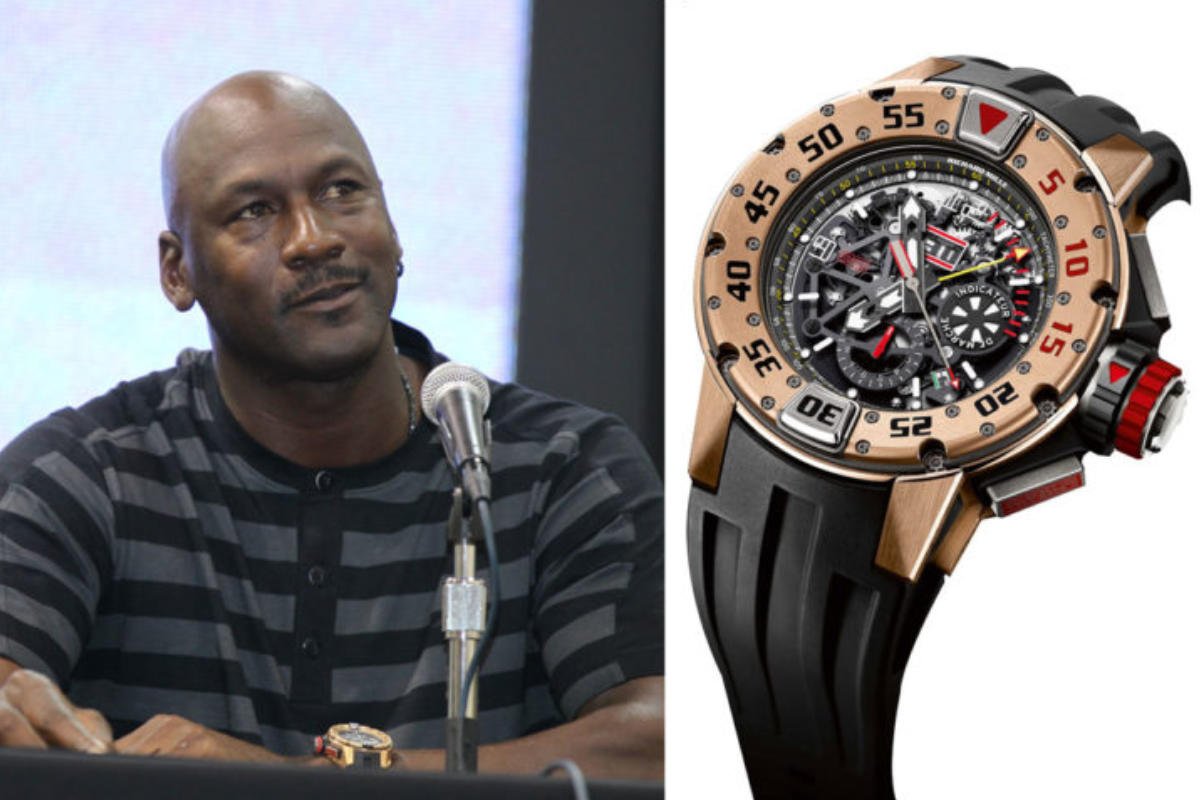 Michael was an extreme media personality throughout his career and this did not change even for a moment after it ended. Press conferences with Jordan are another great watch-spotting opportunity. Here we see a timepiece perfectly matching the powerful wrists and nonetheless powerful wallets that our hero clearly has. Richard Mille RM-032 is a large size (50mm x 17.8mm) diver with an annual calendar and chronograph, all of that from a brand that top-class athletes seem to particularly enjoy. The price of this model is 154,500 euros and probably the full price has been paid by Michael, because he has never been associated with any watch brand except a short episode in the 80s with the Guy Laroche brand (let's talk about it maybe some other time).
---
IWC Big Pilot Antoine de Saint-Exupéry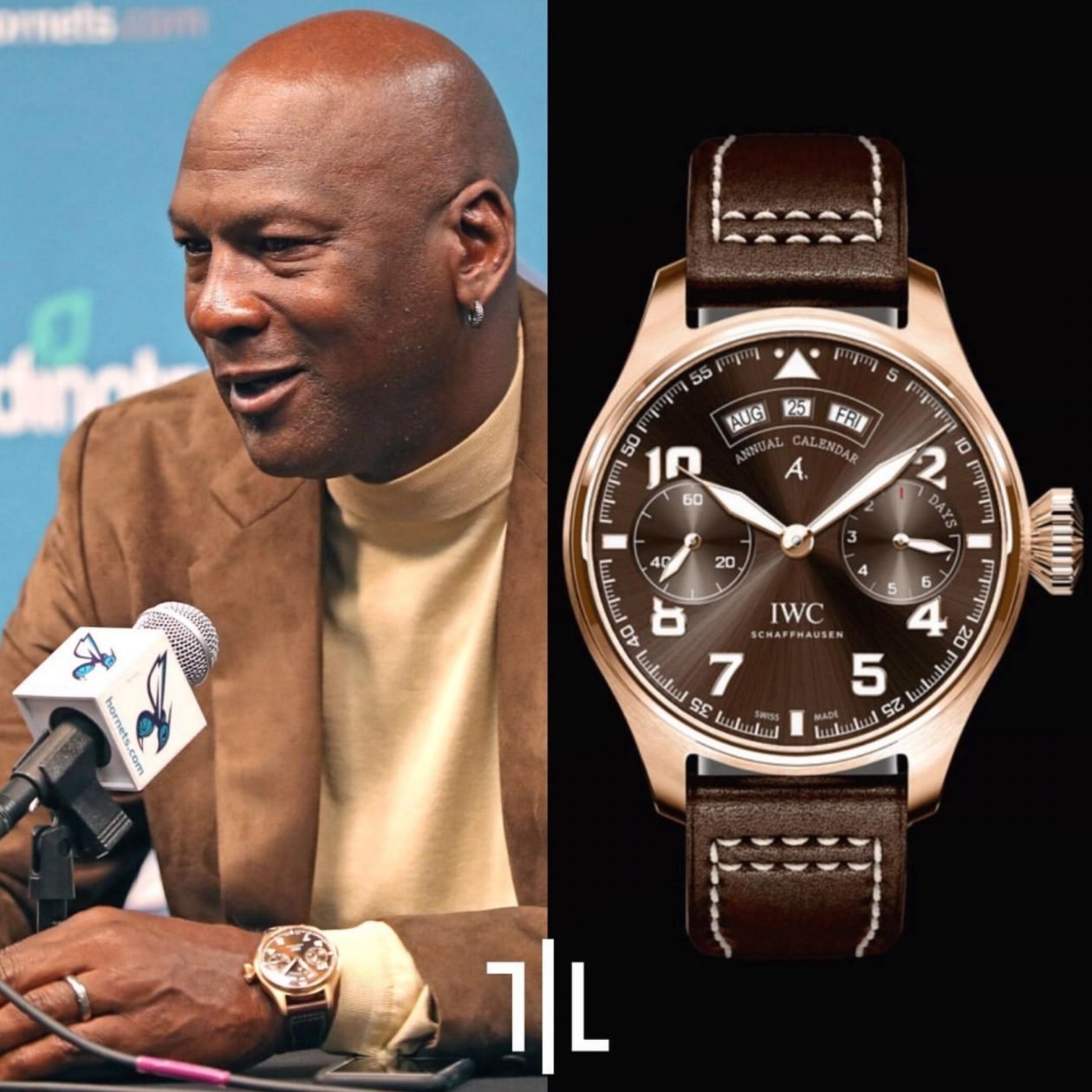 Another press conference photo and another gem. This time, the picture from the most recent times with Michael "the owner" of Charlotte Hornets. MJ presents here a well-coordinated outfit all in a brown palette, which is perfectly complemented by the Big Pilot from IWC with a brown dial. However, this is not the basic model of this watch, but a 250 pieces limited version in rose gold, issued in honor of the author of the Little Prince – Antoine De Saint Exupery with a price of about 32,400 USD. I think that when you reach the level at which you can pick the color of watch's dial to match the outfit, you really might be having a complete collection.
---
IWC Big Pilot ref. 5002-02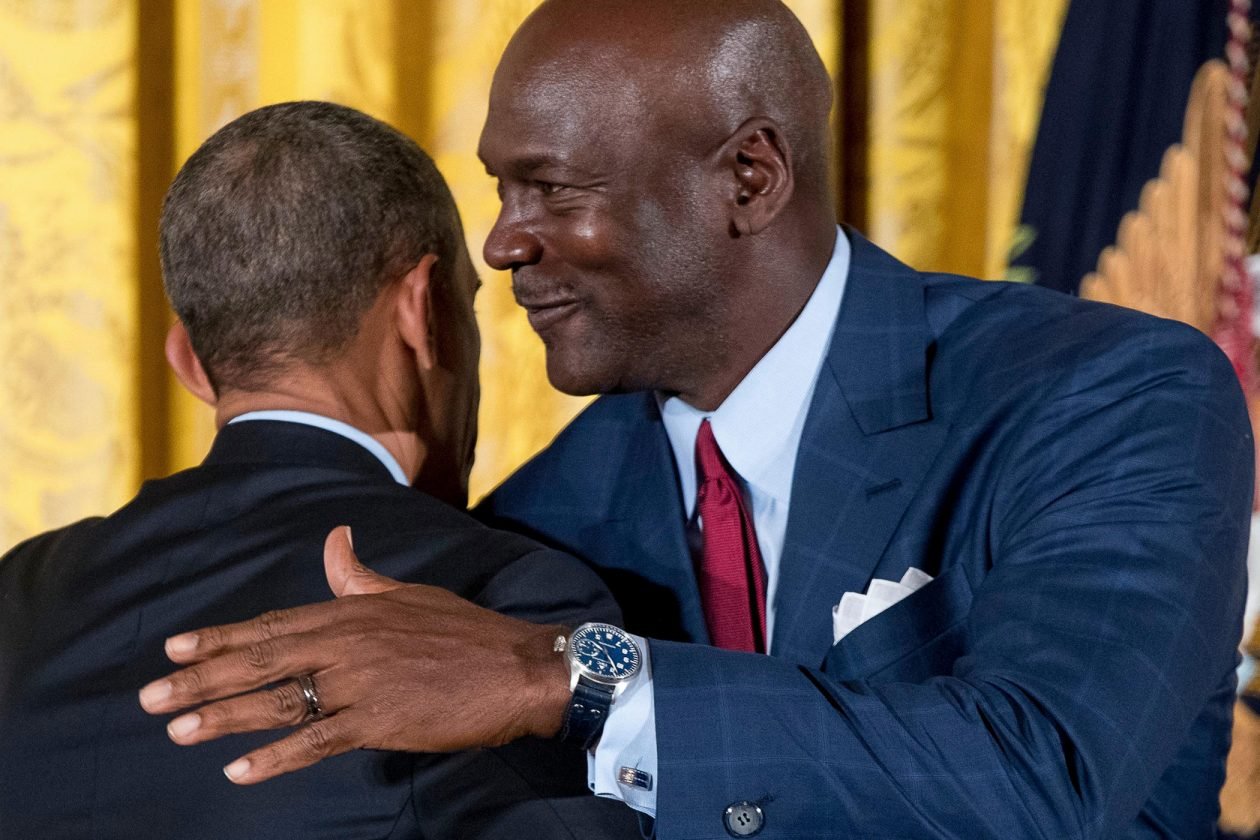 The next IWC Big Pilot in MJ's collection is also a limited edition, this time in platinum. Reference 5002-02. This watch was seen on Michael during an extremely important moment of his career not only as an athlete, but primarily as an American citizen. Jordan received his Medal of Freedom in 2016, the highest honor an American "civilian" can achieve. Given for his outstanding services in and outside sports territory. This way, he has joined the group of such laureates as Bill and Melinda Gates, Bruce Springsteen and Diana Ross. The medal was handed to him by a big basketball fan and longtime Chicago citizen – President Barack Obama.
---
Ulysse Nardin Sonata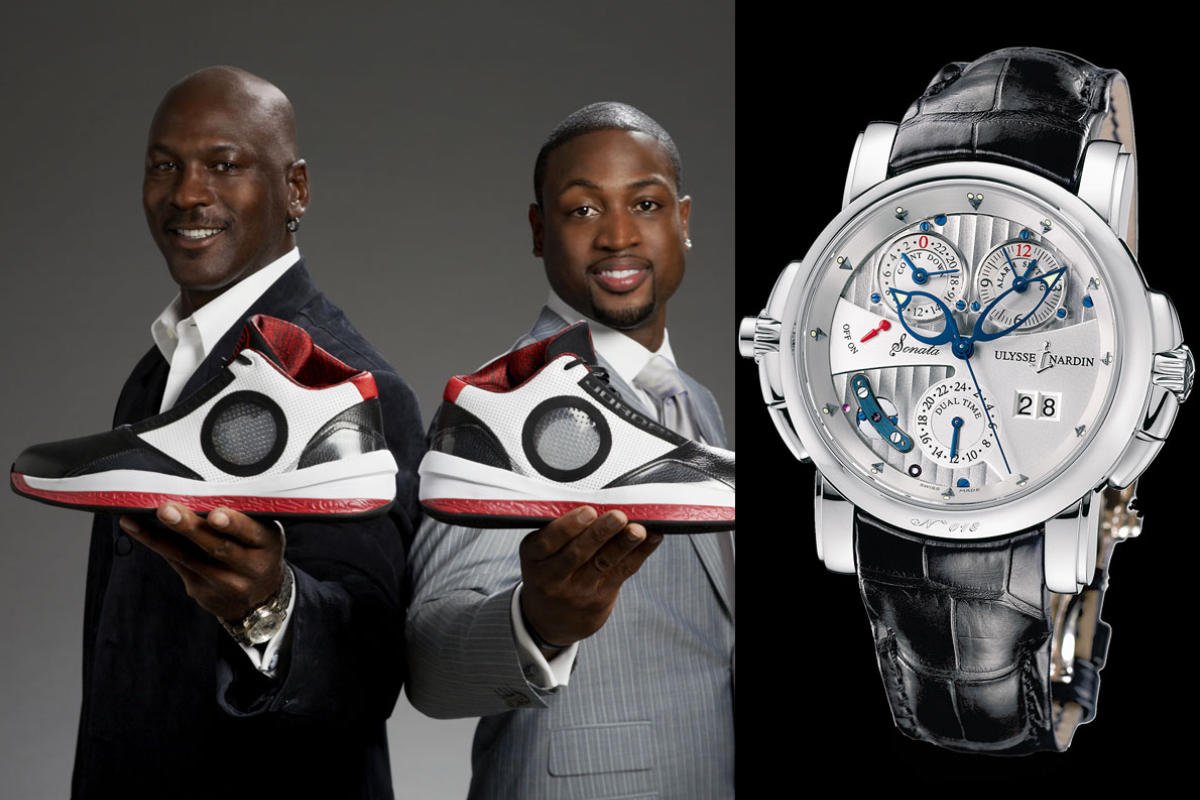 MJ is also primarily a multi-million clothing business. The Jordan brand, which is a subsidary company of Nike, was built over his talent and phenomenon in basketball. It's still managed by him today even though he retired from sport. In the photo below, we see MJ along with another NBA star / brand's face – Dwyane Wade during the presentation of one of Jordan's shoe models. This time Michael's wrist is adorned with a rather rare model from the Ulysse Nardin collection – Sonata in white gold with a unique complication of the sounding alarm. The price of this model? Over 60,000 euros.
---
Rolex Skydweller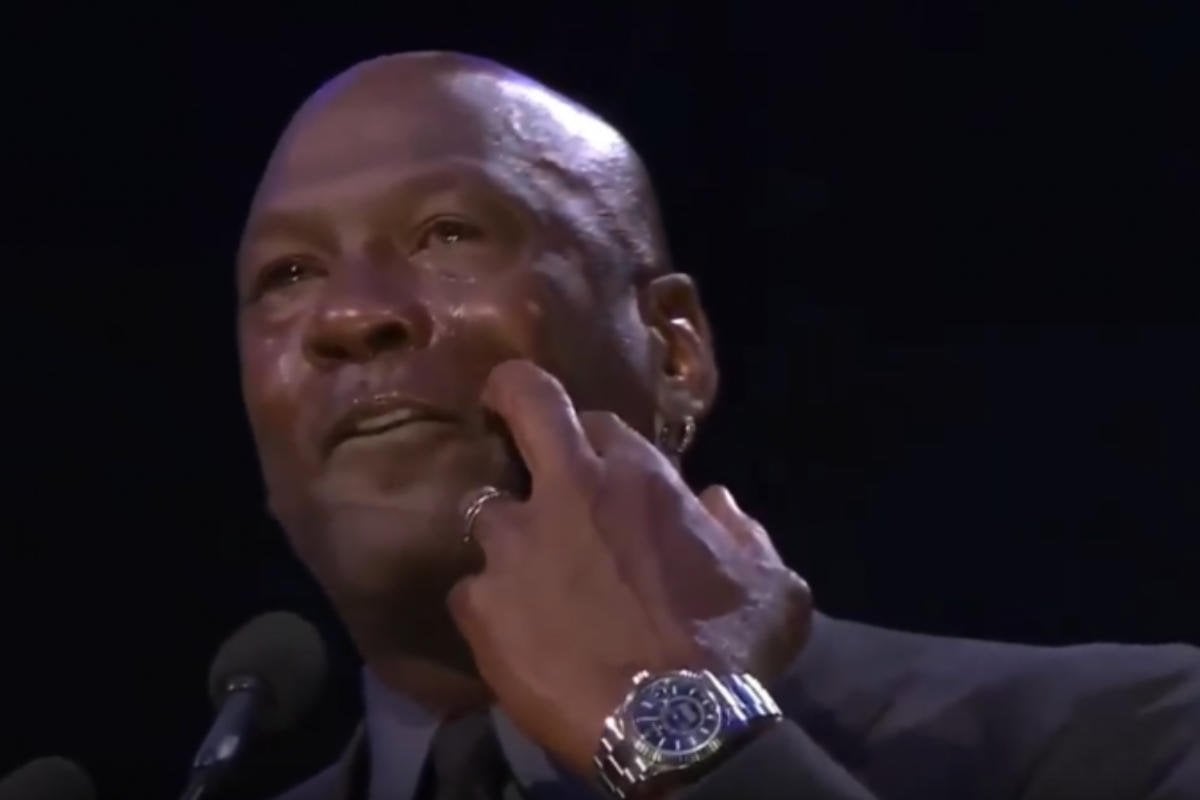 Michael is the natural idol of the whole new wave of NBA stars of recent years. It was no different in the case of another great basketball character – tragically deceased in a helicopter accident in January 2020 – Kobe Bryant. During an extremely touching ceremony to commemorate Kobe in the Los Angeles Lakers hall, Michael said the meaningful: "When Kobe died, a piece of me died." On MJ's wrist, the following Skydweller from Rolex in white gold and a blue dial was seen during the speech.
---
Roger Dubuis Excalibur Spider Pirelli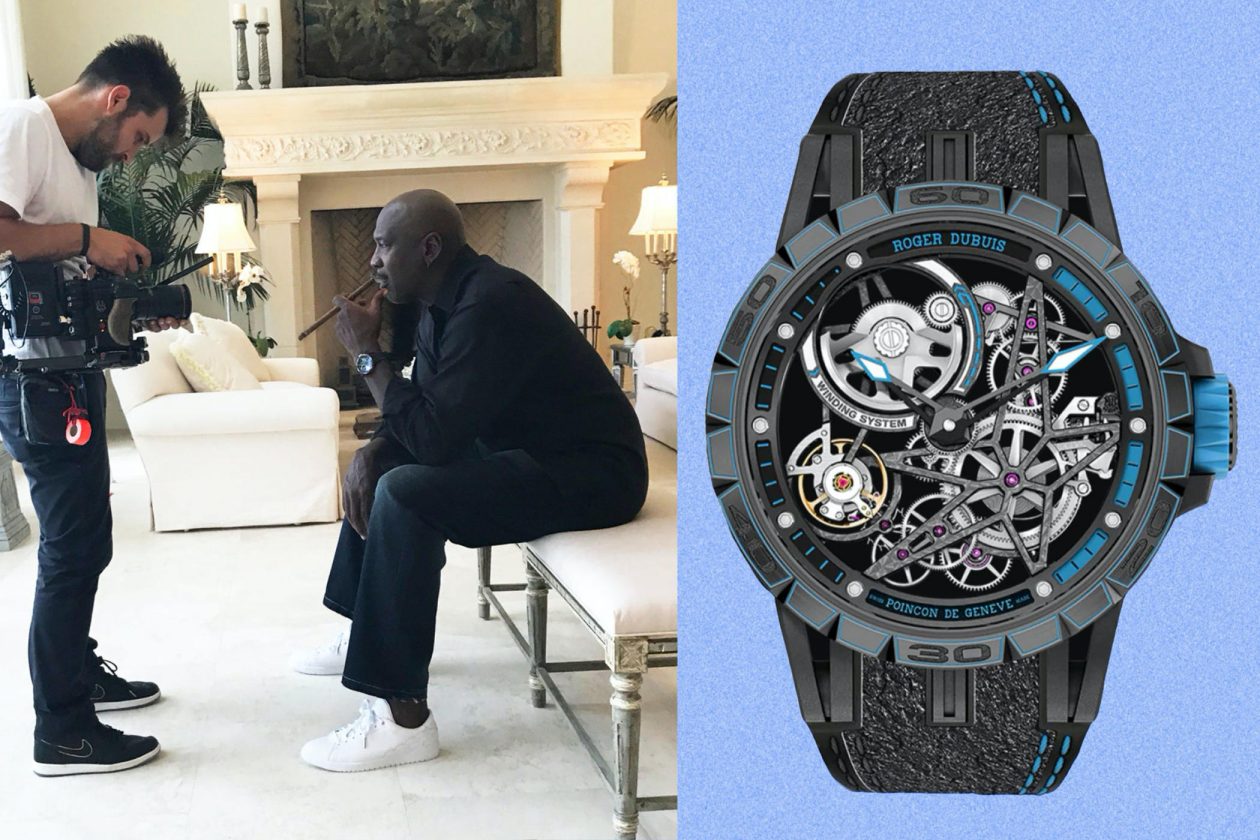 The last of our Michael Jordan's watch-spots is the unusual Roger Dubuis Excalibur Spider Pirelli. A watch with a hommage to motor sports with a strap made entirely of rubber removed straight from Pirelli tires. The same tires that Formula 1 cars have on their wheels. MJ worn this watch during the shooting of the latest Netflix documentary about his Chicago Bulls heritage – The Last Dance. Interestingly, in the same documentary, Dubuis watch can be seen worn by his outstanding teammate and also hall of famer – Scottie Pippen.