Timebloid

Watch Game of NBA Stars – LeBron James

King James is the kind of athlete for the 21st century sports what Michael Jordan was for the 90s, and as it happens with this class of players, along with the results achieved on the court, the regular income to their accounts is also striking. Today we check what watch pleasures are probably intended for a small percentage of LBJ's fortune.

LeBron James is undoubtedly the embodiment of the classic 'American dream' story. Like many legends of American sports, he grew up under extremely difficult conditions as a half-orphan raised by a very young mother in the middle-sized city of Akron, Ohio. He was paradoxically introduced into the world of basketball by the local American football coach, who was temporarily taking care of LeBron when his mother was looking for steady job. From that moment, probably one of the most beautiful basketball biographies in history began, because even already in the fifth grade of primary school, more and more mouth talked promising rumors about an exceptionally talented kid from Akron. It resulted in the fact that LeBron was accompanied by media attention practically from an early age and already in high school he was naturally marked with nickname "The Chosen One" because his talent could be compared only with his great idol – Michael Jordan. Our hero's career from that moment went on a very planned schedule – after his outstanding achievements in St. Vincent St. Mary high school, LeBron skipped the college stage and at the age of 19 was ready to take on the best in the NBA.

After several league titles, league MVP awards and countless other trophies, LBJ has fully lived up to its hopes. He is not only mentioned as one of the greatest basketball players in history, but he has also become undoubtedly a pop culture icon, an idol of millions and a role model for young adepts of this most beautiful sports game. King James, because this is his latest nickname as a Los Angeles Lakers player, is also a fulfilled husband and father, as well as an exceptionally efficient businessman who skillfully strengthens the power of his own name-brand. This is only confirmed by the fact that, according to all estimates, his fortune at the end of 2021 will exceed the dazzling amount of one billion dollars, which undoubtedly allows him for self-realization not only on the basketball court. For many people at this level of wealth, the problem is no longer just accumulating money, but rather ensuring that the wealth already accumulated does not depreciate. One of the ways to do this is broadly understood investing in valuable goods such as real estate, cars, precious stones or watches, which we will now take a closer look at.

LeBron, as you know, was doomed to success from an early age and therefore very early on, big money began to go hand in hand with him. At the age of 18, he had a Hummer H2, which aroused considerable controversy. He was then facing a potential suspension from high school for allegedly violating sports sponsorship laws. Ultimately, however, the car turned out to be a gift from his mother – Gloria , who financed it with a loan secured for her son's future successes (and earnings), which came very quickly. After joining the NBA, many brands from the luxury segment began to take an interest in the young star, and more and more exclusive products were branded with his name. In 2011, as a Miami Heat player, LeBron joined Audemars Piguet's official ambassadors. Two years later it resulted in the Royal Oak Offshore model dedicated to the athlete, a limited to 600 pieces timepiece combining titanium and rose gold.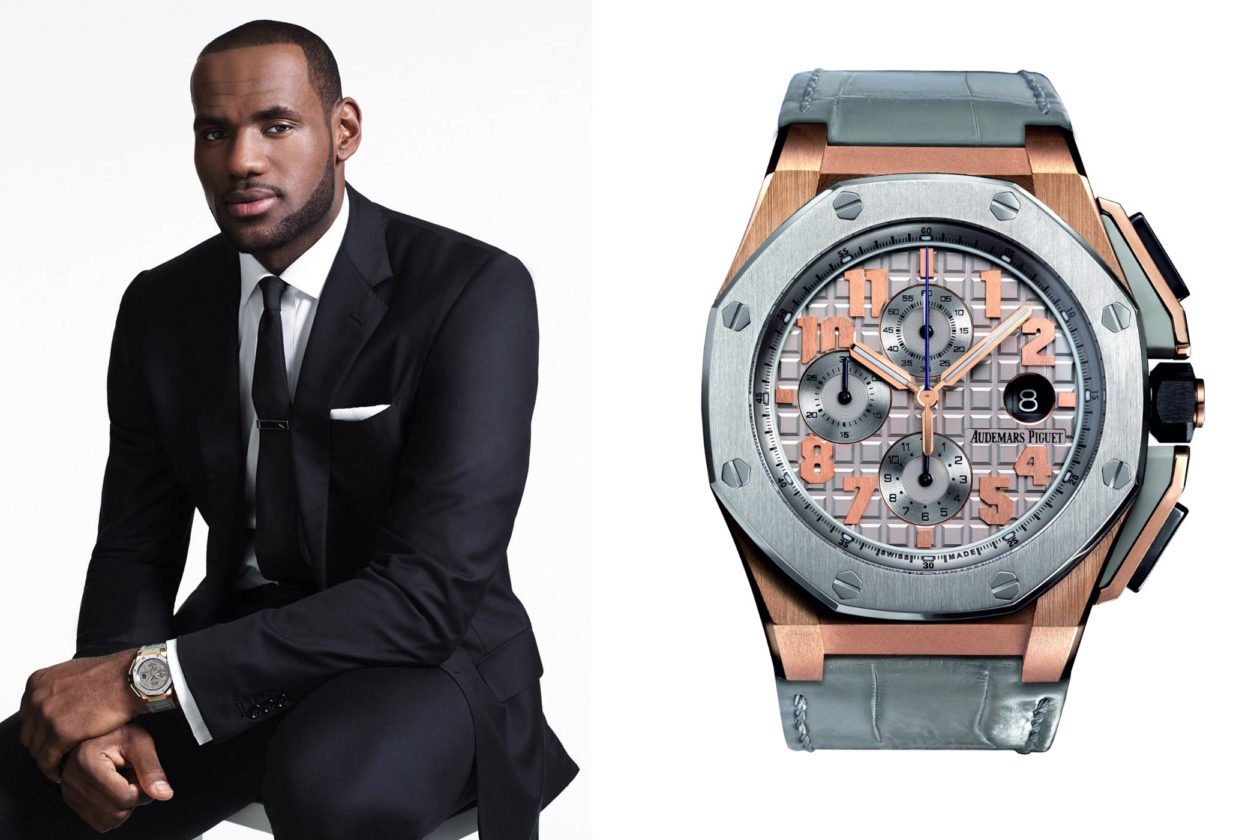 AP watches, possibly driven on an endorsement contract, marked James' wrist-game for most of his career. Naturally, due to his powerful wrists, he prefers the large (45mm) watches from the Royal Oak Offshore line. However, these were not only his signature models, as LBJ always emphasized that he was fascinated by watchmaking as a general harmony of innovative design and advanced technology. An example of this is the Offshore Chronograph Tourbillon, which is an 18-carat gold model limited to only 50 pieces.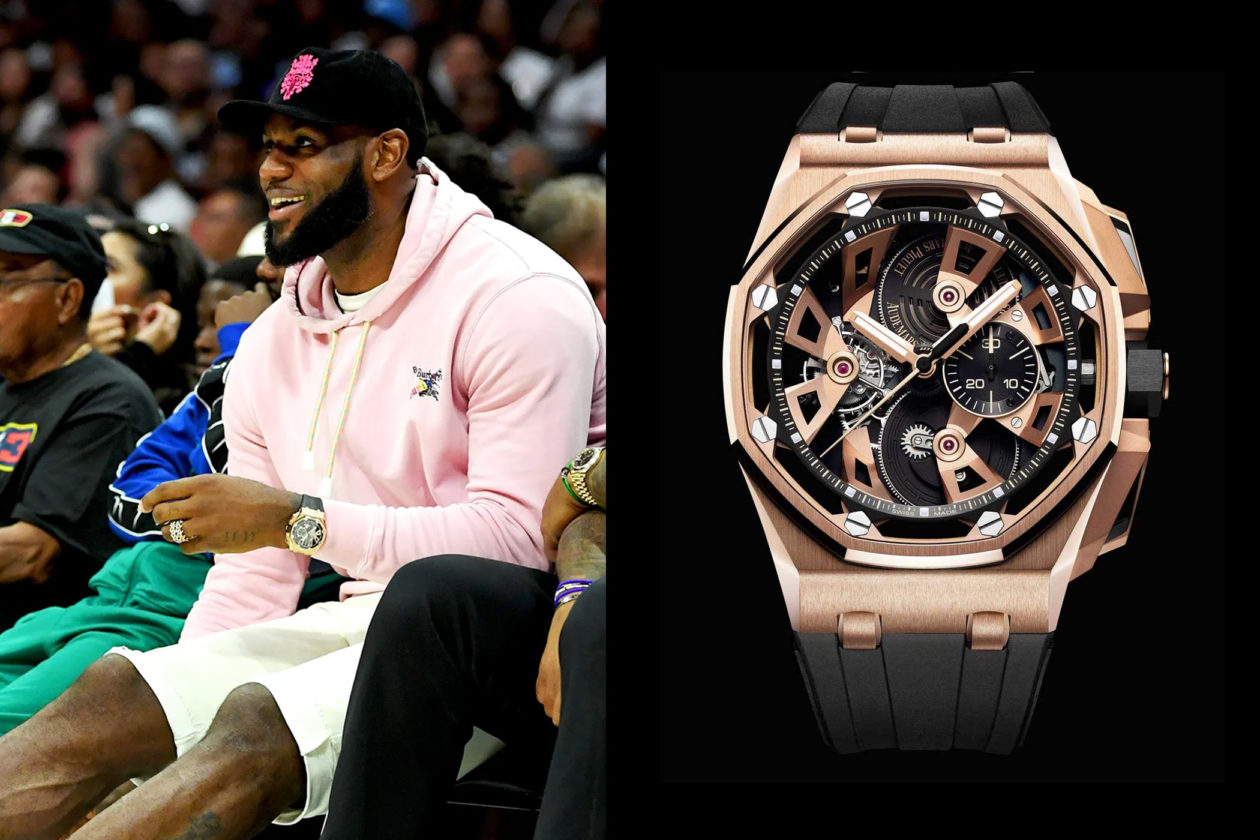 We have to admit that we could not find information on how long James' contract with AP was supposed to last and whether it included an absolute exclusivity clause for wearing only these watches. In any case, in 2016 there was certainly at least a bit of relaxation in the agreement terms, if not a complete expiration of the contract. Because then, during the great city-wide celebration of winning the NBA championship by Cleveland Cavaliers with LeBron, the Rolex was seen on the wrist of our hero for the first time in public. It was a relatively modest model worn by the start of this size: Day-Date model in 18 karat gold, Roman numerals and a less common black dial.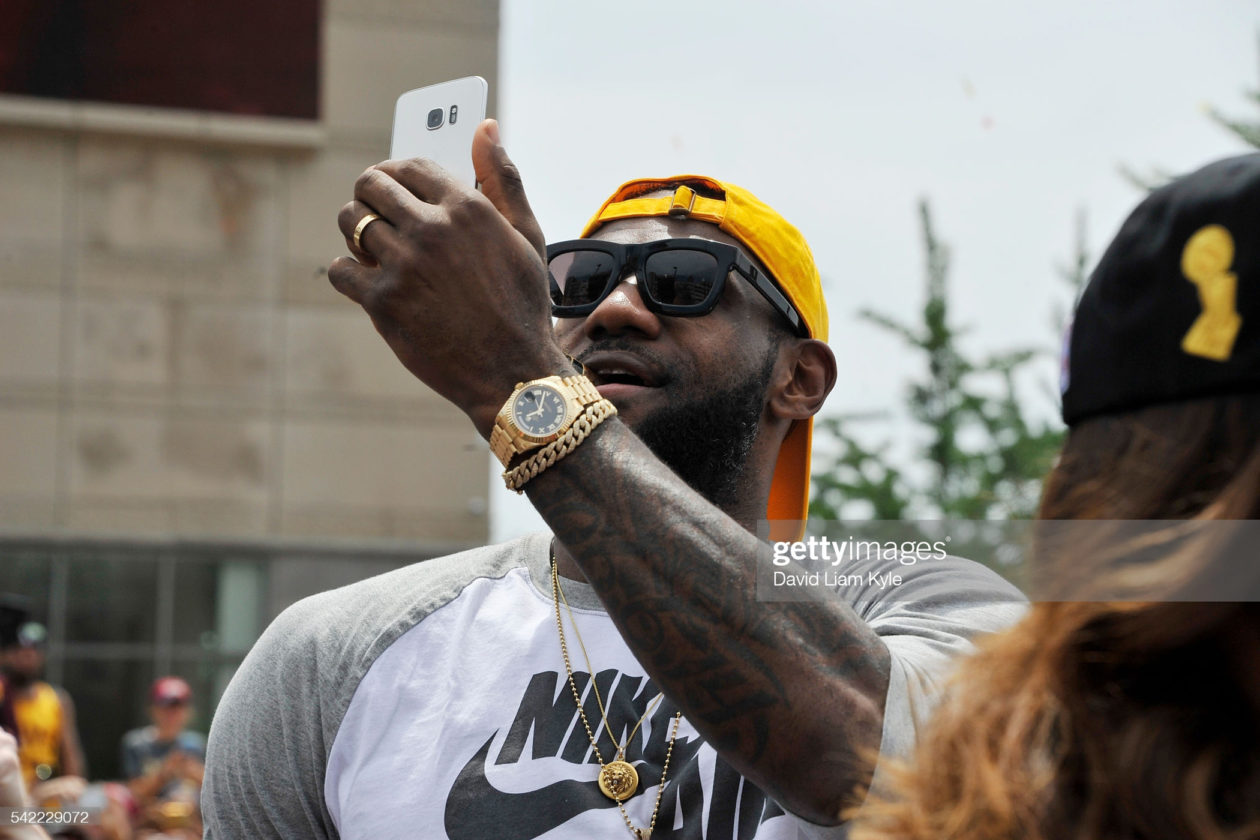 When it comes to modest Rolexes (hopefully that's not an oxymoron), as well as being up to date with watch trends regarding colored dials, the next LBJ acquisition fulfills both criteria perfectly. We are talking about the most inexpensive model from the Swiss manufacturer's range – Oyster Perpetual with a coral-red dial, presented in September 2020. Despite the relatively low boutique price set at USD 5,900, the colored dials are, as we know, very popular among collectors, so rather without a good history purchases from a dealer, these are practically impossible to get in a boutique 'on the go'. However, for sure being King James probably simplifies such problems significantly.
Ok, now it's time for a much less modest Rolex piece. LeBron, due to his age and experience in the NBA, decides about body-regeneration himself, sometimes skipping less important games during the regular season. Thanks to this, he has much more opportunities to appear on the sideline in sometimes quite crazy stylizations, which, although they seem nonchalant at times, are nevertheless appreciated by critics, because LBJ is considered a style icon by many. Therefore quite an interesting combination is the cyan tracksuit below with an extremely rare Rolex. The piece is called The Daytona "Eye of the Tiger", currently being probably the most exclusive variation of the popular chronograph, together with the rainbow gem setting bezel model. This watch probably not for everyone (not only because of the price – over CHF 98,000 in a boutique and much more in the aftermarket), it has its nickname due to the unique color combination of yellow gold and gemstones on the bezel and dial. Adding a little suspense to the story, I will say that this is not the only wild cat among watches in our today's list.
Probably many of you expected it in our ranking – there is practically no top-class athlete without a watch from Richard Mille on his wrist today. It is no different with LeBron, because after the aforementioned relaxation/expiration of the contract with AP, also the watches of this hyper-modern company were worn by our hero. LBJ must like in particular for instance this automatic chronograph model with the reference number of RM 11-03, because he has at least two of these pieces in different color variations and at the same time – different materials of the case. As seen below, LBJ wore the regular gold piece, and the one made of TPT quartz material in blue, patented by the manufacturer, an edition specially created for the legendary racing car driver – Jean Todt.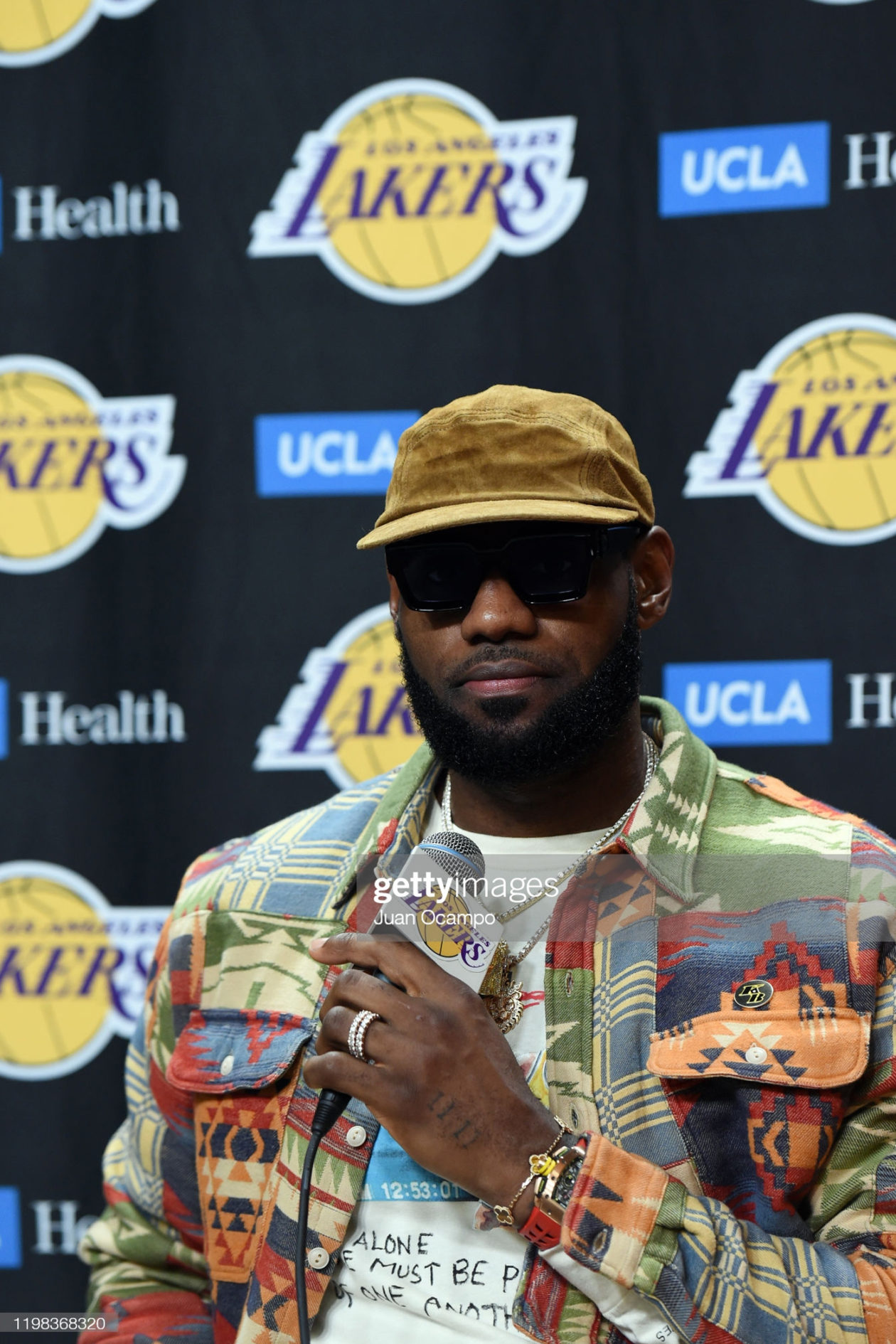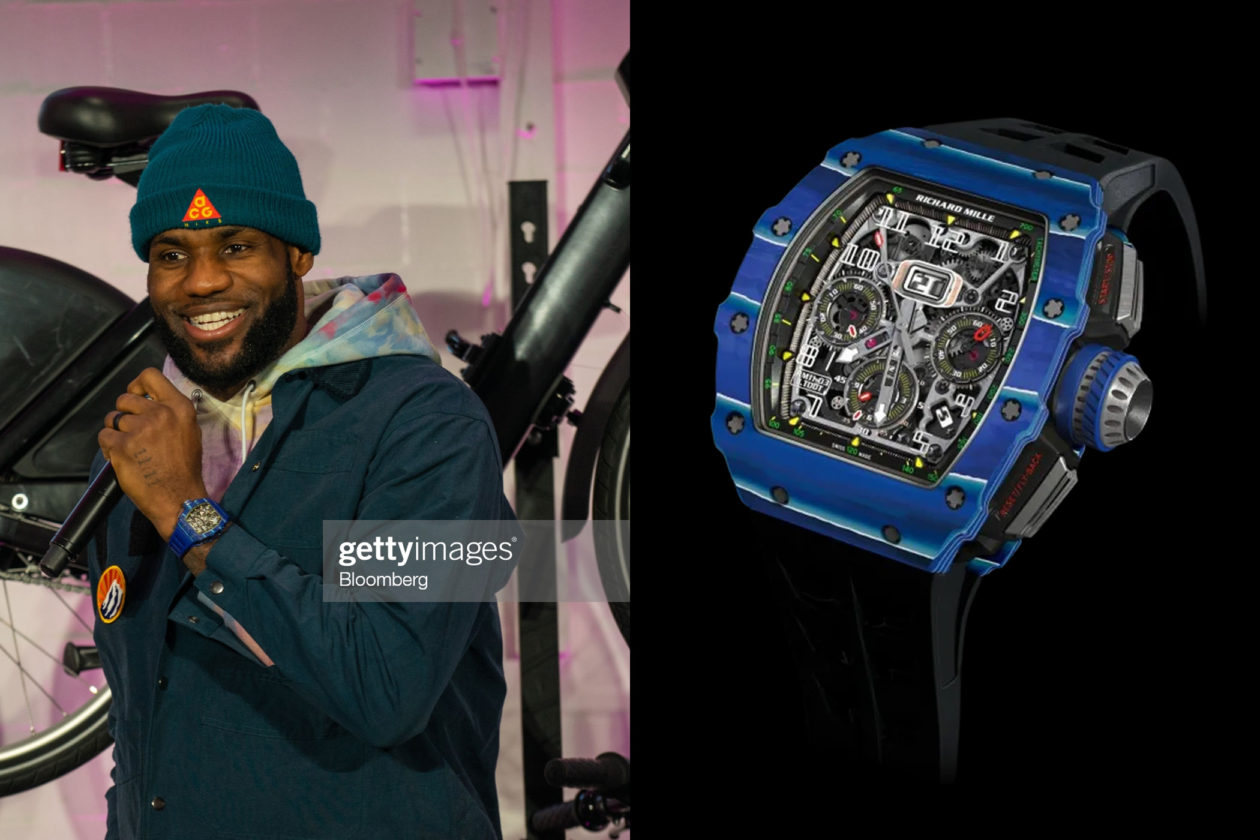 The life of an NBA star, however, is not only about loose clothes and sports watches going hand in hand. A person with The King LeBron status probably has many ceremonies, galas and celebrations on his agenda, where a strict dress code is necessary. For such occasions, he is diving into the more "black suit" part of his collection, where one of the outstanding timepieces is definitely the Patek Philippe 6102R. The watch, better known as the Celestial, with its black astronomic dial and rose gold, is perfect for a dress code occasion and a much more formal entourage.
Finally, let's go back for a moment to the brand that built the foundations of the LBJ collection – Audemars Piguet. The company, which for some time has clearly been looking for a new clientele with a fairly large variety of models, recently presented the Black Panther Tourbillon in collaboration with Marvel. A watch inspired by a superhero from comics and movies, despite the mixed reception among more "traditional" collectors, was extremely enthusiastically received by the world of sports stars, because it was worn immediately after the presentation by, among others, football stars – Neymar or Virgil Van Dijk, and then Black Panther rested on the wrist of King James, who, as you can see, built the entire stylization on a well-thought-out game of purple and black, just like in a worn timepiece.